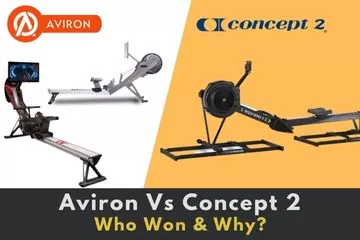 Hi friends! It's Petra, and today, I want to talk about two different rowing machine brands that are very popular but very different, the Aviron Rowers (Impact Series and Strong Series) and the Concept 2 Model D (now called RowErg).
The Aviron Impact Series has been around for about 4 years now, but they recently released the new Strong Series, and it's really turning heads!
On the other hand, Concept 2 has been around since the 1980s. It's the name everyone knows (it's the rower you'll find in almost every gym), but Aviron is making a big name for itself.
Buying a rowing machine is a big investment, so you don't want to make the wrong choice and end up with a giant paperweight, right?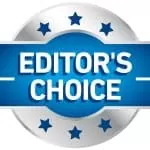 In a Hurry? Here are the Rowers We Are Comparing:
Pressed for time but need to know which rower to choose between Concept or Aviron Series? Click on the links below for our recommendations.
To help you make an informed decision on which rowing machine to purchase, we have conducted a thorough evaluation of each machine, which we will share in detail in the upcoming sections of this article.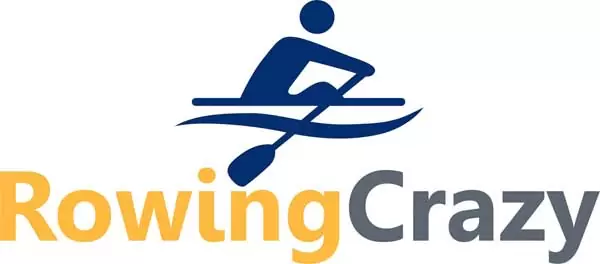 Maybe you've bought a piece of equipment for your home gym only to find that you didn't know how to use it, it didn't hold up, or you got bored with it quickly. I'm not surprised if you are extra-wary about making an expensive purchase like a home rowing machine.
That's where I come in. I've used just about every rowing machine, and I will tell you the pros, the cons, and everything you must know before you hit that "Buy Now" button.
Are you ready? There's so much to talk about, so let's get down to business!
Aviron Rower Vs Concept 2: Which Rower Is Worth the Money?
Sometimes, it's the little things that matter.
If you've got limited space, or if you already know that you want X in a rowing machine, deciding between the two is going to be as straightforward as checking the specs.
For example, if you weigh 450 pounds, you shouldn't even consider the Aviron Impact rower since it has a maximum weight capacity of 397 pounds.
Or if you live with some very particular roommates, you should drop air resistance rowers like Concept 2 from your list of possibilities since air rowers make a lot of noise.
If you have bad knees, you might want to consider one of the Aviron rowers because they have the tallest seat in the industry! Or choose the higher-seat option for Concept2 RowErg.
This comparison table might help you make a decision quickly.
Aviron Vs Concept 2 Comparison Table
Aviron Impact Series
Aviron Strong Series
Concept 2 Model D
Type of Resistance
Dual magnetic and air resistance
Dual magnetic and air resistance
Air resistance only
Seat Height
20 Inches
20 Inches
14 Inches or 20 inches

(2 options available: standard legs and tall legs)

Overall Dimensions
97"L x 21"W x 43"H
84"L x 27"W x 48"H
95"L x 24"W x 14"H
Weight of Machine
93 Pounds
114 Pounds
57 Pounds
Maximum User Weight Capacity
397 Pounds
507 Pounds
500 Pounds
Size of Monitor
22-Inch HD Touchscreen
22-Inch HD Rotating Touchscreen
5-Inch Display (PM5 Monitor Only)
Warranty
10-year frame
1-year warranty on all other parts
10-year frame
1-year warranty on all other parts
5-year frame
2-year warranty on all other parts
Folds for Storage?
Yes
No, but it stores upright without need for any wall attachment or kit
Yes
Current Price
(Subject to Change)
$2,199
$2,499
$945
Monthly Subscription Fee
$29/month if billed/paid monthly;
$24/month if billed/paid annually
$29/month if billed/paid monthly;
$24/month if billed/paid annually
None
I hope you found this information helpful.
If you still can't make up your mind, keep reading. The devil is in the details, and that's what I'm going to show you below.
The Concept 2 Model D Rowing Machine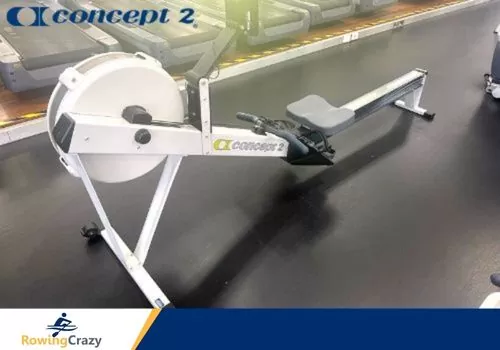 Concept 2 has changed very little since it was first introduced in the 1980s. The biggest change I think is that Concept2 has renamed Model D "RowErg", which comes with standard legs (14 inches). If you prefer a higher seat, you can get the tall-leg option (20 inches).
Chances are that you've seen or used a Concept 2 Model D or RowErg at your local gym. This air-resistance rowing machine is perhaps the best-known and one of most popular indoor rowing machines to date.
What makes Concept 2 so popular especially among elite rowers and Olympic athletes?
First, Concept 2 is one of those no-frills rowing machines that give you intense workouts. It has a PM5 performance monitor that will show and store all your workout data displayed as all-data, bar chart, force curve, or large print. You can also set your workout to simulate rowing with a pace boat or pacer.
Serious athletes like to use ErgData, Concept2's web-based app for recording additional stats. It allows them to upload workout data to the online logbook and see how they rank against other users worldwide.
Aside from Concept2's ErgData and ErgRace Online, PM5 can also communicate with many software and online apps, including EXR, Regatta, Ic.row, and Kinomap. These apps can bring you rowing on realistic river courses with your Concept2 rowing machine.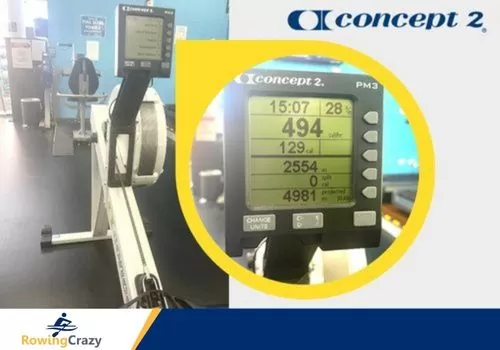 Apart from those reasons, there are practical reasons as well that make Concept 2 a top choice among rowers.
It is less expensive than many other brands, especially smart rowers like Aviron and Hydrow.
Parts are readily available if necessary, and there is a huge following online where you can connect with other users.
Newer models have a media shelf where you can set up your tablet or smartphone and watch videos or listen to music, but that's where the technology ends.
Concept 2 is a commercial-grade rowing machine. This means that it is designed to put up with heavy, daily use. That's why Concept 2 rowers are mainstays in most local gyms.
Learn more with our full video of the Concept2 Rower by our Experienced Erg Rower Max Secunda:
I've known Concept 2 owners who have replaced only a few parts after 15 years of daily use. That says a whole lot about the durability of this rowing machine.
Most Concept 2 owners will tell you that they like the smooth rowing experience and total body workout they get from this rowing machine. To be honest, a lot of indoor rowers can give you the same thing.
I think some of the selling points of Concept 2 are its durability, DIY-able replacement of parts, and the challenging world records that you can win in various categories.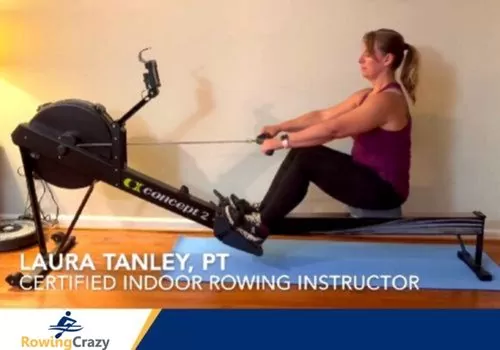 Not only that, this rowing machine comes apart very easily so you can store it or move it anywhere.
I've seen people pop their Concept 2 into the trunk of their car and take it to the lake, the beach, a park, a friend's pool, you name it.
You can store Concept 2 under your bed or in a closet. This is important when space is at a premium.
Concept 2 will hold up to abuse, no doubt, but you won't be playing games with your friends as you row.
The Pros of Concept 2 Rowing Machine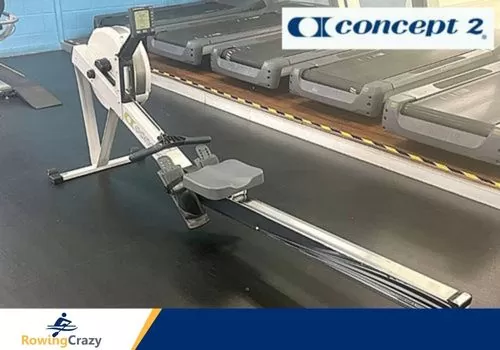 To remain a best seller for so many years means that the company must be doing something right!
The most obvious plusses for Concept 2 include:
Easy to take apart and store
Parts are plentiful and easy to replace yourself
There is a very large and supportive online community of users
For the competitive rower, the American or World records you can make with Concept2 (whether as an individual or part of a team) is irresistible
This rower is reasonably priced
Concept 2 has an almost unlimited number of resistance levels
Warranty is transferrable
However, an intense workout isn't everything, and most rowing machines will give you a full-body workout.
Before you buy a Concept 2, you should know about the drawbacks as well.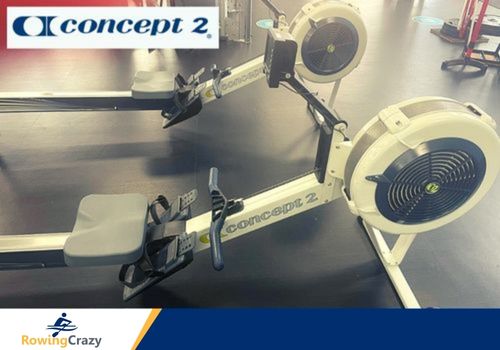 The Cons of Concept 2 Rowing Machine
As I mentioned before, this is a no-nonsense rowing machine so there are many areas for improvement:
Noise. This rowing machine, by far, is one of the noisiest machines I've ever used. I can find a Concept 2 rowing machine in a room full of rowing machines simply by the noise. If you share a room or live in an apartment, you might want to think twice or even three times before buying this rowing machine.
It can be boring. I suppose I've become accustomed to using a smart rowing machine. I've found that traditional rowers, such as Concept 2, are quite boring. I'm always looking for games to play, racing, or other visual workouts.
Concept 2 only has a 5-year warranty on frame parts and a 2-year warranty on other parts. While you shouldn't have any problems, that's not very long for a product that is a top seller.
This rower also requires a lot of floor space to use. While it's lightweight and quite compact when folded, it is very long and wide when used.
There is no doubt that Concept 2 isn't worried about smart rowers, but perhaps they should be. To learn more on Concept 2 rowers, be sure to read my full article Nordictrack Rowers vs Concept2
The Aviron Rowing Machine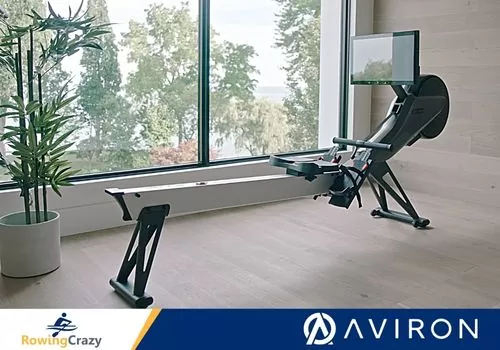 Aviron offers two different rowing machines, the Impact Series and their most recent addition to the Aviron family, the Strong Series.
You can check out the comparison chart above for a quick look.
For everyone else, let me delve into the details below.
Aviron is a Canadian company that prides itself on giving people what they want.
The Impact Series has been in production since 2018. After listening to user feedback, Aviron created the Strong Series, with all the performance and ruggedness you want in a rower, along with some features that make rowing more pleasurable.
One look at these incredible rowing machines tells you that this company didn't just manufacture a rowing machine, they designed one from the ground up.
The sleek, futuristic design features two forms of resistance- air and magnetic. Most of the time, your Aviron will run on nearly silent magnetic resistance. As your fitness level improves, you might find this rowing machine adds some air resistance.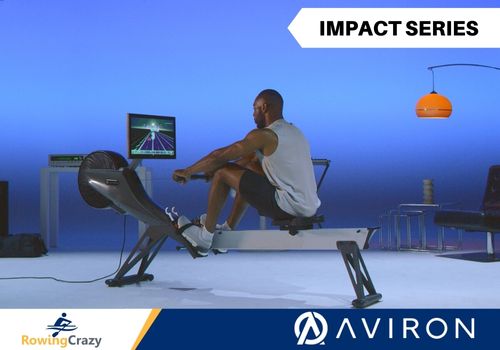 Worried about noise from the air resistance? Don't be! This rower makes no more noise than an ordinary office conversation, about 60 decibels at most.
The Strong Series has a vent that allows you to direct some of the air from the fan to your face or your body, to help you cool down.
I love that these rowing machines use HIIT workouts, so you get maximum results from the shortest possible workouts.
Whether you want to play multi-player games, enjoy animated video games that have you killing zombies, or if you want to race against others, or just enjoy your Netflix movies, you can do it all from the 22-inch HD touchscreen.
Yes, unlike some other connected rowers, you can watch YouTube, NetFlix, or whatever suits you!
The streaming games and races give you some serious competition if you like that, and it's your choice whether you want to go head-to-head against your friends or check out how you rate against professional athletes.
The rowing action on the Aviron is top-notch, and it is super-easy to assemble.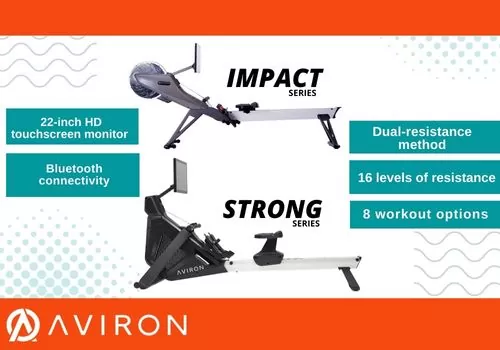 There are so many features to the Aviron rowing machine that it's hard to name them all. Aside from those already mentioned, here are some of the things that you can expect from Aviron rowers.
Ergonomic seat
A longer, padded, ergonomic handlebar designed to prevent injuries to the wrist and elbows
Beginners programs
Coaching
Monthly challenges
Frame constructed from steel and aluminum
10-year warranty on the frame, 1-year warranty on everything else
This is an indoor rower that you will never, ever get bored with! Side Note: You might also like to read my other article Aviron vs NordicTrack Rowing Machines
What Are the Differences Between the Impact and Strong Series?
Great question!
While you will get the same incredible variety of workouts, including off-the-rower workouts and fun games, there are a few differences you should know about.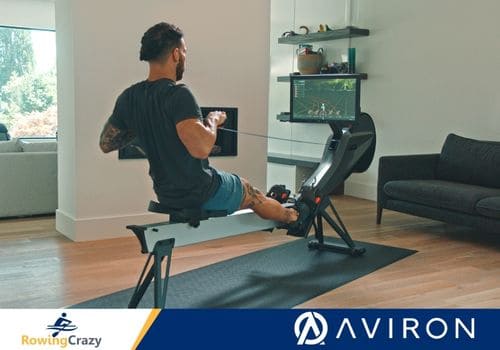 For basic size and weight info, you can check the quick comparison chart above.
Other differences include:
The monitors are the same size, however, the Impact Series only tilts up and down. The Strong Series monitor also swivels side to side for easy viewing of your off-the-rower workouts.
The Strong Series can handle the most user weight, but it also weighs more.
The Impact Series partially folds, the Strong Series does not but stores upright against a wall or in a corner with no securing device required.
The Strong Series is much shorter than the Impact Series so you don't need as big of a room to use it.
The fan on the Strong Series can be directed to the user, a feature that is not available with the Impact rower.
The Strong rower is also quieter than the Impact rower, which is pretty shocking because the Impact rower is already very quiet!
The foot plates on the Strong Series are the most adjustable I've ever seen! You can adjust for width and length!
The seat rail has a slightly downward tilt, which should help beginners maintain a proper form.
I'm sure that I'm forgetting something! The Strong Series has everything you want and need in a rowing machine but has a smaller footprint.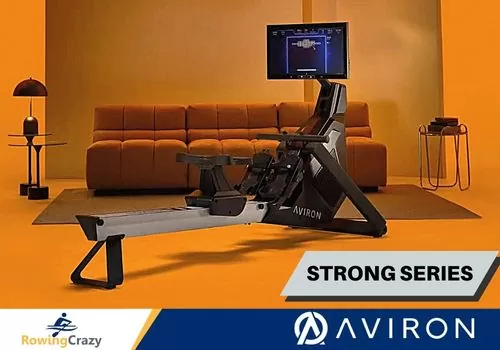 OK, it also comes at a slightly higher price, but I suppose that's the price you pay for perfection!
The Pros and Cons of the Aviron Rowing Machines
The pros are pretty obvious as mentioned above, but let me spell out some facts about this awesome rowing machine:
Say goodbye to boring workouts. Between the gamified workouts, live workouts, video games, races, and HIIT cardio workouts, you can't possibly ever get bored.
Plenty of resistance, no matter where you are on your fitness journey
The 22-inch HD rotating touchscreen gives you a completely immersive experience. You won't be checking your watch or wondering when your workout ends.
There are 8 ways to work out, including group workouts, guided workouts, or games that you can play with your friends. The performance monitor tracks more workout data than you ever dreamed possible,
There are social features built right into the display, no more going to your phone or a social media site to connect with the rowing community.
You can get cardio and strength training workouts all in one.
I also love the warranty Aviron offers. A 10-year warranty on the frame? That's the sign of a company that stands behind its products!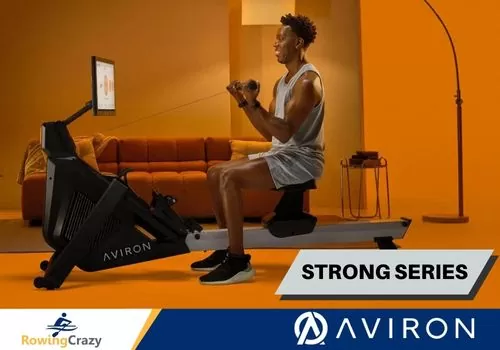 As terrific as I think Aviron is, there are a few things you should know before you buy:
There is a monthly membership fee of $29. When you think about it, that's probably what you are paying for a gym membership, right? You can also create unlimited profiles, which means everyone in your household can use Aviron for the same low price.
Aviron is a premium rowing machine, which means it does cost more than Concept 2. However, look at everything you are getting for that price! I've got a special price for my readers, so check that out here before you decide.
The limited warranty is not transferrable.
While there is coaching, there are no trainer-led classes, which I think is the whole point of smart rowing machines like the Aviron, to do away with boring class-setup workouts.
An Important Consideration
If you like studio-style workouts, you should check out other rowing machines, like Peloton Row, or if you like on-the-water workouts, you should check out Hydrow or the new Hydrow Wave.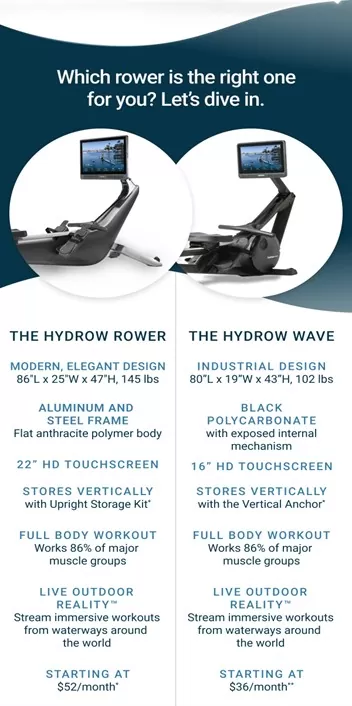 While I have found both Aviron rowers to be incredibly fun, some people just aren't into racing or video games.
Perhaps you would love to have an Aviron, but the price is pretty steep. If this sounds like you, you may want to consider the Hydrow or the Hydrow Wave.
The original Hydrow is the perfect rowing machine for anyone who has a true passion for rowing.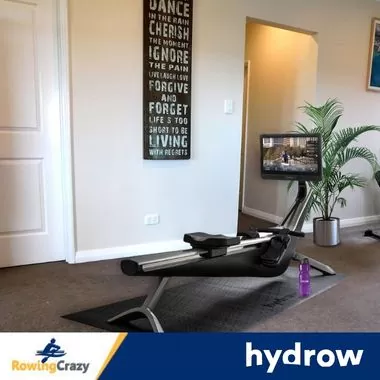 Hydrow SAVE $100!! => Use Coupon Code: ROWINGCRAZY
All workouts are done on the water with ex-Olympic champions or national rowers as your instructors!
Using only computer-controlled magnetic resistance, you can workout in near silence and the 22-inch HD touchscreen monitor allows you to get a true rowing experience!
Aviron isn't the only rowing company to listen to its users! Hydrow recently introduced the Hydrow Wave.
It's everything the original Hydrow is but in a slightly smaller package.
The rower itself is 30 percent smaller, which makes it perfect for apartment living, and the monitor is 16 inches in diameter.
Best of all? The Hydrow Wave is about half the price of the original Hydrow (read more on Hydrow Wave vs Concept2 ), currently going for $1,495! Dang! That's a bargain in the world of smart rowers!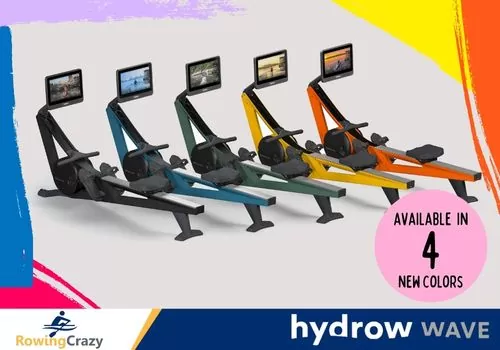 Last, but not least, if you are tired of the same old black, grey, and silver rowing machines, the Hydrow Wave now comes in four beautiful colors! Pick from Lake (blue), Forest (green), Sunrise (yellow), or Sunset (orange).
Yes, you can always opt for the original "Pirate" (black) if you like, but with gorgeous colors like these at a rock bottom price, why not pick your favorite?!
When it comes to exercise equipment, you want to get the best bang for your buck. A more informed buyer is a happy buyer, so what's the bottom line?
Who Is the Winner?
If you think rowing workouts are rowing workouts, and that the machine doesn't matter, you haven't tried the Aviron rowing machine.
Whether you opt for the Impact Series or the new and improved Strong Series, you are sure to love all the options Aviron offers!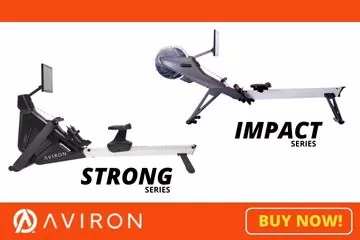 You would never say that all cars are created equal, right? You'll get to your destination whether you're driving a VW Bug or Merc A-Class, but it's certainly not going to be the same ride!
The same is true here. You'll get the same full-body exercise and derive the same health benefits whether you row on a Concept2 or an Aviron, However, the experience you get with Aviron vs Concept 2 will be very, very different.
I loved the action and excitement I felt using the Aviron rower. I found that it was quiet and comfortable, and it kept my interest from start to finish.
I found the performance monitor to be easy to use and filled with extras I didn't expect.
The Aviron rowing machine has a free 30-day home trial, so you can check out for yourself everything I've told you.
The Aviron rowing machine is the machine of choice for serious at-home athletes, even if you're a beginner!
While Concept 2 is a classic indoor rowing machine, it can't compete against the wave of the future. The entire rowing industry will one day be making rowers that connect wirelessly, but Aviron indoor rowers have that today!
The truth is that all rowing machines will give you the same number of calories burned, but if you don't use the machine out of boredom, what good does that do you?
The big advantage of owning an Aviron rowing machine is that you will actually look forward to exercising, day after day. Who doesn't want a machine that can give you that?
Yes, the Aviron machine costs more than Concept 2, and you'll need to pay a monthly subscription. However, if you want the best, if you want to banish boring workouts from your life, then it is what you've been waiting for.
FAQs
1. Is Aviron Worth It?
It absolutely is! Try it for yourself for 30 days. Once you've used the Aviron rowing machine, you'll be telling everyone about this fantastic piece of exercise equipment.
If you want a sturdy machine but need something smaller or more reasonably priced, consider the Hydrow Wave.
2. Can You Watch Hulu or Netflix on Aviron?
Yes, you can. The Aviron tablet comes bundled with nearly every popular entertainment app you can think of, including Hulu, Netflix, and YouTube.
3. What Other Rowers Are As Good or Better Than Concept 2?
If by "better" you mean indoor rowers that can offer you more engaging workouts and immersive experiences, then you should choose smart rowers like Aviron, Hydrow, Hydrow Wave or Ergatta.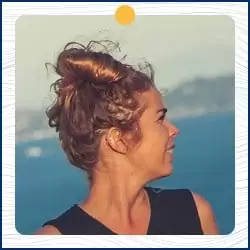 Written by Petra Amara – RowingCrazy.com
CEO & Founder of RowingCrazy, National Rower, Coxswain Womens Eight Team, Rowing Coach & Writer
Petra is a Mother of two and owner of Rowingcrazy.com. Petra lives and breathes rowing, she also has a passion for writing which lead her to start RowingCrazy.com to share her rowing experience and expertise with others.