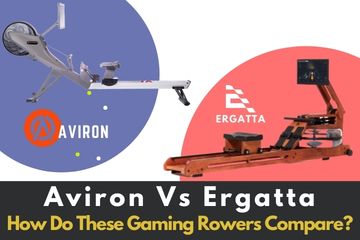 Buying a new rowing machine can be pretty confusing. Try typing 'rowing machine' on the search bar and you'll see how overwhelming the results will be. Water resistance, magnetic resistance, with or without instructors, wood or steel, connected, gamified, recorded or live workouts – there's a whole lot of choices out there.
If you've narrowed down your picks to Ergatta or Aviron but are still having trouble choosing, I understand. I really do! Everything from the looks to the resistance is different, so how do you go about choosing?
Aviron vs Ergatta Rowers Comparison Table:
I've set myself up for a challenge with today's article because both of these rowing machines are world-class rowers with lots of exciting features. They are even within the same price range!
Ergatta Vs Aviron – What are the Main Differences?
Keep reading. By the end of this article, I'm betting you will find that one of these rowing machines will "talk" to you and say "Buy me! I'm the perfect choice for you!"
At least, I hope so!
The Similarities Between the Ergatta and the Aviron Rowing Machines
First, let's do the easy stuff, shall we?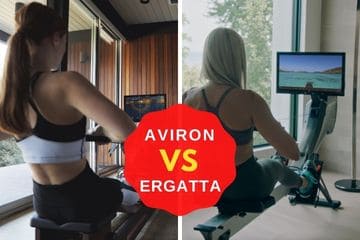 You will find that both of these rowing machines share some similarities, as you will see below:
Both are interactive rowing machines
Both end boring workouts by using games and racing to keep you interested
Both rowing machines have a monthly subscription price
Both the Aviron rowing machine and Ergatta rowing machine will give you a full-body workout in just minutes a day
Both of these home rowing machines have comfortable handlebars and adjustable footrests
Both offer computer-controlled resistance levels to help you reach your fitness goals
The monthly subscription price is also the same for both
The quality is certainly obvious with both machines, so there are no worries in that area. So how are these indoor rowers different? Let's talk about each of these smart rowers in turn.
Can You Play Games on Either Rowing Machine?
Yes, you can. Both Ergatta and Aviron are smart rowers that offer a wide variety of gaming options. By the way, if you've been playing those little "Go Fish" games on other rowers, don't confuse that old-fashioned type of game with the fully animated video games these rowers offer.
What Games Can You Play on these Rowing Machines?
Imagine Mario Kart but instead of a steering wheel, you have a handle to pull. That's a good definition of the type of games you will find on both machines.
Since Aviron first came out a year earlier than Ergatta, I believe they offer more games, but Ergatta is adding new games to their library every week or so.
If you think that the typical instructor-led workouts are a bore, you'll find yourself completely addicted to the gamified rowing workouts that these smart rowers offer.
The Ergatta
Right off the bat, you can see that the Ergatta is one heck of a beautiful indoor rower. The Ergatta frame is made from cherry wood and handcrafted right in the USA.
It is designed to complement your furniture and will blend right in with most dining room and living room decors. If you put your Ergatta in the living room, someone is sure to ask where your cool, new video conference center came from!
Ergatta is made by WaterRower, the pioneer in indoor water rowers, so if you've seen or used one, you'll notice right away that these machines look similar in design.
Using water resistance, the Ergatta gives off that soft swooshing noise of moving water that makes water rowers so popular.
That doesn't mean that this rower is loud. Water rowers make about the same amount of noise as water filling your bathtub. If you want an elegant-looking but quiet machine with the smooth action of water, the Ergatta is that and more!
Rowing Workouts Software That Makes the Difference
The Ergatta smart rower offers an interactive experience that is designed to make your rowing workout more fun.
One of the things I love about Ergatta is that, as soon as you create your profile, the screen asks you to calibrate the rower by doing a 1,000-meter row. The reason for this is so that Ergatta can determine your current fitness level. No one wants workouts that are too hard or too easy. By calibrating the machine, you will get the perfect amount of resistance and speed to get you in shape quickly, without wearing yourself out.
After every 10-15 rows, or sooner if you want to, the Ergatta will automatically recalibrate for your improved fitness level. Ergatta now includes a calibration control function, which allows you to opt out a workout in the automatic recalibration. Maybe you don't feel great about a particular workout and don't want it affecting the difficulty level of your future workouts, that's not a problem. With the calibration control, you can choose to exclude that workout in the next recalibration.
If you've never used a rowing machine before, Ergatta offers tutorials for beginners so that you will have perfect form before you know it.
When it comes to the workouts, you can choose from Paddle, Race, Sprint, and Steady workouts where the amount of effort required (e.g., Paddle requires less effort than Sprint) will depend on which workout you feel like doing.
These aren't the same old boring instructor workouts, but rather, exciting games and races that will keep you wanting to work out longer and harder than you would otherwise.
The monitor is 17.3 inches, and it's super easy to read. The workouts are broken down into 5 sections- Push Programs, Interval Workouts, Race Workouts, Open Row, and the Progressive Push Programs that came with the recent update.
Each of these workouts has explanations underneath them so you can easily figure out which type of rowing workout you want to do.
There are no fitness classes, on-the-water workouts, no live classes, and off-the-rower exercises, but don't let that scare you. Ergatta will not leave you clueless. For instance, the Progressive Push programs tie together several Push Programs in the Getting Started Series to help you attain your first 1K goal.
If you're not a total newbie, you can skip that, of course. Still, you'll find guidance in the form of another Progressive Push program called Power Camp, which focuses on sprint and speed training.
If you've ever played video games where you must accomplish a goal or a certain level before you can unlock new games or new levels, then you will understand how the Ergatta works.
Ergatta helps you understand your stats, control your rowing strokes, and improve your endurance level all while you play games.
Racing Games for the Competitive Type
If you love to be the "winner" then you will enjoy the racing games. Ergatta will pair you with others who are in the same fitness zone that you are so you will truly have a fair racing experience. It might be fun to race against world-class athletes to see how "badly" you will do compared to them, but after a while, you will get bored.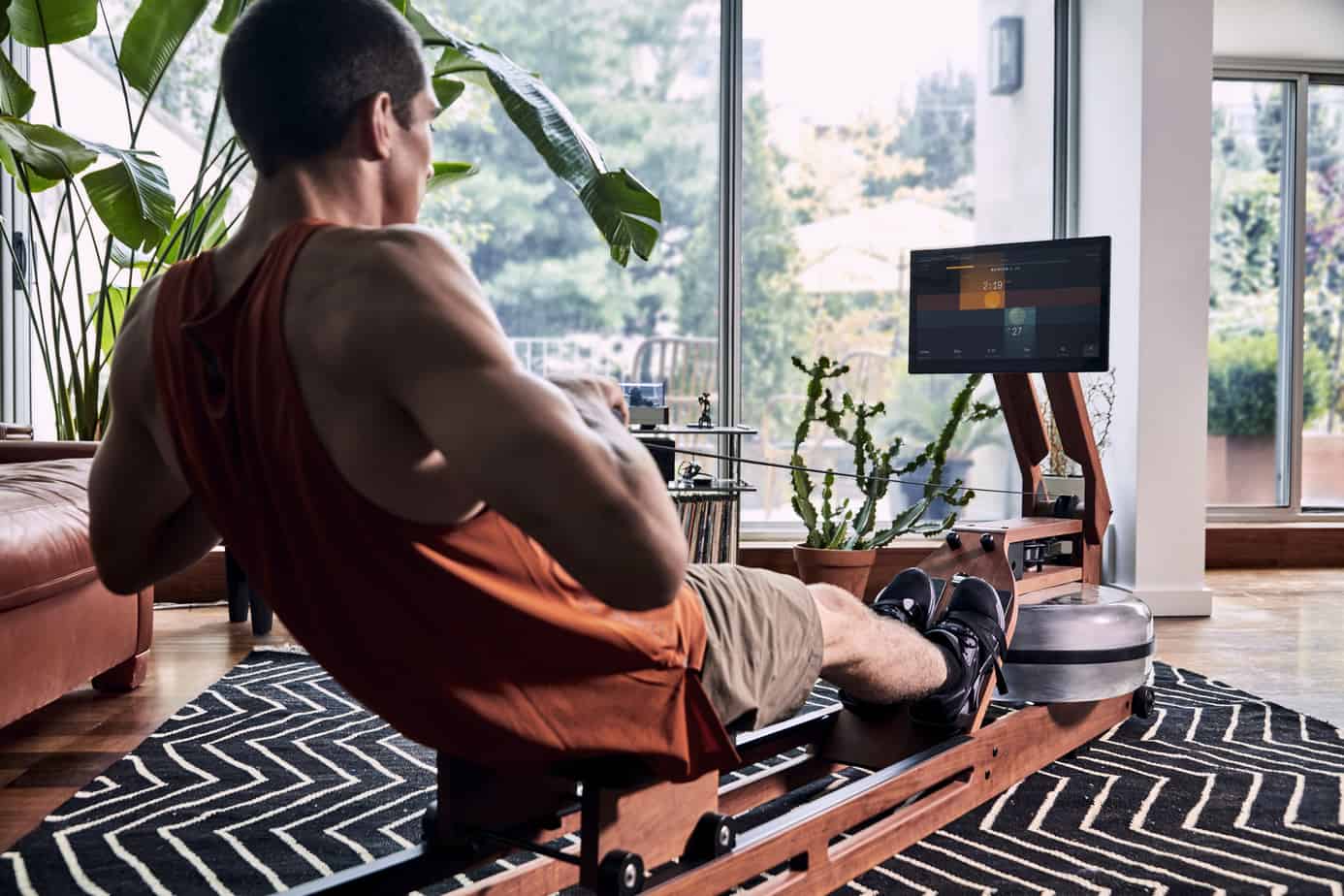 By offering you the ability to race against those in similar physical condition as you, the playing field will be level. This doesn't mean you can't compete with friends (now called Rivals) – the latest software update now allows you to challenge Rivals!
Ergatta offers community challenges every Sunday and monthly challenges for charity.
Who Should Buy the Ergatta?
If you are interested in performance-driven data, if you plan on using only a rowing machine to get in shape and lose weight, and if you don't care about those rah-rah instructors but would enjoy playing video games and racing, then the Ergatta might be exactly what you're looking for.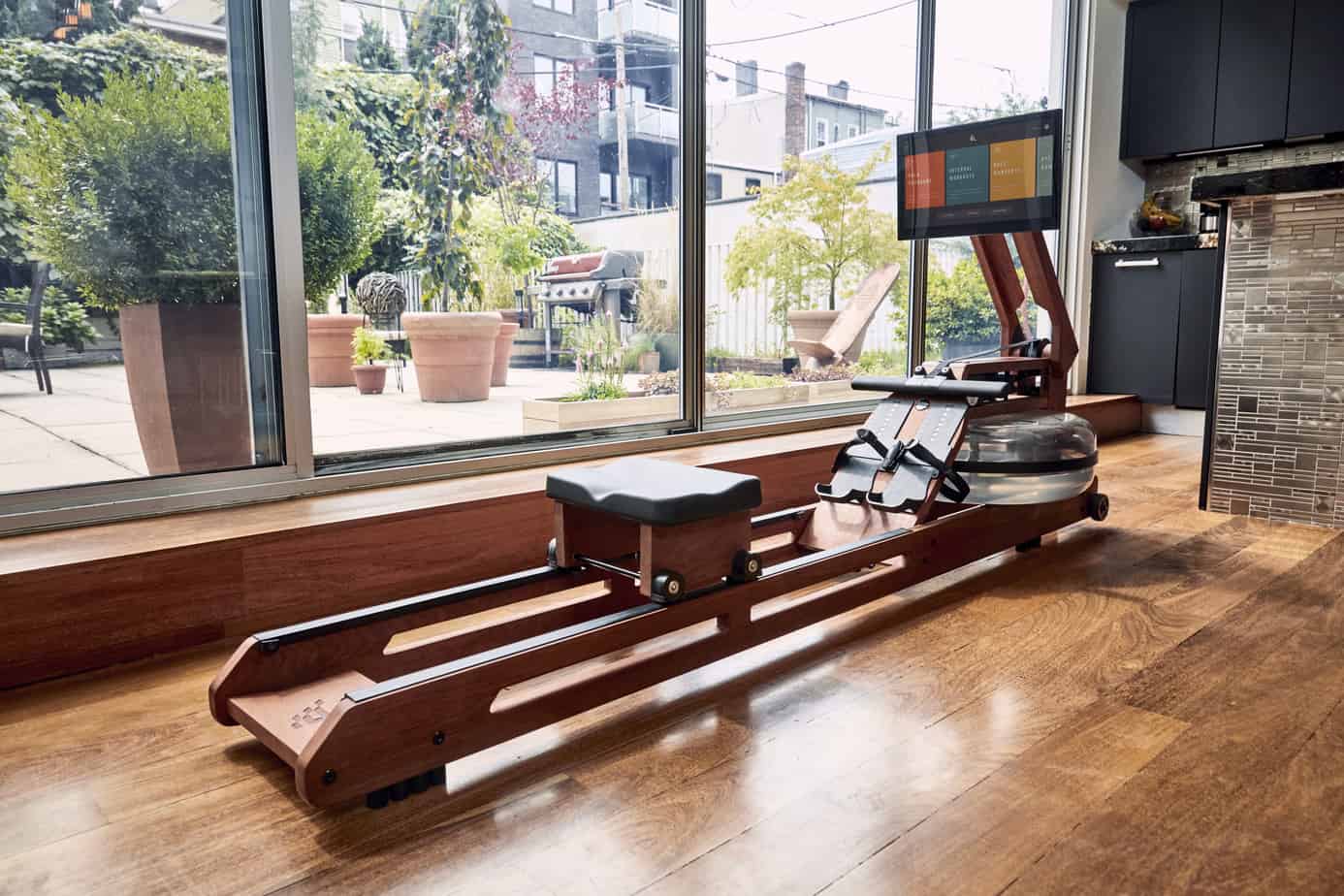 Keep in mind that the Ergatta is lower to the ground, so if you have issues with your knees or mobility problems, you might want to think twice about the Ergatta.
For everyone else, this is a truly unique indoor rowing machine, and as a fitness enthusiast myself, I can honestly say that I've never used an indoor rowing machine quite like Ergatta.
Is Ergatta Worth the Money?
Ergatta is well worth the price and the ongoing subscription costs. I mean, after all, how much of a price can you put on your health? You'll find yourself using the Ergatta again and again and enjoying it each time.
Click Here to Read Our Full Ergatta Review!
The Aviron
Aviron has been making rowing machines for a while now, and you may have actually used their commercial rowing machines in a hotel or company gym.
The commercial rowing machine is called the Tough Series, while the one made for home gym users is called the Impact Series. In order to compare apples to apples, I will be reviewing the Aviron Impact Series Rower.
The smart rower has a steel-and-aluminum monorail frame that quite frankly looks like a cool piece of exercise equipment from Star Trek. I find the futuristic style pretty appealing, and when it comes to the overall rowing experience, the Aviron has a lot to offer.
Now, Aviron's resistance system is different from Ergatta in that it uses two forms of resistance – magnetic and air.
If you've ever used one of those air rowers at a gym, or if you've used an assault bike, you might be thinking "Air resistance equals noisy," but that's not the case with the Aviron. Their unique system makes this rowing machine super quiet, maxing out at only 60 decibels, which is about the same noise level as an average room conversation.
The Aviron does have a larger footprint than Ergatta, but the seat also sits 20-inches off the floor, which makes it perfect for those with bad knees or other mobility issues.
This indoor rower folds compactly so that you can store it easily when not in use.
What About the Rowing Workout Software with Aviron?
Aviron has a large, 22-inch HD touchscreen monitor, which is beautiful and easy to read. This monitor will also allow you to stream YouTube on it in case you want to watch videos, listen to music, or watch some other type of rowing workout, but with all the amazing workouts Aviron offers, I can't imagine anyone using the touchscreen for YouTube!
Aviron's monitor also features a front-facing camera. At this time, you can take selfies when you win a race or for your own profile photo, but that's about it. I'm sure Aviron has plans to make this more functional in the future.
Once you've created a profile and you start doing workouts, Aviron tracks the following information: the total number of workouts completed, output (measured in kilojoules), calories burned, meters rowed, strokes rowed, time rowed, average watts, average calories burned per hour, average min/500M (split time, or how long it takes you to row 500 meters), and your average SPM (strokes per minute). That's a heck of a lot of metrics to track, and that's not all!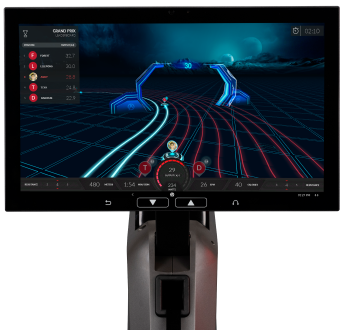 The Aviron rower has some really awesome games that will keep you totally engaged. If you remember the video game Brick Breaks, you will remember that you bounced a virtual ball and tried to break all the bricks on a wall to reach the next level. Aviron has a similar game called row breaker that is super addictive and will keep you rowing longer than you planned to.
Want to blast away bugs? Outrun a shark? or explore a mythical world via your rower? Aviron has all of those games and more to make the entire fitness industry stand up and take notice!
Does Aviron Have Fitness Classes or Racing Games?
While there are no instructor-led workouts, you can follow guided programs, race against professionals and non-pro rowers alike, earn bragging rights by competing with other rowers in the Aviron community, and do virtual rows through scenic waterways.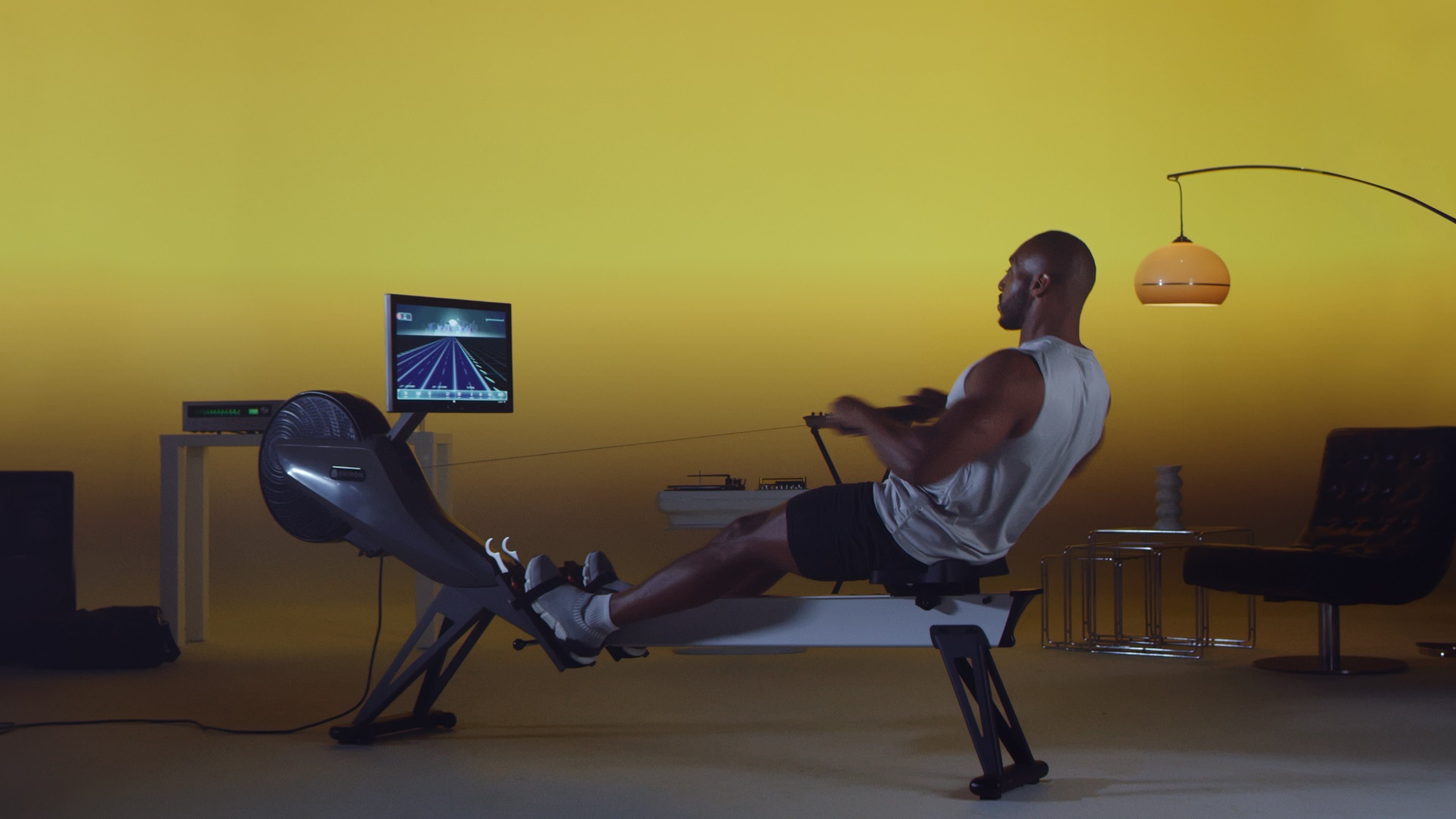 All these on top of the various gamified rowing workouts and arcade-inspired games mentioned above.
One of the things I love about Aviron's workouts is that many of them are high-intensity interval training ( HIIT) on-demand workouts. This means you get the most effective workout in the least amount of time. You'll have so much fun that you forget you're working out! If you plan on losing weight, this is one of the best smart rowers for that.
Who Should Buy the Aviron Rowing Machine?
If you love immersive video games, if you don't care about instructors directing your workouts, if you want an indoor rower that has fun competitions, lets you watch or listen to YouTube, if you want to end boring workouts forever, then the Aviron is exactly what the doctor ordered.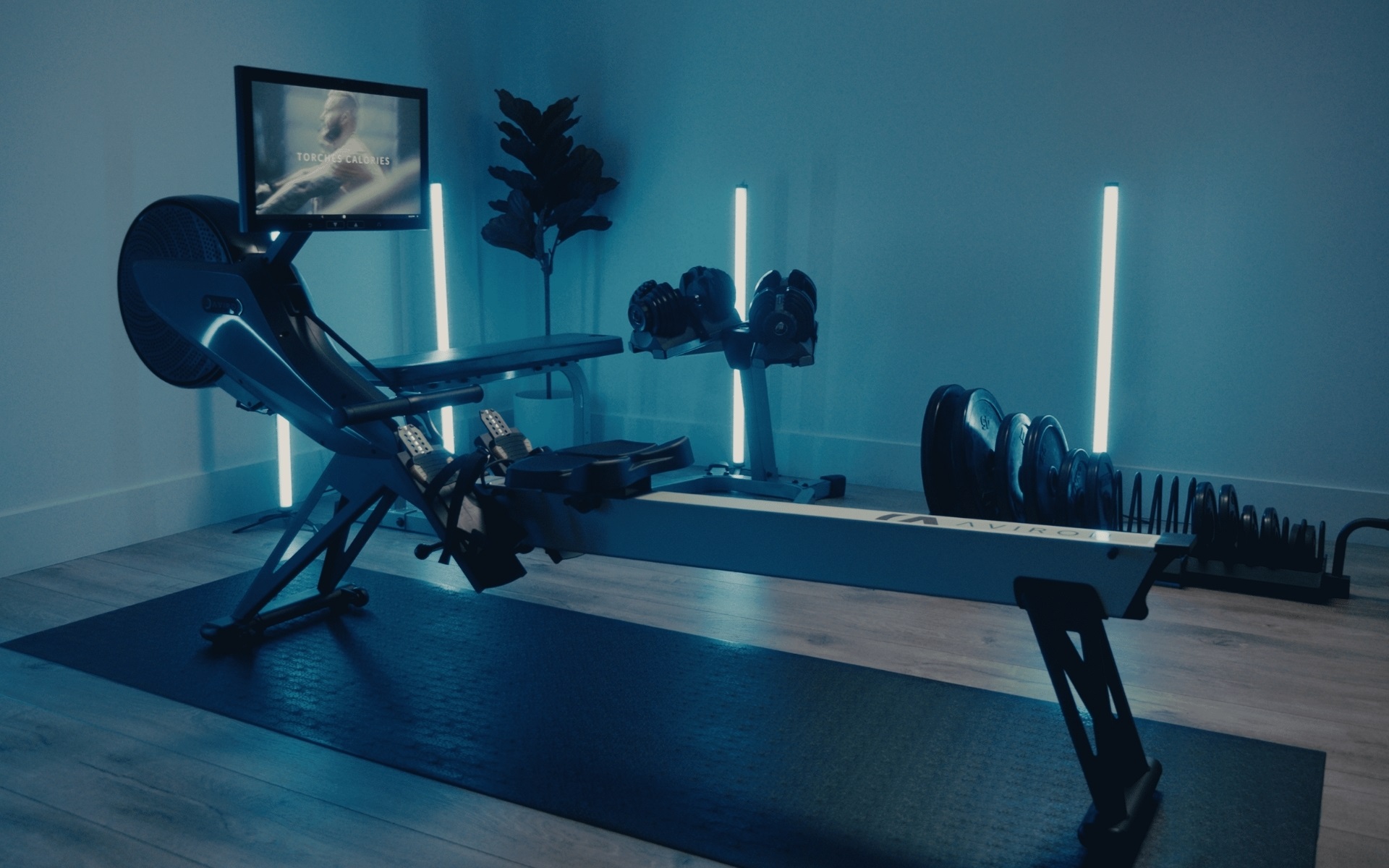 Is Aviron worth the money?
No question about that – it's worth the money and more! Between the interactive games, the 7 different ways to work out, and the plain old fitness fun you get from the Aviron impact series rower, it's really easy to see why this workout experience is like nothing else.
Click Here to Read Our Full Aviron Rower Review!
Comparing the Aviron Rower Vs Ergatta Rower
I don't know about you, but even after writing all that, I still find myself interested in both of these indoor rowing machines.
There are a few other differences that may or may not matter to you, but you should consider them before you make your selection.
Rowing Machine

Ergatta
Aviron

Gaming Workouts

Yes

Yes

Resistance

Water

Magnetic & Air

Max User Weight &
Height

500 pounds
6'8"

397 pounds
6'8"

Display Size

17.3 inches

22 inches

Monthly Subscription

$29 per month

$29 per month

Dimensions

86 x 23 x 40 inches

97 x 22 x 43 inches

Storage Options

Stores Upright

Foldable
Of course, no matter which of these rowing machines you choose, you will get a unique rowing experience that is unmatched by any other home rower.
The Bottom Line
I know that I usually pick a winner or the best machine in this section but when it comes to these two rowers, I simply can't find a "better" choice here.
It's like the old saying "6 of 1, a half dozen of the other." Both rowers are similar and both are different.
Both of these connected rowers are easy to use and have fun, engaging workouts.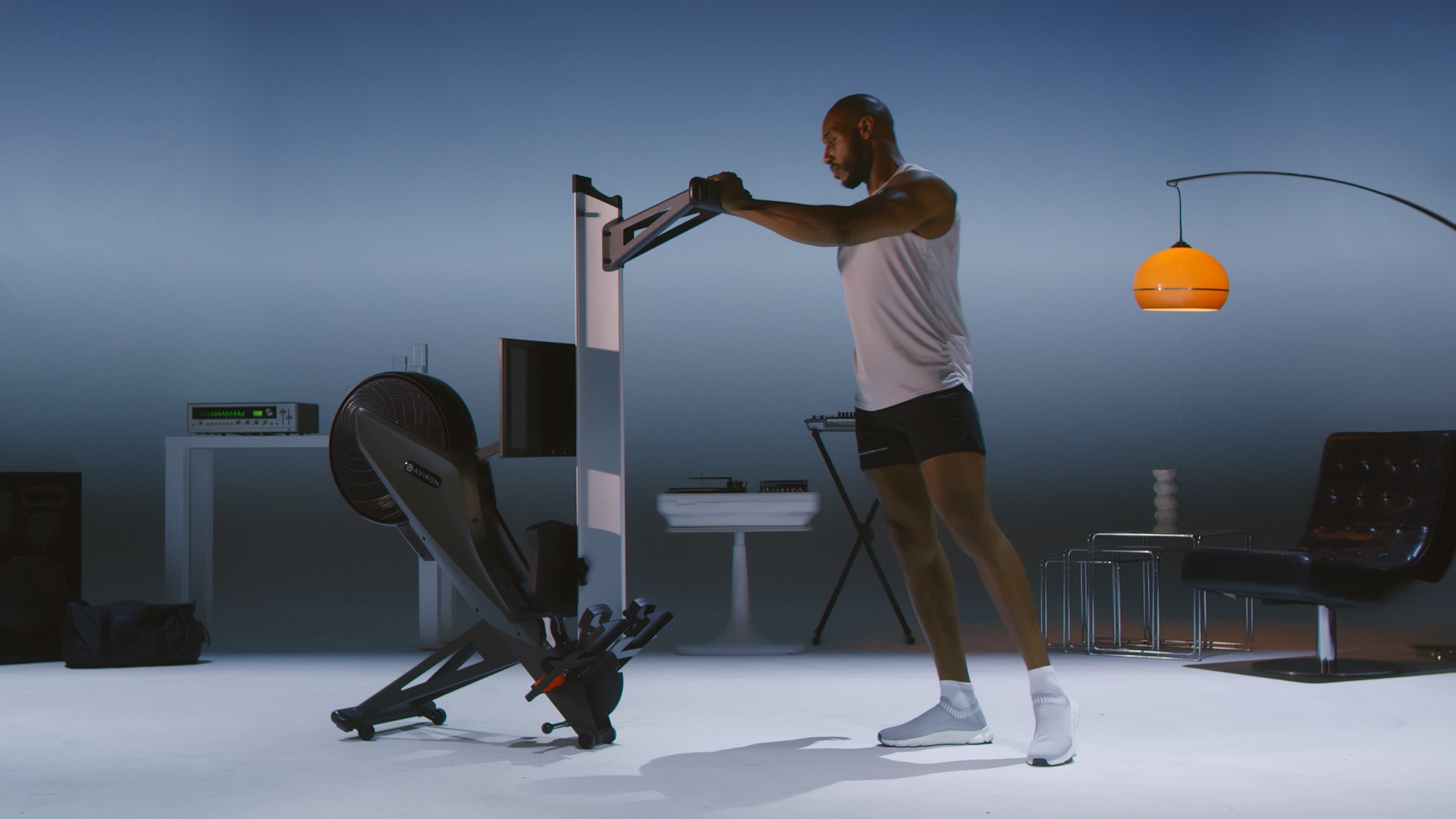 Both have membership fees and prices that are nearly equal. The Aviron Impact Series Rower takes up a bit more floor space to use, but the Ergatta doesn't fold.
Both machines have their own unique style and which one you prefer is a matter of taste. Both machines are designed to make your workouts fun, and both have strong structural frames.
I think what it boils down to in the end is your own personal preferences.
If you want futuristic styling and a higher seat, you'll want the Aviron.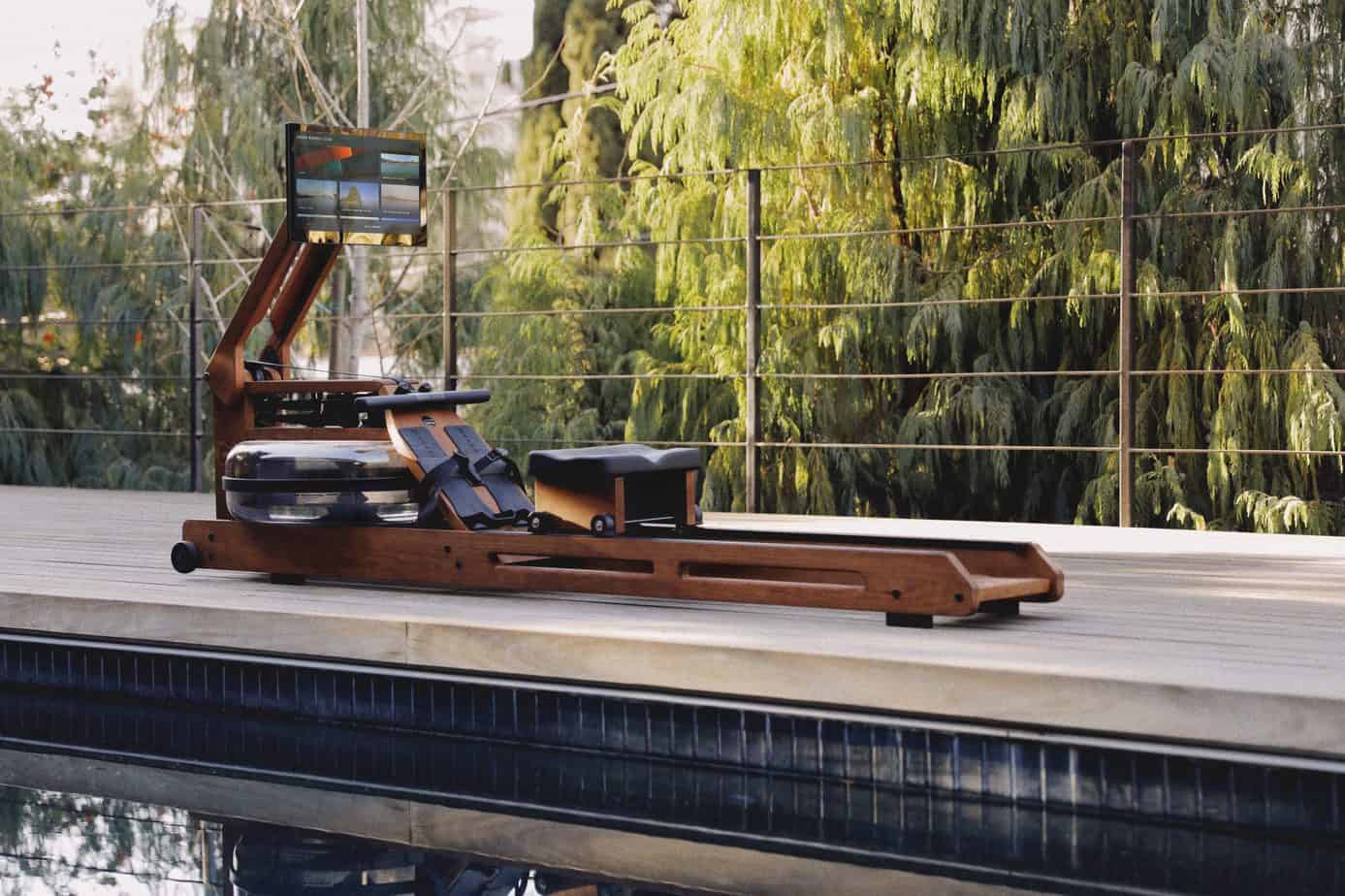 If you prefer the natural look of wood and the swooshing sound of water, and you don't mind sitting close to the floor, you should consider the Ergatta.
Ergatta rower Vs Aviron rower. Both are fantastic smart rowers that are well worth the price, and whichever you choose makes you a winner.
Stay healthy and happy rowing!