Remember that old song from the 1980's Baby Got Back? It seems as if that song never really went out of style! Everyone (yes, gentleman, I am talking to you as well) wants to have a more beautiful butt; however, it takes some work to get it and keep it!
You know you need cardio, but cardio alone won't get you that beautiful butt or legs.
You don't have to sacrifice one for the other, however. You can work both your glutes and your heart in one simple cardio device.
Keep reading and I'm going to set the record straight on the best cardio machines for a debonair derriere!
In a Hurry? Here are My Top 5 Picks:
Don't have time to read the whole article? Here are my top picks for the best glute-blasting cardio machines.
*We review fitness products impartially and may earn a commission from affiliate links. For details see our disclosure page.
You can read my full breakdown and review on each individual machine further down in this article, where we go into our findings for each machine.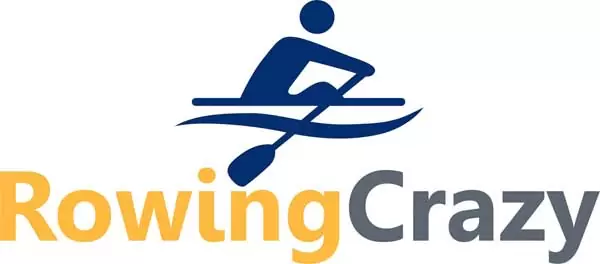 5 Machines that Will Give You the Best Cardio for Glute Activation
There are machines that get your glutes a workout, and then there are those that make your glutes, well, POP! As in eye-popping! Here's my list of the best cardio devices that will really make glute activation the highlight of your workout and make you really proud of your butt!
1. The Hydrow Rower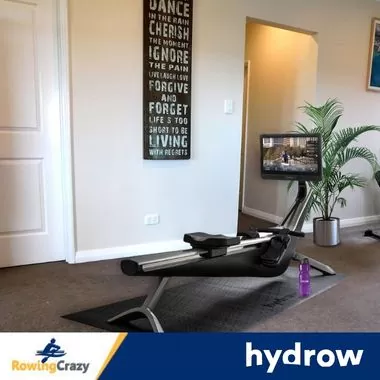 Hydrow SAVE $100 or £100!! => Use Coupon Code: ROWINGCRAZY
If you want glute muscles galore and legs to die for, rowing is one way to get them. I love rowing machines, and the Hydrow is my all-time favorite.
While many rowers use magnetic resistance, the Hydrow is the only rower where the magnetic resistance is controlled by a computer. This allows you to experience what real rowing feels like on the open water and let me tell you, not only does this work the entire body, but the glute workouts on this rower are insane!
Watch our expert rower Max Secunda Reviewing the Hydrow Rower:
This state-of-the-art rower features a 22 inch HD touchscreen that makes you feel like you're sitting in a boat along with other rowing partners.
As you might imagine, rowing offers a fantastic, low-impact cardio workout that will also get those glute muscles into shape in no time. Have you ever seen the glutes on those professional rowers? That's what I'm talking about! No treadmill can match that!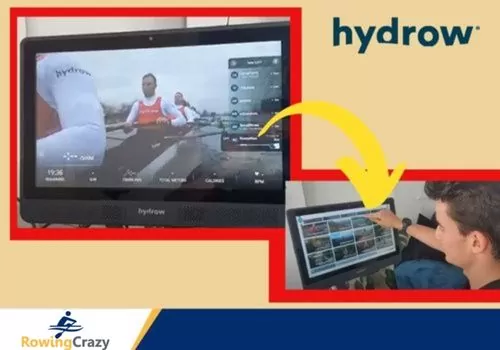 Why You Should Buy the Hydrow Rower
Do you love rowing? Do you love high-tech gadgets that not only entertain but give those glute muscles a true workout? Then the Hydrow is right up your alley.
This cardio workout piece of equipment was made by professional rowers for those who love to row. It's also perfect for those who want to work most of their body muscles in a single workout, not to mention work on their thighs and legs, improve heart health, increase their strength, do interval training and, oh yes, let's not forget about those glute muscles!
As you might imagine, the Hydrow offers tons of goodies and the most asked for features, such as :
Workouts are led by world-class trainers, many of whom are from the US National Rowing Team.
The HD monitor and breath-taking scenery make your workouts feel extremely real.
It's the best machine for glute building workout so you can show off those booty muscles fast.
In addition to the live and on-demand rowing workouts, there are yoga, strength training, and Pilates workout sessions to help you target your glutes, and stay motivated.
It supports users up to 375 pounds.
The seat has a 10-roller support system for the ultimate in comfort.
Did I mention that the 22-inch monitor is dust- and sweat-resistant? That's a big plus!
Front-facing, high-quality speakers
Bluetooth functionality
Can be stored upright using the Hydrow storage kit (costs a bit extra)
Free 30-day trial offer
The frame and storage kit have a 5-year warranty, all other components have a 1-year warranty, and 1-year labor is included.
Hydrow SAVE $100 or £100!! => Use Coupon Code: ROWINGCRAZY
Learn more with our full video by Rowing YouTube Influencer Max Secunda:
Who Should Not Buy the Hydrow Indoor Rower
Everyone is different and has different preferences, especially when it comes to pumping up those glutes and doing cardio exercises. Some things you should know about the Hydrow before you purchase would be:
There is a monthly subscription cost to access the workouts.
The volume on the speakers cannot be adjusted.
You cannot use third-party apps with this, such as the Apple Watch, but Hydrow says that they will change this soon!
Click Here to Read More on this Home Rower!
2. The Teeter Power10 Elliptical Rower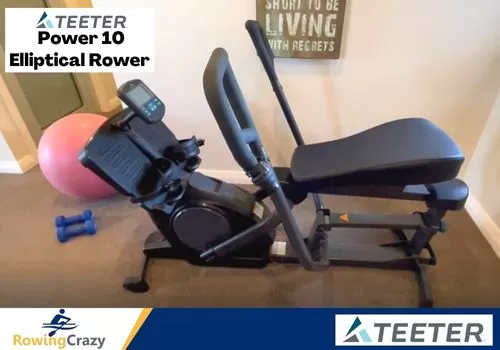 You may not have heard of an elliptical rower, but I'm betting you want one after you read this. Who wouldn't want an elliptical, which is easy on the knees, combined with a rowing machine, which works 86 percent of the muscles in your body? Yes, it does work those glutes, friends, as well as the rest of your body.
Watch our full video by Olympic Rower Rachael Taylor:
When speaking about cardio machines (click here to see more low impact gym equipment), both ellipticals and indoor rowers can target your glutes, so imagine putting both of these machines together? I'm not kidding you here, this is an extreme workout that will give you that burning feeling in your butt in no time while working your body to the max!
Why You Should Buy the Teeter Power10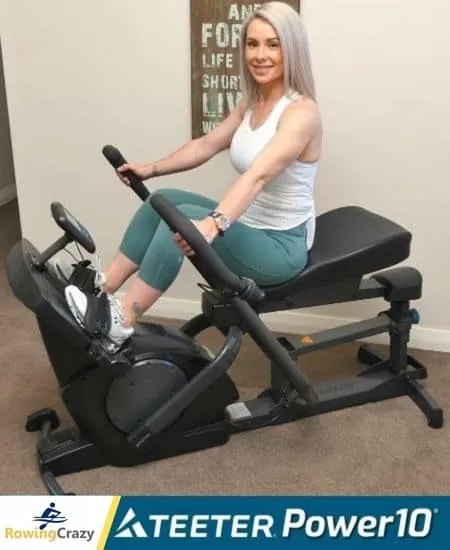 I love the Teeter Power10 because I can get in a complete workout in a single device.
This fun piece of equipment offers tons of cool stuff such as:
A free training app. Read that again, FREE! Most high-tech devices charge a monthly subscription fee but not the Teeter Power10.
This includes a Bluetooth-enabled chest strap that monitors your heart rate.
There is a digital performance monitor that tracks the calories you burn, distance, strokes, and more.
Both the stroke length and seat are fully adjustable.
There are transport wheels so you can move it or store it easily.
Assembly is easy with the 3D instructional video.
The warranty is 90-days for the frame, all other components 1-year.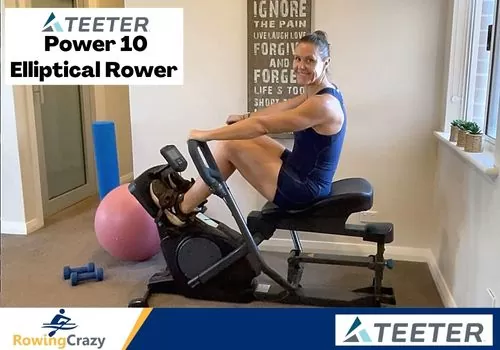 Who Should Avoid the Teeter Power10
Doesn't this elliptical rower for glutes look absolutely amazing? It's got to be one of the best cardio workouts I've ever had, but you should be aware of a few things about the Teeter Power10.
The fitness monitor is not backlit, so it can be hard to read in low light areas.
There is no water bottle holder.
This machine might be too heavy for some to move easily.
if you are new to rowing, it will take time for you to learn to do the strokes properly.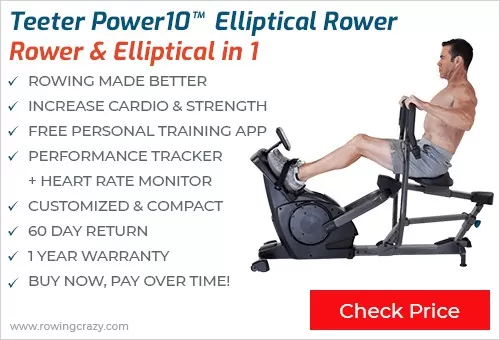 3. The Teeter FreeStep Elliptical Trainer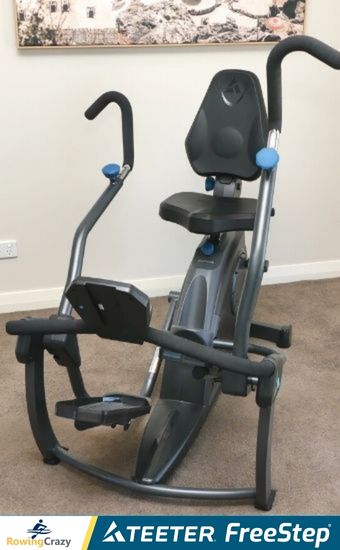 For those of you who want real heart and glute workouts but whose back hurt even with ellipticals, you'll be happy to learn that there's a recumbent elliptical called the FreeStep.
Learn from Olympic Rower Rachael Taylor as She Tries the Teeter FreeStep Elliptical Trainer:
The Teeter FreeStep is more than just low-impact, it is zero-impact, which is a real relief to those with arthritis pain, bad knees, or a bad back. This doesn't mean that you don't get a true full-body workout; instead, you get your back supported as you go through your routines. This recumbent elliptical is extremely popular, offers a great workout for the gluteal muscles, and is one of the best cardio machines for people with joint issues.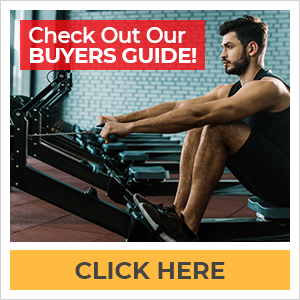 Why You Should Buy the Teeter FreeStep Recumbent Elliptical Machine
One of the things that you hear most people mention about the FreeStep is the manner in which the pedals move. Most ellipticals move in a circular motion, similar to a stationary bike or exercise bike. The FreeStep moves in a linear motion, similar to the way you naturally walk. This movement means less pain than jogging on a treadmill or walking up a set of stairs.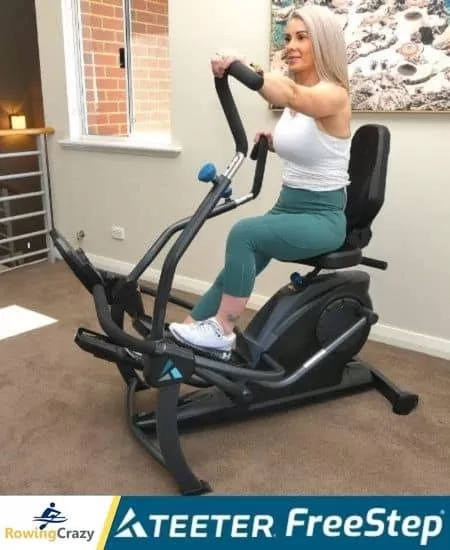 Despite the bargain price, the Teeter FreeStep is not short on features and offers the following:
It is similar to machines used in medical environments, so many people love the way it works the body muscles (including the heart) without hurting the joints.
Both the seat back and the seat itself are completely adjustable. There is no other recumbent stationary bike that offers that!
The linear pedal motion means zero impact on joints.
The FreeStep uses magnetic resistance, so it is virtually noiseless.
The handlebars are completely adjustable.
It supports users up to 300 pounds.
A full one year warranty is included.

Who Should Not Buy the Teeter FreeStep
As nice as this elliptical is, there are some things you should know about it. If the following aspects are important to you, the FreeStep is not the best equipment to buy.
While the digital monitor does track things like the number of steps and calories burned, there are no workout programs
The FreeStep offers a terrific cardio workout, but it also takes up a lot of space
The warranty could be better.
Those looking for a super-intensive HIIT workout will not be happy with the FreeStep.
4. The StairMaster SM3
This is similar to the type of resistance stair stepper you use at the gym, but why wait in line to use that piece of equipment when you can make that gluteus maximus work anytime you like?
Everyone loves StairMaster because it works your body from the waist down, including glutes, hamstrings, calves, quads, even your ankles! If you want beautiful legs, you want this device!
This is a low-impact workout but in all honesty, your body needs a good set of knees for this one. If your knees aren't up to snuff, avoid stair steppers like the StairMaster and choose one of the other cardio machines in this article.
Why You Should Buy the StairMaster SM3
Keeping your glutes strong is more than just looking good, those buns also have a lot to do with your good health. Strong glutes will stabilize the hips and pelvis, which prevents lower back problems. Keeping your glutes strong will also help you stay mobile as you get older and, the truth is that, no matter how old we get, we all want a beautiful butt, right?
Let's not forget that besides working those glutes, a StairMaster is one of the best cardio machines around, which is good for your body.
You could use just any stair stepper to improve your glutes, but the StairMaster SM3 offers the following:
10 workout programs are included in the monitor, such as fat burner, quick start, the mystery challenge, calorie burner, intervals, and more
The digital LCD display is backlit, so you can see it easily even in low light conditions
The SM3 is compatible with Polar heart rate monitors
Step speed can be altered between 26 and 162 steps per minute
Weight capacity is 275 pounds
There is a lifetime warranty on the frame, 5-year mechanical parts, 2-year electronic parts, and 1-year labor
Who Should Avoid the StairMaster SM3 Stair Climber
There is no denying that glutes love the movement of stairs, which is one reason why a stair stepper is so popular. However, you should know a few things about the StairMaster before purchasing.
They are loud. VERY loud. If you live in a small apartment, have roommates or small children, this may not be the machine for you unless you have a garage where you can set it up.
This stair stepper is very difficult to assemble, so you should add the cost of delivery and set up to the price.
You need a good set of knees. While this is low-impact on the rest of the body, it does weigh on your knees. If you are very overweight or have bad knees, I do recommend that you choose another device.
5. The Bowflex M8 Max Trainer
Do you want a cardio machine that really gets those glutes burning? Check out this amazing piece of machinery.
The Bowflex M8 is a cross between a stair stepper and an elliptical. This hybrid type of cardio machine provides glute activation plus a super cardio workout.
This is an extremely low-impact, full-body workout that is guaranteed to work your gluteus maximus! This machine does not only work for all fitness levels, but also offers the software called the Intelligence App.
This app will assess your current fitness level, then suggest ways and workouts that can help you move on to the next level. It's like having a personal trainer tell you how to pump up those glutes and thighs in your own home gym!
Why You Should Buy the Bowflex M8 Max Trainer
This is one of the best cardio machines for glutes that I have seen. The Max Intelligence Platform improves your workout experience using artificial intelligence technology. This allows you to get the most out of your current workout while training you to move up to the next level. I won't even mention what it can do for your glutes!
There is a lot going for this cross-training, super workout for glutes in one stair climber, including:
Bowflex combines the low-impact workout of an elliptical with the heart-pounding, calorie furnace of a stair climber.
This includes an armband strap to monitor your heart rate.
Since this machine includes AI, don't be surprised to hear the machine cheer you on and give you encouragement.
It provides a HIIT workout your gluteal muscles won't soon forget.
It even includes a magnetic media rack for your smartphone, tablet, or reading material.
The Bowflex has a very small footprint and can be rolled away to a corner for storage.
20 levels of resistance mean that you will never outgrow this machine.
This provides a full-body workout without putting stress on the joints.
It allows four (4) user profiles.
User weight capacity is 300 pounds.
The warranty includes 3 years on the frame, 3 years on all parts, and 90 days labor.
Who Should Buy the Bowflex M8 Trainer
Perhaps it would be easier to say who shouldn't buy this device! Oh wait, I will tell you that in a bit.
For those who love the idea of having a personal trainer in the house, the artificial intelligence that comes with this stair climber hybrid is ideal. You don't need to guess or hope that you're working out those glutes to your best ability because the M8 will tell you!
There's every reason why the Bowflex MS must be on the list of the best cardio machines on the planet. It works the gluteus maximus muscles and the upper body, limits the stress on other joints, and cheers you on every step of the way!
Who Should Not Buy the Bowflex M8 Elliptical Trainer
I can't imagine anyone not loving this butt-building cross-trainer, but it's always good to know that some things may not appeal to everyone, including:
The warranty is fairly short considering the price.
It is a premium-priced elliptical machine, but it does have features that no one else can touch.
There is no cooling fan in the console, which would be a nice addition.
The AI program, Max Intelligence, charges a monthly subscription.
The Bottom Line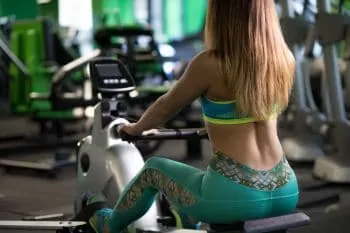 No matter which piece of equipment you decide to buy, you and your glutes cannot go wrong! Cardio machines are extremely popular, but they don't all work your glutes. So be sure you choose one of the above to ensure that you not only get in those cardio exercises, but so you also work those thighs and gluteal muscles to the max!
See All Our Top Rowers Under $1000!
Frequently Asked Questions
Q: What is the worst cardio for glutes?
A: It would have to be jogging and running, which is why treadmills aren't what they are cracked up to be when it comes to working your butt.
Q: Can cardio build glutes?
A: Cardio is great for burning fat and keeping the heart healthy, but you need to activate the glute muscles to make them stronger and larger.
Q: Which exercises activate glutes the most?
A: All of the above cardio machines will help to work those glutes, but other exercises can also help, including donkey kicks, walking lunges, banded squats, and the banded hip extension.
Q: How can I improve my glute activation?
A: Doing some glute exercises before you even begin your workout will enhance glute activation. Some of the best warm-up exercises that will get your butt ready to go include donkey kicks, the clam shell, and the glute bridge.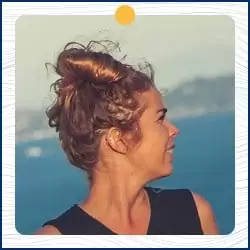 Written by Petra Amara – RowingCrazy.com
CEO & Founder of RowingCrazy, National Rower, Coxswain Womens Eight Team, Rowing Coach & Writer
Petra is a Mother of two and owner of Rowingcrazy.com. Petra lives and breathes rowing, she also has a passion for writing which lead her to start RowingCrazy.com to share her rowing experience and expertise with others.