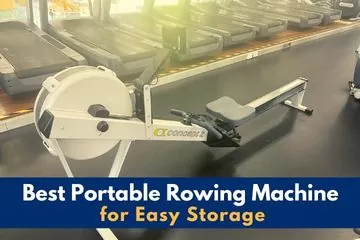 Are you planning to buy an indoor rower but your home does not have ample floor space for it? If you're thinking of the enormous rowing machines in your local gym, then space can indeed pose a challenge. Fortunately, it's possible to find compact and folding rowing machines for home use or for gyms with limited space.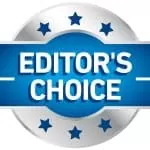 In a Hurry? Here are My Top Picks:
Stamina 1130 Magnetic Rower
First Degree Fitness Newport AR Water Rower
Concept 2 Model E
Sunny Health & Fitness Squat Assist
You can read my full breakdown and review on each rower further down in this article.
Prioritizing Quality: How to Choose a Compact Rower for Your Needs
You can't have everything in one rowing machine, but prioritizing will help you. We've made a list of prioritized qualities to guide you in your search when looking at different types of rowing machines.
Compactness & Collapsible– it must not take up too much space when fully laid out and when stored. Your rowers dimensions must match the space that you have plus extra room for moving about.
Portability –it helps if your rowing machine is foldable or easy to move to a storage place. It must be light enough for you to carry or have wheels for rolling. For a compact machine, easy storage must be paramount. A small footprint when stored is a plus.
Strength and type of resistance – don't compromise the quality of resistance. In our lineup below, resistance ranks high in the criteria.
Durability – it must have a solid build that will last for years to come. Also, take note of its weight capacity and the maximum inseam that it accommodates.
Warranty – minor hiccups are common in rowing machines even for expensive ones. A good warranty will save you from unnecessary anxieties and expenses.
When buying a rowing machine, you'll have to set your budget or price range right away (See our top list of rowers under $500 here) How much do you intend to spend? Your answer will effectively narrow down your search and save time.
With this in mind, we have selected the three portable home rowing machines in three different price brackets. For each price range, we picked up the most compact model that delivers the required portability, resistance, durability, and warranty.
The Best Portable Rowers for Your Price Range
Whether you're looking for a low, mid, or high-priced indoor rower, we have the best rowing machines for you.
#1. Stamina 1130 Magnetic Rower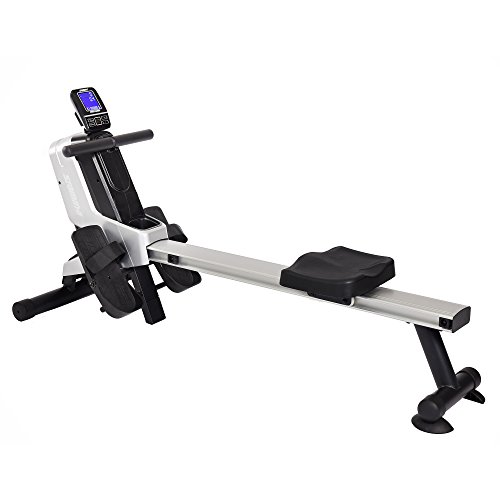 The best portable rowers for less than $500
Stamina 1130 is a sleek, compact machine that does not look low-end at all. Its assembled measurements are 56" length, 22" Width, and 27" height. It's shorter by at least 2 feet than your typical rowing machine. You can lay it beside your bed and won't see it going beyond your bed's length. Even with these compact dimensions, 1130 works for tall people with inseams of up to 37".
powered by Advanced iFrame. Get the Pro version on CodeCanyon.
Stamina Magnetic Rower 1130 – 35-1130 from Stamina Products Inc. on Vimeo.
Easy to Move Around and Store Magnetic Rower
This magnetic rower stores upright and takes up a floor area of 22" x 27". You do that by lifting its rear stand and setting it on its front base. We don't find the stored height of 56" terribly tall. There are wheels on the base which make moving it around this magnet rowing machine very quick and easy.
Compact Rowing with Built-In Computer Console
Stamina 1130 is an upgrade of Stamina 1110 and also uses a magnetic resistance braking system. Instead of the knob for increasing resistance, it has a built-in computer console. You can increase or decrease tension while running a program by pressing the plus or minus button.
16 Levels of Resistance and 13 Programs to Choose From
There are 16 levels of resistance and 13 programs for you to choose from on this magnetic rowing machine. Nine of the programs are preset while four are customizable. With its magnetic resistance and nylon strap for pulling, you get a smooth and quiet drive. Not only is it compact for homes, but it also won't wake up the baby. (Another great feature on these magnetic rowing machines!)
Great Backlit Display

The backlit display on this compact rower is not something you typically see in low-end machines. It is easy to read and tracks your strokes, SPM, time, distance, calories burned, and heart rate. Another pleasant surprise is the chest strap monitor which comes with this great magnetic rowing machine.
Magnetic Resistance Rowing Machine with 3 Year Warranty
With its solid steel frame and high-grade aluminum beam, we see this machine lasting for years under normal residential use. It has a 3-year warranty on frame and 90 days on parts. You don't see that too often in this price range. It has a maximum weight capacity of 250 pounds.
Final Thoughts on this Lightweight Rowing Machine
Just so you know what to expect, you'll need to have an outlet nearby because the computer console is AC-powered. Users were somewhat annoyed and wished the console was battery-powered, but we don't consider that a deal-breaker. Overall, this indoor magnetic rowing machine is not only compact and portable, but it also boasts of some advanced features seldom offered by low-cost ergometers.
#2. First Degree Fitness Newport AR Water Rowing Machines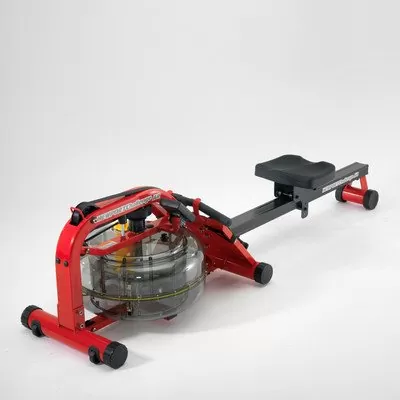 The best compact and portable rowing machine in the $500-$999 range
We were inclined to recommend Concept 2 Model D in this price range considering its first-rate resistance, tough build, and state-of-the-art PM5. However, we couldn't exactly call it compact beside other models in this range. First Degree Fitness's Newport AR water rower, on the other hand, has the perfect balance of compactness and topnotch performance. Fully assembled, it measures 78" long 21" wide and 20" high.
powered by Advanced iFrame. Get the Pro version on CodeCanyon.
Perfect Compact Rowing Machine for Tall People and Still Great on Storage!
Like Stamina 1130, Newport AR stores vertically but to a much smaller footprint of 21"x20", though quite tall at 78". It has caster wheels for a smooth transit to a corner or closet. We'd like to note that despite being compact, this rowing machine suits most tall people with inseam measurement up to 39".
Best in its Class
Water and air rowing machines are similar in the sense that both create variable resistance—that is, the harder you row the stronger resistance the mechanism creates. This characteristic makes these air and water rowing machines the best of their kind. What makes Newport AR stand out from other water rowing machines is the "AR" in its name, which stands for adjustable resistance.
Extremely Quiet and Smooth – Perfect for Home Use
That's why you'll find a knob there, very much like magnetic rowing machines with adjusting knobs. You can change the water level with this knob, which in effect changes the resistance level. In other words, Newport AR has the best of both kinds of resistance—variable and adjustable. The rowing motion feels extremely smooth and quiet, and the splashing sound of water is relaxing. Aside from its portability and space-saving size, its noiselessness makes these rowing machines perfect for home use. Side Note: If you are tight on space be sure to check out my article on the best rowing machine for apartments.
Solid Construct – Marine Grade Steel
Newport AR is solidly constructed with a steel frame and anodized aluminum beam. The paddles inside the polycarbonate tanks are marine-grade steel. It has a 1-inch durable nylon pull which makes the drive smooth and quiet. We expected a maximum capacity higher than 300 pounds, but it should be adequate for most users.
Final Thoughts
Like most ergometers at this price point, it is covered by a manufacturer's warranty for 5 years for frame and 2 years for parts. Newport AR is a residential water rower that has the build of commercial rowing machines. If space is not an issue for you, you can get Concept 2 Model D for a few hundred dollars more. For those with limited space, though, Newport AR remains to be the most compact and one of the best machines for them.
#3. Concept 2 Model E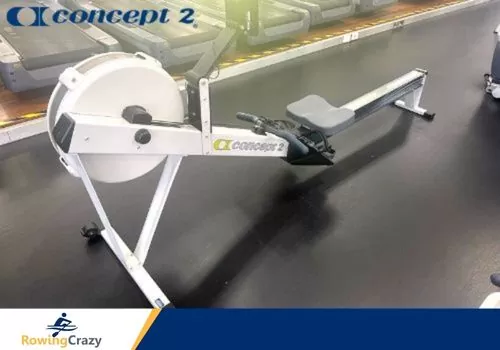 The best Foldable Rowing Machine for More than $999
Rowing machines that belong to this price bracket are mainly designed for commercial purposes. They have rock-solid build and tend to be on the big side for good reason. Thus, we do believe that among equally large machines, Concept2 Model E passes the requirements of compactness and portability with flying colors.
Watch our Youtube video on Concept2 below by expert rower Max Secunda:
powered by Advanced iFrame. Get the Pro version on CodeCanyon.
Concept2 Model E Outstanding Quality
We have initially considered Bodycraft's compact VR100, but it has issues on the quality. We've also looked into several of WaterRower's first-class models. However, you can only store them vertically at a precarious height of 84". They didn't look too compact or safe especially for home settings.
Transports Quick and Effortlessly!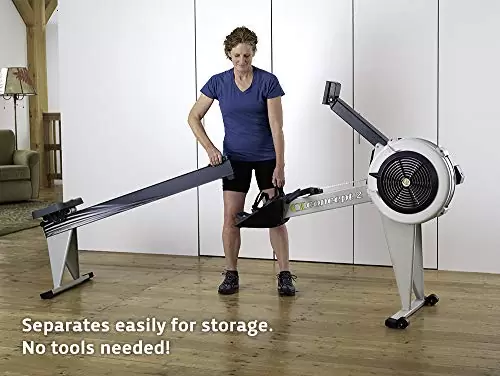 While built for commercial use, Concept2 Model E is a favorite among people who buy it for their personal or family use. It is 96" long and 24" wide, a size that's typical for high-end ergometers. Folded, however, it's quite compact at 27″ x 33″ x 54″. With a quick-release locking mechanism, it takes less than a minute to fold. The front support has caster wheels that make transporting the rower quick and effortless.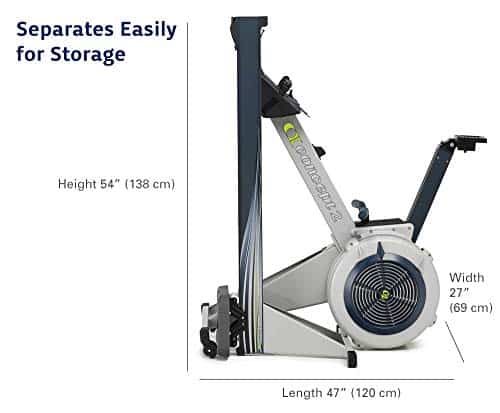 Preferred by Olympic Rowers
Like Model D, this upgraded model is an air rower with infinitely variable resistance. It has a damper, which is not typically found in low-end air rowing machines. For their superior and realistic resistance quality, both models of Concept2 are the preferred off-water training ergometers of Olympic rowers. Side Note: If you would like to learn more be sure to read my other article Concept 2 rower model E vs model D
Build To Last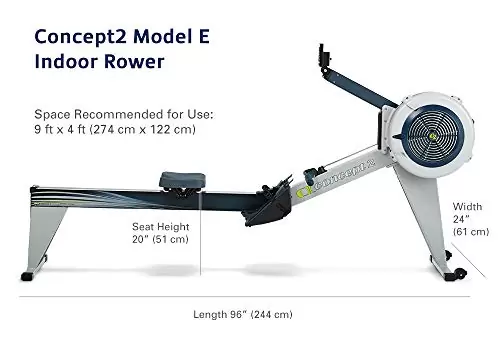 Concept2 Model E is built to last and rated to a weight capacity of 500 pounds. It has a steel frame and extruded aluminum monorail. The padded seat is 20" off the ground, which is 6" higher than in Model D. This height is best suited for people who have difficulty sitting too low. The padded seat has a travel length is compatible for people with inseams of up to 38".
Monitor Packed with Features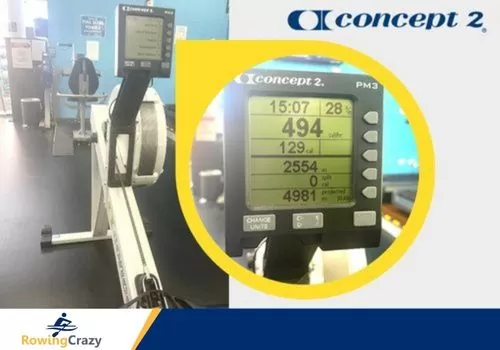 It's worth mentioning that Concept2's PM5 is unsurpassed as a monitoring device. It tracks time, SPM, distance, split time, pace, calories burned, watts, and heart rate, among others. It is not only a tracking device but also the user's training partner. PM5 has tons of other features, like games, preset workout programs, and PC-functionality. These features allow you to connect to Concept2's online community and third-party apps.
Final Thoughts
Model E has a 5-year limited warranty on frame and 2-year limited warranty on all parts. We can't say enough good things about Concept2 Model E. It's the best we've seen. Though not the most compact in size, it's one of the best machines in the commercial category.
#4. Sunny Health & Fitness Squat Assist Row-N-Ride Trainer for Squat Exercise and Glutes Workout
Best Rowing Machine for Vertical Storage
powered by Advanced iFrame. Get the Pro version on CodeCanyon.
Smallest Rowing Machine That Will Fit Under Your Bed
This is a different type of compact or should I say folding rowing machine than the others in its market. This Sunny Health & Fitness Squat Assist rowing machine is vertical, rather than horizontal. This means that instead of taking up floor space in storage, this sunny health rowing machine can be stored away vertically, or will slide easily under your bed saving you space for other items you need to put in storage. If you are short on space you can't go wrong with this great little machine!
Sunny Health Fitness Digital Tracking Monitor

The Sunny Health & Fitness Squat Assist rowing machine has a built-in digital monitor that can track important aspects of your work out, like speed, distance, calories burned, and scan! This allows you to get the most out of your work out and keep track of your progress as you get better!
Adjustable Resistance Bands
Because this Sunny Health & Fitness rowing machine is a different design than most conventional rowing machines, it has a different type of resistance. This rowing machine uses resistance bands made from high-quality elastic that can be added or removed to increase or decrease the resistance, making the exercise experience either easier or harder. Each elastic band provides approximately 22 pounds of resistance!
Adjustable Squat Angle and Depth
The depth and angle of the squat and motion of the exercise performed can be changed by simply adjusting the angle of the saddle. This adjustable saddle can be used at 30, 60, and 90 degrees to both give your workout experience variety and exercise different muscle groups with more intensity or less intensity.
Quick Easy Assembly and Folding Collapsible Rowing Machine!
The Sunny Health & Fitness Squat Assist Rowing Machines are truly fantastic when it comes to folding it up and tucking it away. The overall assembly of the rowing machine takes about 10 minutes and has 4 pieces.
The folding process takes just 2 minutes and makes the Sunny Health & Fitness Squat Assist taller rather than longer, meaning it can be stored upright for convenience! Plus, you do not have to take apart the whole rowing machine to fold it up, which makes it faster and much simpler than other rowing machines.
Final Thoughts
This compact machine is perfect for people who need to use their floor space or storage space for multiple things because it folds upright instead of horizontal. It is also perfect for people who want a great home workout that takes care of their whole body and can continue to keep challenging them.
This is the compact machine for young and old rowers alike! Check it out at this link!
Conclusion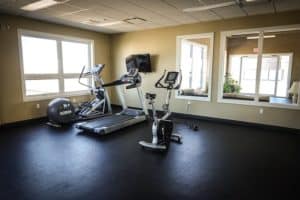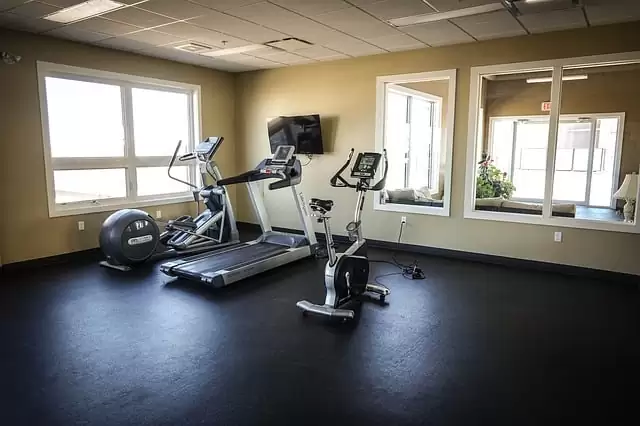 For home use where space can be an issue, you'll likely find the best portable home rowers in the low and middle price brackets. As you make your decision, never sacrifice resistance and durability for compactness and portability.
On the other hand, if you opt for high-end rowing machines, make sure that you have the space for them. They're made for the big leagues, and they sure look the part.
Don't be surprised that all three resulting ratings are equal. We have rated each against models in their respective price ranges. It would be absurd to pit them against each other. But if we had to pick an overall winner you can't go past the quality of the Concept 2 rower.
Over All Winner – The Quality of this Machine is Superior!
Considering all the factors discussed above, I choose the Concept as it offers great value and folds up perfectly!
Happy rowing my friends!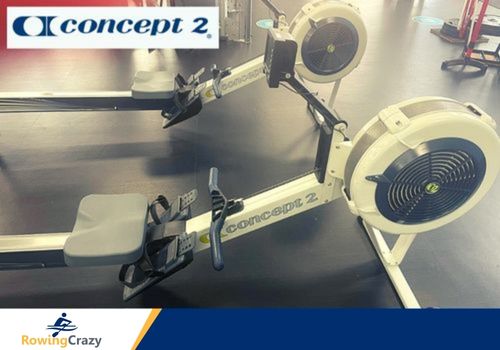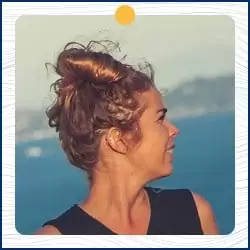 Written by Petra Amara – RowingCrazy.com
CEO & Founder of RowingCrazy, National Rower, Coxswain Womens Eight Team, Rowing Coach & Writer
Petra is a Mother of two and owner of Rowingcrazy.com. Petra lives and breathes rowing, she also has a passion for writing which lead her to start RowingCrazy.com to share her rowing experience and expertise with others.