Our List of Top Rowers That Can Be Delivered To Your Home Quickly Easily
Sometimes, a home workout is the best way to ensure you make time for your health and save money on costly gym fees. A home rower is one of the best investments you can make for your physical well-being. They give you a low-impact full-body cardiovascular workout and are often more affordable than ellipticals or stationary bikes.
There are plenty of options on the market of rowers that will help you burn fat quickly from the comfort of your own home, all at an affordable price. Here's a list of our favorite machines that can be shipped right to your door!
Here are My Top 3 Picks:
Looking for the best rowing machine for your home gym but don't have time to read the whole article? Check out my top recommendations:
You can read my full breakdown and review on each individual machine further down in this article, where we go into our findings for each machine.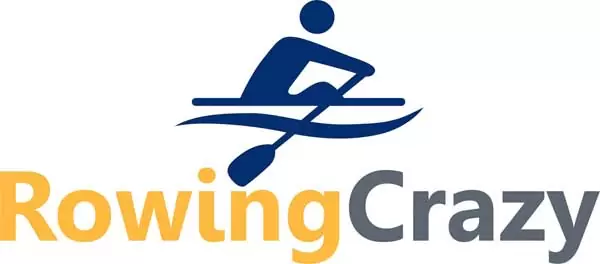 Having a rower with resistance will help you get your heart-rate up more quickly, so it is important to keep this in mind when choosing the machine that's right for you and your home.
Additionally, you will want to focus on your legs. Working these larger muscles to a greater extent will help you burn more calories fast.
Now that you know to choose a rower that will help you focus on your legs and get your heart rate, let's take a deeper look into some of our favorite options for burning fat fast and affordably from the comfort of your living room or home gym.
The Best At-Home Rowing Machines For Burning Fat
1. Teeter Power10 Elliptical Rower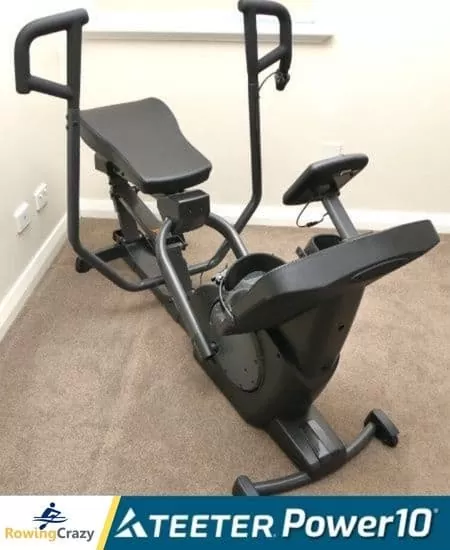 The Best For Gym – Work out all Muscle Groups
The Teeter Power10 Elliptical Rower is the best machine to target all muscle groups in the body. This machine is known for burning more calories than your average rower because it works in dual directions. In one direction half of your muscles are used, and when you flip the direction, the other half of your muscle groups are worked. This makes the Power10 the most complete workout available for your home gym. Gone are the days that you need to buy multiple pieces of equipment to work out all of your muscle groups.
Durability
The durability of the Teeter Power10 is phenomenal, and you will not need to worry about parts breaking or constant maintenance. You can own this machine for years. Teeter's customer service is great, and they will help you any time of day if you have questions or need help with any of their products.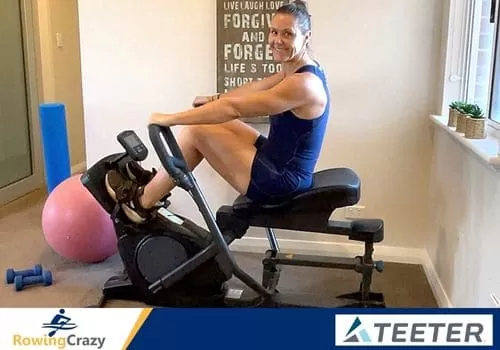 Different Resistance Levels for Beginners and Experts
With seven levels of resistance, you can work up your levels of workouts over the years. Start as a beginner and watch as you take on stronger resistance levels building up your endurance. This also means people of different fitness levels living in the same home can make use of this machine. It is so easy to switch the magnetic resistance level that you can actually do it in the middle of a workout if you need to.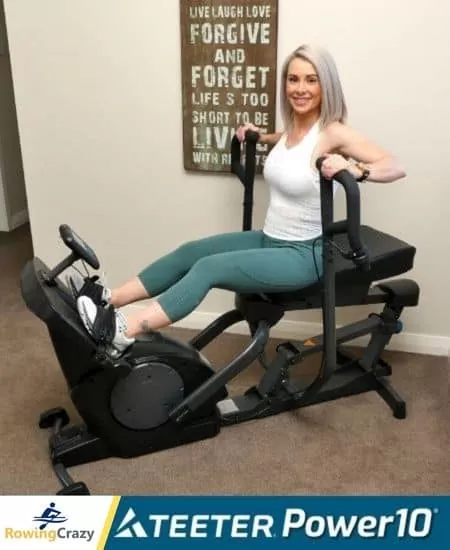 Easily Track your Heart Rate
If tracking your performance and your health is your priority, you can't go wrong with the Power10. There is a chest strap that tracks your heart rate and lets you focus on your workout. If a doctor has advised you to target a certain heart rate when you are working out, the Teeter Power10 will help you work to a specific heart rate.
Free App to help you
One of the nicest things about the Power10 is there an app that will offer you free training. Workouts can feel like a solitary experience, but with this app, you can connect to a training system and a community to motivate you through your workouts.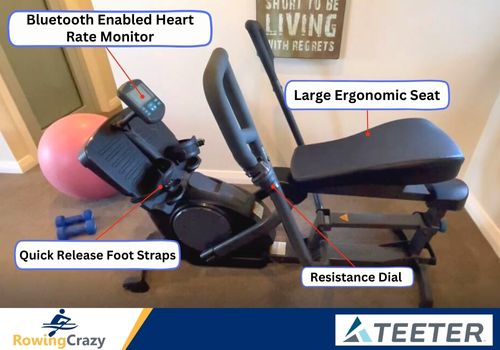 Final Thoughts
This elliptical rower combines the benefits of an elliptical workout with the benefits of a rowing workout to work all muscle groups in your body. This whole-body approach is why we highly recommend this machine for your home gym.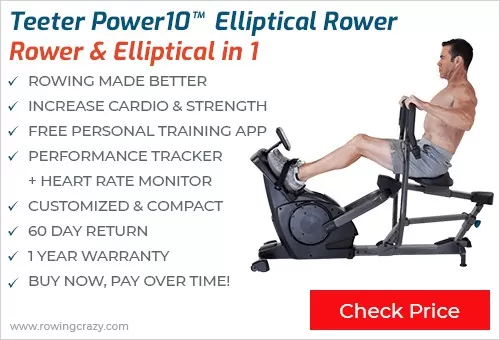 2. The Hydrow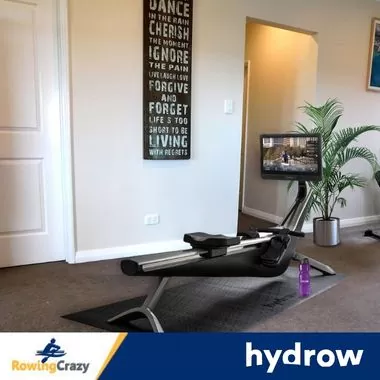 Hydrow SAVE $100 or £100!! => Use Coupon Code: ROWINGCRAZY
The Best For Gym – Feels like the Real Thing
There is only one choice for your home gym if your top priority is feeling like you are rowing on the water. If you row on the water in the summer, but it's too cold in the winter, rowing indoors in your home gym on the Hydrow is going to feel like rowing on the water.
Super Quiet Machine
There are industrial-strength quiet belts in the Hydrow meaning that every movement on this rower is quiet. You do not have to worry about being too noisy for other people in your home or for neighbors. Furthermore, the screen is designed so the noise faces the rower, and will not protect outward into the room.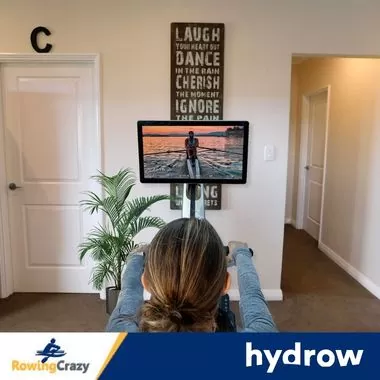 Patented Drag Technology
The drag technology is why the Hydrow feels like rowing on the water more than any other home rowing machine. They spent years perfecting this patent to ensure you are getting the best rowing experience available outside of the water.
Watch our expert Erg Rower Max Secunda using the Hydrow:
Large Touch Screen tracks Data
The huge 22-inch screen is easy to read even while in the middle of a sweaty workout. Let this screen track all of your data, so all you need to do is row efficiently. From heart rate to calories burned, this machine tracks it all. The background of the machine is actually set to the river, so in addition to feeling like you are rowing on a river, you will be looking at a river as well.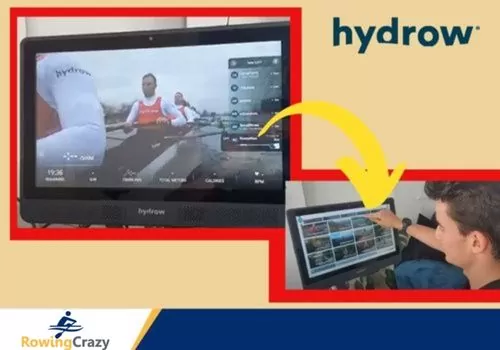 Risk-Free Trial Period
How great is this, you can try out the Hydrow for 30 days, and you can return it free of charge if you are not satisfied. The company stands behind their products and will do everything they can to help you familiarize yourself with this great machine.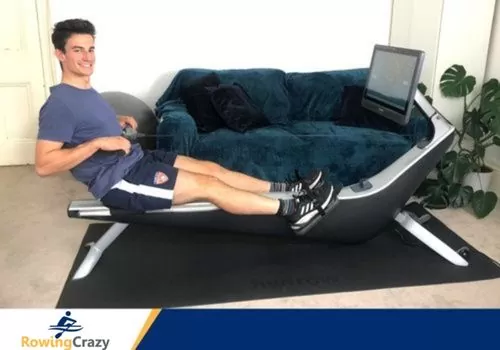 Hydrow SAVE $100 or £100!! => Use Coupon Code: ROWINGCRAZY
Final Thoughts
You cannot beat the drag technology only available in the Hydrow to get a feel of rowing out on the water while indoors in your home gym. With dimensions that are easy to comfortably fit in your home, this sleek machine from Hydrow is a great addition to your home gym.
3. Concept2 Model D Indoor Rowing Machine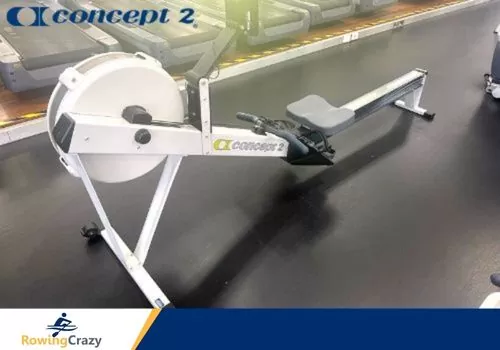 The Best For Gym – Quality Rowing
The Concept2 Model D Indoor Rowing Machine has been used by popular gyms and professional athletes alike for almost 40 years. This robustly-built machine is known for its smooth motions – making cardiovascular workouts a breeze even for those suffering from injuries associated with marathon running.
Built To Last
This home rower is so popular because there is very little to screw up, break, and it's built like a tank. If you are looking to invest in your health for a long time, you really can't go wrong with this machine. The frame has a five-year limited warranty and special parts a two-year limited warranty, so you know this company believes in its product
10 Resistance Levels For Everyone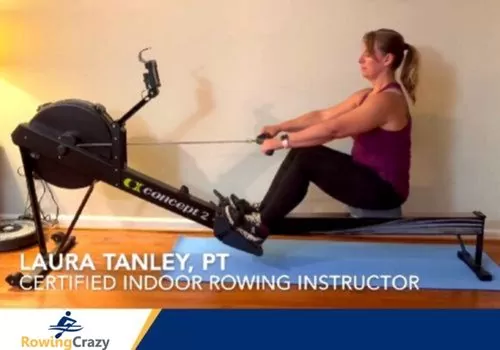 The Concept2 Model D uses airflow resistance and has 10 different resistance levels on the damper to ensure that you can calibrate it to your fitness level as well as your intended workout routine. All 10 levels will give you a smooth feel with minimal noise.
PM5 For Reliable Workout Data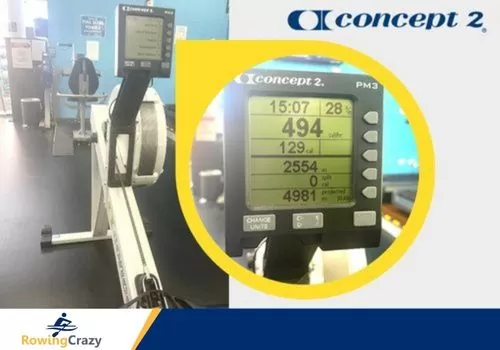 Performance Monitor 5 gives you workout data in real-time so that you can track your progress as you go. It also can sync via wireless Bluetooth capabilities with heart rate monitors and apps so that you can easily record and consult your data as you need. If you're a little more old-school, you can even back up your workout data to a flash drive right from the machine.
The backlit LCD display on the PM5 will be easy on the eyes, so you don't need to worry if you plan on working out in a more dimly-lit area of your house, or at night.
No Help Required
The Concept2 Model D is very easy to assemble by yourself in your home. It is also easy to move and store if you do not have a permanent spot for it in your home. The two pieces of the machine separate with ease without any tools required, making it a great option for smaller apartments.
Watch Rowing Instructor Max Secunda with the Concept2 Rower:
Final Thoughts
While this is the priciest option on our list today, you really can't beat the longevity of this machine. If you want rowing to be part of your fitness journey and to dedicate yourself to the healthy habit of burning calories, this is the perfect machine for you.
4. Sunny Health & Fitness SF-RW1205 Adjustable Resistance Rower
A Simple Rower For Those On A Strict Budget – It's Less Than $100!
The Sunny Health & Fitness SF-RW1205 Adjustable Resistance Rower is a solid rowing machine for less than $100. At this price, there's no reason not to invest in your health and acquire a great way to burn calories right in your own home. This rower works a little bit differently than a traditional rower that uses a cable, but if you aren't training specifically for rowing, this shouldn't be an issue.
A Different Approach To Rowing
This rowing machine uses a bar that moves back and forth with your strokes instead of a cable that you pull. While those who are traditionalists won't like this option, it can be a better option for beginners with less technique established. You won't have to worry about positioning and injury with this rower, and you will be able to focus on pushing with your legs and burning more calories, as well.
Ergonomic and Adjustable
This hydraulic rower has 12 different resistance levels that allow you to set the resistance that's right for you. 12 individual levels are more than most of the rowers on this list provide. It also has adjustable foot pedals and is made with ergonomics in mind, so you won't have to worry about causing injury to yourself.
Compact and Portable
This stripped-down design is highly compact, so you won't have a problem fitting this rowing machine into a side closet or corner when it is not in use. That makes this rower a great choice for anyone who has a smaller house without a dedicated space for fitness equipment.
Read My Full Article on Best Portable & Compact Machines
Comfortable and No-Fuss
The Sunny Health & Fitness SF-RW1205 Adjustable Resistance Rower has a wide seat cushion and no-slip handlebars, meaning you won't have to sacrifice your comfort even though you'll be paying such a low price. You won't have to worry about stability or replacing parts to make this machine work for you.
Final Thoughts
While this machine is definitely not for someone training for the Olympics or who wants to start competing athletically, it is a fantastic option for someone who wants to burn calories and get a good low-impact cardiovascular workout from the comfort of their own home. For the average consumer, you really can't go wrong with this machine for the price. If you decide to upgrade later on, you won't feel as if you wasted money on this machine as it is under $100!
5. Fitness Reality 1000 Plus Bluetooth Magnetic Rower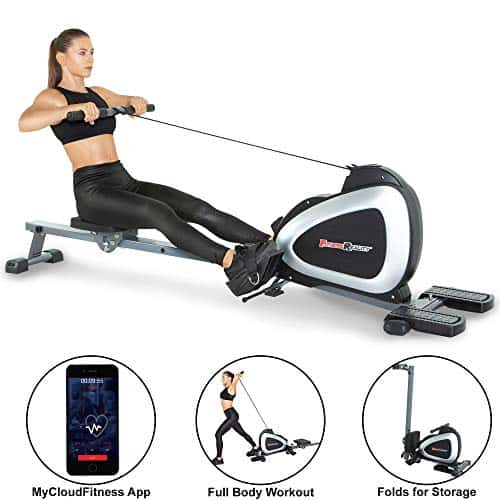 An Affordable Machine For a Dynamic Workout
The Fitness Reality 1000 Plus Rowing Machine has a unique value proposition; it is dynamic and can include multiple different workouts in addition to rowing. If your fitness journey includes strength-training in addition to burning calories during cardiovascular training, this rower could be the perfect choice for you.
Full Body-Workout Compatible
This machine allows you to use the resistance cable system to work in many different moves to your strength-training routine. This machine is more affordable than most of the strength-training home gyms on the market, so this is a fantastic solution if you want to add strength training and cardiovascular fitness to your home workout routine.
Plenty of Resistance Levels
This machine includes 14 levels of resistance so that you can set the appropriate resistance for each of the different strength training moves that you do on this machine, as well as setting the best resistance for your rowing.
Bluetooth Compatible and Integrated
Not only is this machine Bluetooth compatible, but it also comes with a free mobile app that allows you to sync your fitness data to your phone automatically. No need to download and upload data for all the data nerds out there.
Final Thoughts
While not the cheapest option on this list, the Fitness Reality 1000 Plus Rowing Machine is also not the most expensive, but certainly the most dynamic. If you want to do much more than rowing to burn calories, you can't beat adding this machine to your household.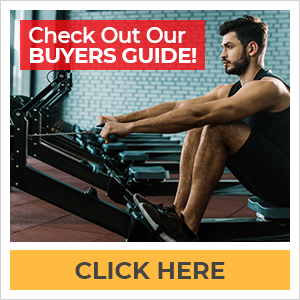 6. Stamina ATS Air Rower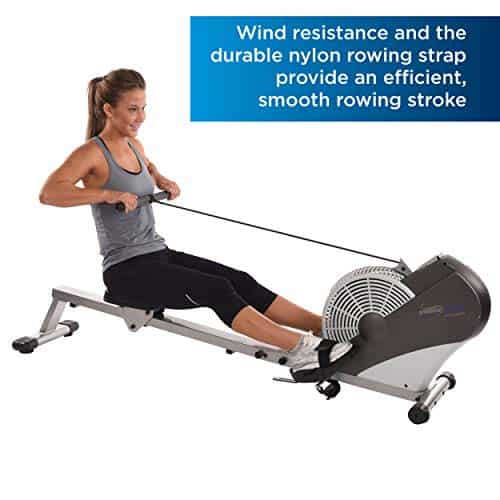 Smooth and Traditional Air Rower
The Stamina ATS Air Rower is a no-fuss air rower that relies on the traditional method of resistance – the amount of effort that you put in. If you are looking for a classic air-rower that mirrors the rowing machines that you are the most accustomed to from your gym, this is a great option to add to your home.
No Frills, No Fuss
This rower is not designed for those who are looking for app integration, dynamic workouts, or multiple resistance settings. However, for those who want to hop and go, and simply change the resistance depending upon the effort you put in, this is the rower that you are going to want.
Durable and Easy
For the same reason, roll-up windows in a car last longer than automatic windows, sometimes the classics simply last longer. If you want a machine that doesn't have all the bells and whistles that will ultimately break, this is the machine for you.
Read My Full Article On Stamina Rowers
Final Thoughts
This rower is durable, sturdy, and doesn't have a lot of parts that can break. For the traditionalists out there, this is certainly the best choice.
7. Sunny Health & Fitness SF-RW5515 Magnetic Rower
Magnetic Resistance For An Affordable Price
The Sunny Health & Fitness SF-RW5515 has an edge to airflow rowing machines as its magnetic resistance can be adjusted during your workout, allowing you to change up the resistance levels and add that all-important interval training to your cardiovascular fitness routine.
8 Levels of Magnetic Resistance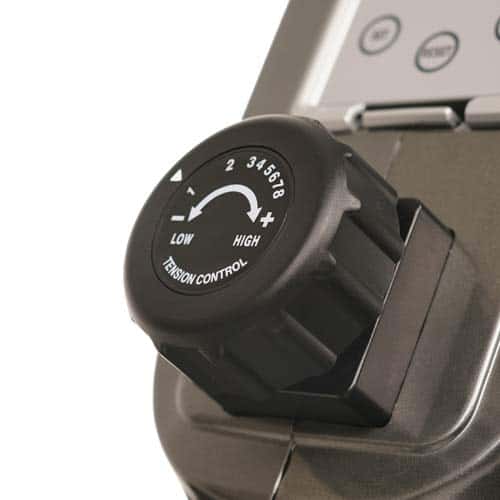 This rowing machine by Sunny Health & Fitness has 8 levels of magnetic resistance that is controlled by an easily-accessible tension knob. All you have to do is twist the knob to change to resistance. Pretty handy, right?
Comfort and Safety
The SF-RW5515 has comfort and safety in mind with its design. It has a cushioned seat that allows for the rower's comfort during their entire workout. It also includes large non-slip foot pedals so you can be sure you have a stable base to power-through with your legs and burn those extra calories.
Easy Portability
The Sunny Health & Fitness SF-RW5515 Magnetic Rowing Machine has built-on transportation wheels that allow it to be moved easily around your house. You won't have to worry about being strong enough to move it if you live alone or don't have anyone to move the machine for you.
Stripped-Down Extras
If you are a tech-wizard who really loves being able to integrate health data into your other fitness apps, you may need to look elsewhere. While the Sunny Health & Fitness SF-RW5515 Magnetic Rower does have a monitoring screen, it does not integrate into other apps and the calorie counts seem to be estimated guesses and not based on your own body's metrics.
Final Thoughts
This machine is a great option for someone just starting off on their fitness and a calorie-burning journey that wants a quality rowing machine at an affordable price. It does not have the integrations and gadgets that some people require for them to fall in love with a machine, so it is good to be aware of that. However, the magnetic resistance will be attractive to those who are looking to include resistance interval training into their cardiovascular routines.
Conclusion
To burn calories at home, a piece of cardiovascular equipment is an absolute must. When you buy a rower, not only will you save money compared to pricey gym fees, but you will also have a lasting piece of low-impact equipment that can be integrated into any fitness routine. Purchasing any of the rowers on this list will bring you one step closer to achieving your fitness goals.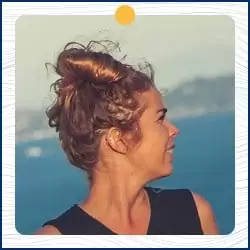 Written by Petra Amara – RowingCrazy.com
CEO & Founder of RowingCrazy, National Rower, Coxswain Womens Eight Team, Rowing Coach & Writer
Petra is a Mother of two and owner of Rowingcrazy.com. Petra lives and breathes rowing, she also has a passion for writing which lead her to start RowingCrazy.com to share her rowing experience and expertise with others.