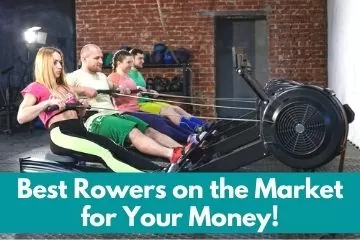 It's interesting to see how many people have suddenly turned to rowing as their primary source of exercise.
While rowing machines of one kind or another have been around for centuries, it seems like rowing machine use has exploded over the past 5 years or so.
Well, perhaps more people are discovering what many people already know – rowing is the best workout ever!
For a great workout and cardiovascular fitness, you simply cannot beat a rowing machine!
It's easy to see why you would want to add an indoor rower to your home gym, but finding the best possible home rowing machine? Well, that's another story!
In a Hurry? Here are My Top 3 Picks:
In a rush and want to find the best rowers currently dominating the market? Check out my top picks.
*We review fitness products impartially and may earn a commission from affiliate links. For details see our disclosure page.
You can read my full breakdown and review on each individual machine further down in this article, where we go into our findings for each machine.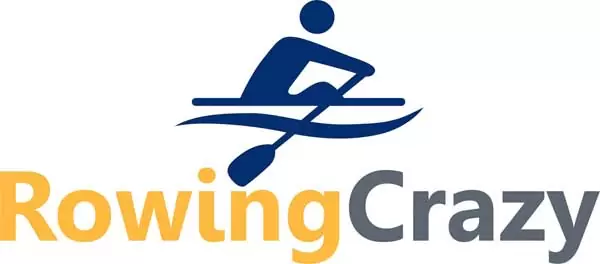 You don't want to spend a few weeks looking at rowers and finally deciding on one, only to discover that it doesn't meet your expectations, right?
I hear ya! Nothing is more frustrating than buying something you think will be perfect, only to find that it's a big disappointment.
You can avoid all those problems when you read this article. Don't get cheated by an inferior rowing machine. For the best rowing machines you can buy, invest a few minutes and read this article.
What Should I Look for When Buying a Rowing Machine?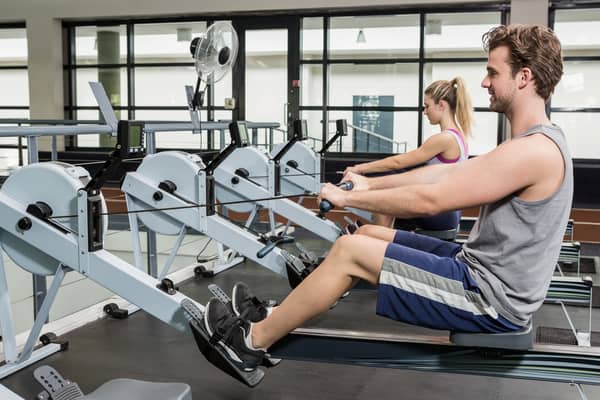 If you only have room for one piece of equipment, it makes complete sense to purchase a rowing machine, but how do you get one that suits you best?
The following tips will help you narrow down your choices.
Know the differences between air, magnetic, hydraulic, and water rowers. You can find a detailed list of these differences here. Air rowers are reasonably priced but they can be very loud; hydraulic rowers are inexpensive, but they lack a true rowing movement; water and magnetic rowers come in a wide range of prices and are virtually silent. There are also a few other rowing machines that use a combination of these types of resistance, such as those using both air and magnets.
The rower should have a comfortable seat that slides easily.
It must be equipped with an easy-to-read monitor that allows you to see all your data at a glance.
If you chose an air rower, be sure that you can easily set the drag factor.
Decide how much you can afford to spend and stick to your budget.
Consider the costs of a monthly subscription service (if the rower requires one) and decide whether or not you can absorb this cost.
Buying a rower online means that you don't get to try one out before you purchase it. If possible, see if you can find a friend or a gym that has the model you are considering so you can try it out, or check with the manufacturer to see if they have a trial period.
Which Is Better, Air or Magnetic Rowing Machines?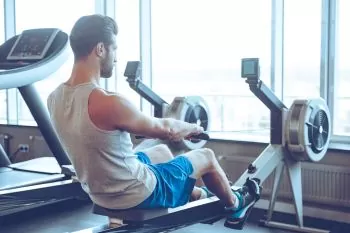 This really is a matter of preference.
Consider the following:
Air rowers tend to be less expensive than magnetic rowing machines, but they can also be quite bulky. An air rower uses wind resistance, which many people really like because it means unlimited amount of resistance. However, the fans used on air rowers tend to be very noisy and often blow the air back at your face, which some people find very annoying, while others think it's refreshing.
A magnetic rower is virtually silent, which is always a blessing. Magnetic rowing machines can also be very long and while many of them fold, at least in part, they may still require quite a bit of floor space to use. Magnetic rowing machines also have a limited amount of resistance. Although you can control the amount of resistance, you'll find that it may no longer challenge you after a while, especially if you own a less expensive machine.
Don't forget that there are also hydraulic and water rowers to consider! Everyone has a favorite for his or her own reasons.
What Is the Best Indoor Rowing Machine on the Market?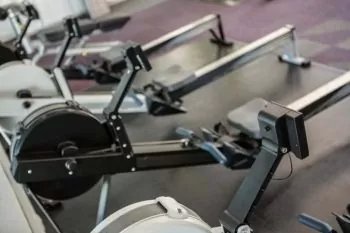 I've said it before, but I'll say it again – the best rowing machine is the one that you are going to use!
To increase the chance that you'll be motivated to regularly use the rowing machine you purchased, you need to do your research and decide based on the factors listed above.
That being said, there are some machines that are better than others.
Let's talk about the best rowing machines you can buy today.
Our Top Pick: The Hydrow Connected Rower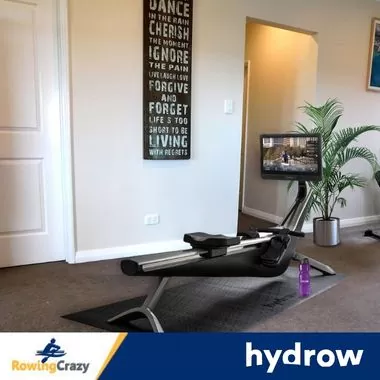 Hydrow SAVE $100 or £100!! => Use Coupon Code: ROWINGCRAZY
To be completely honest, I own a Hydrow, so perhaps I'm a bit prejudiced, but the fact remains that I've used dozens of rowing machines over the years and nothing comes close to the Hydrow.
This amazing indoor rowing machine will make you forget everything you ever thought you knew about rowing machines! The Hydrow uses computer-controlled magnetic resistance, so it truly feels like you're rowing on the water.
Watch Max Secunda a Youtube Influencer reviewing the Hydrow Rowing Machine:
You do have the option to set the resistance manually if you like, but I like to just let the computer do its job.
The Hydrow was designed by a former US National Team coach, so you know it was made for professionals, but even beginners love the Hydrow's easy-to-follow interface.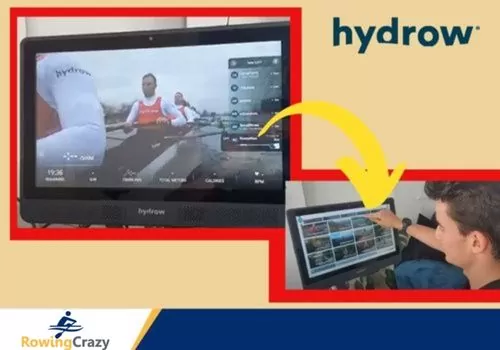 Speaking of that, not only is the Hydrow the most beautiful rower I've ever seen, it also features a 22-inch touchscreen display that is both dust and sweat-resistant. You don't have to worry about not being able to see this baby! The display monitor is large and easy to read.
There are hundreds of live and on-demand workout programs led by professional rowers and are conducted on the most gorgeous waterways around the world.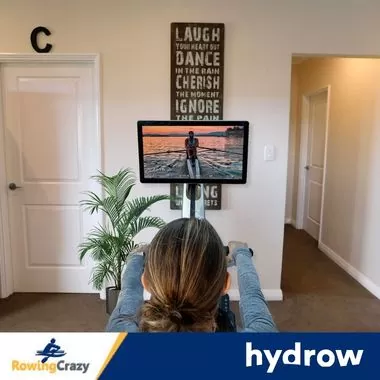 Let's look at some of the other features that the Hydrow offers:
Beginners will find the step-by-step tutorial and beginners' classes an enjoyable learning experience.
Hydrow is considered a connected rower not only because it is connected to the internet, but it also allows you to connect and race against others in the Hydrow community.
Even with the exquisite scenery, you can still see your stats on the display, such as strokes per minute, split time, time spent rowing, and calories burned.
There are high-quality, front-facing speakers, but you can also use Bluetooth-enabled headphones.
You can purchase a heart-rate monitor from Hydrow or use your own third-party Bluetooth-enabled heart rate monitor to display your readings on the screen.
The 10-roller seat is padded and has an unbelievably smooth operation.
In addition to the rowing workouts, there are off-the-rower workout programs, such as yoga and Pilates.
For easy storage, the rower has an optional upright storage kit that allows you to mount the rower upright.

Like all premium indoor rowing machines, the Hydrow comes at a premium price, however, if you consider your health to be a lifetime investment, then the Hydrow is what you want.
You can try the Hydrow free for 30 days. If you decide that it's really not what you had in mind, you can return it, no questions asked.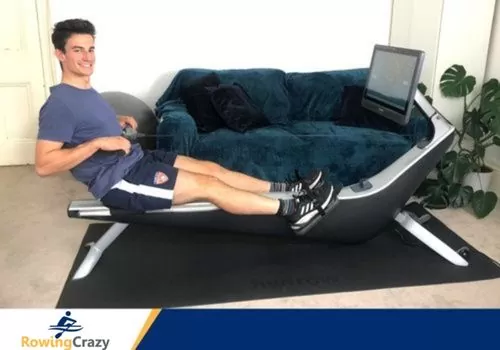 Hydrow SAVE $100 or £100!! => Use Coupon Code: ROWINGCRAZY
The Hydrow connected rower is the best and ultimate rowing machine, hands down.
Learn More About this Machine – Click Here!
Which Water Rower Is Best?
The best water rower happens to be another connected machine.
Connected rowers are fairly new, so it's not surprising if you haven't heard of a connected water rower, and that's what we're going to talk about in this section.
While this connected water rower is new to the marketplace, it's certainly turning heads. This is one piece of exercise equipment you're going to hear a lot more about in the near future: the Ergatta.
The Best Water Rowing Machine: The Ergatta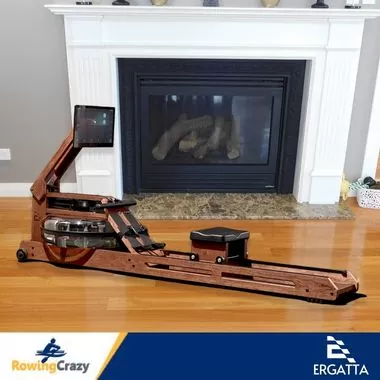 If a magnetic rowing machine doesn't really appeal to you, then you might consider a water rowing machine.
Instead of magnetic resistance, water rowers use a water flywheel and a water tank to simulate the drag and experience of rowing on open water.
The harder you row, the more resistance you will create, but you can also instantly increase or reduce resistance levels by adding or removing water from the tank.
Water rowers have been a part of a home gym since… forever! This rowing machine is made from wood, so you not only get the feeling of being in a boat, but you also get to enjoy the gentle swooshing sound of the water in the tank.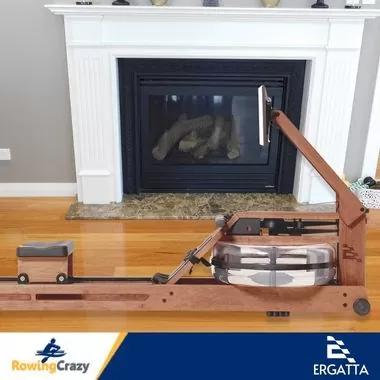 The combination of water resistance and a wood base gives you a very realistic rowing experience.
Although it is very new, we can't help but be impressed by the Ergatta brand of at-home rowing machines.
Like Hydrow, the Ergatta is a connected rower, but rather than offering instructor-led, on-the-water workouts, the Ergatta was designed to make your rowing experience more like playing a video game.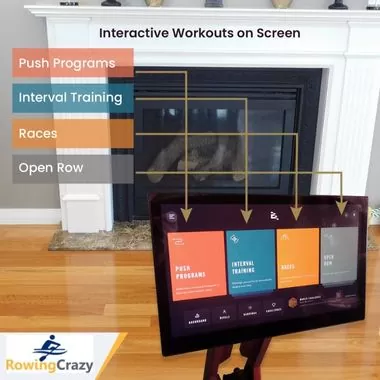 Through Ergatta's 17.3-inch HD touchscreen, you're able to do rowing workouts using a digital gaming approach. You can race with the Ergatta community or play Meteor workouts, which fires you up to row harder just so you hit your targets.
WaterRower vs Egatta – see Who Won!
Like I mentioned, you may also race against other Ergatta members if playing games is not your thing. While at this time the races are not live, Ergatta says that live racing will soon be available.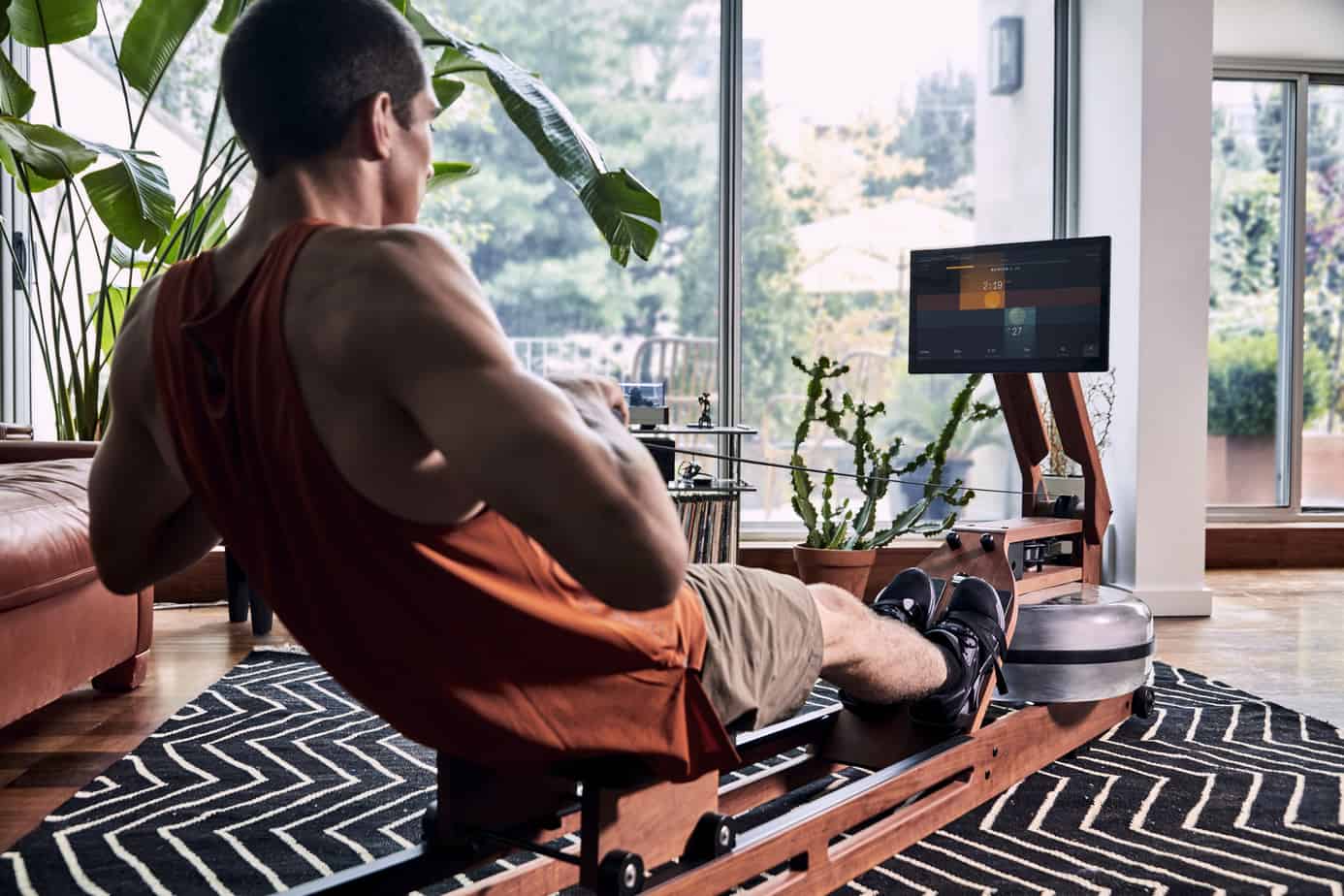 Like the Hydrow, Ergatta offers front-facing speakers or you can use your own Bluetooth-enabled headphones.
There are lots of other features on the Ergatta, including:
The frame is handcrafted cherry wood, which is so beautiful you may want to put this right in your living room! The actual fitness equipment is based on a WaterRower Natural rowing machine.
The device stands on its end for easier storage and smaller footprint.
Workouts and races match your current fitness level. To determine your fitness level, the very first time you row, Ergatta has you complete 1,000 meters. After every 10 games or races, this rowing machine will recalibrate your fitness level, so you always stay challenged.
The water-resistance and wood frame make rowing a realistic on-water experience.
The display shows all the data you want to know, including calories burned, SPM, distance, split time, and more.
This is one of the best rowing machines if you love hearing the sound of water as you get a full-body workout.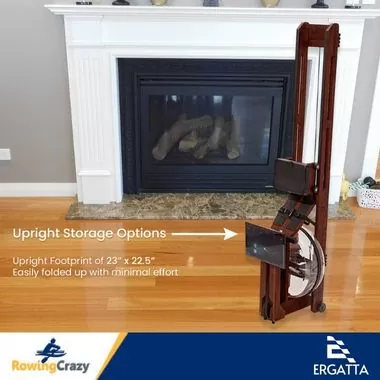 The Ergatta might just be the newest high-tech rower to hit the market, and I bet you will be hearing a great deal more about it in the near future.
If you don't care for instructors and prefer to play games or compete in racing, then the Ergatta is what you're looking for.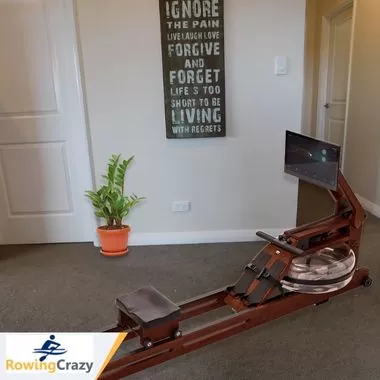 Does Crossfit Use Rowing Machines?
Yes, it does.
The Crossfit workout program uses several pieces of equipment, including stationary bikes, but there's a reason you won't see a stairclimber on Crossfit's workout platform – they don't provide a full-body workout.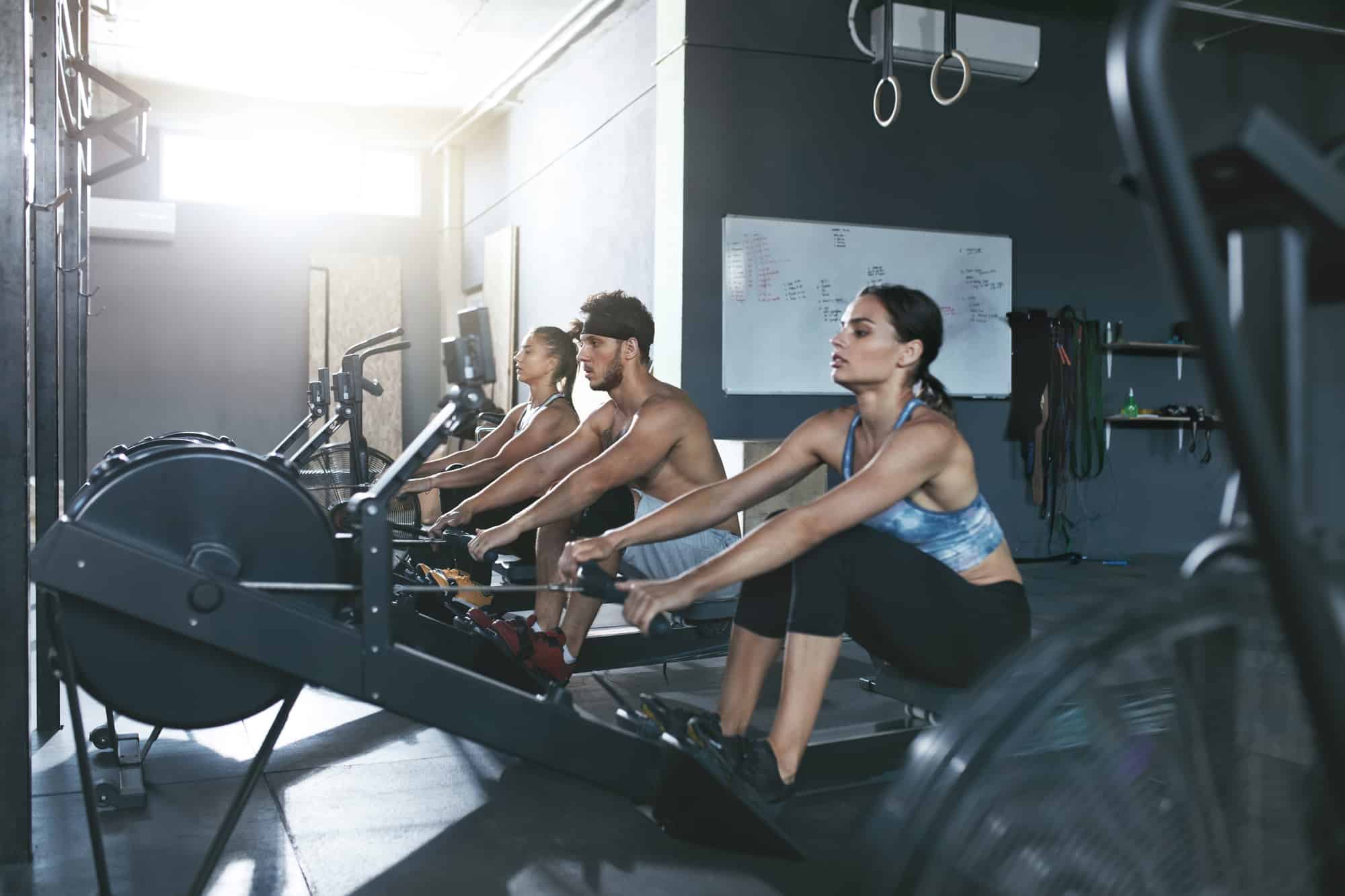 Rowing is the best way to work all the major muscle groups, including core muscles, and use only one piece of equipment.
Rowing machines offer a total body workout in only 20-30 minutes, so it's not surprising that a rowing machine made it to Crossfit's rigorous platform.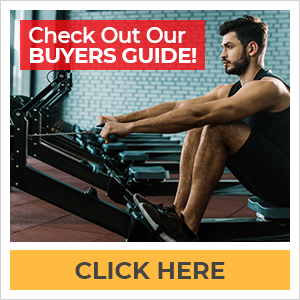 Do you want to know what rowing machine does Crossfit use? (Click here to read more) It's one of the biggest selling rowing machines ever made – the Concept 2.
Best Crossfit Rower: Concept 2 Model D Indoor Rowing Machine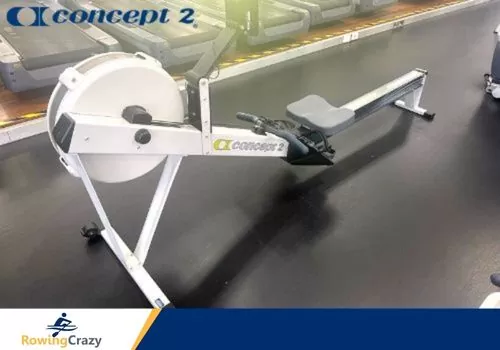 The Concept 2 Model D indoor rowing machine was introduced back in 1981. It quickly became a best seller and has remained so for at least the past 20 years.
Here are the reasons why Concept 2 remains a popular choice:
It comes at a very reasonable price. Not necessarily cheap, but there are rowing machines that cost less and more than Concept 2.
Since Concept 2 is an air rower, it has unlimited levels of resistance.
While this air resistance row machine requires a workout space of at least 8 feet to operate, it separates in two parts for easy storage.
The performance monitor shows all the pertinent information.
No monthly fee or subscription is required.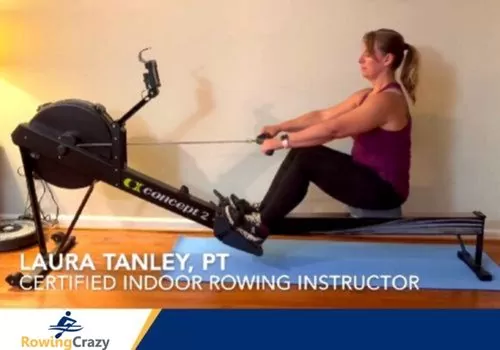 Concept 2 Model D indoor rower is also well-known for being a long-lasting rowing machine with very few parts to break down or wear out. Since the rowing machine uses air resistance, the fan in the cage, the handle, and the ergonomic seat sliding on the stainless steel track are the only moving parts.
Of course, it's not fair to compare one of the newer connected rowers to Concept 2, but among similar rowers, the performance monitor shows more data than other similar models do, including calories burned, races, the fish game, SPM, split time, and more.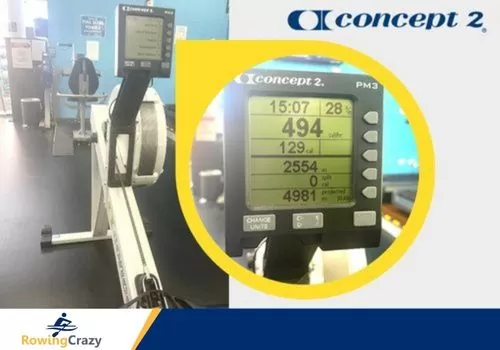 Other features of Concept2 include:
A 90-day trial period before you buy. That is more than what is offered by any other air resistance rower on the market.
The display is backlit, so you can read your data even in dimly lit areas.
The padded seat is very comfortable.
This rowing machine is used by world-class trainers and athletes but is also perfectly suited for beginners.
Concept 2 offers a free trial period to check out RowPro. This app allows you to race against others, or yourself, in real-time.
Whether you want to lose weight and get in some serious cardio exercise or brush up on your rowing skills as a beginner or advanced, everyone can use the Concept 2.
Even though this air resistance rower is very popular, you should keep in mind that air rowers are noisy and need quite a bit of space to work.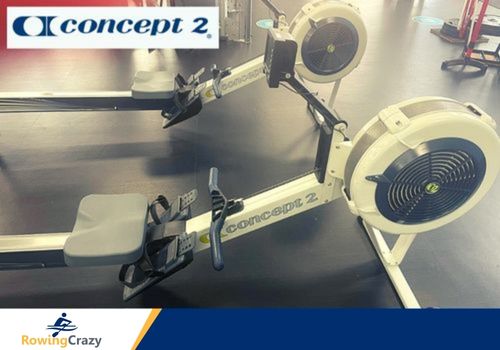 That being said, if you want the best air rower that money can buy, then Concept 2 is probably exactly what you're looking for.
Learn More – Watch our Youtube video below by Rowing Instructor & Coach Max Secunda:
The Best Rowing Machines at a Budget Price
Everyone has a budget, and if you're dying for your own rowing machine but you need a budget rowing machine, you certainly aren't alone.
Most people think that a budget-priced rowing machine must mean cheap and will break easily, and while this may be true of some models, I've got some news for you.
If you want the best budget rowing machine that won't break after a few months, then you want the Sunny Health and Fitness Magnetic Rowing Machine.
Best Budget Rower: Sunny Health & Fitness Indoor Rowing Machine
You gotta love this compact rowing machine by Sunny Health and Fitness. It features many of the same extras you would expect from a higher-priced machine but at a real bargain price.
This doesn't mean in any way that this magnetic rower by Sunny Health Fitness is a cheaply made rower that will break in months. The Sunny Health & Fitness SF-RW5515 is a high-quality rowing machine that rivals many others in durability and performance.
This rowing machine is a bit more compact than many other models, requiring only about 6.5 feet of space, not 8 or 9 feet. You will still get a total body workout, it just costs less!

Let me tell you about the features of this rower from Sunny Health.
The large, LCD monitor shows time, count, calories, total count, and scan mode so you can see all your data at the same time.
Rowers up to a 44-inch inseam can still use this magnetic rowing machine comfortably.
The padded seat is super comfortable.
This rower offers 8 levels of magnetic resistance that can easily be adjusted with the simple twist of a knob.
Adjustable foot straps keep your feet in place.
This rower has transportation wheels for easier storage.
Floor stabilizers prevent the rower from moving as you work.
This exercise equipment from Sunny Health Fitness is the perfect answer for those who want a quiet rowing experience and a more compact rowing machine, all for a price that fits their budget.
Check Out all our Low Impact Elliptical Rowers!
Do All Rowers Offer a Full-Body Workout?
Yes, all rowers, with the exception of most hydraulic rowing machines, do give you a full body cardio workout.
If you're wondering which is the best rowing machine to burn calories like a volcano and even beats the heck out of other exercise machines, like assault bikes or a stair stepper, then I've got just what you have in mind.
Let's meet the monster workout machine of all time: The Teeter Power10 Elliptical Rower.
Best Full-Body Workout: Teeter Power10 Elliptical Rowing Machine
You may have already heard that the rowing motion of a rowing machine works 86 percent of the muscles in your body.
The Teeter Power10 probably works 100 percent of your muscles, although I couldn't find any info to confirm this, spend just 20 minutes on this machine and you will agree.
Learn more with our full video by our Olympic Silver Medalist Rachael Taylor:
If you aren't a real fan of exercise, and you just want to get it all done as soon as possible, then the Teeter Power10 is right up your alley.
Someone called this magnetic elliptical rower "a beast of a workout," and I couldn't agree more.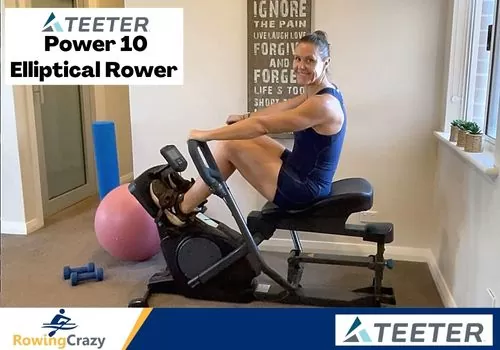 While most magnetic rowers tend to have a smooth rowing action, the Teeter Power10 gives a super smooth workout that puts most other rowers to shame.
The Power10 not only has you rowing, but with the flip of a switch, you can turn that rowing motion into a pushing motion as well. This means you get double the workout, pulling and pushing.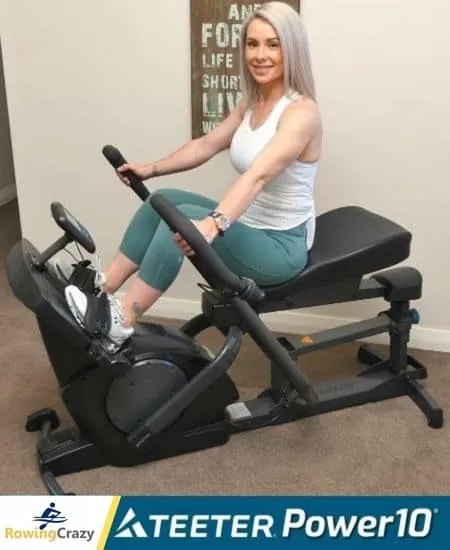 There are also large, multi-grip, padded hand grips that allow you to work a different set of muscles just by changing the position of your hand on the handles.
With 7 levels of resistance, this indoor rower/elliptical is one of the toughest exercise machines on the planet.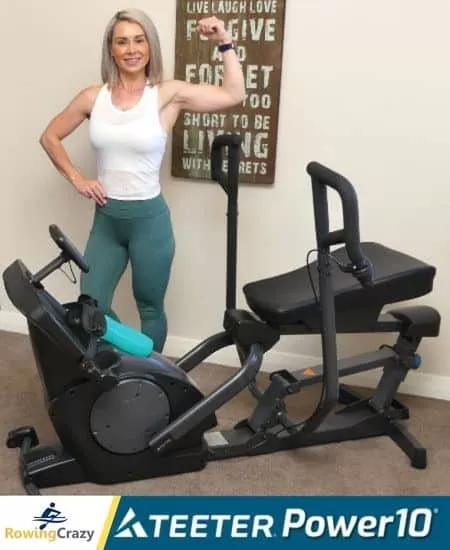 Other features of the Teeter Power10 include:
You can download its free training app to your tablet or smartphone so you have zero monthly fees.
A Bluetooth-enabled chest strap is included, allowing you to monitor your heart rate.
It is completely adjustable, so it works with all body sizes and heights.
The large, LCD console and digital performance monitor tracks your time, calories, distance, and strokes per minute.
The Power10 works every part of your body so you can lose belly fat, while really working the upper body, and still enjoy a low-impact exercise machine.
For losing weight, no machine works harder yet rows smoothly!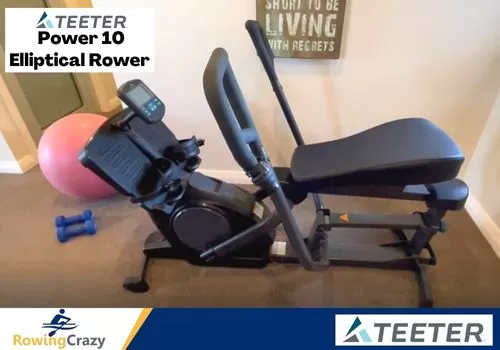 I like that the Teeter Power10 has caster wheels, so you can move it easily when not in use.
I own a Teeter Power10 because sometimes I want to change things up a bit and get in a full range of exercise in just a few minutes.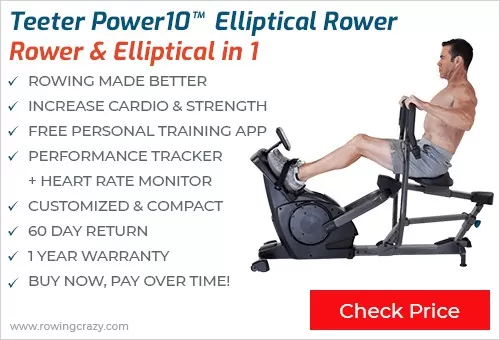 If you want to just sit down and work your butt off, you will love the Teeter Power10.
At the End of the Day
Whether you go for a budget rower like the Sunny Health and Fitness magnetic rower or the high-end Hydrow, or any of the others in between, you're going to get a tremendous workout.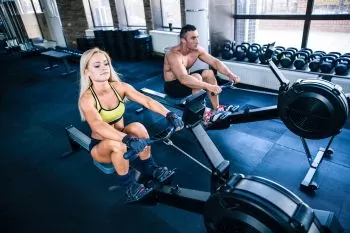 Choose any of these machines and you'll never have to wonder whether your machine is going to hold up to your rowing workout, and remember always that the best rowing machine is the one that you will actually use and have fun using.
Frequently Asked Questions
1. What is the best rower on the market?
It's the one you can afford, that you will use and enjoy for many years to come.
2. Who is the best rower in the world?
From the Olympic standpoint, it would be Romanian rower Elisabeta Lipă. Ask nearly any rower, however, and I'm sure they will tell you that they are.
3. Can you really lose belly fat on a rowing machine?
Yes, you can. You will actually lose excess body fat all over your body if you commit yourself to rowing at least 20-30 minutes 5 or 6 days per week.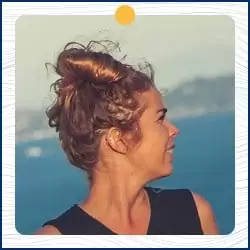 Written by Petra Amara – RowingCrazy.com
CEO & Founder of RowingCrazy, National Rower, Coxswain Womens Eight Team, Rowing Coach & Writer
Petra is a Mother of two and owner of Rowingcrazy.com. Petra lives and breathes rowing, she also has a passion for writing which lead her to start RowingCrazy.com to share her rowing experience and expertise with others.