When you have a height that is shorter than average, it can feel like everything in the world is way too big for you. Jeans are always too long, shelves are always too high, and Rowing Machines are always too big. So how can you go about finding the right rowing machine for your size?
In a Hurry? Here are My Top 5 Picks:
Looking for the best rowing machine tailored for short people but don't have time to read the whole article? Check out my top recommendations.
*We review fitness products impartially and may earn a commission from affiliate links. For details see our disclosure page.
Keep reading below to see reviews on all these machines – plus full videos of them in action!
Let's Dive Into My Recommendations!
For rowing machines, height does not really have any clear advantage. If anything, being shorter is sometimes better. Taller people sometimes have to buy extension rail rods to make the inseam of their rowing machine bigger to accommodate their long legs.
Shorter people tend to save money and time by not needing to purchase extra equipment that can be costly and annoying to install.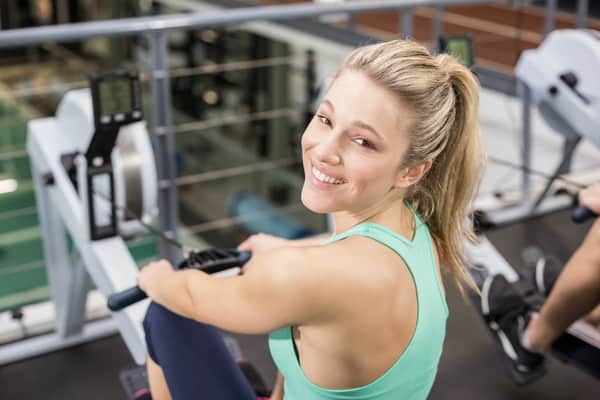 So where rowing machines are concerned, less height is not that big an issue, especially since it is a solo exercise with your own pace and stroke or pull length.
A lot of finding the right size rowing machine for your height is doing your research (read more on rowing height requirements ). Unfortunately, that can take up a lot of your precious time, so we have made this article to give you a head start on your search by providing you with the best rowing machines for smaller people and information on how to pick which one is perfect for your life.
| | | | |
| --- | --- | --- | --- |
| Rowing Machine | Inseam Length | Weight Capacity | Resistance Type |
| Concept2 | 38 inches | 500 pounds | Air Resistance |
| Stamina Rower | 34 inches | 250 pounds | Air Resistance |
| Sunny Health SF-RW5713 | 38 inches | 300 pounds | Water Resistance |
| Sunny SF-RW5515 | 44 inches | 250 pounds | Magnetic Resistance |
| Squat Assist Row-N-Ride | 36.5 inches in length | 220 pounds | Upright Rower |
To start, let's look at some commonly asked questions on short people in crew (the sport of team rowing,) or shorter people who use rowing machines.
Can short people be good rowers?
Most people often assume that since the majority of rowers are tall that only tall people can be good rowers. This is a notion that holds no water when put to the test against the requirements of the actual sport or exercise.
Taller people who row do have an advantage. This advantage is that they are able to pull the handles or paddles further distances since their arms are usually longer. A longer pull or distance pulled helps the boat move further, quicker.
But short people are not excluded from being good at rowing. Being short and flexible helps to make a great rower who is able to use their body the maximum of what it can do. Taller rowers often find it very difficult to find rowing machines that comfortably fit their long legs, while shorter rowers usually do not have such an intense struggle, although both sides of height find it difficult to find rowing machines that accommodate their bodies comfortably.
In short, (pun intended,) yes! Of course, short people can be good rowers. Being flexible really helps a short rower, but it is not impossible to row while short. Just like with any sport or activity, the more you practice and do the motions, the better you will become at the movement.
Is Rowing Harder for Short People?
As much as short people might hate to hear this, yes. Each person who is 1.2 inches taller than you are able to row 1 percent further than you on each pull. That means someone who is 6 inches taller than you can row 6 percent further on each stroke.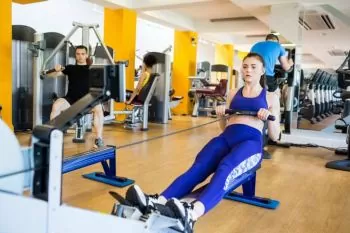 This means over the course of a crew race or a distance competition on a machine, the taller person can travel or move their boat further than a shorter person distance by quite a large margin. Also, for every 6 pounds of weight increase, there is an additional 1 percent further pull with every stroke.
Taller people tend to weigh more simply because they have more body mass to fill, so often these two factors combine to make shorter people seem like bad rowers when it is only based on the length of the pull.
To compensate for this difference in weight or height, short rowers or crew team members have to be much more flexible, at risk of getting out of rhythm. Their shoulders have to be loose and flexible to pull longer strokes that are comparable to their taller counterparts.
Click Here to See My Top Rowers for Beginners Under $400!
Is Height an Advantage in Rowing?
This might not come as a surprise thanks to the two sections above this one, but yes. Height is a great advantage in crew team rowing. When you are part of a team that competes, to have taller rowers is a great advantage, since every 1.2 inches of added height gets you 1 percent further.
If your team is an average of 5 inches taller than the competition, your team has an added 5 percent of added distance per stroke for each member on the team. This adds up and can greatly benefit the team.
What Body Type is Best for Rowing?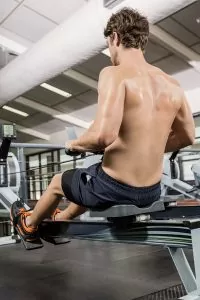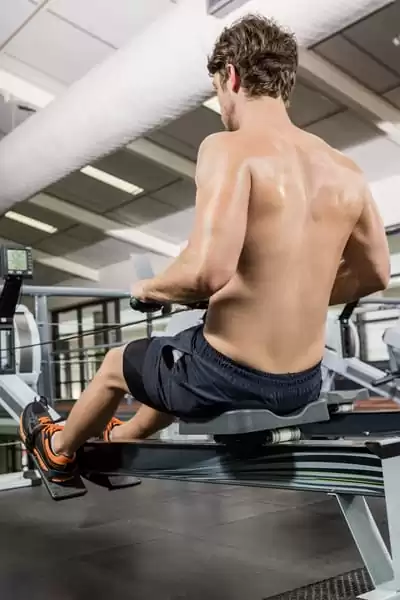 The body type of competitive crew rowers is usually very toned. This does not mean that only toned athletes can row. The truth is far from that. Anyone can have the perfect body type for rowing. The toned competitive or intense rowers (machine or crew) are people who have simply been using the rowing machine or practicing the sport of crew for longer than you have, and so have experienced the physical benefits and changes that crew or rowing can offer.
Rowing Full Body Workout
Rowing is a full-body workout. It targets about 86 percent of your body with every stroke, meaning that your whole body and almost all the muscle groups are engaged in the exercise, almost constantly.
Rowing for Core Strength
The core is used for stability and pulls, the legs for pushing off the foot paddles, the arms for pulling the handles and cord, and lastly the back muscles for stability and balance.
After a while of repeating this workout, your body will begin to change (these changes are most often seen alongside a healthy diet and stretching,) into a more toned and defined body. This is why having a generally toned body is the body type more sought after by rowers just because it shows that the muscle groups needed to do the motions well are strong.
Best Rowing Machines for Shorter People
Now, let's look into the best rowing machines for people who are shorter. These are our picks for the best rowing machines, but you should still do some more research into the rowing machines to make sure that they will fit into your lifestyle well.
Let's get into it!
1. Concept 2 Model D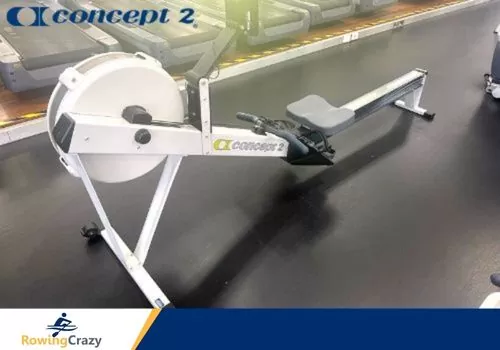 The Concept2 Model D is one of the best rowing machines available in today's rowing machine market. It is beloved by many rowers for its quality materials and well-crafted design that makes rowing smooth and enjoyable.
Watch below experienced erg rower Max Secunda using the Concept2:
The Concept2 Model D is designed with every type of person in mind. Not only is it very durable and strong, boasting a weight capacity of 500 pounds, but it is adaptable. The Concept2 Model D has a 14-inch seat for comfort and ease of use and has adjustable footrests to meet different heights of users, making it convenient to both shorter and taller rowers!
In addition to those features, the Concept 2 is the best rowing machine for tracking your progress and seeing your real-time progress on the Performance Monitor 5, which is included in your purchase. It wirelessly connects and self-calibrates to record and display your heart rate and distance rowed.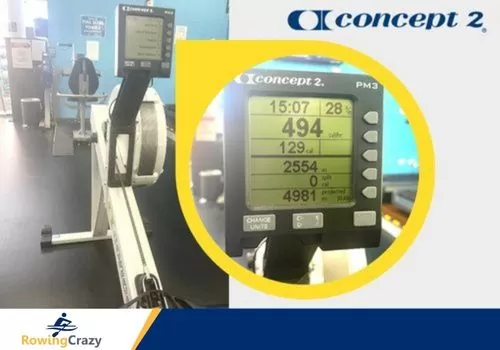 It is easy to set up, with an illustrated assembly instruction guide and has the ability to have an extra-long monorail purchased separately and attached to the rail on the machine, so if someone else who is using the machine needs a longer one, you have the ability to switch it in and out.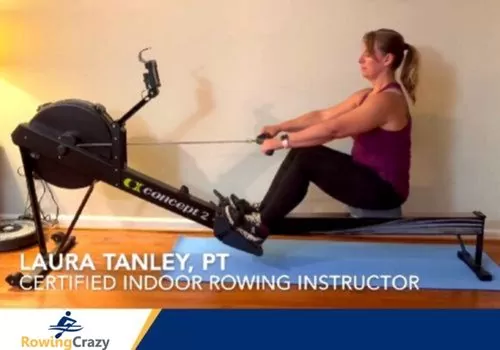 This rower has an air resistance fan and an inseam measurement of 38 inches maximum. This rower is also praised as one of the best rowers of our time, so make sure you check it out!
2. Stamina Air

The Stamina Air rower is one of the best air rowers for shorter people! This rowing machine boasts dynamic air esistance that always matches your stroke or pull pace. That means as your muscles grow and become more used to a certain speed of intensity, you can increase your pace or intensity to match your need for progress.
The harder you row, the more resistance you will experience, meaning that as you need more resistance, the rower machine will compensate and provide that extra resistance.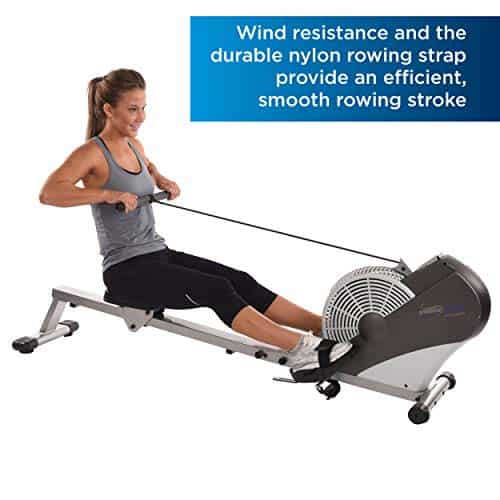 This rower has an LCD display that is clear and easy to read. It displays the time, calories you have burned, speed, track speed, and distance rowed in one easy to use interface. Not only is it a smart machine, but it is comfortable. The padded seat is very comfortable, and the foot paddles are adjustable so that you can make it fit any size or height user comfortably.
The handles are also padded with a comfortable grip perfect for use over long periods of time. It is foldable and has wheels for easy storage and comes with a 3-year frame warranty and a 90-day parts warranty!
Short on Space? Click Here to See Compact Rowers for Small Spaces!
3. Sunny Health & Fitness Obsidian SF-RW5713
The Sunny Health and Fitness Obsidian rower is a great machine for shorter folks who love rowing. It provides the same low impact workout that other rowing machines have, but with a different resistance style than the others on our list so far.
This rowing machine is a water resistance rower and is the best rowing machine (in our opinion) out of all the water-resistant rowing machines for short people. This water rower has a weight capacity of 300 pounds and fits a wide variety of heights since the inseam measurement length is 49 inches.
Just because the inseam measurement long does not mean that short people can't use the rowing machine comfortably. They absolutely can, they just will not be using the full range of the rail slide.
This water rower has a monitor that can be synced up to any heart rate monitor that is 5.3 kHz, so you can keep track of your data.
This rowing machine is great for people who prefer water-resistant rowers that are very smooth and quiet. Check them out at the link above!
Need a Quiet Rower? Click to See All Super Quiet Rowing Machines….Shhh!
4. Sunny Health & Fitness SF-RW5515
If you are a short person who wants to get into rowing or buy their own rowing machine, but you are also a little short on money or you are following a budget, this Sunny Health and Fitness rower might be just the rowing machine for you!
This rowing machine is a magnetic rowing machine, meaning that instead of having air or water as the resistance when the user performs a pull, it is a magnet that creates the resistance. You do not get a pull that adapts to you with a magnetic rowing machine like an air resistance rowing machine does, but it still provides an activity that requires effort.
To compensate for the fact that it is not self-adjusting to the resistance and pull strength of the user, this machine has 8 levels of adjustable resistance to help you grow and increase your strength. For that reason, this machine is the best rowing machine with magnetic resistance.
This rowing machine has an LCD display with time, calories, count, and scan clearly visible. The seat is fully padded and the handlebars have a grip that prevents sweaty hands from slipping off.
Check it out at the link above!
5. Sunny Health & Fitness Squat Assist Row-N-Ride Trainer

The final installment to our list of the best rowing machine for short people is the SH&F Row-N-Ride trainer, which is completely different from all the others on our list.
This rowing machine is an upright rowing machine, which makes it the best rowing machine for short people because it can be adjusted. The height can be raised or lowered depending on your needs.
This rowing machine has resistance provided by 3 different elastic bands, each one giving 22 pounds of resistance. This is not only a "best rowing machine for short people", but a great machine for those who are short on space or storage.
It stores away easily and takes you much less space than its horizontal counterparts because it is a vertical machine.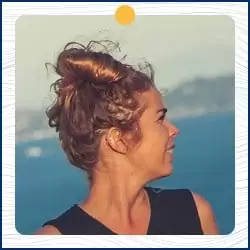 Written by Petra Amara – RowingCrazy.com
CEO & Founder of RowingCrazy, National Rower, Coxswain Womens Eight Team, Rowing Coach & Writer
Petra is a Mother of two and owner of Rowingcrazy.com. Petra lives and breathes rowing, she also has a passion for writing which lead her to start RowingCrazy.com to share her rowing experience and expertise with others.