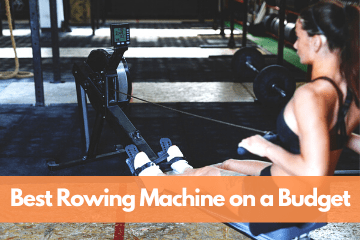 There are a few great options on the market today if you are looking to buy a quality rowing machine without breaking your bank account. Rowing is one of the best forms of exercise you can do, as it uses air resistance to give you a quality full-body workout that does not harm your joints. You can buy a budget rowing machine in just about any price range that will meet your home rowing needs.
Our Top Pick Best Budget Rowers
We have done the research and will review the best rowing machines for you if you are on a budget, and we considered factors like price, types of resistance levels available, heart rate and fitness measurement capabilities, and if the machines are easy to assemble. Arguably, the most important thing to keep an eye out for the different resistance levels offered by various machines, as that is what will control how fast you go and how strong you grow.
There's a variety of reasons why you should consider rowing machines instead of other cardio machines like a treadmill or an elliptical.
You can confidently purchase any of these rowing machines for your home gym. Read on for some rowing machine reviews that will outline the best affordable rowing machine you can buy today!
Do you Need to Spend a lot of Money on a Rowing Machine?
While rowing machines like the concept2 model d indoor continue to get rave reviews, you do not need to spend a ton of money to get a rower as fancy as the model d indoor rowing machine. Paying more money does not guarantee you a better machine or a better workout.
There are plenty of ways to get fat-burning workouts from a cheaper rower. Rather than focusing on buying a machine like the concept2 model d indoor, focus on buying a rower that has a lot of resistance options, so you can increase the intensity of your workouts as you get stronger.
You will have plenty of options to choose from when it comes down to resistance levels, as you can get an air rower, a magnetic machine, or even a rower that makes you feel like you are rowing out on the open water.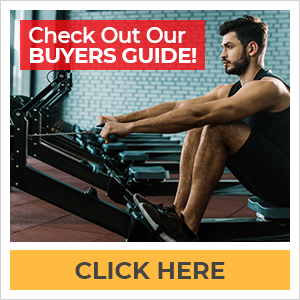 What is the Best Inexpensive Rowing Machine?
There are really great options for rowing machines that are inexpensive and give you a great rowing workout.
Arguably, the best affordable rowing machine is from Sunny Health and Fitness. You should be able to afford this rowing machine even if on a tight budget.
The sunny health fitness rowing machine is a water rower designed to make you feel like you are rowing out on the open water. (Learn more: Are water rowers better than magnetic rowers )
Pros:
Made of lightweight, sturdy steel – the machine won't go anywhere when you are using it, but it is easy to move around and set up in the right position
A cheap rowing machine, this exercise equipment is great if you are on a budget
LCD monitor, which helps monitor user weight and keep track of things like time rowed, calories burned, total strokes, and more
Ergonomically efficient with a padded seat and efficient foot pedals
Can be stored upright to minimize the overall footprint in the room
Cons:
Assembly can be challenging and requires the use of a special tool kit that is included with the purchase of the machine
Cumbersome to lift and store vertically, as recommended
The Sunny Health Fitness SF is one of the top choices because the resistance system is easy to use. This means you can easily share this rower with others in your household, as different people can adjust the resistance levels to meet their needs. A great addition to any home gym, you can confidently purchase the sunny health and fitness rowing machine knowing you will get a great workout any time of the day that you want.
The water resistance is smooth on this rower, and it creates a rowing experience that feels just like you are rowing out on the open water. No matter your priority, this machine is a great option since even its full-price feels like a sale price and will fit well within your budget for a cardio machine.
Can you Lose Belly Fat on a Rowing Machine?
Yes, weight loss is something you can achieve by working out on rowing machines. Each machine usually has an easy to read LCD monitor, so you can easily keep track of calories burned while you workout. While a good workout alone will not help you lose all your belly fat, the right rowing workout paired with eating the right foods will go a long way to improving your physique and help you lose belly fat and help you get down to your goal weight.
Sunny health and fitness actually have another great rower, and this one is a magnetic rowing machine. Magnetic resistance in a rowing machine typically means that you have different levels of resistance to choose from, which makes this one arguably the best rowing machine to purchase if you are looking to trim belly fat. You can increase the resistance levels as you get more in shape, continuing to burn calories and work to lose weight.
Pros:
Convenient scan mode on the LCD monitor makes it easy to track user weight and monitor performance
The magnetic resistance system makes it easy to change the workout levels on this rowing machine
Top choice for ease of use, as you glide easily while working out
The extra-long slide rail makes this a great rowing machine for people of all heights
Non-slip foot pedals and padded seat allow for maximum comfort on this rower
Cons:
Textured handlebars can be uncomfortable when performing natural rowing action
The customer service department is inefficient
If you are looking for affordable rowing and a good, cheap rowing machine to add to your home gym, consider this magnetic resistance machine if losing belly fat is your top priority. If you are tall in size, you will appreciate the long slide rail to accommodate your lengthy frame.
Work all your Muscles
While you might want to focus on your belly fat, one of the reasons a rowing machine is one of the best forms of exercise for losing belly fat is that you can work out all your muscle groups. When you build muscle that helps to shed fat. While there is no such thing as turning fat into muscle, you can build muscle, which will then help your body lose fat.
A rowing machine is one of the few pieces of gym equipment that allows you to work out almost all of your muscle groups (read more on is a rowing machine bad for your back ). And, yes, toning your arm muscles will help you lose the fat around your midsection. Do not be afraid to focus on all muscles even if where you really want to see results is in your stomach.
There's a reason you need to do more exercise than just sit-ups if you want a flat stomach. It takes the whole body functioning like a well-oiled machine to efficiently burn calories, build muscle, and trim belly fat. If you can afford just one piece of gym equipment, this is why a rowing machine is your best bet because you can work out so much of your body just by doing one exercise.
Break a Sweat
To lose belly fat, you will want to get your heart rate elevated and break a sweat, and the Stamina Body Trac Glider is a machine that can help you do that. Part of the reason the best budget rower on the market gives you such a good rowing workout is that you can row with different levels of magnetic resistance. This helps you decide how much of a workout you want that day and how much you want to sweat!
Maybe you are having a light day where you just want to kickstart your morning with a light row, you can row at a different resistance than on the day you want to do a long workout that burns so good it hurts!
If you are looking for one of the best home rowing machines that will help you break a sweat, this Stamina Body Trac Glider 1050 Rowing Machine is probably your best choice. While breaking a sweat is not the only thing you need to do to burn belly fat, it is an important step in the process.
Pros:
Foldable arms make for compact storage
Hydraulic resistance makes you feel like you are on the water
Full motion arms allow for a total body workout with a complete and total rowing action
Water rower that gives you one of the most authentic rowing experiences
Easy to read LCD monitor that helps track user weight and metrics like time spent rowing and strokes rowed
Cons:
A magnetic rower can offer more resistance than this one that uses hydraulic resistance, so this is great for beginners, but experts might not find this rower challenging enough
Does not track as many health metrics as some other rowers
This body trac glider 1050 rower is a cheap rowing machine that has a program designed to provide you with a great workout to help you break a sweat and burn calories.
Resistance Levels are Arguably the Most Important Aspect of a Rowing Machine
If you are the only person in your home using your rower and you never plan on getting faster or stronger, you can get away with purchasing a rower that does not offer the ability to change resistance levels. It really doesn't matter if you are choosing an air rower or a different type of rower, what matters is the resistance levels.
For example, if you live in a home with many people who are sharing your rowing machine, you will definitely want to be able to vary the resistance of your machine. What if one person has been working out for decades and needs strong resistance, but someone else is just starting out? Don't discourage the beginner by having a rower with a strong resistance level. (If you are a beginner you might also like to read my other article on correct rowing machine form )
You wouldn't train for a marathon by starting your first run with a spring up a hill, so have a rower that has varying levels of resistance so different people can ease into their workouts. Whether it is an air rower, a magnetic rower, or something else, prioritize the resistance of the machine before you purchase it.
Side Note: You might like to read – Best Rowers Under $1000
Which type of Rowing Machine is Best?
It depends on what you are looking for. The glider 1050 rowing machine was great at helping you sweat and shed calories. But, you might want to consider a rower like the Sunny health and fitness squat assist trainer if you are looking to build a lot of muscle mass when you use your rower. While it would seem like this machine offers ease of use, don't let that confuse you into thinking there are not a lot of different options for levels of magnetic resistance.
A unique rowing machine, this is one of the best rowing machines because it is different than the rest. Instead of focusing on a true row, you are focusing your muscle groups on building strength. An indoor rowing machine like no other, you sit upright and use a squat motion to work out your glutes.
Pros:
Upright position works out the glutes and leg muscles
The digital monitor makes it easy to track your workout progress
An online training video to help you get used to the machine
Squat depth is adjustable, for increased difficulty levels
Handlebars can be adjusted so you can focus on different chest and arm muscles
Cons:
Not a traditional rower and you will not feel like you are out rowing on open water
Only three levels of resistance bands, not great for experts who want more of a challenge
If building muscle strength is your primary reason for wanting to buy one of the best rowing machines available, then you probably want to go with this machine that focuses on squatting and building up your glutes and leg muscles. You also have the added bonus of then using this muscle strength to help you burn more calories and possibly shed some weight if that is a goal you have from exercising.
Rowing Machines are a great way to practice Full Body Exercises
The best choice for a rowing machine means you will get a machine that lets you work out all of your muscle groups. The rowing machine from Fitness Reality does just that. With a magnetic rowing machine, you can use the air resistance to build muscle mass and shed calories.
Pros:
Free app to support your workouts
Optional exercises available – the only rower on the market that offers these bonus exercises for your workout
Can put most muscle groups in your body through a full-motion workout, which is optimal for fat-burning and gaining muscle strength
Bluetooth rower allows you to sync your workouts to your phone on both Apple and Android platforms
Cons:
A low impact workout, you might not feel you are building strength as quickly as you want
Does not collapse for storage
If you are looking for a magnetic rower, you can't go wrong with this option. Set the resistance to the levels you want, and feel the burn. One of the best rowing machines on the market, you will not be disappointed by setting this up in your home. A great machine for both beginner rowers and expert rowers because you can easily switch between different resistance levels.
Click Here to See All Our Quiet Rowing Machines – Shhh!
Are Rowing Machines Worth it?
Absolutely, while easy to use an indoor rowing machine offers one of the best total body workouts you can get. Most machines track calories burned and monitor your heart rate, so you can see your progress all while performing low-impact exercises that are good for your heart.
Not only that, but many machines come with an LCD monitor that puts up images that make you feel like you are rowing outside on the open water, giving you the feel of your favorite outdoor workout from inside your home.
The best budget rowing machines are going to burn calories, improve your cardiovascular system, and be known for their ease of use. You want a machine with a good resistance system to get the right level of workout that is unique to your body. A magnetic rowing machine might be your best bet because of how you can use magnetic resistance to get a good workout by using your rower.
Is Exercise Worth it?
That's really a better question than, "are rowing machines worth it (or should I get a rowing machine?)" A rowing machine is arguably the best exercise you can get because it is both a cardio workout and a strength workout. Nobody could argue that exercise isn't worth it, so really there should be no argument that a rowing machine is worth it.
If you get a budget-friendly rowing machine, you will work to prevent diseases like diabetes and heart disease, and many other ailments that frequently hit us as we age and don't follow a good diet or exercise. Getting exercise regularly is arguably the single most important thing for our bodies that we can do as we age.
Pair exercise with a healthy diet and you are taking care of your health and wellness as best you can. A good rower is a great piece of equipment that can help you get to exercise all year round rain or shine.
Types of Rowing Machines
You will have a few different options in terms of resistance when you are choosing the best budget rowing machine. You will choose between an air rower, a magnetic rower, and hydraulic rowers. All are comparable in terms of ease of use.
An air rower, like the Stamina body trac glider or the Stamina ATS air rower, is a great choice for a home rowing machine, as you will enjoy the full motion workout that this type of rower gives your body.
You might before to get a magnetic rowing machine instead since you get get a cheap rowing machine that will allow you to work your muscles out intensely. If you are looking for a home rowing machine that will give your muscles the best workout, go with a magnetic rowing machine.
With a rower that is based on water resistance, you will get the closest feel to being out on the actual water. If that is a priority for you when selecting a rower, then definitely go with one that has water resistance.
Can you really Buy a Rower on a Budget?
Yes! It's true! You can get a great piece of equipment without breaking your bank account, and you don't even need to buy a secondhand, used rowing machine. Think about what your goals are: to lose weight, to get fit, to build muscle, to improve speed and distance, etc. Whatever your motivation, you do not need a fancy piece of over-priced equipment.
With any of the products on this list, you get a durable, reliable rowing machine that will serve your workouts well for years to come. While you will need to pay some money to buy the machine, it is an investment in your health and you will not need to pay that money again until years down the road when you are looking for a replacement machine.
Rowing machines are also easy to maintain and care for, so they should last you for years after you purchase. Not much is involved with maintenance besides wiping down your sweat from the grips and seat. And, you will want to store it out of the way so kids and dogs don't trip on it. Other than that, a good rowing machine is set up to be durable and last throughout more hours of workouts than you can count.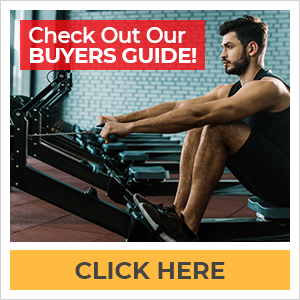 Why a Rower and not an Elliptical or a Treadmill?
You have accepted that you need to get more cardio in your daily routine, and you might be considering a variety of different workout machines. There a few reasons to choose a reputable rowing machine over another type of cardio equipment for your home:
They are usually the cheapest option of cardio equipment – if a budget is a priority, you will want to get a rowing machine
You can get a total body workout that you cannot get with other cardio workouts
Your joints are protected – with a treadmill, every step you take puts a pounding on your joints, potentially doing more harm than good – that does not happen with a rower
Stay in shape for your sport – maybe you row competitively out on the open water and want a training option for the indoors in colder weather
In most of your home gyms, you only have room for one piece of cardio equipment due to space constraints. Therefore, it is important that you select the machine that will give your body the best workout. When it comes down to cardio equipment, there is no doubt that a rowing machine should be the choice.
With no other cardio equipment can you work your chest, back, and arms. Typically, you can only work out your glutes and leg muscles, leading to a look that is quite unbalanced. Not only that but with a rowing machine, you can get away with that as your only workout. You won't need to stock up your home gym with a lot of free weights and dumbbells since you can get a total body workout just on the rowing machine.
Do Consider a Yoga Mat
Check Price
While you won't need any other equipment to build muscle strength, you might want to consider adding an inexpensive yoga mat to your home gym. Realistically, this should be the only other important piece of equipment you need for your home gym. Many people do not consider how important stretching is in a good workout.
Stretching can be a very important part of the recovery process after you use your rowing machine. It will help lengthen your muscles and make them more durable, meaning the next time you row you will be more efficient. The good news is that yoga mats are relatively inexpensive, so you can have your home gym set up without spending too much money.
Think of stretching as the best way to set you up for your next workout on your rowing machine. Without, you will not be able to perform as well, and you run the risk of not burning as many calories or having as effective of a workout as you want to have.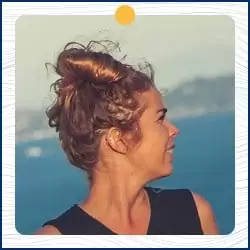 Written by Petra Amara – RowingCrazy.com
CEO & Founder of RowingCrazy, National Rower, Coxswain Womens Eight Team, Rowing Coach & Writer
Petra is a Mother of two and owner of Rowingcrazy.com. Petra lives and breathes rowing, she also has a passion for writing which lead her to start RowingCrazy.com to share her rowing experience and expertise with others.