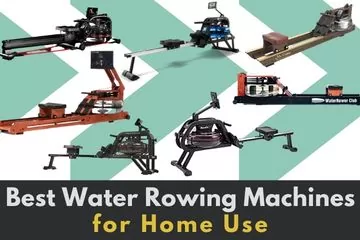 The times we are living in are a bit crazy, don't you think so? It seems like so many changes are happening daily, and just when you think life can't get any more complicated, it does.
One source of stress relief has been my trusty rowing machine. When days are hard, I know that I can chill out and relieve physical and mental stress by rowing.
This is why water rowers have become such a hot item lately. Maybe it's because people saw Kevin Spacey use one on the series House of Cards, but personally, I think it's because people are discovering how soothing it is to listen to running water. Or in the case of a water rower, swooshing water.
| Our Top Picks | Rower | Price |
| --- | --- | --- |
| Ergatta | | |
| LIT Strength Machine | | |
| Xterra ERG600W | | |
| WaterRower Club | | |
| Mr. Captain Oak | | |
| HouseFit Water Rower | | |
| Sunny Health and Fitness Obsidian Surge 500 | | |
While many water rowers may basically look the same, the fact is that they are very different. They all have water tanks, yes, but that's about where the similarities end.
If you've been considering buying a water rower but aren't sure which brand is best for you, then you've come to the right place.
I think I've used just about every water rower there is, and in today's article, I'm going to fill you in on the good, the bad, and the ugly so that you can make a more informed buying decision.
Let's take a look at the top 7 water rowers, shall we?
Is a Water Rowing Machine Worth It?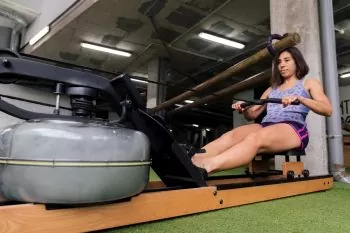 Before we talk about the best water rowers, let me address this important question. Are water rowers worth it?
Of course, water rowers are worth the money you pay because they offer quiet resistance and a full-body workout, and they can usually handle a higher user weight capacity than other types of rowers. The rowing movement is as smooth as silk, and the sound of moving water is relaxing.
What are we comparing a water rower to? Treadmills? Walking? Ellipticals? Other types of rowing machines?
All indoor rowing machines have the same basic principles, but they differ in the type of resistance used, whether magnetic, hydraulic, air, or water. Some machines use a combination of several types of resistance, so you'll see some rowers using both air and magnets or other combinations.
When comparing rowing machines, it really comes down to preference and suitability. For example, if noise is an issue and you need a quiet machine, you should avoid air rowers since they tend to be noisy.
Water rowers don't necessarily cost more than other types of rowers, it's simply a matter of whether you can afford a Mercedes or a Volkswagen, so to speak. There are inexpensive water rowers and premium rowers in all categories (water, air, magnetic, and so on).
The Best Water Rowing Machines
Let me move on so we can start talking about which water rowing machines are the best. Each of these is a bit different, and they all have pros and cons, so regardless of which machine you choose, you're sure to love using it for many, many years to come.
The LIT Strength Machine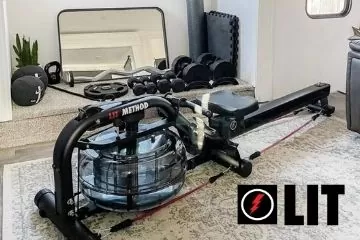 This rowing machine is called a "strength machine", but that's only because it offers something that other machines don't- anchors for resistance bands and combination workouts.
The LIT machine is, at heart, a water rower. It is unique in that it offers both cardio exercise and strength training in one piece of fitness equipment.
If you like mixing up your workouts, love using resistance bands, and worry that you might become bored by doing only one form of exercise, this might be the perfect rowing machine for you.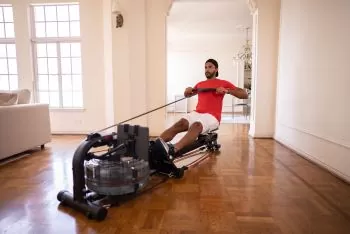 Features
The top features of the LIT water rowing machine include:
Innovative design that features anchors to hold resistance bands
Comes with a workout app that you can download to your cell phone or tablet and secure to the tablet holder, or you can cast them from those devices to your television or other monitors. You won't find a 55-inch monitor on any water rower, but you can cast your workout to the TV, and you've got the big picture!
The super upbeat instructors do classroom/studio type workouts that really mix things up
This is a connected rower, so don't be surprised to hear the instructors shout out your name!
Offers low-impact rowing and hundreds of on or off-the-machine workouts
This water-rowing machine uses a belt instead of a chain for super-smooth and quiet performance
With Bluetooth capabilities, the machine will store your rowing data to the app
Bluetooth also means that you can use heart rate monitors or headphones if you choose
The steel frame has aluminum rails so it is sturdy, yet lightweight
Monthly subscription price of $24.99 per month for 5 users
Maximum user weight capacity of 450 pounds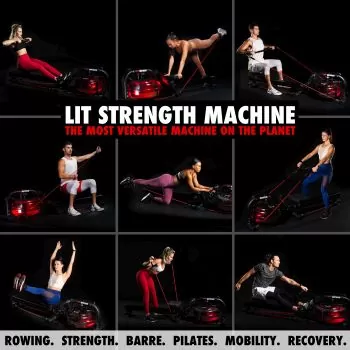 I really enjoy the variety of workouts on the LIT rowing machine. They are designed to help you prevent injuries, and the instructors are watching you, so if you have the wrong form, they can help to correct it.
These HIIT workout programs are exactly what the doctor ordered, so to speak, but let's talk about the best thing about this water rower: the warranty.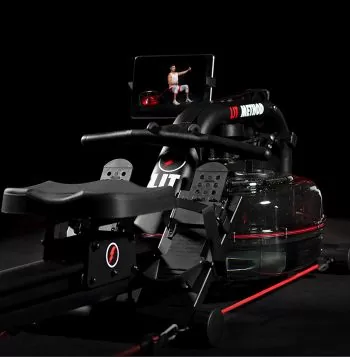 If you're like me, you would rather pay more for a quality item that will last.
Check this out: the LIT Strength Machine has a lifetime warranty on the frame and 5 years on smaller parts.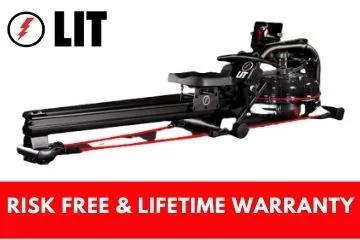 This means that you may never have to buy another rowing machine ever again! Try finding a lifetime warranty on any other rowing machine! I dare you!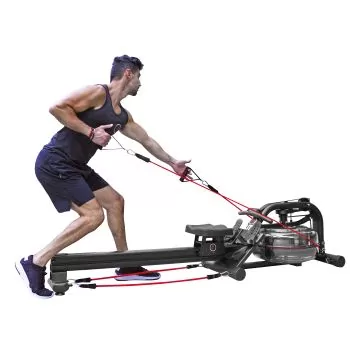 Buy the LIT Strength Machine today, and you will be styling on the smart rower of the future.
The Ergatta Water Rowing Machine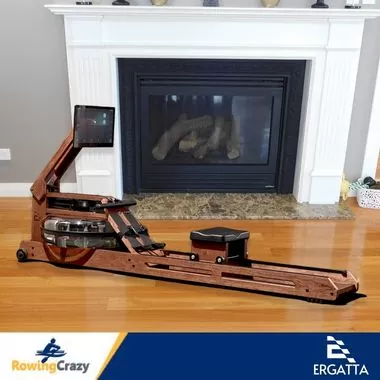 The Ergatta is a water rowing machine that is as amazingly beautiful to look at as it is to use.
With a 17.3-inch touchscreen monitor and a cherry wood frame, the Ergatta looks like a high-tech phone center!
My favorite thing about Ergatta is that when you sign up and use it for the first time, it assesses your performance in a 1-kilometer row. The machine will note your current fitness level and adjust your workouts so that you don't feel overwhelmed or get extremely sore.
See How Ergatta Compared to NordicTrack – Click Here!
After several rows, the machine will recalibrate and adjust the resistance in case your fitness level has improved. You don't need to wonder if you're working out at your most optimum because Ergatta does the thinking for you!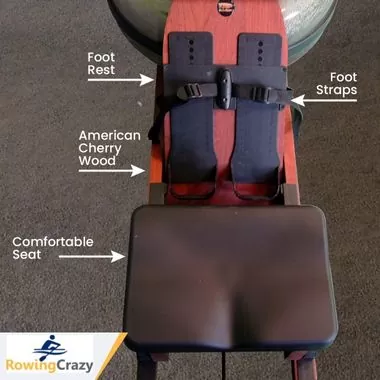 One more thing to note about Ergatta- you won't find annoying instructors yelling at you or classroom settings that feel like work. They designed Ergatta to make workouts feel like a game.
What happens is that, just like in video games, you get awarded with points and tokens in goal-based 'games' that use your stats (such as strokes per minute, split time, and intensity) to personalize each workout.
If you're the type who gets bored easily or aren't a fan of gyms, you'll love the way Ergatta uses a gamified platform to make working out fun!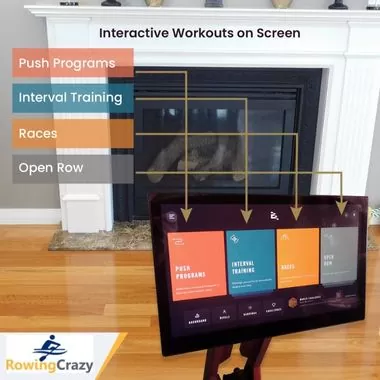 Features
Other top features of Ergatta include:
The cherry wood frame is super sturdy and supports users weighing up to 500 pounds
The monthly subscription price is $29 a month for an unlimited number of user profiles. This means everyone in the house can enjoy using Ergatta and maybe share in the cost
The gaming workouts are fun, and the racing games are totally addictive
The monitor folds down and, using the transport wheels, you can move Ergatta anytime you like
Storing this water rower is easy because it will sit on one end. That means it won't take up any more space than your average dining room chair
The seat is ergonomically designed, and the monitor tilts for the perfect viewing angle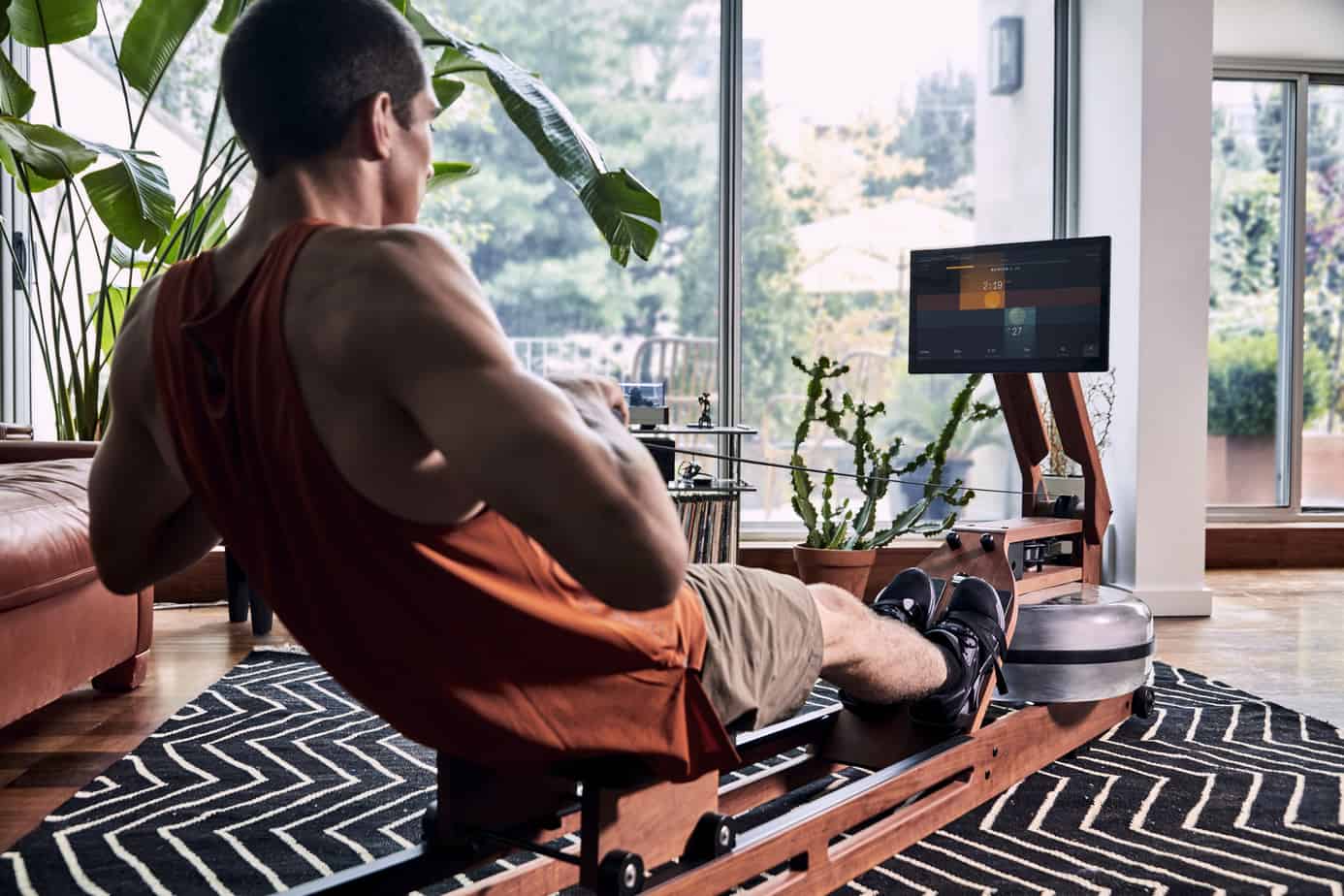 If you aren't a fan of workout instructors, or you like to do things on your own and would rather race against others or play games than do the typical workout programs, the Ergatta is exactly what you've been looking for.
The Xterra ERG600W Water Rower
Speaking of mid-priced water rowers, this one by Xterra fits the bill.
If you have not heard of the Xterra brand, you're missing a lot. They make some pretty awesome pieces of fitness equipment, including this futuristic-looking water rower.
I love the blue transparent water tank and the black styling on the frame. It's a truly beautiful machine that has a lot going for it.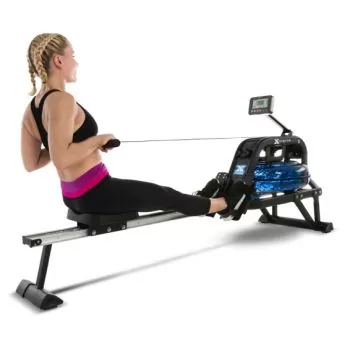 Features
The top features of the Xterra water rower include:
6 levels of resistance depending on the amount of water you place in the tank
The 5.5-inch LCD monitor is large enough to read from a distance. It tracks your total time, 500M time, calories burned, distance, strokes per minute, and even displays the date and room temp. It also has a clock.
There are 5 preset modes including distance countdown, calorie countdown, and more
No monthly subscription fee required
Stands on its edge for storage, taking up only 33″x22″ of floor space
The seat and handle are padded for extra comfort
You might think that at this price, the rower can't be of good quality, but think again!
The warranty on the Xterra includes a manufacturer warranty of 5 years on the frame, 2 years on all other parts, and 90 days labor.
That's really comparable to many other top brands, to be honest.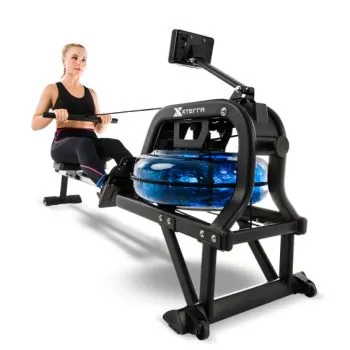 If you want a water rowing machine that is more affordable and still offers many of the same features, check out the Xterra ERG600W water rowing machine. Side Note: Also check out my review on the CityRow Go as this machine is very impressive too
WaterRower Club in Ash Wood Rowing Machine
Check Price
WaterRower Club is perhaps one of the best-known names in water rowing machines and for good reason: they invented water rowers!
Anyone who owns a WaterRower brand will tell you that these rowing machines are made from high-quality materials and the manufacturing is solid and why not? These rowers are made right here in the USA, and yes, they're the same manufacturer who builds the Ergatta machine.
This amazing water rower comes in ash wood, which is one of the hardest types of wood you can find. Ashwood is a material that's not only beautiful but also extremely hard-wearing, long-lasting, shock-absorbing, and easy to work with.
Oh yes, let's not forget just how tough this water rower is. The maximum user weight capacity is 700 pounds! You know this rower must be sturdy to stand up to weights like that!
While you can see that this doesn't have a fancy monitor, the fact is that you can upgrade to an Ergatta monitor if you wish. Read more on that upgrade here.
Features
The top features of this water rower include:
The S4 LCD monitor tracks your workout intensity, stroke rate, heart rate, and more
The clear water tank is beautiful and functional
You can store this rower on its end to save space when not in use
The patented WaterFlywheel has been specifically designed to simulate the dynamics of a boat moving through water
The WaterRower Club indoor rowing machine is handcrafted in solid ash and stained for color.
All of the wood used by WaterRower is taken from replenishable forests, which means they replant new trees so they can keep making more of this excellent rowing machine
The frame is nearly maintenance-free, with only occasional dusting required
The warranty is five years on the frame and three years on all other components with the completion of a registration form
The seat is contoured and padded for incredible comfort
WaterRower Club is well known for making some of the best rowing machines on the planet. You can rest assured that you will get many, many years of use out of this water resistance machine, and it will look as good 5 years from now as it did the day you bought it.
Mr. Captain Oak Water Rowing Machine
This water rowing machine uses engineered wood in oak veneer, which substantially accounts for its cheaper-than-WaterRower price tag. What I want to highlight here is that you don't need a hefty price for a stylish, good-quality water rowing machine.
So, let's start unpacking what Mr. Captain has to offer.
Features
Here are the main features of the Mr. Captain water resistance rowing machine:
This water rowing machine is designed to look and feel like a real boat (read more more on water rowing machine benefits)
The footplates are height-adjustable for comfort
Offers a smooth rowing experience
The LCD monitor can be customized using Bluetooth. You can set up 3 modes including Manual, Interval Custom, and Target.
The track is covered with heavy-duty aluminum alloy rails
The warranty is 1 year on the frame and 6-months for all other parts
The warranty doesn't come close to the WaterRower Club, but then again, it also doesn't bear the name. Also, Mr. Captain says that their rowing machine will only support 320 pounds, so don't try to go beyond that limit.
If you want a stylish, sturdy, but more budget-priced water rowing machine, you should check out Mr. Captain.
Budget Priced Water Rowing Machines
If you think that the water resistance rowers I've mentioned are above your budget limit, you may want to check out these two water rowers in this section.
Don't worry, I've got you covered! You can still get a budget rowing machine that is high-quality enough to last for many years. You just need your friend Petra here to tell you which ones those are.
I've used a lot of rowing machines over the years, so I understand why they're so popular and why I think a smaller budget shouldn't hinder you from getting one.
Let's talk about the best water rowing machines that won't empty your pocketbook!
How Do Water Rowers Compare to Hydrow? Click Here!
The HouseFit Water Rower
One look at this rowing machine (and the price) and you might be saying, "Oh, yes! That's more like it!"
Of course, at this price, you will not get all the bells and whistles you can with more expensive machines, but hey, you will still be getting a water resistance machine that gives you an incredible workout.
The HouseFit brand isn't very well known yet, but considering the high quality that these machines come with, it won't be long before they become household names.
HouseFit seemed to think of everything a person could want in a machine and then went one step beyond, such as making a rear stabilizer so the rower doesn't dance across the floor during intense workouts.
Features
Other features include:
Solid steel covered stainless slide rail for durability
6 levels of water resistance for different fitness levels
Maximum user weight capacity is 330 pounds
Adjustable non-slip foot pedals
The LCD digital monitor is easy to read and tracks the usual measurements
Has a large arm to hold your tablet or cell phone so you can watch workout programs, movies, or whatever you like
No monthly subscription fee required
The seat is durable and molded for comfort
1-year warranty on the entire machine
As you can see, a budget-friendly water rowing machine (also see my Topiom Rowing Machine article for more budget options) doesn't mean you have to give up features you love. This rower will work for advanced rowers or beginners.
For anyone who wants the best water rowing machine possible but don't have a lot of spare cash, the HouseFit Water Rower is one of your best options.
Sunny Health and Fitness Obsidian Surge 500 Water Rowing Machine
Sunny Health and Fitness is another name that not too many people have heard of a few years ago, but that's not the case anymore. This company is making a name for itself when it comes to affordable but good quality home exercise equipment.
Sunny Health Fitness makes an outstanding water rowing machine that has everyone talking because it's the best water rower you can buy for the money.
The maximum weight recommendation for this rowing machine is 300 pounds, which is really decent considering the price. Made from alloy steel, you know that this piece of equipment is really going to stand up to the test of time.
Features
Other features of this rower include:
The seat is molded and padded for comfort. It is also higher off the ground than some other water rowers, making it easier to get on and off the machine
The R2 Fitness monitor tracks all your essential workout metrics, such as total time, 500 M time, SPM, total strokes, calories per hour, ambient temperature, and more. It can also monitor your heart rate using a third-party monitor
Can be placed upright for easy storage
The 16-hydro blades in the water tank mimic rowing on the water
Warranty covers 3-years on the frame and 6-months for all other components
You will find that Sunny Health and Fitness gets excellent reviews and many users mentioned that they've rowed on this rower daily for years without a problem.
If you want the best budget-priced water rower, you should be really happy with the Sunny Health and Fitness Obsidian Surge.
Frequently Asked Questions
1. Are water rowers better than air rowers?
Many people prefer water rowers over air rowers, but that's not always the case. It totally depends on the preferences and needs of the person making the purchase. If you're on the fence about which type of rowing machine to buy, you must consider the following:
Air rowers are less expensive than water rowers because they have fewer parts, but this also means that they may not last as long as you would think.
Air rowers also tend to make a lot more noise than water rowers.
Water rowers can usually handle a higher weight capacity than air rowers.
Water rowers also have the smoothest, most realistic rowing quality.
There are plenty of budget-friendly water rowers, and you might find a few air rowers that don't make quite as much noise, but I'm speaking in general here.
Personally, I think water rowers beat the heck out of air rowers in nearly all instances.
2. Are wood-framed water rowers better?
Wood frame or other types of materials is usually a matter of preference. If you prefer a water rower that supports high weight capacities, look for solid hardwood and not engineered or composite wood.
If you prefer the look of wood because it's stylish and relaxing, then you should check out water rowing machines made from a variety of wood products, including cheaper ones made of engineered wood.
If you're more interested in a water rowing machine that has a steel or aluminum frame, or if you don't need a high-weight capacity machine, you might be happy with some of the other water resistance machines I've mentioned.
3. What are most water tanks made of?
Nearly all water tanks are made from plastic. They come in two halves that are glued together. I've never heard of anyone having any issues with the water tanks, but if you should damage yours, it might be repairable or can be easily replaced. Also, check your warranty because it usually covers the water tank for a specified period.
4. How do I choose a water rowing machine?
You should consider several things before you purchase a water rower. Ask yourself these questions:
What is the maximum weight capacity I need?
How much can I afford?
How much space do I have? Side Note: If space is tight check out our top foldable water rower
Do I want/need a monthly subscription, and can I afford it?
Check the specs of each machine and read reviews before you make your purchase, and take time sure to check our page for discount coupons or promo codes before you buy!
5. How long should I row each day?
Whether you want to lose weight, build muscle, or improve your overall fitness level, you should row for at least 20-30 minutes most days of the week.
If you would rather do a HIIT workout program, you only need to work out every other day for the same amount of time. Many rowers do other cardio or strength training on their "off" days from HIIT.
The Bottom Line
Everyone knows that rowing is an excellent way to lose weight and get in shape, and indoor rowers are the best way to do that. Of the many types, water rowers are popular because of the smooth rowing action and the way they mimic being on the water. Also, solid-wood water rowers generally have a higher weight capacity than other types.
Regardless of which water rower you choose, you're sure to enjoy many years of happy rowing.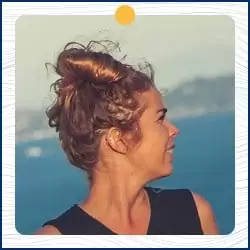 Written by Petra Amara – RowingCrazy.com
CEO & Founder of RowingCrazy, National Rower, Coxswain Womens Eight Team, Rowing Coach & Writer
Petra is a Mother of two and owner of Rowingcrazy.com. Petra lives and breathes rowing, she also has a passion for writing which lead her to start RowingCrazy.com to share her rowing experience and expertise with others.