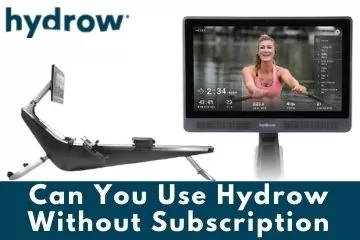 So here you are, right on the verge of buying the best rowing machine on the planet when you start wondering – Can you use a Hydrow rower without subscription?
I understand your hesitation about spending on a Hydrow and subscribing to its workout programs. We can't see the future, and it's the ongoing commitment that you're worried about. The short answer is yes, you can still use your Hydrow without subscription.
The question-and-answer does not stop here, though. What happens if you can't pay for the monthly subscription? Does your state-of-the-art rowing machine become a huge paperweight? If you drop out of the Hydrow membership but later want to renew your Hydrow experience, can you add your subscription again without a penalty?
I've got the answers to all these questions and more, so you'll feel better about purchasing a Hydrow rowing machine.
Does Hydrow Have a Subscription?
Hydrow SAVE $100!! => Use Coupon Code: ROWINGCRAZY
Yes, it does!
Currently, the Hydrow monthly membership cost to access the workout programs is $44 per month, plus tax if applicable.
The good news here is that the Hydrow membership fee is assessed for each machine, not per user. This means that you, your entire family, even some close friends, can create an unlimited number of profiles on the Hydrow rower.
This allows everyone to have access to the Hydrow membership and workout content without paying per user. It also means that if there are several of you using the rower regularly, you can split that fee among yourselves and make the expense lighter on the pocket.
Watch Max Secunda's Detailed Review On the Hydrow & It's Subscription:
Can You Use the Hydrow Rower Without Subscription?
Technically, yes, you can.
While membership is an integral part of the Hydrow rowing experience, we understand that some people might experience financial hardships at some point in their lives and find the Hydrow membership affecting their budget.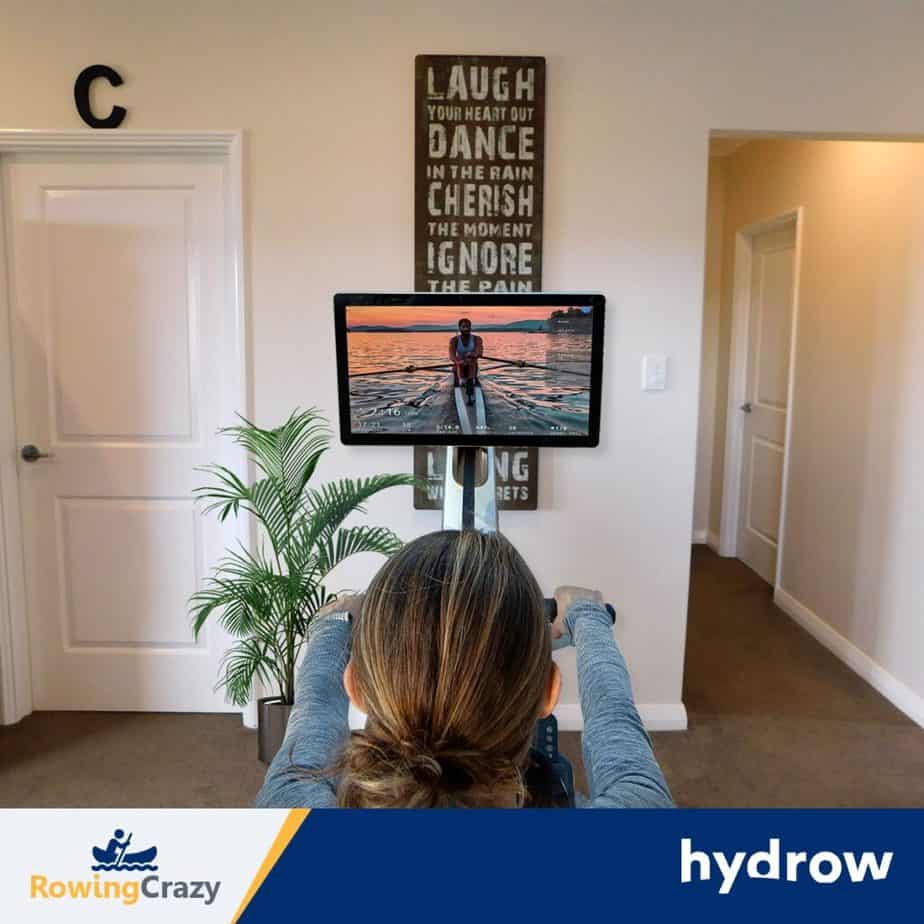 When you're unable to pay your monthly subscription, you can still use the Hydrow in the 'Just Row' mode.
What the Hydrow Just Row Mode Is and How to Use It
If your Hydrow membership should expire, you will see a large notice on your monitor informing you that you are currently using "Just Row" mode.
To use the Just Row mode, you will still need an internet connection (the Hydrow is WiFi-enabled) and electricity for the machine to operate.
Just Row mode allows you to do exactly what it says, just row, but the functionality of your rowing equipment will be greatly reduced.
In Just Row mode, you can still use the following features:
Manual adjustment of the resistance level
Hydrow 101 videos and workout introduction
Rowing metrics of your workout displayed on screen
Bluetooth connection for monitoring of your heart rate
Row-only mode will not allow you to use the following features:
Computer-controlled resistance
Recorded or live workout videos
Playing of music or any audio file
Access to saved workout records and stats
Access to the weekly racing challenges
Views of the scenic water rowing workout routines
Visibility to other users on the leaderboard
Access to the streaming workouts via the Hydrow companion app
In other words, your Hydrow will become just another one of the many indoor rowers that have no special content.
Hydrow SAVE $100!! => Use Coupon Code: ROWINGCRAZY
To enter the Just Row mode, simply touch the part of the screen where it prompts you to choose using the Hydrow without a membership. On the next screen, you have the option to enter the Row Mode or reactivate your subscription.
So Does Hydrow Without Membership Make It Just Another Rower?
Pretty much, yes. With the correct rowing stroke and form, you will still benefit from it by engaging 86% of your body's muscles. While this doesn't make it any less helpful to your cardiovascular system, upper body or lower body, it does remove the beautiful workout content that makes Hydrow so special.
Using the Hydrow rower without the membership cuts off the majority of the Hydrow Experience that makes it the ultimate virtual water rower. Imagine buying an electric car without batteries. Or a new suit, but you have no shoes. Without membership, you strip Hydrow of its desired impact.
If you want to work out and have the full Hydrow Experience, then you really need to use the Hydrow membership.
What Makes the Hydrow Workout Equipment Unique from Other Rowing Machines
The Hydrow rower is not your average piece of workout equipment. It isn't like a treadmill or a set of dumbbells. To get the most out of Hydrow rowers, you really need to use the subscription service to access the workout content, which is what makes Hydrow rowers stand head and shoulders above the rest.
Bottom Line: It's All About the Experience
The bottom line is this: It's the Hydrow experience that makes Hydrow the ultimate rowing machine. I've used dozens of indoor rowers in my time, and nothing comes close to the Hydrow rower.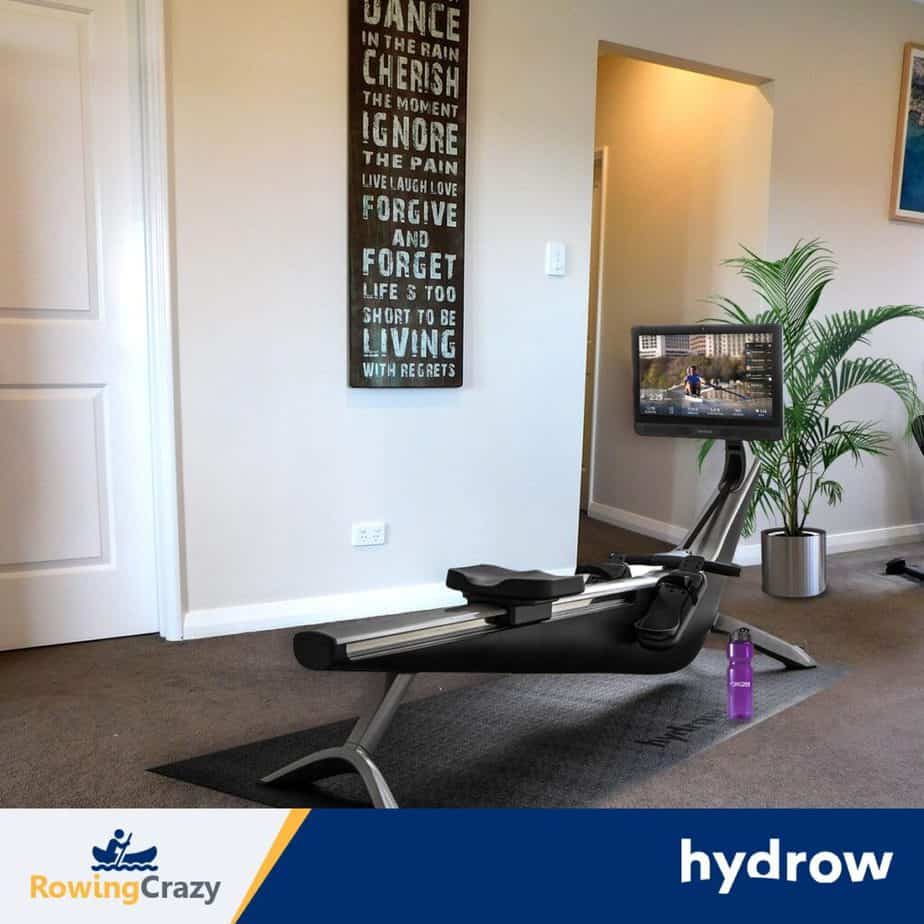 Hydrow SAVE $100!! => Use Coupon Code: ROWINGCRAZY
I own a Hydrow rower myself. I use it nearly every day, which tells a lot how it's my favorite piece of exercise equipment. You don't have to take my word for it; you can read what others say from Hydrow rower machine review pages. You'll see that nothing comes close to the rowing performance of the Hydrow rower.
If you must use your Hydrow minus the membership, everyone understands, but be sure to restart your membership as soon as possible so you can take advantage of all the workout content that Hydrow has to offer.
Other Hydrow Articles You Might Find Interesting:
Frequently Asked Questions
1. Do you need a subscription for Hydrow?
Yes, you need a subscription for Hydrow to enjoy all the perks and benefits that this state-of-the-art rowing machine has to offer.
2. Does Hydrow work without membership?
Yes, Hydrow will still work even without membership. If you can't renew your membership just yet, you can still use your Hydrow rower in the 'Just Row' mode. However, this is a very limited version, which means that you won't get the Hydrow experience that you bought the rower for.
3. Can you just row on Hydrow?
Yes, you can 'just row' on your Hydrow even if you fail to renew or continue your subscription. When your membership expires, your Hydrow will display a notice that says you are using the Just Row mode.
4. How to just row on Hydrow?
To use the Just Row mode on Hydrow, make sure that your machine is connected to the power outlet and has access to Wifi. The display will automatically inform you that Hydrow is not activated and that the Just Row mode is on. This limited mode allows you access to Hydrow's introductory material and videos, manual adjustment of resistance, rowing metrics during your workouts, and Bluetooth connection for your heart-rate monitor.
5. Can I subscribe again later?
Yes, you absolutely can. Simply touch the "activate" button on the home screen to resubscribe to the Hydrow rowing and enjoy the world-class experience that only Hydrow offers.
6. What workout content and exercises are available besides the usual rowing machine workouts?
In case you weren't aware of it, the Hydrow offers a full-body workout and allows you to lose weight quickly not only through the on-the-rower workouts but also through off-the-rower exercises. You can find yoga workouts using yoga blocks, strength training using resistance bands, and even mat workouts such as stretching.
7. Can I buy a workout mat or other accessories at a later date?
Yes, you can buy a workout mat. Not only that, Hydrow also offers other accessories to make your Hydrow experience more complete. You may get a machine mat to help keep your Hydrow rower in place, foam roller, Polar heart rate monitor, or even the Hydrow Pro Package. To store the Hydrow in a much smaller footprint, you may want the Hydrow upright storage kit, which we've featured in this post.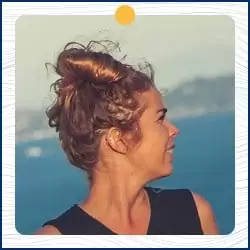 Written by Petra Amara – RowingCrazy.com
CEO & Founder of RowingCrazy, National Rower, Coxswain Womens Eight Team, Rowing Coach & Writer
Petra is a Mother of two and owner of Rowingcrazy.com. Petra lives and breathes rowing, she also has a passion for writing which lead her to start RowingCrazy.com to share her rowing experience and expertise with others.