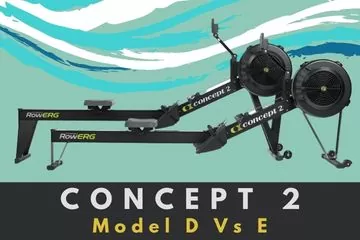 If you've been shopping for your first rowing machine, or maybe a new rower to replace an old one, and you've narrowed down your choices to Concept 2, congrats!
This is one of the top-selling rowing machines ever made. While it's been around since the early 1980s, you will find that the newer models have a lot of cool features that make rowing fun.
Let's not forget that there are dozens of online forums where Concept 2 owners can get together and chat, ask questions, and brag about their stats!
If you're having trouble trying to decide between Model D and Model E indoor rowers, you've come to the right place.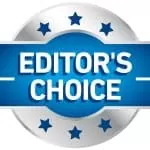 In a Hurry? Here are the Rowers We Are Comparing:
Want to know which rower is the best between Concept 2 Model D or Model E but don't have time to read the whole article? Click on the links below to get our answers.
In today's article, I want to talk about the differences between these two machines and which one might work better for you. Have a seat, and let's get right down to brass tacks, shall we?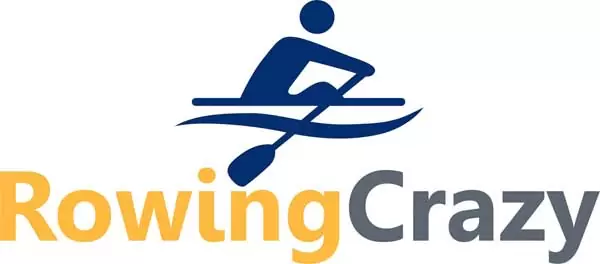 What Is the Difference Between Concept 2 Model D and Model E?
The Model D is the Concept2 rowing machine that you will see most often. It's been around the longest and can be seen in gyms, Olympic workout rooms, and many home gyms.
Some people think that Concept 2 is the perfect rowing machine.
Then they came out with Model E.
Wait, if the Model D was the perfect machine, what's up with the new model, and what are the differences?
While there aren't many major differences, the ones that you will read about here can be significant for some people.
Seat Height
First, the seat on the Model E is higher than the Model D. For anyone who has difficulty sitting down on the 14-inch seat on the Model D, those few extra inches can mean the difference between getting in your exercise or not.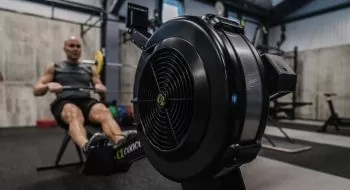 If you have bad knees, or other health issues that make it difficult to sit down or get up from low seats, the Model E is most likely your best option.
Steel Chain
The nickel-plated steel chain is super tough and is obviously different than the plain steel on the Model D. When steel has a nickel plate, it is virtually impenetrable by rust or corrosion.
The chain housing is also different with Model D being partially enclosed, while the Model E is fully enclosed.
Monitor Arm
The adjustable monitor arm on the Model D can pivot, but the arm itself is shorter. On the Model E, the monitor arm is longer so that you can read the display more easily, but the fixed monitor arm means you can't move it nor does it pivot.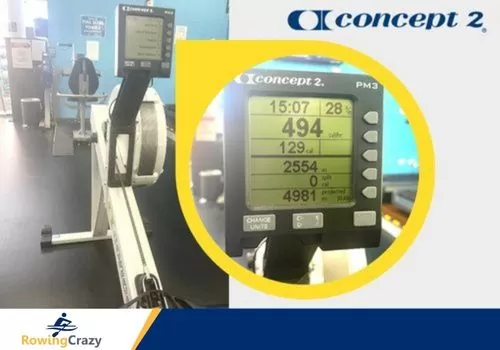 This is really a matter of preference. If you can read the monitor from a distance, then the Model D is your best bet, but for those of you who are a bit short or if your eyesight isn't what is used to be, you might benefit from the longer monitor arm on the Model E.
The Model E also features a double powder-coat frame with a layer of clear coat, similar to the paint on your car, to keep it looking shiny and new.
Ergonomic Seat
It also sports a new, ergonomically designed seat so that your behind doesn't get numb or sore.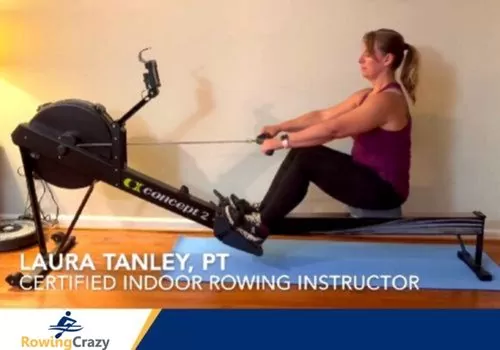 Of course, you could order a new Model E seat and install it on a Model D if you already own one, but if you're buying new, this might be an important factor.
You can see all the key differences here in this chart.
| | | |
| --- | --- | --- |
| Concept2 Model Name | Model D | Model E |
| Machine Weight | 57 Pounds | 94 Pounds |
| Maximum User Weight Capacity | 500 Pounds | 500 Pounds |
| Dimensions of the Machine | 96 in X 24 in X 28 in | 96 in X 24 in X 28 in |
| Dimensions Required for Use | 9 ft Long X 4 ft Wide | 9 ft Long X 4 ft Wide |
| Storage Dimensions | 25 in x 33 in x 54 in | 27 in x 47 in x 54. 5 in |
| Seat Height | 14 Inches | 20 Inches |
While these items may not seem like major differences, knowing them will help you decide whether you want to spend the extra money on the Model E or not.
How Are These Two Rowing Machines Alike?
Both Model D and Model E will give you the great, full-body workout you expect from an indoor rowing machine.
The two models are actually more alike than they are different. Both the model E indoor rower and the model D:
have the same build quality and extruded aluminum frame
have aluminum rails that are capped with a stainless steel track for optimum wear
have aluminum front legs and steel rear legs
have the same maximum weight capacity, which is 600 pounds
use air resistance, which means that it uses a fan blade inside a cage. The harder and faster you row, the more resistance you create, causing you to work harder.
use the same PM5 monitor and workout programs
can be taken apart and folded for a smaller footprint when storing
have the same warranty: 5 years on frame and 2 years on parts
have the same ergonomic footrests and handle
Do Both Rowing Machines Use a Damper?
Yes, they do.
For those who are unfamiliar with this term, a damper puts a limit on the amount of air that enters the fan cage. By limiting the amount of air, a beginner won't have to struggle or become disappointed due to too much air resistance.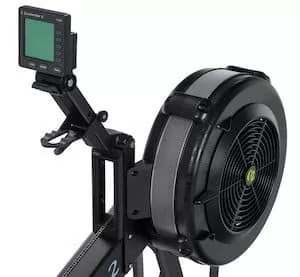 Imagine that you are first starting out lifting weights. You would be really disappointed if the only weights available were 50-pound dumbbells. As your fitness level improved, you would eventually be able to lift those 50-pound weights, but you probably need to start off with 10-pound weights, right?
The same is true with the damper. It limits airflow so beginners and those who are less advanced can gradually increase the amount of resistance so they get the same fitness benefits as those who can handle high levels of resistance. FYI have you heard about Concept 2 on Slides? They can really enhance and improve your training sessions.
Is the Model E Hard to Assemble?
No, not really.
The Model E will be delivered in what looks like two big boxes and you might think "OMG, what have I gotten myself into?" but don't worry, the boxes look more complicated than they really are.
Most people are pleasantly surprised to find that Model E indoor rowers require only 10 screws to assemble the entire thing. You can probably do it by yourself. Many people say that they took the Model E from box to a fully-assembled rowing machine in about 30 minutes.
When it comes to storing them, both models fold and can be wheeled to another location easily since neither one is very heavy. Check the chart above to make sure that you have enough space to both use and store your rowing machine.
Is the Concept 2 Model D Loud?
Yes, they can be, both models tend to be fairly loud. While Concept rowing machine has made improvements to try to limit the amount of noise these machines create, it's nearly impossible to make a silent air resistance machine.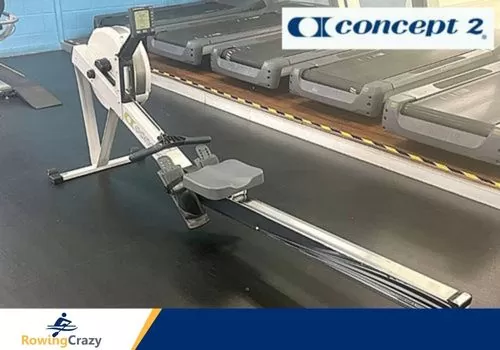 If you have fans at home or at work, you know how much noise they can create. In fact, many people like the noise when they sleep because it drowns out other noises.
For anyone who needs a quiet rowing machine due to apartment living or if you have roommates, day sleepers, or for whatever reason, unless you have a garage or separate place to use your rowing machine, you might want to reconsider buying air resistance rowing machines, such as the Concept 2. Both models tend to make quite a bit of noise.
Learn more with our full video of the Concept2 Rower by Rowing Expert & YouTube Influencer Max Secunda:
You will find that both rowing machines offer the same warranty (limited 5-year warranty on the frame and 2-year warranty on the performance monitor and moving parts) and you can buy replacement parts online.
Are There Any Differences Between the Performance Monitors?
Both the Model D and E now come with PM5 performance monitors. While this performance monitor can't compare to today's new smart rowers, it is an improvement over the old PM4.
The PM5 has a USB port in the back, so you can now save your workout data on a flash drive. The PM5 monitor will also allow you to connect most Bluetooth or ANT-enabled heart rate monitors or fitness devices, such as FitBit, which makes this performance monitor more user-friendly.
The PM5, while it has a lot of nice features that the PM4 did not have, isn't quite the same as what you can enjoy with a smart rowing machine, such as Ergatta or Hydrow.
Then again, the price difference between a Concept 2 and a smart rower is pretty substantial, so you'll have to check your finances before you decide on the smart rower. Also, there's an on-going subscription involved in smart rowers, while the Concept2 is expense free after the initial purchase.
Cityrow Go vs Ergatta – Which Is Best?
Is the Concept 2 Model E Worth It?
That would depend on your unique situation.
Both models are commercial-grade rowing machines, so durability isn't a problem. Both the Model D and Model E come apart (or fold, if you will) for more compact storage, and both machines use air resistance.
If you need a taller seat, then the Model E is definitely worth the price.
The finish on the Model E is more durable and requires less maintenance. Personally, I also think that the Model E looks nicer, but that's just my opinion here.
The chain is nickel-plated and is fully enclosed on the Model E, which also means more durability and less maintenance. (See Concept 2 chain maintenance tips).
While I wouldn't say that either model of indoor rower is high maintenance, when it comes to cleaning, I prefer less, rather than more. I'm betting most of you feel the same way.
I believe that most people will be happier with the Model E. It doesn't cost that much more but it is more durable and nearly maintenance-free, which is a big plus in my book.
What User Weight & Height Can Both Concept 2 Models Accommodate?
The user weight capacity for both machines is 500 pounds. You might think that because the Model E is a bit heavier, it can support more weight, but that's not the case. Both support the same maximum user weight, which is 500 pounds.
For maximum user height, they are also the same in what they can accommodate.
Both models have a monorail length of 54.0″ and can fit a pants inseam length up to 38.0″. A person with a 38-inch inseam, depending on how long you like your jeans, would be about 6 foot 7 inches tall, so that should work for nearly everyone except basketball players, I would imagine.
If you belong to the taller population, you'll want to hear this.
Concept2 does offer buyers a longer monorail for super tall users. I would imagine that people like Magic Johnson, who stood 6 feet 9 inches in his prime, would use the longer monorail.
Which Is the Best Concept2 Rowing Machine?
Ask Concept 2 owners which is the best model, and I can almost guarantee that whatever model they own will be the best for them. That's because only you know which machine is best for your lifestyle and personal preferences.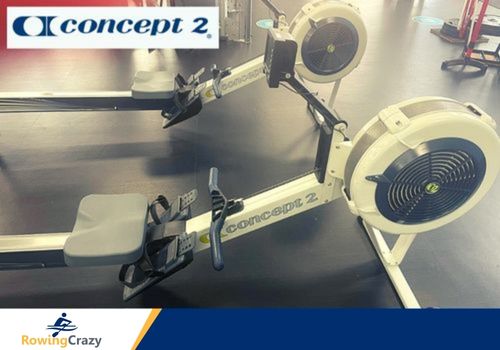 If you have bad knees (learn more), or if you are quite tall, then I can almost guarantee that the Model E will be the one you want since the higher seat will make sitting down and getting up much easier.
For anyone who hates to do maintenance, the Model E is the obvious choice.
As I've said many times before, the best rowing machine is the one that you will use and enjoy.
How Much Maintenance Does the Concept2 Require?
There are three levels of maintenance when it comes to Concept2 machines, including-
After Every Use – Wipe down the rails with a dry cloth, such as a microfiber cloth or cotton rag. Never use any abrasive cleaners. You can use some glass cleaner if you like. You should also inspect the footrests and straps for excessive wear.
If the handle feels or looks dirty, you can use a microfiber towel and some soap and water to remove any grime.
After Every 50 Hours (or once a week)- Lubricate the chain with some 3-in-1 oil or some 20W engine oil. You only need a teaspoon on a paper towel. Run the towel over the entire length of the chain. You can use another paper towel to wipe off any excess oil that may drip.
After Every 250 Hours of Use (or once a month):
Inspect the chain for stiff links. Try to lubricate the links, but if they remain stiff, you will need to replace the chain.
Inspect the connection of the chain where it connects to the handle. If the hole has become elongated or if the U-bolt is worn halfway through or more, replace the assembly.
Inspect the operation of the handle. If the handle does not fully return all the way, see your owner's manual about how to adjust the shock cord.
Inspect all screws for tightness and tighten any screws that may have worked loose.
Tighten or loosen the nuts on the performance monitor arm so that it moves freely but stays in place when you position the monitor where you want it.
Inspect the flywheel housing for dust. If you see dust, use a vacuum cleaner attachment to remove as much dust as possible.
This might sound like a great deal of maintenance, but each procedure only takes a few minutes.
I believe nearly all rowing machines require at least SOME maintenance (doesn't everything?), and while the chain drives are incredibly sturdy and long-lasting, they do require maintenance that belt-driven rowing machines don't.
The Bottom Line
When it comes to deciding which is better, Concept 2 Model D Vs E, there really isn't a winner here.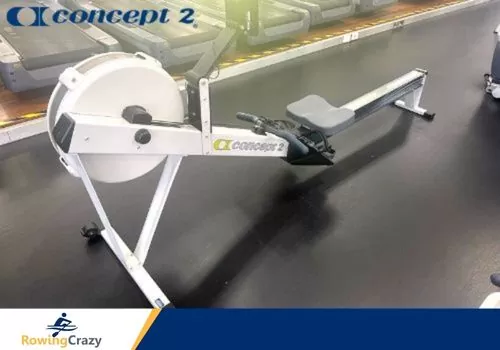 If you are young and not overly tall, if your tush doesn't mind sitting in an office chair all day, and you still have great knees, you will be fine with the Model D.
If your knees aren't what they used to be, your booty gets numb riding a stationary bike for 30 minutes, or if you aren't very tall, you might be happier spending a bit more on the Model E.
There are few differences between the two and both are extremely durable, but it's the little things that can turn your workout into a fun adventure or a painful/not so enjoyable endeavor.
Whichever rowing machine you choose, you will get the exact same workout, so choose the one that sounds best for your needs.
Stay happy, healthy, and have fun rowing, friends!
Other Concept Articles You Might Like: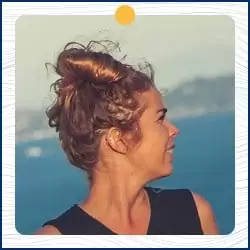 Written by Petra Amara – RowingCrazy.com
CEO & Founder of RowingCrazy, National Rower, Coxswain Womens Eight Team, Rowing Coach & Writer
Petra is a Mother of two and owner of Rowingcrazy.com. Petra lives and breathes rowing, she also has a passion for writing which lead her to start RowingCrazy.com to share her rowing experience and expertise with others.