Hi friends! My name is Petra, and I bet you're reading this because you are considering buying one of two indoor rowers, the Echelon Smart Rower or Concept 2 Model D.
Great choices! Both of these rowing machines have a lot to offer, but one of them is clearly what I consider the smart choice.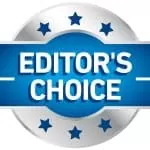 In a Hurry? Here are the Rowers We Are Comparing:
Don't have time to read the whole article? Click on the links below to find out which rower is the best between Echelon Rower or Concept 2.
If you've already done some research, or you're pressed for time, the following comparison chart might answer your most basic questions.
Quick Comparison: Echelon Smart Rower vs Concept2 Model D
| | | |
| --- | --- | --- |
| | Echelon Smart Rower (Basic Model) | Concept2 Model D |
| Type of Resistance | Magnetic resistance, Virtually noiseless, 32 Levels of resistance | Air resistance, Noisy, Unlimited levels of resistance |
| Foldable? | Yes | Yes |
| Overall Dimensions | 84.65″L x 20.47″W x 43.7″H | 95"L x 24"W x 48"H |
| Weight of the Machine | 120 Pounds | 57 Pounds |
| Folded Dimensions | 40"L x 21"W x 60"H | 33″L x 25"W x 53"H |
| Bluetooth or WiFi-enabled? | Bluetooth-enabled | Bluetooth-enabled |
| Type of Workouts/ Subscription | Echelon Fit app allows up to 5 user profiles for $14.99 monthly. Can be used without the app, there is also a free version. | No instructor or other type of visual workouts but you can program the PM5 monitor for certain workout programs |
| Maximum User Weight Capacity | 300 Pounds | 500 Pounds |
| Warranty | 12 months limited parts and labor | 5 year frame, foot, and chain warranty, 2 years for everything else |
In today's article, I'm going to tell you in detail which one of these rowing machines would be the better choice for you, which I think is best, and everything you need or want to know to make a more informed buying decision.
Grab a cup of coffee and let's get started!
The Echelon Smart Rower
Echelon makes two different rowing machines, the Smart Rower and the "S" model. To compare apples to apples, I'm going to compare the Echelon Smart Rower and Concept 2 Model D.
If you'd like to take a look at the "S" model, you can find that here.
Echelon offers a truly amazing indoor rower with the Smart Rower, and you might be looking at the price and wondering how they do it.
Features of the Echelon Rower
One of the other features that I like about Echelon is that it has nearly silent magnetic resistance. For anyone who lives with someone else, shares an apartment, or has neighbors who complain about everything, quiet is next to perfection.
You can use your Echelon smart rower, and someone could actually watch TV in the same room and not have to turn up the sound, it is THAT quiet!
Other features of this rowing machine include:
The rower has transport wheels, and it folds neatly in half for easier storage.
It has a user weight capacity of 300 pounds, which is pretty generous.
The tablet holder tilts and swivels 360 degrees so you can even do floor exercises if you like.
The resistance levels can be controlled via the handlebar.
The seat is molded for extra comfort.
Bluetooth capability means you can use your own heart rate monitor, headphones, or fitness devices.
There is a USB port for charging your phone or tablet or other devices.
It has adjustable foot plates that should fit every shoe size.
Super low maintenance
Decent 1-year warranty
When you consider the price, the Echelon Smart rower has a lot to offer!
What Does the Echelon Fit App Offer?
The Echelon Fit app offers many different types of workouts, not just rowing classes.
You can do yoga, strength training, cycling, running, and more. This app is almost like having a gym in your own home!
There are live classes that you can join, or you may want to follow one of the many workout programs that are in the library.
There is a free version of the app that has limited features (no live classes), but you can actually use the rowing machine even if you don't have the app!
I like that Echelon doesn't limit you to their programming! The free version of the app is fine for many people, and the premium (paid) version is half the price of most other apps.
At this writing, $14.99 gets you and four other family members complete access to everything the Echelon Fit app has to offer.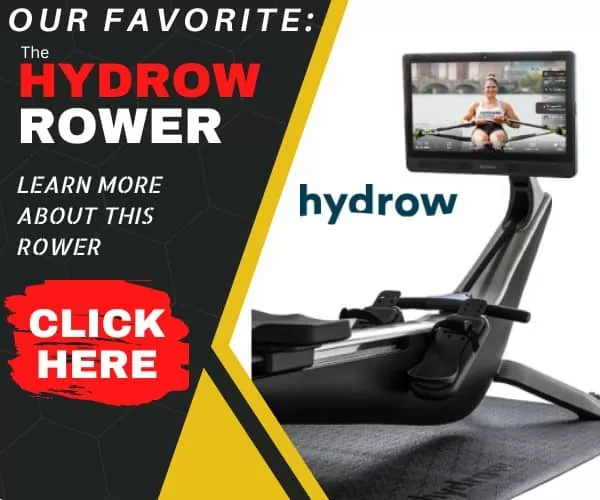 Why Is the Echelon Rower Not as Expensive as Other Smart Rowers?
This is an easy-to-answer question: You will provide your own monitor!
That's right, rather than pay considerably more for a monitor, you can use your own tablet to download the Echelon Fit app. The rower has a tablet or smart phone holder that can accommodate tablets of almost any size. I've used my 10-inch tablet, and it had no problem holding it in place.
Can I Watch Netflix or YouTube on an Echelon Rower?
Yes, you can watch Netflix or YouTube while working out on an Echelon rower.
Don't you just love the flexibility of Echelon programming? Since you are using your own tablet, you can watch anything you like while you work out. Netflix, Hulu, YouTube, or whatever you have downloaded to your tablet!
You can also use the Bluetooth feature to use your own Bluetooth-enabled headphones. While Echelon offers a wide selection of music, you do have the option of listening to your own music library or podcasts if you prefer!
Can I Use the Echelon Rower without the App/Subscription?
Yes, absolutely! You can use the Echelon rower without a subscription.
Use this incredible rowing machine with no tablet at all if you like. Set it up in front of the TV, or use your Bluetooth-enabled headphones and listen to podcasts, music, or whatever you like.
There is a free version of the app, and you'll probably enjoy your workouts more if you have some visuals. The truth, however, is that you don't need anything at all to enjoy a full-body workout that you will really feel!
Concept 2 Rower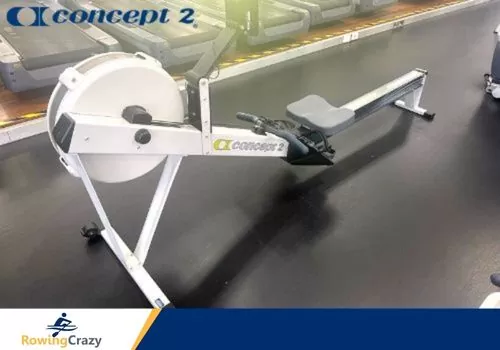 To make a fair comparison, I'm reviewing the Concept 2 Model D rower, also called Concept2 RowErg with standard legs.
Concept 2 makes one of the most popular rowing machines on the market. It's been around since the early 1980s, and it hasn't really changed all that much.
One of the best things about Concept 2 is that it doesn't have a lot of parts, and if you should need parts after the machine is out of warranty, they are readily available, inexpensive, and easy to install.
Features of the Concept 2 Model D
Concept 2 uses air resistance, which is in unlimited supply, right? You never have to worry that your fitness level will be greater than the resistance the machine can supply.
The problem with air resistance rowers is that, unlike magnetic resistance indoor rowers, they can be very noisy. If you have seen or used a rowing machine at the gym, chances are that it was a Concept 2, and you know how noisy they can be.
For those who have a large house or a home gym, and noise is not a problem, then this isn't an issue for you.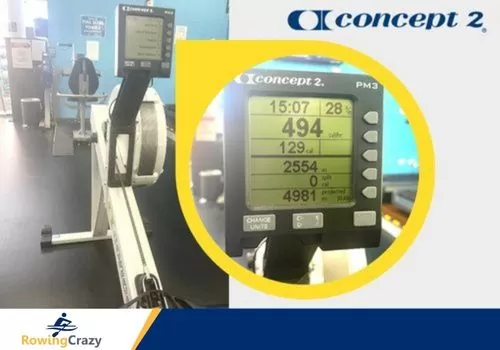 Other features that this piece of fitness equipment offers include:
New models have Bluetooth capacity, so you can connect your heart rate monitor, fitness watch, or headphones wirelessly.
Built to handle 500 pounds of user weight, which is impressive
Adjustable footrests
The new PM5 performance monitor has many new features, and you can now download your workout data to a thumb drive and upload it via your laptop.
Online leaderboards (via their webpage, not on the rower itself)
A massive online community where you can ask questions, get advice, etc.
An excellent warranty
There's a good reason that this rowing machine has been a best-seller for decades—it works! No frills, no fancy gadgets, just a good old-fashioned piece of exercise equipment. FYI: You might also like to read my other article Concept2 E vs D
Just How Noisy Is the Concept 2?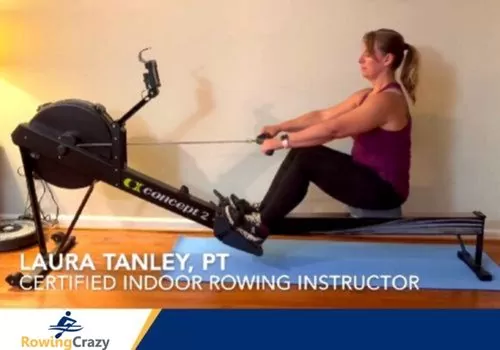 Our very own British rowing record holder, Max Secunda, will not only tell you what he thinks of his Concept 2, but he will also give you a short demonstration of how loud this rower is in this short video.
Watch our full video of the Concept2 Rower by Rowing Expert & YouTube Influencer Max Secunda:
How you find the noise level depends on your living situation and preference. Personally, I find Concept 2 quite noisy and annoying, but that's my take on it.
Which Rowing Machine Is Better?
Both the Echelon Smart Rower and the Concept 2 Model D are fantastic rowing machines that will have your heart racing in no time!
I do like both of these rowing machines for different reasons.
Both fold for storage, both have comfortable seats, but you should consider the following before you decide:
How much space do you have for your workouts? Concept 2 is much longer and requires more space when in use.
How much weight capacity do you need? The Echelon is rated for 300 pounds. If someone in your household weighs more than that, you should consider Concept 2.
How much noise can you, your neighbors, or your roommates tolerate? The Echelon makes virtually zero noise, other than you huffing and puffing, of course!
How quickly do you get bored? If you lose interest in your other pieces of exercise equipment due to boredom, you'll want the Echelon so you can use the app, watch Netflix, or whatever you need to avoid the boredom factor.
Concept 2 Is the Bigger Seller, Does That Mean It's Better?
Concept 2 has been around for decades, and there is no doubt that it's a terrific rowing machine.
However, that doesn't necessarily mean that it's the better rowing machine for everyone. As I mentioned above, if you can't deal with the noise, don't have that much space for exercise, easily get bored, or weigh less than 300 pounds, the Echelon will probably be the better option.
You'll still experience weight loss and muscle gain, but you'll do less maintenance with a magnetic rowing machine like Echelon than with the Concept 2.
Are Rowing Workouts Worth It?
Yes, rowing workouts are worth all the time and expense you invest in them. Personally, I can't imagine doing anything else!
Rowing is a total body workout that won't hurt your joints! Did you know that rowing works 86 percent of the muscles in your body every time you use it?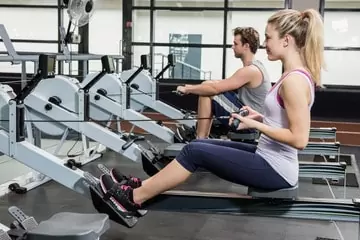 It's true! Imagine getting all the benefits of strength training, cardio workouts, and more without joint pain or joint damage. You can't say that about your treadmill!
Rowing machines are one of the best types of exercise in the world! No wonder more and more people are discovering the joys and benefits of rowing!
And The Winner Is…
For me, Echelon is the clear winner.
If you use a Concept 2 rower and then use an Echelon smart rower, you'll immediately notice the sound difference. Not only that, the overall feel of the machine is much better with the Echelon.
Concept 2 feels terribly dated despite the updated PM5 monitor. Of course, if you don't care about those things, if you just want to jump on, get your workout done, and jump off, you might prefer Concept 2.
However, I've been using smart rowers for quite some time now, and I really wonder how I spent so many years rowing without one!
Smart rowers like the Echelon Row – especially when you use the Echelon app and get on-demand classes and live workouts – make exercise less boring and more interesting. They keep you more engaged than plain exercise machines like Concept 2 do.
Concept 2 is the rower of the past. Smart rowers, like Echelon, are the rowers of the future.
The choice is entirely yours.
Stay active and healthy, everyone! Happy rowing!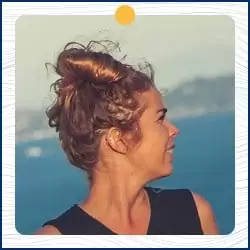 Written by Petra Amara – RowingCrazy.com
CEO & Founder of RowingCrazy, National Rower, Coxswain Womens Eight Team, Rowing Coach & Writer
Petra is a Mother of two and owner of Rowingcrazy.com. Petra lives and breathes rowing, she also has a passion for writing which lead her to start RowingCrazy.com to share her rowing experience and expertise with others.