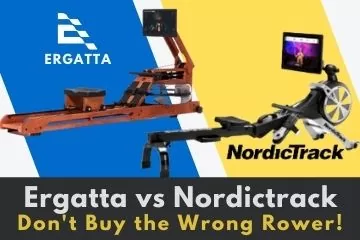 Chances are that you've seen rowing machines sitting in a corner at your local gym. What was once an exercise machine that only fanatics like myself used is now super popular!
If you've decided to add an indoor rowing machine to your home gym, smart move!
I'm betting you've done some research about your upcoming purchase so that you get the best possible rowing machine for your money. Who doesn't want the best, right?
The problem is choosing the best! What is "the best" for one person may not be perfect for someone else.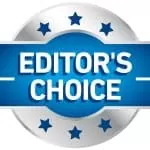 In a Hurry? Here are the Rowers We Are Comparing:
If you're in a hurry and need to know which rower is better between Ergatta or NordicTrack, click on the links below for our answers:
*We review fitness products impartially and may earn a commission from affiliate links. For details see our disclosure page.
To help you make an informed decision on which rowing machine to purchase, we have conducted a thorough evaluation of each machine, which we will share in detail in the upcoming sections of this article.
Right Let's Get Into It!
Not only do you want a rowing machine that fits your lifestyle and personal preferences, but you also want a machine that will really last and stand the test of time.
If your choices have boiled down to either the Ergatta or the NordicTrack RW900, I understand what makes your decision so difficult.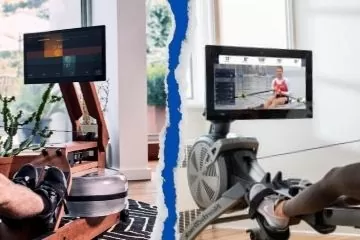 Both of these are premium machines with many similarities, but at the same time, many differences that can make or break your rowing workouts.
The good news is that I've used both machines, and in today's article, I'm going to compare these connected rowers so you can make a more informed decision.
Are you ready? Let's talk about connected rowers and all the fun gadgets they have to offer.
The NordicTrack RW900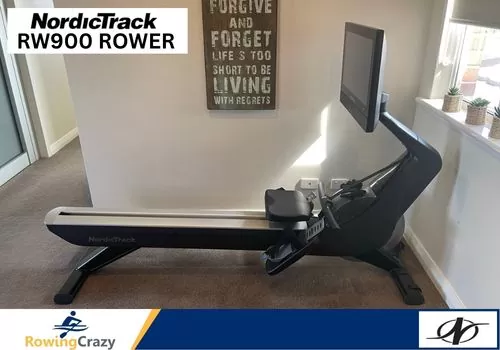 You know the NordicTrack name, in fact, you may even have purchased or used some of their gym equipment in the past. I remember using their cross-country skiing machine back in the day. They are one of the best-known fitness brands around.
To compare apples to apples, I'm going to look at RW900, which is the top-of-the-line model and the most similar to the Ergatta.
Unleash Your Potential with Olympic Rower Rachael Taylor and the NordicTrack RW900 Rower:
I will give you a rundown of features a little later in the article, but right off the bat, I want to mention the type of resistance the NordicTrack RW900 uses because it is a bit different.
The RW900 uses both magnetic and air resistance. Magnetic resistance is currently a popular choice among rowing machines because it is incredibly quiet. You won't hear anything but your own breathing when you're working out.
However, the machine also lets you manually add a bit of air resistance for a more challenging workout. Personally, I didn't change the air setting, but I have heard that air resistance can be a bit noisy.
One of the great things about the NordicTrack RW900 is that it comes with a one-year FREE membership to iFit (valued at $396). There are literally thousands of different workout programs aside from the instructor-led classes for the rowing machine.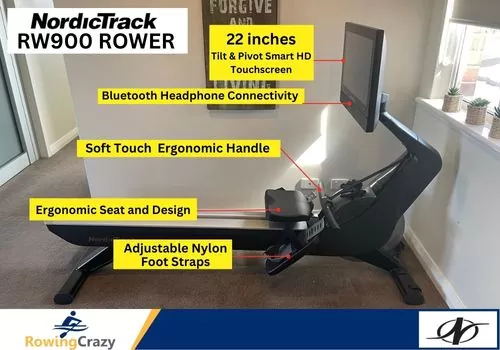 The iFit app is similar in many ways to the Hydrow app. You can row the lakes and rivers of the world with former or current Olympic rowing champions who have cameras on their helmets, so you get a great view of the boat, the water, and others in the boat. Many times the instructor will point out landmarks or nature observations as you row. This makes for a very pleasant workout routine.
Unfortunately, you only receive 1-year for free. After that, you must pay a monthly subscription price for the app, which is $33 a month for a family subscription, or $15 for a single user.
It's important to note that you can only have 4 user profiles set up on this connected rower and the iFit app. That's fine if you have a small family, but you will have to include that in your decision-making if you plan on sharing the machine and app with more than four users.
The instructor-led workouts are top-notch, no doubt, and the scenery is beautiful. There are also off-the-rower workouts if you like, including yoga and Pilates, offering limitless variety to users.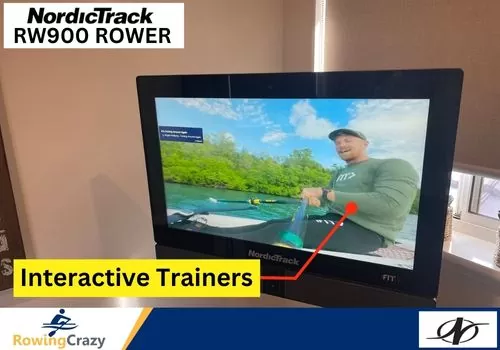 Your resistance level is controlled by the instructor (or the program since the workouts aren't live) as you row, or you can do an open row and control the resistance yourself.
Some programs incorporate both formats into a rowing workout, such as HIIT programs where you will row like crazy for one minute, then get off the rower and do burpees for one minute, then get back on the rowing machine.
There are no live workouts but plenty of on-demand workouts.
If scenery is not your thing, you can also choose from boutique classroom-type settings to do your workouts.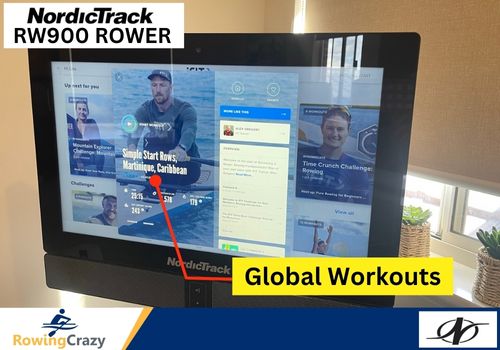 Here are other features of the NordicTrack RW900 that I'm sure you will want to know about:
There are 26 levels of digital magnetic resistance and 10 manual levels of air resistance, meaning your workouts will always provide the challenge you need
The maximum user weight capacity is 250 lbs, not too high but good enough for most body weights
The 22-inch digital touchscreen monitor swivels, and this is a useful feature for off-the-rower workouts
An HDMI port can be found on the monitor, in case you want to hook up a television or other devices. However, you cannot use this port to show other media on the touchscreen. It is an export-only port, with no import allowed.
There are 2 front-facing speakers
An audio port is included so you can play music from your phone, for example, through the NordicTrack speakers
No heart rate monitor is included, but you can use your own Bluetooth-enabled heart rate monitor
You can also use your own Bluetooth headphones since this has full Bluetooth capabilities
The rowing machine is 86.5 inches long x 22.0 inches wide x 50.4 inches high
The screen and rail fold down for easier storage
Transportation wheels allow you to move the rowing machine easily
As far as the rowing experience goes, the machine is smooth and provides full-body workouts like all other rowing machines.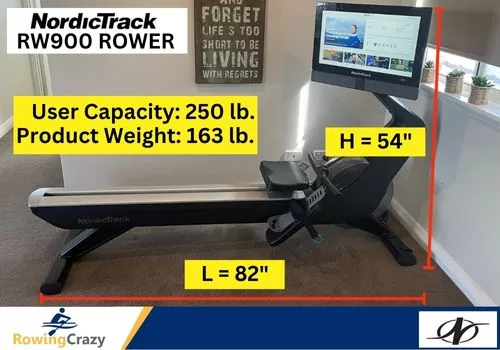 For a piece of home gym equipment, almost everyone will be happy with the NordicTrack RW900.
Is the NordicTrack a Smart Rowing Machine?
Yes, it is.
A smart rowing machine is often called a connected rower ( or interactive rowing machine ), which means that it is connected to the internet.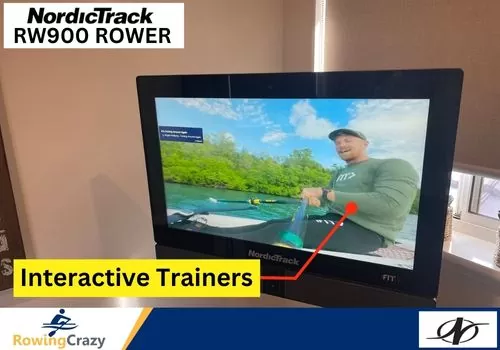 The NordicTrack has a feature called Automatic Trainer Control, where the trainer adjusts your resistance during instructor-led workouts to up your performance.
Personally, I think that a "smart" rowing machine should track your fitness level and then adjust the settings automatically so that you will reach your fitness goals without you having to manually adjust the resistance.
I do know a smart rowing machine that does this, and I'm reviewing it next. FYI: You might like to read my full Nordictrack RW600 rower review here.
Side Note – Want to See Hydrow Vs NordicTrack?

If you still have more questions, we have another great comparison article that you might like to also read Hydrow vs NordicTrack where our team personally tests each machine in detail!
The Ergatta Rowing Machine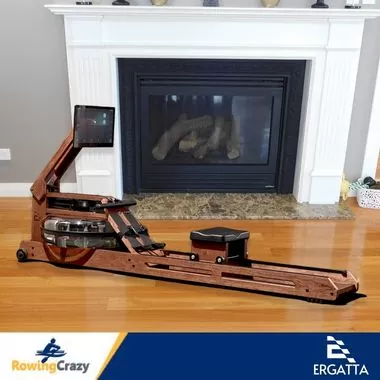 One look at this machine and you know that it is unlike most other rowers.
If you think this rower looks like a piece of furniture, you aren't alone! The cherry wood frame is custom-made for this rower, and it looks so good you might decide to put this home rower right in your living room!
The Ergatta connected rower uses water resistance. It uses a super sleek transparent grey water tank to contain the water and fan blades. Oh, how I love the gentle sound of swooshing water they create as I row! Side Note: You might also like to read my other article water rowing machine vs concept to see how other rowers compare.
Most Olympic and elite rowers go with water resistance rowers because of the more realistic rowing experience they get.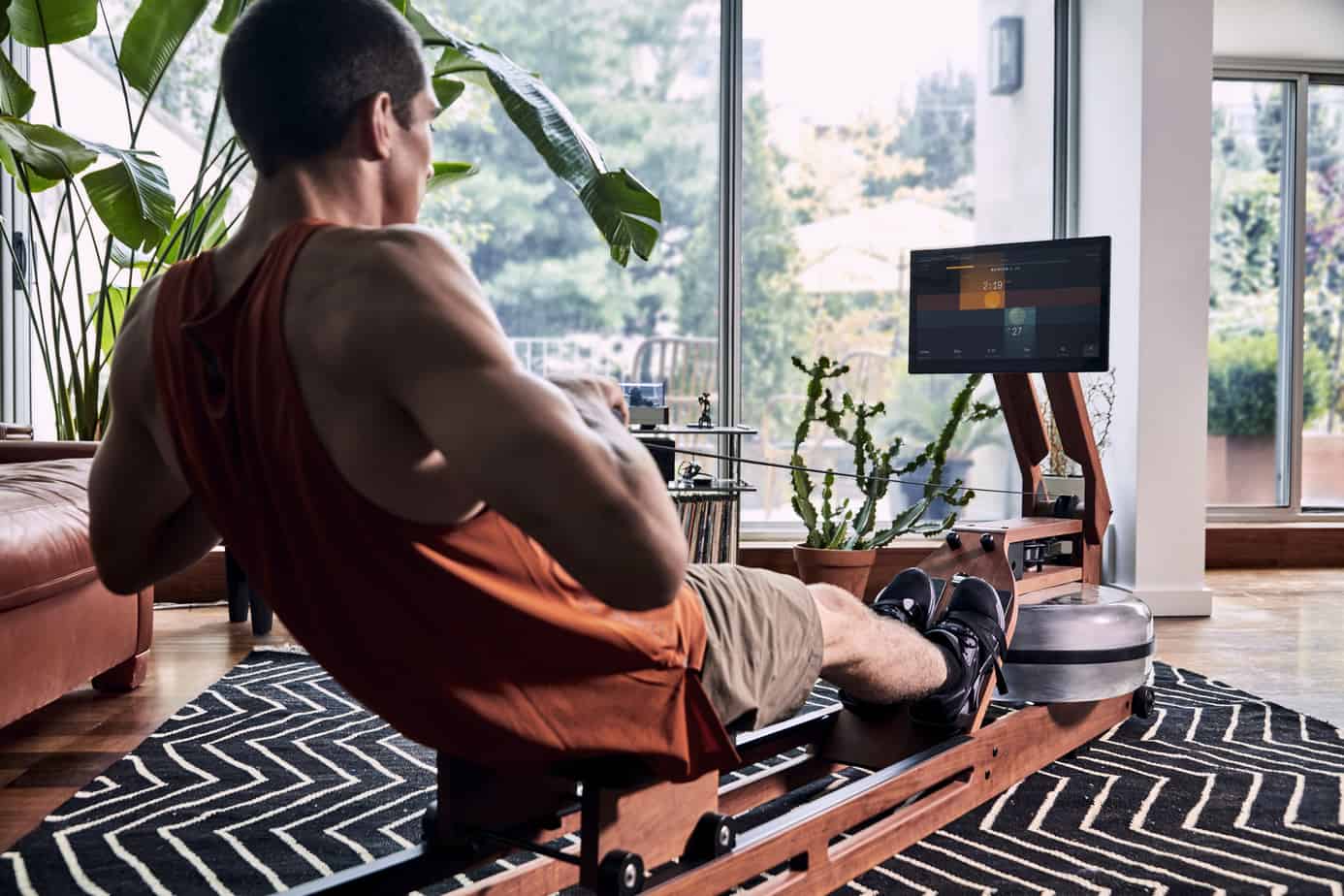 Now, you may not be familiar with the Ergatta name, but I'm sure you've heard or used WaterRower Club rowing machines. Well, it's the same company that is now manufacturing the Ergatta rower, lending it the same craftsmanship and quality it has mastered for decades.
In addition to the beautiful frame, it's the software that makes Ergatta different from all other home rowers.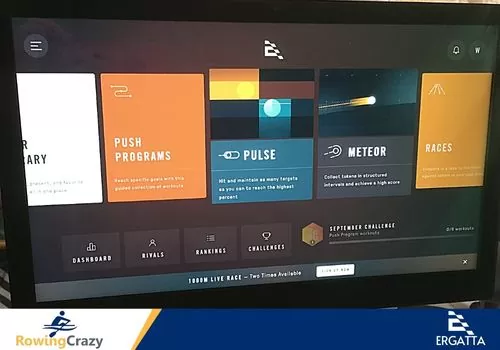 Rather than use the typical fitness classes or instructors who give live and on-demand workouts in beautiful locations, Ergatta is more like playing a video game.
You can choose between rowing workouts in a gamified platform, such as Meteor, or you can race against others. You can even race against yourself and beat your own time.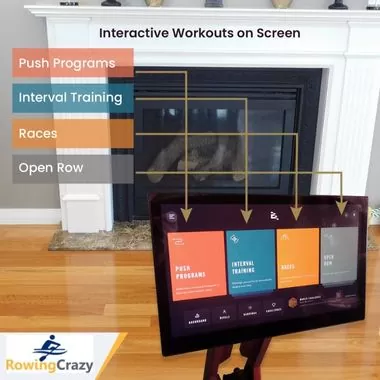 If you aren't a fan of the gym experience, or if classes and instructors bore you, then you're going to love the Ergatta fitness equipment.
While you still get a full-body workout from this smart rower, you won't have any instructors telling you what to do.
I must say that my competitive nature makes the racing games incredibly motivating. I no sooner finish a race when I find that I want to go back and do it again! The games are fun as well. You can work at your own pace and not what instructors tell you. FYI: You might also like to read our other in-depth articles: Aviron Vs Ergatta or Ergatta vs Echelon to see how these gaming rowers compare side by side.
One big plus is that the Ergatta is a true smart rower.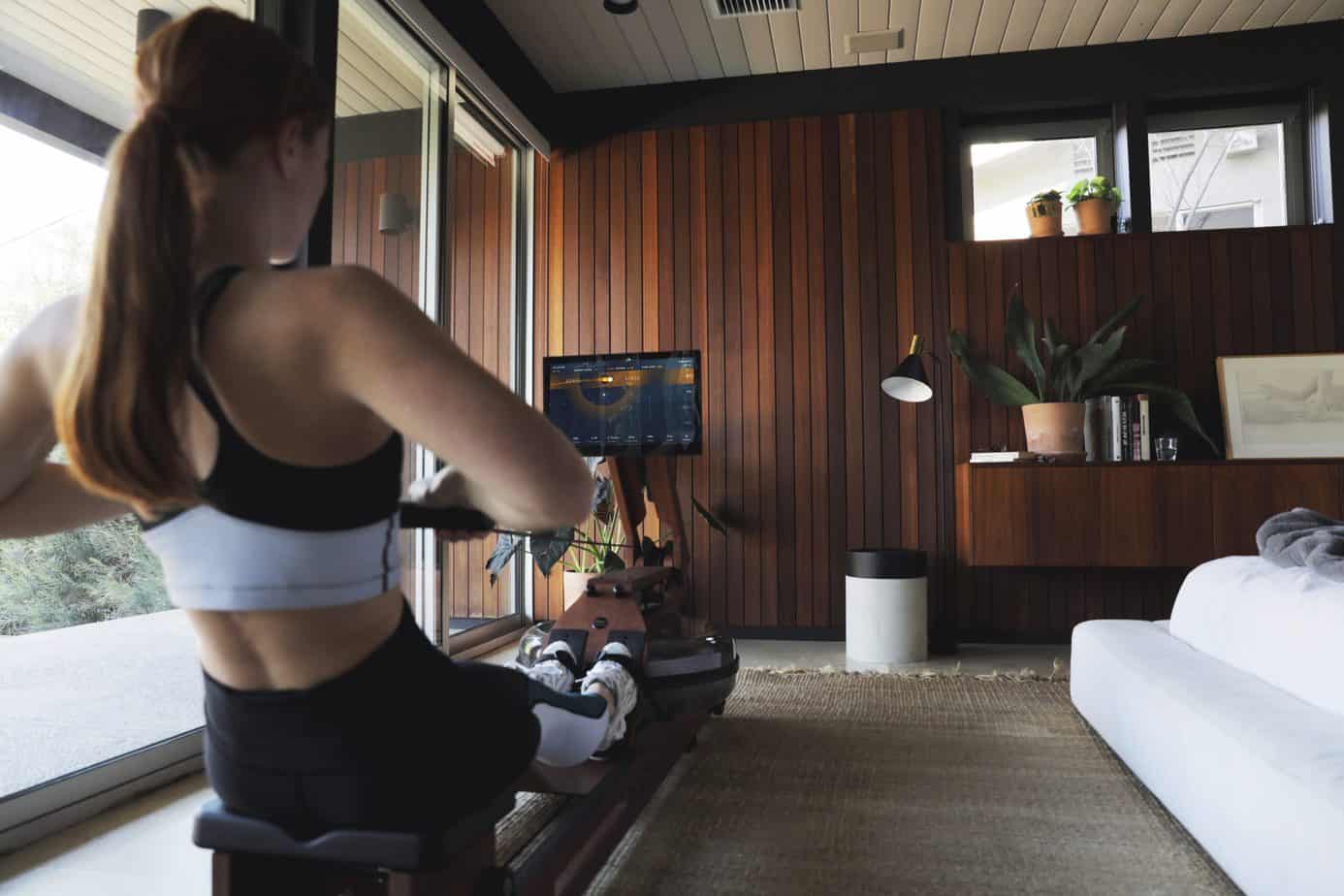 When you first sign up, the console has you do a 1,000-meter row. Your stats will tell the Ergatta your current fitness level. This helps so that you don't end up racing against an Olympic champion.
As you progress, the machine will recalibrate your fitness level and increase the resistance if required. This will not only strengthen muscles but will also automatically help you reach new fitness levels without need of fiddling with the settings.
Just like your favorite video game, the more you row, the more you will unlock new games and new levels. I don't think there is another type of fitness equipment that operates this way!
Side Note – Ergatta Review:

To learn more, be sure to also read our full Ergatta Review article where we breakdown the results from this great wooden water rowing machine personally tested by our team!
You do need to pay for a monthly subscription to get all the features of the Ergatta smart rower, which is currently $29 a month. If you pay for one year in advance, the charge is only $290, which is like getting two months free.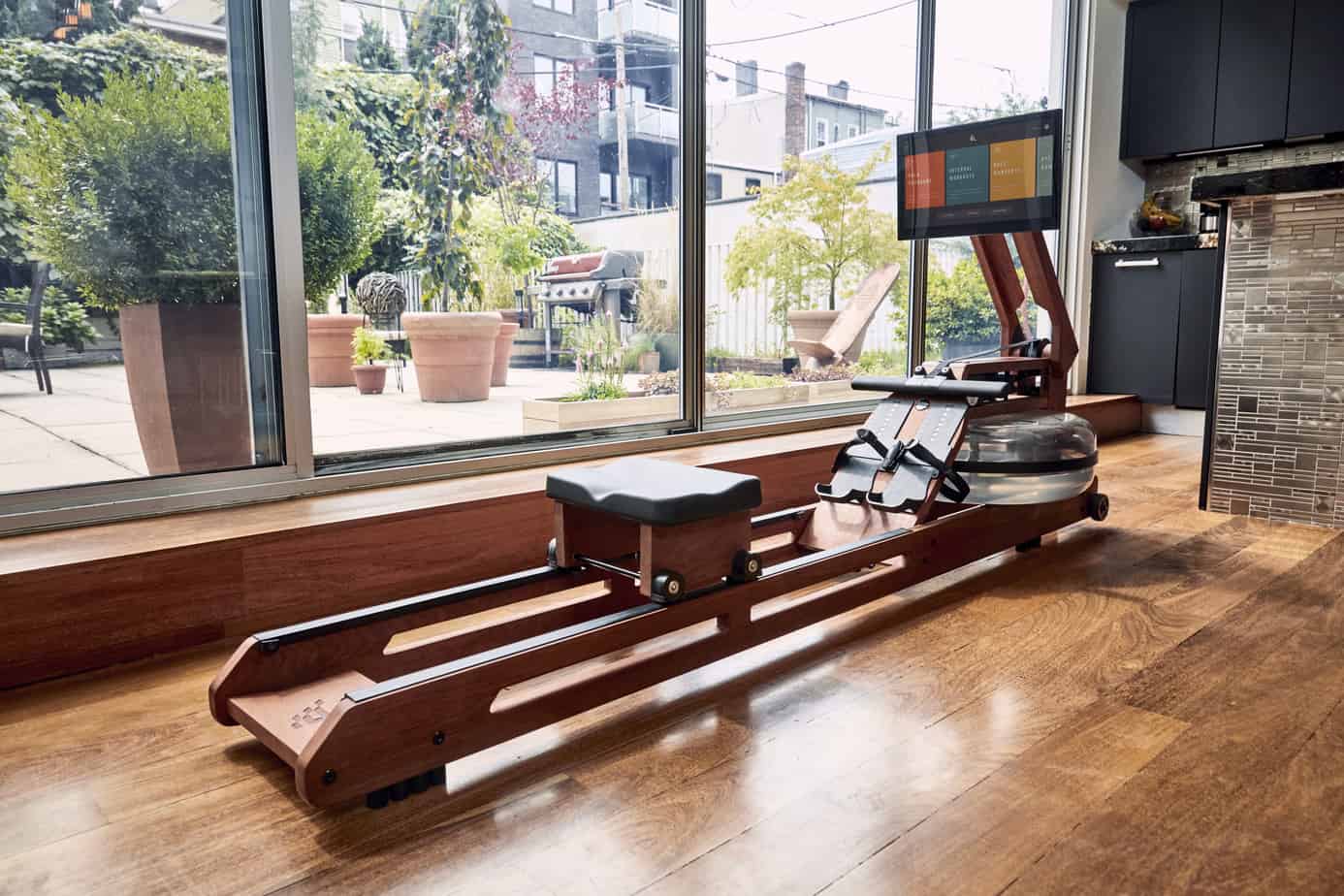 Other features of the Ergatta rower include:
Maximum user weight capacity is 500 lbs
The touchscreen tablet is 17.3 inches. The tablet and arm fold down so the vertical storage footprint is no larger than a dining room chair!
There are currently more than 1,000 rowing workouts, games and races, and there's going to be more because the Ergatta team doesn't stop in coming up with new challenges
Water resistance can be increased or decreased by adding or removing water, and a pump and purification tablets are provided to help you maintain the water tank
There are monthly group challenges as well and the company donates money towards a charity when Ergatta users complete a challenge
You don't need to assemble the Ergatta rower. It will be delivered to you fully assembled and set up wherever you want it. They'll test it too and make sure that everything works as it should!
There is a full 30-day money-back guarantee, so if you don't love the Ergatta rower, you haven't lost anything!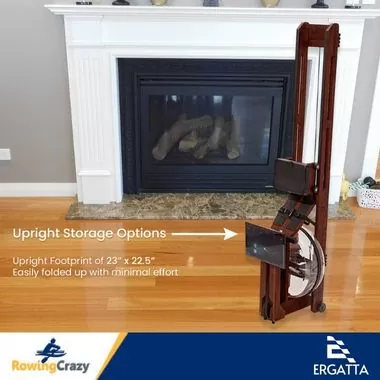 It's good to note that you can create as many user profiles as you wish for that one monthly fee, so that's an edge over Nordictrack if you have a big family.
I loved the Ergatta so much that I added one to my home gym. I also own a Hydrow, but they are so different, and I love switching between these machines! I have been known to use the Hydrow in the morning and then the Ergatta later in the day.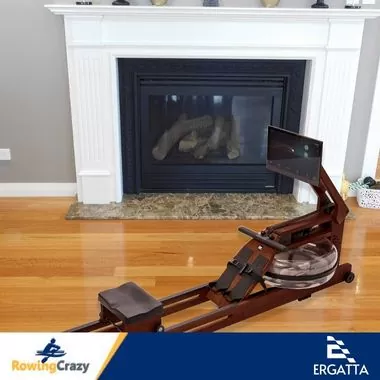 The Key Differences Between These Rowing Machines
While these two machines are similar in that they are both smart rowers and they both give you a full-body workout, they aren't the same.
I've put the key differences in this chart to help you make the perfect decision that works for you.
Rower Features
The Ergatta
NordicTrack RW900r
Resistance System
Water
Magnetic & Air
Weight Capacity
500 lbs
250 lbs
Frame Materials
Cherry Wood
Steel
Monitor
17.3-inch HD Touchscreen
22-inch HD Touchscreen
Workout Style
Racing, Game-Based
Traditional instructor-led on-the-water or classroom
Monthly Subscription
$29 a month for unlimited profiles or $290 per year if paid in full
$33 a month for a family of 4 users or $15 a month for a single user
Assembled
Dimensions

86" L x 23" W x 40" H
86.5″ L x 22.0″ W x 50.4″ H
Warranty

5-years frame
3-years parts
1-year labor
10-years frame
2-years parts
1-year labor
The Bottom Line
While both of these smart rowers have smooth resistance, and once you start rowing you know that you will get a great workout, the main difference between these two machines comes down to whether you like traditional instructor-led classes or do racing and video-game-type workouts.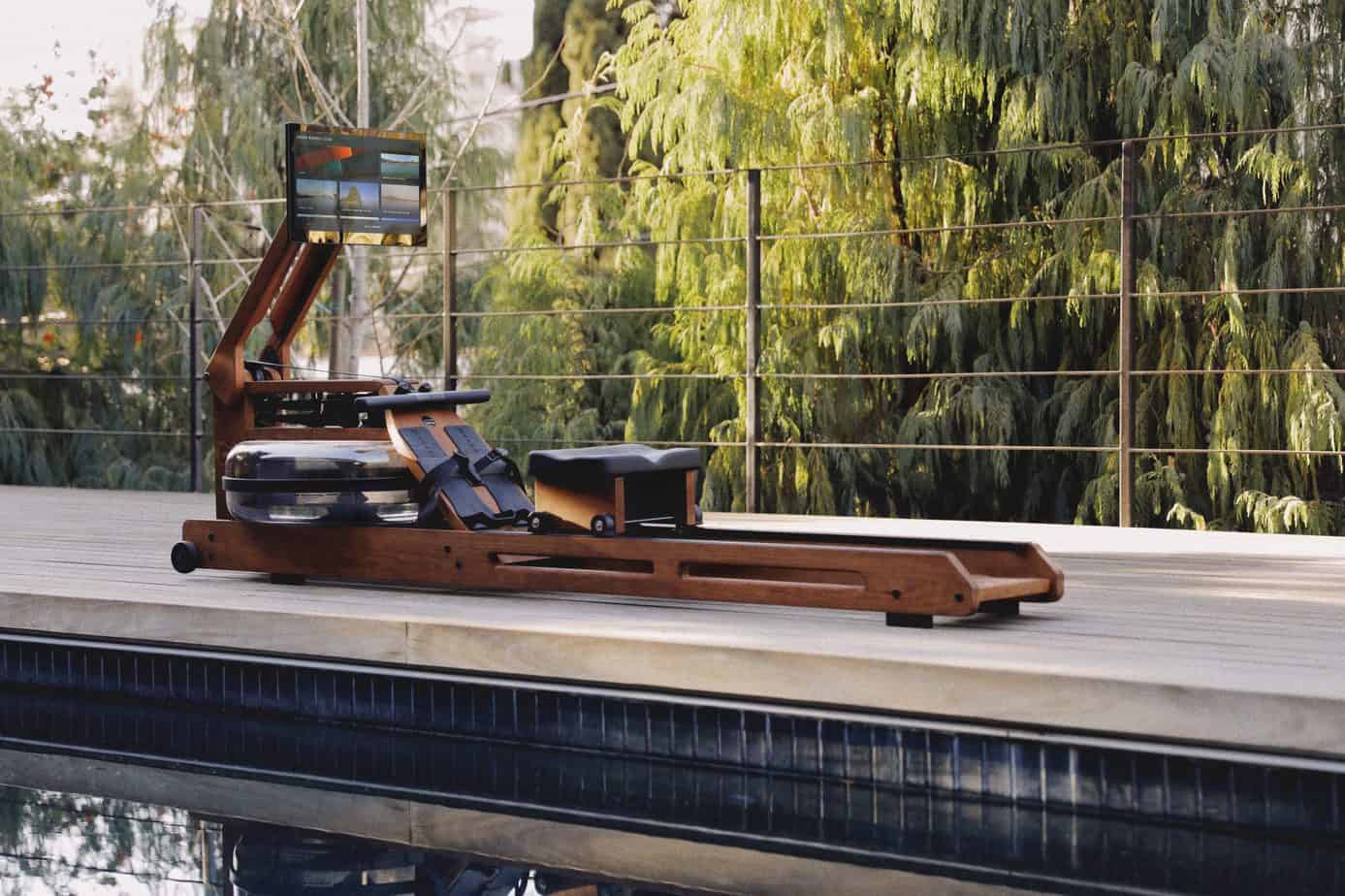 Personally, I prefer the Ergatta. Not only does it feel sturdier, but it can also support double the weight capacity of the NordicTrack. In my opinion, the Ergatta is the true smart rower because it tracks your progress and 'knows' when it's time to up your game. The NordicTrack is quite smart too, but not enough to be in the same level as the Ergatta.
I love the way Ergatta looks and I am a fan of water rowers. That isn't to say that magnetic rowers aren't nice, I love my Hydrow because it's a smart rower that uses computer-controlled magnetic resistance, but let's face it, water rowers sound so sweet, and they feel like you are really rowing on the water.
Ergatta and the Hydrow are world-class machines that are well worth the price.
Few machines can stand up to the fun and addicting software that Ergatta offers. If I had to choose between these two rowers, I would absolutely go for the Ergatta rower.
Frequently Asked Questions
1. Is the Ergatta worth it?
Absolutely. With a cherry wood frame, you know that this hardwood will last decades, if not a lifetime, and if you love playing games and racing, then you will find the Ergatta is totally addictive.
2. Is Ergatta better than Hydrow?
A: Well, yes and no. These machines are equal in quality and nearly equal in price, but when it comes down to Hydrow vs Ergatta, it's really a matter of preference for what type of workout you like. If you love live classes, top-rated instructors, and off-the-rower workouts, you will love the Hydrow. However, if you prefer your workouts to be game-based, or if racing is your thing, then you will want to go with the Ergatta.
3. Which rower is better? NordicTrack or Ergatta?
Ergatta. Not that the NordicTrack isn't worth the cash, but the Ergatta offers something unique, in addition to the one-of-a-kind software, Ergatta looks better, easily handles users with a higher weight capacity, and it offers unlimited profiles.
4. Does Ergatta work without a subscription?
Yes, it does. You won't have access to all the things you purchased the Ergatta for, but you will be able to access the open row portion of the software, even without the subscription.
5. Does Ergatta play music?
It sure does! Ergatta is perhaps the only piece of fitness equipment that has built-in music channels for your enjoyment. With choices such as Classic Rock, Hip Hop, Top 40, even Country music stations, you are sure to find something that suits your tastes. Not a fan? Use your Bluetooth-enabled headphones and listen to your own music!
6. Can you use RW900 without subscription?
Yes, you can use RW900 without subscribing to iFit. After the free trial period, you can continue accessing a limited number of iFit workouts and adjust the resistance of your machine manually. Of course, with a paid iFit membership, you will enjoy unlimited streaming of on-demand and interactive workouts and training with a coach who controls your RW900's resistance as you improve.
More Ergatta Articles You Might Like to Read: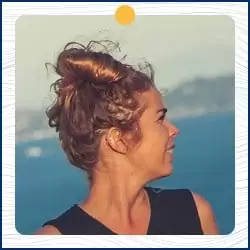 Written by Petra Amara – RowingCrazy.com
CEO & Founder of RowingCrazy, National Rower, Coxswain Womens Eight Team, Rowing Coach & Writer
Petra is a Mother of two and owner of Rowingcrazy.com. Petra lives and breathes rowing, she also has a passion for writing which lead her to start RowingCrazy.com to share her rowing experience and expertise with others.