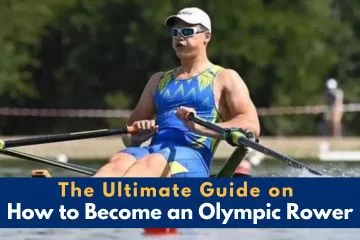 Hi there. My name is Rachael Taylor, and if my name sounds familiar, that's because I was a silver medal winner in the 2000 Olympic Games, and I've won two bronze medals in national events.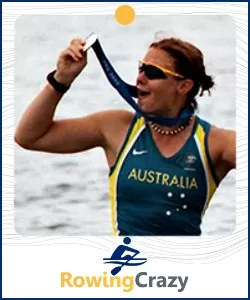 I wouldn't be entirely truthful if I said that rowing was so much fun that training full-time wasn't all that much work.
Let me tell you, rowing is perhaps one of the most punishing sports you'll ever try. For an Olympic rowing team, you not only have to be in the best shape of your life, but you also have to work with others who may not be your best buddy.
However, if you're the type who is a bit obsessive, loves physical workouts and getting sweaty, if you enjoy a bit of pain when you know that it will take you to the next level, and if you can ignore bad weather, aches, and having no real life outside of rowing for a few years, then you might qualify to be an Olympic rower ( read more on famous rower here).
In this article, I'm going to let the spray hit the fan and tell you what it really takes to be one of the elite rowers who make up an Olympic team.
How Do You Get Into Olympic Rowing?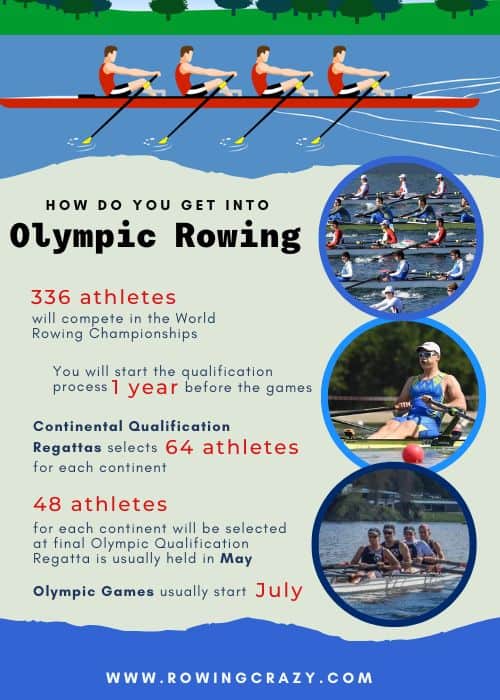 There is a qualification process that all teams must go through.
First, there will be a total of 336 athletes who will compete in the World Rowing Championships. That may sound like a lot, but thousands of people will try to qualify for this event.
You will start the qualification process one year before the games. Your rowing club can give you all the information you need.
The place and days for qualifying will be listed online well before, so you will have time to prepare and make your travel arrangements if necessary.
The highest-ranking crews according to the qualification quota in each event will qualify the boats for their National Olympic Committee.
Out of these 336 rowing hopefuls, only 64 will be chosen to compete. There will be Continental Qualification Regattas to narrow the selection down to 64 athletes for each continent. The four Continental Qualification Regattas are Asia/Oceania, Africa, Americas, and Europe.
The final Olympic Qualification Regatta is usually held in May of the same year as the Olympic Games, which usually start in July. This regatta will further reduce the number of rowers to 48 for each continent.
It's an exciting but grueling set of races that you must complete to have a chance at competing in the Olympics.
Even for those who don't win a medal, just knowing that out of thousands of people who tried out and didn't make it, you were selected as part of the final 48 competitors.
I can tell you from firsthand experience that participating in the Olympics was the highlight of my life (so far, anyway!)
How Much Do Olympic Rowers Get Paid?
Everyone wants to know this one, right? You would think that Olympic rowers, or any Olympic athlete, would make big money, but that isn't really true.
I think the real money comes after the Olympics. If you make the team, you hope to get sponsors and get paid to promote breakfast cereal, swimwear, rowing gear, shoes, etc.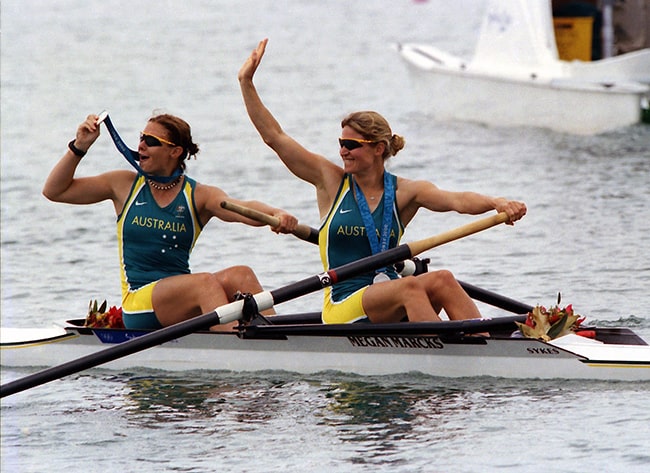 I can't say exactly what every country pays its athletes, but I believe nearly everyone earns less than $1,000 dollars a month. You certainly don't do this for the money because there is no guarantee that you will win. People try out for the Olympics because they love it.
Medal winners do get small bonuses (think $5,000 dollars for bronze medals), but that is usually just enough to pay off your credit card debt.
Rowing isn't as popular in many countries either so finding sponsors can be difficult. Appreciate your Olympic teams, no matter which sport they are competing in, because they don't get paid squat despite the fact that they are the cream of the crop.
Is It Hard to be an Olympic Rower?
I won't kid you- the answer is yes. It's incredibly hard.
Someone once told me that to be an Olympic athlete, you have to be a bit of a masochist, and I completely agree.
Long workouts typically mean three times per day over a 10-12 hour day. You get small breaks for water and to eat, but that's about it.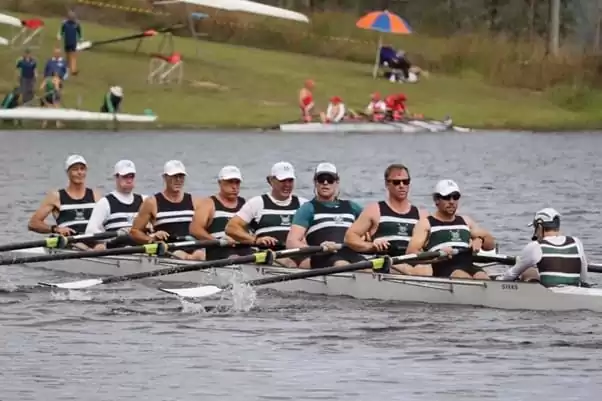 Not all the training will take place on the water, either. If you hate the erg (see my favorite NordicTrack rower here) or don't like resistance training (learn to love squats and deadlifts), then you may want to reconsider your choice to try out for the Olympics.
Yes, you will do endless workouts on the water, in the cold, in the heat, in the rain, in darn near freezing weather sometimes, and you will love it. Who else would do this but someone who is a bit masochistic, right?
You also need to learn to eat to fuel your body. The good news is that you'll be eating, on average, 4,000 to 6,000 calories a day. You will be ravenous constantly. In fact, I remember being so hungry once that I was on the water, daydreaming about a big salad and a bag of chips that was waiting in the fridge for me.
I mean, who dreams about salads?
If you're excited by the description I've given you about training, then you are probably the perfect person to try out for a gold medal.
What Is the Average Age of an Olympic Rower?
You might think that most rowers are in their teens or early 20s, but the fact is that this is when most people start training full-time.
Competing at a young age is normal for some sports, such as gymnastics, but when it comes to rowing, it takes several years for you to not only build the strength and endurance you will need but to learn strategy as well.
The average age for Olympic rowers is right about 30 years old.
What Is the Average Height for an Olympic Rower?
Most Olympic rowers are quite tall.
Men are often between 6′ 3″ and 6′ 5″ tall!
The average woman is usually 5'11" to 6'1″ tall.
This doesn't mean that everyone is this tall, but the truth is that, as a professional rower, you get more power from each stroke when you have longer arms and legs.
I have seen athletes in peak shape win a rowing race because they had superior leg strength, but Olympic sports and gold medals often go to those who are tall, with long limbs.
At What Age Do Olympic Rowers Peak?
No one likes to think of themselves as past their prime, but let's be honest- everyone will age past their prime at some point in their lives.
Generally speaking, most rowing champions will peak in their late 20s or early 30s. It would be rare to see an Olympic rower who was over 40.
Let's not forget amazing rowers like Steve Redgrave, who won an Olympic gold medal at the age of 38 in the 2000 Olympic Games, and Helen Glover, (who is only 5'10" by the way), who was the first mother to compete in the Olympics.
Yes, you might be in peak shape in your late 20s and 30s, but this doesn't mean you can't compete. You can still try out for the Olympic games, but even if you don't qualify, you will still be a great athlete who can try out for National games or even local regattas.
Rest assured that even if they train full-time, not many people will reach your elite level of fitness. Be proud of everything that you've accomplished, even once you've passed your prime.
How Long Do Olympic Rowers Train?
How about all day, every day?
OK, let me narrow it down. On average, someone who hopes to be on an elite level or wants to try out for the Olympics, you will train 45-60 hours a week.
No, I am not exaggerating.
I know that some people think that rowing is really nothing more than powering a boat, but think about starting out.
Depending on how big your crew is, your shell (boat) is sitting at a dead stop in the water. When the signal is given, you need to get that boat up to speed- fast!
This is like powerlifting at the gym as fast as you can for the next 45 seconds to one minute. THEN the race really starts!
This is why training involves so much more than just how fast you can row.
You will not only learn technique, but you need to have strength. Strong legs, a strong core, and a strong back.
The majority of people will make training their full-time job. You will train 6 or 7 days a week, usually rowing in the morning and lifting weights in the mid-morning. You take a lunch break, lift weights again in the afternoon, then work on the rowing machine until you just can't do anymore. Repeat this hard work nearly every day.
I know that many try to mix things up and go rowing twice a day if the weather is good. Or they will use a treadmill at home so they can see their family at least for a little while, but it's all about practice, practice, and more practice.
Your performance will depend on how much you put into it. I know that when I'm sitting in the shell, waiting to take off, I'm completely confident that I've done everything I could possibly do to be the first over the finish line.
To Sum Things Up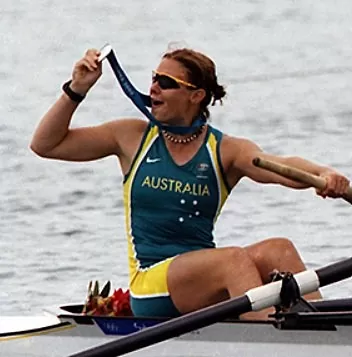 You've got to love rowing to try out for the Olympic Games.
No one who takes on this journey expects it to be easy, and a great many quit because they either can't commit to this level of training or don't have what it takes.
If you think you've got what it takes, speak to your rowing coach at your local club or college. They will help you with some much-needed advice and guidance.
If you are considering a try for the Olympics, here's wishing you much success and a gold medal to boot!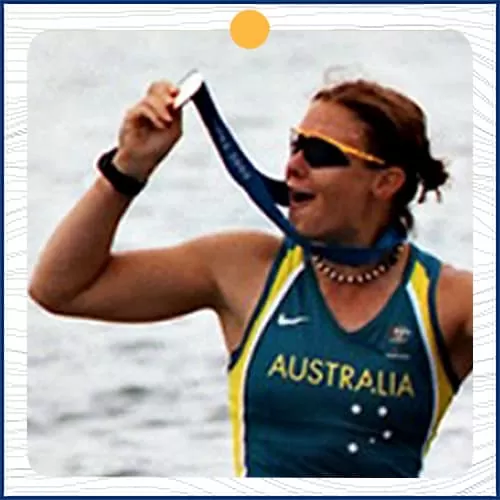 Written by Rachael Taylor – RowingCrazy.com
Olympic Silver Medalist Women's Coxless Pair – 2000 Sydney Olympic Games, Rowing World Championships Bronze Medalist (1999) & Silver Medalist (2002) In The Women's Eight
Rachael is a mother of two, former Australian Olympic Rower with a successful international rowing career. She won medals at the Rowing World Championships and a silver medal at the 2000 Sydney Olympics in the women's coxless pair. She now enjoys sharing her knowledge with the rowing community