If you are anything like me, you'll want to keep your house looking as neat and clean as possible. Also, if you're really into neat and clean, you probably also like little gadgets and things that make your life a bit easier.
I love my automatic vacuum cleaner, my video doorbell, and, oh yes, the mat underneath my Hydrow.
There are many reasons why I went for a Hydrow machine mat, and if you own a Hydrow or are about to purchase one, you will most likely want one for yourself.
In today's article, I'm going to tell you about the Hydrow machine mat and why you will want one. Keep reading because there is more to this story than meets the eye.
Hydrow Mat Review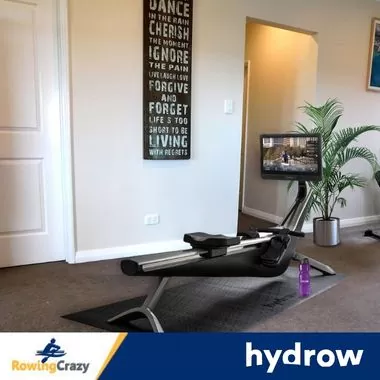 Hydrow SAVE $100 or £100!! => Use Coupon Code: ROWINGCRAZY
Whether you own a Hydrow right now or are considering buying one in the near future, you may have seen that one of the cool accessories to have is a floor mat.
Side Note – Hydrow UK Readers:

For all our United Kingdom readers did you know you that Hydrow has now opened in the UK! Yes you can now buy your very own Hydrow rower or mat directly in the UK! Yay!! Click here to see Hydrow UK
Sometimes called a machine mat, you may have looked at this and thought "It's just another way to milk you for a few more bucks."
I understand those feelings! I've been milked for a few bucks for things I didn't really need, however, that's not the case with this machine mat. Side Note: Did you know about the Hydrow Private Coaching they offer, no one else offers this – what an amazing service to help you get the perfect rowing form and reach for your fitness goals!
The Hydrow machine mat is one of those things that, if you don't buy, you'll wish later on that you had. And that's OK because it's never too late to get the things you really need with a Hydrow.
Side Note – Hydrow Rower Review:

If you have stumbled upon this page and want to learn more about the Hydrow, be sure to read our full Hydrow Rower Review article!
The Hydrow rowing machine mat has several terrific functions and no fluff. Some of the best features include:
Absorbs vibration
If you live on an upper floor, you will want to avoid annoying anyone below you with the normal vibrations that a rowing machine makes.
Reduces noise
While the machine itself is virtually silent, the movement you make as you row can be passed through the floor and walls. If you live in an apartment, you will really want to buy this mat.
Prevents slippage
This is the main reason I purchased the Hydrow mat. I have beautiful wood floors, which I didn't want to scratch. Also, a machine that travels across the room is not my idea of a workout! The rowing machine doesn't move very much, but when you do intense workouts, it can move!
Can lengthen the life of your Hydrow
Even if you have a carpet, the fibers, dust, and other things that you find on the floor can get sucked up into the machine as you use it. A mat will help protect your precious investment.
Hygienic
The truth is that, as we work out, we sometimes sweat. OK, maybe we sweat A LOT! Imagine that sweat dripping onto your floors and carpet. Yuck. One of the benefits of the mat is that it protects your floors and makes it easier to keep the area clean. All that your Hydrow mat needs is a quick wipe down whenever you think about it.
Personally, I love this mat and I can't imagine doing without it!
By the way, if you missed out on the Hydrow Upright Storage Kit, you can still get one.
Do I Need to Use a Mat with Hydrow?
I remember trying to teach my children the differences between the words want and need.
Do you NEED a mat? No. You can use the Hydrow without it. The machine will work just fine.
However, if you live in an apartment or have others in the house whom you don't want to disturb, or if you like to keep things clean and keep your Hydrow from moving, then you will WANT to get the Hydrow mat.
Actually, anything that makes my life easier is a NEED in my book, so maybe you do actually NEED this mat!
What Kind of Mat Should I Buy?
I want my readers to trust me and know that I am not taking them for a ride by pushing certain items or products.
The fact is that you can buy any mat that will fit underneath your Hydrow.
That being said, I want to tell you that if you buy the Hydrow mat, you not only get a cool Hydrow logo on it, but you know that it was made specifically to fit your rowing machine. There is no guessing if you bought the right size, if the mat will hold up to the weight of your machine, if the mat will disintegrate from sweat, or any other issues.
When you buy the Hydrow mat, you are getting the same high-quality product that your rowing machine is made from.
Who wouldn't want that?
You can buy any mat you like, but personally, I bought the mat from Hydrow because I knew it would fit and work beautifully.
Hydrow Mat Dimensions
Speaking of size, you may be interested in knowing the exact dimensions of the Hydrow machine mat.
This heavy-duty mat measures 3 feet wide, 7.5 feet long, and 1/8 inch thick.
This is a terrific mat that fits perfectly and is a good buy. After you use this mat, you will be really happy that you bought one!
The Bottom Line
If this is a TL:DR, here is the short version: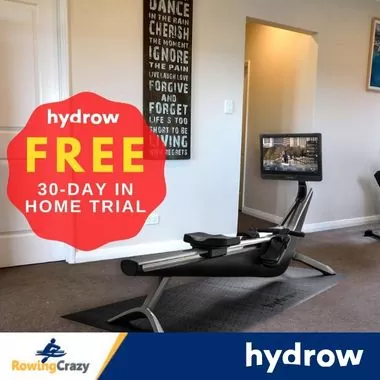 Hydrow SAVE $100 or £100!! => Use Coupon Code: ROWINGCRAZY
Buy the Hydrow machine mat. You'll want one sooner or later and there are lots of good reasons to do s. Also if you want to learn more about the Hydrow App or the Hydrow Subscription costs be sure to read my other articles.
Happy rowing friends!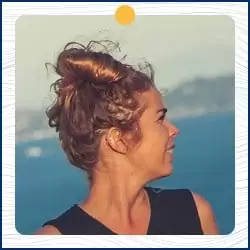 Written by Petra Amara – RowingCrazy.com
CEO & Founder of RowingCrazy, National Rower, Coxswain Womens Eight Team, Rowing Coach & Writer
Petra is a Mother of two and owner of Rowingcrazy.com. Petra lives and breathes rowing, she also has a passion for writing which lead her to start RowingCrazy.com to share her rowing experience and expertise with others.