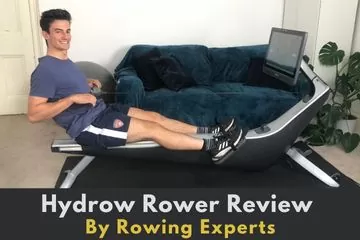 Are you looking for the best home rowing machine that offers fantastic support and outstanding warranty? One that can easily replace your membership to the gym and will last you for years to come?
Then you'll want to hear about the Hydrow Rower! It's in a class all its own, with people calling it the Peloton of rowing machines.
Our Promise to You:
"Buying a Hydrow is a big investment. No one wants to pay a premium price for a machine that doesn't stand up to rigorous testing. At our office, we are continually testing the Hydrow so it gets plenty of daily use from multiple people.
So if it can withstand the abuse our employees give it (spilled soda on the rails anyone?), then you will feel more comfortable investing in one for your home. Keep reading to see our in-depth results from hands-on testing"
I own a Hydrow rower and there's one in the office break room, so I get to constantly test it. I use it daily and, oftentimes, more than two or three times a day!
Read What the Rowing Crazy Test Team Is Saying
"This ongoing testing will be reported here, and I intend to update this article whenever our team experiences any changes with the Hydrow rower.
Why? Because I believe that my readers deserve to know the truth. If this machine doesn't live up to its promises, wouldn't you like to know?"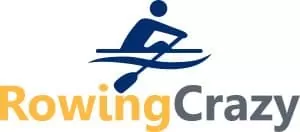 Max Secunda (Experienced Rowing Instructor & Coach) With the Hydrow Rower: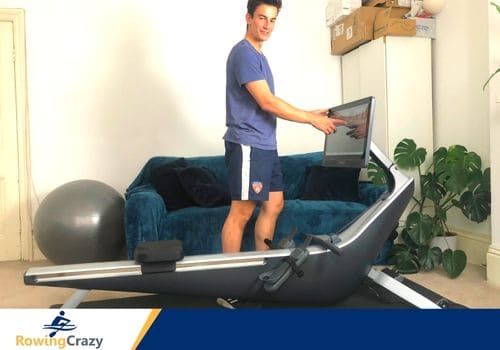 Hydrow SAVE $100 or £100!! => Use Coupon Code: ROWINGCRAZY
Why Buy a Hydrow for Your Home Gym?
Personally, I think nothing is more annoying than driving to the gym, looking for parking (some of my friends actually have to pay to park!), changing clothes in a less-than-sanitary locker room, and then ending up waiting to use one of the rowing machines.
When you have your own Hydrow rower, you can exercise in the privacy of your home whenever you want.
There's more to the Hydrow rower than just being able to get a terrific workout from home – you can get that with just about any rowing machine.
So why Hydrow? Let me explain.
Watch our full review video of the Hydrow Rower by Rowing Expert & YouTube Influencer Max Secunda:
powered by Advanced iFrame. Get the Pro version on CodeCanyon.
Why We Love the Hydrow Rower
I've had the opportunity to use this incredible machine for the past couple of years, and let me tell you, I've never used anything like this.
I purchased a Hydrow after seeing an ad, and I was impressed by the magnificent-looking monitor, which at the time was something new.
powered by Advanced iFrame. Get the Pro version on CodeCanyon.
What I didn't expect was that everything about this machine appears to be exceptional. I've used lots of other brands over the years, but the smoothness and realistic rowing experience of this indoor rower is unmatched by anything else I've used in the past.
I have a great deal of rowing experience under my belt, but as a working mom, I can't always find the time to actually get on the water. The Hydrow has literally changed my life.
This isn't an "I used it for 30 days and here's my review." Hydrow is continuously being used and tested both at the office and in my own home gym.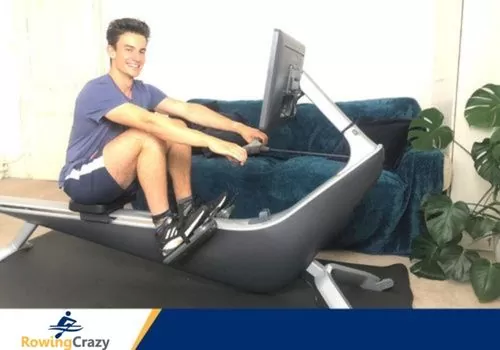 Not only has Hydrow been a staple at my house for the past few years, but once I started this website, I knew my employees would have to experience it for themselves.
There is a Hydrow in the "break room" (can you really call it a break room if you are working out? Hmm), along with other rowing machines that we are sent for performance testing. And while other machines may come and go, the Hydrow is ours, and it is the one machine that everyone wants to use again and again!
In fact, here at the Rowing Crazy office, it's the go-to machine for all the employees. Hydrow is so popular that we've had to install a signup sheet so everyone gets a turn!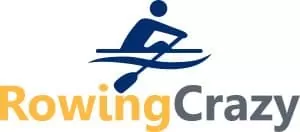 Petra Amara CEO of Rowing Crazy: "I'm seriously thinking about giving up my gym membership for this machine because it really does everything. It will save me so much $$ & valuable time!
I also do some coaching, but in all honesty, the motivation I get from the Hydrow trainers reminds me of my college and club days. There is no other rower that even comes close.
Introducing Our Lead Tester, Max Secunda
If I haven't introduced him previously, let me take a minute to talk about one of our head product testers—rowing expert and YouTube influencer Max Secunda. We are so happy to have Max on board, but he immediately told me that he had doubts about just how good Hydrow was. "It's just another rowing machine, right?" he asked me.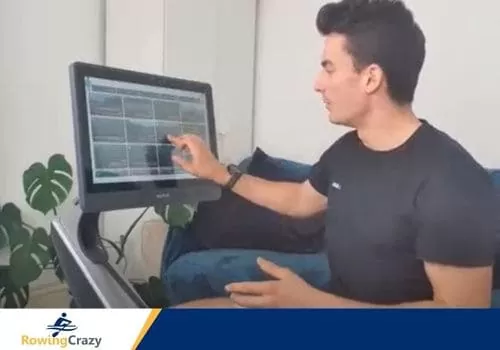 Skepticism is a good thing in my book, so I invited him to try one at home and use it as hard and as long as he liked before he gave me his opinion.
Ok, so get this—We may never get that Hydrow back!
Like me, Max could not believe how realistic the Hydrow rowing experience is, and no matter how hard he used it, no matter how fast he rowed, it didn't move, it didn't make a sound, and he got a workout like he never expected!
Check out Max using the Hydrow in his living room.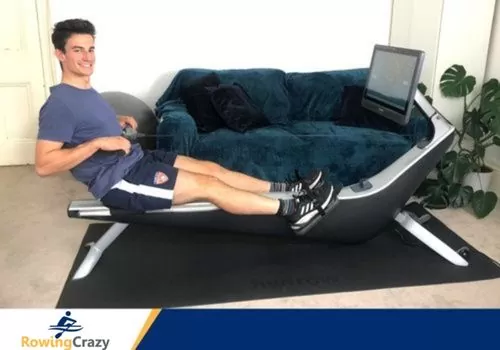 See that big smile? He says that this is the best rower he has ever used. In an email, Max told me:
Love the HD screen! I was really surprised by the size of it! The rowing experience is so much smoother & super quieter than I expected. It really is one of the best rowers I have ever used—can I keep it?!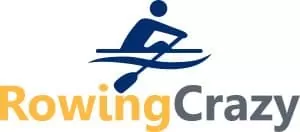 It's my wish that everyone here at Rowing Crazy gets to use the Hydrow regularly, along with all the other rowing machines that we review. We don't get to keep every rowing machine, but I'm happy to say that the Hydrow is ours to keep!
Why should this matter to you? Because when a rowing machine is new, of course, it works perfectly. It's new after all! No surprise there, right?
Ongoing Testing by the Rowing Crazy Team
I'm sure you'll want to know how the Hydrow is holding up over time even with heavy use (like our break room Hydrow that several people use for regular workouts). That's why our team will be constantly testing the machine, and I'll keep updating this article—because how else will you know?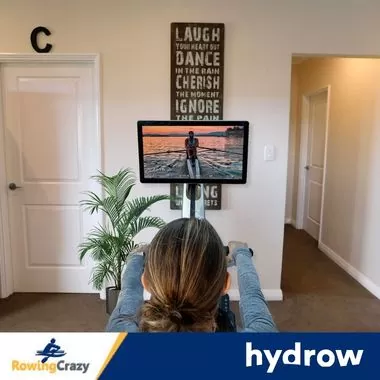 Perhaps more than an incredible rowing machine, you want one that lasts. It doesn't do you much good if your very expensive rowing machine stops working after a year or two. Even if it's under warranty, you still can't use it if you are waiting for parts! Ugh!
The Hydrow is one of our top 5 best-selling rowing machines and one that employees sign up to use the most.
I asked my team for some feedback on the Hydrow, here was the response that the Rowing Crazy Review Team gave me:
" I genuinely love this rower! After some hands-on testing, I can honestly say that this is the best rowing machine I've ever used."

" If we can keep the Hydrow, we won't need another rowing machine in the break room, all we need is a few more Hydrows!"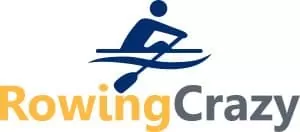 " I'm thinking of canceling my gym membership. Who needs it when this has all the classes you could ever want?"

" I think I'm in love with my personal trainer from Hydrow."
The feedback was 100% positive! How many things in this world can claim that? And to be totally transparent, I asked for anonymous, genuine opinions, and there was not a single negative comment.
Anyway, keep checking back with us. I promise to be 100% open and honest about how the Hydrow is holding up and if anyone should ever get bored with it.
By the way, if you're interested in how Hydrow stacks up to other rowing machines that we've tried, you'll want to read these articles.
Did I mention that we love our Hydrow so much that the company has offered an exclusive coupon code for our readers? You won't find this discount anywhere else! Check out our special price here for USA and UK readers:
Hydrow SAVE $100 or £100!! => Use Coupon Code: ROWINGCRAZY
Wait – Don't You need to Pay a Monthly Subscription Fee?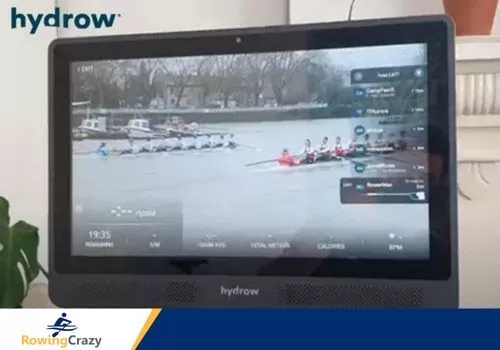 Yes, you do, but before you go back to your Google search, let me explain something to you.
First, if you are looking for a smart rowing machine, you won't find one that doesn't have a monthly fee.
The trick here is to figure out how many people can use this machine for one low price. How many profiles can you have with Hydrow? Side Note: If you are on a budget be sure to read my other article Hydrow Wave vs Hydrow to compare prices and features.
The answer is: As many as you want!
Yep, that's right. You can create an unlimited number of profiles on your Hydrow for one low monthly fee.
If you belong to a gym, chances are that you are paying a pretty penny to use it each month and wait in line for your favorite workout machine (which is usually covered in sweat and still warm from the previous user – Yuk!)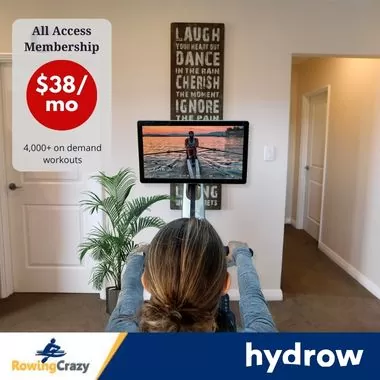 Imagine exchanging that gym fee for the Hydrow fee. Now, invite your aunts, uncles, sibling, spouse, roommates, and anyone else who lives with you and wants to use the Hydrow—that's one membership fee for the whole household!
You may also ask them to help share the cost, but even if you have to foot the bill yourself, the Hydrow monthly subscription price costs less than most gym memberships.
Best of all—you'll never have to worry about parking, those yucky shower stalls, dirty lockers, waiting for your turn on the machine, or seeing someone's butt crack as they do squats in front of you.
In return for that fee, you'll have access to the mammoth library of workouts that have already been recorded, workouts on the water with live instructors, live and on-demand workouts, as well as the breathtaking scenery that comes with the Open Row workouts.
I do understand that the Hydrow is a hefty investment, but what price can you put on good health?
Is Hydrow Worth the Money?
Oh, absolutely!
One thing that Max noted right off was the plethora of off-the-rower workouts that are available. He had no idea that Hydrow offered these classes and, being a weight lifting instructor, he wanted to check them out personally.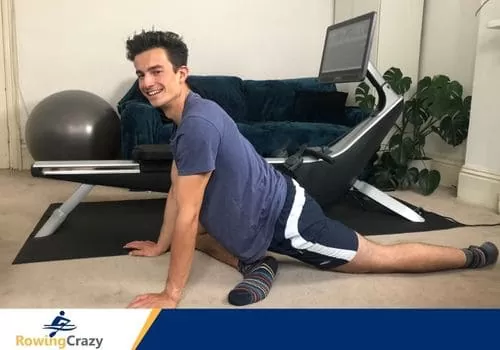 The huge 22-inch HD monitor tilts and rotates so you can see the screen easily from the floor. Max says that he loved doing the yoga and stretching routines found in the Hydrow programming.
I too have taken advantage of the yoga classes on my rest days.
If you think you'll miss out on classes or workouts that you can get at your local gym, think again!
powered by Advanced iFrame. Get the Pro version on CodeCanyon.
You will get a full-body workout and have access to hundreds of workouts (maybe there are thousands by now, I haven't counted). Not only that, there are also tons of off-the-rower workouts, beginner's programs, HIIT workouts, and even personal trainers, all for one low monthly fee.
To make it easier for you to decide whether the Hydrow is worth the money, let's weigh up its pros and cons.
Pros of the Hydrow Rower
After owning a Hydrow exercise machine and using it for quite some time now, I'm still stoked by this rower.
Elegant design – this rower is such a beauty and makes an interesting conversation piece. It can sit in your living room and make people think that it's a sleek new piece of furniture, like an exciting new video game console! I honestly think that this rowing machine looks like it walked out of a Star Trek or Star Wars movie.
On-the-water views give you a realistic rowing experience – What's rowing without the view? Indoor home workouts used to mean facing boring walls or trying to distract yourself with a magazine, but not anymore. With the internet-connected Hydrow, you get to experience live outdoor reality (LOR). Imagine seeing and hearing a river rowing right in front of you via the machine-integrated 22-inch touchscreen monitor and front-facing speakers.
Smooth, quiet operation complements the sleek design – If you've used those air rowers at the gym, you know how noisy they are. Hydrow uses a computer-controlled electromagnetic resistance mechanism that makes the rower reactive, quiet, and frictionless. The only sound you will hear is your own huffing and puffing!
Adjustable resistance – While the workout you choose will control the resistance, you can manually control the amount of resistance with the touch of a finger.
Bluetooth capable – The Hydrow rowing machine is equipped with built-in Bluetooth 5.0, which means it seamlessly connects with fitness monitors and audio devices, such as Bluetooth headphones, so you can enjoy your workout even more with your own devices.
Ergonomic and comfortable – The fully-cushioned seat sits securely on a ­10-roller system, ensuring a smooth glide as you perform your strokes. Instead of the usual noisy chain, you won't hear one sound from the industrial-strength strap system Hydrow uses.
Splendid workouts with real athletes as instructors – You can join live interactive classes and live workouts, happening real time, five days a week on average, with two sessions each day to choose from. Competitive leaderboards, racing opportunities, and happy, positive, engaging instructors will keep you looking forward to the next class.
Variety of workouts that are less competitive and more relaxing – It's not all about competitive live and on-demand classes, there are also journey workouts. If you prefer to explore pristine waterways by yourself and row at your own pace, you can do that as well. Hydrow also offers off-rower workouts on a workout mat, along with stretching exercises, like yoga and Pilates.
Extensive guides and responsive support – The Hydrow website is a valuable resource for beginning and advanced users alike. For instance, live rower schedules are posted a week ahead, and they also send you a personalized assessment if you've done the assessment workout. There is a very active, friendly, and helpful Hydrow community online so you can quickly get answers to your questions, boast about your accomplishments, or just hit up other members for some motivation.
One membership allows for multiple profiles – You do pay a monthly fee for their workouts, but that membership subscription allows not only you but your family and friends to create their own user accounts on the rower, track individual progress, and enjoy all the benefits of a member. (Click Here to Read More About: Can you use Hydrow without the subscription?)
Environmental awareness and concern – You can't contribute to environmental causes all the time, so it's reassuring to know that as long as you continue to subscribe to Hydrow, you help keep the waters clean and sustainable because Hydrow donates part of your subscription price to Water.org.
A well-thought-out package – This rower is not just a state-of-the-art indoor rowing machine. It's the hardware plus the internet of things, team dynamics, and the Hydrow community that make the rower a unique workout option that stands above the rest.
Cons of the Hydrow Rower
Impressive as the Hydrow may be, I also see that it's not perfect for everyone.
Not foldable – You can't fold it when not in use.
Takes up a lot of floor space – With a dimension of 86" x 25" x 47" (L x W x H), you can expect it to take up a lot of space and cause floor traffic issues if you have a small house.
The Upright storage kit is not included in the purchase of the machine – It is possible to store it upright, but you need to buy the storage accessory kit (which is reasonably priced I must say!)
Expensive – This rower is a premium machine, and the price tag shows it. If you're on a strict budget, this rower is not for you.
Subscription is an added cost – The ongoing monthly fee is the most significant drawback that I can see, and it's not something that's about to change. I think what's important to realize is that the $44/month you spend pays for the workouts, the professional support, and all the services that make Hydrow outstanding in the first place.
LIT Method vs Hydrow – See How It Compares
Hydrow Rower Dimensions & Specs
| Hydrow Specifications | Measurement |
| --- | --- |
| Weight Limit | 375 lb (170.0kg) |
| Height Capacity | 36 in (inseam) |
| Assembled Dimensions | 86 x 25 x 47 in (L x W x H) |
| Hydrow Box Dimensions | 91 x 33 x 18 in (L x W x H) |
| Hydrow Rower Weight | 145 lb |
**Click Here For: Hydrow Sale
How Sturdy Is the Hydrow?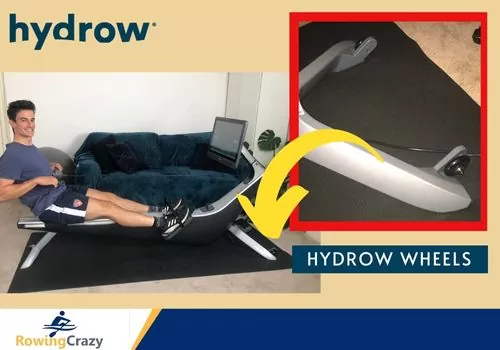 This rower features an aluminum-and-steel frame that is made to withstand heavy-duty workouts.
It has an anthracite polymer body, so you do not have to worry about abusing your rower. You can work out as hard as you possibly can without damaging it.
If you've tried racing on a cheap rowing machine, you know that they shake and shimmy like an unbalanced washing machine!
That can't happen with Hydrow.
Max Secunda (Experienced Indoor Erg Rower) All Smiles While Using the Hydrow rower: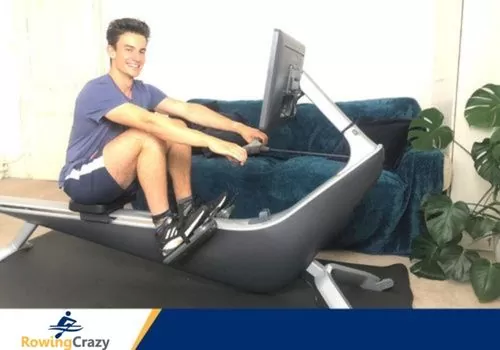 Hydrow SAVE $100 or £100!! => Use Coupon Code: ROWINGCRAZY
Magnetic resistance is what's behind the resistance mechanism that controls the difficulty settings on your rower. With electromagnetic resistance, you can work out as light or as intensely as you wish.
While Hydrow is set up to automatically increase or reduce resistance depending on the workout you have chosen, you can always toggle your settings if you find that the workout is too difficult or too easy.
If you are sharing the machine with others in your home, each profile will have its own settings, since your fitness levels will likely differ from each other.
My Honest Review of the Hydrow Rower – Is It Worth the Cost?
I always want to be 100% honest with my readers. I understand that for some people, the Hydrow appears to be out of their price range.
If you want to get value for your money, you'll need a high-quality machine, and the Hydrow is one such piece of exercise equipment!
Here's why I think Hydrow is worth the cost—
It motivates you more to work out – Did you know that reviews suggest that more people consistently use this rowing machine than other people who own other types of machines? That's not surprising to me at all—since it looks so elegant, you can put it in your living room where you are sure to make use of both live and on-demand Hydrow workouts any time of day.
More people can use it – With the Hydrow rower, you can share the machine within your household, as different users can set up accounts and track their own health progress right there on the built-in HD touchscreen!
Those two points underscore Hydrow's usefulness, which to me justifies the cost.
How Much Does a Hydrow Rower Cost?
The base price is usually $2,245. You may get it with financing at 0% APR for only $63/month in a 36-month payment scheme.
In addition to the price of the machine, you will need to sign up to pay for the monthly subscription of $44/month as I mentioned above.
Like I said, deciding about Hydrow's worth is not only about its price tag and costs but also everything that it brings to the table. There are constantly new workouts being added, so you can't possibly get bored with this quality rower. I won't be surprised if you turn out to be like my employees who are dying to use it every day.
powered by Advanced iFrame. Get the Pro version on CodeCanyon.
I know you've probably bought other exercise machines, used them for 3-6 months, gotten bored, and started using them as closets—I bet they didn't have interactive screens & trainers—but I can't see anyone getting bored with Hydrow's workouts.
Even if you're injured, you can probably do some of the off-the-rower workouts that Hydrow offers.
When you do whole body workouts, you are going to look and feel so much better in just a matter of weeks!
Max Secunda (Qualified Rowing Coach & Instructor) Performing a Rowing Test Workout: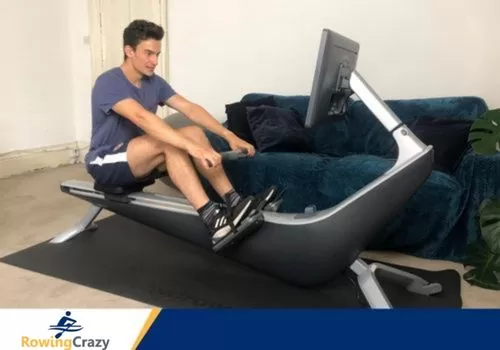 Hydrow SAVE $100 or £100!! => Use Coupon Code: ROWINGCRAZY
What If I Decide That Hydrow Simply Isn't for Me?
I hear you loud and clear on this one. Nothing is more frustrating than investing in something you think is perfect, only to discover that you don't like it, or it just won't work with your lifestyle.
Not to worry! The Hydrow rower comes with a free trial when you purchase it, so you can get a feel for the hardware, app, and touchscreen display before making your first payment!
The touchscreen is one of the best features of this top-of-the-line piece of equipment as it displays all your statistics right in front of you, making it easy to challenge yourself to beat any of your personal records. How about that for extra motivation to keep you working out?
What if you've tried it but you just aren't a fan? I can't imagine that happening, but if for any reason you decide that Hydrow isn't for you, simply return it in the original box and every penny will be refunded to you, including return shipping costs!
** My Important Tip: Remember that you must contact Hydrow within 30 days from the day your Hydrow was delivered (not from the day you set up your profile).
You can read all the details here, but it is reassuring to know that if, for some reasons, you and your Hydrow don't click, you aren't out a single dime.
Yes, it is a bit more expensive than the Concept 2 rower, but it has so much more to offer! Check out our Hydrow vs Concept2 article for a more detailed look!
You might also like to watch our Youtube video with Max Secunda (Experienced Erg Rower) comparing the Hydrow & Concept 2 Rower:
powered by Advanced iFrame. Get the Pro version on CodeCanyon.
Is There an Easier Financing Scheme to Own a Hydrow?
To help get you going, I'm offering a very special price on Hydrow, which you can find here. If you qualify, you can get financing through Klarna, which offers 0% APR and no money down, with payments as low as $32 a month! Check out if you qualify here.
I think that $32/month financing plus $44/month subscription (that's less than $77 a month!) should fit nicely into your budget. Seriously, how much are you paying for that gym membership that you probably don't use every single month?
Side Note: Don't forget to also Protect Your Floor with a Hydrow Mat.
On a Budget? What About the New Hydrow Wave?
I do understand that while the Hydrow is worth every penny ( see Hydrow competitors and alternatives ), some of you might not have the space for such a large rowing machine.
Hydrow must have been reading my readers' feedback because they've introduced a smaller version of the Hydrow called the Hydrow Wave (read my full review on the Hydrow Wave here).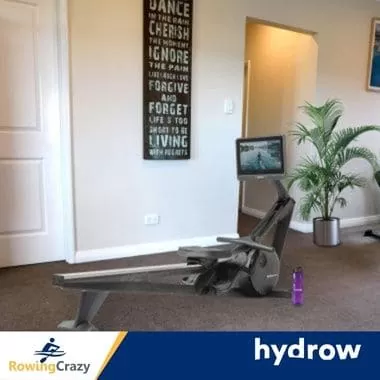 The Hydrow Wave offers everything that the original Hydrow does, just with a smaller footprint.
The screen is a smaller 16-inches, rather than the original 22 inches. The overall dimensions of the Hydrow Wave are 80″ x 19″ x 43″ (LWH) instead of the Hydrow's 86″ x 25″ x 47″.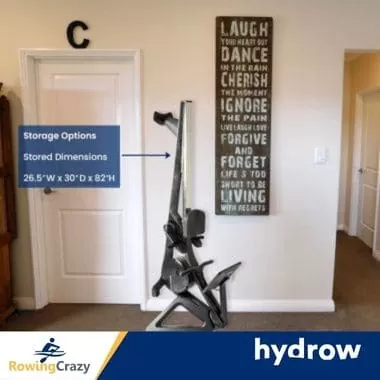 I like the sleek new design as well. We got a sneak peek to this machine, and wow, I was impressed—it really does pack some punch for its size!
Everything else is the same. You'll get the same outstanding on-the-water classes, the same upbeat rowing instructors, the same versatile off-the-rower workouts, and the same incredibly smooth rowing feeling you would expect from a Hydrow.
Of course, a smaller size means a smaller price, which is a nice little extra.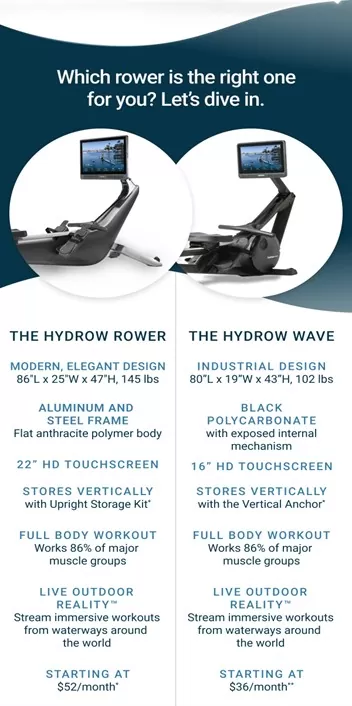 If you've been wanting a Hydrow but you were worried about the size, this might be the answer you've been waiting for.
Try a Hydrow Wave free for 30 days and at a much more affordable price as well! Unfortunately, at this great price, Hydrow cannot discount it any further with our exclusive discount code.
Looking For More Comparisons Check Out: Hydrow Vs Tonal
Hydrow Rowing Classes
Set your resistance type and get to work! It's hard to say which is the best part of the Hydrow rower—the smooth operation or the rowing classes!
The overall experience is great because you have professional instructors (usually former Olympic rowing pros or National rowing team members) who will guide you every step of the way.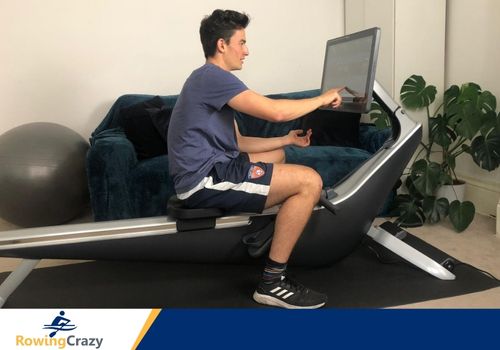 Are you a beginner? There are classes for you! Are you a seasoned hand who wants to stay in shape during the winter months? There are classes for you!
Take advantage of the $200 worth of accessories that come with your rower, and you can even do mat routines to supplement your workouts.
I have written an in-depth article about the on-demand workouts, serene river rowing, live classes, and personal training that you get from Hydrow. And if you are interested in the Hydrow private coaching sessions – you can click the link to my full article about this great feature!
Click Here to See Our Exclusive Hydrow Discount Code
Watch This Video to See Their Fantastic Classes
powered by Advanced iFrame. Get the Pro version on CodeCanyon.
That's just a sample class video, there are thousands more!
The nice thing about the classes on this live outdoor reality rower is that they offer so much more than just plain old rowing!
You can do a variety of workouts on a floor mat and get in some good stretching or do some bodyweight workouts that will help tone and strengthen your muscles.
Not only will this improve your health, but it will also improve your rowing skills!
This Machine Is So Popular Even Celebrities Are Using It!
Comedian and award-winning actor Kevin Hart has taken on the role of Creative Director at Hydrow. You can do virtual workouts in the on-demand library with Kevin through the Row with Hart workout! #RowWithHart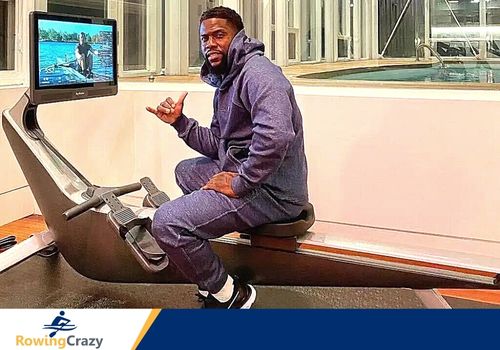 Justin Timberlake, Lizzo, Aaron Rodgers, Whitney Cummings, and Travis Kelce are also investors, and I can't imagine investing in something that you don't love!
This is an exclusive scoop for the Hydrow Community – be sure to check it out!
powered by Advanced iFrame. Get the Pro version on CodeCanyon.
How Do I Unbox and Assemble My Hydrow Machine?
When your rower arrives, you are going to be so excited!
However, take one minute before you rip open the box and watch this quick very short video. It will walk you through the whole unpacking and set up process – it really is quite simple, but it's good to watch so you don't make any mistakes.
Assembly Is Very Simple!
powered by Advanced iFrame. Get the Pro version on CodeCanyon.
Remember to keep an eye out for the quick start smart guide, it will make the whole process stress-free and easy!
You will be rowing in no time, it really is that simple and is just another reason why everyone here at Rowing Crazy loves Hydrow!
United Kingdom Readers Learn All About Hydrow UK
Things to Consider Before Buying a Hydrow Rower
Hydrow is an indoor rower that has hundreds (probably thousands by now) of different on-the-water workouts, techniques, and tips for everyone. The erg measures work produced and is a great way to track cardio fitness.
You should know that the more you use your Hydrow, the better your statistics will be. Indoor rowers are no good in the corner collecting dust, and I'm confident that this rower won't collect dust as the workouts will keep you motivated!
Before you hit that "Checkout" button, you might want to read about a few things that could be a concern for you.
Finding Room in Your Living Space for your Indoor Rower
Yes, indoor rower machines do take up some space while in use and storage. Unless you have a large home or your own home gym, you should consider the space where you will use and store your Hydrow.
Fortunately, the Hydrow is designed to be moved easily. There are front transport wheels that will allow you to park it in a corner or move it to another part of the house when it's not in use.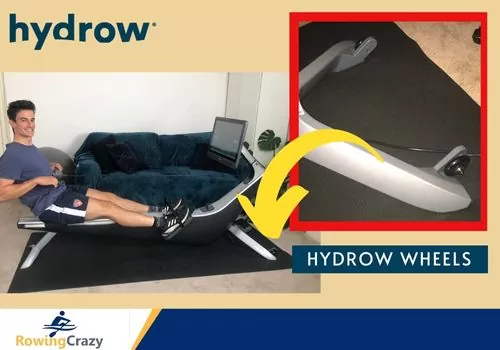 The wheels make moving it easier than you might imagine, and it's not so difficult to move that it feels like a chore to get it out when you are ready to use it again.
You may also want to consider not moving it out of the way and instead finding a permanent spot for it. Parking the rower right in the middle of a room might make you use it more often!
There is also an upright storage kit. You can use this support to store your Hydrow vertically when not in use. This is a great option if you have limited storage space or have small children that you don't want playing on the rower.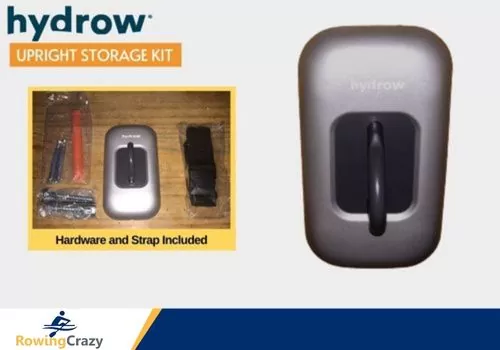 Compatibility with Heart Rate Monitors and Other Bluetooth Devices
Hydrow works with many third-party heart rate monitors and watches. It does NOT work with an Apple watch, but many other brands work just fine.
Hydrow says that if you use a third-party app called WatchLink, you will be able to sync your Apple watch, but you will need to use an app.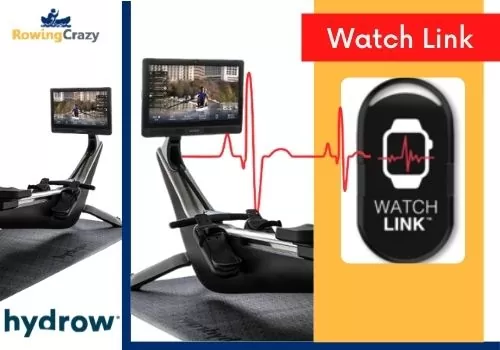 If your heart rate monitor or fitness device uses a PIN, Hydrow probably won't work with it, but there are dozens of other devices that it does work with.
You can check out their official list in the link provided above.
User Weight & Dimensions
Make sure that the specs of Hydrow (or any gym equipment, for that matter) will work for your space and the users' weight and height. Hydrow's maximum user weight capacity is 375 lbs, with dimensions of 25″ W x 86" H x 33".
Why Is the Hydrow Worth It?
Max Secunda (Experienced Rowing Coach) Setting the On-Screen Options Before a Workout: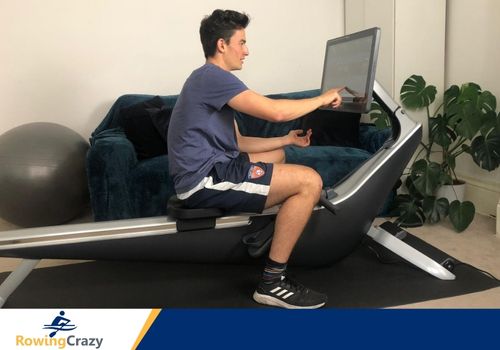 Hydrow SAVE $100 or £100!! => Use Coupon Code: ROWINGCRAZY
There's no question that this rowing machine costs a bit more than some other rowers on the market (read our comparison of Hydrow vs Nordictrack RW900). However, what you get for that money makes it absolutely worth it!
The fact that you can get access to indoor rowing classes and world-class instructors sets this rower above the competitors. The monthly membership will easily replace your local gym's membership fee, so you will actually save money if you ditch your gym membership.
You can get a cardio and full-body workout, as well as strength training workouts that hit just about every muscle in your body, all by using only one machine. You won't find too many other pieces of gym equipment available that can make that claim.
Think of this machine as a replacement for your gym membership and as an investment in your health and fitness!
Comfort and Capacity – Even on Your Joints!
Max Secunda (Novice Men's Captain) Testing & Reviewing the Hydrow for Our Readers: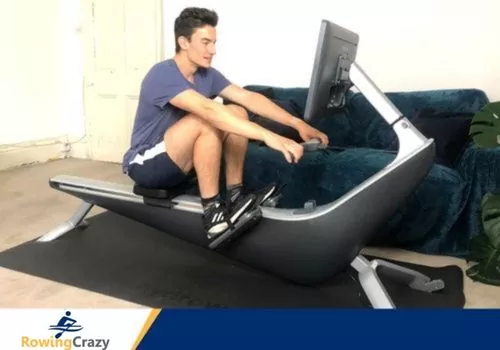 The 10-roller system means you will be working out in comfort. It is ergonomically designed, meaning that it will not cause your joints to ache after the workouts, and the comfortable seat ensures there will be no chafing.
Each stroke is completely smooth and almost silent, so you can row in the same room as someone watching TV without need of turning up the TV volume. Unless you start whopping and yelling, that is. This is from personal experience here. I've been known to get really excited and start whopping it up with the instructors!
The drag mechanism on Hydrow is electromagnetic, which means that this rowing machine will make you feel like you are rowing on the open water. No other rowing machines come close to the authentic feel of the Hydrow!
You won't believe it until you try it! I remember being blown away by how realistic it felt! No more cold water morning rows for me!
What Sets Hydrow above the Competition
Have you considered other types of rowers, say water rowers?
I also own an Ergatta, which is a fantastic water rower by the way. There's not a single thing wrong with water rowers (read more on Hydrow vs WaterRower), but there are a few things that set Hydrow apart from the competition:
Motivating Instructors – Hydrow instructors will motivate you to use it! No other machine will motivate you the same way this one does. If you're familiar with Ergatta (you might also like to read our Ergatta vs Hydrow article), it works without instructors. It appeals to people who want to work out without coaches but instead get their motivation from Ergatta's unique game-based water rowing system. However, if you love upbeat, positive, motivating instructors who shout out encouragement to the rowers and make you feel like you're with a real rowing team, then you should pick Hydrow!
Shared Membership – Many smart machines do not let you share one membership, or they have strict limits (such as no more than 3 profiles per subscription). With Hydrow, you pay one monthly fee and can create as many accounts as you desire so that everyone in your household can improve their fitness using individual profiles and different workout sessions.
Unbeatable Warranty – Hydrow's warranty is one of the best I have seen! It covers an impressive 5-year structural frame warranty, 1 year on everything else (seat, monitor, etc.), and 1 year on labor. I've had my Hydrow for several years now and never had a single problem with it. The same is true for the one in the office, but isn't it good to know that if you should have a problem, you are covered for years!
Hydrow offers a full body workout – If you only have the money for one piece of home equipment, there is nothing better than a rower. Where else can you get a cardio workout and a strength workout for almost all of the muscle groups in your body? In addition to rowing workouts, this machine also comes with classes you can do on the mat. Get the most out of your workouts by adding yoga and stretching to help your muscles recover from an intense rowing session.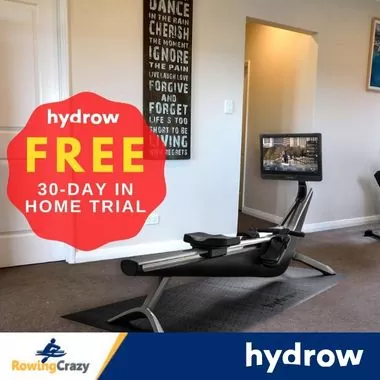 Hydrow SAVE $100 or £100!! => Use Coupon Code: ROWINGCRAZY
Frequently Asked Questions
1. Is Hydrow good for beginners?
There's no doubt about that, the Hydrow is perfect for all fitness levels, including beginners. Your introduction to this fitness program will start with the Beginners Training Camp. It consists of workouts designed to teach novice rowers, so there will be more explanations and instructions incorporated into each activity, including mat and Pilates workouts. With a computer-controlled resistance mechanism and a fully online fitness program, you can be sure that your progress will be tracked systematically towards attaining your goals.
2. Does Hydrow rower have an app?
Yes, membership to Hydrow enables you to stream the workouts through the Hydrow app on your Android or iOS device, which you can access by entering the same logins you use on your Hydrow machine.
3. Can you use the Hydrow rower without a subscription?
Yes, you can continue using Hydrow without a subscription, and that is with the "Just Row" mode. Remember, however, that the Hydrow was designed as a connected workout machine, much like the immersive experience that Peloton bikes offer (read our article Hydrow vs Pelton to learn more), only with an indoor rower. The outdoor-reality workouts, Hydrow community racing, and online instructions and support are what the subscription pays for.
In the Just Row mode, the Hydrow works just like a regular rower but still requires electricity and an internet connection to perform its stripped-down functions. However, it's the interactive instructional programming that makes Hydrow what it is. Without the programming, it's just another rowing machine.
4. Where is the Hydrow rower made?
The Hydrow rower is a product of Hydrow, an independent company founded in 2017 and headquartered in Boston, Massachusetts USA. The Hydrow team is headed by founder and CEO Bruce Smith, a former US National Rowing Team coach. Hydrow receives orders through its website and ships out to customers across the USA.
You can also purchase in the UK and through partner stores in Canada, but the company hopes to expand to other regions in the future. Sales have increased so quickly that the company is considering going public on the New York Stock Exchange!
5. Is the Hydrow rower compatible with an Apple watch?
Yes, it certainly is! However, you will need to purchase the Hydrow Watch Link, which will allow the pairing to take place. The great advantage about the Watch Link is that you can add multiple users, so if you have other family members with an Apple watch they can freely enjoy the benefits as well – at no extra charge!
6. Does the Hydrow rower have Bluetooth?
Yes, Hydrow is equipped with Bluetooth 5.0, which means that it can connect to heart rate monitors and audio devices via Bluetooth connection, except those requiring codes or PIN to sync.
Need More Info? How to Contact Hydrow Directly
If you have more questions after reading our article, you can directly contact Hydrow below, or you are welcome to contact us via our contact page:
Looking to See How Hydrow Compares to Other Rowers Like Aviron?
Thanks for dropping by, if you're wondering how Hydrow compares with other rowers on the market, be sure to read our full article on the Aviron Rower vs Hydrow.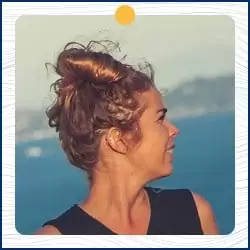 Written by Petra Amara – RowingCrazy.com
CEO & Founder of RowingCrazy, National Rower, Coxswain Womens Eight Team, Rowing Coach & Writer
Petra is a Mother of two and owner of Rowingcrazy.com. Petra lives and breathes rowing, she also has a passion for writing which lead her to start RowingCrazy.com to share her rowing experience and expertise with others.