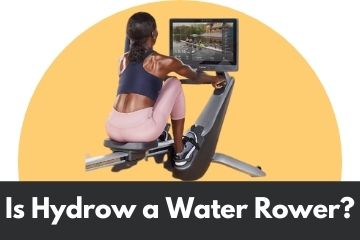 Rowing is the best type of workout you could ever hope for, and when it comes to a full-body workout, nothing beats a rowing machine. Many people love water rowers because of the beautiful sound they make, similar to water moving underneath the oars.
You must have read a Hydrow rower review saying that the premium rower is the closest thing to rowing on water and wondered whether the Hydrow is a water rower. The quick answer is no, Hydrow is not a water rower.
If you think that water rowers must be the best type of rowing machine, you will definitely want to read the information I have here before making that conclusion. Are water rowers really the best rowing machines? What is a Hydrow, and why should I buy it instead of a water rower?
I've got all the answers you need and more in today's article.
So What Is Hydrow?
The Hydrow rowing machine is a smart indoor rower that uses 240 levels of computer-controlled electromagnetic resistance, which means that you don't need to manually adjust the resistance. This intelligent rowing machine is programmed to recognize your fitness level and know when you need more challenge to your workouts.
What's unique about the Hydrow is the programming that provides you with an immersive experience that earned it the nickname "the Peloton of rowing machines". Unlike Peloton workouts, however, Hydrow offers live and on-demand on-the-water workouts instead of boutique and classroom type sessions.
The Hydrow experience is like no other, and you have to try it to truly appreciate i. That said, I'll try my best to describe it to you in the next section.
What Is the Hydrow Rowing Experience Like?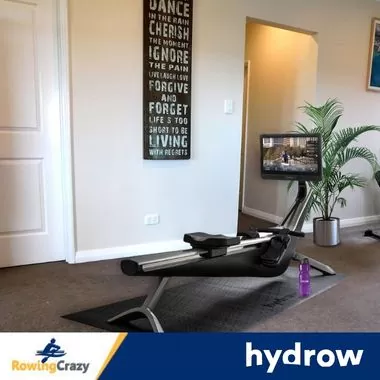 Hydrow SAVE $100 or £100!! => Use Coupon Code: ROWINGCRAZY
The Hydrow rowing machine was made by professional rowers. They developed a patented technology that provides the most realistic rowing experience possible without getting your shoes wet.
You must realize that not all rowing machines are created equal, and the Hydrow is not only a high-quality machine but also one of a kind. It keeps you wanting for more with each workout class, helping you get the most from your water rowing sessions.
The Hydrow machine uses computer-controlled electromagnetic resistance, which provides more than 240 levels of resistance. This explains why professional athletes and experienced rowers prefer the Hydrow for their fitness routine.
Live streaming classes with live leaderboards motivate even the most reluctant person, and it is this immersive experience that gives the Hydrow rower its edge over other fitness machines.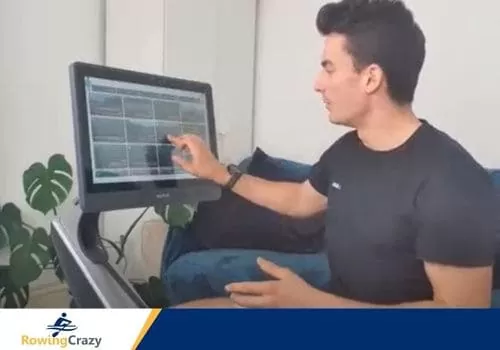 With all these resistance levels being controlled by the computer, you get a smoother ride and a better workout than any exercise bike, even a Peloton bike.
Let's not forget that magnetic resistance means incredibly quiet operation. All you will hear is the sound of the instructor-led classes and the sound of water that comes from high-quality, front-facing speakers.
Read any Hydrow Rower review and you will see that the Hydrow is a world-class rower with top-notch programming that beats the heck out of a stationary bike or any other exercise machine. Plus, its sleek design allows it to hide in plain sight; and let's be honest, who wants to hide it?
Who Owns the Hydrow Rower Company?
Hydrow was founded by professional rower Bruce Smith. While Smith loved rowing, he was disappointed in the majority of indoor rowing machines that he tried.
Smith designed the Hydrow to be everything a professional rower would want but with lots of extras to appeal to everyone.
Smith is now a dual professional, being both an entrepreneur and a coach with the US National Rowing Team.
When it comes to rowing, you can bet that Smith knows what you want and has so much confidence in the Hydrow that he offers a 30-day full refund if you should decide that his rowing machine is not for you.
Does the Hydrow Rowing Machine Use Water?
In short, no, it doesn't. It doesn't need to.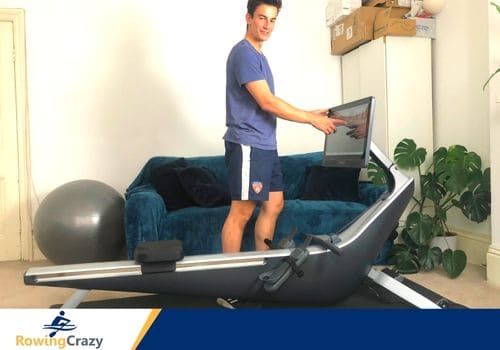 Most water rowers use water tanks to provide the feeling of a traditional rower. You will get a great workout, and while water rowers are also virtually silent, other than the swoosh sound of water, you will need to add more water to increase resistance. You don't need to go to such trouble with the Hydrow.
It has amazing software and programming that work seamlessly with the live and on-demand workouts. If you prefer to control the resistance mechanism yourself, you can switch to manual control.
What Are the Hydrow Rower Dimensions and Hydrow Box Dimensions?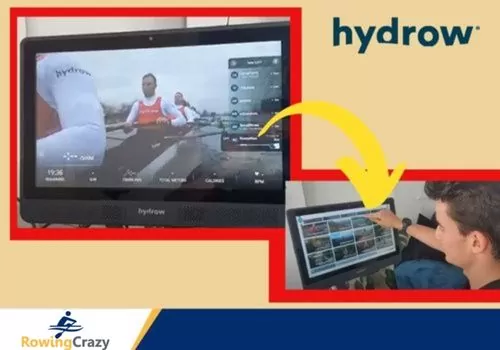 For all the technical details, I've created a table to help you see everything at a glance. Perhaps the only other piece of info you need is the monthly fee or monthly membership subscription. At this time, the monthly subscription fee is $44. While that might sound a bit high, it's actually cheap compared to the average cost of a gym membership.
| Hydrow Rower | Specifications |
| --- | --- |
| Weight Capacity | 375 Pounds (170 Kilos) |
| Overall Size | 86"X25"X47" (LXWXH) |
| Weight of the Rower | 145 Pounds (66 Kilos) |
| Warranty | 5 Years on Structural Frame & Upright Storage Kit – 1 year on all other parts, including 1 year of labor, |
| Free Trial and Free Shipping | Yes |
| Box Dimensions | 91" X 33" X 18" |
You should also keep in mind that your gym membership is assessed per machine and not per user. This is advantageous to you and your family.
You can create an unlimited number of profiles and they will all have access to the on-demand classes, the online community, and all the workouts that Hydrow offers.
Multiply the average gym membership to the actual number of people using your Hydrow and you will see that you're really enjoying a bargain! Click Here to read more how to use without Hydrow subscription!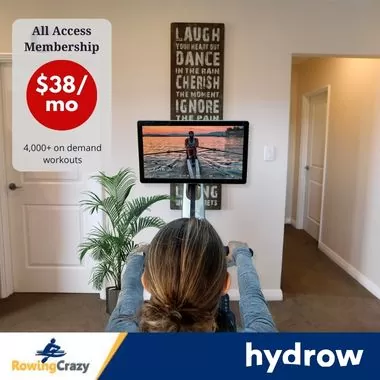 Hydrow SAVE $100 or £100!! => Use Coupon Code: ROWINGCRAZY
The Hydrow has a considerable weight and footprint when fully assembled, but there's a solution to that. It can be stored vertically using the Hydrow Upright Storage Kit and Wall Mount when not in use.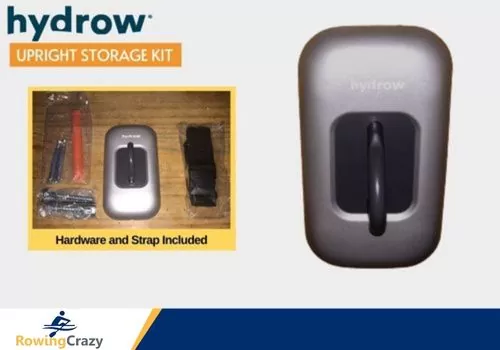 Should I Buy a Hydrow for Rowing Workouts?
In my opinion, everyone should!
What other commercial-grade fitness equipment will work perfectly for your home gym? There's not a lot, for sure. What Hydrow offers is hard to match because it's not just the hardware or technology- it's the whole experience, including the Hydrow support and community.

It offers accessories like the Polar heart rate monitor and professional instructors to go with the drop-dead gorgeous, ergonomically-designed machine. You get to choose live workouts or on-demand workouts, depending on your mood or schedule. There are even off-the-rower workouts like yoga, Pilates and foam rolling.
If you prefer to buy the Hydrow rower without the accessories, you'll be happy to know that it pairs well with other heart rate monitors and audio devices via Bluetooth (Read More on the Heart Rate Monitor).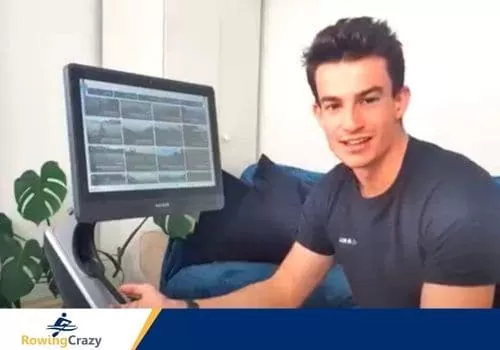 The 22-inch sweat-resistant HD touchscreen monitor makes the rowing programs so incredibly realistic you may forget you're not doing outdoor workouts!
Why will you even consider another rowing machine when you can enjoy Hydrow's built-in Wi-Fi and more features than other machines could hope for?
Most rowers will track your workout data, such as time spent on the machine, and a few of them will have basic workout programs, but there's nothing to match the hi-tech videos and training that Hydrow offers.
Is the Hydrow Worth It?
Of course, the Hydrow rower is worth the money ( see Hydrow competitors and alternatives ), and here's why:
Watch our full video of the Hydrow Rower by Rowing YouTube Influencer Max Secunda:
The Hydrow rowing machine provides a full-body workout
Compared to a stationary bike or other machines for fitness, the Hydrow provides a full-body yet low-impact workout.
Hydrow is built to last
It is made of commercial-grade components, which are covered by a 1-year warranty, while the aluminum-and-steel frame and storage kit are warrantied for five years.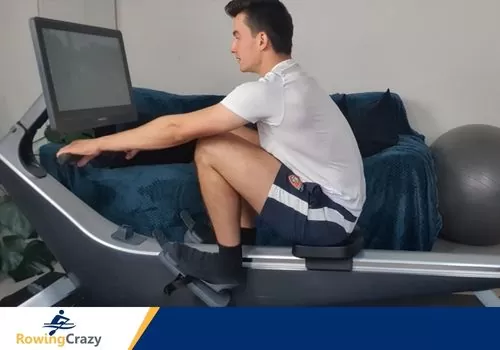 Beginners and experienced rowers find Hydrow highly motivating
I've heard from many Crossfit athletes that rowing was one part of their workout that they really disliked. They found the rowing exercise equipment too exhausting, until they jumped on a Hydrow rower, that is.
Using a Hydrow gets you an awesome workout while making rowing a pleasure instead of a pain, thanks to the smooth action of the handle and the computer-controlled resistance settings. Be sure to also check out my other article Aviron Rowers vs Hydrow as both offer very different workout options. If you don't own a Hydrow and want to learn more be sure to read my other articles like RW 900 vs Hydrow or Ergatta Rower vs Hydrow or another very popular article is CityRow Go vs Hydrow Rower
Side Note – Hydrow Rower Review:

To learn more be sure to also read our full Hydrow Rowing Machine Review article where we breakdown the results from all our team personally testing this machine!
In Conclusion
Hydrow is not a water rower, and it doesn't have to use water resistance to make it the ultimate rowing machine.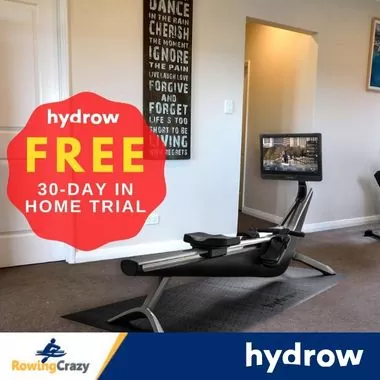 Hydrow SAVE $100 or £100!! => Use Coupon Code: ROWINGCRAZY
No other rowing machine can match the Hydrow when it comes to the highly-motivating experience that it provides. While all rowers will give you a complete body workout, they can't compete with what the Hydrow offers.
Even for beginners, rowing with trainers who understand and offer support can help them feel like kings of the rowing world.
Many people call the Hydrow the Peloton of Rowing, and I couldn't agree more. With a 30-day free trial, you have nothing to lose, so I don't know what's keeping you from giving it a try!
Want to read more about Hydrow? Check out these great articles: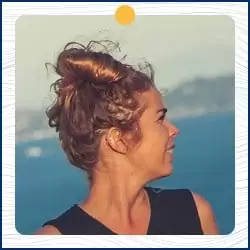 Written by Petra Amara – RowingCrazy.com
CEO & Founder of RowingCrazy, National Rower, Coxswain Womens Eight Team, Rowing Coach & Writer
Petra is a Mother of two and owner of Rowingcrazy.com. Petra lives and breathes rowing, she also has a passion for writing which lead her to start RowingCrazy.com to share her rowing experience and expertise with others.