There are rowing machines, and then there are unique and outstanding rowing machines.
In my opinion, and I don't think I'm alone here, the Hydrow rower and the LIT Strength Machine are, at the moment, the top two rowing machines under that unique and outstanding category.
If you've been shopping for a replacement rowing machine, or if you've never owned a home rower but are interested in getting one for your home gym, you may have been more than a bit overwhelmed when you sat down and looked at all your options.
| Our Top Picks | Rower | Price |
| --- | --- | --- |
| Hydrow | | |
| LIT Method | | |
Hydrow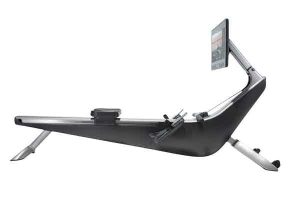 LIT Method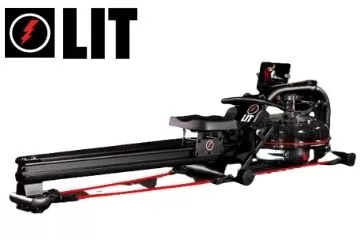 While I've never taken the time to check out exactly how many types of rowing machines are currently available, I would venture a guess that there are at least 50 or more choices. It wouldn't surprise me one bit if someone said that there were actually 100 rowing machines currently for sale.
How does a non-professional rowing expert pick the right machine when faced with that many choices?!
While I may not be a pro, I'm crazy about rowing, and I have used at least 20 different machines in my lifetime, and I own several different models (because I'm obsessed, what can I say?), so I can help you out when it comes to picking the right machine for you.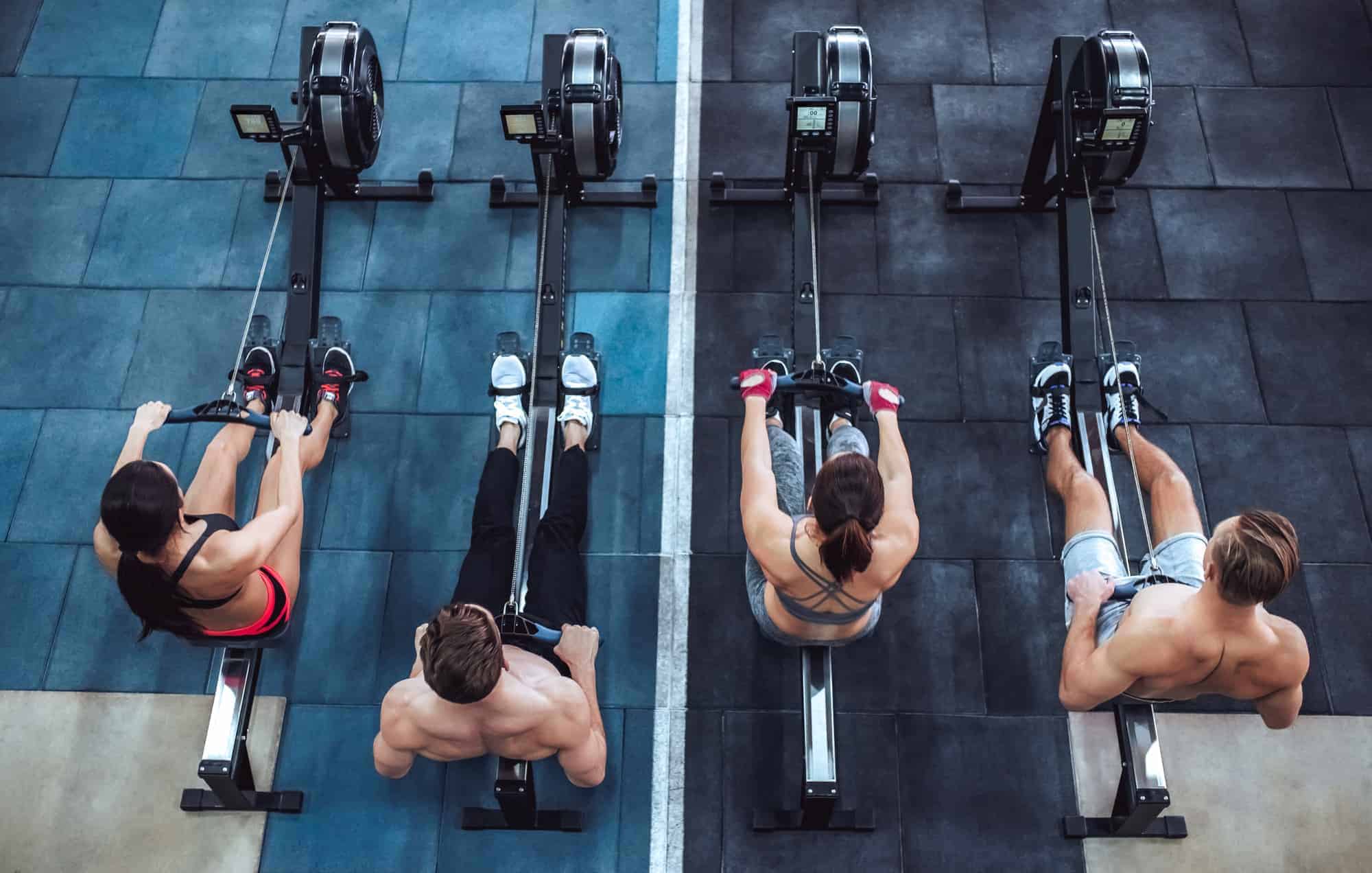 That's what it all boils down to. Not every machine works for everyone. Just like cars. If you haul six kids to school and soccer games, you won't be happy in a tiny VW Bug. It's the same dilemma with indoor rowers. Rowing machines come in all different types of colors, materials, resistance types, and classes (or lack of them).
In today's article, I want to talk about the top two rowing machines that are as different as night and day, but both belong in the unique and impressive category.
Want the best possible rowing machine but at the same time, something different from the rest? This article is for you, friends.
Let's look at the Hydrow Rower and the LIT Strength Machine.
See Our Black Friday & Cyber Monday Deals on Rowing Machines!
The LIT Strength Machine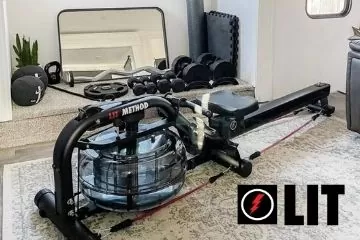 First off, while the name doesn't say "rowing machine", it is, at its heart, a water-resistance rowing machine.
If you haven't seen one of these LIT Method Machines, be sure to keep reading.
powered by Advanced iFrame. Get the Pro version on CodeCanyon.
Pretty impressive, isn't it?
This is a completely new design, however, and completely unlike any other water rower.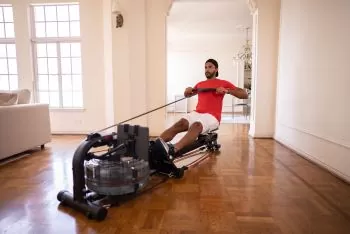 While the base and frame are still the usual water-resistance rower that many people love, this machine is different in that it also includes anchors for the (included) resistance bands.
There is nothing electrical to go wrong with this device. It requires no electricity, no batteries, no power source at all other than your own body. The only "gadget" here is that the device is Bluetooth-enabled.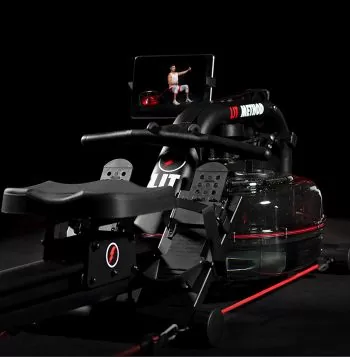 Unlike other machines, the LIT Method Strength Machine uses your own tablet or cell phone (there is a tablet holder built-in to the machine). When you connect your tablet to the LIT Method app, you can do the workouts right from your phone or tablet, or you can cast them to your television or another device.
The app and workouts are incredible, and I'm hard to impress. It does the usual tracking of your progress, your stats, and all the usual yadda yadda that you expect it to, but what you don't expect are the killer workouts.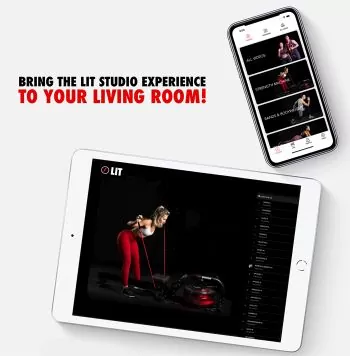 That doesn't mean that this isn't suitable for beginners. This app totally has programs and workouts for novice rowers. There are live and on-demand classes that will focus on just about anything you can imagine.
Typical workout programs are HIIT, Barre, Strength training, Pilates, Physical Therapy, Core workouts, and, of course, rowing.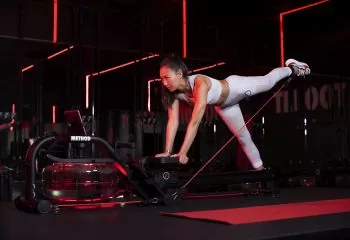 Yes, you read that correctly. You can use the resistance bands and the bar to do all kinds of exercises that you won't find on other rowing machines! Click Here to read our LIT Strength Machine Reviews
What Does a Typical LIT Method Workout Look Like?
A typical workout on the LIT Method Machine (check out our LIT Axis Review as well ) may start you off rowing for 500 meters, then you jump off and do some serious Pilates stretches. You might be told to jump back on the rower and do another 500 meters, then you get off and do some upright rows using the resistance bands.
The workouts are all done in a studio or classroom-type setting. There are currently no on-the-water workouts, but LIT says they are considering adding this feature.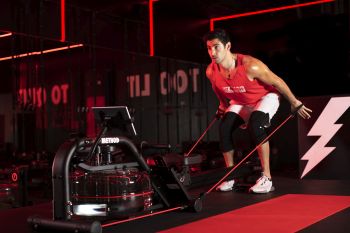 However, with more than 500 workout programs and new ones being added each week, there is no way you're going to become bored with the program.
Features of the LIT Method Rowing Machine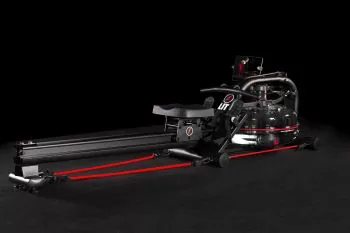 There is so much to this awesome machine, it's hard to put everything down on a single page. Some of the main features of the LIT Method rower includes:
There is no power required, so you can take this machine anywhere! You will need 3G/4G/5G or a Wi-Fi connection to access the workout programs, but that's it!
The app allows for up to 5 user profiles, so the entire family can use the machine for the single monthly subscription to the app
The LIT machine stores upright and takes up no more space than a dining room chair
There are 10-40 lbs of water resistance and up to 40 lbs of resistance (with the included pair of 20-lb resistance bands) or more if you purchase the strength bar and higher-resistance power bands separately (these are included if you opt for the Performance and Strength kits). In short, you will always feel challenged!
There is a chat feature that allows you to connect and talk to other users
Real-time shout-outs from the instructors keep you motivated!
Regular community challenges are fun and keep you connected to others
There are different bundles you can purchase, which may include more resistance bands, a strength bar, floor mat, and Polar heart rate sensor, depending on which package you choose.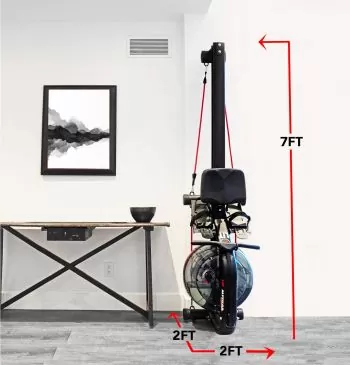 Are you ready for the biggest and most impressive feature of the LIT Strength Machine?
It has a lifetime warranty! Read that again, folks. LIFETIME WARRANTY ON THE MACHINE frame! Plus, all smaller parts, like the tank and mechanical components, are covered with a 5-year limited warranty.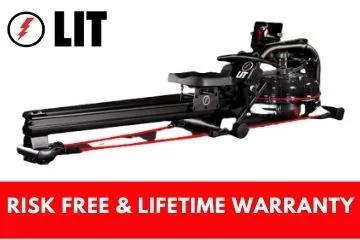 You won't find ANY other machines with a warranty that comes anywhere close to this.
For those of you who want to get the most for your money, you've found what you're looking for right here. This is the ONLY rower (heck, it's the only exercise machine I know of) that offers this incredible warranty.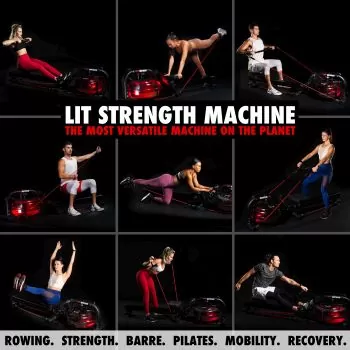 I have to say that this machine impressed the heck outta me! I bought one myself because I loved the workouts so much!
The LIT Strength Machine offers a 30-day trial offer, so you can see for yourself everything that it has to offer.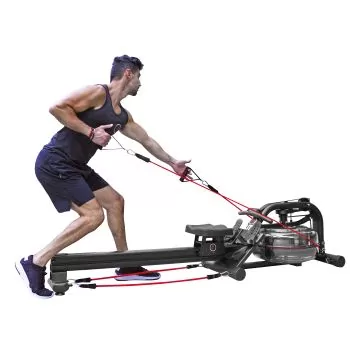 You will need to pay for return shipping if you don't like it, but I can't imagine anyone not loving the LIT Strength Machine!
The Hydrow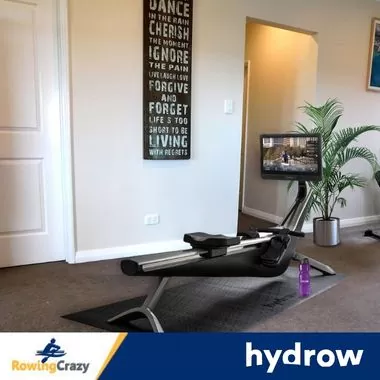 Hydrow SAVE $100 or £100!! => Use Coupon Code: ROWINGCRAZY
If you've read any of my blog posts, you already know that I own a Hydrow rowing machine and that I love, love, love it!
For those who may be new here, let me tell you about one of the best and unique rowing machines you will find anywhere (but completely different from the LIT Strength Machine), the Hydrow.
powered by Advanced iFrame. Get the Pro version on CodeCanyon.
The founder of Hydrow is a former national rowing champ and coach who knows exactly what rowing fans are looking for.
This machine is sleek and beautiful. It has a 22-inch HD touchscreen monitor that sits directly in front of you so that you feel as though you're rowing live and on location!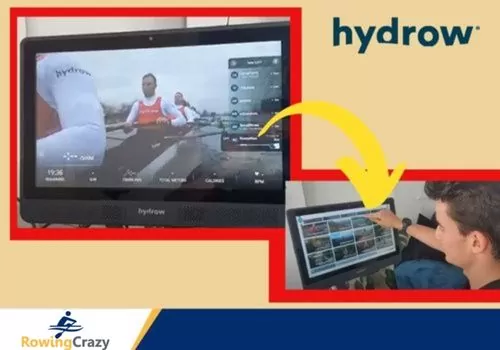 The rowing workouts are completely different from the ones on the LIT Strength Machine. These rowing workouts are done on the water, from stunning locations around the world. There are on-demand workouts, live workouts, and other types of workout programs.
All the instructors are rowing or former Olympic champions, so they know their stuff!
One of the things I love about the Hydrow is that it offers computer-controlled resistance. This means that, as you are working out, the system automatically changes the resistance depending on your progress. You don't have to do anything! Just choose your workout and get busy sweating!
Of course, if you prefer, you can also control the magnetic resistance manually, the choice is yours.
The Hydrow also offers vertical storage if you purchase the Hydrow Upright Storage Kit.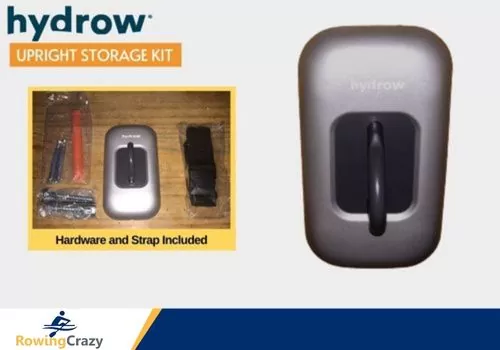 Hydrow SAVE $100 or £100!! => Use Coupon Code: ROWINGCRAZY
I love the full-body workouts I get with Hydrow. It really feels as though I am rowing in a boat on the water, even though I am in my home gym. There are no classrooms, but the Hydrow rower has one more trick up its sleeve.
The LIT water-powered rower isn't the only one that offers off-the-machine workouts. Hydrow offers a workout mat for doing yoga, Pilates, and other floor work exercises too.
While there are no resistance bands, and the floor workouts aren't incorporated into the rowing sessions, nothing is stopping you from accessing the home workouts any time you like.
Features of the Hydrow Rower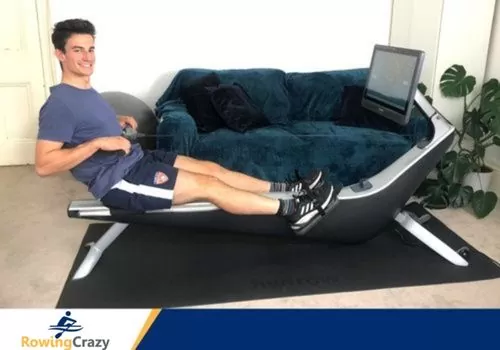 Other rowers let you row while the digital monitor tracks your data, but that's it. Hydrow picks up where other rowers leave off. Some of Hydrow's best features include:
You can create an unlimited number of profiles, which means everyone in the family can enjoy the Hydrow without paying extra.
The touchscreen display is sweat- and dust-resistant, so it stays clean without a lot of maintenance
All workouts are done live and on the water so you get a more realistic rowing experience
The Hydrow rower is virtually silent
It has front-facing speakers, or you can use your Bluetooth-enabled headphones
It works with many different types of third-party heart rate monitors
The display easily lets you see how you stack up against others with leaderboards, daily rows, challenges, and special events
It also has a 2-megapixel camera, built-in microphone, and USB 2.0 connectors
Watch our full video of the Hydrow Rower by Rowing Instructor Max Secunda:
powered by Advanced iFrame. Get the Pro version on CodeCanyon.
Read More on Hydow's Heart Rate Monitor – Click Here
The Hydrow is sometimes called the Peloton of rowing machines as it does rowing like Peloton, and I'm sure it's easy to see why. Side Note: If you are on a budget but want all the great Hydrow features – check out the new Hydrow Wave Rower!
The warranty can't match the LIT rower, however, but it does come close.
The frame and upright storage kit have a 5-year warranty.
Everything else has a one-year warranty and labor is included for one year.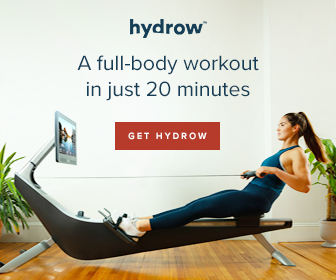 It may not be a lifetime warranty, but I've owned my Hydrow for several years now and had zero problems with it.
Hydrow also offers a 30-day trial period and, like the LIT rower, you will need to pay for return shipping if you decide not to keep your machine. If you are yet to purchase a Hydrow and want to learn more be sure to read my other articles like Hydrow vs NordicTrack Rower or Ergatta vs Hydrow Rower or another very popular article is Hydrow or Peloton
Rower Comparisons: LIT Method Rower VS Hydrow
It's still a difficult choice, isn't it?
First, let me say that if you love to change things up and you love the feeling of a classroom-type setting, then you should go with the LIT Machine.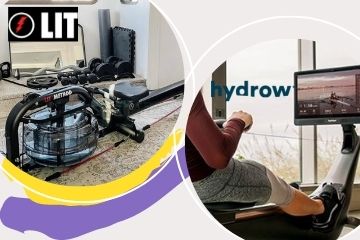 However, if you are crazy about rowing and want to feel as though you are on the water, if classrooms make you claustrophobic, then you will be happy with the Hydrow.
To help you make the right choice, consider the following comparison chart.
Hydrow Rower Vs LIT Method Strength Machine Comparison Chart
Rower Specs
LIT Strength Machine
Hydrow Rower
Weight Capacity
450 lbs
375 lbs
Machine Weight
W/out Water: 70 lbsWith Water: 89 lbs
145 lbs.
Overall Dimensions
(L x W x H)
7 ft x 1.75 ft x 1.6 ft
86″ x 25″ x 47″
Workout Types
Classroom type
On the Water
Off the Rower Workouts?
Yes. Resistance bands and strength bar allows for Pilates, Strength Training, Physical Therapy, and more
Yes. Yoga, Pilates, and some strength training.
Monthly App Subscription Price (Subject to Change)
$24.99 for 5 profiles
$44 for unlimited profiles
Warranty
Lifetime on the frame, 5 years on all smaller parts, labor excluded
5-year frame
1-year all other parts
1-year labor
Machine Cost
(Subject to Change)
$1,750 or As low as $48.62/month for 36 months, 0% APR, no payment for first 30 days
30-day risk-free trial
$2,095.00 or As low as $63/month for 36 months, 0% APR, zero down payment
30-day risk-free trial
Be sure to check the dimensions of the machine you are considering before you buy, especially with the LIT Strength Machine. While it is overall a bit smaller than the Hydrow, you will need space surrounding the machine to use the resistance bands.
Which Is Better Hydrow or LIT Method Rowing Machines?
When it comes to the actual rower itself, both are excellent and it's simply a matter of preference whether you like water rowers or magnetic resistance rowers.
Water rowers feel and sound like the real thing, but magnetic rowers are smooth and virtually noise-free.
While I usually can pick a "winner", in this instance, it is impossible since both machines have different features and both are excellent choices.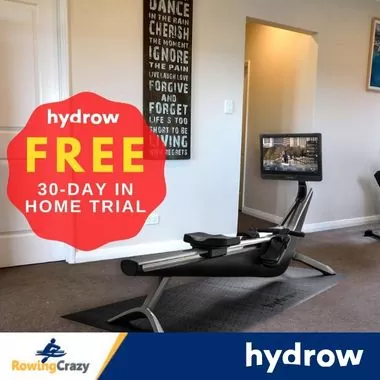 Hydrow SAVE $100 or £100!! => Use Coupon Code: ROWINGCRAZY
Regardless of which machine you choose, you will get a high-quality piece of gym equipment that can be stored vertically.
Both have rowing classes, but the Hydrow is almost 100 percent about rowing, the LIT Strength Machine is more about mixing up your workouts with other types of training.
If you love rowing and plan on getting in your strength training or other types of workouts from other pieces of equipment or in other ways (such as playing sports), and you really want to "feel" the water around you, then you will most likely be happier with a Hydrow.
However, if you want an all-in-one piece of equipment that you know you will never need to replace, if you love classroom/gym type settings and you get bored doing the same exercise over and over, if you want to incorporate physical therapy, or if you love using a resistance band, then you should definitely go with the LIT Strength Machine.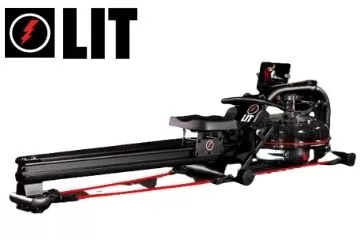 In all honesty, you cannot go wrong if you look at your own preferences and go with your gut instinct. Both machines offer low-impact training and are world-class home rowers that offer other workouts.
The only thing you need to worry about is how to not brag too much to your friends about your terrific machine and your new buff bod!
Other Articles You Might Like to Read: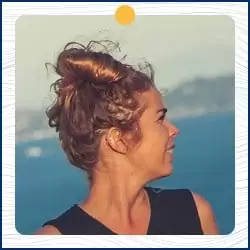 Written by Petra Amara – RowingCrazy.com
CEO & Founder of RowingCrazy, National Rower, Coxswain Womens Eight Team, Rowing Coach & Writer
Petra is a Mother of two and owner of Rowingcrazy.com. Petra lives and breathes rowing, she also has a passion for writing which lead her to start RowingCrazy.com to share her rowing experience and expertise with others.