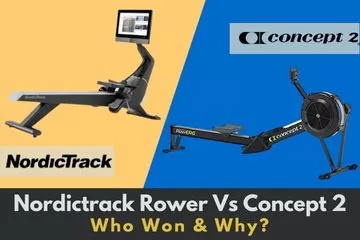 I remember when picking a rowing machine was a fairly simple thing. There were really only two models, so you picked the one that you liked or that you could afford.
Today, there are more rowing machine models and brands than I ever thought possible. Everything from the basic commercial grade rower minus the frills to top-of-the-line smart rowers that do everything for you but row!
No one wants a lemon, right? So how do you pick the perfect machine for your main piece of fitness equipment?
You trust your good friend Petra, that's what you do!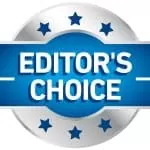 In a Hurry? Here are the Rowers We Are Comparing:
If you're in a hurry and need to know which rower is better between NordicTrack or Concept 2, click on the links below for our answers:
In this article, I will review the three NordicTrack rowers vs the two Concept 2 rowing models so you can get a challenging workout and enjoy the best rowing machine for your home gym.
You're really going to be glad that you spent a few minutes reading my review, I promise.
Our Promise to You:
"At our company, we don't mess around when it comes to quality. We put our NordicTrack RW900 and Concept 2 rowers through the wringer here in our office, where they get daily use from our fearless employees.
We're talking about rigorous testing here, folks! Our employees push these rowers to their limits, testing their durability, ease of use, and performance. We're talking spilled coffee, sweaty palms, and maybe even a few tears shed.
If they can withstand the abuse we give them, you know they're the real deal. As a proud owner of both the NordicTrack RW900 and Concept 2 rowers, I can attest to their quality and effectiveness. So sit back, grab a drink, and check out our hands-on testing results below"
Read What the Rowing Crazy Test Team Is Saying
"I was blown away by the NordicTrack RW900! As an avid Concept2 user, I didn't think I would like it, but the machine quality and interactive workouts with trainers exceeded my expectations. And let's not forget the comfortable seat – it's a game-changer compared to the Concept2 Rower – Good bye sore bum!"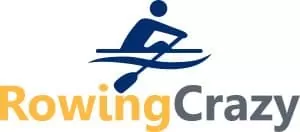 Right lets get into it!
The NordicTrack Rowing Machines
At the time that I am writing this, NordicTrack to have three rowing machines available ( for more in depth detail read my full NordicTrack Rowers review), namely:
The major differences between these three are the screens and how you can use the iFit workout interactive training app.
NordicTrack RW600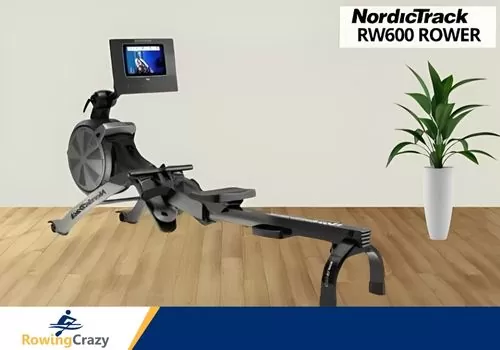 This is NordicTrack's base model. I had a blast trying out this awesome machine at the NordicTrack Head Office. Although we opted for the RW900 for our long-term review at our premises (which we'll delve into below), we still had a blast rowing on this baby and breaking a sweat!
The NordicTrack RW600 has a 10-inch HD touchscreen that works with the iFit app ( see other iFit Rowing Machines ).
If you haven't used iFit before, it's a workout app that does more than just rowing workouts. You can also access weight lifting, yoga, running, treadmill, elliptical, and just about any other sport that you can think of.
The iFit app controls the resistance levels on your rowing machine. You can also access them manually if you like. Even if you have other pieces of workout equipment, such as a treadmill that isn't iFit-ready, you can still use the workout programs. The only difference is that you will need to adjust the resistance or speed manually.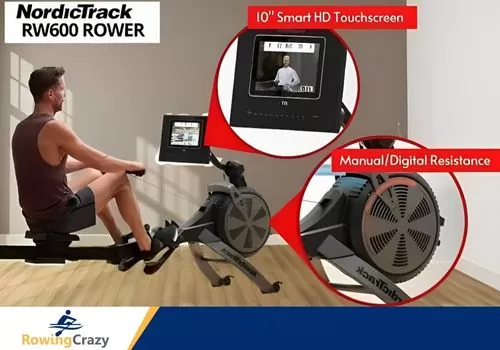 The RW600 uses nearly silent magnetic resistance and air resistance for backup. This is the perfect answer if you have small children, live in an apartment or share an apartment with roommates, or have a day sleeper in the house. Let's not forget those neighbors who seem to complain all the time, right?
While air resistance can be noisy, this rower uses magnetic resistance most of the time, but there's also air resistance for the more advanced rowers.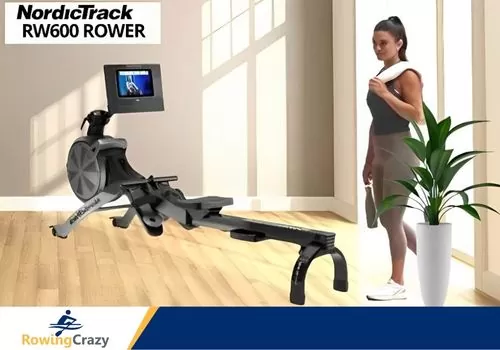 This rower has 26 resistance levels, so you should always feel challenged. You can manually adjust the resistance or let the iFit program do it for you. Side Note: You might also like to read my other article NordicTrack vs Aviron Rower.
Features of the NordicTrack RW600
Aside from those I've already mentioned, the other features of this Nordic Track magnetic rower include:
Has a 10-inch touchscreen tablet to view your iFit workout program
Folds in half for easy storage
87.02″ L x 22.0″ W x 47.24″ H footprint
Has front transport wheels that make it easy to move
There is a soft, ergonomic handle for comfort
Bluetooth-enabled, so you can connect your Bluetooth headphones, fitness devices, heart rate monitors, and many more
Maximum weight capacity is 250 pounds
Item weight is 100 pounds
Comes with a 30- trial membership to iFit
Includes a generous 10-year frame warranty, 2-year parts warranty, and a 1-year labor warranty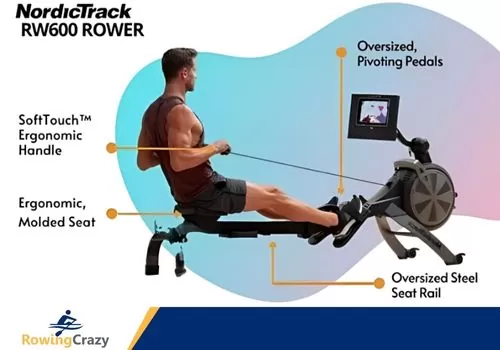 For a basic smart rowing machine, this one from Nordic Track offers everything you need to get a full-body workout and all the workout programs you could ever hope to use.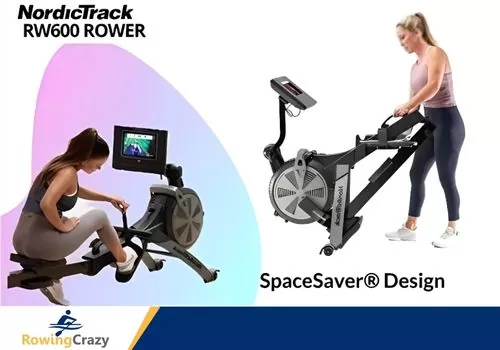 Did I mention that there is free shipping?
It's hard to go wrong with a combination like that, right?
NordicTrack RW700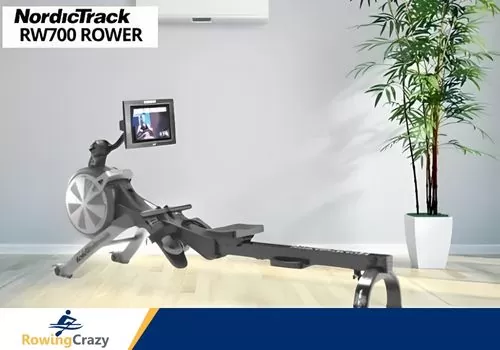 The RW700 is NordicTrack's mid-range rower and boy, oh boy, is it a step up from the base model! I got to put this bad boy to the test at the NordicTrack Head Office and was blown away by its smooth and quiet operation. If if the premium Model RW 900 is out of your budget this is a great alternative to consider. With it's larger touchscreen display and more advanced workout programs, the RW700 is perfect for those who want to take their rowing game to the next level.
The RW700 is a personal rowing coach and home exercise equipment all in one.
With a 14-inch touchscreen tablet, this rower gives you interactive workouts via the iFit app right in front of you!
Aside from all your workout data that it provides, you'll also get to enjoy iFit workouts, especially the HIIT workouts to keep you interested as you improve your fitness level.
You get a free 30-day trial of the iFit app, which allows you to add up to 5 profiles for the same low monthly subscription price.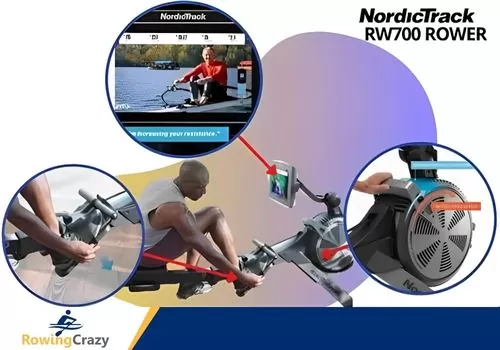 This rower has 26 digital resistance levels and on-demand, instructor-led workouts to help you row harder than you thought possible.
Features of the NordicTrack RW700
Here's what to expect from this air rower and magnetic rower rolled into one:
Has 26 levels of digital resistance. Like the RW600, the RW700 had dual resistance systems (magnetic and air) so you will always feel challenged.
Equipped with a 14-inch touchscreen tablet that rotates so you can easily see the workouts even if you are off the rower.
Offers on-demand instructor-led workout classes, including yoga, weight lifting, rowing, and more!
Maximum weight limit is 250 pounds
The rowing machine itself weighs 117 pounds
Folds in half for compact storage
87″ L x 22″ W x 47″ H footprint
Transport wheels make moving the rower very easy
This uses both air and magnetic resistance for a smooth feel
Comes with a 30-day trial membership to iFit
This rower has a 10-year frame warranty, 2-year parts warranty, and a 1-year labor warranty.
I like the wide range of workout programs that are offered on the iFit app. You can enjoy rowing in a studio setting today and row on the waters in France tomorrow.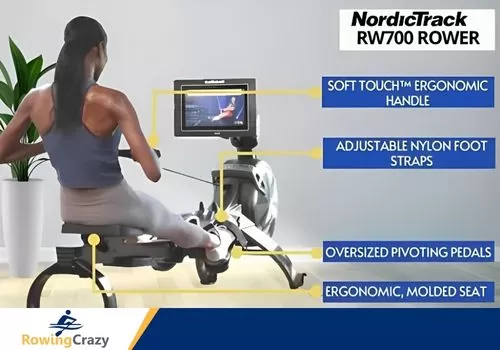 For a smart rower with a touchscreen tablet of this size, you would expect to pay a lot more than this, but that's what makes the Nordictrack RW700 so popular!
NordicTrack RW900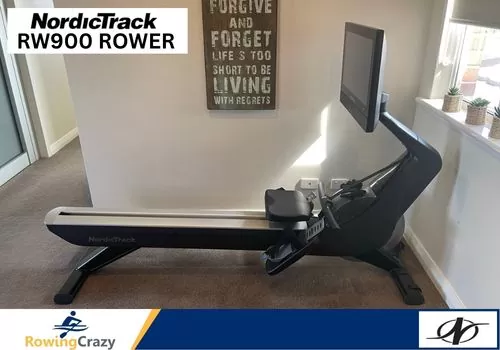 This is NordicTrack's top-of-the-line rowing machine and the machine that we have here testing on a regular basis with all our Rowing Crazy team members (and it is proving to be very popular!). It's less expensive than some other models, such as Hydrow or Ergatta.
The RW900 costs more than the RW700 because of the size of the display, which is 14 inches in the RW700, while the RW900 uses a 22-inch touchscreen display that is also adjustable for easy viewing.
Watch Olympic Rower Rachael Taylor Test NordicTrack RW900 Rower:
Like the other models, you'll get to enjoy a 30-day free iFit membership and all the interactive workouts it offers. Once you've signed up for iFit, you can create 5 different profiles so that your family members or friends can get the feel of the personal training that iFit is known for. Thirty days should be enough to help you decide whether to continue with a paid subscription.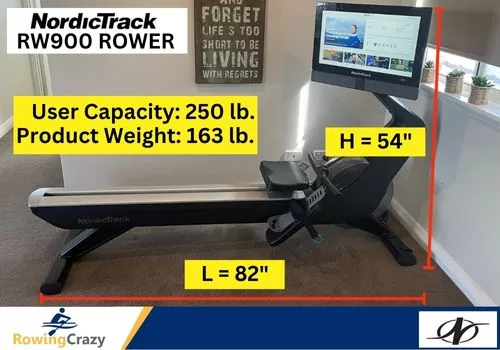 Features of the NordicTrack RW900
Let's see what sets it apart from the other Nordic Track rowing machines:
Has 30-watt dual speakers for high-quality sound
There are 26 digital resistance levels to help you reach your fitness goals
Maximum weight limit is still 250 pounds
The machine itself weighs 163 pounds
Has a new, inertia-enhanced flywheel
This rower now comes with an improved, steel rail sliding system for super smooth action
This uses dual resistance mechanisms (magnetic and air) for a slightly quieter rowing machine experience
Bluetooth enabled for your Bluetooth headphones, fitness watches, or heart rate monitors.
Quick-adjust, oversized foot pedals will work for all foot sizes
Very comfortable Seat which they have recently upgraded.
82″ L x 22″ W x 54″ H footprint
22 inch Touch Screen which you can move or turn for on the floor workouts
The warranty features a 10-year frame warranty, 2-year parts warranty, and 1-year labor warranty, like the other models offer.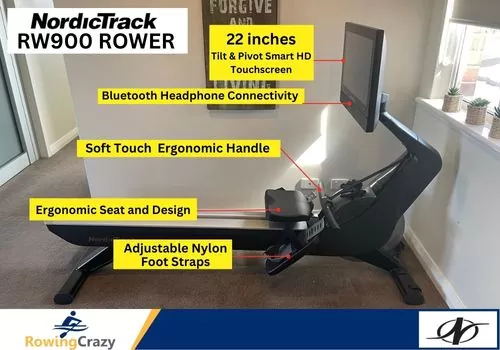 The tablets do have a port for wired headphones if you like, but you should be sure that the wire is long enough for you to do your workouts unimpeded!
Currently, NordicTrack is offering a free set of adjustable weight dumbbells when you order. Wow, that's like getting two exercise devices for one low price!
Do I Need to Sign Up for iFit to Use NordicTrack Rowing Machines?
Yes, I really think you should sign up for iFit after the trial period has expired to fully enjoy your NordicTrack. The good news is, you can use your iFit subscription with ANY iFit machine, so if you already own a treadmill with iFit, you don't need to get another subscription.
If you've never used iFit, you will be pleasantly surprised at all the features it has.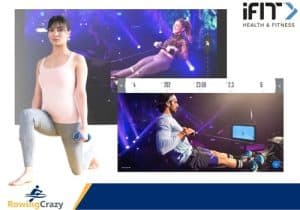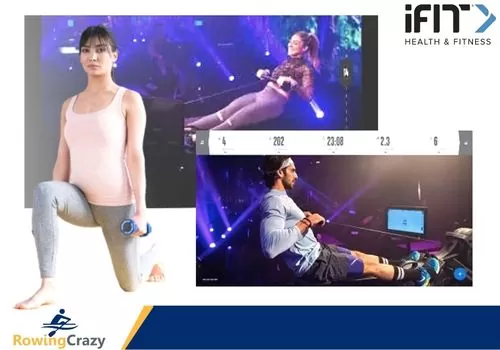 If you like doing off-the-rower workouts on your days off (such as walking, running, or weight lifting) you can use those workout programs available on the iFit app as well.
Even if you own a regular, non-internet connected exercise machine, like an old treadmill, you can still use the iFit app. The app won't be able to control the speed automatically, but you can follow the instructor's directions and just increase the speed or incline yourself.
You can do studio classes, row on waterways around the world or just free-row while watching beautiful scenery as you do so.
The iFit app allows the workout program to control the resistance level, which is almost like having a personal trainer in your own home gym!
The Concept 2 Indoor Rowing Machines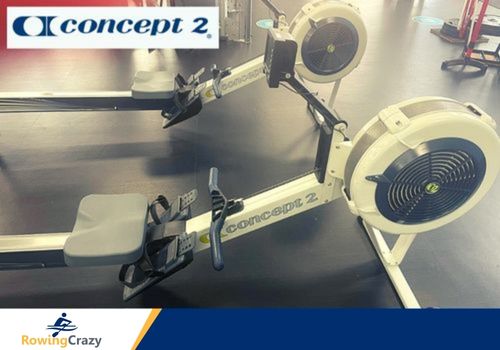 Concept 2 has been around since the early 1980s. It is probably the best-known home rowing machine and one of the most popular rowing machines for commercial use (gyms, hotels, competitions) around the world.
The Concept 2 design is simple: Use a fan blade in a cage for resistance, a chain handle for extra durability, and a basic performance monitor for tracking metrics.
Learn more with our full video of the Concept2 Rower by Rowing YouTube Influencer Max Secunda:
You'll see this simplicity in Concept 2's popular models, Model D and Model E.
What are the differences between these two rowers? It can be hard to even tell them apart from a photo! I bet if I had you work out on both machines with a blindfold, you wouldn't know the difference.
First, let's talk about the basic Model D rower.
Concept 2 Model D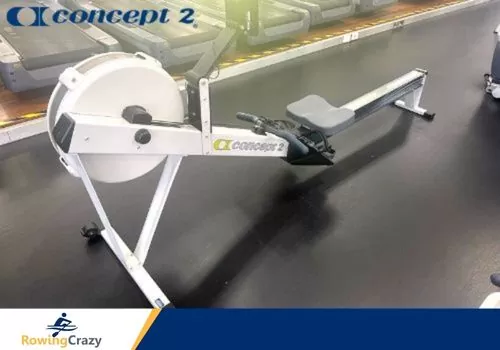 If you've still searched for the "Model D" from the Concept2 website, chances are that you didn't know it's now officially known by a different name. Concept2 now calls the Model D the "RowErg with standard legs" with a seat height of 14 inches.
Concept 2 uses air resistance, instead of other types of resistance (such as a magnetic rower or combination magnetic-air resistance). Why? Because air is free and fans are inexpensive, low-maintenance pieces of equipment.
That makes sense, right? The rail and support feet are made from steel, which is why Concept 2 is known to really hold up to hard or frequent use.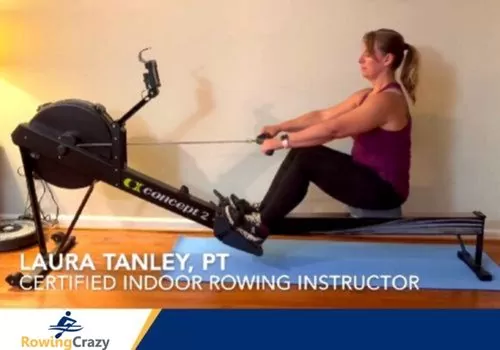 The Model D has been around for decades, and even if it's now called the RowErg, it's still basically the same. So if you'll ever need parts for your old Model E, you won't have any trouble finding them.
I've heard of people who owned a Concept 2 Model D for 25 years and only had to replace the chain on the handle once. That's a pretty good investment! FYI: You might also like to read more on the Aviron Rower vs Concept2 to see how both rowers compare.
Features of the Model D (now called RowErg with Standard Legs)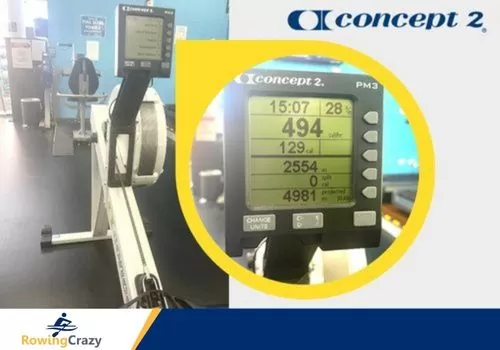 I think you'll want to hear more about this model.
The PM5 Performance monitor has a USB port so you can add a flash drive and keep track of your data or connect your smartphone or tablet for watching/charging.
This is Bluetooth-enabled, so you can easily connect your Bluetooth headphones, smartwatches, fitness watches, and more.
The PM5 monitor also has ANT+ connectivity. This means that your chest strap monitor (for heart rate readings) or other types of heart rate monitors can easily be connected as well.
There is an ergonomic handle for extra comfort.
The seat is padded, but if you find that it hurts your behind or tailbone, there are a great many seat pads that you can purchase – and those pads are mostly designed for Concept2 ergs.
The smartphone or tablet shelf makes watching your favorite workout program or TV program convenient.
There is a 2-year warranty on the rowing machine.
Folds for easy storage
Assembly is a couple of screws and takes about 15-20 minutes.
Machine weight is 57 pounds
Maximum user weight capacity is 500 pounds
OK, so you can tell right from the user weight capacity that this rowing machine can really take a beating, so to speak.
This is because the Model D is made for commercial use. You will notice that while this rowing machine might be a bit noisy because it uses more air than the Nordic Track models, there is no doubt that Concept 2 will stand up to more use.
It's good to note that if you are close to the NordicTrack weight limit of 250 pounds, you might want to consider switching to the Concept 2 rower.
Concept 2 Model E
Why should you pay an extra $200 (more or less) for the Model E?
Please take note what I've mentioned above, that the Model D is now called the RowErg with standard legs.
Effectively also, Model E is now called the RowErg with tall legs. It is essentially the same model as the RowErg with standard legs (previously called Model D) but with a higher seat, thanks to the taller legs.
If you've previously bought or used the Model E version, you may have noted a few differences between models D and E, such as:
chain type
monitor arm material and adjustability
finish type
With the Model E now discontinued, both models are now basically the same RowErg but in two versions.
Side Note: You might like to read other other comparison article: Topiom vs Hydrow vs NordicTrack vs Concept2
How Does the Model E (RowErg Tall Legs) Differ from the Model D (RowErg Standard)?
The RowErg models differ only in the following:
Seat height – The RowErg tall legs version (what we used to call Model E) has an elevated seat height of 20 inches (51 cm). It replaces the discontinued Model E. This is higher than the standard model, which has a seat height of only 14 inches. For those with bad knees or other mobility issues, a higher seat can make all the difference!
Caster wheels – The RowErg tall legs version has larger caster wheels than the standard RowErg. Owing to its taller legs and seat, it needs larger sized casters to make it more portable and easier to store.
That's it! There is no difference in the warranty, the rowing motion, the resistance level, or anything else. Only the items I've mentioned above.
Both machines fold and roll away for compact storage, both handle up to 500 pounds of user weight, and both have the same warranty. As a see it, the main difference is in the seat height. If a higher seat matters to you, then the Model E might be right up your alley.
Does Concept 2 Have a Subscription?
No, it doesn't.
Neither version uses the internet for workout programs, but there is a free application from Concept 2 for your cell phone called ErgData. It can connect wirelessly via Bluetooth to the PM5 and is free. Once connected, it provides additional statistics, stores, and displays your workout results.
It also uploads your workouts to the Concept2 Online Logbook to let you see (and others too) how you rank among Concept2's worldwide users. There are records to make and break, so how's that for healthy competition?
When it comes to workouts, you'll need to rely on your tablet or smartphone and access some other program, such as iFit or Youtube if you want rowing workouts ( you can read more on the best iFit rowing workouts for beginners ).
Or you can set up the rower in front of your TV and watch Netflix or your favorite soap opera.
Which Is Better? Concept 2 or NordicTrack?
Wow. This is a more difficult question than I had imagined.
If you are considering buying a rowing machine, and you want/need a higher weight capacity and the longest life possible out of your investment, I would have to say that either of the Concept 2 RowErg versions will serve you well. With fewer moving parts, they'll last longer than most rowing machines, including the NordicTrack.
Also, the PM5 easily interfaces with computer and mobile devices to access the ErgData app, ErgRace online racing, and various third-party apps like the Zwift and Regatta on-demand training workouts.
However, if you are like many people and you get bored easily, if you want to see iFit exercise programs on the screen in front of you, and if you want to do more than just rowing workouts, then any of these NordicTrack rowers would be a better choice (You might also like to read our Echelon rower vs Nordictrack rower article).
I've become very accustomed to having smart rowers, and they are addicting! You will find that you don't get bored with the huge amount of workouts that are programmed into the iFit app that the NordicTrack machine uses.
So, it's really a matter of your personal preferences and finances.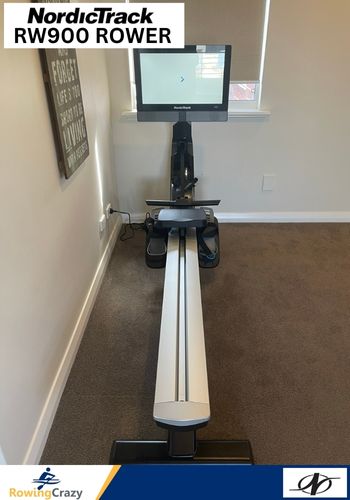 The winner when it comes to interesting programming is NordicTrack. If the 250-lb weight capacity is more than what you need from a rowing machine, then any of the NordicTrack models (RW600, RW700, RW900) will be perfect for you.
The winner for simplicity and durability goes to Concept 2, and it's not far behind when it comes to connectivity and third-party online workout options and free online racing platform.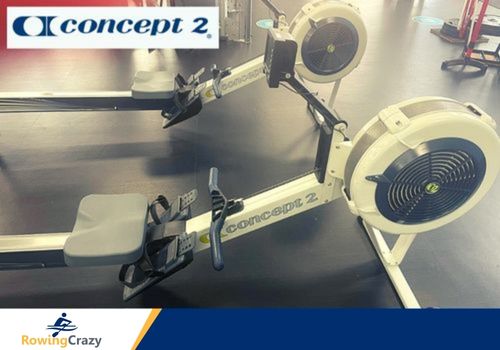 So the choice is yours because it all depends on your needs and preferences! Happy rowing, my friends!
FAQs
1. Does NordicTrack make good rowers?
Yes, they do. Rowers from NordicTrack are high-quality (read more on Proform vs NordicTrack rower ) , offering you smart rowing options at a cheaper price than what you get from most high-end smart rowers today!
2. Can you use the Nordictrack RW900 without a subscription?
Yes, you can. While you do need a paid subscription to iFit after the trial period, there is a free version that will work with your NordicTrack rower. It has a limited number of workouts and you may not be impressed with the selection. The good news is that your NordicTrack doesn't become a giant paperweight or clothes rack if you later find that you must cancel your subscription.
3. Can you use iFit with Concept 2 Rower?
Yes, you can. While the iFit program you choose will not take control of the resistance settings, you can enjoy the iFit workouts from your smartphone or tablet.
4. Is the Concept 2 rower worth it?
Yes, it is. The Concept2 RowErgs are heavy-duty, commercial-grade rowers that are found in nearly every gym in the USA. It should give you decades of use with very little maintenance, and replacement parts are easily found if you should need them.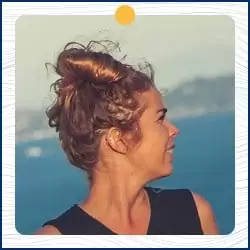 Written by Petra Amara – RowingCrazy.com
CEO & Founder of RowingCrazy, National Rower, Coxswain Womens Eight Team, Rowing Coach & Writer
Petra is a Mother of two and owner of Rowingcrazy.com. Petra lives and breathes rowing, she also has a passion for writing which lead her to start RowingCrazy.com to share her rowing experience and expertise with others.