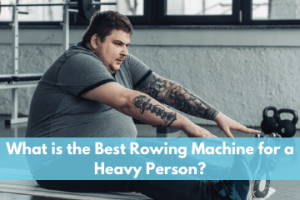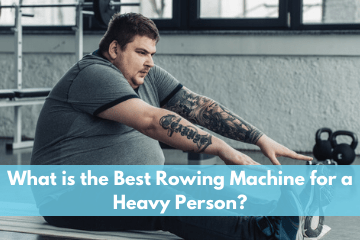 When you first begin your health journey, it can be stressful. It can be even more difficult if your body weight often exceeds the weight limits on traditional workout equipment. But that's why this article exists! We are here to help you find the best rowing machine to both physically support you and help you with your health/fitness journey!
Our Top Picks
Rowing is a great workout. It challenges all the muscles in the body and targets the legs, core, and arms. It works via resistance and using pressure as well as strength to challenge the muscles to begin working. It gets your heart rate up, your blood will start pumping, toxins leave your body through sweat, and your body will gradually get fitter.
Not everyone exercises to lose weight, but many folks do. So, let's explore some of the aspects and qualities of rowing machines and their benefits for your body!
How Long Should You Use a Rowing Machine to Lose Weight?
For starters, everyone has a different body, a different story, a different situation, and different abilities. You cannot and should not compare yourself to others.
The rate you lose fat and gain muscle could be much slower than someone else in a similar situation. But that right there is the new word. Similar.
No one is in the same situation as you. You are unique! Your lifestyle may prevent you from getting as much exercise time as you would like, while someone else could have 7 free hours each day that they can crank out on a rowing machine.
Comparing your progress to the progress of others can make you lose motivation if you are progressing slower, so you should focus on taking care of yourself and living a healthy life.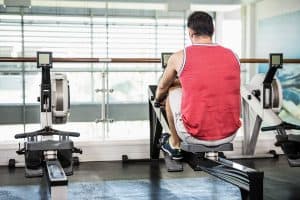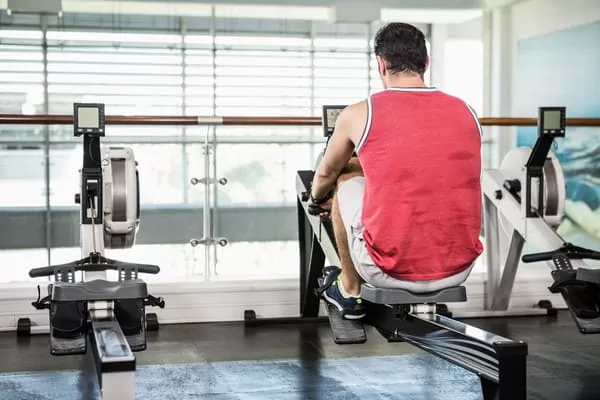 The amount of time you should try to spend sweating on your rowing machine or doing another type of workout is 15 minutes a day.
It is important that you are sweating since that signifies the combustion of calories into energy in your body, which fuels your workout and helps you lose weight. Most people will try to do more than 15 minutes of exercise a day, but as I said earlier, everyone has a different situation.
Try to fit 15 to 20 minutes of high-intensity exercise on your rowing machine each day to burn 150 to 300 calories per 15 minutes. It is a small amount of time that most people can schedule into their day and make the most of it.
You could get a workout going on your rowing machine while you watch T.V, or talk on the phone, or something like that. You can find ways to integrate working out on your rowing machine into your life without eliminating other sections of your life!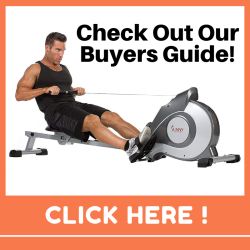 Which is Better? Air or Magnetic Rowing Machines?
The only big difference between the two types of row machines is the resistance and how that resistance is created in the machine.
The resistance needs to be formed when the person using the rowing machine pulls back on the handles and pushes with their feet to slide the seat back and go through the motions of rowing on a boat. In the space where the cord is wound when it is not being pulled is where the resistance will be created.
So which type of resistance do you want in your machine, or which type of resistance is best for what you are trying to achieve?
Air Resistance Rowing Machines
Air resistance machines are the best rowing machines for smooth, and powerful strokes while exercising or rowing practice. They are great for all purposes of workouts, and their price range can span from cheap to super-duper expensive, so there is usually one for everyone's budget.
Check Out My Top Rowers Under $500!
Air resistance machines tend to mimic the feeling of realistic rowing in water more than magnetic resistance machines, which is why air resistance rowing machines are so popular by athletes of the sport.
These types of rowers create resistance when the user pulls the handle and spins a "fan flywheel." As this wheel turns, it moves the air to the front and sides of the flywheel. This creates drag around the wheel, which is resistance, meaning that the faster and harder you pull on the handle to row, the more resistance you will get out of your machine.
This essentially means that as you get stronger and more fit, your rowing machine will keep challenging you with more intense workouts!
These types of rowers tend to make a "whoosh"-ing sound when being used, (courtesy of the fan,) so some people find them mildly annoying if they are trying to watch T.V. however, you can always turn up the volume or put closed captioning on.
Click Here to See Best Quiet Rowing Machines!
Magnetic Resistance Rowing Machines
Similar to air rowing machines, magnetic resistance machines have a smooth and powerful stroke that feels realistic. They come in a range of prices, so there is sure to be one within your budget!
One really great thing about a magnetic rowing machine is that they are almost completely silent. This feature makes them a popular purchase for people who live in busy houses and do not want to disturb others, or avid T.V. workout watchers.
The way the resistance is created in these rowers is by moving a magnet further and closer to a metal flywheel. The magnet and flywheel interact, causing something called "eddy currents" which cause the flywheel to slow down and provide resistance to the person using the machine.
The further away the magnet is, the less resistance experienced by the user, and the closer the magnet to the flywheel, the more intense the resistance is.
The downside to these types of machines is that the resistance level stays the same throughout your health/fitness journey. You cannot pull harder and expect more resistance to come from it. Eventually, some people, (not all,) feel that their strength exceeds what the rowing machine can provide to them.
Some magnetic machines have dials or switches that can either increase or decrease the intensity or the resistance allowing it to challenge you further, but not all magnetic rowers have this feature.
Are Rowing Machines Good for Obese People?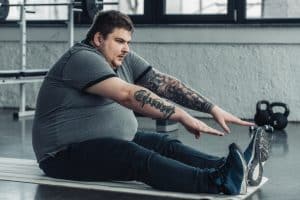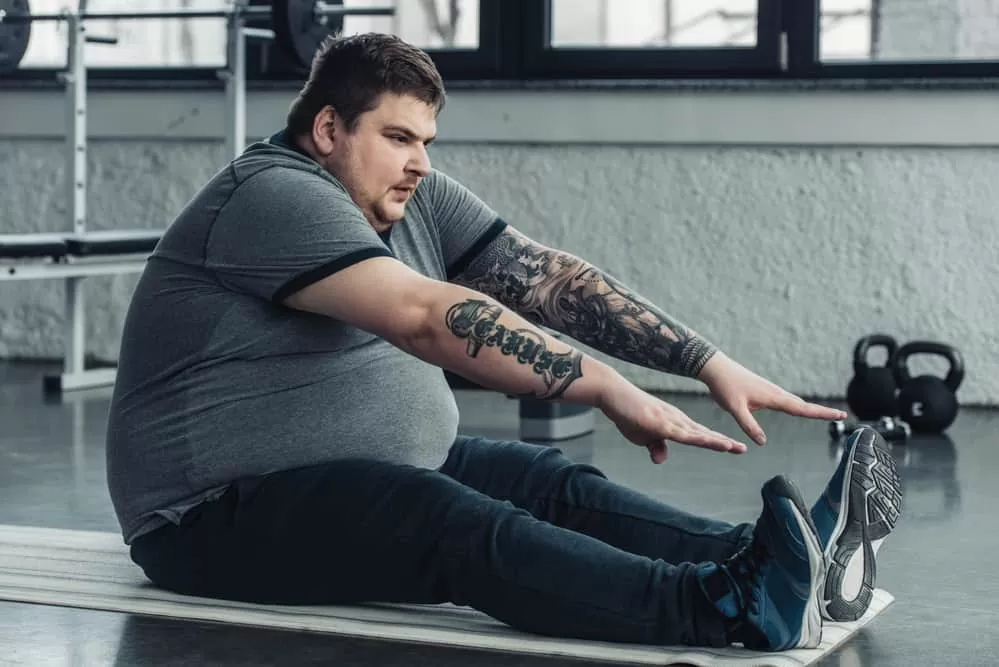 Yes! It is often suggested to consult with a rowing machine expert or a rower to understand how to maximize the effort of the rowing machine and so that the person using the machine does not damage their joints, muscles, and tendons.
For you to maximize the workout you are doing on your rowing machine, you need to do a warm-up for 5 to 10 minutes and always stretch before you begin your full workout and follow it with a 30-minute full workout. During your workout, you want to try to keep your heart rate around 130 beats per minute (BPM) or whatever your health/fitness coach or doctor instructs you to do.
It is important to follow what your health/fitness instructor or doctor tells you to do because if you start off your fitness journey too strong and too fast, you can hurt yourself, and lose time to recovering from injuries, so listen to the medical officials who truly understand the body.
Your body typically starts burning fat around the 30-minute mark, which is why it is recommended that a workout exceed 15 minutes, so you get the fat to burn along with calories. Your muscles go into a deficit and grow proteins which create muscle mass.
It is important to include a cooldown time to stretch again and allow the body to gradually come down from the intensity of the full workout.
Rowing Machines with High Weight Capacity
If you are overweight and beginning your health/fitness journey, congratulations! You should be proud of yourself for taking this step!
It can feel a bit stressful, especially if you are severely overweight, to find a rowing machine that has a high enough weight capacity to handle you and your workout, and that is where we help you!
The weight capacity of the rowing machine you buy does not mean how many pounds you are pulling in each stroke you row. It means the number of pounds that a person can be and still use the machine. A high capacity rowing machine indicates a high weight capacity that the rowing machine can take. The higher the weight capacity, the stronger the machine.
Here are several rowing machines that have high weight capacities!
WaterRower Natural Machine Ash
This is a hand-crafted rowing machine with a water flywheel, so it feels realistic. The beautiful, handmade design is also incredibly strong and has a 1,000 lb weight capacity, so this can work with all body sizes! This high weight capacity means that the structure and build, as well as the care and thought put into this rowing machine are high-quality and honest.
Additionally, the high weight capacity means that the machine itself is very strong and made of quality materials!
The WaterRower Natural engages 84 percent of your body, promoting a full-body workout experience to maximize your efforts! It was designed to increase your workout, but decrease the stress and strain on your joints and tendons, so the only things that are sore are your muscles!
The low-impact workout that this machine provides ensures that your body will not feel jostled into a vigours and intense exercise experience, but one that as you go, your body responds to the changes that are taking place in the muscles and fat layer.
This rowing machine also has a quality performance monitor to measure heart rate, stroke rate, and speed!
The machine itself is light and easy to store since it is made out of wood to absorb sound, making it a quiet piece of machinery and beautiful to look at. Plus, all the wood used for the structure (ash, by the way) is harvested from replenishable forests, meaning the machine has no tax upon the earth or environment!
This (very) high weight capacity rowing machine is sure to serve every body type and any heavy person who feels that this is the machine for them!
Concept2 Model D
The Concept2 Model D is widely regarded as a great option for a rowing machine with a full-motion range and high weight capacity. This rowing machine is sure to get your heart rate pumping with its built-in performance monitor to show you your speed, time, strokes per minute, heart rate, and calories burned (among other things) which will help motivate you and show you your progress over time.
You even have the option of tracking your progress and workout data right on the machine! (Which is so cool!)
This rowing machine has a weight capacity at 500 lb weight on the seat, making it very strong and sturdy. The Concept2 Model D also features ergonomic handles, adjustable foot paddles, and can separate into two pieces for easy storage.
The weight capacity of the Concept2 Model does is a lower weight capacity than the previous rowing machine, but this machine features several added aspects that may take away from the lb capacity of this machine. For example, the high-quality LCD performance monitor with data tracking and real-time stats may take away from the structure, and reducing the overall lb capacity of the rowing machine.
Heavy people may find this the perfect rowing machine since it is high-tech and full of motivating data trackers, as well as being a fairly high weight capacity rowing machine. (And most people will not be a heavier weight than the weight capacity of this rowing machine.)
The Concept2 Model has a strong 14-inch seat that helps the 500 lb weight capacity and is cushioned for comfort and a 38-inch inseam measurement for no cramped legs!
Read My Full In-depth Review on All Concept Rowers!
WaterRower Club Rowing Machine
Check Price
This is another handmade version of a rowing machine with a high weight capacity. High weight capacity rowing is a growing industry, and many smaller businesses are trying to use their expertise in customer service and their knowledge of how to build strong structures that can hold a high weight capacity.
The WaterRower is another example of a water flywheel resistance set-up with a wooden structure and frame with a metal slide rail. The water ensures a smooth and quiet stroke every time, while the ash wood absorbs any residual sounds from the machine.
This rowing machine features a Series 4 performance monitor, that monitors workout intensity, stroke rate, heart rate, and much, much more! This rowing machine is also a full-motion machine, so your whole body is being worked, whether you notice or not!
It only has 117 lb weight and can be stored standing up, so you do not have to worry about finding a location in your house to fit a bulky, heavy rowing machine.
Although it is not very heavy (117 lb weight,) it has a very high weight capacity for a rowing machine of its size. It has a 1,000 lb weight capacity, making it one of the strongest rowing machines in the game!
In addition to the high lb weight capacity, the stained wood finish has such a nice look to it!
Best Low Budget Machine – Sunny Health & Fitness SF-RW5639
Check Price
The Sunny Health & Fitness SF-RW5639 is the perfect rowing machine if you also want to give your cheeks a workout every time you say it!
This machine is perfect for a heavy person looking for a cheaper option that still boasts the label of a high lb capacity rowing machine! (You do not need to be heavy but a high capacity rowing machine is sought after by people who tend to be heavy.)
This Sunny Health & Fitness machine has a 350 lb weight capacity, making it not the highest capacity rowing machine, but one that will work for those who do not need a 1,000 lb weight capacity from their machine. Not everyone can use a 350 lb capacity machine, but for some, this is just right!
The Sunny Health & Fitness rower is a great rowing machine for those on a budget, but who still want the bells and whistles of an expensive machine. It has an LCD display, heart rate motion, an lb capacity for a heavy person with an average weight.
Anti-slip foot paddles and foam-grip handles make this the ultimate full-motion rowing machine! Sunny Health & Fitness has other models as well, so if you are searching for something more, take a look at what they have.
Conclusion
Your search for the perfect growing machine does not have to end here! Talk to your trainer, doctor, or friends to find out more or get reviews from people you know how have used these models!
You will find the right one and you will get to your goal!
Good luck on your health journey!