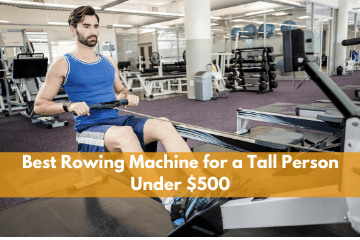 When you are a tall person, it can feel like too many things are just too small! It can be frustrating and annoying when things do not feel like they are made for you, especially when it comes to equipment and machinery.
Workout equipment, in particular, can feel impossible since some machines only adjust to certain heights, making even adjustable workout machines too short for some tall people. But I am here to give you a hand in finding the perfect machine for you!
Rowing has been known as a "tall person sport" and although you may scoff at that remark, it is actually quite true. FYI: You might also like to read our other article on the best rowing machines under 500
Rowing as a tall person allows you to pull longer strides with your arms and take deeper breaths with larger lungs, but, finding a rowing machine to practice on can be challenging, particularly if you do not have inseam measurements on your machine that fit your size.
This can leave your legs feeling cramped and prevent you from getting the most out of your practice or workout sesh. Maximizing your exercise on the right machine will help you build more muscles with ease! If you are new to rowing be sure to read our 30-day rowing machine challenge article, it is super easy and many people have seen great results!
If you are a tall person and have been searching for the best rowing machine for you, or you are trying to understand how to go about buying one that works for tall people, then look no further!
This is the reading material for you!
How to Select Your Rowing Machine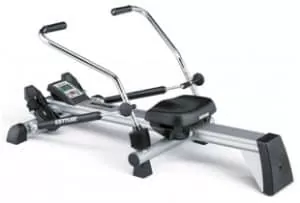 Before we get into the rowing machines that we recommend, we need to cover the basics of how to pick the right machine.
Earlier, I mentioned the term "inseam." This is going to be a huge part of the selection process of your rowing machine, so make sure you pay attention.
These are important and helpful tips about finding the right rowing machine for a tall person, so make sure you are thinking about this information no matter where you buy your rowing machine.
All of these factors can make your workout a higher quality than before, so do not just skip this section because it doesn't seem important! (I know you were thinking about it!)
Inseam Measurement
Getting the right inseam measurement is not just for your tailor anymore! It is a critical factor when looking to purchase a rowing machine, especially for tall people.
Your inseam length/measurement will tell you how far the distance from the edge of the seat to the top of the footrest should be on your machine. If your inseam is length is longer than the measurement of this space on a rowing machine, you will not be able to complete a full stride or pull, and your legs will feel cramped.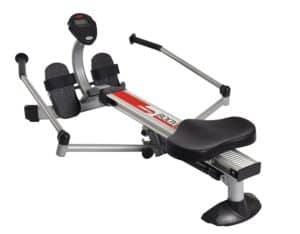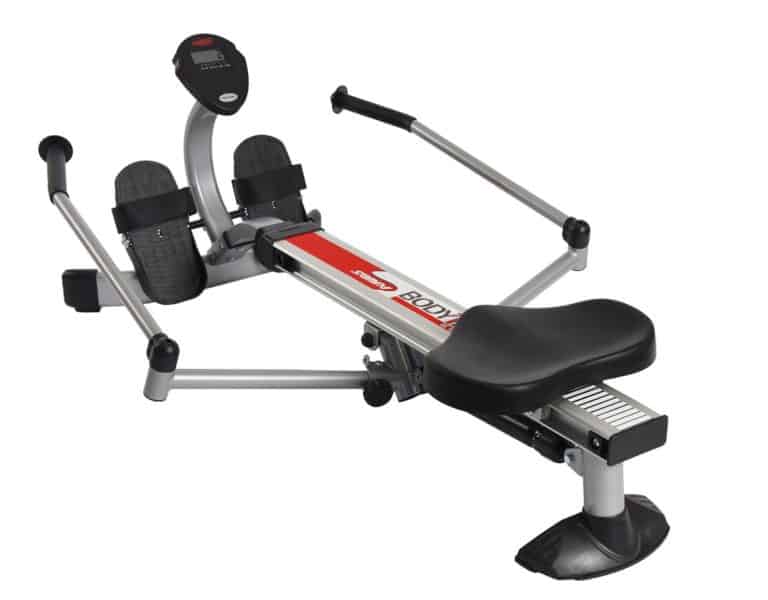 In order to find your inseam, stand with your feet 5 to 7 inches apart and your back pressed flat against a wall. Wearing tight pants can usually help you get a better measurement, so avoid wearing a dress or flowy clothes while measuring or pull them tight against your body.
Use a tape measure to get the length from the top of your foot to the bottom of your crotch. (Some people prefer to have someone help them with this step since it can be tricky to do on your own, but others are not fans of having someone getting up close and personal with them. You get the point.)
The measurement you get from this is your inseam length. Inseam measurements will vary from female to male, so take all general assessments of inseams on rowing machines with a grain of salt.
The general measurements for taller people (once again, these are not exact for all people, so please measure your inseam as well,) are as follows.
5′ 10″ to 6′ tall usually run an inseam around 32 inches. 6'3″ to 6'5″ typically measure an inseam around 34 inches, while those who are 6'5″ and above have an inseam of approximately 36 inches or more.
Do not just take these measurements as correct! Please measure your inseam because it might be shorter or longer than these "averages!"
Rail Size
Simply buying a bigger machine does not always cut it for everyone. You want to look for a rowing machine that has a longer rail, or an extension rail to add on to it to fit your body. The rail is the piece where the seat slides as you perform the exercises and the length of the rail or inseam length will determine your ability to perform on the machine.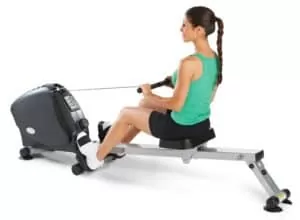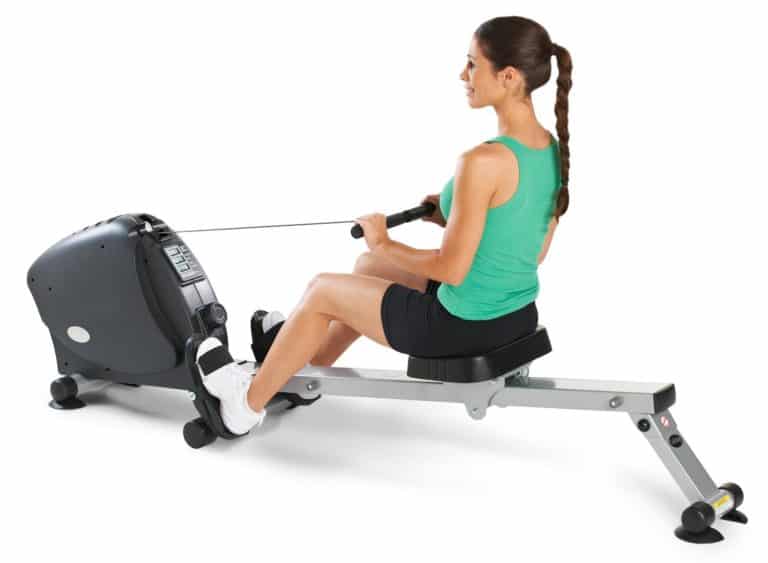 Having a longer rail fits longer body types, particularly those with longer legs. This is why rowing machines with extensions or longer rails are preferred by tall people who row.
The Friend Recommendation
The "Friend Recommendation" has gotten every single one of us before. Someone says that this product works perfectly for them but the second you buy it, you realize it is not perfect for you.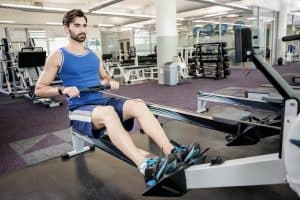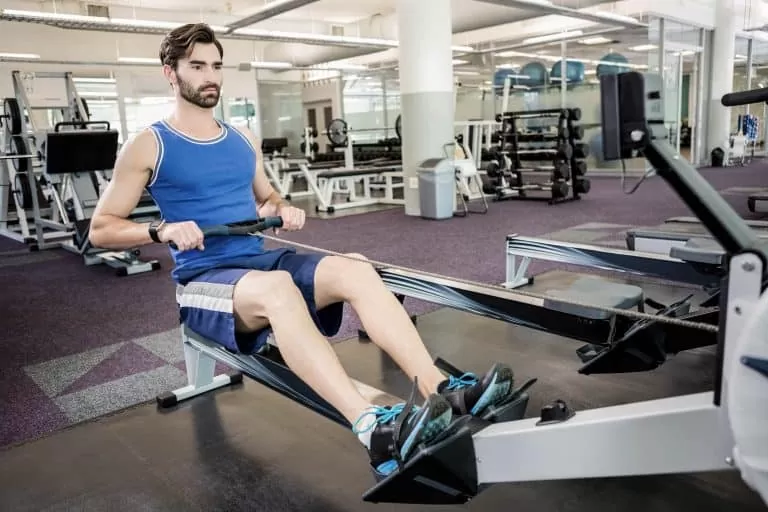 You have got to make your own choices when it comes to buying products!
This still applies to rowing machines for tall people. Even if your friend who is the same height as you absolutely adores a particular rowing machine, they may have a shorter or longer torso or legs than you, meaning their inseam could be different than yours.
What you want to do, rather than listen blindly to reviews from friends, is to listen to their reviews and information on their inseam and rail length, and then apply your own measurements to it.
Best Rowing Machine for Tall People
Here are our picks for the best rowing machines for taller people!
Our Top Pick:
Sunny Health and Fitness SF-RW5515
If you are looking for a high-quality machine with a rail inseam of 38 inches and a name with tons of numbers, then our top pick for a rowing machine is the Sunny Health & Fitness Water Rowing Machine Obsidian SF-RW5713 (Side Note: You might like to also read our article on Water Rowing Machine vs Concept 2 ) . This is our pick for one of the best rowing machines for taller people.
This machine has a long slide rail, making it perfect for people who have long legs or need extra space. This rowing machine can handle users up to 300 pounds with an inseam measurement that is lower than 49 inches, so it is able to be used by tall and short alike.
It can link up with any heart monitor that is 5.3 kHz, and since this machine is a water rower, the water tank creates a realistic experience with proper resistance. This instant resistance comes from both the steel fan blades and the flywheel, so every stroke feels realistic and unique.
If you are looking for a rowing machine with a similar amount of numbers in the name as our top pick, but not the same one, then here is your spot!
The Sunny Health and Fitness SF-RW5515 Magnetic Rowing Machine is a bit cheaper than the Obsidian rowing machine from the same brand. This model has an LCD screen that shows your calories burned, the time, total count, and scan.
The slide rail measures 48 inches long, with an inseam of 44 inches, so it should fit even the tallest rowers.
This rowing machine creates resistance through magnetic technology and has 8 different resistance levels that can be selected by simply turning a dial. The machine comes with transport wheels so you can store it easily went it is not being used. Unlike the Obsidian rower, this is not a water rower.
It is super comfy with foam coverings on the handles and a no-slip footrest so you can go hard on your workout!
Fitness Reality 1000 Plus Bluetooth Magnetic Rowing Machine

Fitness Reality 1000 Plus Bluetooth Magnetic Rowing Machine is the only rowing machine on the market with Bluetooth capabilities! It also targets specific muscles and incorporates extra workouts for a full-body workout.
It has an app called My Cloud Fitness where you can store and track your workout information in one place, including time, calories burned, and your workout progress. This rowing machine folds for easy storage, which makes it really great for smaller homes or apartments! This is one of the best rowing machines for smaller homes!
This rower has extra stability in the footrest, so that other exercises like curls and bent-over rows can be executed without any difficulty. The machine has a capacity for a 250-pound user with a height from 4'9″ to 6'6″ so it is highly versatile.
Click Here to See All My Top Easy Storage & Portable Machines!
With a cushioned seat and foam padded handlebars (read more on rowing seat pads ), this is a comfortable rowing machine that is capable of handling whatever people throw at it.
Stamina Air Rower
The Stamina Air Rower is the best choice for tall people who prefer low impact exercise. This machine works 86 percent of your body's muscle mass body to build strength and make your rowing skills more powerful.
This rower works with an air resistor, making it increase its resistance as you increase the strength you exert on it. If you pull softly, the resistance will be lighter, while pulling hard creates a much harder resistance. It allows you to grow your muscles and constantly be challenged by your machine.
This rower comes with an LCD monitor to display how many calories have been burned, the time, track speed, and distance to name a few. The seat is upholstered for a pleasing image and, more importantly, comfortable space to work out on.
The foot paddles are adjustable to accommodate everybody's unique body shape and comfort levels. Plus, this machine folds up for storage and has wheels for easy transportation.
The best part? This machine comes with a 3-year frame warranty and a 1-year parts warranty for customer satisfaction!
See Top 2 Rowers Side By Side – Who Wins?
LifeSpan RW1000 Indoor Rowing Machine
Check Price
The LifeSpan RW1000 Indoor Rowing Machine rowing machine is a great substitute for a Concept2 model D you may find at the gym or in a rowing practice room. It has a smooth and fairly quiet eddy current pull system that mimics the feel of a concept2 model D pretty well.
This is probably the best rowing machine for an affordable alternative to a Concept2 Model D (Side Note: You might also like to check out Kettler Coach E Rowing Machine ) With an inseam of 38 inches it is about an inch longer than the concept2 model D, so you will get plenty of legroom that tall people need to feel comfortable and get a great workout or practice sesh!
It boasts a padded seat and foam handles to make your workouts just a bit comfier!
This rower was a 2008 winner of the Gear Awards Seal of Excellence and it shows! The LCD monitor shows strokes, time, calories, and so on which gives you a great marker to how hard your workout is for you.
It has a maximum user weight of 300 pounds and comes with a 5-year frame warranty, a 2-year parts warranty, and a 1-year labor warranty, so customer satisfaction is assured.
Conclusion
Take the time to do your research on each model and find out what other rowers have to say about them. Some people can tell you more about the functions of the machine rather than if you will fit your legs on it, but this information is often just as helpful to have.
Like I stated earlier, this is an investment purchase. These machines can be costly to buy, so double-check everything before you buy it. Do not be impulsive or impatient and buy the first rower you think is cool. Take the time to make it the right machine, or you may regret it later.
Good luck with your search and happy rowing!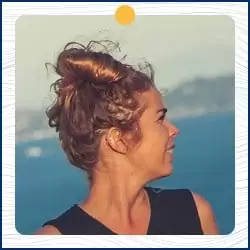 Written by Petra Amara – RowingCrazy.com
CEO & Founder of RowingCrazy, National Rower, Coxswain Womens Eight Team, Rowing Coach & Writer
Petra is a Mother of two and owner of Rowingcrazy.com. Petra lives and breathes rowing, she also has a passion for writing which lead her to start RowingCrazy.com to share her rowing experience and expertise with others.