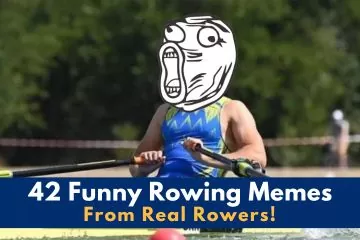 Rowing is a great way to get in shape, but it's also a lot of hard work. If you're a rower, whether indoors or out, you know that the pain is real. But even though rowing can be tough, it's also a lot of fun. And there's no better way to celebrate the love of rowing than with a good meme.
Anyone who knows me knows that I love a good belly laugh so finding these gems was a real pleasure for me.
Whether you're a seasoned rower or just starting out, these memes will hit home. So sit back, relax, and enjoy the show.
Top 20 Funny Rowing Memes
1. The Seven Stages of Rowing
The Seven Stages of Rowing: Denial, Anger, Bargaining, Zoom Technique Videos, Depression, Acceptance, Rowing Like a Pro
2. I'm not a rower, I'm a masochist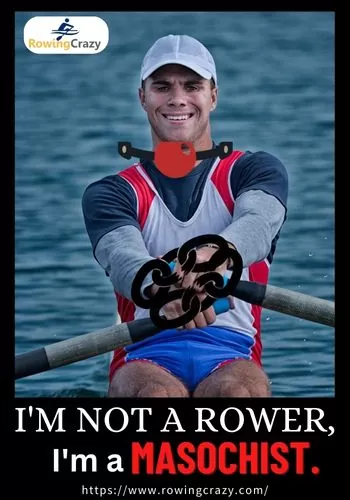 3. Rowing Making You Suffer
The only sport where you're rewarded for making yourself suffer.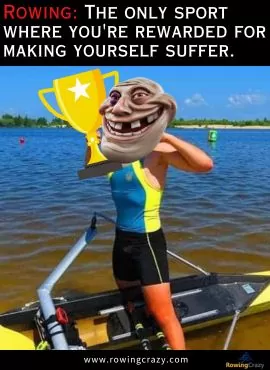 4. Rowing When You Feel Like You Are Dying
The only sport where you can feel like you're dying and still having fun.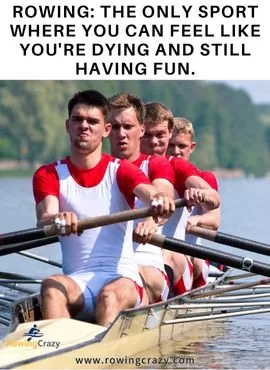 5. Rowing and Questioning Your Sanity
The sport where you're constantly questioning your sanity.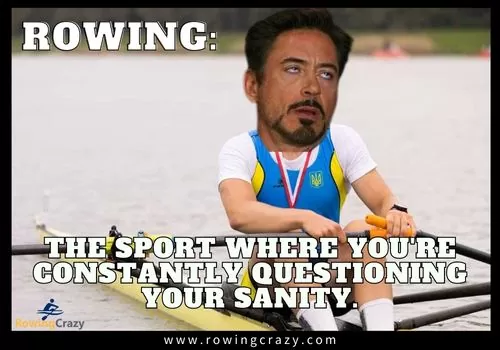 6.  Being Out of Shape
The sport where you can be both in shape and out of shape at the same time.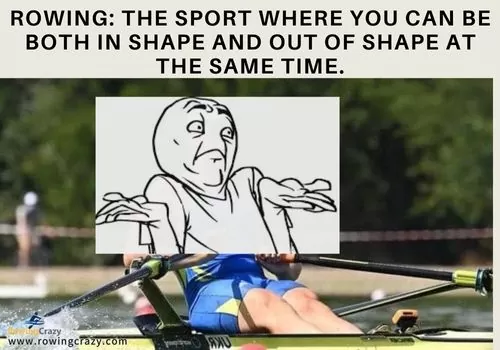 7. Rowers' Legendarily Endless Leg Days
When you're a rower, every day is leg day.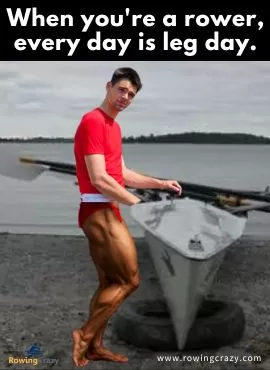 8. When Rowing Gets Real
Try rowing, they said. It'll be fun, they said.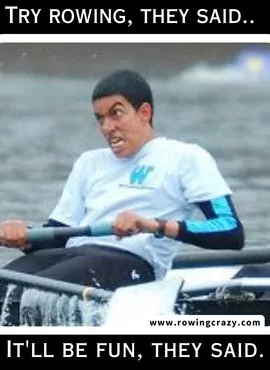 9. The Epic Last 500
Brace yourselves. The last 500 is coming up.
10. Rowing's Ordeal
There is a hell. I've seen it.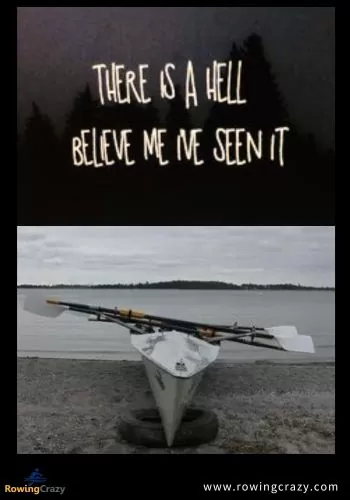 11. Fashionably Late: Rowing Edition
Hi THIRD!!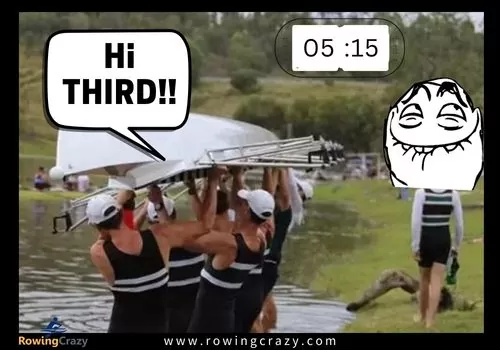 12. Reverse to Victory
Rowing: The only sport where going backward is the way to win!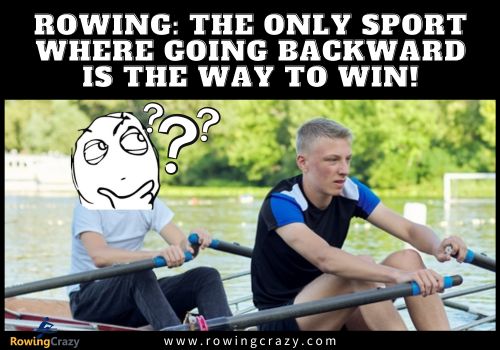 13. Lost in Translation: Rowing Terms
Rowing: Where 'catching crabs' is a sports term, not a seafood activity!
Newbie mistake: Thought the coach was talking about dinner.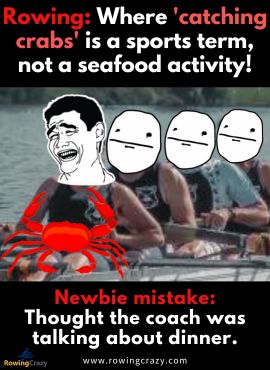 14. Mastering Delegation: Rowing Style
Rowing – The art of making your friends do all the work.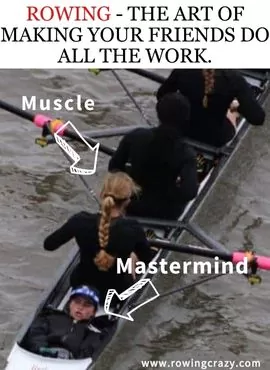 15. From Oars to Pizza
When you finally finish a tough rowing workout and you feel like you can conquer the world… but all you can think of is eating a whole pizza.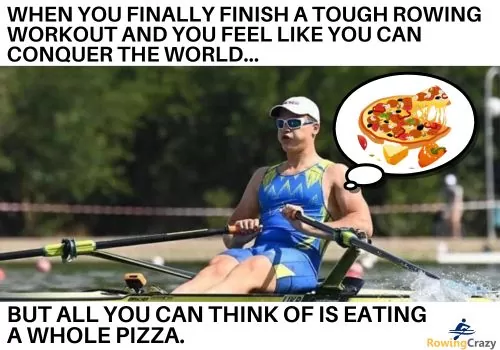 16. Coach vs Me: Power 10 Edition
The coach's idea of a Power 10 vs MY idea of a Power 10.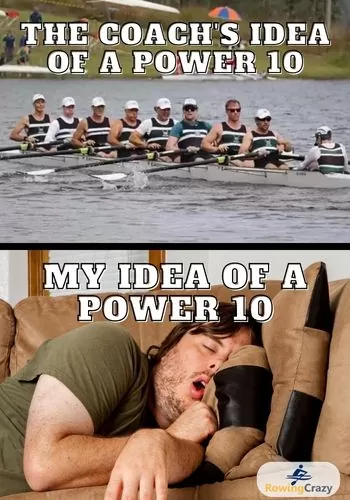 17. Yearning for Rowing – NOT
No, really, tell me more about rowing.
18. 5K Finish: Rowers' Reality
Rowers after finishing a 5K race be like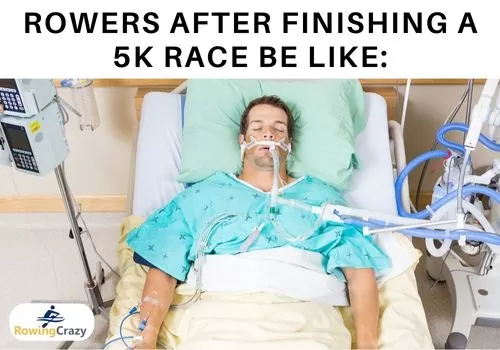 19. Friends vs Rowing: Lost in Translation
When you're trying to explain to your non-rowing friends how hard rowing really is, but they just keep making jokes about how you're just sitting down and moving your arms.
20. Shell Shenanigans
"I don't know how we didn't win that race. I mean, our shell was totally RIGGED!"
Top 10 Funny Erg Memes
I'm just getting started! Here's more funny rowing machine (also called erg) memes – enjoy!
1. Ergonomics of Love and Hate
Your indoor rowing machine (aka erg) is the machine you love to hate.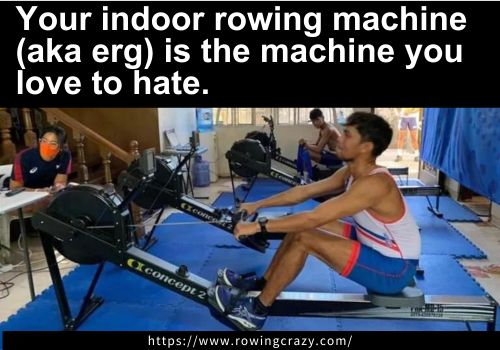 2. Rowers United
Why do rowers get along so well? They share a common enemy.
3. Christmas Strokes
The best way to spread Christmas cheer is rowing loud for all to hear!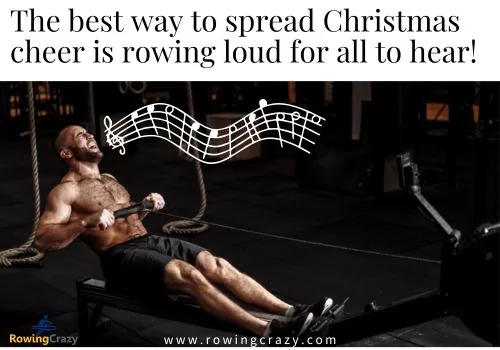 4. Rowing Machine: Sink or Swim?
Bought a rowing machine last week. The dang thing doesn't float!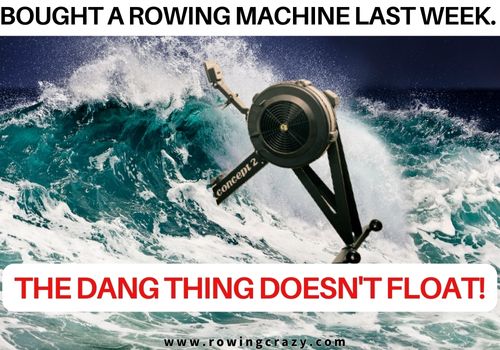 5. Haunted by Ergs
It's behind me, isn't it?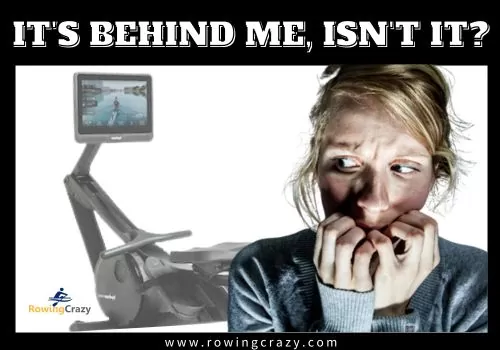 6. Erging: Love Unspoken
"I Love to Erg!" – said no one ever.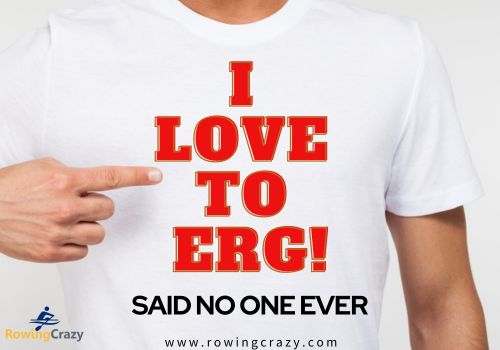 7. Timing While Falling
If I pass out, please note my best time.
8. The 5 AM Rows
You have an 8 AM class? That must be tough!
9. Rowing or Arm Boogie-woogie
When you're trying to row on a rowing machine but you're not sure if you're rowing or just doing an elaborate arm workout.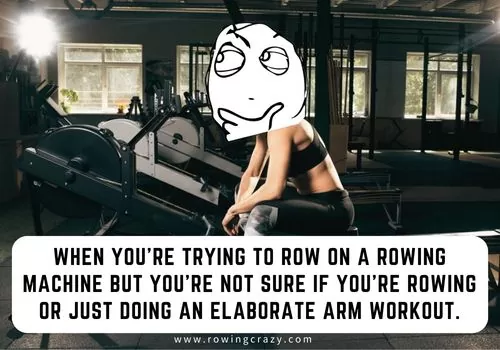 10. Oar-iginal Laughs
Rowing Puns: You either love them oar you don't!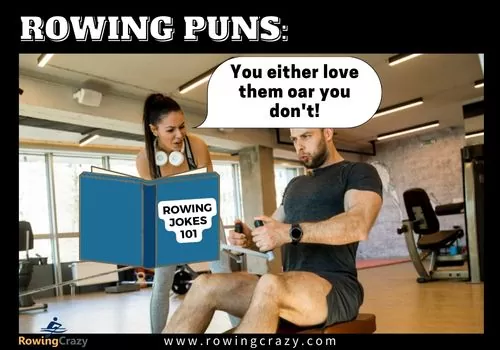 12 More Personal Favorite Rowing Memes
You know you're lovin' these memes! I discovered a few more and can't stop now! I think this set is my favorite.
1. OAR Deal or What?
I just bought a row boat… OAR something!
2. Rowing Etiquette
OMG, Karen, You can't just ask someone about their split time!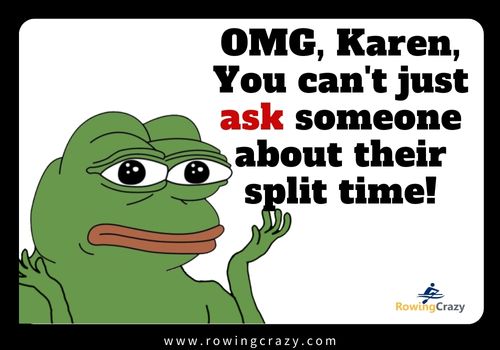 3. Headwind Rowing Struggles
When you're trying to row in a headwind but already feeling like you're going to tip over, and you're starting to think that maybe kayaking IS better.
4. Row-mantic Relationship
Now you're just some canoe I used to row.
5. Rowing Forecast
When we get to the boathouse… The minute the oars are in the water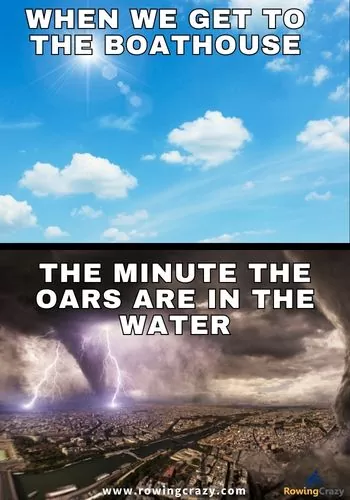 6. Erging Marathon: 10 Tears, 1 Hour
I'll have you know I erged for a solid hour and only cried 10 times!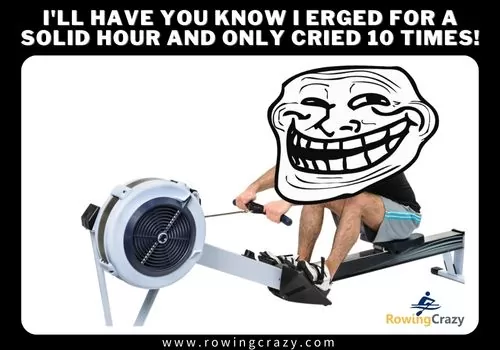 7. Solved or Surrendered?
Not sure if I made the correction or if the coach gave up on me.
8. Rowing Regatta Expectations vs Reality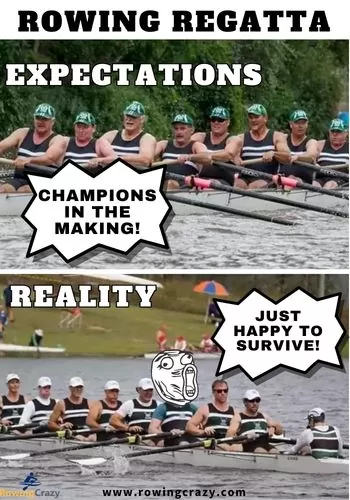 9. Rowing Coach Logic
10. A Matter of OAR
Do you want port or starboard? Either OAR.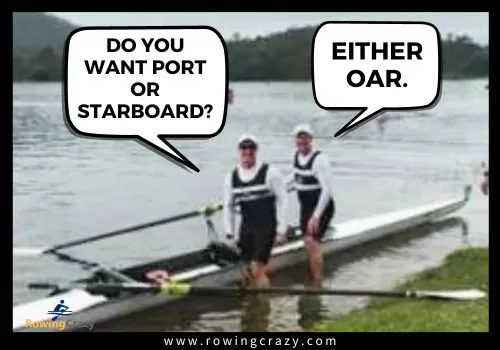 11. Rowing Meltdown
When you're trying to row a 2K on the erg but you're already feeling like you're going to die at 500 meters.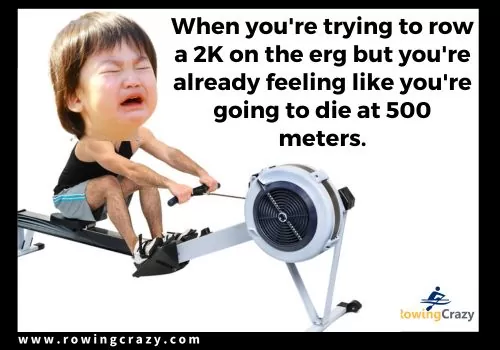 12. When someone asks if rowing is just paddling…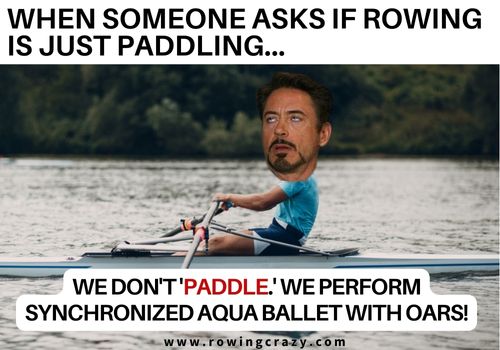 Share the Love!
I hope you enjoyed reading these as much as I enjoyed making them.
Thanks for spending some time with me😊
If you did, be sure to share it with your friends and fellow rowers! If you discover other funny rowing memes that you'd like to share with the rowing community – whether you find them on Facebook or Instagram, or you invent some yourself – please feel free to email them to us as well via our Contact Page, Facebook or YouTube Channel.  We would love to see them!
Laugh often and happy rowing!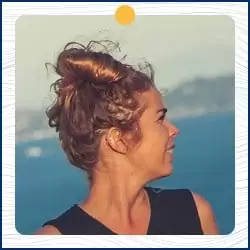 Written by Petra Amara – RowingCrazy.com
CEO & Founder of RowingCrazy, National Rower, Coxswain Womens Eight Team, Rowing Coach & Writer
Petra is a Mother of two and owner of Rowingcrazy.com. Petra lives and breathes rowing, she also has a passion for writing which lead her to start RowingCrazy.com to share her rowing experience and expertise with others.