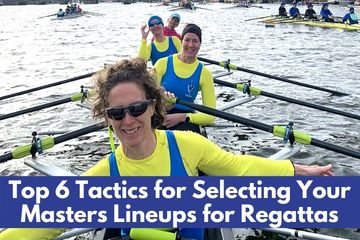 Perhaps one of the most difficult tasks is choosing your crew lineups for regattas. 
While this might sound fairly easy, it actually requires tact and diplomacy. Don't let anyone tell you that rowing is free from politics because that isn't necessarily so! 
I'm Rebecca, and today, I'm going to tell you how I've managed to take some of the headaches out of choosing a lineup for a regatta. 
Choosing your crew lineups means ignoring who is your close friend, who complains that they never get choice assignments, and those who signed up for choice volunteer assignments (like loading and unloading the boats or cooking lunch).
Your focus should be on how good a teammate a person is, matching similar strengths and abilities (you don't want a well-seasoned 35-year-old teamed up with a newbie 60-year-old), and deciding who would make the best coxswain (if you need one). 
As if this were not enough, many team leaders need to check all the equipment, plan for the logistics, and make sure that the boat is marked and measured.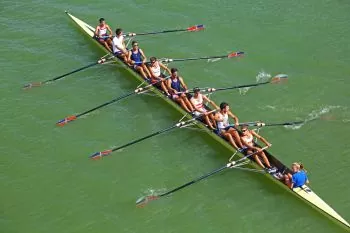 Still, with a little bit of planning, you can create a plan that will make choosing your crew lineup just a little bit easier. 
Preparing the Masters Lineups for Regattas in 6 Steps
While I'm 100 percent certain that someone could improve on my six-step method, no one has given me another version, so until then, this is how I manage this task.
1. Make a Spreadsheet
If you prefer paper and pencil, then have at it, but I've found that a spreadsheet is not only quite efficient, it's also easy to share with every team member in minutes.
First, list every single event and regatta by date. Next, list every single event that each regatta will have.
For those of you who are new to regattas, it isn't like a marathon where you just wait at the end and you can see who won. Regattas often have 10 or more events in a single day, so keeping them straight helps tremendously.
2. Make a Second Spreadsheet
Now that you have all the events planned, you should make a list of all the crew members who have signed up, noting their age, which regatta(s) they can attend, and what their sculling or sweep preferences are. 
3. Make a List of Preference Crews
While every club is different, I think that many of them operate similarly. Part of my club's operating procedure is that I ask for a person's first preferred crew lineup.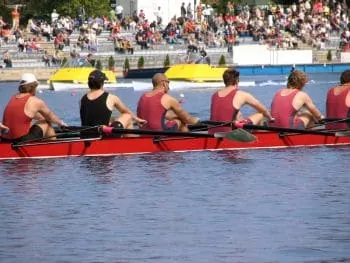 This way, no matter what else might happen that day, each team member gets at least one regatta event where they are rowing with friends, their favorite crew, or in their favorite position.
After you name your personal preference, you will be assigned to other crews. No complaints. No whining, no moaning, you will take your place and do your best, even if you aren't rowing with your best buddy or in your favorite position, or if you aren't really fond of the assigned coxswain.
I think this is fair since everyone can't sit with their BFF every single time. I do try to set up crews with people who have been training together since that makes sense, but if someone's buddy can't make that race, you'll need to work together with someone else.
It's all about teamwork and winning, my friends, and this method has worked out perfectly for my club for years.
4. Simplify Your Lineup
Over the years, I have discovered that if I put groups of 4 together, I'll have the same people in the same crews, and there are fewer issues with boat sharing or time conflicts between races.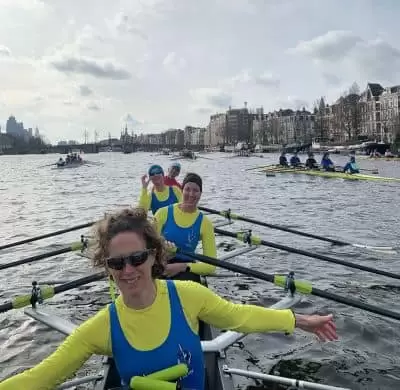 For example, if I choose 4 athletes to do a quad, they can later split into two doubles or they can do a coxless four all during the same regatta.
Since I already have a list of priority crews, I put these in first. Then, I write in a draft of names next to each event.
Next, I'll make another list adding each crew's average age, based on the people in the lineup. This helps me determine which age class they are in, and which ones are skating close to the age limit. 
Now I can return to the first list of names and write the event that each person is rowing in next to their name.
This shows me in a second that some people are signed up for 5 races and others only 2. If that happens, I will review the list again and move people between boats. This way, everyone has a similar number of races.
Knowing the average age of each crew lineup also helps me see where I will have to change the age category if I need to replace a rower.
5. Boats, Oars, and the Coxswain(s)
Last, but not least, I need to allocate who gets which boats and oars. Our club has several boats which can be rigged for both sweep rowing and sculling. While this sounds like a big plus, if we need to change rigging in between races, this means that we will need to plan accordingly.
6. Checking, Rechecking, and Testing
I send a draft of my spreadsheet to a small group of people who can review my work and point out any possible discrepancies, overlaps, or omissions. I've made some pretty hysterical screw-ups but better to know now than when you're driving to the event!
Based on what this invaluable group of people tells me,  I make corrections and revisions, then send it to the rowers as a draft.
If anyone sees something that they don't agree with, or if they need to make changes, this is the time to tell me so I can make more corrections. 
Once this is complete, the entries secretary has to manually enter all the regatta lineups online. I've never done this, and I hope I never have to!
The Big Day Finally Arrives – Handling Issues
The first regatta of the year is always an exciting time. Yes, there are always drop-outs, crew swaps, and the unexpected (flat tire anyone?), but compared to creating the crew lineups for each regatta, those are easily handled.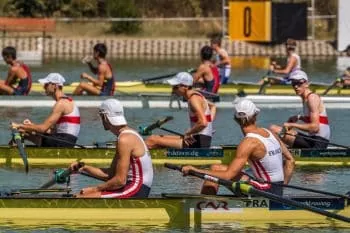 Tips and Tricks to Make Things Easier
While we can't foresee the future, we can make plans to help avoid major catastrophes. 
Some of my best tips for avoiding problems include:
Don't show up to a regatta with a new system. Whether you're testing out your new halyard or a new foot stretcher, don't test it out at the regatta. Something is sure to go wrong. Give your new equipment a  few test runs before the actual regatta. 
Keep your crew informed. Yes, Masters rowers are people with busy lives, and failing to let someone know that a regatta has been canceled due to bad weather can lead to some pretty angry crew members. 
Double-check everything and everyone. At least 48 hours before the regatta, make sure that everything is in good working order and that no crew member suddenly has an issue and can't attend. 
I'm sure that you have your own checklist, but the above is mine, and it's served my team well over the years.
At the End of the Day
At the end of the regatta day, you'll be exhausted, a little sunburned or windburned, but you will feel like you've climbed Mount Everest.
Even if your crew lost, you gained valuable knowledge, and you can work on whatever problems or issues you had in your last row.
Of course, losing doesn't always mean that something went wrong. Sometimes, other rowers were simply faster than you were. That's why there is always another regatta! Rematches are just as fun as the original, I think!
From personal challenges, fund-raisers, and tours, nothing is as fun as a regatta on a warm summer day!
Plan you regatta lineups the right way, and don't forget to have fun!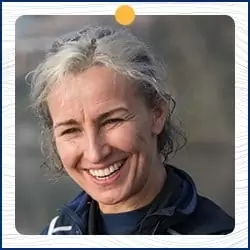 Written by Rebecca Caroe – RowingCrazy.com
Experienced Rower, Rowing Podcaster, Olympic Rowing Commentator & Expert Masters Rowing Coach
Rebecca Caroe is a masters rowing expert and a rowing coach. She is a rowing entrepreneur, has commentated for the BBC at London 2012 Olympic Games and is also a very well known Podcaster in the rowing world.