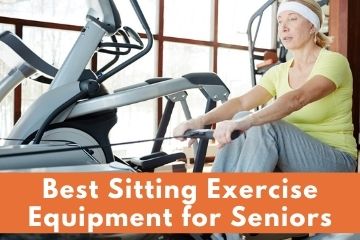 Let's face it, no one gets any younger! From the moment we're born, our body starts to age.
Most people think of seniors as old-timers who need to take a load off their feet and relax. While that's a nice thought, the fact is that physical exercise is just as important, and in many cases, even more so in our later years than when we were 20 and 30.
If the word "exercise" has you mentally picturing marathon running, jumping jacks, and sit-ups. Yes, you could do those, but why risk an injury with those types of high-impact exercises when you can do low-impact exercises using sitting exercise equipment for seniors?
Older adults need cardio exercise and fitness equipment just as much as younger folks do, but with so many choices on the market, how do you pick the best one for your home gym?
In a Hurry? Here are My Top 3 Picks:
Don't have time to read the whole article? Here are my top picks for the best seated workout machine for seniors.
You can read my full breakdown and review on each individual machine further down in this article, where we go into our findings for each machine.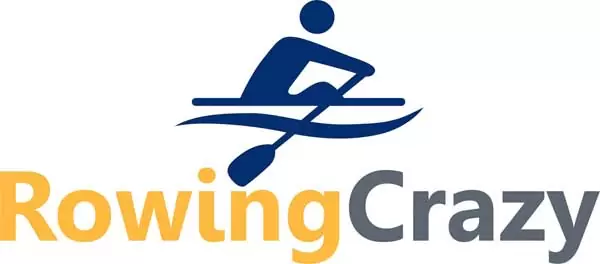 Without Further Delay, Let's Begin!
If you're a senior with joint or bone issues, or if you recognize that you need to get in more exercise but don't know which physical fitness machine would work best, you've come to the right place.
In today's article, I'm going to tell you about some of the best-selling and most effective pieces of workout equipment you can buy that will improve balance, work core muscles, and improve physical endurance. What's more, they will take only a few minutes of your time most days of the week.
Let's talk about the best sitting exercise equipment for seniors. I will share my secret with you as well.
What Is the Best Exercise Machine for the Elderly?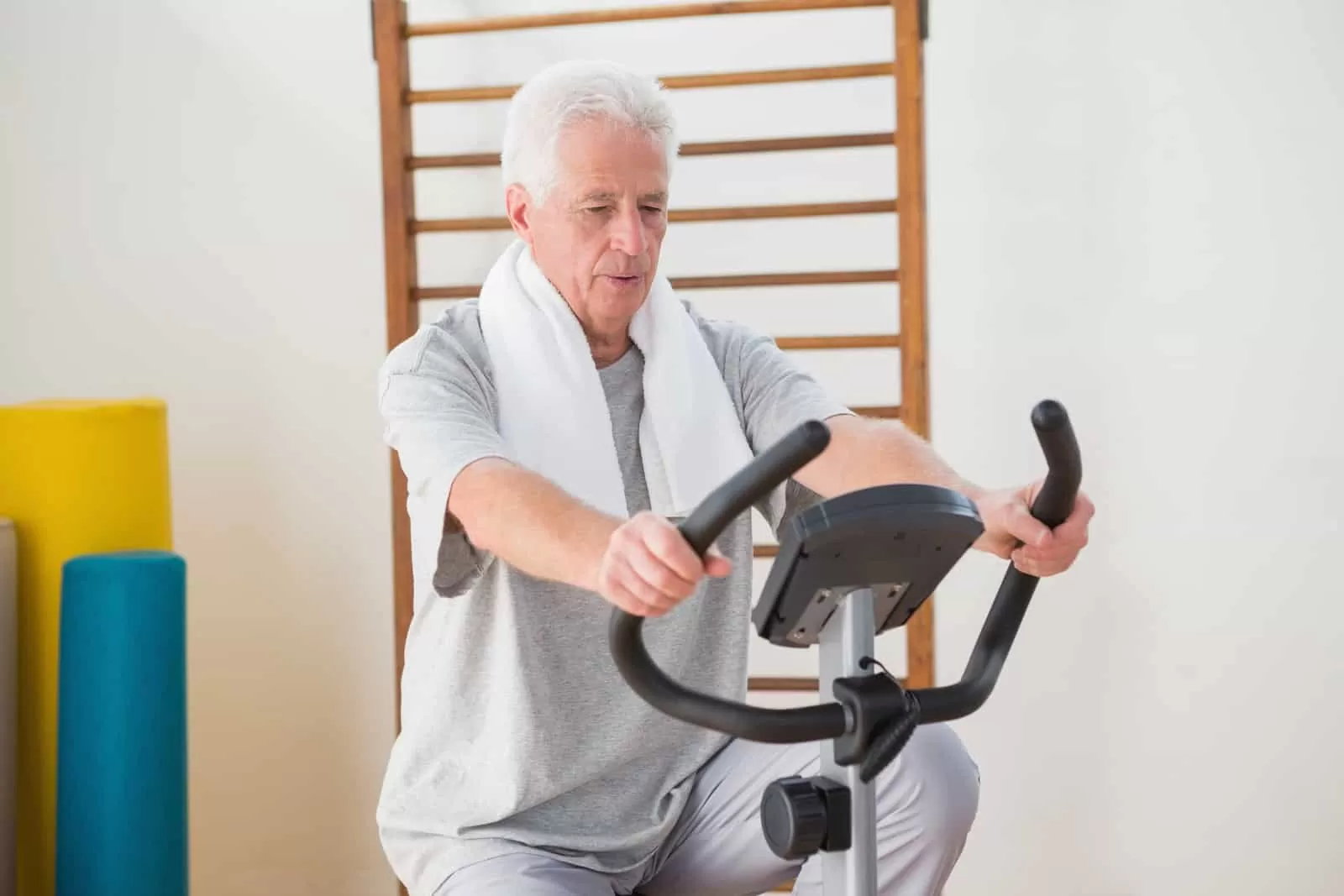 The answer to this question will depend on several factors. Let's first listen to your answers to these specific questions:
Do you have arthritis, degenerative disc disease, or osteoporosis?
Do you love a particular form of exercises, such as bike riding, walking, or rowing?
Do you need to be in a seated position to exercise?
Do you have heart problems?
If you answered yes to any of the above questions, then you'll want to read more.
Keep in mind that I am not a doctor and this should not be taken as a medical advice. This article is only offering general advice to the public.
If you have any ongoing health conditions or if you are taking prescription medication, please consult with your doctor before starting any exercise routine.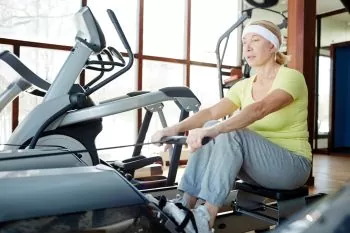 The best exercise machine for you is the one that you will enjoy using and will commit to for several years so that you get the most out of your investment.
Best Fitness Equipment for Seniors
There are more choices now than ever before when it comes to exercise equipment for seniors. Whether you want to lose weight, live a healthy lifestyle, or just want to improve your cardiovascular fitness, the following pieces of fitness equipment can go a long way towards improving your overall health.
The Teeter FreeStep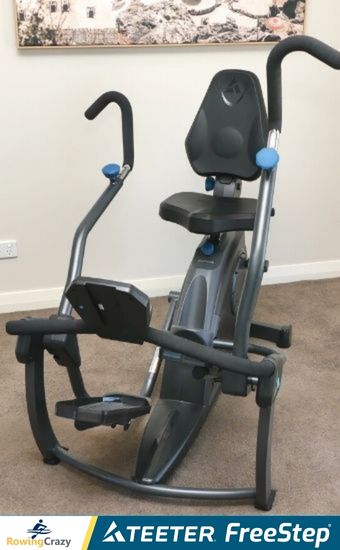 This is the king of recumbent exercise bikes, but there's more to it than that. The Teeter FreeStep is a recumbent cross-trainer and elliptical in one piece of exercise equipment. It's like getting two machines in one!
You can use the FreeStep as a typical recumbent bike, but with the flip of a switch, you can engage the handles so that it works like an elliptical, training many of the major muscle groups.
You may think that ellipticals do not provide a good cardio workout, but that's not the case with the FreeStep. This machine uses both arms and legs for your cardio exercises, and it's easy to work up a real sweat! Click Here to see the best low impact elliptical machine.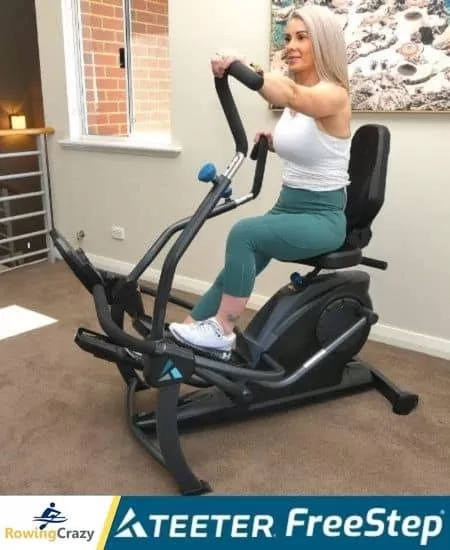 Other features of the Teeter FreeStep include:
It has a very compact footprint, using only 54″ X 38″ of floor space. Side Note: If you are short on space be sure to read my article best rowing machine for small apartments.
Magnetic connection means it has fewer moving parts to wear out and operates super quietly. That's definitely a plus if you have grandkids napping in the next room while you work out.
The LCD screen monitor measures and tracks distance, speed, time, and calories burned.
No heart rate monitor is included, but you can always use a third-party monitor.
If the circular motion of most recumbent bikes hurts your knees, you'll be happy to know that the FreeStep uses a linear motion, which is the natural movement you create when you walk.
This is a very low-impact workout so anyone can use this machine to improve leg muscles and endurance.
Easy to assemble
Works for anyone 4'11" to 6'6″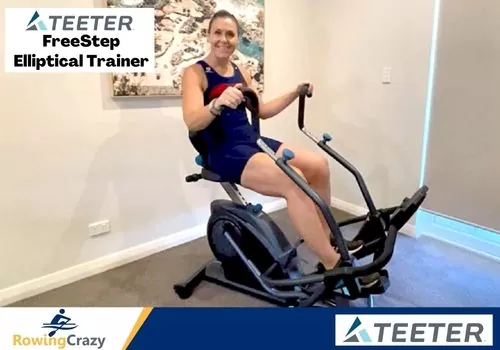 This is a high-quality machine made for daily use, so it won't come apart after a few months. If you love the idea of an elliptical and a recumbent bike in one machine, the Teeter FreeStep is exactly what you're looking for.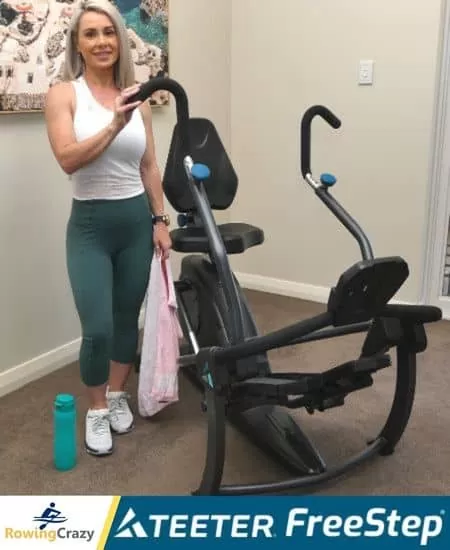 What Is the Best Exercise Equipment for a 70-Year-Old Woman?
Again, I can't give that a sweeping answer. You need to consider several factors and ask these questions:
Does she have any current health problems?
Can she stand for 20-30 minutes at a time?
Does she have heart problems?
Again, I highly recommend that you check with your doctor before you buy or indulge in any type of exercise equipment to ensure that it is safe for you to use a healthy workout routine.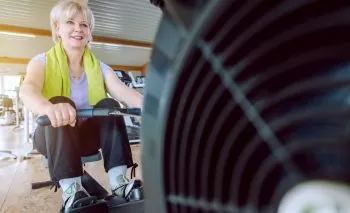 Generally speaking, most elderly females prefer to exercise in a seated position. In this case, the best fitness equipment would be a rowing machine (learn more about rowing machine benefits for women).
The Hydrow Rowing Machine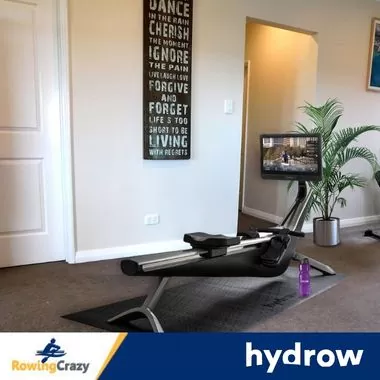 Hydrow SAVE $100 or £100!! => Use Coupon Code: ROWINGCRAZY
I'm not 70 (yet) but I own a Hydrow, and I highly recommend this machine.
Not only is the Hydrow sleek and cool-looking (your grandkids will want to use it for sure!), it also offers incomparable rowing and off-the-machine workouts, including strength training, yoga and other stretching exercises, foam rolling, resistance bands, and Pilates workouts.
You might hear some people say that rowing is not a good choice if you have back pain, but the truth is that when the rowing strokes are done correctly, they help to strengthen the back and core muscles!
That means that the Hydrow is like an entire gym in a single piece of exercise equipment! You can't ask for more than that!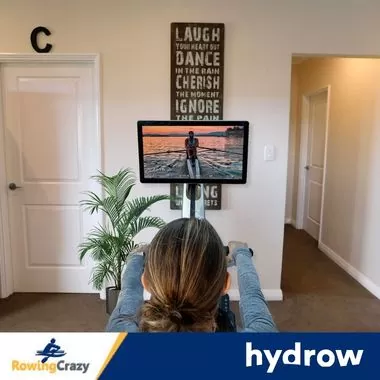 Other features that the Hydrow offers include:
The Hydrow does a fitness level assessment test right off so it can adjust the level of resistance to your current fitness needs. This means that you don't have to worry about working out too hard and having sore muscles the next day.
There are 2,000 scenic workouts led by professional rowers. You will be amazed at the lakes and rivers you can explore right from your Hydrow rower.
The 22-inch HD touchscreen monitor is very easy to use and it tracks all your data, including calories burned, time spent rowing, distance, split time, and more.
A chest strap heart rate monitor is included, but you may also use your own.
There is an active Hydrow community and support system through Facebook groups, your user dashboard, and training camps to help you connect with others that have similar interests.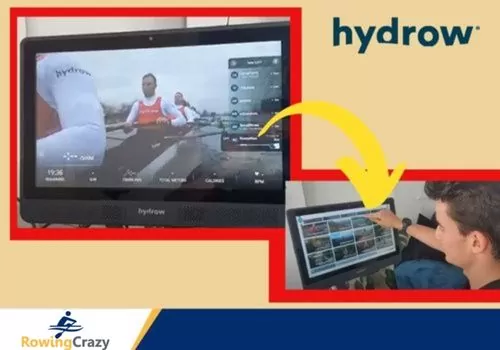 While the setup is fairly easy, the machine itself might weigh a bit much for some people. Hydrow offers in-home installation so you don't have to lift a finger.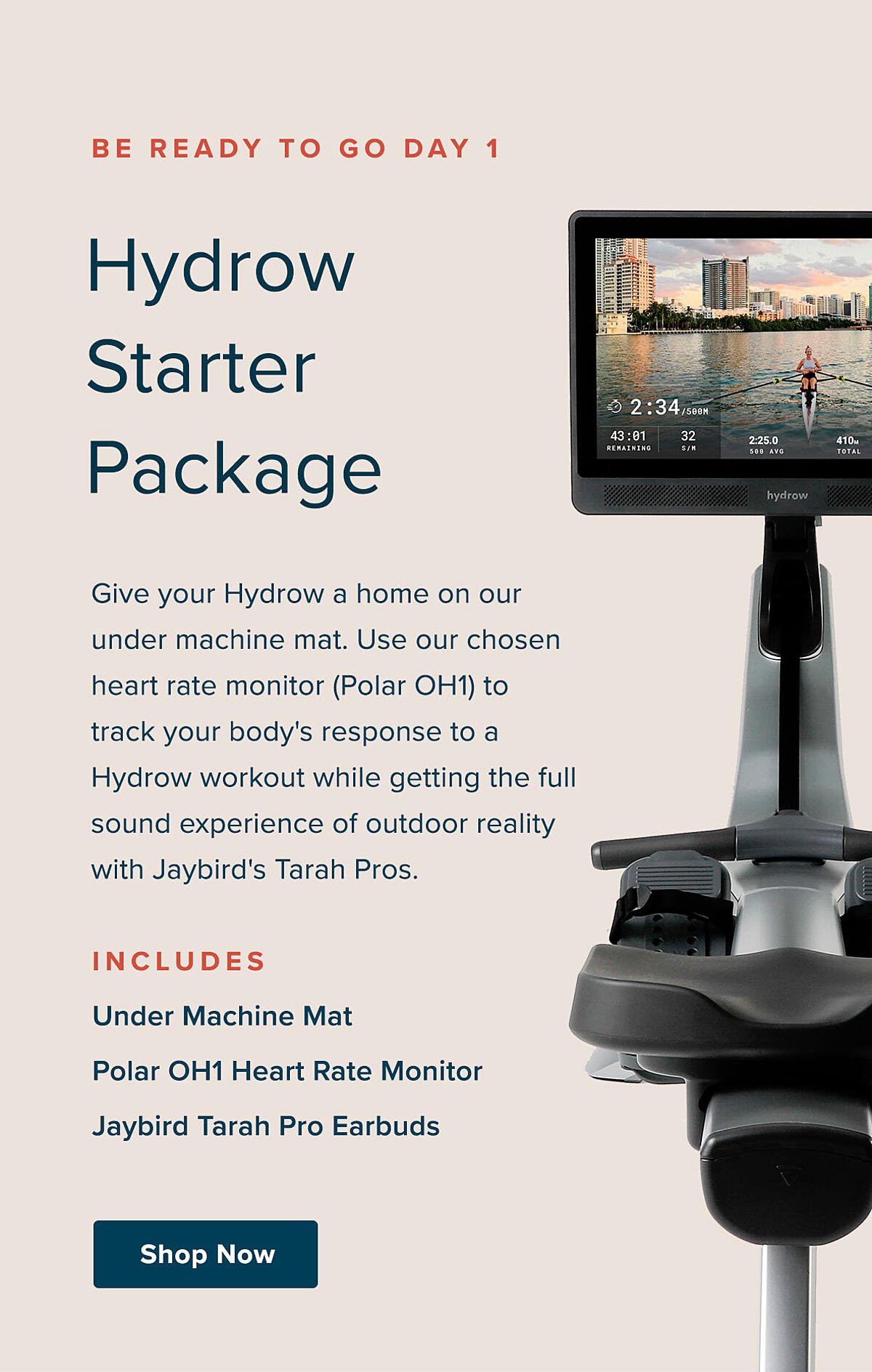 Best of all, there is a free 30-day trial period. If you decide that the Hydrow isn't really for you, you can return it for a full refund, no questions asked.
Watch Rowing Instructor Max Secunda with the Hydrow Rower:
You have nothing to lose by trying the Hydrow in your home today!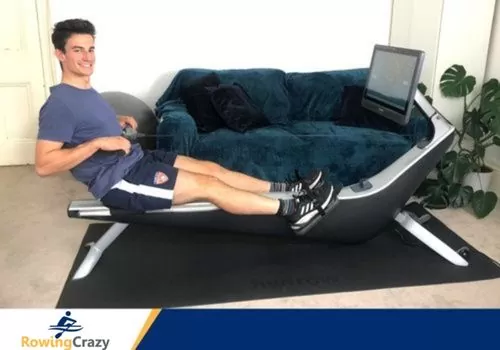 Hydrow SAVE $100 or £100!! => Use Coupon Code: ROWINGCRAZY
Which Is Better for Seniors – Treadmill, Elliptical, or Recumbent Elliptical?
Of course, this will depend on your current fitness level and the type of fitness equipment you like to use.
If you love using a treadmill, you should absolutely keep using one. However, many seniors have found that chair exercises or sitting exercises are easier on the joints.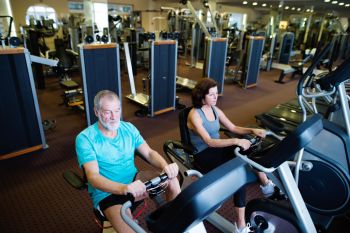 This is where ellipticals and recumbent ellipticals come into play. Unfortunately, many ellipticals use a circular motion with the foot pedals, which can bother seniors with bad knees.
What if you could get the best of all exercise ideas in one machine?
The Teeter Power10 is the ultimate piece of workout equipment ever made for those who think they can handle it.
The Teeter Power10 Rowing Elliptical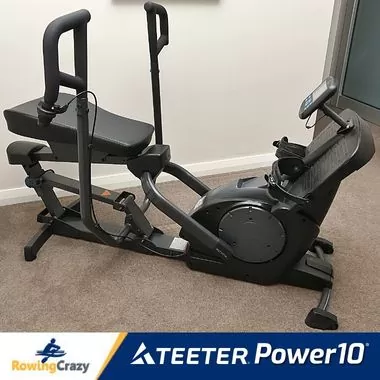 The Teeter Power10 is unlike anything you have ever seen or probably used.
This machine combines a rowing machine with an elliptical, so you get a full-body workout and strength training that beats any workout video or chair exercises.
The Teeter Power10 offers a powerful and challenging workout for everyone regardless of fitness level, and best of all, there are hundreds of workout programs on the Teeter app made exclusively for beginners.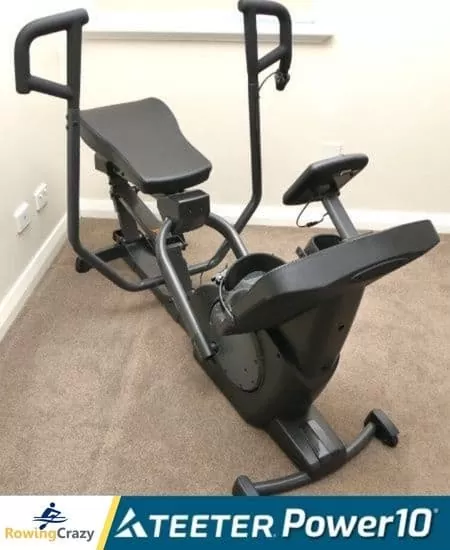 What makes the Teeter Power10 so different? It's the handlebars. While these don't give a real-life rowing experience, you can adjust the settings so that you not only pull back on the handles but push forward as well.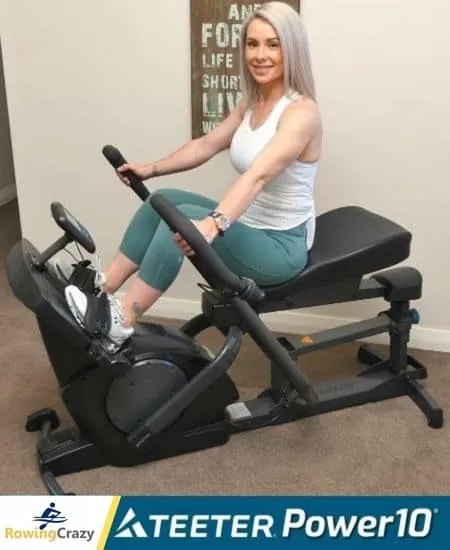 These specially designed handles have multi-grip areas, meaning you can work on a different set of muscle groups by changing your hands' position on the handle. How easy is that? Who needs a personal trainer when you've got the free Teeter Move app!
There are plenty of other features to the Teeter Power10 including:
Its performance tracker monitors all your data, including the number of calories burned, time spent rowing, distance, and more.
Includes a heart rate monitor for a healthy workout routine
The instructional video shows you exactly how the machine works and how to get the most out of your Power10.
This exercise equipment uses magnetic resistance so it's quiet enough for you to use even at night.
If you're not a fan of the gym and hate paying monthly fees, the free Teeter Move app is perfect for you.
If you want to get in some physical fitness but hate exercising, the Power10 does everything in one machine – cardio, calorie burn, muscle toning, and strength training all in one.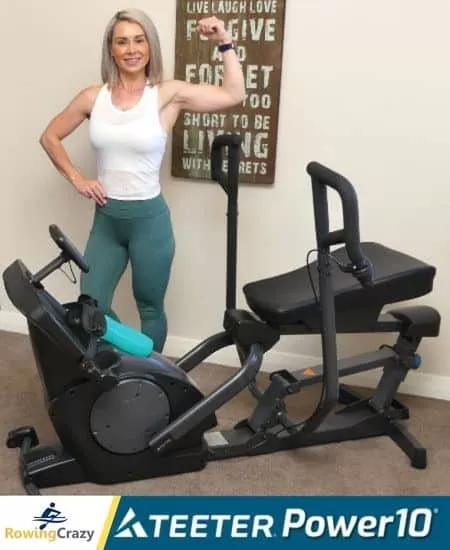 You can improve your physical endurance, strength, and balance while getting both an upper and lower body workout in just 20 minutes a day using the Teeter Power10.
You can try the Teeter Power10 in your home free for 90-days! If you don't love it, return it for a full refund.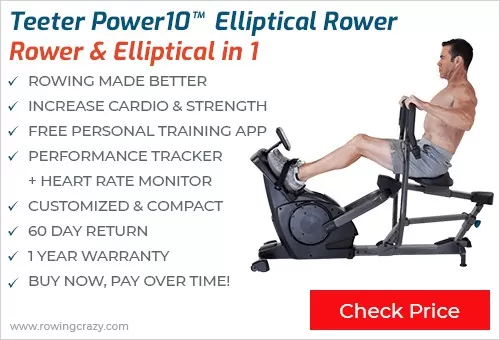 Aren't Recumbent Bikes the Best Sitting Exercise Equipment for Seniors?
I've got nothing against recumbent bikes, but I believe that there are better pieces of exercise equipment for seniors, such as the Xterra Fitness seated stepper.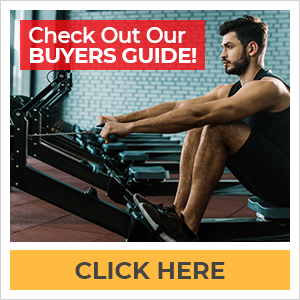 Xterra Fitness Seated Stepper
You may think exercise bikes are all the same, and in some ways they are, but that isn't true with the Xterra seated stepper.
It may look like a recumbent bike, but check out those handles!
While Xterra calls this a stepper, it's more of a recumbent elliptical bike in my mind.
Whatever you call it, you can get a complete body workout, including the upper body, which is something most exercise bikes can't do.
Check out the features of this terrific recumbent stepper:
Everything on this machine is adjustable – the seat, the seat back, the handlebars, and foot pedals.
The mesh seat back means cool comfort.
Articulating hand grips keep joint pain to a minimum.
This is the perfect machine for those with knee, hip, or back problems.
It uses magnetic resistance for ultra-quiet operation.
With 24 resistance levels, you will always get a challenging workout.
The handlebars swivel out of the way for easy on and off.
Supports users up to 300 pounds
The LCD display tracks all your important information, such as calories burned and distance.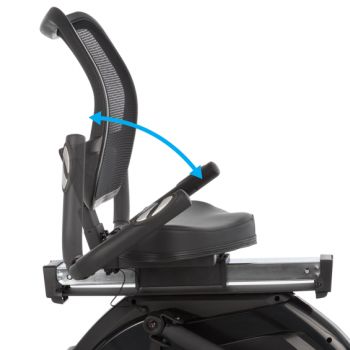 The special design on the Xterra Stepper provides a complete cardio workout but puts only minimal amount of stress on the joints, making this perfect for anyone with joint or bone issues.
This is a far better machine for seniors than any of the exercise bikes that I've seen.
What Exercise Should a 70-Year-Old Do?
To improve physical endurance, the best fitness equipment for a 70-year-old is one that offers aerobic exercise but still works to build muscle mass and increase bone density.
Unfortunately, most seniors find that weight-bearing exercises are beyond their personal capability, and that's quite understandable.
When most physical activities are too difficult but you want to continue exercising for your health, choosing the best exercise equipment will require a bit more care and diligence than usual.
But no worries, I can help you with that. I want to talk to you about the Stamina Conversion II Recumbent Bike Rower.
Stamina Conversion II Recumbent Bike Rower
That's a long name, but this piece of exercise equipment has more going for it.
You never imagined that you could do so much from a seated position, but Stamina makes it possible.
Some of the best features of the Stamina Conversion II include:
Two pieces of equipment in one- a rower and a recumbent bike
Eight levels of magnetic resistance keep you challenged while operating very quietly
LCD multi-function monitor tracks all your important data
There are also strength training exercises for the upper body if you wish
The seat and seat back are padded for extra comfort
This machine folds and has transport wheels for easy mobility
It's never too late to exercise! The different exercises that the Stamina Conversion II offers will give you a heart-pumping workout that will make everyday activities much easier.
Avari A150 Rower/Recumbent Bike
The Avari is similar to the Stamina Conversion II, but it is less expensive.
Like the Stamina, this is a double-duty rower and recumbent bike. If you love the idea of having two machines in one but are on a tight budget, you may want to consider the Avari A150.
This recumbent bike/rower combo uses magnetic resistance for virtually noiseless operation. The multi-function monitor tracks and displays your speed, distance, time, odometer, heart rate, and calories burned.
All you need to do is flip a switch to change from biking to rowing. Other features include:
Pulse sensors are built-in into the handles, making this a convenient and easy way to monitor your heart rate.
The foot pedals are textured and have adjustable straps to keep your feet secure.
The backrest and seat bottom are padded for extra comfort.
You can partially fold this machine for easy storage.
Improve your health and burn calories using this comfortable, low-impact combo machine. Exercise for seniors is important, and at this price, you have no excuse to not work those muscles!
Aren't Resistance Bands as Good as Rowing?
No, they're not.
While resistance bands are a terrific alternative to awkward and difficult-to-store dumbbells, they are not a good substitute for cardiovascular workouts like rowing.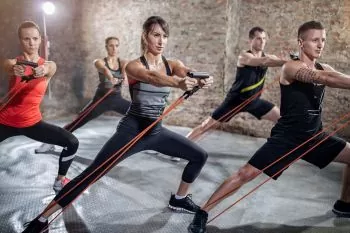 You can use resistance bands for strength training, and many older adults find them a non-strenuous way to improve muscle and bone strength, but you also need some aerobic activity to keep your heart muscle strong as well.
If you find that you love the rowing machines listed above but they are out of your price range, take a look at the rowing machine I am going to tell you about in the next section.
Sunny Health & Fitness SF-RW5515 Magnetic Rowing Machine Rower
Sunny Health & Fitness makes high-quality fitness machines that suit nearly everyone's budget.
While it won't have all the high-tech features of other rowers, it will do the job you want it to do – give you a total body workout that is still low-impact for pain-free joints. Side Note: You might like to learn more – is rowing is good for arthritis?
I think rowing is a far better workout than recumbent bikes because rowing also works the upper body, which helps you prevent weakened muscles and those rounded postures.
You want to work muscles on the entire body, not just the lower half. This rowing machine will do exactly that.
Take a look at all the features the Sunny Health magnetic rower offers for a very small price:
8 levels of adjustable resistance using a magnetic mechanism
Fully-padded seats
Non-slip handlebars
Large, LCD monitor that tracks all your data, including calories burned, time, distance, and more
Oversized anti-slip foot pedals with adjustable straps for all shoe sizes
Transportation wheels make this device easy to move
Maximum user weight is 250 pounds

Once you try the incredibly quiet magnetic rowing machine by Sunny Health and Fitness, you will wonder why you ever considered anything else!
The Bottom Line
Of course, everyone has their favorite exercise machines, and that includes you and me.
If price is not an issue, you should seriously consider buying a Hydrow. It will benefit not only elderly people in your family but also other members of various ages who want and need to get fit.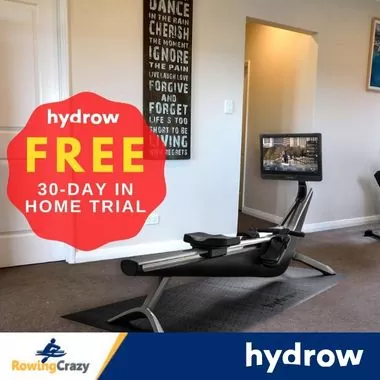 Hydrow SAVE $100 or £100!! => Use Coupon Code: ROWINGCRAZY
When choosing exercise equipment, take your taste into account. If you really dislike bike riding, it would make sense that you should avoid an exercise bike of any kind. The right equipment for your fitness goals is the one that you will want to use.
If you dislike dishing out monthly payments for the workouts, then the FreeStep and Power10 are strong contenders from Teeter. You get a high-quality seated exercise machine without ongoing costs because the workouts app is free.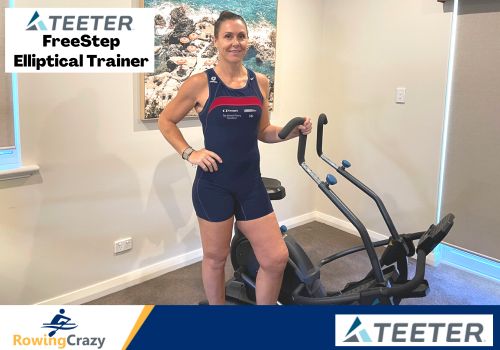 You can combine your cardio workout with age-appropriate activities like stretching exercises, tai chi, balance exercises, and other doctor-recommended physical activity.
There are countless exercise videos to inspire you to perform exercises that are specially designed for seniors, so there's no reason to be physically unfit.
No matter which machine listed above appeals to you and your exercise ideas, you're sure to feel good about your choice and your exercise routine.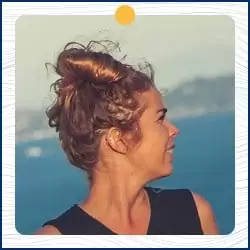 Written by Petra Amara – RowingCrazy.com
CEO & Founder of RowingCrazy, National Rower, Coxswain Womens Eight Team, Rowing Coach & Writer
Petra is a Mother of two and owner of Rowingcrazy.com. Petra lives and breathes rowing, she also has a passion for writing which lead her to start RowingCrazy.com to share her rowing experience and expertise with others.