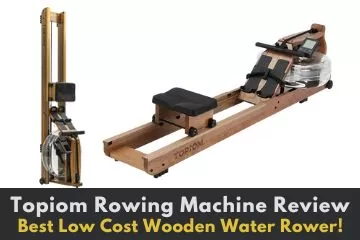 Hi friends, it's Petra. Today, I want to talk about friendship and the new Topiom rowing machine.
You might think these are mutually exclusive subjects, but not in this case!
I live in a small town where everyone seems to know everyone. I think all my neighbors know about my passion for rowing, so it really wasn't surprising when one of my neighbors asked me to help her assemble her very first rowing machine.
She didn't ask me to help pick one, so I was interested in what brand she chose. To my surprise, it was a brand I had never heard of before. Topiom.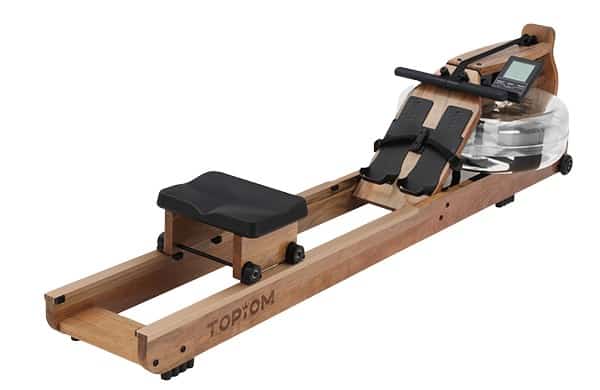 It was super easy for the two of us to assemble this rowing machine. With no effort, we also connected her cell phone to the device.
I asked her if I could show her how to use it since she had never rowed before. She said that she was hoping I would offer some tips.
So, while showing her how to use her new Topiom rowing machine, I also got to use it firsthand.
I know that life gets a bit crazy, and we can all take on a "me vs them" or "my rowing machine vs theirs" attitude. However, helping my neighbor set up this rowing machine and giving her a few pointers on how to use it made me feel good about myself and our new friendship.
So for today's article, I want to talk about how my new friendship allowed me to review the Topiom water rowing machine. I hope you like it. Go make a new friend, it will improve your outlook in life, I promise.
Topiom Water Rowing Machine Review
powered by Advanced iFrame. Get the Pro version on CodeCanyon.
For everyone who has been shopping for a water rower but felt that a water resistance rowing machine was financially out of reach, you will love what I'm about to tell you.
The Topiom rowing machine is the perfect piece of exercise equipment that will give you a full-body workout for far, far less cash than you thought possible.
If you're looking at pictures of Topiom and thinking that it looks a lot like the WaterRower brand, you're correct. This is a knockoff from China that costs about half of what you would expect to pay.
There are many things that are similar, but Topiom does have a few tricks up its sleeve for making this rowing machine worth the investment.
Features of the Topiom Rowing Machine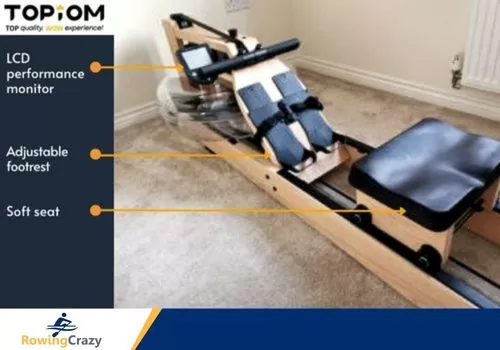 First, let's talk about the features that this bargain-priced water rowing machine offers:
LCD performance display – As you would expect, the company offers a basic LCD performance monitor to keep the price competitive. It measures all your basic data, such as SPM, calories burned, split. No games, no-frills, but hey, at this price, this is still an amazing little device.
Bluetooth enabled – The Bluetooth-enabled monitor means that you can connect your Bluetooth-enabled headphones, heart rate monitor, and cell phone. Got an iFit app? Watch the workouts from your Topiom rowing machine. Now iFit won't be able to automatically control the resistance levels, but that's OK.
Soft seat – One thing I noticed right off is that this offers a softer seat than the WaterRower brand. Now, this may mean that it will break down quickly or it could be the greatest thing since sliced bread. Only time will tell with this one.
Long rail – While this rower might look exactly like WaterRower, it isn't. The deck or rails are much longer, which means it fits users who are taller. Topiom says that people up to 6 foot 5 can comfortably use this rowing machine.
Walnut wood frame – I thought that a rower this inexpensive would have some cheap plywood, but no, this made-in-China rowing machine uses walnut wood, which is super hard.
High weight capacity – The Topiom rowing machine has a maximum user weight capacity of 400 pounds!
Adjustable footrest – The footrest is similar to other water rowers and can be adjusted to fit nearly every shoe size.
Aviation-grade water tank – The water tank is crystal clear and is made from aviation-grade materials, making this sleek design incredibly tough and impact resistance.
Dimensions – Overall size is 83 x 22 x 20 inches.
Tablet holder – It has a tablet holder so you can use your smartphone or tablet to watch videos, listen to music, or check out those online videos to help you reach your fitness goals.
Portable – The front transport wheels make it super simple to store or move this rower. Pick up one end and roll it where you want it. It can also be stored upright.
Rechargeable LCD – The LCD display is rechargeable! No more batteries!
Lightweight – The Topiom rowing machine weighs 66 pounds, so you can easily move this rower where you want it.
With pump – Comes with a small electric pump to fill the water tank
Warranty – The warranty is 5 years on the frame and 3 years on all other components.
Wow. That is a whole lot of features packed into one little wallet-friendly rowing machine!
The Pros of the Topiom Rowing Machine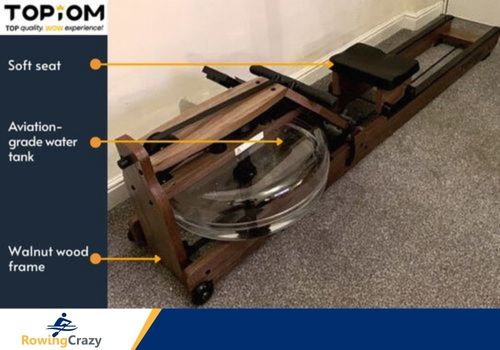 There's a lot to love about this budget-friendly rowing machine, do doubt about that.
It costs hundreds less than the big brand-name rowing machines.
It has a better warranty than some other rowing machines.
It is very lightweight and portable.
There are no fancy monitors or other connections to worry about. If you don't want to use the LCD monitor, you don't have to. The rower will work fine without it.
The LCD display and electric water pump are rechargeable.
It has a super-smooth rowing action.
It is very quiet so you can use it in an apartment or upstairs without disturbing others.
If you've read my reviews previously, then you know that there can't be pros if there aren't cons since nothing is perfect, right?
The Cons of the Topiom Rowing Machine
It's hard to find some real drawbacks to this rower, but as in most rowing machines, trust me to always find a few cons.
The seat is very low to the ground. For younger people, this isn't a problem, but if you have bad knees, you might find this to be a problem.
While this rowing machine can be stored in an upright position, it doesn't fold. (FYI: Most, if not all, water rowers don't fold). If space is tight, be sure you have enough room to use the Topiom water rowing machine and room to store it if you need to.
The fill marker on the tank is hard to see. Topiom should consider making the mark in red or make it easier to read somehow.
The instructions don't tell you that the electric pump needs to be charged, as well as the monitor. So there you are ready to fill the tank, and THAT'S when you find out. Take my advice and find the monitor and pump and plug them in first!
This is still a fairly new product so how the Topiom water rower will hold up over the next few years, only time will tell.
If you want a brand name that you can trust because it's been around for decades, check out the WaterRower brand. If you're testing the water, so to speak, and you don't want to hurt your budget, then Topiom will be a good choice for you.
There's nothing here that is a major concern, which is good. However, if you are looking for more advanced features in a water rower, you should check out the incredible Ergatta. FYI to learn more read my indepth article on Topiom vs WaterRower Vs Ergatta
Are Topiom Rowing Machines Any Good?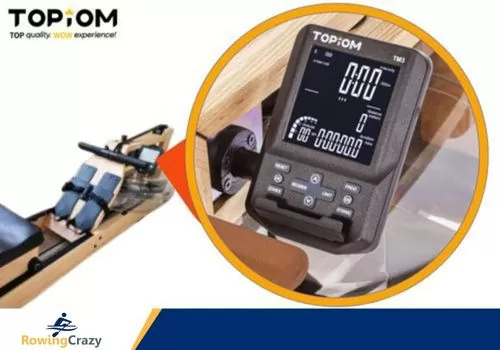 From what I've seen, the Topiom rowing machine is a good water rowing machine for those who want fitness equipment at home to improve their fitness level.
If I closed my eyes, I could tell right away that I wasn't using my Hydrow, of course, because Hydrow is not a water rower, but I'm not sure that I would be able to tell the difference between a WaterRower and a Topiom.
This lacks a smart monitor, and I think many people today expect a smart rower that connects to the internet. However, considering that it is Bluetooth-enabled, and you can connect your tablet or phone to the rower and the internet, well, that's almost the same thing.
This rower has only been sold since late 2020, and we shall have to wait and see if it holds up to everyday use. That said, I could tell from my brief visit to my neighbor's that the Topiom rowing machine is one of the better water rowing machines in the market, especially for the price.
Where Are Topiom Rowing Machines Made?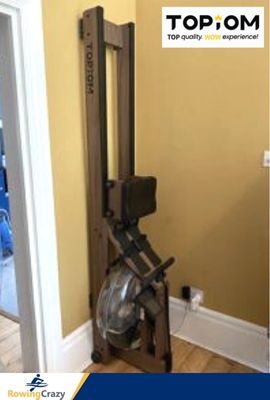 The company is located in Canada, but the machines are made in China.
If the country of origin matters to you, you might want to spend a bit more for WaterRower since it is made in the USA.
Will I Need to Assemble My Topiom Rowing Machine?
powered by Advanced iFrame. Get the Pro version on CodeCanyon.
Yes, but it is very simple to do.
While I didn't note exactly how much time my neighbor and I spent assembling this water rowing machine, I would say that from unboxing to actually using it, we spent a maximum of one hour, and we were taking our time.
In the video, you can watch them assemble the rowing machine, but we didn't really need it. The instructions were quite clear.
It did take about an hour to fully charge the monitor and the electric water pump, but we went and got some coffee so it wasn't a problem.
While one person could assemble this, I do think it's easier with two people.
How Low Is the Topiom Rowing Machine Seat?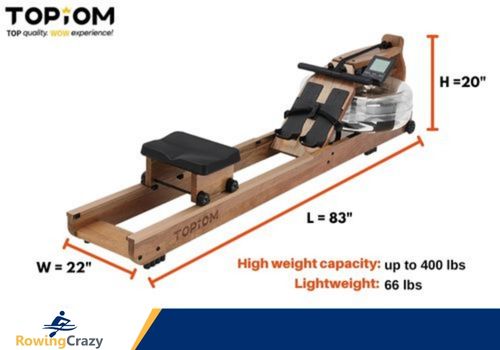 It is very low, about 9 inches off the ground. For users who find it difficult to bend their knees, this might be a challenge.
I suppose nothing is stopping you from putting this up on some type of platform so it isn't so low to the ground, but if mobility is a problem for you, you might want to consider another type of rowing machine such as the Concept 2 Model E.
Are Rowing Machines Really Worth It?
Oh yes, they certainly are.
Rowing not only improves your strength and stamina but also gives you a good cardio workout.
While any rowing machine will give you the health benefits mentioned above, the Topiom water rower does it for less cash than you thought possible.
When it comes to indoor rowing machines, you usually get what you pay for. If you don't want to pay for extra gadgets, touchscreen tablets, or other electronics, the Topiom rowing machine is exactly what you're looking for.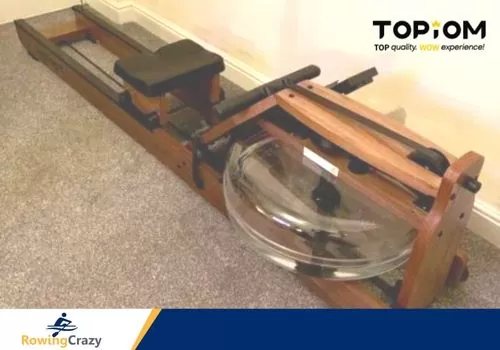 Although I do belong to a gym, I much prefer to work out at home.
Only got 15 minutes to work out before you leave the house? All you need to do is sit on the seat, grab the handle, and go!
No parking problems to worry about, no waiting for your turn, no smelly locker rooms. Privacy, peace, quiet, and a clean bathroom, what more could you ask for?
Oh yes, cheap and healthy snacks! Just open the fridge!
If you want to improve your overall health, if you want to reach your next fitness level, if you want to lose weight and have fun exercising, a home rowing machine can give you all that and more.
Are Rowing Machines Good for Losing Belly Fat?
Rowing workouts burn more calories than any other piece of exercise equipment except for jumping rope.
You can be fit for so much less with a jumping rope, if you can jump rope for 30-60 minutes a day! It makes my knees hurt just thinking about it!
Rowing machines, such as the Topiom water resistance rowing machine, are some of the best ways to burn calories and blast away fat.
Did you know that a rowing machine workout uses 86 percent of the muscles in your body? Once you have your own Topiom rower in your home, you won't need to remember if this is leg day or peach day. You will work everything but your toes and eyelids!
Whether you have your own home gym, or you will be exercising in your living room, having your own rowing machine is a luxury that nearly everyone can afford.
Yes, you will need to learn to use the correct rowing stroke, but there are tons of videos online to help you get a great workout and learn the proper rowing form quickly.
I've never met anyone who didn't love having their own water resistance rowing machine at home, and I'm sure you will feel the same way.
The Bottom Line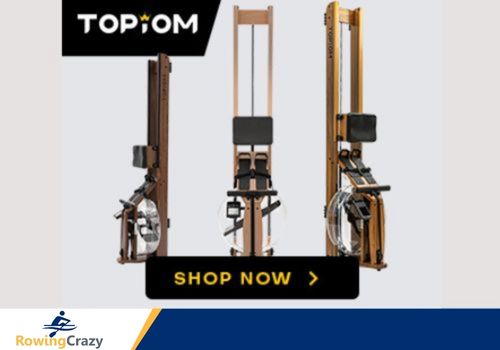 From what I noticed, the Topiom rowing machine is made of high-quality materials and has a build quality that is top-notch.
There might be cheaper rowing machines, but I bet they can't match the good quality and warranty that the Topiom rowing machine offers.
If you want a folding rower, look here, but if you have a little more space, the Topiom rower is worth every penny and then some!
At this time, the company is offering a free 21-day in-home trial. If you don't love this quieter-than-air-resistance rowing machine for your home gym, just send it back.
Check to be sure that the company is still offering this deal before you buy.
With front transport wheels to make moving this lightweight machine easy, a build quality that is second to none, and a soothing water sound when you row, this is probably the best rowing machine you can buy for the price.
Try it yourself and see what you think. I was impressed with the quality of this rowing machine, which is why I wrote this Topiom rowing machine review.
Get into rowing! It's life-changing, I tell you!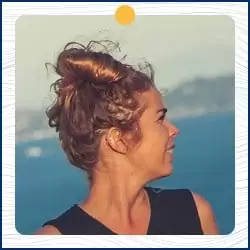 Written by Petra Amara – RowingCrazy.com
CEO & Founder of RowingCrazy, National Rower, Coxswain Womens Eight Team, Rowing Coach & Writer
Petra is a Mother of two and owner of Rowingcrazy.com. Petra lives and breathes rowing, she also has a passion for writing which lead her to start RowingCrazy.com to share her rowing experience and expertise with others.