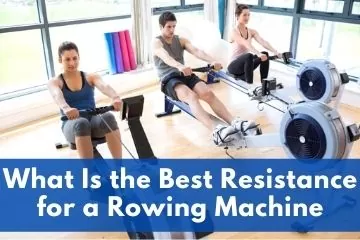 You probably know that rowing is one of the best forms of all-over body exercise and cardio workout all in one, and if you're in the market for an indoor rowing machine, you might be unsure about picking the right one. Should it be air resistance rowers? Magnetic resistance rowers? Water resistance rowers? Let's not forget hydraulic resistance rowing machines. How do you pick the right resistance rower?
The best resistance type to choose depends on who will use the rowing machine. Air and water resistance types are for people who want infinite resistance, while magnetic rowers are for people who prefer a quiet rowing machine that offers adjustable resistance.
In today's article, I'm going to explain the difference between resistance types so you can make a more informed decision. Keep reading, and join the resistance! Rowing machine resistance, I mean!
Why Is Resistance Type Important?
While all types of resistance are designed to improve your fitness level by giving you something to work against, some resistance types work better than others. Each type has unique qualities and pros and cons, so it's important to choose the one that matches your needs and preferences best.
In many instances, people prefer one type over another for no apparent reason, much the same way you might prefer Ked tennis shoes over Vans tennis shoes. Both are basically the same shoe, but for you, one just feels better than the other.
In a Hurry? Here Are Our Top Picks for Each Resistance:
| Our Top Picks | Rower | Price |
| --- | --- | --- |
| Hydrow Rower | | |
| Ergatta | | |
| LIT Method | | |
| Teeter Power 10 Elliptical Rower | | |
What Is the Best Resistance Type for You?
To effectively choose which type of resistance might be best for you, you should start by asking yourself these questions:
Do you want to feel like you're really rowing on water? (or as close as possible)
What surface will your rower be sitting on?
What is your budget?
How much space do you have for the rower?
What are your living arrangements? Will noise be an issue for a baby or will the apartment next door complain about noise levels?
What is your fitness level?
Answer some of these and you will be a few steps closer to choosing the right resistance type. Side Note: Make sure you also have the correct form when rowing, for more details read our full article by our expert trainer Laura on how to have the correct rowing machine techniques for beginners.
Different Resistance Types of Rowing Machines
Find out for yourself how these resistance mechanisms differ from each other.
Air Resistance Machines
As the name implies, these rowers use air as their main way of providing resistance. As you can imagine, there is no limit to the amount of air around us, so this air rower produces resistance using your own force. The faster or harder you row, the more air you generate, so the more resistance there is.
Most air rowers, sometimes called fan rowers, have some way to control the amount of air that the fan receives.
Pros of Air Rowers
There's a lot of good reasons why air resistance rowers are so popular. Here are some advantages of an air rowing machine:
Relatively lightweight (compared to other types)
Often inexpensive
Offers unlimited amount of air resistance, so no matter how fit you might be, you can still get a challenging workout from this type of rower
Cons of Air Resistance Rowers
An air resistance rower has a few issues, which you should factor into your decision. Here are the most significant considerations:
They are noisy. REALLY noisy. SUPER noisy. I think you get the picture. Worse yet, the harder you row, the more noise they generate
Most models do not have an exact setting. For example, you can't set the air rower on 3 today and then try to set the machine on 4 for a harder workout. YOU are the only control over the amount of air resistance during your workouts
Learn more with our full video of the Concept2 Rower by Rowing YouTube Influencer Max Secunda:
The Best Air Resistance Rowers
Most highly-competitive and self-motivated athletes would have nothing but air rowers because, frankly, air resistance rowing gives the most challenging workouts. Some of the best air rowers are:
| Our Top Picks | Rower | Price |
| --- | --- | --- |
| ATS Air Rower | | |
| Concept 2 Model D | | |

ATS Air Rower
Concept 2 Model D
Water Resistance Machines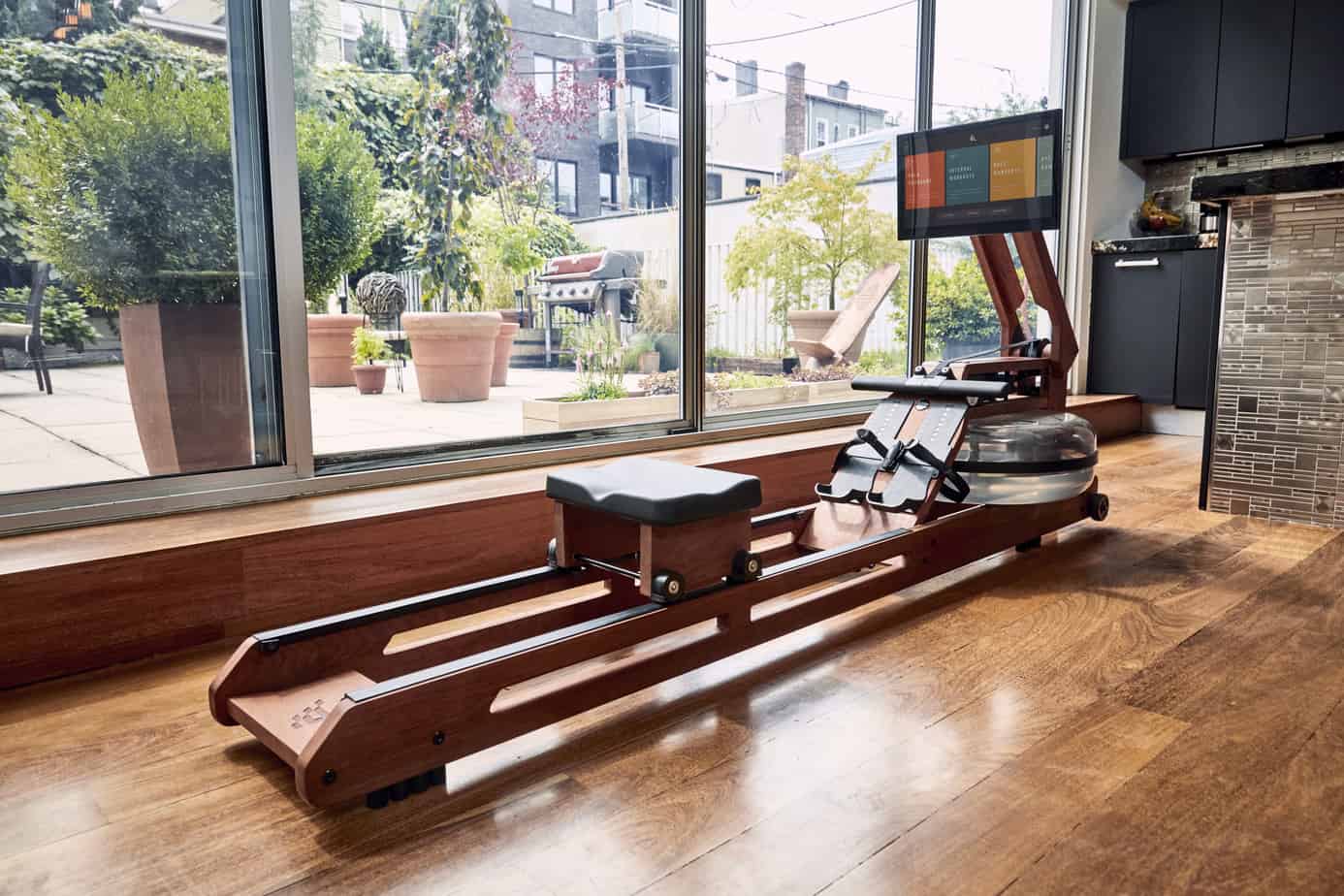 Both water and air resistance types of rowing machines are called flywheel rowers. Water rowers also use a fan but in a different way. They have the fan blades encased in a round tank filled with water. The harder you work, the harder the fan must work to push itself through the water.
Some models are designed with electric pumps, so you can add or remove water. More water in the tank will increase the resistance, less water means less resistance. Other models make you manually add or remove water, so check to see if the model you're considering includes an electric pump.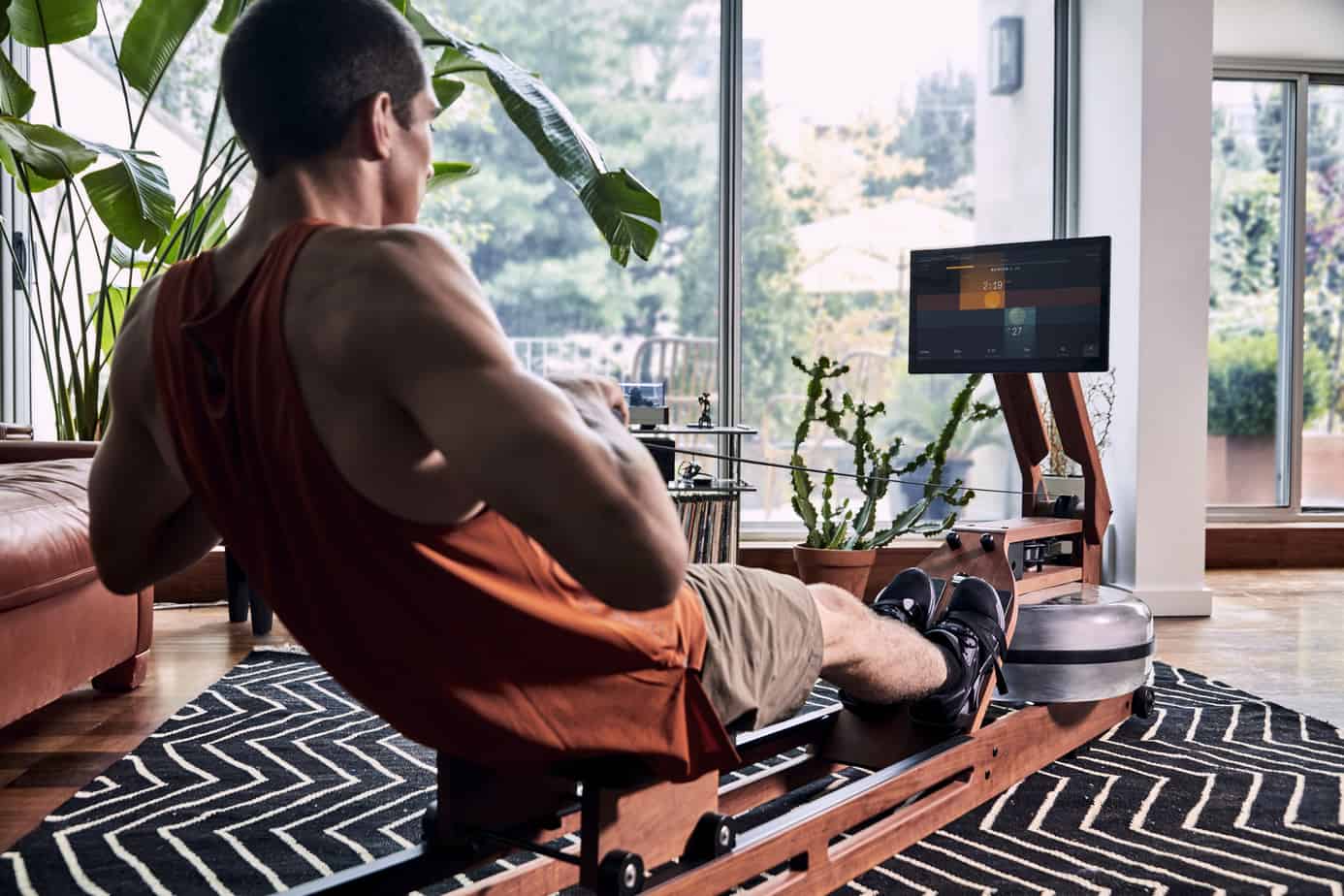 Water rowers, like air rowers, are generally in the same price range and are less expensive than other indoor rowers, but they can be very heavy and must have a flat surface to work properly. Most water rowers are made of wood, such as the elegant WaterRower models, but there are also other options made of steel and aluminum.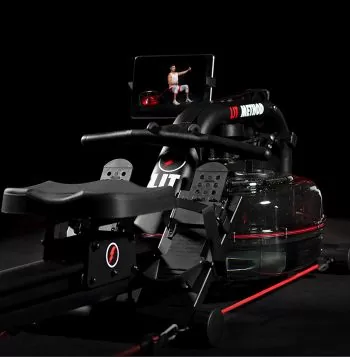 Check Price
You need lots of space for a water rower, but if you have the room, these rowers give you the closest real-life rowing experience you will get outside of a lake.
Pros of Water Rowing Machines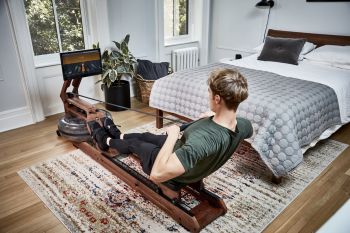 There are a lot of things to like about these beautiful rowers, such as:
They are very quiet. All you hear is the soft swoosh sound of moving water
Most are inexpensive
Water rowers offer the closest feeling to real life that you can get from an indoor rower
Most of the models can handle users up to 350 pounds or more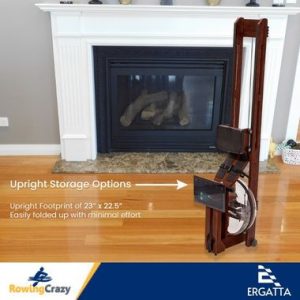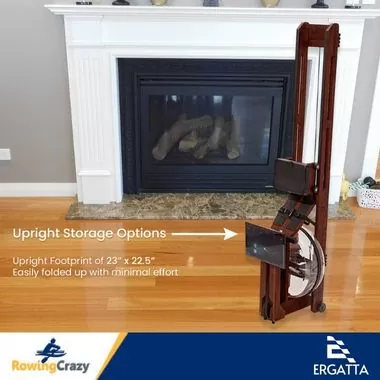 Cons of Water Rowers
Read the following before you purchase this type to be sure you get the perfect rower for your space. Some of the drawbacks of water rowers are:
They can be difficult to adjust. Adding and removing water is time-consuming
These types of rowers must have a completely flat surface to operate
Most of these rowing machines are very heavy and cannot fold so you need lots of room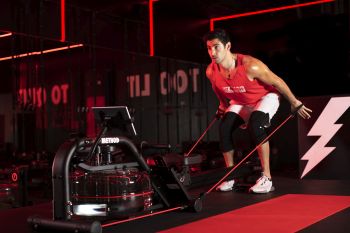 The Best Water Resistance Rowing Machines
There are some outstanding water resistance machines out there, including these great machines:
If you want to know which is better, a water rower or an air rower, you can read more about the in-depth comparison we did in this article: water rower vs air rower.
Magnetic Resistance Rowing Machines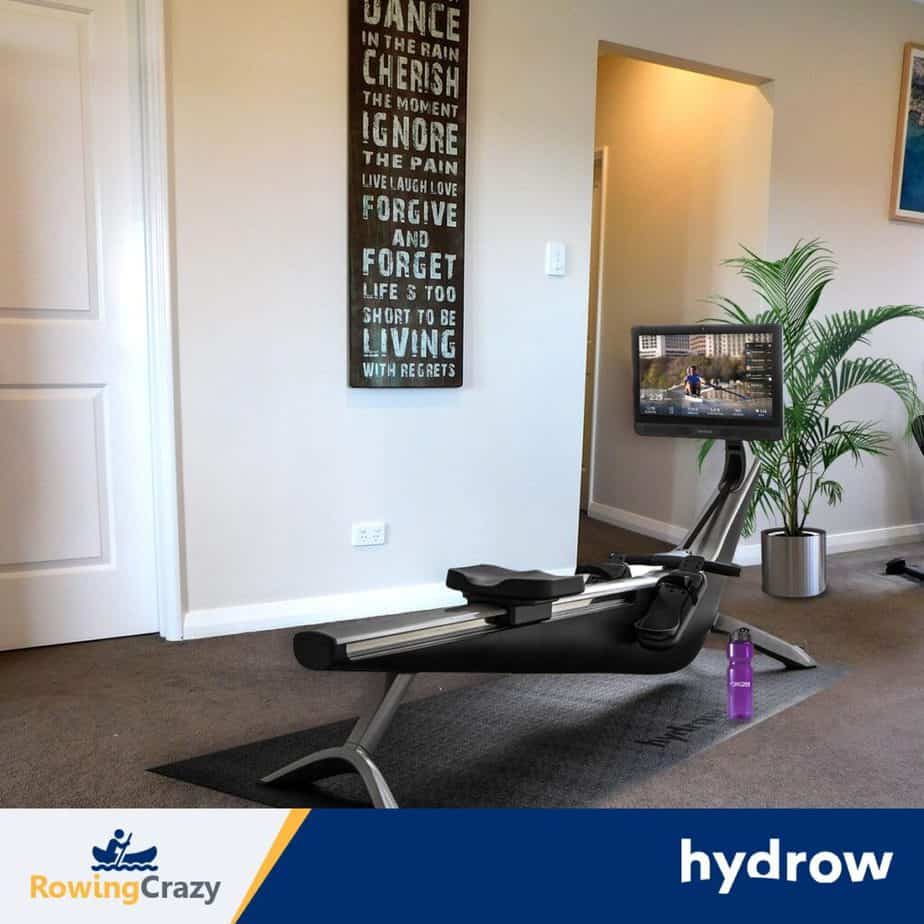 These are also very popular machines but for a different reason than air or water resistance types.
This type of machine uses a metal flywheel that is surrounded by magnets. While the magnets aren't actually rubbing on the flywheel, they create resistance from the other magnets. The closer the magnets get to another, the more resistance they create. FYI: Read more about the Hydrow Magnetic Rower Here
Magnetic resistance type rowing models have a means of controlling the amount of resistance. Each manufacturer and model will vary, but nearly all magnetic rowing machines can create enough resistance so that you can get a real workout.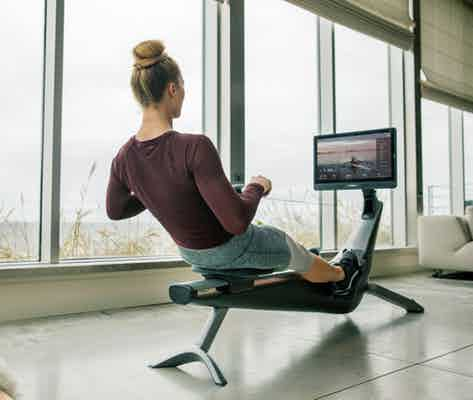 Magnetic resistance rowers are newer than water or air rowers, but the main reason they are so popular is that they are incredibly quiet.
You can use a magnetic resistance rowing machine in your living room and not bother your sleeping baby, or the neighbors downstairs or in the apartment next door.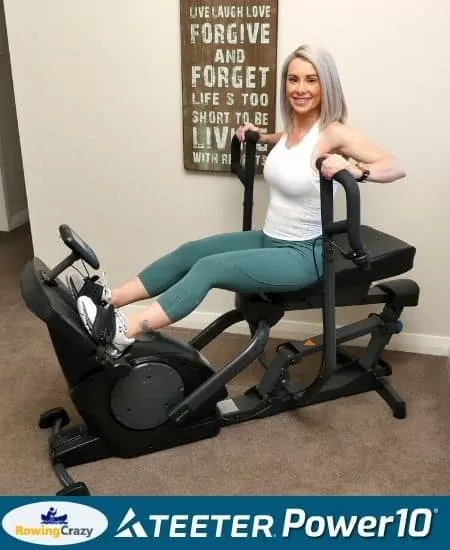 There are a few other terrific things about magnetic rowing machines that you should know before you buy.
Learn more with our full video by Olympic Silver Medalist Rachael Taylor:
Pros of Magnetic Rowing Machines
These machines are popular because they have a great many benefits that people want in a rowing machine, including:
Nearly silent operation
Many models fold or can be easily moved
Prices vary considerably, but there are many budget-friendly models
You can set resistance levels easily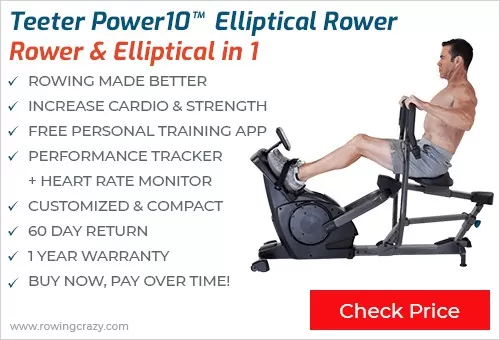 The Cons of a Magnetic Rowing Machine
Keep these in mind before you buy a magnetic rowing machine for your home gym.
There is a less "natural" rowing experience. You make the same rowing motion, but it doesn't feel the same
Some models can be very expensive
The Best Magnetic Rowing Machines
People know what is important to them and what their wallet will allow, but generally speaking, some of the very best magnetic resistance rowers would be:
| Our Top Picks | Rower | Price |
| --- | --- | --- |
| Hydrow Rower | | |
| Teeter Power 10 Elliptical Rower | | |
| Sunny Health & Fitness SF-RW5515 | | |
Hydrow Rower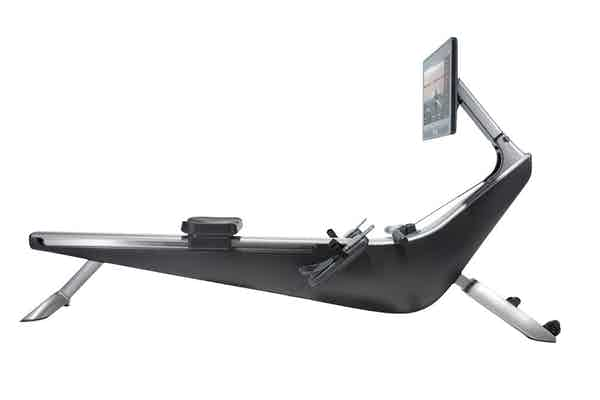 Teeter Power 10 Elliptical Rower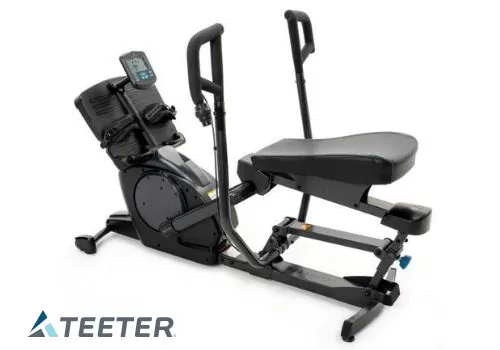 Sunny Health & Fitness SF-RW5515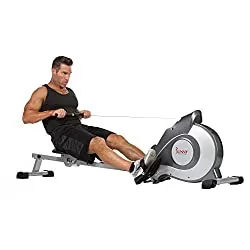 If you're interested in a comparison between water rowing machines and magnetic ones, you should read this article – are water rowers better than magnetic rowers.
Hydraulic Rowing Machines
No water tank, no flywheel, but hydraulic machines have been around for decades.
Hydraulic rowing machines use a piston-type mechanism similar to the shock absorbers on your car. You push and pull against the pressure of the hydraulic fluid or air that is inside the tube.
Most hydraulic rowing machines have one piston for the legs and one for each arm. Unlike most water, air, or magnetic rowing machines, these use separate arm pieces, which simulate a more realistic type of rowing feeling.
While hydraulic machines have been used for a long time, they are not very common in today's market. Most people are looking for a more real feeling of being on open water, or they want to be able to have more control over resistance levels, as they workout.
The Pros of a Hydraulic Rowing Machine
You can still find hydraulic machines because they do have some good points, such as:
Very inexpensive
They have a small footprint and are great for smaller spaces
They can be easily moved
The Cons of Hydraulic Rowing Machines
Remember these points before you buy:
No real rowing action
Limited resistance options
The majority of models don't last long
The Best Hydraulic Rowing Machines
If you are interested in a hydraulic machine, you can find some great deals. We like the following hydraulic machines:
| Our Top Picks | Rower | Price |
| --- | --- | --- |
| Sunny Health and Fitness Hydraulic Rower | | |
| Stamina Body Trac Glider | | |
| Sunny Health and Fitness Full Motion Rower | | |
Sunny Health and Fitness Hydraulic Rower
Stamina Body Trac Glider
Sunny Health and Fitness Full Motion Rower
Rowing Machine Resistance Levels
Most rowing machines use resistance levels, which are represented by numbers to indicate how hard you need to work. The higher the number, the more resistance and the harder your workout will be.
However, these numbers are not uniform for all rowers. For example, a level two on one machine might be a level 4 on another.
Final Thoughts
I hope this article has helped you understand the differences between the types of resistance that rowing machines use so that when you start searching and browsing online, you won't feel lost or confused.
At the end of the day, the best resistance type for you depends on your personal exercise needs, priorities, and preferences. If you want limitless resistance, then nothing beats the flywheel rowers. You generate more resistance by rowing harder. Between the water and air, water rowers are quieter and feel closest to rowing on water, complete with swooshing sound. However, if you prefer to adjust the resistance to a setting and work out on a smooth and really quiet machine, then you should get a magnetic rower.
Still wondering should I get a rowing machine? Click Here!
Frequently Asked Questions
Q: What resistance should I use on a rowing machine?
A: This will depend on the type of resistance your machine has, as well as your current fitness level. Beginners should start at a level 2 or 3 and see how it feels. Intermediate users should start at level 3 or 4, and more advanced users can start at level 5, then adjust accordingly.
Q: What is the best type of rowing machine to buy?
A: I always think the answer to this question should be "the one you will use!" If you need a quiet machine, choose one with magnetic resistance. If you love the sound of water, choose a water rower. If you are on a really tight budget ( see Yosuda Rowing Machine review ) and/or don't have much space, a hydraulic rower is a good choice for you.
Q: What drag factor should I row at?
A: Like resistance, the drag factor is subjective, depending on your fitness level and the type of workout you are looking for. If you are a beginner, start with 100-130 and adjust accordingly.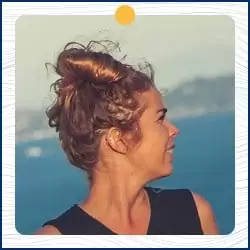 Written by Petra Amara – RowingCrazy.com
CEO & Founder of RowingCrazy, National Rower, Coxswain Womens Eight Team, Rowing Coach & Writer
Petra is a Mother of two and owner of Rowingcrazy.com. Petra lives and breathes rowing, she also has a passion for writing which lead her to start RowingCrazy.com to share her rowing experience and expertise with others.