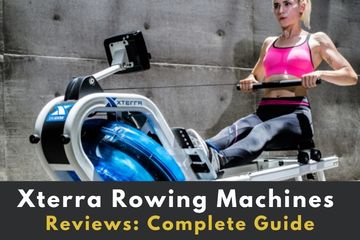 If you've been shopping for a rowing machine but put your credit card back in your wallet because of the prices, then you have come to the right place.
Hi friends, it's Petra, and today I want to share with you the most talked-about exercise equipment company, Xterra. No, not the car. Xterra makes rowing machines and other types of equipment for your home gym.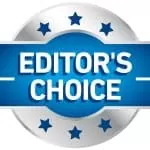 In a Hurry? Here are My Top Picks:
If you're looking for swift insights into the leading Xterra rowing machines of 2023, take a look at our top choices available in the Xterra lineup:
You can check their price here: Check Price
This concise guide is your gateway to comprehensive reviews and valuable information on these cutting-edge fitness devices.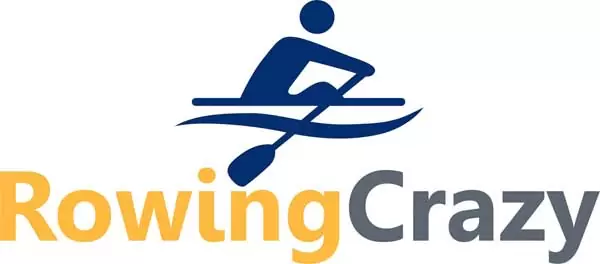 Right Let's Get Into It!
So, what makes Xterra such a conversation starter? Their affordable rowing machines!
You can find a top-of-the-line rowing machine for less than half of what you might expect to pay.
While these rowing machines may not have all the electronic gadgets and toys that tend to bring up the price, they do offer free shipping, a good warranty, high quality, and sturdy rowers that will up your fitness level in a few weeks!
If you haven't heard about this amazing line of rowing machines, I'm here to get you up to speed with my review of all 7 models.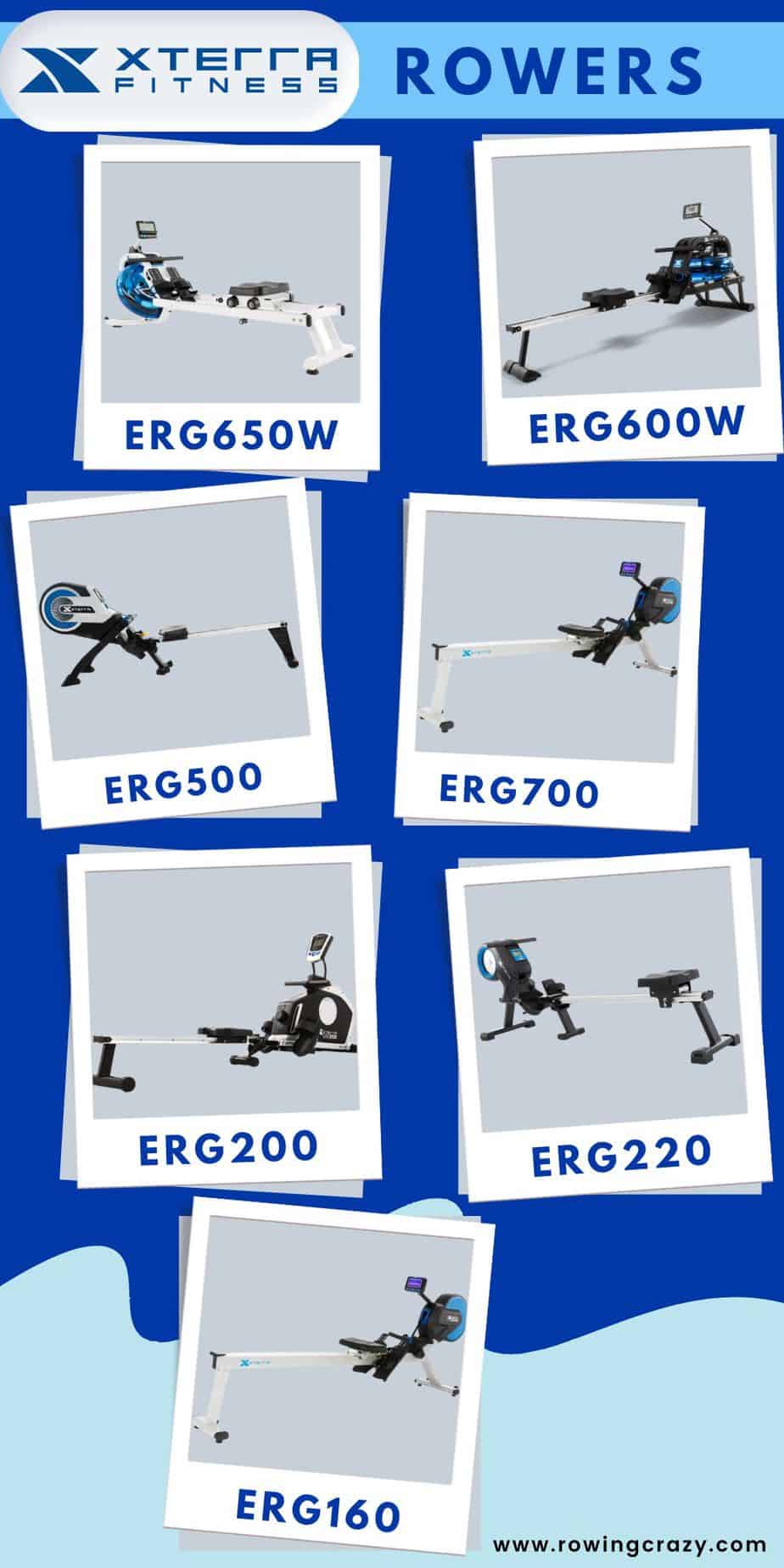 Yes, you read that correctly, 7 models! This means you are sure to find a model that will fit in your home gym and one that will fit your wallet!
Grab a chair, this won't take long, and you'll want to read all about these excellent pieces of fitness equipment!
Xterra Fitness Rowing Machines Review
As I mentioned above, there are 7 models to choose from, and I will compare them all so you can get a good idea of just how affordable and well-built (not to mention good looking!) Xterra rowing machines are.
Before I go any further, let me tell you that Xterra Fitness has produced indoor rower models for all three resistance types, as you will see in the comparison charts below:
Water Rowers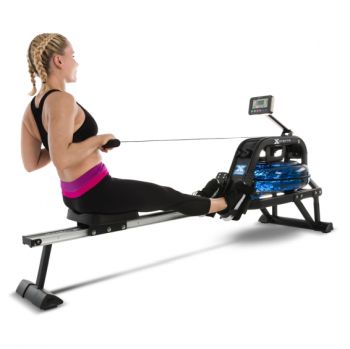 Model Name
ERG650W
ERG600W
Weight Capacity
350 Pounds
300 Pounds
Machine Weight
76 Pounds
87 Pounds
Resistance Type
Water
Water
Assembled Dimensions
(L x W x H)
79.5″ x 20.7″ x 33.9″
80.7″ x 22″ x 33″
Display Size
5.6″ No Backlight
5.5″ No Backlight
Number of Resistance Levels
6
6
Folds?
No
Yes
Air Rowers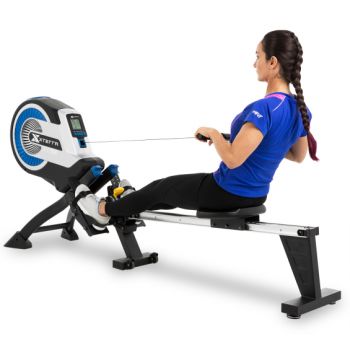 Model Name
ERG500
ERG700
Weight Capacity
300 Pounds
350 Pounds
Machine Weight
79.4 Pounds
76 Pounds
Resistance Type
Air
Air & Magnetic
Assembled Dimensions
(L x W x H)
72″ x 19″ x 33″
97″ x 18″ x 38″
Display Size
3.5″ No Backlight
5.5″ Has color and is Backlit
Number of Resistance Levels
8
16
Folds?
Yes
Yes
Magnetic Rowers
Model Name
ERG220
ERG200
ERG160
Weight Capacity
300 Pounds
250 Pounds
250 Pounds
Machine Weight
62 Pounds
55.1 Pounds
52 Pounds
Resistance Type
Magnetic
Magnetic
Magnetic
Assembled Dimensions
(L x W x H)
80.3″ x 19.1″ x 29″
71.9″ x 20.7″ x 31.5″
61.4″ x 21.7″ x 27.6″
Display Size
3.5″ No Backlight
3.7″ No Backlight
1.75″ No Backlight
Number of Resistance Levels
8
8
8
Folds?
Yes
Yes
Yes
Don't these machines look amazing?? Have you already decided which one of these you want in your home? You can get the best price right here.
Xterra rowing machines definitely stand out from the competition, both in durability and price. If you can't decide, let's look at all the features each rowing machine offers.
1. The Xterra ERG650W Water Rowing Machine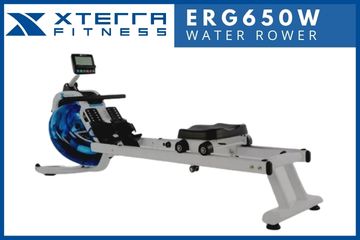 Take a look at this beauty! I must say that I've seen more than my share of indoor rowing machines, but this one is certainly one of the coolest looking rowing machines I've seen. I love that blue water tank!
Looks aren't much, though, if the rowing machine doesn't hold up, am I right?
No worries here! This sturdy rower features durable construction with a solid, heavy-duty steel frame and aluminum rails to help keep it lightweight.
The warranty shows you just how much rower you are getting for your money. It has a lifetime frame warranty, two years on parts, and one year on labor. That's an impressive warranty for a rower at this price!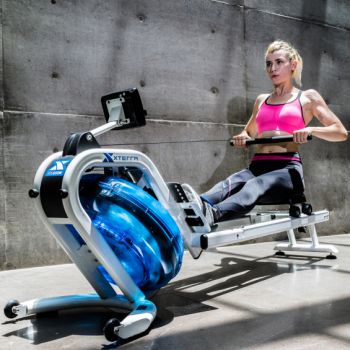 I love that the seat height is a full 15-inches off the floor. This means you won't kill your knees trying to get off and on. For anyone who has bad knees, this can mean all the difference between exercising and not exercising, right? You won't use the rower if you can't sit down or get up!
This rowing machine also has a built-in heart rate monitor. No chest strap required!
Other features of this incredible rower include:
The large 5.6-inch monitor is not only adjustable, so you can read it easily, but it also has 15 pre-programmed workouts so you never get bored
The display will read your overall time, 500 meters, SPM, drag force, total distance, strokes, total strokes, calories, watts, pulse (receiver built-in), quick start, standard, target (Interval/Single), custom, and race
There are 6 resistance levels controlled by the water level, so you will always feel challenged
This rower has transportation wheels and stands for vertical storage
The adjustable flex pedals keep your feet firmly in place
Features a padded handle to prevent injury during user pulls
This works with users up to 6'4″ tall and can withstand a user weight limit of 350 pounds
The large contoured seat is padded and comfortable
As you can see, this water rower has features that many other more expensive rowers have for half the price!
The Pros of the ERG650W Rower
Just a few of the features that make this rowing machine stand out are:
An exceptional warranty (especially at this price!)
The multi-function display which has preset workout programs
Vertical storage and transportation wheels make storing the rower easy
However, there are a few improvements Xterra rowers could have that would make them even better.
The Cons of the ERG650W Rower
While this machine is pretty darn good, nothing is perfect. A few of the drawbacks of this rowing machine include:
It does not fold for storage
The display isn't backlit and is only in black and white
No tablet or cell phone shelf
Final Thoughts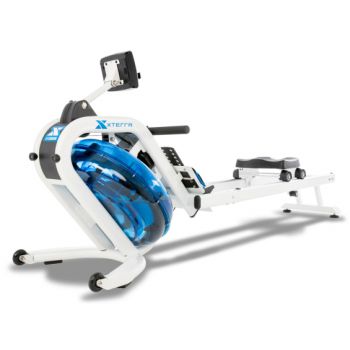 If you've been shopping for a water rower, then you are probably already impressed by the price and the good looks of this rowing machine.
Did I mention that Xterra rowing machines offer free shipping?? What a deal!
With the excellent warranty and the reputation the company has for making quality exercise equipment, I don't see how anyone could go wrong with this quiet, super-sleek, durable water rower.
I think Xterra Fitness has a real winner here!
2. The Xterra ERG600W Rowing Machine
You might think that this is the same rowing machine like the one above, and you would be partially correct.
This rowing machine is nearly identical to the ERG650W, except that the tank is sitting flat, not angled, and the weight capacity is a bit less than that of the ERG650W.
It's the same beautiful blue water tank, but the seat is just a bit shorter at 13.5 inches off the floor. It still has the same 6 levels of water resistance, and the display is just a hair smaller at 5.5 inches, but it's completely adjustable so you can read it easily.
ERG650W Vs ERG600W
The main differences between these two rowing machines are:
The ERG650 can handle 50 more pounds of user weight capacity: 350 Vs 300 pounds
The ERG650 does NOT fold, but it does store upright. The ERG600 does fold if space is an issue for you
The ERG650 water tank is mounted at an angle for extra resistance, while the ERG 600W tank is set flat
The ERG65o has 16 preset workout programs, while the ERG600 has only 5 programs
The seat height on the ERG650 is an inch and a half taller than on the ERG600
This rower also has a different warranty: 5-year warranty on the frame, 2 years parts, 90 days in-home labor
Other than that, these two rowers are extremely similar. As you might expect, the ERG600W also costs less.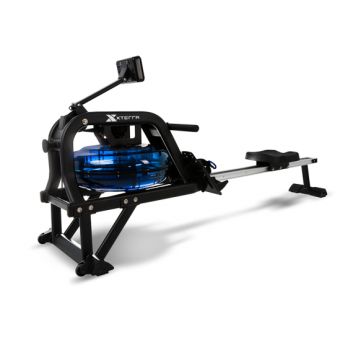 The Pros of the ERG600W Rowing Machine
There are lots of great features here, including:
Very affordable
Space-saving folding design
Very good warranty for the price
The Cons of the Xterra ERG600W
While this rowing machine has a lot to offer, it could benefit from a few improvements:
No water bottle or tablet shelf
The warranty is good, but not great
It will be difficult for you to find a rowing machine that offers everything that this one does.
Final Thoughts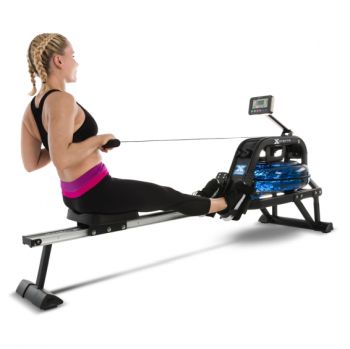 Both the ERG650W and the ERG600W are excellent rowing machines that will give you a full-body workout.
If you don't need the extra seat height or the extra weight capacity, and if you don't mind fewer preset workout programs, you will find the Xterra ERG600W to be a terrific rowing machine that will last for many years.
3. Xterra ERG700 Dual Resistance Rowing Machine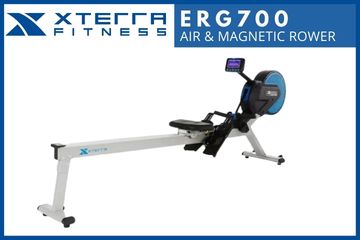 It can be difficult to decide which type of rowing machine you like best. I love water rowers because they are so smooth, and the sound of the water in the tank is incredibly soothing.
However, magnetic resistance rowers are virtually silent, which gives them a big edge over other rowers if you need something quiet.
The problem with magnetic resistance rowing machines is that sometimes, you reach such a terrific fitness level that you need more resistance.
This is where air resistance can be a big plus because there is no limit to the air that is available, which means you can never "outgrow" an air resistance rowing machine.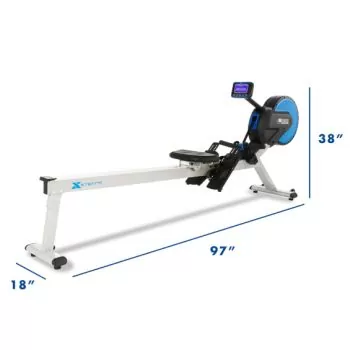 Xterra solves this issue with the ERG700 rower. This rowing machine uses both types of resistance so you will feel challenged no matter what fitness level you reach!
Isn't this an awesome-looking rower? I imagine seeing this in a gym in a Star Trek movie.
The features are just as impressive as this machine is. Just a few of the best features include:
A large 5.5-inch display that is in color and is backlit so you can read this easily even in a dark room
The side rail is aluminum for smooth gliding and virtually zero maintenance
The display includes a built-in heart rate transmitter for the best weight loss management (you need to use a 3rd party monitor, however)
There are 11 preset workout programs included
This rower features 16-levels of resistance so you will never be bored and feel that the rower is too easy for you
The large contoured seat is a full 20 inches off the floor (easy peasy on the knees!)
The flex-foot pedals and adjustable straps fit any shoe size
The padded rowing handle is made for comfort!
Supports users up to 350 pounds
Folds for compact storage
Xterra stands behind their rowing machines! This one has a lifetime warranty on the frame, a 5-year warranty on parts and one year of in-home labor.
If you like the idea of a dual resistance rowing machine and are impressed by this warranty, you should check out the Xterra ERG700!
The Pros of the ERG700
This fantastic rowing machine is a high-quality rower that has a lot to be proud of, including:
Dual resistance
20-inch high padded seat for comfort
Great warranty
The Cons of the ERG700 Rowing Machine
Nothing in life is perfect, and this rower has a couple of downsides:
No built-in heart rate monitor. Chances are that you have one already. If you don't, they are not expensive, but it would be nice if this item was included.
No air damper. This means you can't control the amount of air that enters the rowing machine, creating resistance levels that you may not be ready for.
Final Thoughts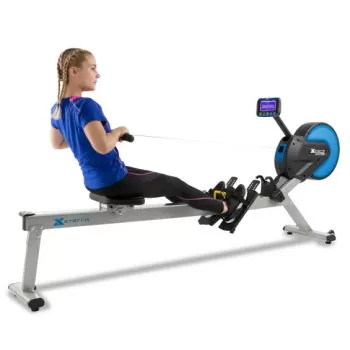 This is an outstanding air rowing machine/magnetic rowing machine in one. It's almost like getting two rowing machines for the price of one!
The warranty is also excellent for the price. You simply cannot go wrong with this piece of fitness equipment!
4. Xterra ERG500 Air Resistance Rowing Machine
If you want a rowing machine that will always challenge you, if noise is not a problem where you live, and if you like a machine that will kick your butt with challenging workouts, the ERG500 air resistance rower might be just what you are looking for.
The same way that fan blades push through the air, this rowing machine uses an air turbine to turn air into resistance. Since air isn't in short supply, there is no end to the resistance levels that this rower can create.
This rowing machine does allow you to control the amount of air that enters the cage, offering you a full 8 resistance levels. Chances are, however, that you will never need them all!
This Xterra rowing machine has a heavy-duty steel frame for super sturdy construction, an advanced air turbine, and a pretty darn good warranty on top of all these other features.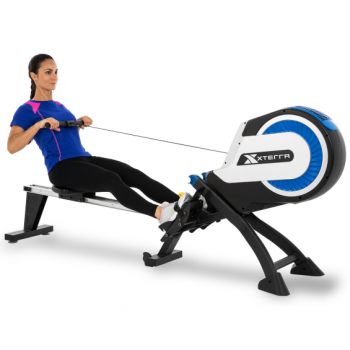 Let's look at the top features this air rower has to offer.
The warranty is a full 5 years on the frame, 2 years on all parts, and 90 days in-home labor
The performance monitor is only 3.3 inches, but it is adjustable to make it easier to read
The air resistance levels can be controlled with the simple touch of a lever
A large contoured seat is a full 15 inches off the floor for easy off and on
Flex-foot pedals fit every shoe size, small to extra large
There is a maximum 300-pound weight limit, and it can even be used by those who are 6'1″ tall!
This rower even folds and has wheels so you can store it almost anywhere
Many people love air rowers because the resistance levels are unlimited. You should note, however, that air rowers also tend to make more noise than water rowers. However, if noise isn't a problem for you, then you should consider everything this heavy-duty rower has to offer.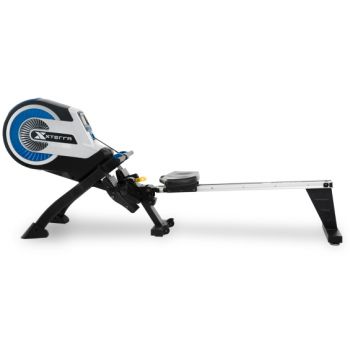 The Pros of the ERG500 Rowing Machine
The features I have found that makes this rowing machine stand out from the rest include:
The resistance handle is super convenient and easy to use
The 4 preset workout programs aren't fancy, but they do the job of giving you all the vital workout stats that are important to most people
Good warranty for the price
The Cons of the ERG500 Air Resistance Rower
This rower does have a few negative aspects to note, such as :
It can be awkward to change the batteries in the display monitor (luckily, the batteries do last a long time)
It's noisy, but you should note that ALL air rowers are
This rower still has a large footprint even when folded ( 45″ L x 20″ W x 57″ H)
Final Thoughts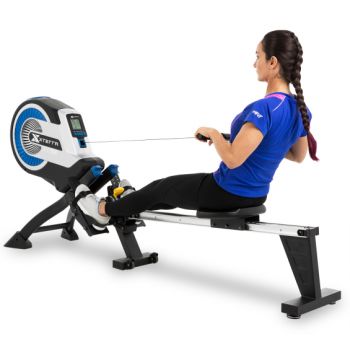 The ERG500 is a really good air rower, especially for the price. I think it has a darn good warranty, too.
For those who just want to jump on and get busy rowing, so they can reach their fitness goals, this rowing machine would be perfect for you.
5. The ERG220 Magnetic Resistance Rowing Machine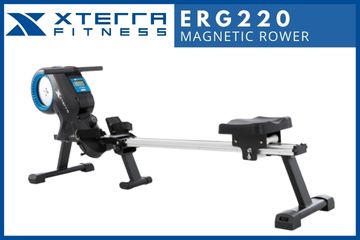 If quiet is your thing, you know, you have small children or a day sleeper or neighbors who might complain, then a magnetic rowing machine is exactly what you need.
If you remember your high school science classes, magnets can attract or repel one another, creating resistance. This is how these types of rowing machines work.
Xterra magnetic rowing machines are high quality and have different levels of magnetic resistance. The ERG220, for example, features 8 resistance levels that will always make you feel like you are working hard.
If you've been shopping for a magnetic resistance rowing machine but found the prices too high to suit your budget, you will find that the ERG220 is much more affordable but is still heavy-duty enough to last for years.
The top features of the ERRG 220 include:
Sturdy yet lightweight aluminum rails for smooth gliding action
A one year frame and one-year parts warranty
The 3.5-inch performance monitor displays all your vital stats
There is a built-in heart rate receiver (chest strap not included)
No electricity is required, so you can use this rower anywhere!
The seat is ergonomically contoured and is 16 inches off the floor
The maximum user weight capacity is 300 pounds and it accommodates users up to 6'4″ tall
This rower has everything you want at a price you will love.
The Pros of the ERG220 Rower
For a magnetic rowing machine, this one has so much to offer. The features that stand out to me include:
Folds to a reasonable compact space (47.2″ L x 19.1″ W x 56.9″ H)
Has a very good warranty for a machine at this price
The knob to control the resistance is easy to use, no getting off the rower to turn the knob
The Cons of the ERG220
While this budget machine has a lot to offer, you should be aware of a few downsides:
You need to buy a chest strap to use the heart rate monitor
The performance monitor could be larger and with no backlight, some may find it difficult to read
Final Thoughts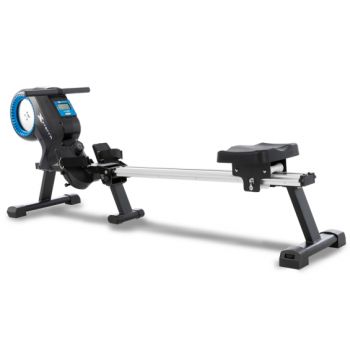 If you are looking for a magnetic resistance rowing machine with reasonable folded dimensions and accurate data, you will find that the Xterra ERG220 is an excellent choice for home use.
6. Xterra Fitness ERG200 Rowing Machine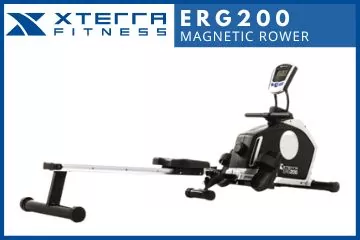 This rowing machine is very similar to the ERG220. Both offer magnetic resistance and have 8 resistance levels.
The main difference here is that the ERG200 uses dual extruded aluminum rails and a performance monitor that displays fewer workout stats to read.
For a less expensive rowing machine, this model from Xterra Fitness still has quite a bit to offer.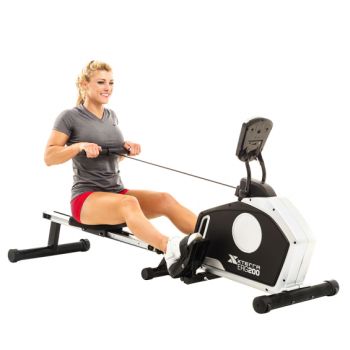 You will find that main differences between the ERG220 and the ERG200 are:
The ERG200 has a maximum user weight capacity of 250 pounds while the ERG220 can handle users up to 300 pounds
The ERG200 displays only total time, count, calories burned, total count, and scan, and it has an odometer
The ERG200 folds to a compact 36.4″ L x 20.7″ W x 47.3″ H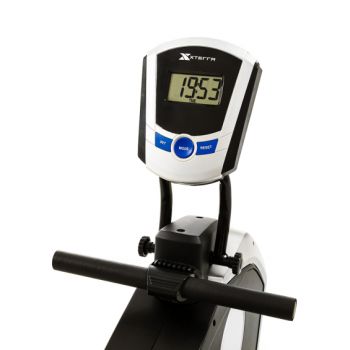 Don't let the price fool you. This rowing machine doesn't have a lot of fancy gadgets, but it will give you a terrific full-body workout that will make you sweat!
The Pros of the ERG200 Rowing Machine
Virtually silent. You'll be huffing and puffing but the rowing machine won't make a sound!
Oversized padded vinyl seat is very comfortable
Very smooth rowing action
The Cons of the ERG200
Despite not having a lot of the gadgets that higher-priced machines have, this rowing machine could be improved with the following:
This is not designed for heavy users. The weight limit is 250 pounds
No water bottle holder or tablet shelf
The performance monitor could have more features/stats
Final Thoughts
The Xterra Fitness ERG200 is a great rower for the money. If a silent exercise machine that will help you reach new fitness levels is your goal, the ERG200 will get you there.
7. Xterra Fitness ERG160 Magnetic Rower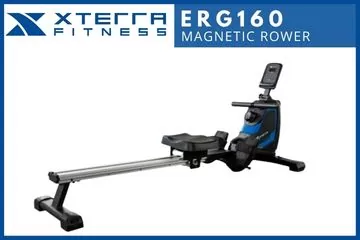 Are you on a tight budget and need a rowing machine that will give you the workout you want without breaking the bank? You've found it!
This is a very reasonably priced rowing machine that will certainly make you sweat but not about your next credit card bill.
The ERG160 features lots of little extras including:
8 levels of magnetic resistance
A built-in tray to hold your book, tablet, cell phone, etc.
A built-in water bottle holder
The performance monitor reads time, count, SPM, distance, and calories, and it scans all modes
A padded handle
A large ergonomically molded seat
The warranty is 1 year on the frame and 90 days for all other parts
Maximum user weight is 250 pounds
This is a basic rowing machine that will get you to your fitness goals. What more does anyone really need?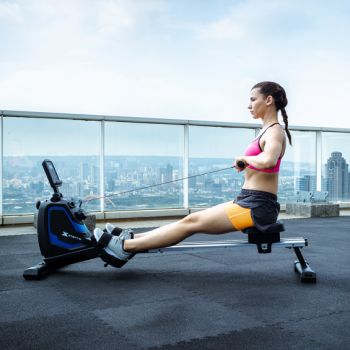 The Pros of the ERG160 Magnetic Rowing Machine
Besides the incredible price, the things I like best about this little rower include:
Large stabilizers on the front mean no slipping or moving across the floor
The tablet shelf and water bottle holder are a nice plus that many rowers do not include
The design is more compact than most other rowers
The Cons of The ERG160 Rowing Machine
You can pay more, but this machine would be outstanding if it had the following:
A heart rate monitor
A larger performance monitor
A few preset workouts
Nothing is perfect and, especially when you consider the price, this rowing machine still offers more than some higher-priced models!
Final Thoughts
Don't keep yourself awake at night wondering how you will pay for your new rowing machine. The Xterra Fitness ERG160 won't break the bank, and it will get you in shape fast!
Before You Go ….
No matter which one of these Xterra rowing machines you decide to buy, you will get free shipping on every single model.
Many of the reviews have rated these rowing machines and the customer service as excellent. What good is a warranty if the company is hard to deal with, right?
Pick your machine, get free shipping, and a great workout all in one!
Keep on rocking and rowing, folks!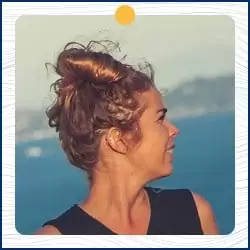 Written by Petra Amara – RowingCrazy.com
CEO & Founder of RowingCrazy, National Rower, Coxswain Womens Eight Team, Rowing Coach & Writer
Petra is a Mother of two and owner of Rowingcrazy.com. Petra lives and breathes rowing, she also has a passion for writing which lead her to start RowingCrazy.com to share her rowing experience and expertise with others.