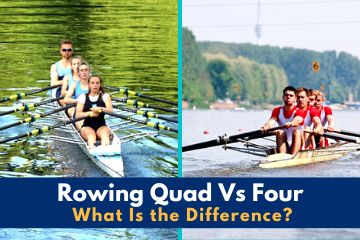 If you are fairly new to rowing, you might find some of the terminology confusing. Not to worry, no one is born knowing how to row or familiar with the lingo. In this post, I will clarify the difference between a rowing quad and a four.
Here's the short answer.
A quad in rowing (assigned the symbol 4x) is a sculling boat with four rowers, while a four (assigned the symbol 4) is a sweep rowing boat with four rowers.
Quite simple, but there's more to it than that. If you are attending a regatta, you will hear words like coxless four, 4 plus, quadruple sculls, and many more.
These words may not make sense to you now, but my handy guide will get you up to speed in no time!
Quad Vs Four- What Do These Words Mean?
Like many sports, rowing has its own language or lingo. To a newbie, it can be confusing, but it's not as complicated as you might think.
First, before I explain these two terms, you must know the difference between the two different types of rowing, sweep rowing and sculling.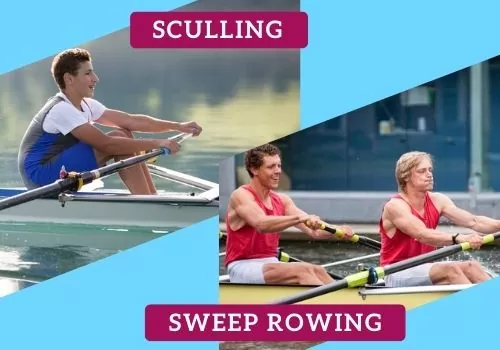 Sweep rowing, frequently just called rowing, means that each person in the boat is holding only one oar with both hands. You must have at least two rowers so the boat rows straight across the water.
Sculling is when each rower holds one oar in each hand (two oars). You can have a single scull or multiple scullers in a boat.
Now, let's talk about quad and four.
A four means that there are four people in a boat doing sweep rowing.
A quad means that there are four people in a boat doing sculling.
This is one quick way to know what type of rowing is going to happen, even if you can't see the boat and you can only hear the announcer at a regatta.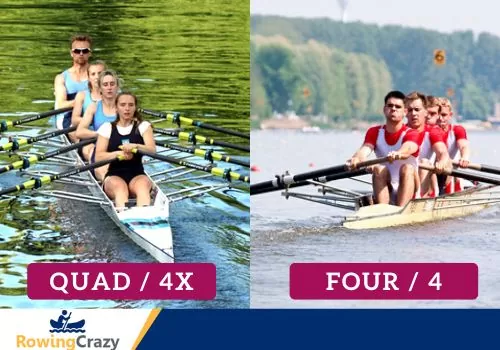 A sculling boat with four people will often be called a Quad scull or just "Quad" and written as 4X.
A sweep rowing boat with four people is simply called a Four and written as 4.
What Is the Difference Between Coxless Fours and Quadruple Sculls?
Remember that the word Fours refers to a sweep rowing boat that has four people, each using a single oar.
A four that doesn't have a coxswain is called a coxed four. If it doesn't have a cox, then it is called a coxless four.
For coxless sweep boats, one of the rowers steers the boat using a small foot pedal that controls the rudder.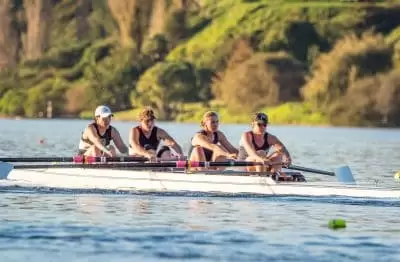 On the other hand, a quad (or quadruple scull) is a boat for sculling with four rowers, each holding two oars (one oar in each hand). A quad can either be coxed or coxless.
Just keep in mind that fours refers to sweep rowing with four rowers, while a quad refers to sculling with four rowers.
What Is a 4+ in Rowing?
Based on what we've already learned, a four or 4 refers to a sweep boat with four rowers, so what does the plus mean? The plus means that there is a coxswain on board.
You might also hear this called a coxed four.
What about 4x+? This refers to a coxed quad, which means that there are four people in the boat doing sculling, and they have a coxswain on board to steer.
A coxed quad is usually only used by beginners or juniors, but you might find a regatta with a coxed quad.
While we're at this, let's learn the meaning of a few related terms, such as:
| | |
| --- | --- |
| Term | Meaning |
| Coxless pair | A sweep boat with two rowers but without a coxswain; also written as 2- |
| Coxed boat | This means that there's a coxswain on board |
| Coxless quad | A sculling boat with 4 rowers but without a coxswain; also written as 4x- |
| Single | A sculling boat with one rower; written as 1x |
| Double | A sculling boat with two rowers; written as 2x |
Both single and double sculls are always coxless.
Is this starting to make some sense? It's not nearly as complicated as you may have thought!
For more terms, please refer to this chart.
Where Do the Strongest Rowers Sit in a Racing Boat?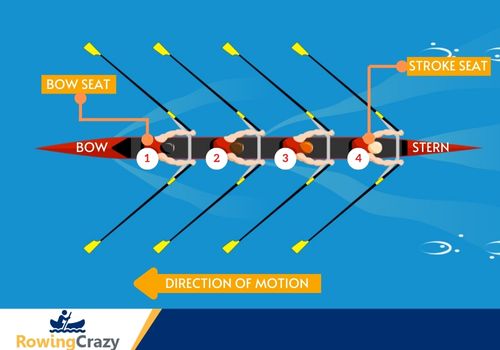 Rowing boats have numbered seats from bow to stern (except for single sculls, of course).
The first seat is called the bow seat, while the seat closest to the stern is often called the stroke seat, where the most competitive rower in the group often sits.
The middle seats are occupied by the most powerful and/or heaviest rowers. These seats have interesting names such as the Engine Room, the Meat Locker, or other terms.
Since the middle part of the boat feels the dips and sways less than either end, these rowers can focus on rowing as hard as they can.
The two seats closest to the bow (numbered 1 and 2) are often referred to as the bow pair. The first seat, called the bow, feels the pitch and sway of the boat the most, so it's the responsibility of the bow (number 1) and the second rower (number 2) to stabilize the boat as much as possible.
The bow pair and the coxswain are generally the lightest and smallest in the crew.
Different boats have a different number of seats, but this gives you an idea about where and who the crew is in sweep boats or sculling boats.
Crew and Crewing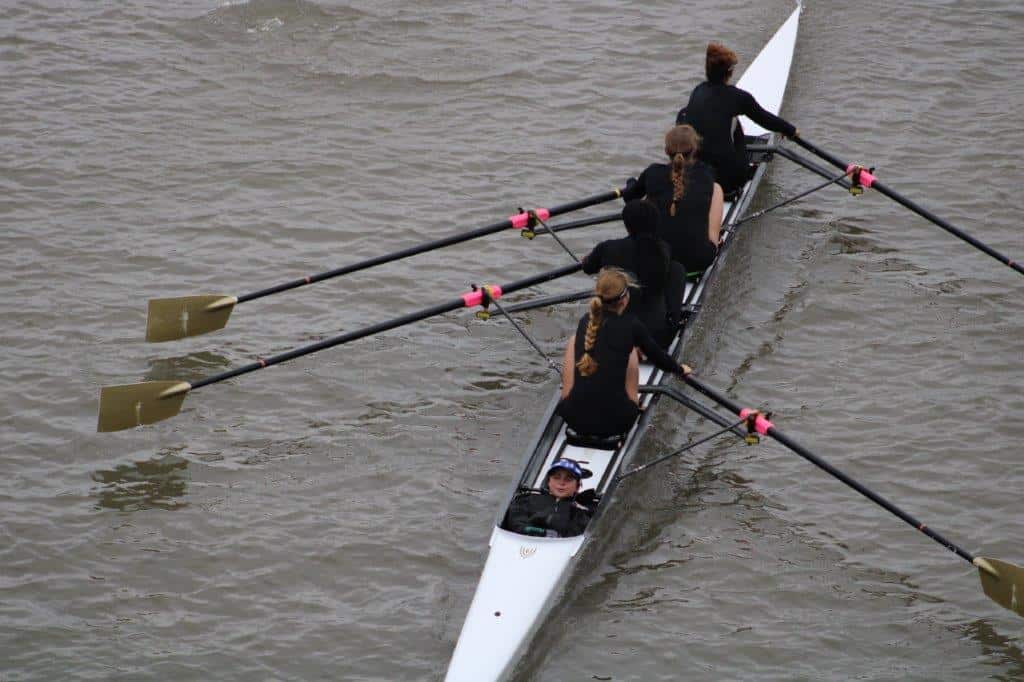 This is perhaps the most confusing part of rowing terminology.
Crew and crewing are terms used to refer to the sport of rowing at US collegiate levels. In other words, crew or crewing simply means row or rowing (read more on crew team positions here). If you are attending collegiate regattas, you will hear this term quite a bit.
Otherwise, at all other regattas and in other countries, the word crew refers to the rowers or the rowing team in a boat.
The Bottom Line
I hope you found this article helpful and that you now feel more confident when speaking about rowing.
The more time you spend at a regatta or watching Olympic games, the more these terms will become familiar to you.
Root for your favorite team or join one of your own. Either way, you are sure to have a great time!
Enjoy learning and happy rowing, everyone!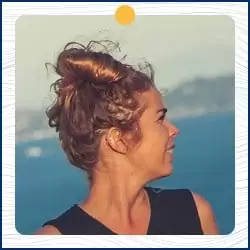 Written by Petra Amara – RowingCrazy.com
CEO & Founder of RowingCrazy, National Rower, Coxswain Womens Eight Team, Rowing Coach & Writer
Petra is a Mother of two and owner of Rowingcrazy.com. Petra lives and breathes rowing, she also has a passion for writing which lead her to start RowingCrazy.com to share her rowing experience and expertise with others.