Have you ever wondered are you using the right gym gloves when rowing or what are the best weight lift gloves to use on a rowing machine?
It's exciting to see your muscles take form when you hit the gym. But it isn't always as exciting to see your hands get callused and painful blisters to develop because of your hard work at the fitness center. Frequent workouts can take a toll on your palms, especially when rowing.
| Image | Title | Buy |
| --- | --- | --- |
| Top Top Top | Elite Leather Gym Gloves | Check Price |
| Top Top | Nemesis Evo Weight Lifting Gloves with Integrated Wrist Wrap Support | Check Price |
| Top Top | Harbinger BioForm Non-Wristwrap Weightlifting Glove | Check Price |
| Top Top | Harbinger Men's BioFlex WristWrap Weightlifting Gloves | Check Price |
| Top Top | Harbinger BioForm Wristwrap Weightlifting Glove | Check Price |
| Top Top | GoFit Men's Sport-Tac Pro Trainer Gloves | Check Price |
| Top Top | Fitness Mad Mens Weight Training Gloves | Check Price |
Also the harder you lift weights the more callused your hands may get – unless you wear the right gloves. There is a huge variety of lifting gloves in the market. Different brands produce different sizes and varieties of gloves. With such variety, anyone who is looking to keep their paws in an immaculate form can be sure to get something that suits them.
Our Top Pick
Grip Power Pads® Elite Leather Gloves
Regular rowing workouts or lifting weights with the wrong type of gloves may create a few problems. Your wrist and fingers may become numb, your palms may sweat a lot and make you uncomfortable due to inappropriate fabric, and the metal may slip if the glove has poor grip. We've tried and tested over 68 gloves and rated the best gloves below.
Check Out Below Our List of the Best Weightlifting Gloves for Rowing
#1: Grip Power Pads® Elite Leather Gloves
The elite leather gloves have built-in 2-inch wide wrist wraps that you can use to adjust the fit to where it feels most comfortable. The wrist wrap also feels gentle and is optimized to provide maximum wrist support. The gloves are made of soft leather that feels great against your skin.
1 Year Replacement Warranty
The leather is sturdy and great for all your powerlifting, heavy weight lifting, bodybuilding, and strength training workouts. They come with a 1 Year Replacement Warranty, a guarantee of durability and satisfaction. Many gloves won't risk giving making such guarantees because they'll break apart in months if not weeks. Such gloves do not provide the right value for money, but the Grip Power Pads® Elite Leather Gloves do. They will certainly surpass your expectations.
Non-slip Padding To Help Enhance Your Grip
These have non-slip padding that helps enhance your grip and keeps the metal from slipping off your hands. It is anyone's guess how dangerous it can be to have a heavy metal slip from your hands while training. The metal can hurt you or fall to hurt the person next to you. Regardless of how it happens, a slipping palm can create serious accidents at the gym. But these Elite leather gloves ensure that kind of accident never happens.
Added Bonus of Two Different Removal Options
The Grip Power Pads® gloves offer two different removal options to maximize the ease with which you can take them off your hands. You can either grip the loops on the 2nd and 4th fingers and pull the gloves off or grab the tab on the side and the thumb, 3rd & 5th fingers; pull the glove and you're done.
Review of Grip Power Pads® Elite Leather Gloves
Say goodbye to calluses with these expertly engineered gloves. They have thick palms that leave absolutely no room for the impact that can create calluses and blisters. It features the blue two-tone rubber padding for extra insulation and enhanced grip strength. This means the glove promotes safe training and keeps abrasions, calluses, burns, and blisters from appearing on your hands. Such padding also means you can give your all to every rep and lift harder, stronger, and heavier.
The fit is great. Professional bodybuilders and hobbyist trainees alike are fond of this feature. Also, regardless of your hand size, you'll find your fit – the gloves are available in a range of sizes to ensure no one misses their right size. There is a small size, medium size, large and extra-large size.
Satisfaction with these is a definite guarantee. They feel great on your hands. Amazingly, if you don't find them as appealing as you'd love, you're guaranteed to get your money back.
Once you buy them, you have a whole 60-day satisfaction guarantee and a money-back option for every pair. There is also an additional 1-year replacement warranty on every pair of these gloves you buy. No deal on gloves could be any better than that. There is more: these are handcrafted from luxury quality leather. They are designed to feel soft and gentle on your hands so you can enjoy training with them on your hands (read more on rowers hands ).
#2: Skott Nemesis Exercise Glove
This weight lifting glove has a snug and comfortable 3-Dimensional unisex fit system that makes it a glove for all. Since it is available in different sizes, you can be certain you'll find your best fit, whether male or female. If you have used gloves at the gym, you'll agree that fit matters.
3-Dimensional Unisex Fit System
The weight lifting glove must not be so tight that it limits your palm movement and the movements of your fingers. At the same time, it should not be wobbly – loose-fitting gloves can fall off your hands and affect your performance at the gym. The Skott Nemesis Exercise Glove solves both problems with its 3-Dimensional unisex fit system. It is optimized to fit properly and feels comfortable.
Industrial Strength Velcro
It has a wrist wrap with new generation industrial strength Velcro that you can use to adjust the wrist to fit best. The Velcro is top quality and strong and keeps the gloves firmly in place each time. The glove also has a genuine Skott design and characteristic quality of the brand. Additionally, there's the ultra-protective palm that is backed with high-density foam for added comfort and protection.
Durable Gym Rated Material for Longevity
These gloves are particularly soft. They feature durable gym rated material for longevity. When it comes to the Nemesis, you can be certain that the product you are buying is going to last. Gloves that break apart just soon after you buy them don't offer good value for money. You don't want to make gloves one of your monthly expenses!
Review of Skott Nemesis Gloves
Skott Nemesis is a selection that you can seriously fall in love with. With their snug feeling on your hands, these gloves make training an enjoyable experience. You'll want to hit the gym all the time just so you can use them and enjoy the cozy feel. These will often promote better results in your training.
Professional Athletes Prefer this Brand
They make workouts more comfortable encouraging you to train for longer without developing sore palms and maximize your gains. If you have a taste for style, you'll love the Nemesis. The manufacturer has put in good work not just on quality but the look as well. This is perhaps one of the reasons why a lot of professional athletes prefer this brand. Their integrated wrist wraps represent the latest in the gloves technology.
Industrial Strength Velcro to Prevent Injury
They have a new generation Velcro that boasts of industrial strength and dependable service. The wrist wraps are fully integrated to offer maximum support. They are soft and will not task your wrist joints, so you can truly enjoy training with them. Training is hustle free with these – they have an anti-slip gel printed palms to prevent any chances of slippage that could cause injuries. Injury from your workouts can seriously affect your progress and you may be forced to halt training for some time while you nurse your injuries.
Skott Nemesis exercise gloves are perfect for anyone who wants to give their palms maximum protection from the impact of gym equipment while also feeling completely comfortable training.
#3: iiSPORT Gloves
These are one of the sold by Break Thru we love that they have a wrist wrap for support. Unlike some wrist wraps that make you feel like your wrists are getting chocked, iiSPORT have designed this product with comfort in mind.
Unisex Gloves for Both Men and Women
These workout gloves by iiSPORT are unisex and can be used by both men & women. This is a great feature; you wouldn't have to skip training because your gloves have broken apart. You can simply borrow your partner's pair of gloves and use them to work out for the day as you make arrangements to receive your next pair.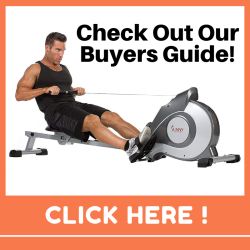 Available in a Wide Range of Sizes
These are available in a wide range of sizes. Anyone can find their best fit. If by any chance you pick a size that does not quite fit your hands, you can have them exchanged for the right sized pair without a problem. You don't, therefore, have to sacrifice your preference for the brand because you can't find something for your size of hands. The gloves are available in neutral colors that match the color preferences of many people. Chances are that you'll find what you like.
Integrated Wrist Support – Ideal for Weaker Wrists
Their integrated wrist support provides the best grip for men and women alike. They are particularly perfect for people with weaker wrists. The support is extremely helpful in ensuring you don't hurt your wrist joints. The additional support can also help you lift bigger weights that you could otherwise not be able to manage.
Click Here to See Our Top Rowers Under $500!
Review of iiSPORT Weight Gloves
If you are looking for gloves that will keep your palms dry by keeping sweat away, then iiSPORT is where to look. These have mesh cloth that effectively enhances permeability and ensures your hands are well aerated at all times. Sweating in the gym won't only make the gloves dirty fast, it also makes you uncomfortable and may significantly reduce your performance.
You'll love the fact that you can freely adjust the tightness of them with the wrist Velcro. It should not feel too tight, but it shouldn't be loose at the wrist either. With this wrist Velcro-like this, you have the liberty to work out feeling your best. The finger tabs design of the wrist wrap on iiSPORT also ensures that you can wear and remove them with ease.
You don't want to lose your much-loved gloves because you accidentally rip them apart while taking them off. This feature has been made specifically to eliminate that dreaded possibility. When you sweat, these gym gloves have got you covered. There's the specially designed terry cloth on the back of the thumb that you can use to wipe your face to remove sweat. This means you don't have to spend time taking-offs your gloves in the middle of your workout only to wear them again to do your power training and pull-ups! How great is that!
Weights also won't fall off your hands which is great too. The gloves have a unique-design anti-slip silica gel printed layer to improve your grip. The rubber padding provides you with more insulation, gives you more leverage to have a stronger and safer grip. With better grip, there is little room for burns, abrasions, calluses, and even blisters. All these make the iiSPORT a perfect option for all your weight lifting and pulling workouts. Congratulations to iiSPORT for making our list!
#4: Harbinger Men's Bioform Glove
This Harbinger glove features a new tech bioform padding that softens when exposed to the warmth of your body and molds to the grip of your hand. It's lovely. It is soft and feels so natural to the hands. It won't create unnecessary pressure on your palms or wrists.
Special Tackified Leather to Improve Grip Control
It also has a special tackified leather designed to provide the best grip control and power. The choice of leather plays a major role in determining how well you can hold the metal during the workout. The last thing you want is to have your hands slip from time to time. It can cause accidents that will hinder your progress. That's why the leather on the Harbinger Men's Bioform Glove has been carefully chosen to maximize your workout efficiency.
Say Good-Bye To Blister with Extended Finger Length
There's also the pre-curved extended finger length of the glove that optimizes the protection to your hands. Your fingers run the risk of suffering blisters and soreness if the glove does not cover most of your hand properly. But with these gloves, you can say bye-bye to any kind of blisters. The fingers are long enough to cover virtually every part that would get the blisters while you work out.
BioFlex Layered Stretch Mimics Natural Hand Movement
Despite the extended finger lengths, these gloves leave enough room for your fingers and the whole hand to get sufficient aeration. The patent design that features the BioFlex layered stretch effectively mimics the natural movement of your hands. Training with these gloves, therefore, feels natural. The glove also has a dual closure system that customizes their fit and hugs the palm gently to eliminate excess bulk. Additional bulk on your hands can often feel like another work on itself.
Review of Harbinger Men's Bioform Glove
If you want something that will feel natural in your hands and make the workout feel natural as well then these are the gloves to buy. They have been manufactured with the user in mind.
They have long enough fingers to protect your fingers completely from getting callused while allowing enough room for your hands to breathe. The gloves boast of two exclusive technologies, BioFlex and the patent-pending bioform; so much tech in a single weight lifting glove. The new bioform technology will soften with your body heat and mold to provide a dynamic perfect feeling grip. But it's all worth it because then anyone will be proud to wear the world's premier weight training glove while working out.
It's great to know that you're wearing a product that has been engineered to provide maximum protection against blisters and calluses. This only means you can up your weight lifting game go for heavier weights without fear.
The gloves enable you to work out harder and for longer. You can be sure of less fatigue with the pre-curved extended finger length that helps maintain the proper position of the hand. What's more: the gloves have fully adjustable wrist wrap with fit lock tension tab that pulls palm smooth and eliminates excess bulk.
#5: Harbinger Men's Bioflex Gloves
This glove features the BioFlex technology for guaranteed dynamic comfort; you don't want to work out while looking forward to when it will end. With their augmented comfort, these make you enjoy every session and keep you wanting to train for longer and stronger.
Pre-Curved Extend Length for Finger Protection
There is the pre-curved extended length designed specifically to position and protect fingers. Unlike most gloves, the Bioflex has been engineered to limit room for calloused fingers by all means. Despite the maximum protection, it offers your fingers with the extended length, there's still enough room for the fingers to get well aerated and keep from perspiring during workouts.
Exclusive SpriderGrip for Maximin Gripping Power
Harbinger's exclusive SpiderGrip™ leather serves to maximize gripping power. It makes weight lifting a breeze as you won't need to exert yourself much anymore. With a powerful grip, it is easier to lift much heavier weights with little exertion. The exclusive tactified leather palm makes it all possible. The palm grabs bar firmly giving you the very ultimate control of your training and power. And they come in various sizes meaning there's the right size for every fitness enthusiast.
No Bult in Palm Area for Smoother Palm Feel
It has an exclusive dual closure system that customizes fit and smoothes palm for peak performance. The patent-pending layered palm design on the Bioflex helps eliminate bulk around the palm area so the grip feels all very comfortable.
Review of Bioflex Gloves
Some great work has gone into making the Harbinger Men's Bioflex Gloves to make them look and feel perfect the way they do. The all-leather gloves truly provide maximum grip on the bar. Few workout gloves can protect fingers so well.
If you are looking for a true next-generation pair of gloves then you know just where to look: the Harbinger Men's Bioflex. Their state of the art patent-pending palm truly fits forms a great fit. You'll particularly love how the glove's exclusive dual closure system works. It customizes fit and creates a smooth palm performance.
In essence, this is the gym glove to wear if you are looking to achieve peak palm performance. With its patent-pending layered palm design, there is no bulk on the glove, which makes it feel just like a second skin! You can imagine how such a comfortable feel can improve your performance at the fitness center.
You won't feel the effect of the bar on your palms at all. This means you can lift heavy weights without hurting your wrist or developing soreness on your palms. With this kind of weight lifting glove, it's easier to do your CrossFit training or powerlifting and other exceptionally heavy fitness workouts.
Designed for use in bodybuilding, weight lifting, cross-fit, rowing and virtually any other intense workout, the Harbinger Men's Bioflex Gloves are more than worth a thought! They are among only a few top selections in the market that offers an all-round workout experience. One more thing: the gloves are durable, so you won't have to worry about looking for a replacement every other time.
#6: Harbinger Men's Bioform Wristwrap Glove
Like other flagship gloves from Harbinger, the Men's Bioform Wristwrap Glove features the new tech bioform padding that softens with body heat and molds to your grip. It feels perfect, you may think it is an extension of your skin. This is an exclusive feature that you won't find anywhere else but with the Harbinger brand.
Tactified Leather for Ultimate Grip Control
The glove has an exclusive tactified leather which delivers the very ultimate grip control and power. Leaves nearly zero chance of bar slipping off your grip, and creates a comfortable feel with its material that softens on your grip. It improves your workout efficiency and gives more control of the weights you handle. The Harbinger Men's Bioform Wristwrap Gym Glove has a fitlock tension tab that makes it is fully adjustable. This feature means there is absolutely no excess bulk on your palms. The only bulk you should feel during your workout is that of the weights you lift. The hand protection shouldn't be part of that bulk, and no one knows that better than the Harbinger marque.
BioFlex Layer To Mimic Natural Motion of Hands
The glove has a patent-pending BioFlex layered stretch design that's carefully designed to mimic the natural motion of the hand. You should feel no tenseness while gripping the weight bars and the whole workout becomes a breeze with these. Like their other
Pre-Curved Extended Finger Length to Protect Your Hands
Harbinger cousins featured earlier in this write-up, the Bioform Wristwrap Gym Glove has that characteristic pre-curved extended finger length that maximizes the protection it offers your hand. If you have particularly long fingers, here's the pair of gloves for you. The extended finger length takes your fingers' protection a notch higher. You can be sure the exposed part of the fingers won't be able to catch a blister since most of the part that is in contact with the metal is fully shielded from harm. There are various sizes so you won't miss your fit, these are made with all hand sizes in mind.
Review of Bioform Wristwrap Glove
When two exclusive technologies are put together to create a single product, the result is bound to surpass expectations. That's precisely the case with the Bioform Wristwrap Weight Lifting Glove from Harbinger. The glove is the embodiment of the brand's patent-pending bioform and BioFlex, resulting in the world's premier weight training glove.
This piece of handwear is matchless if looked at in terms of functionality. It looks great too, so if you have a taste for great-looking stuff then here is your eye candy. The new tech bioform pads are strategically placed to soften with your body heat, and mold to hand and weight bar. This way, you are assured of an extremely dynamic and comfortable grip. In essence, this is the gym glove you wear if you want to enjoy working out.
It can motivate you to train more and see much better results. This expertly engineered hand and palm protection help keep calluses and blisters away so you can lift heavier weights, harder and for much longer. The proprietary BioFlex layered stretch design that mimics your hand's natural motion makes everything about your workout feel natural and strain-free.
See All Our Quiet Rowing Machines – Shhh!
Additionally, the fact that this glove has a gentle wrist wrap means that it provides additional support to the wrist area, perfect for people with weaker wrists. It can help keep a weaker wrist safer from any strains that could otherwise lower your training efficiency. Added to the pre-curved extended finger length that's designed to reduce fatigue by maintaining proper hand position, you have everything you would need in a weight lift glove here.
#7: GoFit Diamond-Tac Wrist Wrap Weight Lifting Glove by GoFit
This piece of hand protection by GoFit features a particularly gentle wrist wrap, just what you need for added wrist support. The wrist wrap is fully adjustable so you can achieve the desired level of tightness. You won't want your wrist wrap to be too tight, neither would you want to have it too loose that it feels it will fall off. That added edge of comfort provided by a well-fitting wrist wrap is essential for the efficiency of your workout.
Diamond-Tac Wrist Wrap Perfect for Larger Fingers
The Diamond-Tac Wrist Wrap Weight lifting Glove is extra Large – perfect for people with, particularly large fingers. It will feel like a natural casing to your hands with its size that fully accommodates a large hand. The Black color is such a neutral color choice. You don't have to put up with shouting colors at the fitness center. Being neutral, many people can truly resonate with the color of this special weight lifting glove.
Neoprene Knuckle Nanel that Offers Higher Level of Flexibility
It features a technologically advanced leather and neoprene knuckle panel that ensures a higher level of flexibility. The feel is great on your fingers and helps enhance the ease with which you work out. The Diamond-Tac palm has been optimized to offer a much superior grip, unlike most weight gloves.
Lift Heavier Weights without a Problem
Such a superior grip means that you can go for heavier weights without a problem. You won't worry about your palms getting callused inside this kind of protective pair of gloves. There is the finger loop on these for easy insertion of hands. The gloves also have a pull tab on the finger to facilitate easy hand withdrawal. In essence, you can be sure that your newly acquired gloves aren't going to rip apart while you're removing them from your hands.
Review of GoFit Diamond-Tac Wrist Wrap Weight Lifting Glove
Those who have used the Diamond-Tac Wrist Wrap Weight lifting Glove by GoFit agree that its gripping power is one of the best you can ever get. This is all thanks to the rubberized reinforced canvas thumb and forefinger.
Other than being a fine looking piece, you'll love the synthetic leather etched wrist wrap with its adjustable hook-and-loop that you can use to adjust how tight the gym glove feels on you. The fingers also have reinforced stitching, needless to mention how that makes these gloves sturdy. With this kind of strong gloves, you can save on the cost of replacement.
The gloves last long and serve you with great value throughout the entire time. No one wants to buy a new pair of gloves every other month because the pair cannot last long enough. Their palms are dense to provide the needed protection from callused paws and prevent you from developing soreness on your hands. Such soreness can stop you from working out as strongly as you should.
With such gloves, you can be sure to work out 5 days a week and still have your hands feeling and looking well-manicured. If you tend to sweat a lot while training, you'll want to think more seriously about your choice of gloves. They provide adequate breathing space for your fingers and will keep your sweating quite minimal.
#8: B Nooch Premium Gold Label Gloves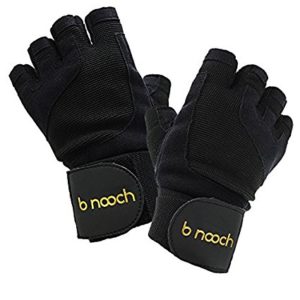 B Nooch Gold Label Workout Gloves have a wrist wrap for added support. They are particularly great for persons who need more wrist support. The wrist wrap is also adjustable so you can work with it where it fits best.
Unisex Gloves
The glove is unisex. You won't need to look at your gender before making a purchase. Whether you're a man or woman doesn't matter, you can enjoy using this hand protection. B Nooch Gold Label gloves are made of strong synthetic leather to last the longest time possible. With these gloves, you are assured of value for your money.
Great Price Point for Their Quality
It's also amazing that these come on the lower end of the price spectrum. People will choose different brands for different reasons, but you'll agree that no one wants something that will break apart in just a short time of usage. That's why B Nooch is the number one choice for many fitness enthusiasts. They are durable and won't rip.
Short On Space? Click Here to See All Our Compact Rower!
Excellent Padding for Palm Protection
The gloves have an adequate amount of padding for added palm protection. Padding is a major feature of a glove; it must be sufficient to ensure your hands are safe from the impact of the metal bars. Good padding ensures your hands don't get painful blisters and calluses. This is one thing that makes the B Nooch Gold Label gloves stand out from the crowd.
It has thick padding to encourage heavy lifting that can significantly maximize your weight lifting results. You can take on heavier metals and lift harder without hurting your palms.
Non-Slip Leather Palms – Ideal for Pull-ups and Other Intense Lifting
They have non-slip leather palms that ensure there's zero palm rip. This feature makes the gloves great for pull-ups and other exercises that involve intense lifting or use of the hands. A good grip helps minimize accidents during your workouts. You can take on heavy deadlifts without hurting both your palms and the gloves because they are made of super-strong synthetic leather.
Review of Nooch Premium Gold Label Gloves
For anyone who is looking for maximum palm protection, the B Nooch is the place to look. The glove has a double foam padded layer for maximum callus and blister protection. This is designed to suit the hand safety of those who wish to safely lift heavy and hard.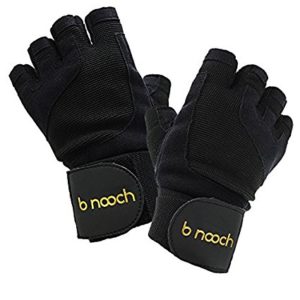 A lot of gym gloves have thin palm layers, which render them ineffective against heavyweights. But B Nooch turns that around. It fits right, doesn't slip, and is extremely comfortable to wear.
Do you value comfort? Then here's the glove for you. It features wrist wrap with Velcro strap you can use to adjust the fit so it doesn't dig into your wrist or sit loosely and wobble on your hands. That kind of experience can kill your motivation. Everyone needs stable wrist support to guarantee safe and effective weight lifting. And the B Nooch provides just that.
Not to mention that the open-cell foam finger cushioning on these is just what you need to support your pulling exercises. Sizes range from extra small to extra-large. This way everyone gets what fits them perfectly regardless of their hand sizes.
The short fingers will ensure your hands are dry at all times. With no sweat on your palms during a workout, you can stay clean and tidy at all times. And when they finally catch some dirt, the gloves are easily washable so you won't work out with unhygienic gloves on your hands.
#9: Fitness-mad Mens Weight Training Gloves
The glove has a leather palm with very soft padding that feels gentle against your skin. It has been designed to offer the very best of comfort. The wrist has an adjustable Velcro that you can use to set the fit to where it's most comfortable.
The Half-finger Design Ensures Your Fingers can Breathe
These also have a fine leather palm for a good grip. It provides a strong grip against metal bars that won't let it slip off. This helps minimize the chances of accidents while training. There is the half-finger design that ensures your fingers can breathe and not trap sweat inside the gloves. The pull-off tabs are designed to ensure easy removal of the gloves.
The breathability is further augmented by the double-layer stretch-spandex back. With these features, your palms will experience absolutely no sweat that could make you uncomfortable while training.
Feature Pull-on Tabs for Easy Wear
The gloves feature pull-on tabs that make it easy to wear them by simply pulling them on. They come in a whole range of sizes; small, medium, large and extra-Large sizes so you can get your right size without having to put up with a smaller size or a larger one. The latter can wobble on your hands making training less enjoyable.
These gloves are available in different colors as well. You can be sure to find your favorite color that will be pleasing to buy.
Review of Fitness-mad Mens Weight Training Gloves
If you are looking for hand protection that will keep calluses and painful blisters away, then search no further than the Fitness-Mad Men's Cross Training and Fitness Gloves. The gloves are truly great.
They feature a sturdy leather at the palms and a thick layer of padding that leaves zero chance for callused or sore palms. If you've been to the gym then you know just how sore palms can be a major hindrance to success. You need your hands in perfect condition to get the motivation to work out to your best. And these are designed to provide just that.
The sturdy leather material also means that the glove will last more than you figure. Many varieties of gloves will not take you for long, but these gloves last. And that can often mean you are spending money on buying new gloves every other time.
It can be costly in the long run to have to replace your gloves frequently. With the Fitness-mad Mens Weight Training Gloves however, you get the perfect brand that lasts, feels comfortable to wear, and gives you a great grip all at the same time. Think of the excellent quality of leather, and you have it in these gloves.
The strength is further enhanced by the expertly engineered stitching and great build quality. And, in addition to being extremely well padded, these gloves also allow for decent breathability with the stretching material at the back of the hands – so it fits well without appearing too tight on you.
#10: Elite Body Squad Gloves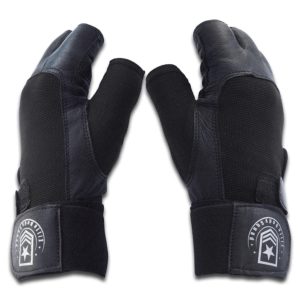 These premium gloves feature the highest quality of leather gloves can ever have. They are super soft, with durable leather that will serve you for years without showing signs of aging. They have added padding to each primary grip point so you can peacefully say goodbye to blisters and callused palms.
Extra Thick Wrist Support – Ideal for Those With Bigger Wrists
They have thick, strong wrist support perfect for those who don't have the biggest wrists. The wrist wrap provides more control by stabilizing your wrists during heavy weight lifting. And if you have particularly strong hands, these gloves are a bonus as you can now take on bigger and heavier weights without risking an injury.
Double-Stritched Breathable Fingerless Less and Palm
The gloves have double-stitched fingerless leather and palm and breathable mesh lycra on back. This combination is the perfect recipe for a sweat-free training. The lycra ensures a free flow of air into your hands and the fingerless design provides room for any traces of sweat to be wicked away. There is also the easy-open finger tab for size adjusting.
With this feature, anyone can wear the glove at the most comfortable fit. The finger tab is handy and makes it quick and easy to remove the gloves.
Review of Elite Body Squad Gym Lifting Gloves
Soft, and extremely strong, is how you describe these. The brand name doesn't shout, but once you lay your eyes on them, you instantly see nothing but value and robustness.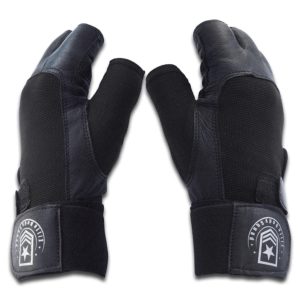 You don't have to test of finding out from a different source how good these gloves are; it couldn't be more obvious. They are soft and feel great against the hands. They have been packed with plenty of padding to give maximum protection. You don't get such amounts of padding on other gloves but the Elite Body Squad.
The back has been designed to cool your hands and keep no sweat in. With its elastic wrist support, you can get just the right amount of pressure. This kind of support strengthens your wrists and hands and enables you to work out better with heavier weights. These gloves improve your performance from several fronts.
In addition to the wrist support, they also improve grip and protect your palms from abrasion that could make it sore. When your hands feel that comfortable, you can work out for longer and lift heavier weights without tasking your hands much.
#11: Elite Body Squad Women's Gloves
These women's gloves are fingerless with easy-breathe Lycra mesh on back to easily wipe up the sweat and increase breathability to keep sweat away. The gloves are double stitched for maximum strength.
Made with Robust Material – Made to Last
Most women gym gloves are made of soft materials that age only a few months after they're bought; but not the Elite Body Squad. These are made with the same robust materials you find on premium men's gloves. So you are assured of longevity; they'll serve you for years down the line. They have a quick fasten finger tab for tightening and removing them from your hands with maximum ease.
Handy Quick-release Velcro Finger Tab
You'll love them, there's a 100% quality satisfaction guarantee on these gloves. In addition to the top quality real leather and breathable Lycra used to make these women's gloves, they have a handy quick-release Velcro finger tab. This ensures that you can get on and off with the most ease. The gloves also feature a stylish design that is perfect for ladies – just the design that blends in with most gym wear colors.
Light Weight and Extremely Comfortable to Wear
They are also padded in every right place to offer the needed protection to your palms and fingers. They are light in weight and very comfortable to wear. This expertly engineered glove also comes with 2 Free bonuses for the weight and shape conscious modern woman: Color-coordinated carry bag for them and Free 4-week rapid weight loss Plan, a PDF guide containing a wealth of weight and fat loss tips!
Review of Elite Body Squad Women's Gloves
The Elite Body Squad women's gloves are an all-rounded fitness companion for the modern fitness enthusiast. They cater to the parts that matter the most in the gym: your wrists, that you use constantly to achieve your weight management initiatives.
They have that perfectly designed wrist wrap to support and strengthen your wrists and keep it from suffering any surprise injuries while training. Such ideal wrist support is particularly great for ladies who don't often have very strong wrists. These wraps perfectly help you maintain your wrist strength and train for longer without feeling any strains, tendon damage, or sprains. Any of these could seriously slow your progress at the gym.
These gloves ensure that you work out injury-free. As a woman, they also cater to one other most important thing: your palms. They are thickly padded to keep your hands from getting callused so you can train to get in shape while your paws remain perfectly manicured.
Conclusion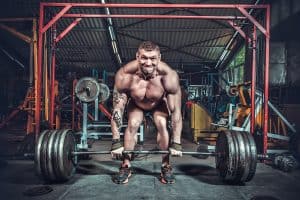 Choosing lifting gloves or gym gloves should not be a daunting task, but it can be if you don't know what to look for or where to look. You need to have a clue about the features to look for and how they suit your needs. This guide should be able to give you a precise idea of the gloves that will enhance your workout experience.
Also, it's important to note that the wrong fabric quality and too much sweat may also cause the glove to get dirty too soon – you won't wash the glove every day! There's also the cost factor – you get what you pay for. It is only logical that you'll want to keep them for longer.
The gloves shouldn't wear out too soon. Some gloves will, however, break apart within two months. If they have features that you resonate with, it can get costly to have to buy a new pair every two to three months. So a good pair ought to be durable and cost-effective. You'll also want to pay close attention to the grip. Gloves aren't only intended to protect your hands; they should enhance your grip of the metal as well. The better grip drastically makes it easier to handle virtually any kind of weight.
Leather palms are commonly used to enhance friction and provide a better grip. To solve the potential sweat issue, most gloves are made of neoprene fabric to wick moisture from the palms and promote easy breathing. You might wonder why they are fingerless in design, unlike motorcycle gloves that usually have similar padding but are fully enclosed.
Dexterity – this open, fingerless design helps you handle weights with more ease. While motorbike gloves are primarily aimed to provide maximum protection, these are aimed at improving not just your grip but your dexterity as well. Not to mention that leaving your fingers exposed also significantly reduces sweating with the increased air circulation.
Some gym gloves have no wrist wraps as this feature is of little primary importance. But where you must have wrist wraps, they should be very adjustable and soft so they do not task your wrist joint. These aspects should be able to paint a good picture of what makes a good weight lifting glove for your needs.
Learn More: Click Here
Other Related Article You Might Like: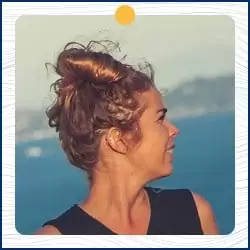 Written by Petra Amara – RowingCrazy.com
CEO & Founder of RowingCrazy, National Rower, Coxswain Womens Eight Team, Rowing Coach & Writer
Petra is a Mother of two and owner of Rowingcrazy.com. Petra lives and breathes rowing, she also has a passion for writing which lead her to start RowingCrazy.com to share her rowing experience and expertise with others.