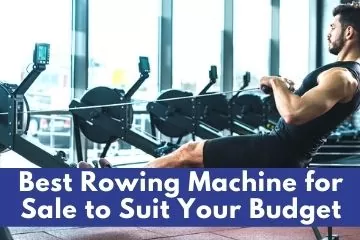 Your Ultimate Guide to Selecting the Best Home Rowing Machine
Not all rowing machines are created equal. Depending on your needs, some will deliver better health and fitness results than others. There is a rich variety of them, some that are sleeker and more highly-refined and others that are less so.
In a Hurry? Here are My Top 3 Picks:
In a rush and want to find the best rowing machine for sale for your budget? Check out my top picks.
If you can spare a moment, I encourage you to read on as this article provides a comprehensive review of each machine, delving into the details and sharing our findings.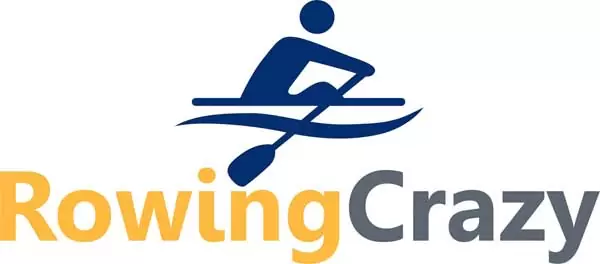 Lets Jump In to Our Full Review of Each Machine!
So, you'll want to know what to look for when shopping for a great rowing machine. In this guide, we will present a selection of the best rowing machines at the high end of the spectrum in terms of quality and value for money.
We give you the lowdown to make an informed purchasing decision when you finally hit the product buy button.
Top 12 Best Home Rowers – Full Breakdown:
1. The Hydrow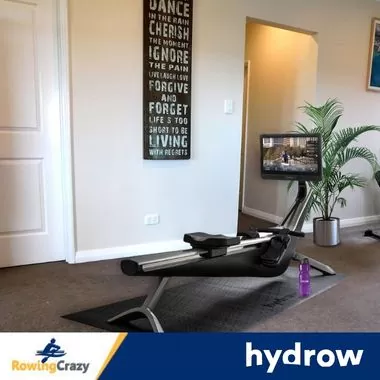 Hydrow SAVE $100!! => Use Coupon Code: ROWINGCRAZY
The best rowing machine for home use might be the rowing machine that makes you feel like you are out rowing on the open water. If you are rowing for more than just exercise, but because your heart screams that identify as a rower, the Hydrow gives you an indoor option for rowing that feels just like you are out on the water.
With a 22-inch screen that also tracks your health metrics, you will be staring into a water view. And, the patented drag technology makes your workout feel as if you are dragging oars through the water.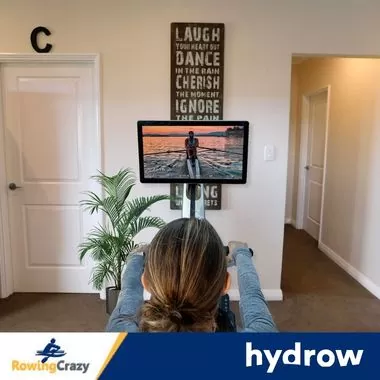 As far as home use goes, you will love how quiet this machine is. You will not have to worry about disturbing family members or neighbors, and you can row at your leisure any time of day or night. I really was surprised at how quiet this machine is!
Large Monitor for Health Metrics
The large monitor is tops in its class. At 22 inches, you will easily be able to see your workout progress. No more squinting to read metrics and data that are too small. Not only that, but the background of this TV-sized monitor will be set to a water view.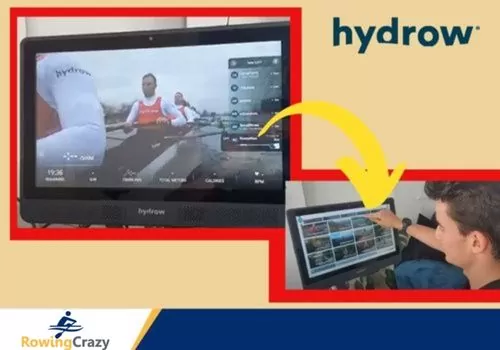 While you will not get the wind in your air – unless you open a window or aim a fan – or the water on your face, you can get the look and feel of rowing on the open water. Take advantage of the monitor's timing mechanism, and you can count down to the end of your workout.
On the Water Quality
The patented drag technology makes the Hydrow like no other rowing machine in its class. It is electromagnetic and controlled by computers to make your rowing movements the same as if you were on the water, without the risk of falling into a freezing body of water in the middle of the winter.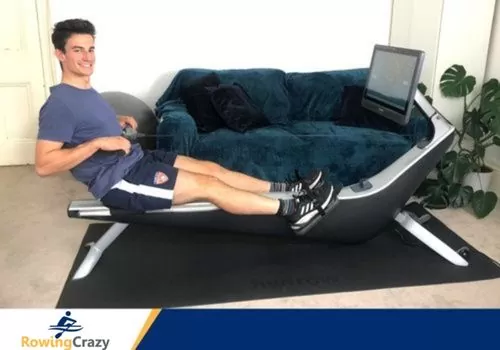 The 10 roller seat system and the chair's ergonomic design mean you can row comfortably without worrying about straining or injuring your body. You can get the feel-good muscle burn without straining your back or sitting uncomfortably for long periods.
Best Home Rower That Is Super Quiet
There are industrial-grade webbed straps that prevent this machine from being noisy. The smooth strokes of rowing on the Hydrow are quieter than rowing on just about any other home gym rowing equipment available.
Watch our Youtube video below by our expert rower Max Secunda:
In fact, they are quieter than most pieces of home gym cardio equipment like treadmills and elliptical machines. The way the 22-inch monitor is designed, it points the sound directly at the rower. The way the 22-inch monitor is designed, it points the sound directly at the rower. This means the monitor's sound will not permeate around the room, making it possible to row on the Hydrow in the same room as somebody else without disturbing them.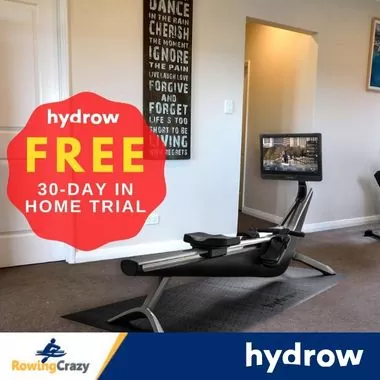 Hydrow SAVE $100!! => Use Coupon Code: ROWINGCRAZY
Final Thoughts
If you are a rower at heart, you want to row on the water as much as possible. Unfortunately, you might not have easy access to the water, or you might live in a part of the world where the water is just too cold for rowing most of the year. Fortunately, the Hydrow is a fantastic indoor rowing option for true rowers. (read more on Hydrow vs NordicTrack Rowers)
With a 30-day risk-free trial period, you can try out the Hydrow and get a full refund if you are not completely satisfied. Designed to be quiet, this is also the top rowing machine if you live with many people or share a row with a neighbor. You can row in the same room as somebody without them, even knowing you are rowing.
I really was pleasantly surprised by this machine's performance. I highly recommend checking out the Hydrow; as they say, you get what you pay for, and with this machine, you won't be disappointed.
2. Teeter Power10 Elliptical Rower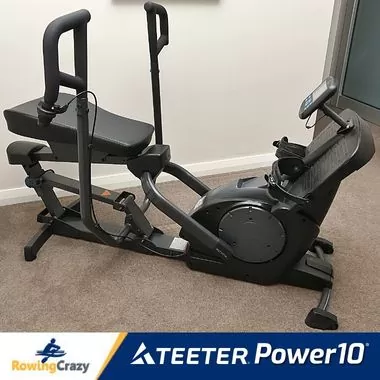 Why buy just a rowing machine when you can buy a combination rowing and elliptical machine? The Teeter Power10 gives you a full total body workout like no other rowing machine on the market today. It really is the top choice machine for burning calories and building muscle.
The Power10 is easy to use at home, no matter how big or small your living area is, it really is ideal. With an app that offers free training and guidance, there is no machine easier to start using than the Power10. Easy to take care of, this machine will last for years with little to no maintenance other than just wiping your sweat away at the end of each workout.
Dual Direction Rowing
The dual direction rowing allows you to work out all muscle groups. This means you will not have to buy more machinery to store at home just to workout extra muscles. In one direction, you work muscles like the glutes and triceps, and in the other direction, your back and biceps will get toned.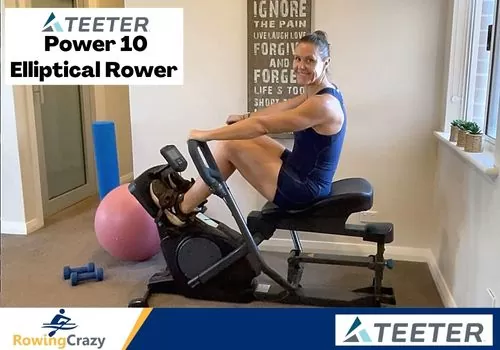 If space in your home gym is an issue, this is the machine for you since you will not have to buy any other home equipment. The elliptical aspect of this rower helps you workout muscles that other rowers cannot reach.
Build Muscle with this Rower
With seven different magnetic resistance levels to choose from, you will be able to build muscle rapidly. Start on a low level and watch your body progress as you move higher and higher up in resistance.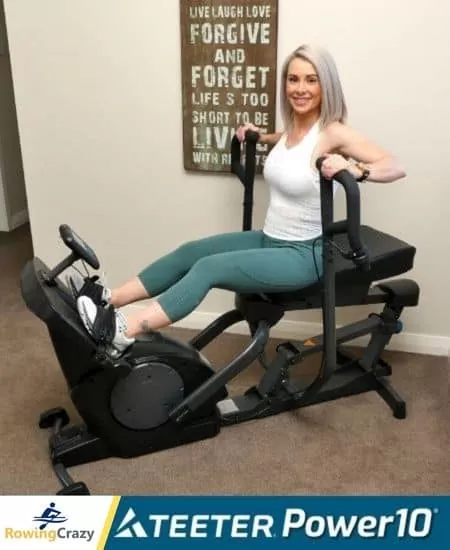 This also makes the Power10 from Teeter a great choice for a home gym that has multiple people using it.
The resistance is easy to change before, during, or after a workout, so people with different strengths can use the same machine. Gone are the days when you need to buy different machines and different equipment for various people in your household.
Best Home Rower for Calorie Burning
The resistance levels are also a great way to burn a lot of calories. Coupled with the heart rate monitor on this machine, you will easily burn calories and track the progress of your health over the time you use the Teeter Power10 Elliptical rowing machine.
If you are struggling to get started or need a boost in training, Teeter also offers a free app that will provide training. If your form is off, or you find that you think you should be burning more calories than you are, check-in with the app to learn new training techniques.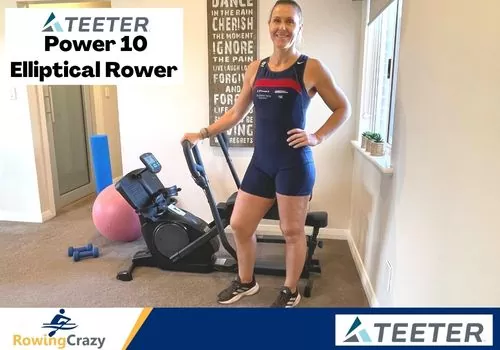 Final Thoughts
I was really excited to try out this machine, as I had not sued an elliptical rower before, and wow, I must say it did impress me a lot!
With the Teeter Power 10, you can say goodbye to gym membership fees and say goodbye to buying other equipment for your home gym.
I highly recommend that you take a serious look at the Teeter Power10 and let it replace both your gym membership and the need to buy anything else for your home gym. With one piece of equipment, you can get a total body workout thanks to the dual directional rowing that allows you to work most muscle groups during one exercise session. You will very rarely need to perform any maintenance on this machine.
Being able to train any time you want, from the comfort of your home, is a nice luxury to have. With the app, you can still check in with a trainer if you need that extra motivational push. The machine is ergonomically designed so you can use it safely without worrying about injury.
Arguably the best feature of this machine is its ability to burn calories and build muscle better than any other machine in this category. The combination of elliptical cardio and rowing means that you can work out every muscle group in your body without using any other equipment. FYI read more about the best Elliptical Rowers available here!
3. Concept 2 Model D with PM5 -Best Rowing Machine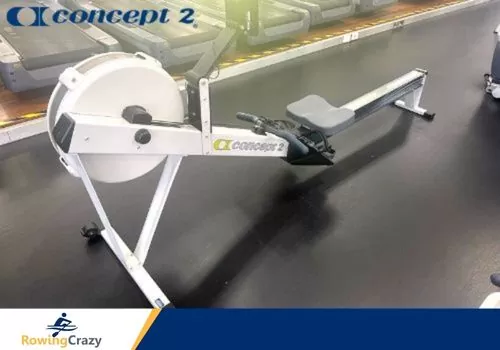 Concept 2 Model – D with PM5 Monitor has everything you need for a smooth and powerful total body workout for overall fitness. This made our best choice list as it's easy to store, which separates into two pieces for stress-free storage and transportation.
It features caster wheels that promote easier and enhanced mobility even when fully assembled. It features an innovative flywheel design that effectively minimizes noise produced during your workout while ensuring an even, smooth feel like rowing process.
Electronic with Backlit Monitor
Concept 2 model – display the Performance Backlit Monitor 5, a bonus that provides accurate and comparable data for each row. This monitor sets the Concept 2 rowing machine apart from other rowers in our list, plus its training devices have given it a level of sophistication and ease to use.
The monitor provides precise data that are comparable to every row. You don't have to move closer to the display as it has a backlight that illuminates it and increases visibility so that you can use it even at night. It also has an adjustable monitor arm that you can use to position the most preferred display.
5 Year Frame Warranty
Another important highlight on the Concept 2 Model-D is the adjustable monitor arm that is designed specifically to promote a comfortable setup for every user depending on their arms and physique sizes. It is fitted with adjustable footrests. These can be adjusted to comfortably accommodate just any foot size.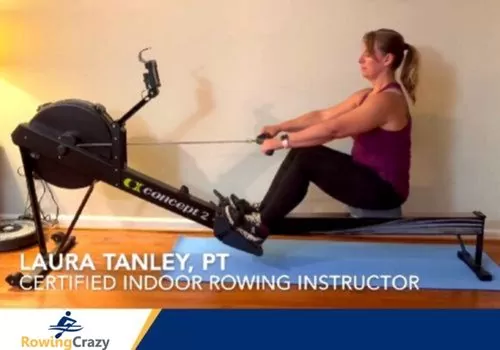 It also has a comfortable 14-inch high seat that suits any physique size and a nickel-plated chain. There is also an ergonomic handle for ease of handling. This handle is designed to ensure easy and strain-free rowing at all times, best for the more demanding workouts. It has a 500-pound capacity, comes with a full 5-year frame warranty, and requires a footprint of 9 by 4 feet.
Practical Design & Sturdy Frame
One particularly outstanding thing about Concept 2 rower is its practical design and sturdy frame. It's a machine you can depend on for nearly every fitness need from the comfort of your home. And with its sturdiness, it might just be enough to serve you for a lifetime so you can save on fitness costs in the long run.
It's a spiral damper, you can easily adjust the airflow to the Model – D flywheel. This way, you can always adjust how the stroke feels to deliver your desired preference. With minimal noise coming from the flywheel, you can comfortably work out early in the morning without worrying about waking up the kids.
If you live in a rented apartment where neighbors are close, this piece of equipment will ensure you don't run into problems with angry neighbors. You may love to know that the monitor technology of the Concept 2 rower is compatible with USB and flash drives. This makes it a breeze to capture, transfer, and store your workout data, in addition to being able to monitor your heart rate wirelessly.
Watch our Youtube video on Concept2 below by expert rower Max Secunda:
Final Thoughts On These Top Rated Ergometers
Compared to a yearly gym membership fee, they are extremely cost-effective. Not to mention the luxury of being able to train at any time of day or whenever you feel the desire to do so, given the fact that it's a piece of home equipment.
The combination of the well-positioned footrest, high seat, and ergonomic handle makes the rowing on this a perfect full-body exercise without putting any sort of strain on some parts of the body.
You realize that going about rowing improperly can break your spirit to proceed with the exercise. In essence, these features are positioned to promote easier coordination of all the moving body parts, spreading the impact evenly across the body without overworking some parts.
What's more, it requires very little maintenance other than regular wiping to clean it. You can expect it to remain in perfect physical condition with great aesthetics several years down the line. If you are looking to get a real solid piece of equipment for your fitness and daily exercise at an affordable cost, then the Model – D is the perfect pick for you.
These are also very popular machines for competing in the Virtual Team Challenge. Therefore, we've picked this as our top pick.
4. BodyCraft VR500 – Best Rowing Machine for Home Gym
The BodyCraft magnetic rower made our best list. It is a commercial-grade rower with a powerful heavy-duty aluminum track that you can trust to stand up to the most intense workouts and withstand the heaviest body weights. This powerful construction is the reason why BodyCraft, the equipment's manufacturer, offers a lifetime warranty.
LCD Screen With 32 Levels
This is fitted with an easy-to-read Black Mask LCD w/LED screen with a backlight and keys. It has an electronically controlled resistance system, the Air, and current magnetic resistance with up to 32 levels. With this kind of resistance, you can be sure to find your ideal resistance level for training.
Remote Resistance Settings in the Handlebars
BodyCraft's VR500 utilizes a dual resistance technique: both air and magnetic resistance are used to provide you with such a broad range of resistance. It is one of the best as it has been designed to put the controls in your hand, eliminating the need to stretch yourself to manually reach its controls.
It has remote resistance settings in the handlebars so the user can perform everything without leaving the seat – now that's a great feature to have in a rowing machine.
12 Pre-programmed Workouts
BodyCraft has also used the VR500 Rower, a computer system with up to 12 pre-programmed workouts (to track distance time and calories burned) on its resistance settings.
Four of these programmed workouts target the heart zone, another four are race profiles, and two are interval training programs. The VR500 also comes with a deluxe heel rest that is adjustable using its Quick Adjust foot straps.
Quick Easy Storage with Added Child Lock
With a T13 aluminum heavy-duty I-beam monorail in its frame, it is by far a lifetime investment. The proven strength guarantees that you are putting your money into something that will provide unending value for the rest of your life. You won't worry about your kids accidentally getting hit by the folded VR500, thanks to its child safety lock.
It's also easy to fold and roll, so you won't feel its weight when moving it around. Even more amazing is the quickness with which you can fold it for storage. It has been optimized to be folded for storage in just about 3 seconds.
BodyCraft's VR500 commercial rower is truly a high-end technology product, particularly its resistance system, which incorporates the latest technology. Whichever way you look at it, the VR500 rower is one of the most premium and best-made.
Wireless Resistance Controls for Maximum Comfort
The handlebar is made of ergonomically correct Aluminum material and is skillfully crafted to provide a comfortable grip. The four-button IR remote resistance controls are carefully positioned for ease of use.
Its rollers are friction-free, and bearings are industrial grade and ultra-smooth, not to mention that the handlebar has wireless resistance controls for maximum comfort during your exercises. Along with the contoured seat, this magnetic rower has been optimized for comfort. It offers a typical VIP experience inside your very own home while you work out.
5. WaterRower Club in Ash Wood with S4 Monitor – Best Indoor Machine
This handcrafted fitness equipment had to be included in our list as it features a water-flywheel expertly designed to replicate an actual rowing experience. This patented design not only emulates the feel of a boat going through open waters; rather, it also effectively simulates the physical and functional benefits of rowing a real boat. The flywheel is set inside enclosed water to produce a quiet and smooth, self-regulated resistance.
Beautiful Ash Wood Construction

This exercise equipment comes with solid Ash wood construction that absorbs both vibration and sound, making it perfect for use in high-traffic areas, including commercial gymnasia, rehabilitation clinics, and studios.
The Ashwood is popular for its sturdiness as a premium hardwood and can carry up to 1,000 pounds of weight. It has incredible dimensional stability and longevity. Also, it has four wheels at each corner of the rails. These increase its seat stability.
The frame flips upright easily for convenient storage. Another interesting feature of the WaterClub is its black and rose stain finishing with a trace of Danish oil and urethane, which protect the wood.
User-Friendly with Quick Selection Buttons
There is a Series 4 workout monitor settings on the Club, which is technically sophisticated but very user-friendly. It comprises three navigation buttons, six different windows for information and programming, and another six QuickSelection buttons that work together to track the intensity of your workout, display your heartbeats, stroke rate, zone bar, distance, time, and calories during your workout. The monitor comes with an optional chest strap and heart monitor receiver that you can choose to use to enhance your normal rowing stroke and workout.
Offers the Same Benefits as Actual Rowing in Open Waters
Even though workouts are always intended to provide the same benefits as actual rowing on open waters, most tend to be jerky with a jarring feel. As such, few row machines ever come close to creating the intended experience.
In this regard, however, the WaterRower stands tall above other machines. It delivers a smooth, natural feel with its flowing movements that do not exert undesirable pressure on the joints or bad knees.
This makes the WaterRower a perfect aerobic tool. This commercial-quality cardio machine is great for boosting the heartbeat rate. With its two paddles inside an enclosed tank, the water-flywheel provides a smooth resistance comparable only to that of an actual water body.
If rowing the WaterClub is not fun then I wouldn't tell what is. It is a pleasure to use and it is perhaps one of the few gym pieces of equipment that are a pleasure to use. Congratulations WaterRower on making our top list!
Best Home Gym Equipment That is Easy to Maintain
This mechanism has many benefits. For starters, it creates a self-regulating type of resistance that eliminates the need to use a typical jarring motor. The system is one where resistance increases with an increased drag that naturally occurs when you paddle faster, just like watercraft rowing.
The more you can overcome drag, the more you can row – in a smooth, fluid environment. Additionally, it lacks moving parts that would require lubricating or otherwise wear out with time. Needless to say, this mechanism means the WaterClub is easier to maintain and could last for a long time without a hint of change in the experience it offers, and that's why it made our list.
Want to learn more about water rowers ie are water rowers better than magnetic rowers, then read my full article.
6. Concept 2 Model E Indoor with PM5 – Top Rated Rowing Machine
This is a high-end cousin of the Concept 2 Model – D. This model features a robust frame 20 inches high and a nickel-plated chain designed for smooth riding. It features a durable double powder coat and a lustrous finish.
Longer Monitor Arm for Easy Viewing
Though this product is a step up from the Model D, the Concept 2 Model E features the same PM5 monitor available with the other model, but with a slightly longer arm. Its handles are ergonomically designed to deliver a safe and optimally rewarding exercise experience. It also comes with adjustable footrests so that any user can find their best settings.
Its flywheel design is a slight adaptation of the lower-cost model D, but notably more efficient. You'll also realize that the Concept 2 Model E with PM5 has a much higher seat compared to the Model D. Model E's seat is raised 20″ high, towering over that of the other model by a whole 6 inches. This additional height is designed for the benefit of athletes who have mobility or balance concerns. This additional height can let them get on and off easily with less effort.
Side Note: If you need to save your dollars, be sure to see my list of the best rowing machines for under $500!
Professional Rower With Fully Enclose Nickel-plated Chain Housing
It has a fully enclosed chain housing to keep its nickel-plated chain safe and clean. Its frame consists of a 54-inch aluminum rail and a stainless steel track on which the rower's seat moves during use. The Model E also has a Spiral Damper with settings adjustable from 1 to 10 that you can use to control how much air enters the housing of the flywheel upon each stroke.
Best Machine for Home Use That Separates for Easy Storage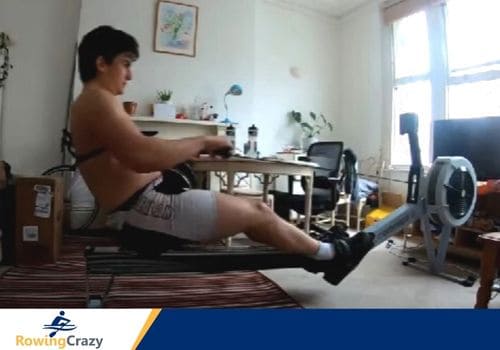 The Concept 2 Model E is robust equipment with welded steel legs that can support virtually any bodyweight without problems. It comes up on the higher end of the price spectrum, but the value is worth the cost – you can have this for the rest of your life. That's a lifetime of saving.
It's ergonomic handle effectively promotes natural hand and arm positioning while working out, so the exercises don't take a toll on you. The exceptionally high seat further enhances this with a height of 20 inches. So, if you have a knee problem or mobility issues, then you don't have to shy away or keep from working out at all.
It has the kind of high frame that has got you sorted out. For storage, you'll love the Model E. It separates easily into two parts that take up a very minimal space while out of use. When you are ready for your workouts, you can have the equipment fully assembled quickly with its tools and instructions that come with it.
Easy to Move From One Room to Another
It's equally easy to move it around the room or from one room to another with its nicely curved caster wheels. Since you can control how much air gets into the flywheel using the Spiral Damper settings like a bicycle gear, it becomes fun to seamlessly control the amount of energy you must exert to accelerate from stroke to stroke.
With the kind of enclosed design of the nickel-plated chain found on the Model E, there's a much-reduced need for oiling compared to Model D. These machines are also very popular at the British Rowing Championships in the CRASH-B Sprints.
7. First Degree Fitness Newport Adjustable Resistance Water Rower – Best Commercial Quality
There are a couple of features with the Newport Adjustable Resistance rower that make it a truly amazing pick, and that's why we had to include this in our list! Included is a tough polycarbonate shell water tank with a stainless steel paddle inside it. This triple-bladed paddle serves as a smoother alternative to the mortar that other traditional machines normally use.
Sturdy Construction – The PerfectFor Any Home Gym
The water volume in this can be varied between 9 and 17 liters so that you can enjoy rowing at your preferred level for optimum rowing experience. The little computer attached to this machine displays time, the distance you cover, a 500m split time, stroke count per minute, calorie count per hour (distance time and calories), the number of watts, and interval training.
Additionally, you can opt to read your heartbeat with its optional heart monitor reception unit.
It comes with an ergonomic handle that effectively prevents strain on your hands, wrists, and arms. This means you can safely make rowing a daily activity without accumulating undesirable pressure on your wrists or hands. The belt drive in this rower is durable with a smooth, quiet operation, so you are not subjected to any whirring sounds. Overall, it has a solid, sturdy construction that makes it a perfect addition to your home gym and one of our preferred machines on our list of reviews.
Feels Like an Actual Boat in the Water
If you have experimented with a real boat, then you won't find any other fitness equipment that can mimic that same experience as effectively as the First Degree Fitness Newport Adjustable Resistance Water Rower.
Rowing on this is completely fluid and feels just as it would with an actual boat in the water. It has zero jarring and maximum resistance created by the triple-bladed paddle and fluid resistance technology. The resistance here is just perfect. Few competing rowers can offer the same resistance as the Newport.
So Quiet You Can Exercise Any Time of Day!
I particularly love the fact that I can adjust the water level to instantly adapt to a fiercer work out from an initial light warm-up. Notice that with the water, the harder you row, the more intense the exercise becomes. This mechanism inherently regulates the intensity of your work out in a cool and rather natural way.
What's even more motivating is that you can exercise at any time of day without rubbing your neighbors the wrong way or waking up a sleeping kid. The noise is minimal, and the sound produced is smooth and hushed. You also get to experience no irritations as the resistance is one of the smoothest there can be in a home machine. From an economic standpoint, this ergometer has a robustness that guarantees value for your money as a worthy investment. Users of all fitness levels, ages, genders, and body types can enjoy working out on this and realize their best workout results.
If noise is an issue read my popular article on the best quiet rowing machines for home use.
8. Stamina Avari Programmable Magnetic Exercise Rower – Best Price
This machine made our list as it comes with 12 workout programs to help the user diversify their exercises in terms of variety and intensity. Included in these12 programs are 6 cardio profiles and 1 heart rate program to build up your heart rate, 4 custom user programs, and a single manual to guide you through your work out process.
Backlit LCD Monitor and Bonus Chest Strap for Heart Rate
The monitor on this equipment is backlit so that you can read your workout feedback at any time, even at night, without the need for additional or alternative lighting. This keeps the user motivated by tracking time spent, distance, calorie count, number of strokes per minute, pulse rate, and wattage.
The display monitor is easy to use with intuitive up and down arrows for adjusting work out time and resistance levels. Included is a chest strap that you can use to track your heartbeat.
23 Programmed Workouts – Ideal Rowing Machines for Home Use
The Stamina Avari Programmable is what many users will consider user-friendly – judging from its intuitive In-Touch® Fitness Monitor with 12 programmed workouts to the simple assembly, the foldable construction, and the easily movable design that makes storage a walk in the park.
Best Type Of Machine for Small Spaces
The machine is budget-friendly and just measures just the right size for smaller spaces. I also love the minimal noise produced by it as well. You can use it safely without worrying about bothering a noisy neighbor. Also, with the many resistance levels, it lets you row at the most preferred or appropriate level of resistance.
And since it can fold up into a pretty small size, you can comfortably keep the folded Stamina Avari inside a closet without problems. Though this is a personal rower, it may as well pass for a commercial-grade machine. It is heavy and sturdy enough to stand high traffic and will serve you long without losing value.
You can choose to use the optional chest strap during any of the 12 programs that can be easily monitored using the In-Touch® Fitness Monitor. My chosen preference with the optional chest strap, however, is the heart rate program.
Automatically Adjusts Its Magnetic Tension
For those cardio enthusiasts, this is certainly a great pick. With its seven preset workouts featured, this workout ergo will automatically adjust its magnetic tension to maximize your cardiac training with no interruption. And any user will love the seat.
It is comfortable and moves smoothly along the aluminum beam. This smooth movement significantly enhances the ease with which you perform each stroke. For home rowing, the Stamina Avari is a top pick on our reviews.
9. Stamina Body Trac Glider 1050 – Best Budget Rowing Machine
Glider 1050 is a amazon machine with a compact footprint measuring 23.5inches by 46 inches and an adjustable gas-shock resistance. Being adjustable, the gas-shock resistance provides room for any user to set the most appropriate level of intensity for their abilities.
Folds Easily for Storage
The Body Trac Glider has been designed to offer maximum convenience in terms of the amount of space it takes up, making it the ideal home rowing machine. Its frame is less extensive, which means you can conveniently work out with it in a relatively small room without worrying about the room's walls or other items.
In practice, the BodyTrac Glider can fit into just about any living space to satisfy your needs. It is also low cost, which means it can fit into much smaller budgets. The Stamina Body Trac Glider 1050 features a sturdy, steel frame construction that guarantees longevity.
It folds easily for storage and similarly unfolds fast so that you can set it up in a split second for your exercises.
12 Levels of Resistance
The Glider 1050 has 12 levels of resistance, so you can choose what most suits you. It features a small computer that shows the time taken in during the exercise, stroke count, and the number of calories burned in the process.
With this monitor, you can know the exact number of complete rows you have performed, along with the amount of time spent performing them; how many calories you have burned; or a quick scan through the three.
Best Inexpensive Rowing Machine
This machine is quite inexpensive, considering its robust frame and computer system. Though the foot straps tend to be a bit loose sometimes, the footrest is always comfortable. It is not only sturdy but also broad enough to accommodate the various foot sizes any user is likely to have.
Ideal for Home Use and Offers A Full Body Workout
You'll, however, love the fact that this Stamina Body Trac is quite practical and lets you experience a full-body workout in a way that few others can. You can target your arms, back, and abs at the same time. With an easy to reach shock resistance knob, it is particularly simple to adjust your work out level during the actual work out process.
Still can't see what you are looking for? Be sure to read my full article on the best rowing machines on a budget!
It lets you make any changes to the workout level at any point, so you don't have to leave the seat to do this. The multifunction monitor fitted on the Glider 1050 is a handy tool that shows you all highlights of your workout on the go. The seating area is comfy enough to provide the kind of comfort that will encourage frequent exercising on this equipment. With its exclusive handle system, this offers a healthy all so desirable break from the regular handles positioned right to the front.
10. LifeSpan RW1000 – Best Affordable Machine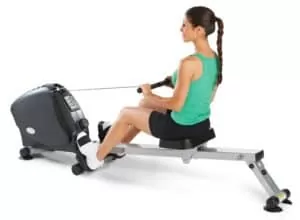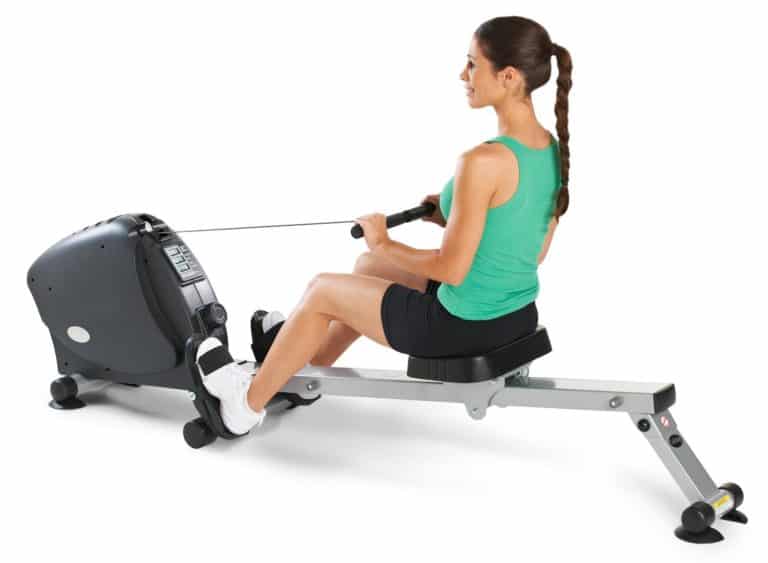 LifeSpan's RW1000 has a 16.5-pound flywheel in its Eddy Current Drive System for a smooth and quiet feel during your work out (we really love this). The flywheel is designed to produce a fluid and smooth feel that mimics the experience of rowing an actual boat in the water.
5 Year Frame Warranty
It features a sturdy steel frame that can carry up to a maximum user weight of 300 pounds. This solid construction is backed by a five-year frame warranty, a 1-year labor warranty as well as a two-year parts warranty. It measures 90 inches by 18.5inches by 23 inches for its length, width, and height, respectively.
When folded, it measures 34inches by 19inches by 64inches (Length, Width, and Height, respectively). These new dimensions promote space economy with the reduced size intended to fit seamlessly into just about any living space.
The Best Rower That Requires No External Power
The RW1000 is fitted with a three-LCD console where readouts for time, distance, calories, strokes, and strokes per minute are displayed to give you virtually all the information you need for a complete body workout.
The easy-to-use console is strategically positioned right in front of you so you can easily monitor the feedback as you work out. It requires no external power supply. Its console uses its own AA battery for its maximum convenience and energy efficiency.
Quiet and Smooth Rowing Experience
The quiet and comfortable nature of it is something laudable. Unlike other conventional machines that make noise all over the place and may easily turn you off with their jarring sound, LifeSpan's RW1000 indoor rower is smooth and quiet.
You don't have to turn up your background music during your workout. Thanks to its patented Eddy Current Drive System that's responsible for the smooth and quiet resistance that remains cool even with an intense workout.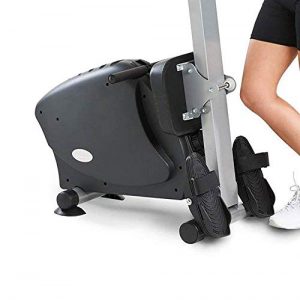 5 Levels of Resistance
Right below the display is a knob that controls its five levels of resistance. This ensures that you can conveniently select your best resistance level for the best results and make subsequent adjustments on the go. If you are looking for a rower that you can use without getting sore palms, then the LifeSpan RW1000 is a great pick.
It has padded hand grips, so it won't take a toll on your palms. Even more comfortable is the 14-inch injected foam seat optimized to comfortably support users weighing up to 300 pounds. Its large foot pedals are fitted with Velcro straps for a tight but comfortable grip.
Additionally, they are designed to swivel as you use them to avoid taxing your ankles. For a rower in this price range, the RW1000 is a premium option. It comes with a modest price tag but delivers the same value as the more premium commercial grade fitness equipment. This makes it a prudent choice whichever way you look at it on our list.
11. Sunny Health & Fitness Dual Function Magnetic Fitness Machine – Simple Rower to Use
It has a distinctive magnetic tension system with eight adjustable resistance levels to suit different users. The characteristic large dual-function footplates essentially turn the rower into a powerful upper body machine. This targets the arms, upper back, and shoulder and is perfect for performing a broad range of muscle-building workouts such as biceps and full arm exercises. Its anti-slip pedals are also fitted with adjustable foot straps for secure footing.
Multi-function LCD Display To Track Workouts
The Sunny Fitness Dual Function features a multifunction LCD to help you track your work out time and strokes, monitor your total strokes, and check calories in real-time. This display does not, however, show the distance you have covered or your speed.
Also, only one of the readings is displayed on the screen when it is quite okay for a machine in its price range. The fully padded-seat ensures your workout is a comfortable experience and not some kind of draining struggle.
The machine has non-slip handle grips to increase friction between your palms and the handles. This lets you grip it with little effort so you can focus your energy on exercising the target body parts. Its transport wheels make it a breeze to move the machine around for convenient exercising.
Easy Transport
It has foldable parts that, together with the built-in transportation wheels, provide easy portability and storage. The machine can easily be disassembled for storage and reassembled whenever you want to work out.
Inexpensive Dual Function Magnetic Fitness Equipment
Magnetic measurements are 70L by 20W by 19H, small enough to fit in a modest space. Additionally, it is robust enough to suit anyone weighing up to 300 pounds – making it the whole family work out equipment.
The Dual Function is not expensive, and that's a definite add for most home-based gym equipment users. If you find a yearly gym subscription fee prohibitive because of its high figure, then you'll want to buy something that doesn't drain your pocket of cash.
Large Heavy Duty Foot Plates
The Sunny Health & Fitness offers you this advantage and still affords you the same leading quality and durability as its costlier cousins. Its large heavy-duty footplates are great for a dual function workout, allowing you to maximize the gains on more body parts: you may perform high impact bicep curls and upright rows, just to mention a few.
Most users love the portability features. Since it can be easily folded, transportation is much easier and effortless. You don't have to use extra energy to lift it to transport to any part of your home. Just use the built-in wheels at the front of the unit to move it around or from room to room for storage.
Easy Access Resistance Dial
Seeing your results on the Digital Monitor is another amazing feature as it can keep you motivated from day to day. You may be interested to know that this machine's adjustable resistance feature is designed for easy access.
The resistance dial is located right in front of you so you can easily adjust the tension during your workout. This is unlike other machines in its price range that have the resistance knob hidden beneath the frame.
12. Stamina X Air – Best Air Rowing Machine
It made our list as it has a couple of amazing features that you may find appealing. Both the front bar and the back bar have rubber feet to protect your floor from unwelcome scratches or damage. This material also increases friction it exerts on the flooring, so it won't move while in use.
Best Value Rowing Machine for Easy Storage
The seat is designed to provide maximum comfort with its ample padding. The padding is also carefully selected to provide the desired friction between your body and the seat during a workout.
There are Velcro foot straps that securely hold your feet while you are rowing. It has removable pins on its frame. These allow for easy folding of the workout unit for convenient storage.
Additionally, its front bar has wheels with which you can easily move it from room to room or whichever part of your home you wish to keep it. Its console displays the number of miles you have covered, the count of calories you burn, and the amount of time you spend working out.
Its console is powered by 2 "AA batteries (separate) and is significantly energy efficient. Stamina X Air also has a comfortable padded handlebar optimized for a safe grip so you won't worry about hurting your palms while rowing.
Rower Has Very Easy to Use Monitor
If you are looking to have a smooth gliding and a rowing experience that feels natural, then you may want to consider buying the Stamina X Air. This workout equipment is structured to cater to every user's preferred intensity, given its resistance system that adjusts to the desired level based on the effort you exert while rowing.
The harder you row, the more intense your workout becomes, so you naturally alter your resistance level depending on your rowing ability. This way, you can easily perform your exercises at your preferred pace and maximize your gains.
One of the most important features is the easy to read monitor, which displays your workout speed, distance covered, time taken, and the calories burned. With this workout feedback, you can easily keep track of the kind of progress you are making each time you work out.
Best Personal Rower for Newbie
It comes with a sliding, upholstered seat that makes the whole workout a comfortable experience. The footplates have a set of corresponding straps that can be adjusted to fitly grip any foot size. These footplates are also large with a textured strap that ensures your feet won't slip off.
It is a great pick for a newbie rower as the display has been designed for easy reading and less strenuous, more comfortable use. And given its affordability, just about any family can afford the Stamina X Air!
Indoor Reviews
In conclusion, this low-impact exercise can just be as stimulating as other higher impact exercises. It is an effective way to burn calories and tone your body. Coupled with a healthy diet, rowing can significantly help with weight loss.
An ergometer (row machine) can burn up to 1000 or more calories per hour as it engages both the upper and lower body, the core and the back at the same time. And they have the added benefit of value for money; it cost less compared to many fitness machines.
Offers A Full Body Workout
Whether you want to build some muscle or simply lose some weight, there's no better way to go about it than by a full-body workoutconcept . It increases your chances of becoming a healthier, more well-rounded athlete and eliminates the need to target a different part of the body in the gym each day of the week (which is such a tall order).
A total-body workout can result in much greater cardiovascular and neuromuscular gains – and allows you to achieve this from home. Rowing eliminates the need to go to the gym. Let's face it. Many people skip the gym because of busy schedules that leave them with little time to spare for the fitness center.
What if you didn't have to visit the gym at all? It is a great alternative as far as your cardiovascular workouts are concerned. It's equally a way to strengthen most of the body's major muscle groups from the comfort of your home.
What's your budget?
Ideally, you want to max out on your saving without compromising on the quality of the workout machine. Many people would want to go for the budget models. However, it's important to do your homework in this area. Some of these low-priced models can often represent a false economy. You might end up with a piece of equipment that's either difficult to use or just does not deliver the desired workout.
Do you have enough room?
Home rowing means you'll keep and use it somewhere within your house. You can't keep it outdoors; the weather can damage it. There has to be some space for it within your room where it can fit.
What physical attributes are in play?
How long are your legs? How strong should the material be? Depending on your own physical characteristics, you'll need a machine that can support your body and weight, so you need to consider this when researching the best machine for your needs.
Overall, shopping for top equipment requires that you assess the available options in terms of their styles and features and how each of these affects your fitness needs. The high-end machines come with a price. But you can still get great and reliable without having to break the bank.
From this list, it is apparent that there is a significant price difference between the equipment that made it to our top 12 picks. One, that reality may instantly clarify to you that price isn't the prime factor as far as the best in the workout industry is concerned.
There's one question that would certainly remain bothersome to a good majority of those who seriously wish to buy a rower based on this best rowers guide: how do I narrow down to just one pick from a list of 12?
From whichever angle you look at it, this is a pressing question. And this guide wouldn't be complete without answering this question. So, from this list, which one is the best for you? The answer lies in the following considerations:
The User
A rower, like any personal tool, is only as suitable as the individual who is using it. Before you settle for a purchase, you must consider who will be using it. Then you can evaluate the suitability of the rower based on the personal attributes of the intended user to find which is best for them.
For instance, if you have a knee problem or mobility issues, you could love any of the 12 reviewed here. But only one will ultimately be able to suit you: The Concept 2 Model E Indoor with PM5. Its 20-inch high seat and exceptionally raised frame are likely to be your best option.
Overall, tall users would require equipment with long seat rails, preferably those that are higher off the ground. On the other hand, their shorter counterparts would be better off with one which has smaller seating rails.
Top Rowers Always Consider Their Fitness goals
What do you wish to achieve from this strength-endurance sport: burn calories? Tone muscles? Build up your heart rate? Whatever your aims are will determine the kind of equipment you need. If your objective is to monitor and record a specific metric of your workout such as calorie count, you'll have to pick a rower with the best monitor.
Resistance
Today's main types of resistance options include air, water, and magnetic. Depending on the mechanism of resistance, the rowers tend to produce different levels of noise. Nonetheless, those that use water as their resistance mechanism tend to be less noisy and more fluid, replicating a real boat rowing experience. Once you have settled on your preferred resistance mechanism, you can narrow it down to just one or two.
Always Consider Your Budget When Buying a Rowing Machine for Home
At the end of the day, you can only buy a rower that you are capable of affording. Suppose you are not constrained by budget; the chances are that the more expensive equipment is higher-end as they are mostly made from superior materials with the latest technology included. As such, they are more likely to deliver better value for money and better results overall.
Once you identify the factor that best defines your best machine, your selection dilemma becomes a thing of the past; you can quickly scan the list and see that it meets your selection criterion. You will be rowing like Pertti Karppinen before you know it!
FAQ's
Now that you have a good idea which rower you might want to add to your home gym, there may still be some questions lingering. Review our brief FAQ below for answers to some of the more commonly asked questions.
Is the rowing machine the best cardio?
A rowing machine can burn up to 600-800 calories per hour. It is also considered a low-impact exercise, unlike running, and is ideal for a cross-training workout. It also provides a much greater range of muscle workouts compared to other exercise machines.
How do I find the best rowing machine?
When looking for the best rowing machine for your home, consider the size, storage, noise level, and usability. These are all important considerations. For example, if you live in an apartment, the noise level will prove to be a significant factor. If you are short on space, then a foldable option is another feature to consider.
What is a good rowing pace?
A good pace to aim for while on a rowing machine is 2:00. However, you will be faster for shorter rows of 50, 100, or 200 meters and slower for longer rows of 500, 1000, and 2000 meters. Remember, the higher the stroke rate, the better the rowing workout.
What are the benefits of rowing machine workouts?
With a rowing machine, you can burn a lot of calories, improve your aerobic fitness level, get a full-body workout, improve your lower body-conditioning, work out with less injury risk, build better posture, and keep your workout beginner-friendly.
How good is a rowing machine for weight loss?
To achieve weight loss, you have to burn more calories than you take in. Rowing is a calorie-burning activity, so you can burn more calories in just a few minutes on your rowing machine than you could on another machine that doesn't engage as many muscle groups.
How easy or hard is it to maintain a rowing machine?
Rowing machines don't require much maintenance, and the level and type of maintenance will vary depending on the type of rowing machine you have.
What muscles does a rowing machine work?
A rowing machine activates the lower body, including the quadriceps and glutes, as well as the deltoids and lats in the upper body and your core muscles – all at once.
How long should you row on a rowing machine?
You should spend at least thirty minutes per day on your rowing machine. Achieving this kind of consistency at least four times a week can help you reach your fitness goals.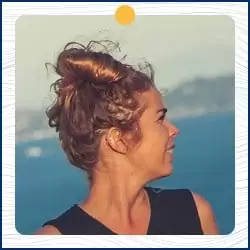 Written by Petra Amara – RowingCrazy.com
CEO & Founder of RowingCrazy, National Rower, Coxswain Womens Eight Team, Rowing Coach & Writer
Petra is a Mother of two and owner of Rowingcrazy.com. Petra lives and breathes rowing, she also has a passion for writing which lead her to start RowingCrazy.com to share her rowing experience and expertise with others.