Hi friends! My name is Petra, and in this article, I'm going to do a full review of three ProForm rowing machines.
Are you searching for an indoor rowing machine but on a tight budget? You may have considered ProForm but wondered if they were any good and if they would last. This is my review for three ProForm magnetic rowers—Pro 750R, Sport RL, and R10 Interactive.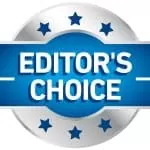 In a Hurry? Here are the Rowers We Are Comparing:
Want to know which rower is the best between the Proform rowers available in the market but don't have time to read the whole article? Click on the links below to get our answers:
*We review fitness products impartially and may earn a commission from affiliate links. For details see our disclosure page.
To help you make an informed decision on which rowing machine to purchase, we have conducted a thorough evaluation of each machine, which we will share in detail in the upcoming sections of this article.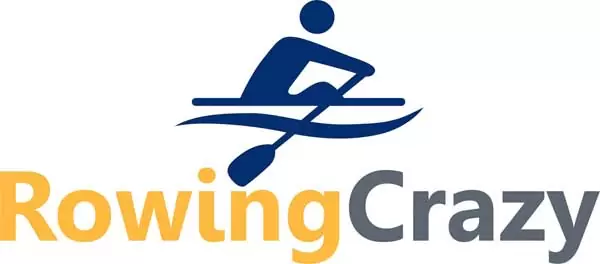 ProForm rowing machines have evolved over the years since their inception in the late 1970s. The ProForm company has quickly become one of the leading indoor gym equipment sellers, thanks to NordicTrack, their parent company. Both brands are committed to excellent product quality, affordable prices, and consistently offering features that customers want most.
Are you ready? Let's get down to business!
ProForm Rowing Machines: A Complete Buying Guide
Choosing the right rowing machine for your home gym can be a bit frustrating. With so many different resistance types and prices, it can be difficult to know which one would work best for you.
Most home gym owners opt for magnetic resistance because it is inexpensive and super quiet. You won't hear any sound other than your huffing and puffing as you work out!
Let's look at what these three ProForm rowing machines (all magnetic resistance rowers) have to offer.
A Quick Note About ProForm
The name ProForm is more commonly associated with a line of treadmills, the ProForm Treadmills, and less so with indoor rowing. The more seasoned rowers may be familiar with this household name, but the newbies in this area may not.

ProForm's parent company is NordicTrack, which is a name that everyone knows. NordicTrack has a strong reputation for making innovative, high-quality exercise machines for home use. [NordicTrack also makes rowing machines. You may read our article on ProForm Vs NordicTrack Rower to compare the two brands of rowers.]
In fact, ProForm's equipment is focused on home-based cardio workouts. This means that their line of exercise machines is considered low cost compared to high-end commercial-grade types. You may even say that pricing is one of the strongest selling points when it comes to ProForm. The manufacturer has been in the industry for over 30 years, and we all know, longevity and experience go hand in hand.
Other product categories under the ProForm marque include exercise bikes, ellipticals, and even hybrid trainers. Their target market are people who want to get their all-around cardio workout from the comfort of their homes.
ProForm faces solid competition from some of the market leaders in the field of indoor rowing such as Concept 2. [You can also learn more from our comparison article about ProForm Rower vs Concept 2]
However, once you read about all the features this company offers for such a small price, you'll understand why they don't seem worried about the competition.
In this review, I will give you all the facts about ProForm rowing machines to help you make a more informed buying decision.
Interested in seeing other rowers that we have tested out? "Click Here" to see our Ultimate Buyers Guide!
1. Proform Pro 750R Rowing Machine
First, be aware that all ProForm rowing machines use the iFit app for workouts (see more iFit Rowing Machines ). If you aren't familiar with iFit, I'll talk more about that later on.
The overall measurements of the 750R are 86.5 inches long by 22 inches wide by 45.5 inches high.
This rowing machine folds in half for easy storage and has wheels so you can roll it wherever you like.
Other features of the ProForm 750R include:
A secure cellphone or tablet holder – You can save money by using your own device. Download the iFit app and place it in the holder so you can see your workout programs without any interruption.
A 5-inch performance monitor (PM) for saving your fitness data – Even if you decide not to use the iFit app, the PM allows you to see and save your workout data, such as your speed, SPM, distance rowed, and more.
Front-facing speakers – A pair of 2-inch, front-facing speakers enhance your listening pleasure, whether you are listening to the instructor, workout music, or other audio files.
Bluetooth connectivity/capability – This rowing machine is completely Bluetooth enabled, which means you can hook up your own heart rate monitor, headphones, fitness watches, or whatever you like.
Ergonomic seat and pedals – The machine is so well-designed to make rowing more comfortable than ever!
250-lb maximum user weight capacity – This weight capacity is adequate for most users, but if you need a rower with a higher weight capacity, consider the Hydrow Wave, which has a user capacity of 375 pounds.
24 magnetic resistance levels – That's a lot of resistance levels to choose from and to ensure that you are continually challenged in your workouts.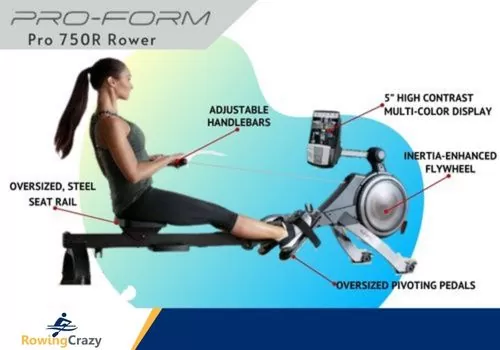 You can enjoy all the benefits you get from higher-priced rowing machines and not have to give up a single thing!
The ProForm 750R is one of the biggest-selling magnetic resistance rowing machines in America, and with all these features, it's really not surprising.
How Does the iFit App Work?
The iFit app works with ProForm rowing machines by automatically adjusting the resistance levels based on the workout program you have selected.
Of course, you can always manually adjust the resistance, but by allowing the program to do so, you can focus on the instructor and the workout at hand and not worry about what resistance level you should be working at.
If you've never used the iFit app, you are in for a nice surprise. There are thousands (maybe hundreds of thousands by now) of workouts for you to choose from, not just rowing.
You can use iFit workouts when you go jogging, walking, weight lifting, boxing, kick boxing, do yoga, Pilates, resistance band workouts, and more.
Even if you have other pieces of gym equipment that aren't iFit-enabled, such as a treadmill, you can still use the iFit app! You'll need to change the resistance levels manually, but you can still enjoy the full workout experience that iFit offers.
Whether you get a single membership or a family membership, you can use the available personal trainers or do your own thing. There's no doubt that iFit is one of the best bangs for your workout buck, you'll never want to go back to the gym again!
2. The ProForm Sport RL
If you're interested in a budget rower, the ProForm Sport RL is right up your alley!
Like the ProForm Pro R10 Smart Rower, this indoor rower uses nearly-silent magnetic resistance, so you can use it even in a small apartment and not worry about disturbing others.
If size matters to you, then you'll want to note these measurements: 87.01″ long x 22.05″ wide x 46.85″ high.
Other features of the ProForm Sport RL include:
24 levels of magnetic resistance so you'll always get a good workout
Like the Pro 750R, this rower has a 5-inch LCD display that monitors your strokes per minute, time rowed, distance, and more.
You can also put your cell phone or tablet on the sturdy tablet holder and watch the iFit workouts or your favorite program.
This rower folds down to a very compact size, making it perfect for those who live in smaller spaces. Put it in a closet, behind a door, or even under your bed!
Maximum user weight capacity is 250 pounds.
Front-facing speakers allow you to hear your own music or podcasts.
This rower is completely Bluetooth-enabled, so you can enjoy using your own heart rate monitors, fitness devices, or Bluetooth headphones.
The padded seat, oversized pivoting pedals for your feet, and ergonomic handlebars make this rower easy on the joints.
For anyone who wants to get a full-body workout but doesn't want to pay out thousands, the ProForm Sport RL is budget-friendly and should give years of service.
Do ProForm Rowers Work Without the iFit Subscription?
Yes, they will!
If, for whatever reason, you find that you can't use the iFit subscription, the rowing machine will work just fine without it.
However, that would make it just another rowing machine, wouldn't it? Why pay for the iFit experience if you're going to just go through the motions of rowing?
ProForm rowing machines will still track and monitor all your workout data using the performance monitors that come with the machines, but if you paid for an iFit-ready rower, why not take advantage of it?
[Note: You can refer here if you can't connect your ProForm rower to wifi.]
3. ProForm R10 Interactive Rowing Machine
The Proform R10 is the top-of-the-line machine for the ProForm series.
Like the previous two ProForm rowing machines, the R10 uses the iFit app and has nearly silent magnetic resistance.
The overall dimensions for this machine are 22" wide x 86.5" long x 45.5" high, and it's also foldable so you can easily transport or store it away.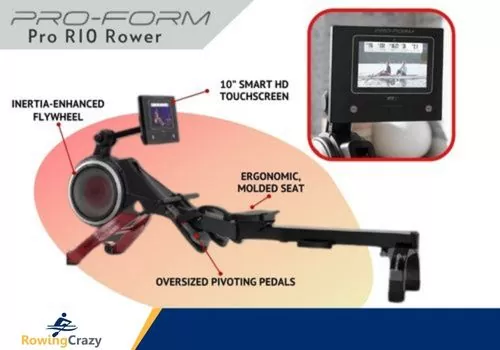 What is different about the R10 model? This rowing machine has its own 10-inch touchscreen tablet attached! This means you will get truly interactive workouts and won't need to use your own tablet!
The best features of the ProForm R10 include:
The 10-inch smart HD touchscreen turns your ordinary workout into an interactive rowing workout!
24 levels of magnetic resistance means you will always feel challenged and get a full-body workout like no other!
iFit will control the resistance levels and talk you through every step of the way.
The oversized ergonomic seat is super comfortable for those longer rides.
This rower features multi-position, adjustable handlebars so you can avoid injury to the upper body.
Like the previous ProForm rowers, the R10 has a maximum 250-pound user weight capacity.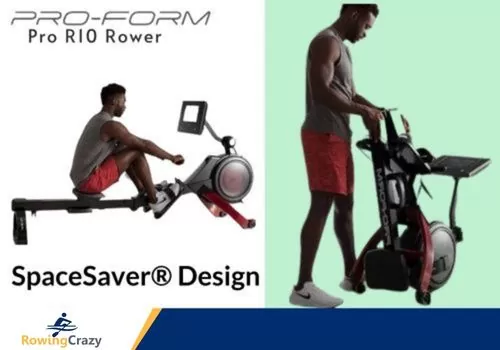 If you love the idea of having a built-in tablet so you can spare your personal tab or cellphone from added wear and tear, then the ProForm R10 is the answer you've been waiting for.
Are ProForm Rowers Any Good?
Though lower in price than similar rowing machines, ProForm rowers are an excellent value for the money.
Whether you it's ProForm's Pro 750R, Sport RL, or Pro R10 you choose, you will get an amazing, full-body workout experience all the same.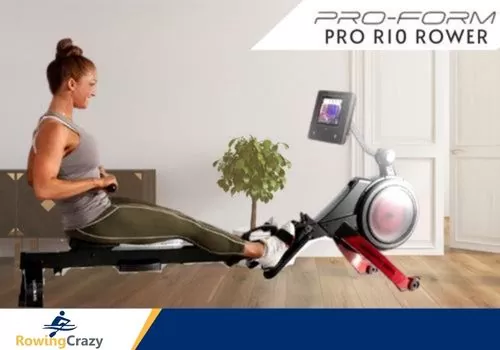 I've used the iFit program, and I assure you that you will not be disappointed. Some people opt for the certified personal trainers available on the app, while others just enjoy the rowing classes, but either way, you'll be thrilled with your rowing experience.
ProForm offers a 5-year warranty on the frame and a one-year parts and labor warranty on all other parts, including the tablet on the ProForm R10.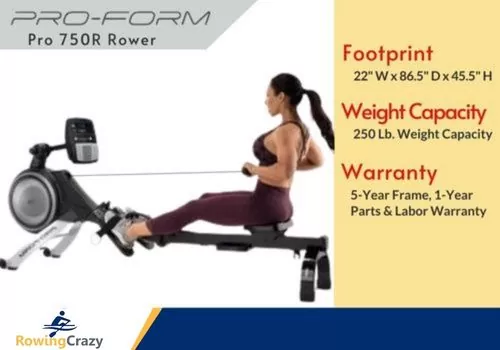 That's an excellent warranty for the price, and you'll find it hard to match!
Using the iFit app allows you to do some serious cross training, and the quiet magnetic flywheel won't bother your roommates or an infant sleeping in the next room.
I highly recommend using the iFit membership with your ProForm rower, no matter which model you buy. You will wonder how you managed without it!
Final Thoughts
Be sure to check out the ProForm website for promotions and special deals.
You are sure to be impressed with the build quality of ProForm rowers and the vast array of classes found on the iFit app.
Get yourself back into shape, lose weight, and tone your muscles all in one easy-to-use machine—the ProForm rowing machine and iFit!
You'll never go to a gym again!
Live healthy and row happy with ProForm!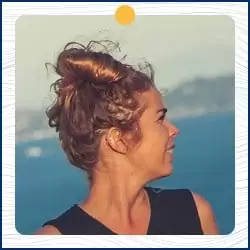 Written by Petra Amara – RowingCrazy.com
CEO & Founder of RowingCrazy, National Rower, Coxswain Womens Eight Team, Rowing Coach & Writer
Petra is a Mother of two and owner of Rowingcrazy.com. Petra lives and breathes rowing, she also has a passion for writing which lead her to start RowingCrazy.com to share her rowing experience and expertise with others.