Yes, it's that time of year again, folks! Black Friday sales, Christmas presents, and fun, fun, fun!
I love this time of year, and if you're reading this article, I bet you do as will too as we deep dive into
Oprah's Favorite Things:
One thing that I've learned over the years is that if Oprah recommends something, you can bet it will be downright fantastic. Let's face it, has Oprah ever steered us wrong about a great book or movie?
The same is true with Oprah's Favorite Things list. This is her 25th anniversary of making these lists, and I think I've read every single one because I'm an Oprah fan.
OK, who ISN'T an Oprah fan, right?
However, there is one thing about Oprah's lists – they can get to be pretty long. If you don't want to spend the next 8 hours checking out her Favorite Things list to find what you're looking for, then you've come to the right place.
I am going to create a shortlist, if you will, of the Best of Oprah's Favorite Things List. How about that?
This way, you can glean the best bargains, not to mention the best items, without spending hours doing so.
Are you ready to shop? Have a seat because this is one exciting ride!
The Best of Oprah's Favorite Things – The Hydrow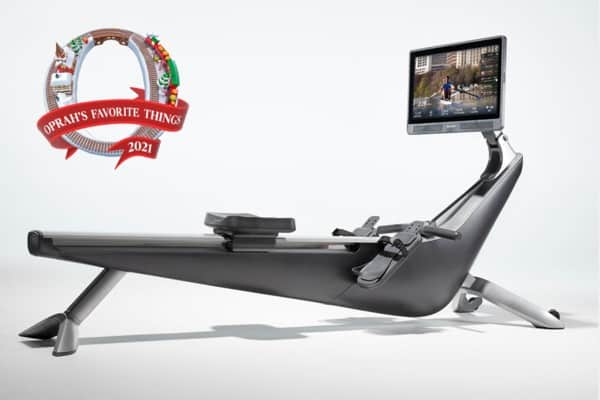 Hydrow SAVE $100 or £100!! => Use Coupon Code: ROWINGCRAZY
If you have read any of my posts before, then you know that I own and love my Hydrow rowing machine.
If you thought that I overemphasized just how great this rowing machine is then here is my backup that will verify everything that I've written- Oprah loves her Hydrow.
No, I'm not kidding, the Hydrow rowing machine, sometimes called the Peloton of indoor rowers, is one of the top picks on the list for Oprah's Favorite Things.
And why not?! Hydrow IS the best rowing machine on planet Earth, and it fits the criteria that Oprah set for her list (more on that in a bit).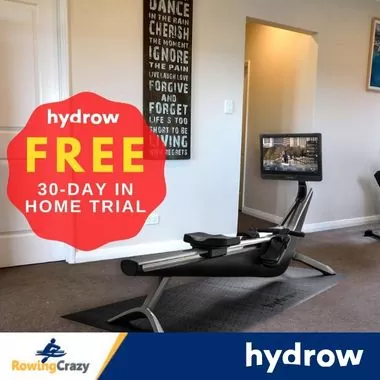 Hydrow is the rowing machine that was designed for rowers by professional rowers right here in the USA. Of course, you know that a rowing machine gives you a full-body workout, right? And it burns tons of calories every hour!
But did you know that if you buy a Hydrow right now, you can take advantage of my special deal? That's right! Hydrow has given me a special promo code that I am passing on to you so that you can try Oprah's favorite rowing machine (and mine!) for less than you thought possible.
There is also zero percent financing and zero money down if you qualify.
Try the Hydrow for yourself or surprise your family with a great gift idea. What says "I love and care about you" more than an exercise machine that improves your health and is fun to use?
Check out Hydrow and my promo coupon here.
Hydrow SAVE $100 or £100!! => Use Coupon Code: ROWINGCRAZY
Want to Know More? Click Here for My Full Hydrow Rower Review
Best of Oprah Winfrey's Favorite Things List
Oprah began making her Favorite Things list back in 1996. Over the years, she has refined her lists to include items such as gift sets or personal health and beauty.
Oprah is celebrating small businesses, made-in America products, and women-owned brands.
This list includes truly incredible items. Some you may have heard of or perhaps even purchased before, other items aren't as well known since they come from smaller companies.
For all those fun life moments, especially around the holidays, this list is sure to have something on it for everyone, including yourself!
Oprah's Home Gifts Selections
I'm going to break down Oprah's list into sections so that you can find something cool and awesome in minutes, not hours.
Snappy Screen Snap Clean Hands
This is the coolest little handsfree hand sanitizer unit that doesn't look like anything else on earth. Dump those junkie-looking plastic pump bottles and put this beauty right near the front door.
This item features touchless motion-sensing technology that delivers a moisturizing mist of protection in one of four scents, rather than those cold and sticky gels.
One 6-ounce cartridge will give you over 3,000 sprays, so even if the kids use it as a toy, you won't have to worry about running out anytime soon.
The Snappy Screen Snap Clean Hands is USB-rechargeable so you don't even need to buy batteries! How cool is that?
Wonderffle Stuffed Waffle Iron
If you think you own a waffle iron so you don't need another one, this little beauty from Wonderflle will change your mind in a flash!
Not just ANY waffle iron, the Wonderffle Stuffed Waffle Iron allows you to make stuffed Belgian waffles! There is no limit to what you can stuff them with: homemade strawberry jam, cinnamon, bananas, whatever your little heart desires!
Got a waffle fan in your house? They will love this terrific gift from Oprah's Favorite list.
Philips Pasta Maker Plus

Love fresh pasta and noodles but hate how time-consuming this chore is? The same way that bread makers did all the work for you, the same is true with the Philips Pasta and Noodle Maker Plus.
Well, OK, to be completely honest, it doesn't cook for you, but instead, it does all the mixing, kneading, and making pasta shapes for you. All you need to do is drop it in boiling water!
This holiday season, I plan on buying myself a few things because, you know how it is, you sometimes don't get what you want, and this pasta maker sounds like it's right up my alley!
Treat yourself or someone you love to the Philips Pasta Maker Plus and get a post-workout treat!
Aura Carver Luxe HD Smart Digital Picture Frame
Are you a new mother? Want to make your parents really happy? Then you've got to give them the Aura Carver Luxe Digital Picture Frame.
Don't worry if your parents say they can't figure out how to use these new smart devices, they don't have to do anything but enjoy the photos, and you don't get hounded for new baby pictures.
Just take some pics and instantly upload them to the picture frame. That's it! This 10.1-inch smart frame doesn't show just one photo, it will rotate the photos, group similar photos for a collage look, and it goes out when the lights in the room are turned off.
You can earn Daughter or Son (or in-law) of the year with this easy-to-use smart digital picture frame! I seriously think that this is one of the best gift ideas you can give this year.
Oprah's Best Tasty Food Selections
The holidays are filled with scrumptious food this time of year, and Oprah has gone all out with some of these tasty treat selections. Keep one for yourself or buy one for each person on your shopping list and see if they will share with you!
Clevr SuperLatte Starter Kit — Chai & Golden SuperLattes with Frother
Are you a latte fan? Maybe it would be better to ask who ISN'T a latte fan! If you love lattes but don't have a milk frother, you should gift yourself with this kit.
You can choose from Chai and Golden or Chai and Matcha flavors. These latte mixes could not be easier to make. Boil water, add a few teaspoons of the powder, then whip into a froth using the handheld device that is included in this gift set.
The Clevr SuperLatte Starter Kit is a great gift idea – for your friends or for yourself!
Eastern Standard Provision Gourmet Liège Belgian Waffle Gift Box
What is it about waffles? They are suddenly super popular, and they never seem to go out of style, so to speak. Everyone loves the sweetness of waffles, and this gift box is the perfect answer to your friends who have a perpetual sweet tooth.
Get ready to drool a little: this box set contains 8 artesian waffles, dark chocolate fudge sauce, peanut butter caramel sauce, strawberry and cream topper, along with some French toast special sugar.
Oh my! No wonder this is one of Oprah's favorite things! I think this Gourmet Liege Belgian Waffle Gift Box might just become MY favorite thing!
Oprah's Lush Clothing and Shoes
You don't have to buy an entire outfit to create a unique and fun present. Oprah has some fantastic ideas here that should suit nearly everyone on your list.
K. Carroll Accessories Kelsey Crossbody Bag
Ladies, do we ever have enough handbags? Are you looking for an everyday bag that has a zillion pockets? Do you have friends who always have handbags that are too big or too small?
Like Oprah, I absolutely adore this Kelsey Crossbody bag. It comes in oodles of colors, has a 47-inch adjustable and detachable strap, and best of all, it comes in vegan leather.
There are two large zipper pockets on the inside and two on the outside so you can store your sunglasses, wallet, phone, lipstick, and other essentials.
The Kelsey Crossbody bag is one of the best items created just for those who love a great purse at a great price.
Melt Fit Essential Leggings
As you may have figured out by the name, these leggings feel like butter on your skin. Designed to hug your curves but not to be so tight that you show off things you'd rather not, these leggings are a terrific stocking stuffer.
These leggings also feature a side pocket for keys or your cell phone, which make them perfect for running errands. I like how the Melt Fit is high waisted so I won't be yanking on them to cover my behind when I sit down, know what I mean, ladies?
The Melt Fit Essential Leggings come in light grey, dark grey, and navy blue, which are all a sweet change from the usual black leggings. Buy one of these for your bestie and be sure to pick up a pair for yourself.
32 Degrees Women's Ultra-Light Down Alternative Packable Puffer Vest
Sometimes, you don't need the whole jacket, just a nice vest to keep yourself warm. Everyone could use a nice puffer vest, and this is one fine selection.
Made from a down alternative (recycled plastic bottles!), you can enjoy wearing this cozy vest and not feel bad for geese or ducks. With 9 colors to choose from, this ultra-lightweight, machine-washable vest is just what Santa ordered.
I love the removable hood and zipper front, as well as the zippered side pockets so you don't lose anything.
This Women's Ultra-Light Packable Puffer Vest makes a great gift idea for every woman on your shopping list.
Head Lightz Beanie with Light
Days are getting really short now, and if you love to jog or go walking before or after work, and you hate carrying a flashlight, the Head Lightz Beanie with a built-in headlamp is going to make your life easier.
I love how this comes in 10 different colors and patterns, so you don't have to settle for the same old black or grey. This light has a lithium battery which means that it lasts for hours. There are 3 brightness levels to choose from.
The battery on the Head Lightz Beanie recharges in about 3 hours and you can take it anywhere! What a great idea for the man in your life who enjoys hunting or fishing and as a safety hat while walking, you couldn't make a better choice.
If you are looking for a terrific gift idea for less than $30, you can't go wrong with this one!
Saysh One Sneaker
You're going to love this sneaker. This was designed by Olympic athlete Allyson Felix which means the Saysh One shoe was made for women by women to be comfortable, stylish, yet totally functional.
Felix even ran wearing a pair of these during the Tokyo Olympics, where she bought home a bronze medal. Way to go, girl!
Or course, wearing one of these sneakers doesn't mean you'll bring home a medal, but you will feel like you're golden when you wear or give a Saysh One Sneaker to a friend.
Oprah's Self-Care Holiday Season Favorites
If we don't take care of ourselves, we can't take care of others, so it only makes sense to indulge and focus on our own well-being now and again.
Check some of Oprah's perfect gift ideas in self-care for friends, family, and of course, for yourself!
Philips One by Sonicare Battery Toothbrush
Once you get used to an electric toothbrush, you'll never go back to a regular one ever again! The Philips One electric toothbrush comes in a variety of colors so you can get one for the entire family and never get them confused.
This cool little brush also comes with a storage case to keep it clean and for travel! This takes only one AAA battery which should last about 3 months. That's a lot of brushing!
This is such a great deal that I bet you'll want to buy one for all your techy friends who are still using those old-fashioned regular toothbrushes. They may laugh when they see it, but they'll thank you after they start using the Philips One Battery-operated toothbrush.
Bose Sleepbuds II
These sleep buds are a MUST for anyone who lives in a noisy city, has noisy neighbors, or is a day sleeper. These are NOT the typical earbuds but sleep buds, made for sleeping so they stay in tight to block out unwanted noises.
Bose Sleepbuds are literally life-changing. Not only will they stay in your ears while you toss about, but they can be programmed to play soothing white noises like falling rain, a babbling brook, or the wind blowing through the trees.
The rechargeable battery lasts 10 hours so you can sleep without interruption. Bose Sleepbuds come with a cool little case for storing and recharging your buds.
Don't let another night's sleep be interrupted by unwanted noise. Buy these for your friends, your family, and absolutely one for yourself. You won't regret it!
Musee Women of Change Bath Balms
For those on your list who love a long soak in the bath, these are the perfect gift. I love how the Women of Change ensemble inspires young minds and brings good memories to older minds with the stories of remarkable women, such as Rosa Parks, Ruth Bader Ginsburg, Frida Kahlo, Amelia Earhart, and Maya Angelou.
These are natural, handcrafted bath balms made right here in the USA. The company focuses on hiring women, disabled women, and women in recovery.
Each bath bomb comes with a beautiful box that you won't want to throw away, and inside each bath bomb is a magnet that you can use on your refrigerator to remind you of the stories they tell.
These are paraben- and sulfate-free so you can feel good about using the Musee Women of Change Bath Balms or giving them as gifts.
Mented Gloss for Grownups
Love lip gloss but hate those kiddie colors and flavors? (Tutti Fruity, seriously?) If this sounds like you, then you will love Mented Gloss for Grownups.
This 4-piece pack of lip gloss is a fantastic stocking stuffer that comes in skin tones such as Send Nudes and Berry Me. No matter what skin tone you are trying to match or compliment, these cozy earth and skin tone crayons will work perfectly.
I like that these are shiny like lip gloss and are cruelty-free, so you can feel good about using them, as well as giving them as gifts.
You can layer these lip glosses to create your own signature style or use a single gloss for just a hint of color. Mented Gloss for Grownups is the gift that your friends will use all season long.
Voyage et Cie Luxury Bath Salt
More bath stuff because… baths are a sweet decadence, are they not?
This Luxury Bath Salt comes in scents to die for including Sweet Orange and Turmeric, Bulgarian Rose, and Pamplemousse. These salts come from the Dead Sea and have soothing, tension-releasing ingredients like aloe vera, chamomile, passionflower, and arnica extracts.
You can feel good about these bath salts because they are vegan and contain no harmful ingredients such as phthalates, parabens, or sulfates.
I highly recommend that you buy one for yourself and one for a friend. Luxury bath salts like these were made to give to others as well as to enjoy for yourself.
Oprah's Handy to Have Favorites
Sometimes, it's not getting the things you NEED that make the holiday season brighter, but getting those little things that you WANT.
The Bindle Puppy Pack
Does one of the people on your shopping list have a new puppy? Or is someone planning on giving a puppy to a friend as a gift? The Bindle Puppy Pack is the perfect gift to go along with that new little fluffy friend.
This is an all-in-one gift that includes a 24-ounce water bottle, a collapsible food bowl, a storage place for treats, and a sleeve with a pocket for your keys or cell phone. The extra-long strap means you can put it over your shoulders and forget about it until you need it.
You can choose from coral or grey heather. This stainless steel bottle won't crack or split like plastic always does, and the puppy will never outgrow its need for water.
Get the Bindle Puppy Pack and put a big smile on your puppy owner's face.
Sonoma Lavender Microwaveable Aromatherapy Stuffed Animals

If you've ever used one of those homemade sock rice microwave warmies and thought that there must be something better (and bigger!), then this is what you've been looking for.
The Sonoma Aromatherapy Stuffed Animal comes in different scents and shapes to suit just about everyone. You can choose from lavender or eucalyptus scents along with animal choices like lambs, bears, bunnies, frogs, koalas, and more.
Who would not enjoy a warm, sweetly scented friend to hug on those chilly nights when you're doing the Netflix thing?
There is no age limit for these, so pick your friend's favorite Aromatherapy stuffed animal and get a warm welcome in return.
Catch:3 Wireless Charging Station by Courant
I don't know about you, but I've wanted one of these wireless charging stations for quite some time, and this might be my chance to get one.
This Wireless Charging Station for your cell phone is more than just a place to set your phone, it includes a small valet for your keys, wallet, rings, watch, or whatever it is that you take off once you get home.
I plan on keeping mine on the table next to the front door, so I will never misplace my phone or keys, and my phone should stay charged even when I forget to plug it in!
If you or someone you care about has been looking at a Wireless Charging Station, this one is the ultimate!
Compendium Life Notes: A Letter-Writing Kit Written by You for Your Grandchild, Life Notes: Grandchild
Want to share your wise words with your child or grandchild? This is an awesome gift for the grandma or grandpa in your life.
The Life Notes Letter Writing Kit has 20 themed letter pages, where you can write down your thoughts to share with your kids or grandkids. This means you will have 20 different ways to tell your prodigy how to live a good life and what to do in troubled times.
This kit has an elegant, keepsake box so you can store your notes until you are ready to share them.
I think this is a really sweet gift for any parent or grandparent. I wish my ancestors had left me handwritten notes! What a sweet gift that will keep giving for many years to come!
For that hard-to-buy-for person on your gift list, the Life Notes Letter Writing Kit would be the perfect solution.
Oprah's Favorite Things Wrap Up
No matter what your plans are this holiday season, there is sure to be something for everyone. Oprah's suggestions are always a welcome gift, and you can rest assured that the quality of each item is top-notch.
I've only scratched the surface in this article, but if you wish to see Oprah's entire list of favorites, you can find it here.
I hope you've found my shortlist helpful. Feel free to pass it along to others who might find it useful.
Happy Holidays and Happy Shopping!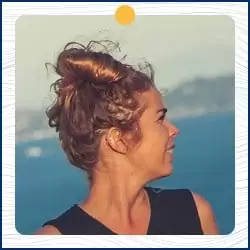 Written by Petra Amara – RowingCrazy.com
CEO & Founder of RowingCrazy, National Rower, Coxswain Womens Eight Team, Rowing Coach & Writer
Petra is a Mother of two and owner of Rowingcrazy.com. Petra lives and breathes rowing, she also has a passion for writing which lead her to start RowingCrazy.com to share her rowing experience and expertise with others.