I love a great bargain, how about you? I think everyone loves finding something they really want or need at a great price, and Cyber Monday (or Black Friday) is my favorite time of year.
Some items can't wait, so if you need toothpaste or cooking oil, I don't suggest waiting for a big sale, but if you're like me, you hold off on some purchases until Cyber Monday so you can snag a terrific bargain.
Do rowing machines actually go on sale during Cyber Monday? You bet they do, and this is the perfect time to pick a top-of-the-line rowing machine at a rock-bottom price (click here for finance options).
In a Hurry? Here are My Top 5 Picks:
If you're pressed for time and simply want to find the rowing machine deals for Cyber Monday, here are my recommended choices:
*We review fitness products impartially and may earn a commission from affiliate links. For details see our disclosure page.
You can read my full breakdown and review on each individual machine further down in this article, where we go into our findings for each machine.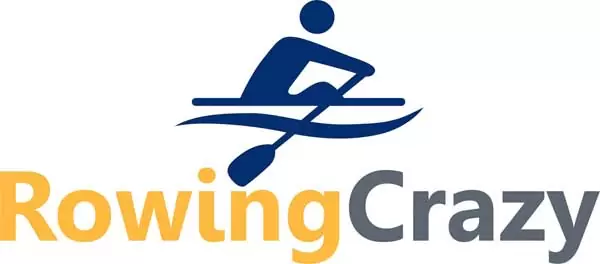 Let's Dive Right In!
I was lucky enough to get a little preview of which rowing machines are going on sale during Cyber Monday, so before you hit that "Add to cart" button, check out this article with the best Black Friday and Cyber Monday rowing machine deals to hit the planet.
Please keep in mind that this is for informational purposes only. Prices and offers are subject to change.
Cyber Monday Rower Deals – These Are The Best Deals!
For the best deals during this great sale season, you've got to check out the bargains listed here. I doubt anyone else will tell you about these fantastic deals because Cyber Monday sales always seem to sell out fast!
Cyber Monday in 2023 falls on November 27th, but it is not uncommon for these rowing machine sales to start a week ahead of time. If you really want the lowest possible discounted price on a rowing machine, bookmark this article and keep checking the prices.
1. The Hydrow Rowing Machine
Check Out Hydrow's Latest Deals
Hydrow SAVE $100 or £100!! => Use Coupon Code: ROWINGCRAZY
Oh, oh, oh HYDROW! This is my favorite little rowing machine on the planet (it even made Oprah's Favorite Things 2021)! I personally own a Hydrow, and I love, love, love it!
Watch Rowing Instructor & Coach Max Secunda with the Hydrow Rowing Machine:
I would love it if I could have found a terrific rowing machine like the Hydrow at a super Cyber Monday sale. I missed out by not waiting, but you can pick up one of the best deals this Cyber Monday here.
The Hydrow rowing machine looks so beautiful you'll want to put it right in your living room. It's whisper-quiet, so you can use it even if you have persnickety neighbors or toddlers who like their naps.
With thousands of on-the-water workout programs, you will never become bored. The trainers are all professional rowers, so they know their stuff!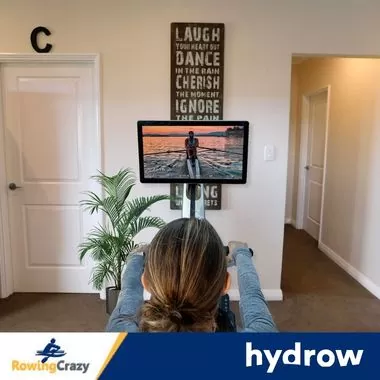 One look at the Hydrow and you will instantly see that this is not like any other rowing machine on the planet. To find one at a fitness sale with huge discounts is pretty rare, and I'm fairly sure that Hydrow won't honor this price for very long.
Demand always outweighs the available supply when it comes to the Hydrow rowing machine, so if you love the deals Hydrow is offering, you should go for it before this amazing deal sells out.
Want to Know More About the Hydrow Rower? CLICK HERE!
2. The Hydrow Wave
Check Out Hydrow Wave's Latest Deals
Hydrow SAVE $100 or £100!! => Use Coupon Code: ROWINGCRAZY
If you've read any of my blog posts before, you know how crazy I am about my Hydrow.
While you can get the best rowing machine deals using my promo code, did you know that this king of indoor rowing machines has a little brother, so to speak?
I'm talking about the Hydrow Wave!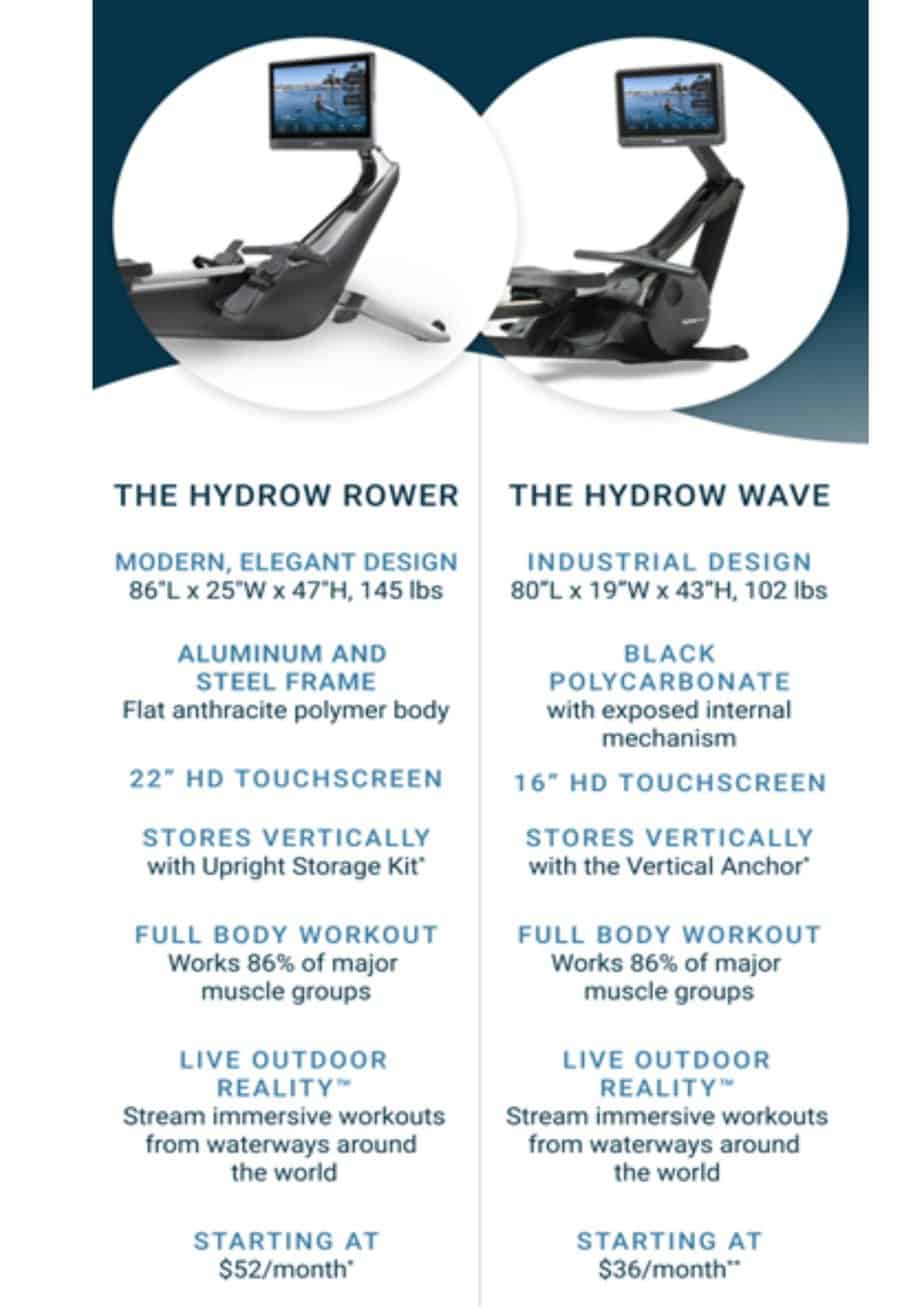 It's everything that the original Hydrow is—the same great rowing machine, the same outstanding workouts, and the same high-quality you expect from Hydrow but in a slightly smaller package and a more affordable price!
The Hydrow Wave has a 30 percent smaller footprint, which makes it perfect for smaller living spaces. The monitor is also a bit smaller at 16-inches, but it has the same high-definition as the larger monitor.
If you've been wanting a Hydrow rower, but you really wished it was smaller or cheaper, the Hydrow Wave is the rowing machine you've been looking for.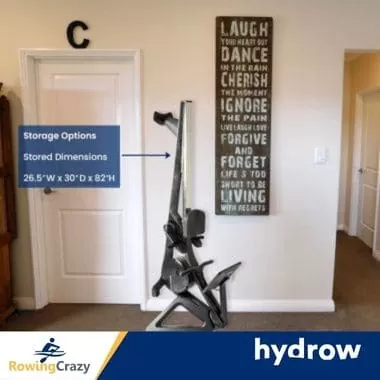 Check out my Black Friday and Cyber Monday rowing machine promo codes.
You really can get the exercise equipment you want at a better price when you choose the Hydrow Wave and apply my coupon code here.
3. Ergatta Water Rower Cyber Monday Deals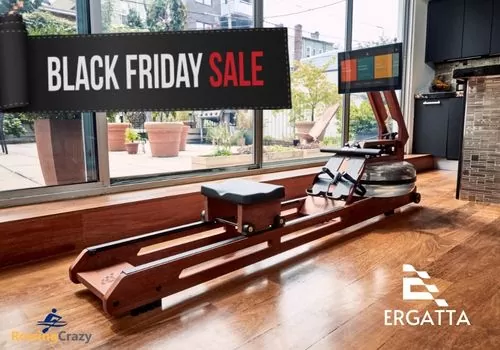 Check Out Ergatta's Cyber Monday Deals
I've seen some really amazing Cyber Monday rowing machine deals, but I still think the best rowing machine deals are on or even before Black Friday.
You can get an amazing deal on a fun and unique rowing machine called Ergatta. (Check out in more detail Ergatta Black Friday Deals here)
I also own an Ergatta and, as much as I love my Hydrow, there are days when the sweet sound of moving water is exactly what my frazzled brain needs.
Whether you've been thinking of getting a water rower but wanted to wait for the best possible deal on Black Friday, or if you've been keeping an eye on Ergatta and were hoping to get a great price, this is the time to buy.
There are dozens of water rowers, but none to match Ergatta. It's the programming that makes this indoor rower so special.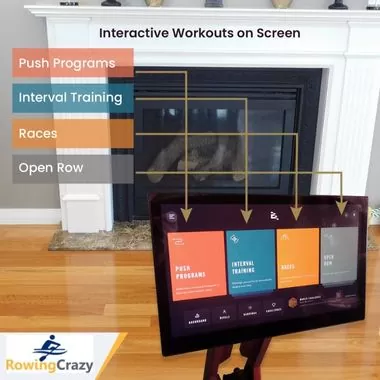 If you aren't a fan of instructors, if you get bored by those classroom workouts, then you will love Ergatta.
It has a game-based platform that has you catching meteors and more data than you can shake a stick at.
I love the racing platform and live races. Ergatta also has a super supportive online community and monthly challenges that donate cash to a different charity each month for everyone who completes the challenge.
Imagine having fun while working out and donating to a good cause every time you sit down on your beautiful cherry wood water rower. You'll get all that and more with Ergatta.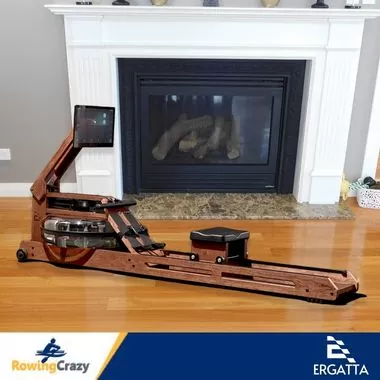 Get the best rowing machine deals when you use my exclusive promo code for Ergatta right here.
Don't wait! Ergatta has sold out in the past, so start doing your holiday shopping right now!
4. NordicTrack Rowing Machine Deals
I bet you have heard of the NordicTrack name before but didn't know that they also make rowing machines!
NordicTrack offers three different models, namely:
The RW900- this is their top-of-the-line rower, and it shows! With a 22-inch touchscreen, this nearly silent magnetic rower allows you to stream the iFit program and enjoy a smart rower for less!
The RW700 is similar to the RW900 except that it has a smaller screen. This rower folds so if you are short on space, you might want to consider this magnetic resistance rower.
The RW600 is nearly identical to the RW700. It has a 10-inch touchscreen and allows you to do some serious workouts to build stamina. The RW600 also folds for those of you with smaller living spaces.
NordicTrack rowers have an excellent warranty with 10 years on the frame, two years on all other parts, and one year on labor.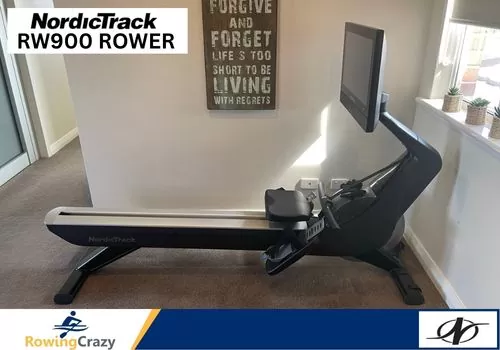 If you want a Black Friday deal on a NordicTrack rowing machine, I've got the best deal for you. Check the link above.
This coupon code should be good through at least Cyber Monday, but don't wait! Rowing machine deals like these often sell out quickly!
5. Cyber Monday Sale at Teeter
Check Out Teeter's Cyber Monday Sale
Teeter is well-known for making some of the best rowing machines, ellipticals, and cross-trainers, but did you know that they also make the world's best inversion tables?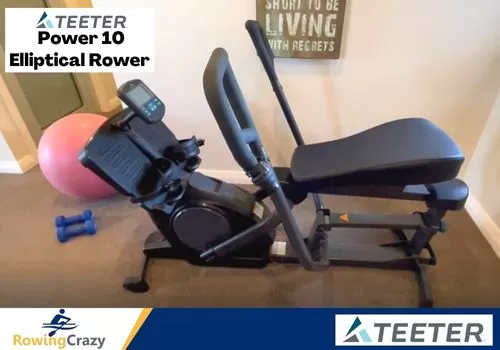 If you want a calorie-burning monster of a machine, you might want to check out the Teeter Power10. This is an elliptical rower that is unlike anything else you have ever used in your life! There is always such a high demand for this piece of fitness equipment that you almost never see it on sale, but in 2023, Teeter has decided to grab your attention with some really great deals.
Learn from Olympic Rower Rachael Taylor as She Tries the Teeter Power 10:
If you're more interested in a recumbent elliptical, you might opt for the Teeter FreeStep. This fitness equipment is nearly identical to the ones you may have used in a hospital setting or at your physical therapist's office. The FreeStep isn't low impact, it's ZERO-impact, and has a unique linear stepping routine that is more like natural walking and less like biking.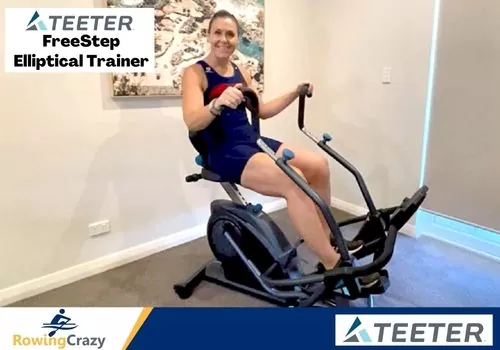 If you've used inversion tables at your chiropractors and wished you could afford one for yourself, wait no more. Teeter is offering really sweet deals on their best-selling inversion tables and accessories, such as the mat kit.
Join Olympic Rower Rachael Taylor in Using the Teeter FreeStep Elliptical Trainer:
I own a Teeter inversion table and use it at least once a week. If you are into wellness and want a natural way to keep your spine aligned, or if you've suffered any type of back injury, you will thank your lucky stars that you picked up a bargain on this back-saver during the Black Friday Holiday Blow-Out sale!
You won't find a bargain like this anywhere else, so don't wait. Teeter's fitness sales are few and far between so you should snatch up one (or two) of these beauties today!
Explore the Teeter FitSpine Inversion Table with Olympic Rower Rachael Taylor:
6. The LIT Method Cyber Monday Rowing Machine Sale
I know that many people want a water rower, but choosing the right one can be difficult.
Do you want a water rower that does double duty as a strength training machine? Do you want a rower with a lifetime warranty? Get your full-body workout and more with a LIT Strength Machine at this holiday sale price.
LIT is so much more than just a water rower. It also has anchor points on the rower itself where you attach resistance bands. You'll get the HIIT workout of a lifetime with this machine, and you'll never want to go back to plain rowing workouts ever again!
You might wonder what size screen this smart rower offers. The answer? Whatever size you want! When you download the LIT app to your tablet or cell phone, you can use that device or cast it to a larger device, such as your big 65-inch television!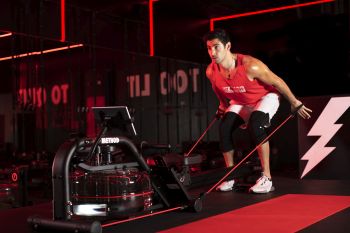 I'm not sure if LIT has ever offered a sale before so if you've had your eye on one of these incredibly versatile rowing machines, this is the perfect time to get one at a super-discounted price.
Use my promo code (which is here) and be prepared to be shocked. This price is so incredible, I bet you hit that buy button and start making room for your new rower today!
7. The Aviron Cyber Monday Rowing Machine Steal!
Check Out Aviron's Latest Deals
One thing that I love about my job is that I get to try just about every rowing machine on the market today.
If you're like a lot of people, it's easy to get bored using the same machine over and over.
Let me tell you, that cannot happen with Aviron.
Whether you choose the Aviron Strong Series, Aviron's newest model, or you go with the ever-popular Impact series, you are going to wake up every morning actually looking forward to exercising!
The Strong Series accommodates users up to 507 pounds, but the machine is light enough for you to move it easily.
With a huge 22-inch HD touchscreen, it's the programming that makes Aviron special. You can do live racing, coached programs, or HIIT workouts, outwit zombies and pirates in gamified rowing workouts, or compete with pro rowers and Olympians! You get all that and more in Aviron's 8 ways to work out!
Each workout is designed to give you maximum results in the shortest amount of time. With both magnetic resistance and air resistance, you will always feel challenged.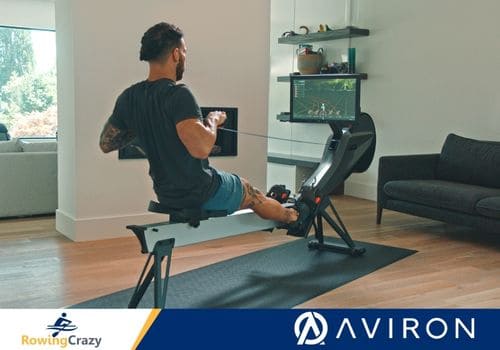 I like that Aviron has put an exhaust for the fan which blows right on you, to help cool you down. No more turning up the AC so you don't overheat while exercising!
If this sounds like the kind of workout you want, you can use my exclusive coupon code here and get the rower that everyone is talking about! You won't find a cheaper price for Aviron than with this discount.
8. Proform Black Friday Sales
Check Out Proform's Black Friday Sale
If you would love to have a connected rower, but the pricing for many of these has left you discouraged, keep reading!
Proform makes high-quality rowers that have most of the features you want without the expensive price tag.
There are two rowers to choose from:
The Proform R10. This rower has a 10-inch touchscreen monitor and it uses magnetic resistance for super-quiet operation. It folds for those who live in an apartment or have smaller spaces. It has a 5-year frame warranty and a 1-year warranty on everything else, so you know it must be made from some pretty rugged materials. Best of all, you'll get a free 3-year family membership to iFit. This means no monthly payments for workouts! These savings will almost pay for your rower itself!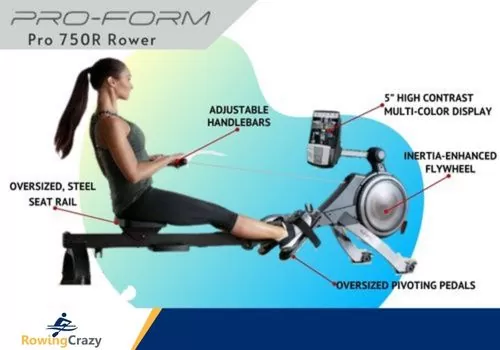 The Proform 750R. This rower features a 5-inch color monitor and silent magnetic resistance. It also folds for easy storage. You'll get a free 30-day trial membership with the iFit program so you can see if this rowing machine is a solid choice for your home gym.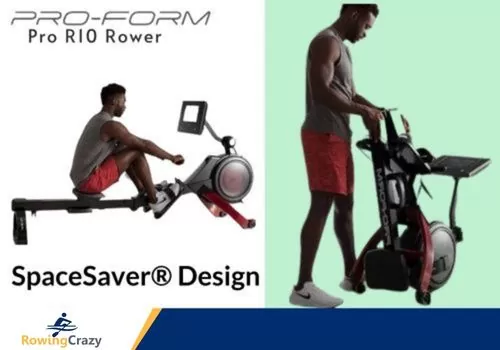 Proform is made by NordicTrack, so you can rest easy knowing that this piece of equipment is made by experts in home workouts.
Want a great deal on one of the Proform rowers this holiday season? Use my coupon code in the above link.
You won't find a better price anywhere else, so get the machine you deserve at the lowest price of the season!
9. BlueFin Rowing Machines
Check Out BlueFin Fitness' Cyber Monday Sale!
For the super bargain hunter, you might want to check out the rowers made by BlueFin. These rowers are a great deal even at their regular price tags but incredibly so much more when they're discounted for a Cyber Monday sale.
BlueFin rowing machines are budget-priced, but they aren't short on features. Whether you're looking at the BlueFin Blade dual air rower with its free fitness app (free! I like that word!), smartphone or tablet holder, and two types of resistance, or you prefer the quiet of the magnetic resistance on the BlueFin Blade home rower, you can't go wrong!
Don't let those New Year's resolutions come to naught—buy a machine to jump-start your workouts! Pick up one of the best Cyber Monday deals on the planet and get a great rowing machine at a great value from BlueFin. FYI: Check out Water Rowing Machine Black Friday Deals here!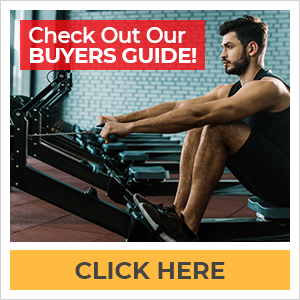 Amazon Cyber Monday Sales
Amazon is one of the best places to find fitness deals on rowing machines, and 2023 is no exception.
Whether you go for one of the water rowers (read more on water rowers with a screen), such as Mr. Right Oak Frame Rowing Machine (aren't we all looking for Mr. Right? LOL) or the Sunny Health and Fitness Obsidian Surge rowing machine, these are the lowest prices of the year.
Nothing screams DISCOUNT quite like a sale at Amazon, but if a water rower isn't what you had in mind, you might want to go for other styles of indoor rowing machines. Check out these rowing machines at their all-time low prices:
Since Amazon is the first shopping choice for many people, I would imagine that they are going to run out of these Cyber Monday sales really quickly.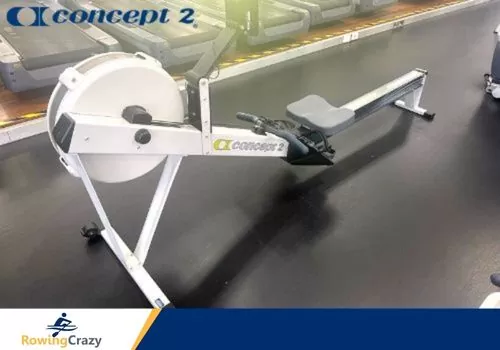 When shopping the great deals on Amazon, my best piece of advice for those who want a piece of home gym equipment at super-low prices is to NOT WAIT. Deals at Amazon always sell out, so if your heart rate is pumping at the thought of these discounts, hit that buy button now! You won't get a better bargain at any other time of the year!
Don't Miss This Year's Cyber Monday Rower Deals
Whether you decide to go with Teeter, the Hydrow, Aviron, Ergatta, the HydrowWave, LIT, NordicTrack, BlueFin, or another brand from Amazon, and whether you pick a connected rowing machine or another type of machine, this year's deals are nothing short of fantastic!
Get your credit card ready—I know which item I'm buying, and I'm ready as soon as I see the deals hit my screen. Happy Bargain Hunting and Happy Black Friday Sales!
Frequently Asked Questions
1. Are Cyber Monday deals worth it?
In nearly all instances, yes, they are. Not every store puts every single item on sale, and some items are only discounted slightly, but all stores tend to pick a few dozen (or in Amazon's case, a few thousand) items and place deep discounts on them in order to bring you into their store. Businesses hope that once you're inside their store or using their website, you will purchase other items.
2. What is meant by Black Friday?
In accounting terms, black ink is money on hand while red ink indicates debt. The Friday after Thanksgiving is the busiest shopping day of the year. For most companies, it marks the day of the year when they start making a profit and have lots of black ink on their books, hence the name, Black Friday.
3. Is Cyber Monday better than Black Friday?
It depends. If a particular item does not sell as expected on Friday or over the weekend, a company might decide to do a deeper discount on Monday. Some items, however, are the same price on Friday and Monday.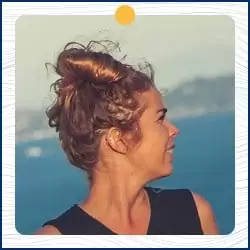 Written by Petra Amara – RowingCrazy.com
CEO & Founder of RowingCrazy, National Rower, Coxswain Womens Eight Team, Rowing Coach & Writer
Petra is a Mother of two and owner of Rowingcrazy.com. Petra lives and breathes rowing, she also has a passion for writing which lead her to start RowingCrazy.com to share her rowing experience and expertise with others.