Are you shopping around for a water resistance rowing machine? Not just any water rowing machine, but a water rower with screen, aka connected water rowing machine or smart rower?
There may not be as many connected rowers as there are regular water rowers, but if you want the best because that's who you are, well, I certainly don't blame you!

In a Hurry? Our Top Pick Water Rower
In a rush and want to find the best water rower with a screen? Check out my top picks:
*We review fitness products impartially and may earn a commission from affiliate links. For details see our disclosure page.
You can read my full breakdown and review on the machine further down in this article, where we go into our findings for our top pick machine.
Right Let's Get Into It!
I've used rowing machines for years, and I'll be the first to tell you that connected rowers are the wave of the future!
Let's ride that wave right into the next dimension and talk about the best water rower that has a screen so you can get started with your workout sooner rather than later.
Why Choose a Connected Water Rowing Machine?
You probably know that there are very few exercise machines that can match the full-body workouts you can get with a rowing machine.
If you can have any kind of rowing machine to engine its benefits, why pick a water rowing kind and a connected one at that?
Here's why, briefly.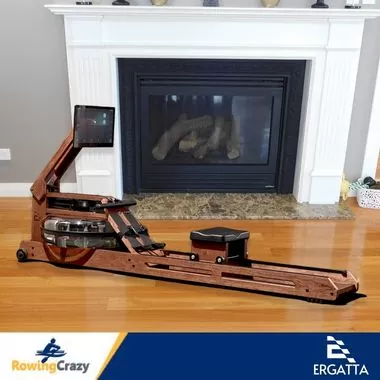 Water rowers feel and sound like you're actually rowing on the water. The only thing missing is the spray, but hey, have your kids or spouse give you a mist from a spray bottle and you've got it all!
Since most are handcrafted from premium hardwood (not all are!), you get dimensional stability, a material that can absorb sound and vibration well, and incredible longevity.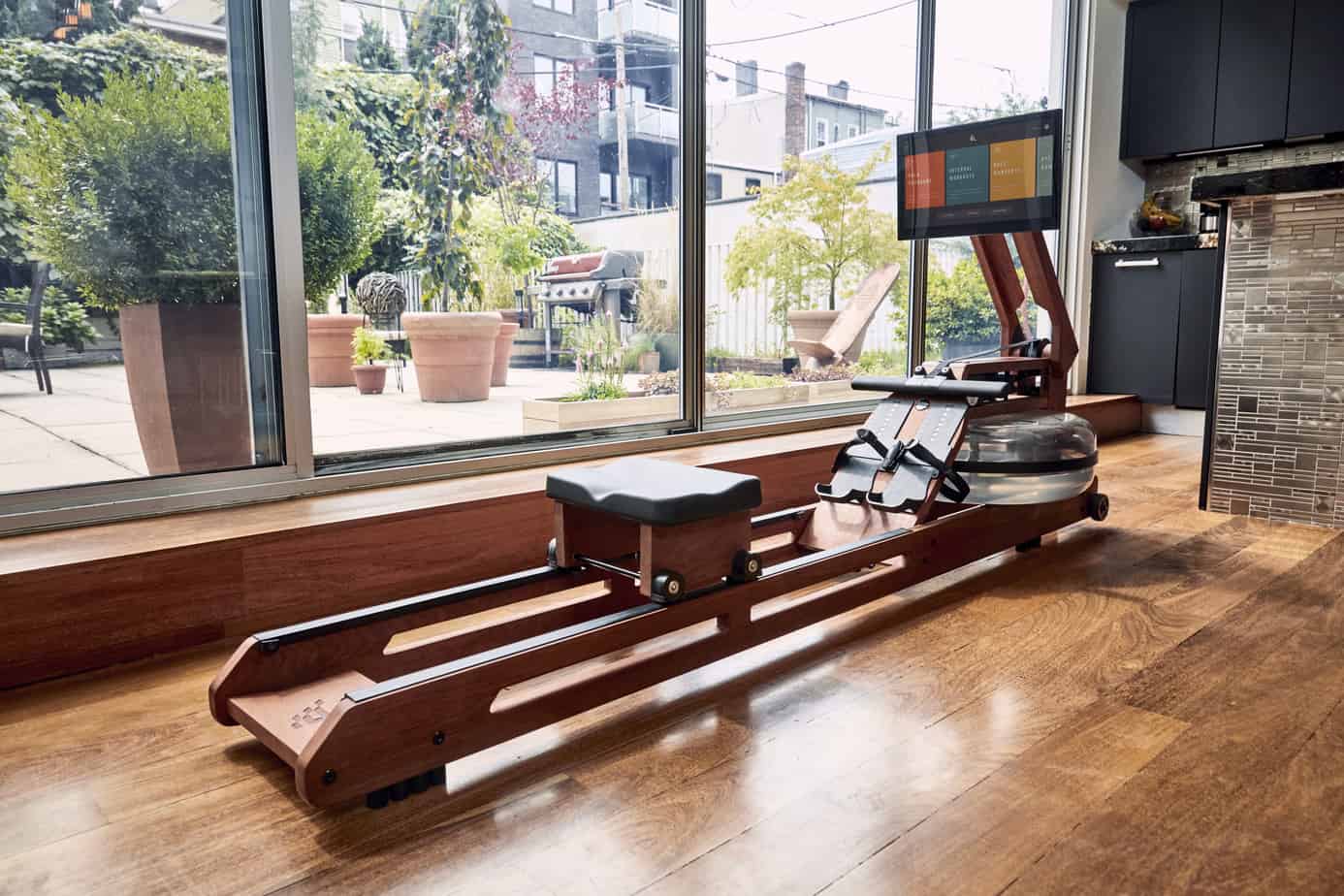 OK, so a WaterRower with an S4 monitor can give you that, why push for smart ones like the Ergatta?
Water rowers have been around for decades, but it wasn't until recently that someone put "smart" into them, bringing you as close as you can possibly get to the real rowing experience.
So let's see how different they are.
Water Rowing Machine and a Smart One – What's the Difference?
The difference is in their respective monitors and what's behind those screens.
For instance, the WaterRower Natural rowing machine comes with the S4 performance monitor, which is an LCD screen that monitors your distance, time, speed, stroke rate, and heart rate if you pay for the optional heart rate monitor. While the S4 monitor does the trick of helping you track your progress, it's not exactly at the top of the techno train, if you get my drift.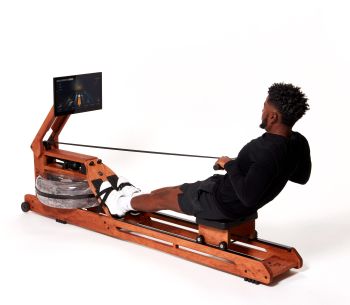 On the other hand, the smart Ergatta screen offers way, way more than the basic functions offered by the S4 performance monitor.
It's like comparing a 1967 VW Bug to a Tesla. True, both cars will get you from point A to point B, but wouldn't you rather have a Tesla and all the cool features that it has?
The devil is in the details, they say, so let's talk about the best water rowing machine with a smart screen (and why you'll love it) to help you make a more informed buying decision.
The Ergatta Connected Water Rowing Machine
If you're looking for a rowing machine that will not only complement your existing workout routine but will also make it fun to do, the Ergatta will be the answer to your dreams.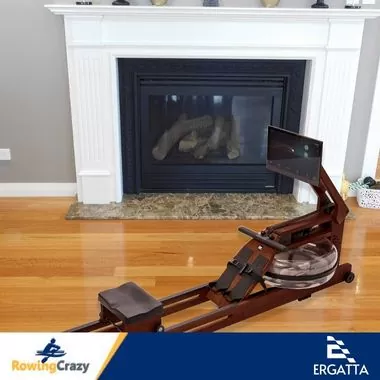 While it's true that all water rowers will give you a full-body workout that you can really feel, Ergatta makes the entire experience fun and exciting again!
The one thing that makes Ergatta so different is the software in that screen!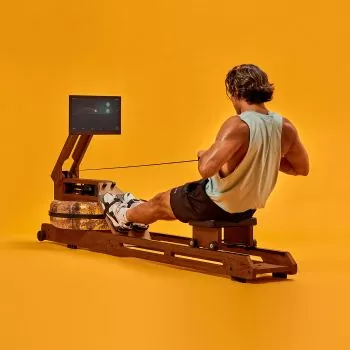 The rower itself is made in the USA by WaterRower, so that accounts for its similarity with the WaterRower natural rowing machine. I'll tell you more about the rowing machine itself in a bit, but first, you should know that the workouts on Ergatta are not the same old yadda yadda.
There are no instructors. No classroom settings. No on-the-water workouts.
So What Does Ergatta Offer?
Interval workouts disguised as mind stimulating, incredibly fun video games. And there's more! You get to do scenic rows, racing competitions, monthly challenges, donate to charities, and – you won't believe this – an opportunity to design your own workout!
Workouts that Keep You Hooked
Each workout is designed to be as effective as possible. If you've ever played video games with your kids and noticed that time simply flew by, then you will understand the appeal of the Ergatta workouts.
You'll have so much fun with the games that you end up working out longer, harder, and/or more frequently than you otherwise would.
This is true for all the gamified workouts but especially so for the racing competitions. I remember trying a race during my first time on the Ergatta. I lost and immediately raced again because, heck, I didn't like coming in second to the last!
If you've got kids or a spouse who will spend hours playing video games but won't spend 20 minutes exercising, this might be the way to go! I bet they'll race you to the machine as soon as they're up.
Personalized Workouts
Everything about the Ergatta is so amazing, but my favorite feature is that the Ergatta software designs your workouts to match your fitness level. Didn't I say it's smart?
You do a 1,000-meter row when you first sign up. From this, Ergatta will adjust your workouts to suit your current intensity level. Every 10-15 rows, Ergatta will automatically readjust to keep you challenged no matter what level you reach!
What happens on days when you don't want a workout to be counted in the automatic calibration? You know, some mornings you wake up lazy and not your best self, maybe from staying up too late or for drinking too much the night before, and you feel that you don't want your workout affecting the difficulty of future games.
You can always use Recalibration Control. It's your way of overriding Ergatta – it's smart and all, but it also recognizes that you're the boss here.
Click Here for Discount on Ergatta!
The Ergatta Frame and Other Features
Now that you have heard about the gaming features, let's take a look at the rower itself.
Gorgeous Frame
Isn't it a beauty?? You won't want to hide the Ergatta in your garage!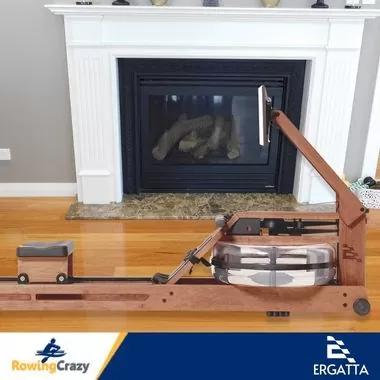 Made from premium hardwood, the frame is made from handcrafted cherry wood and polished with Danish oil to make it shine like a new penny.
Strong and Quiet
Have you ever noticed that most water rowers are built from wood (Learn More on wood water rowers)? That's not only because wood can withstand more user weight but also because it can absorb sound and vibration, something that steel or aluminum rowers can't.
Class-Leading Tech
While you will find many water rowers made of wood, only the Ergatta and WaterRower natural rowing machine models (Learn More about Ergatta rower subscription) exhibit that hand-finished artisanal quality that make them stand out from the rest. However, Ergatta with its innovative tech, separates itself from its WaterRower cousins.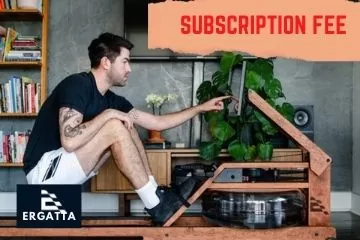 Other Features
Ergatta offers so many features that it's hard to list them all, but here are some details you'll want to know:
Supports users up to 500 pounds
The 17.3-inch HD touchscreen monitor tilts for easy viewing
Transport wheels allow the device to be moved easily
You can store the Ergatta on its end, so that it doesn't take up very much space
Super comfortable ergonomic seat
Generous warranty includes 5 years on the frame, 1 year on the tablet, and 3 years on everything else
The Ergatta has so many benefits and features, no wonder it's gaining in popularity!
I believe that the Ergatta is the best water rowing experience you buy and the gaming software makes this machine a marvelous piece of engineering.
If you love the soft, enjoyable sound of water swooshing around the tank and if you aren't a fan of instructors and the same boring classroom workouts, you're going to be a big fan of Ergatta, I can tell!
I Have a WaterRower with S4 Monitor But I Want the Big Screen!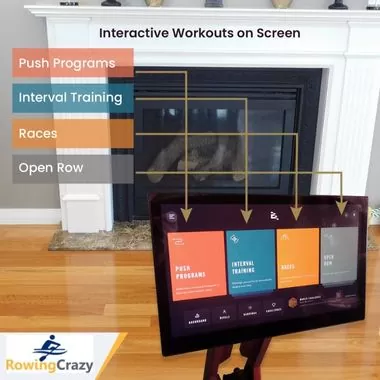 Do you own or did you recently buy a WaterRower brand rowing machine (Read More on other rowing machine brands) and now you wish you had known about the Ergatta?
I've got some good news for you.
You Can Upgrade to Ergatta
You don't have to trade in your WaterRower natural rowing machine, and you don't need to buy an Ergatta to enjoy its connected features. All you need is the WaterRower Upgrade Package.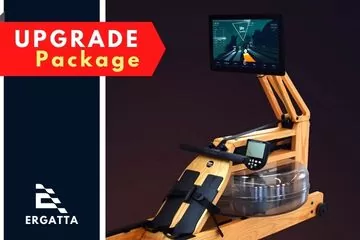 The upgrade package will give you the arm and the tablet, along with the software, so that you can enjoy all of the marvelous engineering properties of Ergatta without buying a new machine. That's how thoughtful the Ergatta Team is.
See If You're Qualified
This upgrade won't work with all WaterRowers. Check your S4 monitor. You need to have the newer model to use the upgrade package.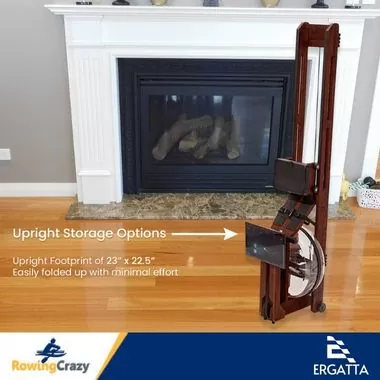 How can you tell if you have the newer S4 monitor? Look at the back of the monitor. If there is a mini-USB port, you can use the upgrade package!
You can have the best water rower and screen simply by adding the WaterRower Upgrade Package. If that isn't the best news you'll hear all day, I don't know what will! Side Note: If you are looking for other types of water rower options check out my review on the City Row Go
Can You Play Games on a WaterRower Natural Rowing Machine?
Yes, you can play some online racing by plugging the S4 monitor into your laptop that has access to the virtual boat race, but that's all.
If you've used the Ergatta rowing machine or watched videos about it, you will instantly see that the basic S4 performance monitor just can't hold a candle to the fun and exciting games that Ergatta offers.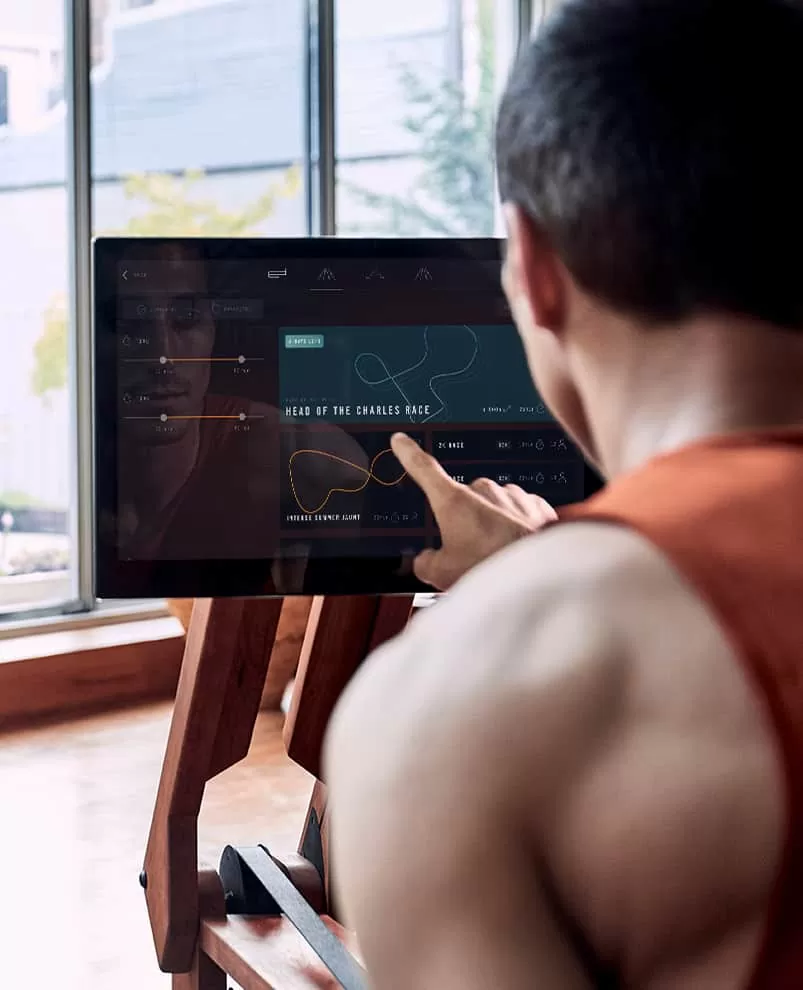 In fact, Ergatta is the only water rower that offers this special video game and racing platform.
For those of you who like racing, Ergatta will match you against 8 other Ergatta rowers who are in your same fitness level. You can also challenge friends/rivals privately just like you would in your boat racing neighborhood.
I won't be surprised to hear of your family cheering you on as you race against other Ergatta users in your living room! Imagine spending an exciting bonding time indoors even when it's snowing or raining outside!
Can I Find Ergatta in My Local Gym?
Not likely.
Are you worried that you will miss your friends or the regular faces you see every week when you go to the gym?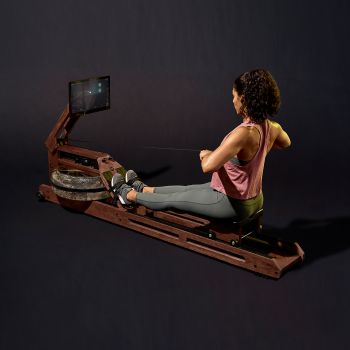 With Ergatta sitting in your home, you don't have to give up anything- well, except for those hairy guys breathing on your neck waiting for you to finish so they can have the machine!
There is a large, online Ergatta community where you can make new friends, ask questions, and more. What this means is that you can have the best of both worlds – interact with friends and the community and still enjoy your privacy and the Ergatta all to yourself and your family.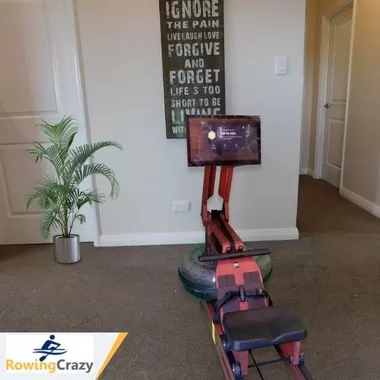 Ergatta is the only water rower that offers all of the above and more. Yes, there are other water rowers, but nothing that can match what Ergatta offers.
See Our Great Cyber Monday Rowing Machine Sale – Click Here!
The Bottom Line
If you've read any of my other posts, you know that I own and love my Hydrow.
However, these are two completely different machines!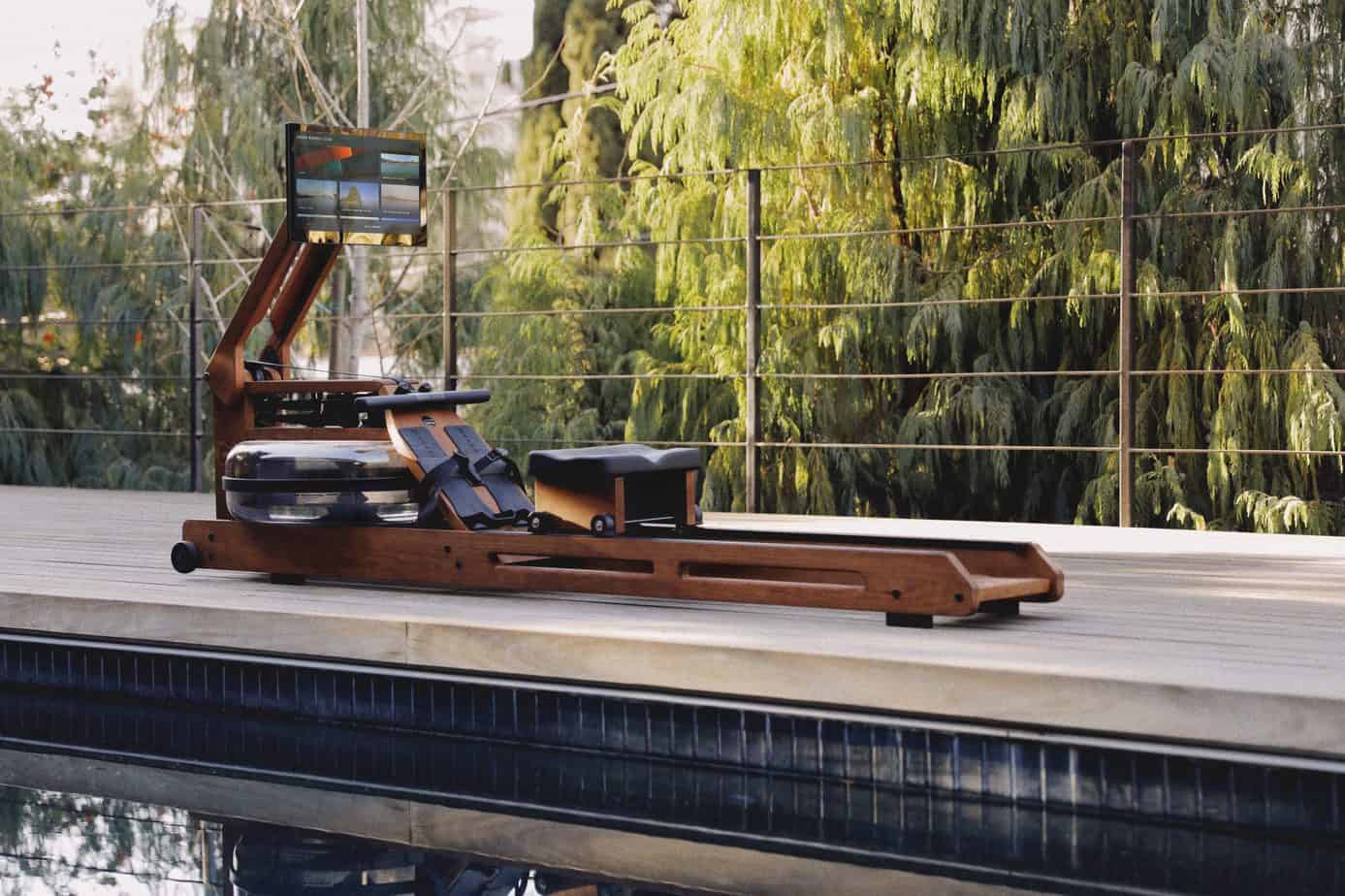 I still love my Hydrow, but I have to tell you that I was absolutely impressed as heck with Ergatta. It has a very smooth rowing action, looks incredibly beautiful, and it was downright addicting to use.
What is the best water rower on the planet with a screen? It has to be Ergatta, without a doubt.
Ergatta is the future of water rowers that is here right now.
Stay healthy and keep rowing friends!