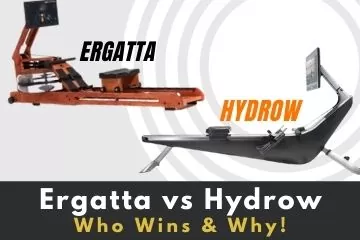 For those who want to invest in the very best for their home gym, you might have been surprised to find so many choices available!
Home rowing machines are quickly becoming one of the most popular pieces of gym equipment in the United States and elsewhere and there are lots of good reasons for this. Everyone wants a highly interactive, class membership type of workout platform in their home, but not everyone wants a spinning class like Peloton.
The Hydrow and the Ergatta are two of the newest, most exciting workout platforms to hit the market. With their awesome high-tech devices that help make workouts fun, it's no surprise that both of these are very much in demand, even with their premium price tags.
Other than the obvious visual differences, which of these rowers is better than the other?
I'm going to let you in on a few secrets about both of these rowing machines so that you can make a more informed decision.
Comparing the Hydrow and the Ergatta
When considering two different types of rowing machines, you should start with some of the basic specifications.
Let me start with the Hydrow: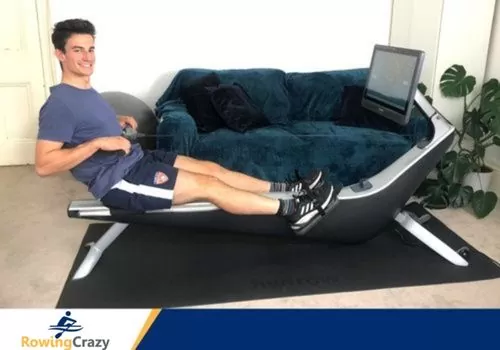 Resistance System- Magnetic resistance that is computer-controlled
Weight Capacity- 375 pounds
Frame- Steel and aluminum, using a single rail
Monitor- 22-inch HD touchscreen display
Adjustable Drag Settings (see Hydrow drag settings)
Workout Types- Traditional on-the-water, instructor-led programs
Monthly Subscription Fee- $44 per month (may vary)
Price- Ranges from $2,245-$2,705 (at the time of writing, this may vary with promotions and/or with time)
Warranty- 5 years for the frame, all other parts 1 year
Compare those figures with the Ergatta: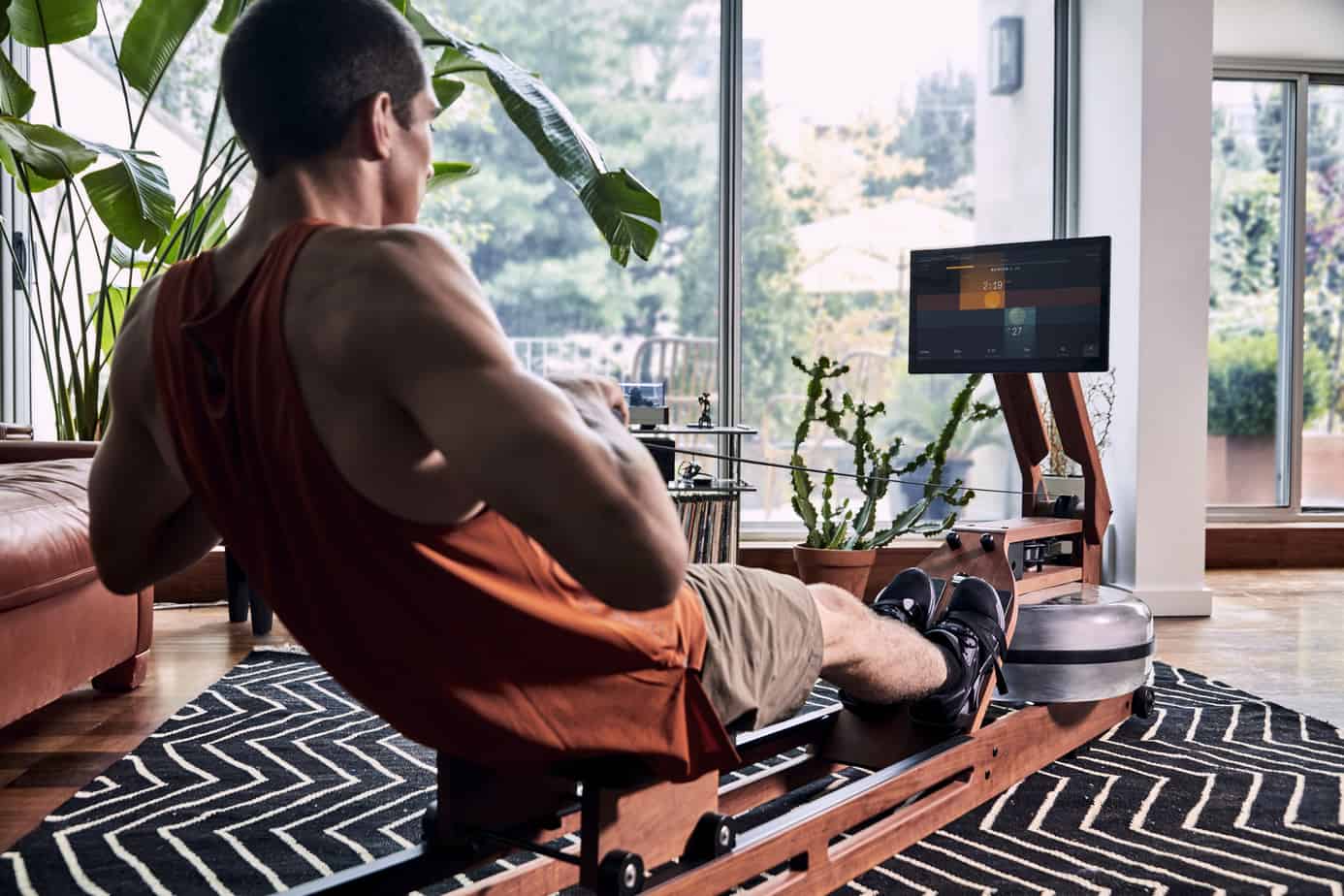 Resistance System- Water
Weight Capacity-500 pounds
The Frame- Cherry wood with a dual rail
Monitor- 17.3-inch HD touchscreen display
Workout Types- Game-based, racing type
Monthly Subscription Fee- $29 per month (may vary)
Price- Around $2,200 (at the time of writing; this may vary with promotions and with time)
Warranty- 5-year for the frame, 3 years on all other parts, 1 year on labor
You may see some differences that might sway you in one direction or the other right away. I advise you, though, to keep reading and see all their differences so you will feel completely confident about your choice when you're ready to purchase.
Let's look closer and see the benefits of each rowing machine.
The Hydrow Connected Rower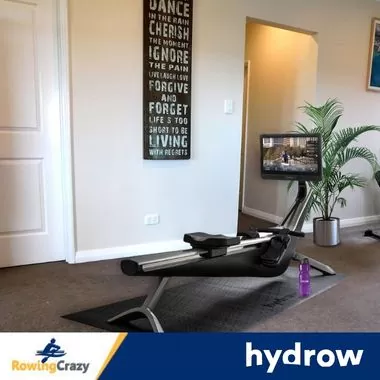 Hydrow SAVE $100 or £100!! => Use Coupon Code: ROWINGCRAZY
Chances are that you have heard about the Hydrow, either on television or from online ads. It's still new compared to many brands on the market, but the Hydrow is the first truly-connected rower offering a real rowing experience that many people could relate to, similar to the Peloton spin bike ( see our comparison of Hydrow vs Peloton Row ), except that it's for rowing.
Watch our full video of the Hydrow Rower by Rowing YouTube Influencer Max Secunda:
The Hydrow was built by professional rowers for their own team. That means this piece of home workout equipment is like nothing you have seen before. With live and on-demand Hydrow workout programs, along with professional rowing instructors to lead classes, this rowing machine takes a rowing workout platform to a whole new level.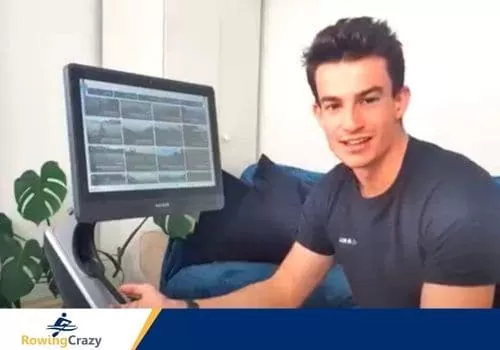 While it can seem difficult to compare the Ergatta and the Hydrow since they use different types of resistance mechanisms, they are similar in many other aspects.
Don't confuse the Hydrow with a Nordictrack or even with the Concept two rower. The Hydrow is in a class of its own. If you want to see how Hydrow compares with other top rowers be sure to read this article – Hydrow vs Concept 2 – See Who Won!
Let's check out the benefits of the Hydrow rowing machine.
The Benefits of the Hydrow Rower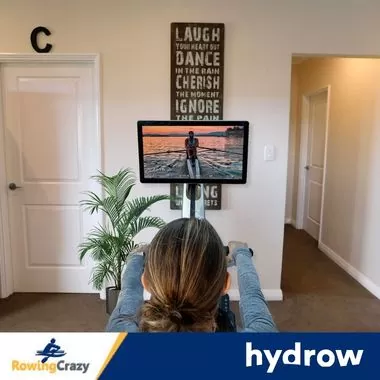 If you truly love rowing, there is so much to love about the Hydrow rower. As you might expect from a high-end machine, the Hydrow has tons of options, including:
The magnetic flywheel is computer-controlled which means that not only do you get an extremely quiet rower, you also don't need to change resistance levels or wonder whether you're working hard enough or not. You may manually change resistance levels if wish
The sleek design looks like a modern piece of furniture, so you can feel good about keeping it in any room of the house
The 22-inch HD touchscreen monitor is sweat- and dust-resistant
The monitor does a complete data tracking of your time, distance, heart rate, split time, and more
The cushioned 10-roller seat is super comfortable
Has Bluetooth functionality
Hundreds of on-demand workouts, live workouts, even relaxing, scenic programs for a more laidback experience
There are off-the-rower workout activities, such as yoga or stretching programs
You can race against the Hydrow rowing community or follow the professional rowing instructors
30-day free trial
An optional Hydrow storage kit allows you to store the device upright
The HD screen can be folded down when not in use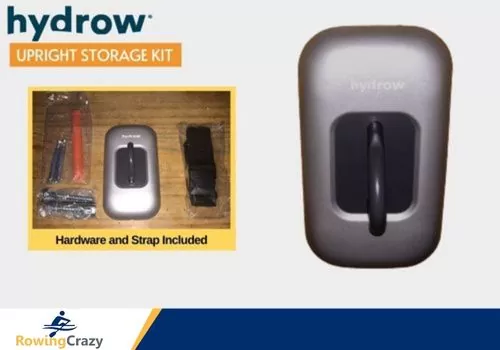 I love the Hydrow and own one myself. The workouts are unlike any other workout systems I've ever seen. They take place on different rivers around the world, not in a classroom; it's so immersive that it feels like you're rowing with the instructors and breathing the fresh air out on the water. There's a reason why the Hydrow is growing in popularity, and I believe it's the unmatched classes and unique rowing experiences it offers.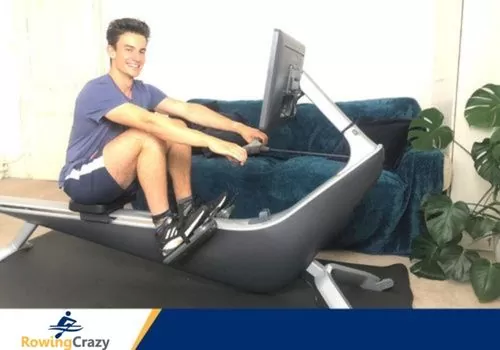 The Drawbacks of the Hydrow Rowing Machine
Like all rowing machines, even the Hydrow has some downsides, such as:
You can't pause videos
There is no volume control on the workouts
The Hydrow does not support some third-party fitness apps, such as the Apple Watch, although they state that they hope to work that out in the near future
The rower cannot be stored upright without purchasing the additional storage kit
Who Should Buy the Hydrow Home Fitness Machine?
I like to call the Hydrow a fitness machine more than a rower because you can do other types of workouts, such as stretching or yoga programs shown on the HD screen.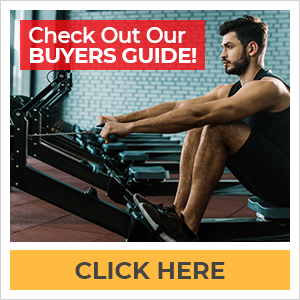 The resistance levels on the Hydrow rower are the most advanced on the planet and there is literally no other machine to compare it to. The same is true of the workout experience. You cannot find any other rowing workout program with on-demand workouts led by the world's top instructors while on the water.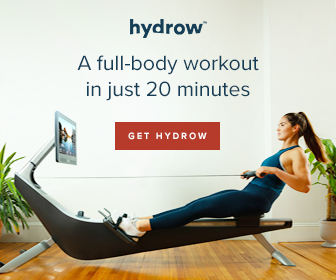 If you're more into a modern-looking machine with a sleek, futuristic design, if you like instructors who guide you through realistic workouts, and if you want to enjoy the best quality in equipment and overall rowing experience, then you will want to go with the Hydrow rowing machine. Side Note: If you are interested in the Hydrow Rower you might like to research some more on our other articles for comparisons CityRow vs Hydrow or Hydrow vs WaterRower or Hydrow vs Echelon Rower.
The Ergatta Rowing Machine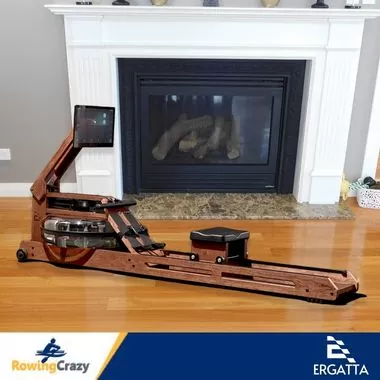 Ergatta is the newest company to introduce a first-rate rowing machine. Users of all skill levels should find this indoor rower a big boon to their fitness goals while enjoying some of the best high-tech features that many people enjoy on their home gym equipment.
You may not have heard about the Ergatta as much as the Hydrow, but it is going to be some stiff competition for big-name equipment, such as Nordictrack, Teeter, and other fitness brands.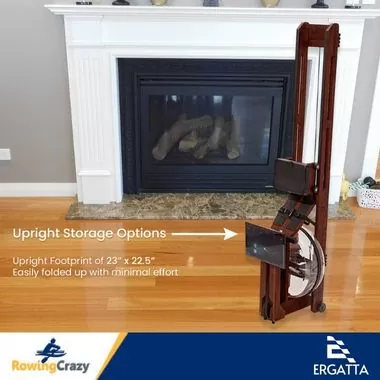 The Ergatta is a collaboration of software developers in New York and a long-standing indoor rowing manufacturer called WaterRower. Between these two companies, they have made the Ergatta a truly awesome water-resistance rower.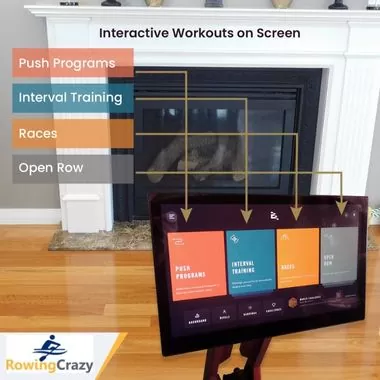 Knowing this, you might want to call the Ergatta a gaming-inspired water rowing machine!
Let's take a look at the main features the Ergatta offers for your workout experience. You might also like to read my other article Ergatta vs Peloton for more information on these interactive rowers.
The Benefits of the Ergatta Rower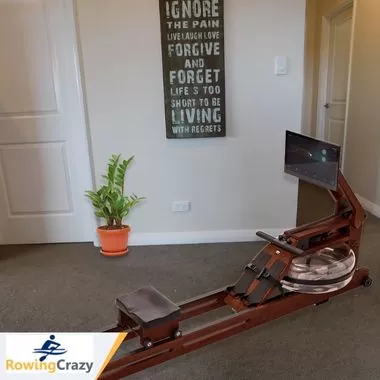 Although I was already aware that Ergatta was a high-end indoor rower, it still came as a surprise that it had so much to offer. Its perks include:
This is a water resistance rower, which gives you as close to a true rowing experience as you can get without getting wet.
The water tank is sealed so you don't need to frequently add water. When you do need to adjust resistance, you may easily add or remove water with a hand-siphon pump.
Water rowers are very quiet, and all you'll hear is the soft swoosh sound of the water, so it's perfect for apartments or homes with small children.
The company offers professional delivery and set up.
The frame is cherry wood, which is so pretty and looks like it belongs in your bedroom.
Supports users up to 500 pounds and inseam of 40 inches.
The device weighs 103 pounds with water.
Full Bluetooth connectivity for heart rate monitors and music
Front-facing speakers
The HD touchscreen is 17.3 inches and is easy to read
Provides an interactive display that tracks data such as the number of workouts completed, total distance rowed, average split times, best split time, longest workout, longest distance rowed in a single workout, also day-to-day and month-to-month comparisons
You can add an unlimited number of user accounts
There are different rowing workouts to choose from, including Push, Intervals, and Races
There is also an open-row category that allows you to pick the scenery and row at your own pace (check out our article on good rowing times to get more out of your workouts!)
Ergatta introduces a new Race of the Week (ROTW) every Sunday, at least 5 new workouts per week, and new Push and community challenges every month. The ROTW runs for the whole week.
The Ergatta cannot be folded, but it can be set upright against a wall.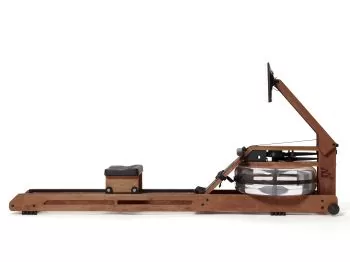 If you love racing, games, and competitive sports, you'll find the Ergatta programming exciting.
The Drawbacks of the Ergatta Rowing Machine
This is a truly awesome rowing machine that anyone would be proud to own, but it does have a few downsides, such as:
There are no off-the rower, instructor-led, or live workouts
Just like the Hydrow, it's heavier than most traditional rowing machines (Ergatta: 103 lb; Hydrow: 145 lb)
The seat is very low to the ground, which may be a problem for those with bad knees or mobility issues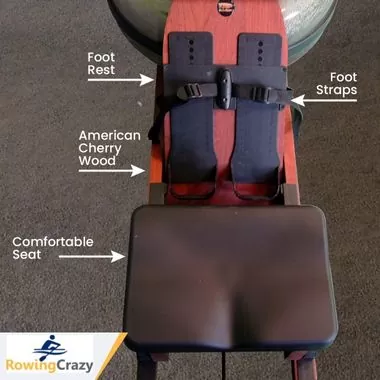 Who Should Buy the Ergatta Rowing Machine
The Ergatta rower is a well-designed water rower (learn more) that was made specifically for home users. It offers fun, game-based, and competitive workout programs that many people enjoy.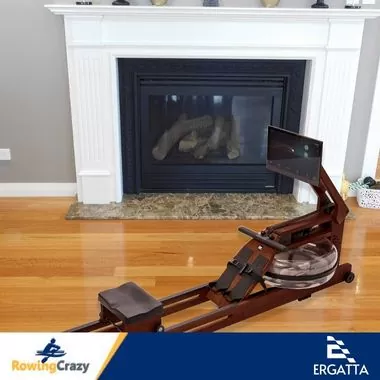 For those who like to "do it on their own" and don't really want instructors to guide them, then Ergatta will fit them like a glove. If you love the look and feel of real wood and the sound of water, and if you like group challenges and gaming-inspired workout programs, then you will love the Ergatta rower. Side Note: If you are interested in other Ergatta comparisons make sure you read my other articles Ergatta Vs Aviron or Ergatta vs. Hydrow vs CityRow Go or Ergatta vs Echelon
Ergatta or Hydrow – The Winner
I'm not sure if it's right to call either of the two a "winner" in this case. Both of these rowers have all the things you want for your workout experience and then some. It's really just a matter of personal preferences.
The Hydrow and Ergatta are both high-end machines that suit different tastes. Some users love water rowers while others prefer magnetic resistance machines.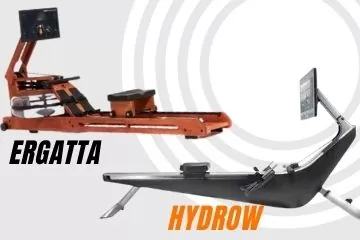 The price comparison is nearly equal. Each offers some options that the other does not. Both the Ergatta and the Hydrow work for any fitness level and, if used diligently, will result in fantastic results.
When speaking of rowing machines, perhaps there are only a few things to consider:
Style. In the Hydrow vs Ergatta comparison, if you prefer a classy wood frame, then you will want the Ergatta. If you prefer sleek, modern styling, you should go with the Hydrow.
Weight Capacity. While most home rowers have weight limits, rowers made from wood, such as the Ergatta, often have a high weight capacity. If you need a high-capacity weight rower, you need Ergatta's 500-pound capacity, although most people are just fine with the 375-pound limit of the Hydrow.
Workout Experience Style. Do you prefer to go your own way, playing games and racing against others? Then you will be happier with the Ergatta. If you like group interaction and instructors who shout encouragement, then you should pick the Hydrow.
Is Hydrow or Ergatta Better – My Personal Choice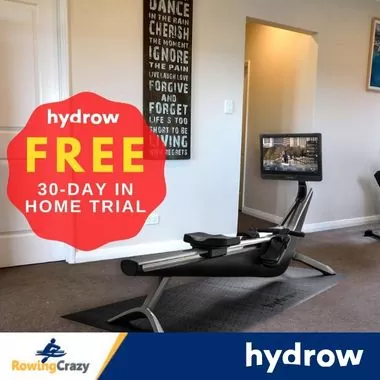 Hydrow SAVE $100 or £100!! => Use Coupon Code: ROWINGCRAZY
I can't help myself here. Although the Ergatta has some of the best features of any of the rowers I have ever tried and tested, I still favor the Hydrow.
Speaking strictly from my own personal experience, when I put the Hydrow vs Ergatta to the test, I can't help but feel a tug towards the Hydrow. I like sleek and modern-looking designs, I love what feels like a true-life rowing experience via the monitor, and I personally love the instructors.
Whether you decide to purchase a Hydrow or the Ergatta, I'm certain that you're going to be one happy individual. However if you are on a budget you might like to see all our best rowers for under $1000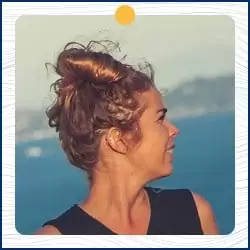 Written by Petra Amara – RowingCrazy.com
CEO & Founder of RowingCrazy, National Rower, Coxswain Womens Eight Team, Rowing Coach & Writer
Petra is a Mother of two and owner of Rowingcrazy.com. Petra lives and breathes rowing, she also has a passion for writing which lead her to start RowingCrazy.com to share her rowing experience and expertise with others.