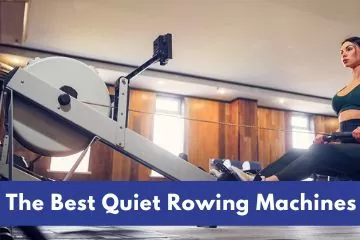 Many gym-goers shy away from rowing machines, and not too many people would buy this piece of equipment for home use. Some of the reasons for this avoidance could be a lack of familiarity or the noise that's often associated with this equipment. What about you? Are you also on the fence about indoor rowers?
Well, that's a shame because you're missing out on a chance at a single-machine workout that engages all the major muscle groups in your body. Besides, your reservations are not entirely justified because there are rowers designed to operate noiselessly.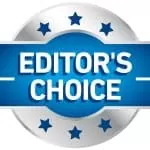 In a Hurry? Here are My Top 5 Picks:
Here are our top five choices for quiet rowers. While we value an ergometer's relative quietness, our opinion is to never overlook the importance of good resistance. Our review below reflects how we've carefully kept this delicate balance throughout the process.
*We review fitness products impartially and may earn a commission from affiliate links. For details see our disclosure page.
You can read my full breakdown and review on each rower further down in this article.
So What are the Quietest Rowing Machines on the Market?
Yes, you've read it right – quiet rowing machines. In this article we will look into the top machines available and the factors that affect the noise level of indoor rowers, also called ergometers. We'll go over the best quiet rowers available in the market today and the qualities that make them exceptional.
#1: Teeter Power10 Elliptical Rower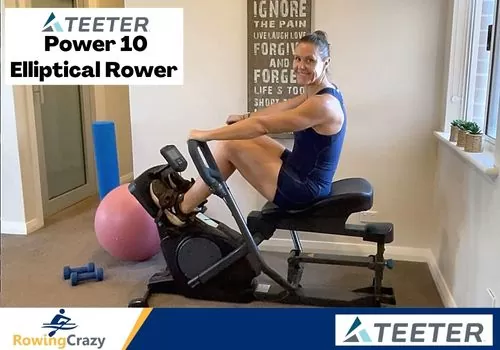 There are certainly a lot of commercial-quality indoor rowers, but one stands out from the pack in terms of home personal use. The Teeter Power10 Elliptical Rower is not only quiet, but it also offers one of the best workouts in this class of equipment. Since it offers dual direction rowing, you will be able to work out almost every muscle group in your body.
Watch our full video by Olympic Rower Rachael Taylor:
With seven different levels of magnetic resistance, this machine lets you get any level of workout you desire. Beginners can start low, and experts can put it at the highest resistance. The nice thing is that you can actually adjust the level of resistance halfway through your workout, to increase or decrease the level of difficulty.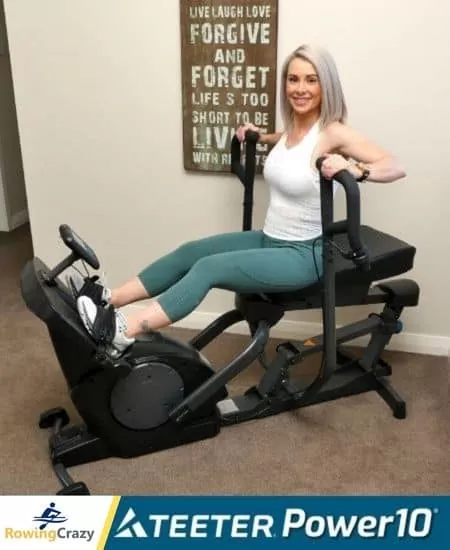 The monitor is designed to track performance and health, so you can focus just on the workout. Using the chest strap, you can easily track your heart rate. This allows you to tailor your fitness routine around your targeted heart rate to maximize the health benefits of rowing.
Adjustable Settings Help Maximize Comfort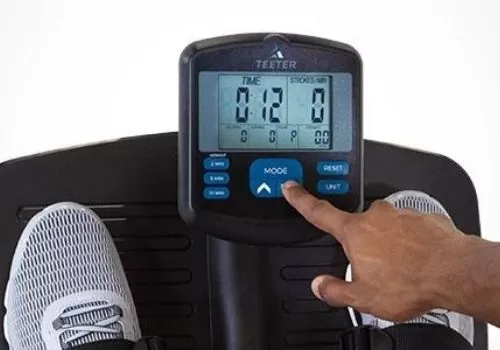 The Power10 from Teeter has a lot of adjustable settings. From the ergonomic seat to the grip handles, you will not injure yourself when using this machine. No matter your height, you can adjust the seat to accommodate your needs, so that you will always be rowing in a safe, ergonomic position.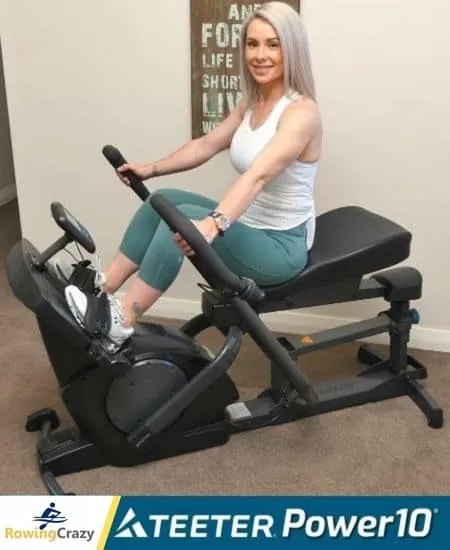 Features:
7 levels of resistance
Chest strap to track heart rate
Adjustable settings for maximum safety and comfort levels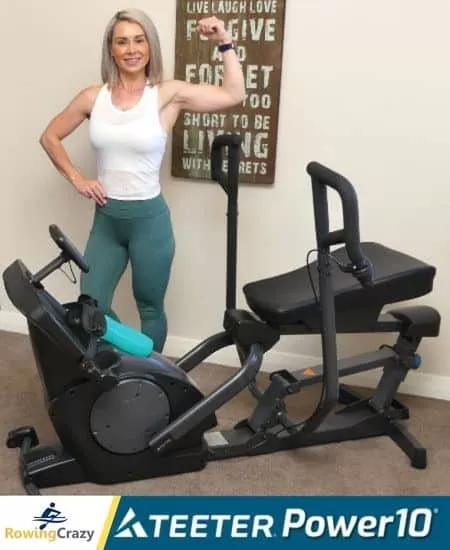 Conclusion
In summary, you cannot go wrong with this elliptical rower from Teeter. This machine is great for both beginners and people who have been exercising and rowing for years. The many different available magnetic resistance options mean you can grow into this machine and have levels of difficulty ahead even after you are in great shape. Despite all these features, the Power10 remains one of the quietest rowing machines on the market, and is perfect even if you are using it in a small space! Side Note if you are on a budget be sure to check out my list of best rowing machines under 100 dollars or my list of the best budget water rowing machines!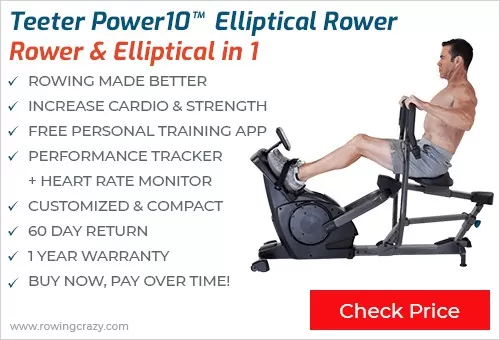 #2: The Hydrow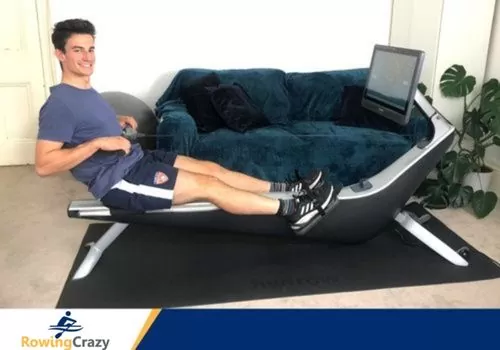 Hydrow SAVE $100 or £100!! => Use Coupon Code: ROWINGCRAZY
If you are looking for a quiet rower, the Hydrow is another great option. Elegant and sophisticated, this rower looks sleek in a modern home and does not take up a ton of space. The sleek design makes it very quiet and is suited for use in a smaller apartment where noise matters.
Watch our Youtube video below by Erg Rower Max Secunda using the Hydrow:
The Hydrow has front-facing speakers on its 22-inch display screen, meaning the noise from the speakers should not carry around the rest of the room.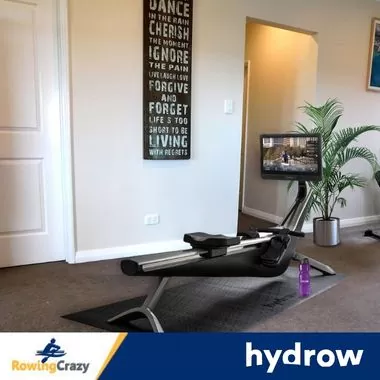 Designed for comfort, there is a 10-roller system seat for maximum safety. You will be sitting ergonomically, no matter your height, meaning you will not get any unnecessary muscle strains. The cushion is also designed for comfort, so you can row for long periods without feeling uncomfortable.
Feel like you are on the Water
If you are looking for a rower that will have you feeling like you are rowing on the water, the Hydrow was designed with you in mind. The patented drag mechanism has this feeling like one of the most real rowers on the market, in that you will feel exactly as if you were rowing out on the open water.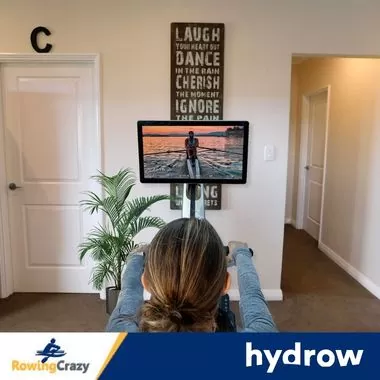 There are industrial grade webbed straps that ensure the Hydrow is very quiet. Each stroke is as smooth as can be and makes almost no noise, so nobody in your household can be disturbed by your use of the Hyrdow.
This Machine even made the list for the of Oprah's Favorite Things!
Features:
22-Inch touch screen display
Patented Drag Mechanism
Industrial grade webbed strap for increased quietness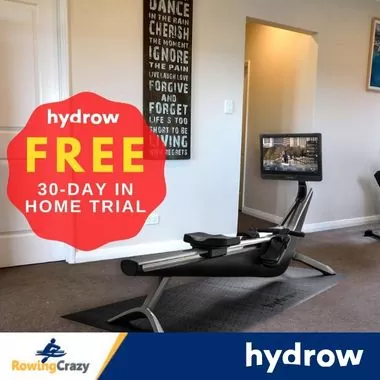 Hydrow SAVE $100 or £100!! => Use Coupon Code: ROWINGCRAZY
Conclusion
With the patented drag mechanism, you will be smoothly rowing on a machine that feels just like you are rowing on the open water. Scientifically designed for quietness, the webbed strap has each step making almost no noise. To read more about this machine read my full Hydrow Rower Review article.
#3. Stamina Avari Programmable Magnetic Exercise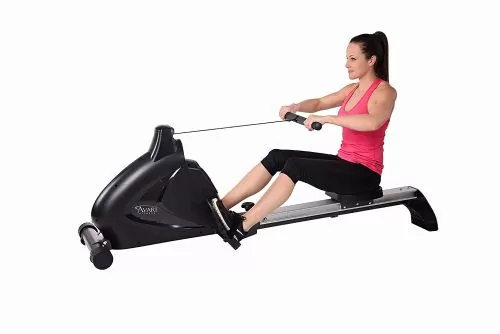 Check Price
Best Rowing Machine for Apartments
There is no lack of commercial-quality indoor rowers. For quiet rowers, however, you'll have fewer models to choose from. Quiet rowers are mostly used for personal or home setup, and for this purpose, the Stamina Avari programmable magnetic exercise rower ranks high. It is ideal for apartments as well as not only is it super quiet, but it also has a very small footprint making it ideal for storage in small places – therefore perfect for apartments.
Since Stamina Avari uses magnetic resistance systems, it is essentially quieter than an air rower. With 12 workout programs, this machine offers variety to the users including six cardio profiles. Ten of the programs have adjustable resistance levels. With this range of choice, you'll have enough variations to keep you busy in years to come.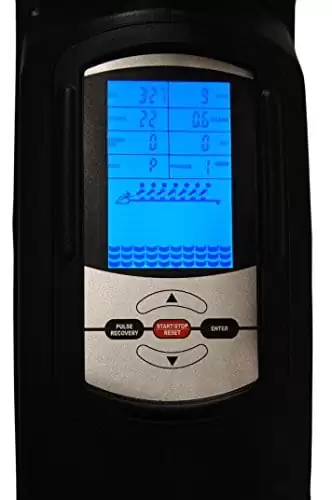 The backlit LCD monitor displays the tracking time, distance, strokes per minute, pulse, count, calories burned, and watt. It will have your attention and keep you on your toes from start to finish of each workout. Adjusting resistance is easy with the monitor's up and down arrows. It has a molded seat and padded handles for added comfort. Side Note: If you want to know more about magnetic machines be sure to read my full article are water rowers better than magnetic rowers?
Strong Steel Frame & Fold for Easy Storage
Stamina Avari has a steel frame. The whole setup measures 81" long 20" wide and 24.5" high and is capable of supporting a user weighing up to 275 pounds and 6'4" tall. The rowing beam is made of extruded aluminum and sits 13" off the ground. With these impressive numbers, it's interesting to note that the machine itself has a small footprint and does not occupy too much space. It folds for easy storage and has wheels for portability. Assembly is straightforward and shouldn't take more than 30 minutes.
Features: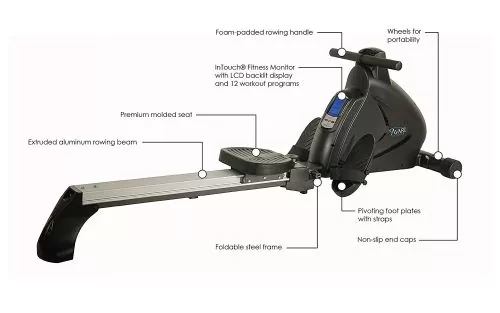 Conclusion
Summing up, this is a durable home rower with substantial resistance to get your heart and muscles going. Unlike air or water rowers, the resistance remains constant within a cycle and does not vary with the intensity of your strokes, which can be a letdown for some. Don't get us wrong though because the harder levels are tough. And it's when you get to these levels that Stamina Avari's edge becomes apparent—it remains unbelievably quiet!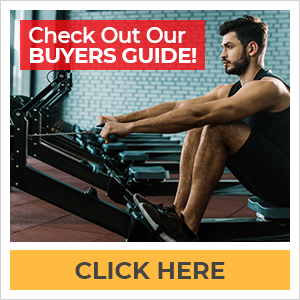 #4. Concept2 Model D Indoor Rower PM5
We can't seem to get enough of Concept2 indoor machines even when we're searching for quiet exercise machines. If you find the resistance of Stamina Avari wanting and think that you can take a slight increase in noise level, then Concept2 Model D would be an intelligent choice. Athletes demand more for their competitive training, and Model D fits the bill.
Watch our full review video of the Concept2 Rower by Rowing Expert & YouTube Influencer Max Secunda:
Air Rower for Minimal Noise
Concept2 Model D is an air rower that produces minimal noise though certainly not as quiet as Stamina's magnetic rower. But it will not disturb a person sleeping next door if that's what you're worried about. The only sound you'll hear comes from the air chamber. The whooshing air is refreshing, and some users even find the sound relaxing. There are no metallic or mechanical noises. The motions involved, such as the gliding of the seat and the pulling of the chain, are smooth and noiseless as well.
Track Your Progress Effortlessly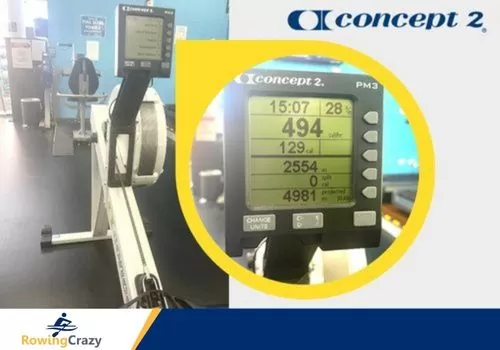 What you will like about Model D is that the harder you row, the higher the resistance it creates. In effect, you control resistance with your every stroke. Airflow can be adjusted from a damper with levels 1 through 10. Performance Monitor 5 (PM5) is included for you to track your progress effortlessly. The readout displays distance in meters, pace, watts, and calories. Games and preset workouts are also included. You may even connect to the worldwide web, join online challenges, and see how you fare against other rowers! What about that for added motivation?
Easy and Quick Assembly
Assembling is easy and quick—with only eight screws to join parts with. A screwdriver is even included so there's no need to search for the right tool to use. It will take you less than 20 minutes to put the whole thing together. It's easy to use; just make sure that you're familiar with the proper rowing technique to prevent injuries. (Check Out my article how to stop blisters from rowing)
Model D will occupy a bigger space than Stamina Avari does. It is 95" long and 24" wide, so make sure you have a room large enough for it. The seat is 14" off the ground. It rolls on casters and folds in two to a smaller dimension for storage.
Features:
Conclusion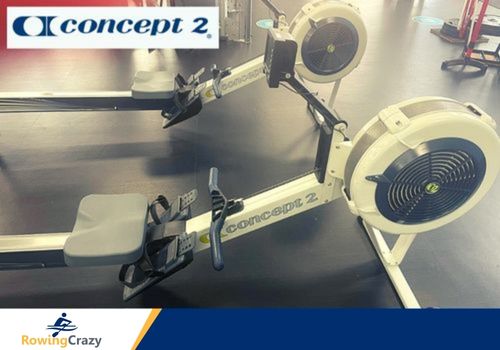 On the whole, Concept2 Model D is a high-quality solid piece of fitness equipment. It will outlast other machines no doubt. It has a maximum user weight capacity of 500 pounds, which is one of the highest we've seen. If you need a long-lasting rower that provides more than the average challenge, motivation, and connectivity, and if you can tolerate minimal noise, then this top-notch rower is for you. For more information on the Concept 2 be sure to check out my full article Concept 2 model D vs E.
#5. Stamina ATS Air Rower 1405
An indoor rower that offers decent resistance and tolerable noise levels does not need to be expensive. In this article, we've included Stamina ATS Air Rower 1405, a budget-friendly and well-built ergometer, because it remains fairly quiet during a workout. Since it's an air resistance rower, you can expect it to offer you variable resistance depending on the intensity and speed of your strokes. Side Note more more information on air resistance rowers check out my full article on magnetic vs air rowers.
Electronic Monitor Feature
The machine comes with an electronic monitor that keeps track of your speed, distance, time, and calories spent. It is shorter than the two previous machines, measuring 78" long 31.5" wide, and 19.75" high, which makes it perfect for apartment dwellers or those with limited space. It's safe for users weighing up to 250 pounds.
At its price, which is roughly half of Stamina Avari and one-third of Model D, Stamina ATS has respectable resistance. Some users compare their resistance quality to the Model D, which is not surprising since they're both air rowers. What it doesn't have is a damper for adjusting airflow, but trust it to be responsive to your speed and intensity.
Sturdy and Stable Frame
Its chromed steel beam is sturdy and stable even at full sprint. Instead of the usual rope or nylon pull, it has a metal pull chain that will not wear out. You'll get a very smooth drive with a slight sound that is not bothersome at all. On the front of the beam the seat is 16" high from the floor, but going back it is 18" high. This feature is perfect for people who have issues with their knees or who find it difficult to sit so low.
Features:
Conclusion
Like the other two models, Stamina ATS has wheels and folds in two. Its seat is made of molded rubber and is firm and comfortable. The noise that you'll hear will come from the combined sound of the flywheel and the metallic chain, but not anything you'd call loud.
If you're not willing to spend 600 USD more on a Model D but would like a highly serviceable air rower for home use, then Stamina ATS it is.
For more information on the Stamina Rower: Click Here to read my full Stamina air rower review
What factors should I consider when looking for quiet machines?
Resistance type – 90% of the noise that a rowing machine creates is caused by the mechanism that produces resistance. There are four types of resistance mechanisms, and they are as follows:
• Air resistance
• Water resistance
• Hydraulic piston resistance
• Magnetic resistance
Rowers using air and water resistance mechanisms can be noisy, while rowers using magnetic and hydraulic piston mechanisms are relatively quiet.
Build quality – 10% of the noise comes from squeaky joints and parts. A poorly constructed machine with inferior parts will undoubtedly be noisier than one that's solidly constructed. Apart from the absence of noise due to poor quality, a well-built machine will be more durable and comfortable to use than run-of-the-mill equipment.
What's more important—resistance or noiselessness?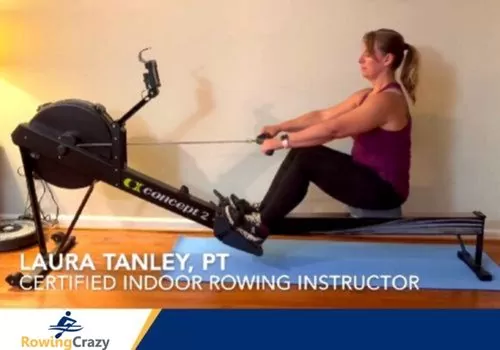 Resistance in fitness equipment provides the challenge that the user needs to overcome. Simply put, it is the "work" involved in every workout. For this reason, the air rower type is considered the gold standard for exercise machines because it provides the best resistance. But here's the catch—it's the noisiest of all types, too.
As a rule, higher resistance equals louder noise. So should you choose an ergometer with powerful resistance or one that's whisper-quiet? The answer is different for every person.
Points to Consider When Purchasing a Silent Rowing Machine
If someone sleeps in the same room where you do your workout, noise can be a real concern. A quiet magnetic rower should be first on your list. On the other hand, if you're a competitive rower who needs a serious workout at home, then you shouldn't go for anything less than an air rower. Expect some noise but if you choose carefully, you will find models with tolerable noise levels.
In short, the best quiet rower for you should have the kind of resistance that you need and the level of noise that you can put up with.
My Final Thoughts on These Machines
Noise is a valid concern for some situations, and for really quiet rowing machines, we recommend a magnetic type like the Stamina Avari. It is an awesome rower for overall fitness, flexibility, and cardiovascular health.
However, if you need to step up your training and can put up with a bit of noise, you'll never go wrong with Concept2 Model D. It produces a rhythmic kind of noise, which incidentally is a good way to tell whether you're slowing down or going fast. Stamina ATS Air Rower 1405, on the other hand, is a highly efficient indoor rower with a very competitive price tag.
We have carefully chosen these five pieces of exercise equipment from different points of the price spectrum. Hopefully, this article has made it easier for you to find the ergometer that's perfect for your requirements and budget.
Our Top Pick:
Teeter Power10 Elliptical Rower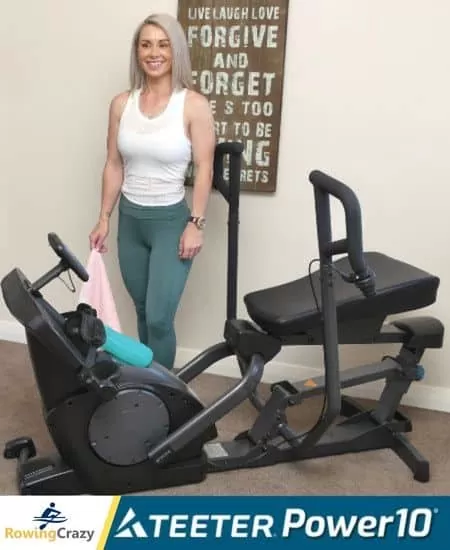 Happy Rowing!
Frequently Asked Questions:
Are magnetic rowing machines quiet?
Absolutely! Some people call these the "silent machine" since they can be used in the same room as somebody watching TV without disturbing them. Magnets control their resistance and magnets are quiet, so the machine never gets noisy even if you increase the resistance levels and make them higher.
Are air rowers noisy?
If noise is your top priority, you are better going with a magnetic rower than an air rower. Air rowers are a little noisier than a magnetic rower. That said, it depends on how much noise you can tolerate? You would still be able to listen to music during your workout and hear it just fine, it's just that with an air rower you might disturb a sleeping roommate.
Is a rowing machine too loud for an apartment?
It depends on which machine you get. There are some magnetic rowers that you can barely tell you are using. You could share a studio apartment with someone and still not disturb them with any noise while rowing. An air rower might be a little noisier and might annoy your roommates in a tiny apartment.
How to make a rowing machine quieter?
Check and make sure it is functioning properly. If you have any squeaky joints or parts, you might be able to lube them up and reduce some of the friction, which might be the source of the noise. As long as the parts are well lubed and working right, there might not be much you can do to lower the noise level short of buying a new rowing machine that has a different resistance type that is quieter.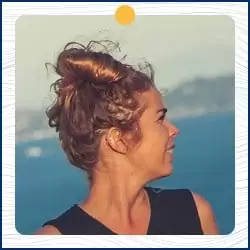 Written by Petra Amara – RowingCrazy.com
CEO & Founder of RowingCrazy, National Rower, Coxswain Womens Eight Team, Rowing Coach & Writer
Petra is a Mother of two and owner of Rowingcrazy.com. Petra lives and breathes rowing, she also has a passion for writing which lead her to start RowingCrazy.com to share her rowing experience and expertise with others.