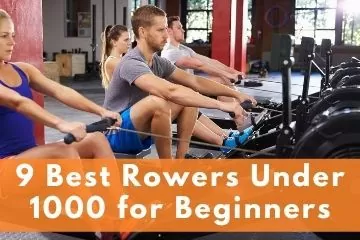 Most people have discovered that going to the gym isn't all that great. Working out from home is far superior! No traffic, no worries about finding parking, sharing shower rooms, or having your locker broken into, and perhaps best of all, no waiting on a rowing machine!
If you're a novice rower who wants to purchase a rowing machine, you'll have plenty of choices, but that's also a problem. With all those choices, which is the best rowing machine? You want all the benefits of rowing, and you don't want something that will break easily.
Add to that your concerns over your budget. Everyone has a budget, and if you want to find the best rowing machine for under a grand, well, that only complicates the matter.
Don't worry. I've done all the research, and I've got tons of experience with rowing machines, so rest assured I know what I'm talking about when I recommend a home rowing machine.
Sit back and keep reading. You're about to find the perfect rowing machines under 1,000 dollars that money can buy.
Best Rowing Machines Under $1,000
I've narrowed down the list to 9 of the best rowing machines under 1000 for home use. Each of the following are high-quality devices that will give you an excellent rowing experience but won't break the bank.
BlueFin Fitness Blade Air Resistance Rowing Machine

This is one outstanding rowing machine, especially when you consider the price! It offers dual methods of resistance, a large LCD display, and no monthly fees! No fees! I love that part! You won't believe everything that this little home rowing machine packs into one device.
Features of the BlueFin Rowing Machine
This is a dual-resistance rower; an air rower that also uses magnetic resistance for all fitness levels
Smooth belt drive that has a 10-degree incline for a quiet workout that mimics real rowing
Integrated smartphone app offers thousands of training videos for free!
Tablet holder or smartphone shelf means you can enjoy movies or whatever you like while rowing
BlueFin provides a low-impact, high-intensity workout for the entire body
The rower folds in half and rolls away for super simple and easy storage
Foam padded, ergonomic handlebars mean less fatigue
Anti-slip foot pedals
Offers a multi-function console with a bright LCD display
Padded and cushioned seat for extra comfort
Full 1-year warranty on all parts and labor
Easy to assemble
The Cons of the BlueFin Rower
Nothing is perfect, and while this rower comes close, it could make a few changes. Some of the drawbacks are:
The rowing machine app can be temperamental, with some users saying that it wouldn't sync with their phone
The LCD screen might be difficult or too small for some people to read easily
The app has limited functions
A few users complain that the rowing machine footrests aren't large enough
The Verdict
This BlueFin rowing machine offers great value for the money, and while the fitness app appears to be a bit finicky, the majority of users say that this has been the perfect rowing machine for their home gym.
Teeter Power10 Rowing Machine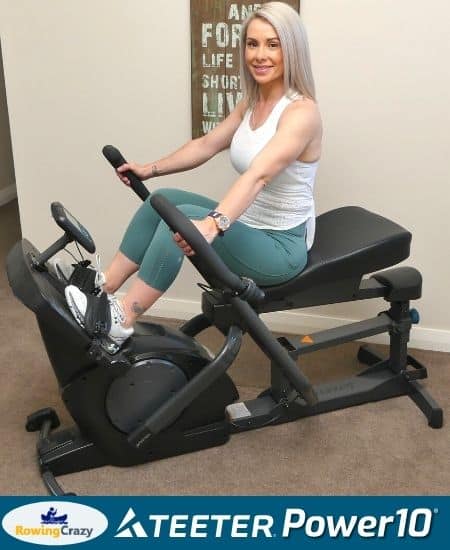 If you've ever wondered how you would fit both a strength training workout and a cardio exercise into your week, I've got great news. The Teeter Power10 is an elliptical rower, which means it does double duty!
Check out this amazing indoor rower plus!
Features of the Teeter Power10 Elliptical Rower
This rowing machine for home use doesn't leave anything out. Some of the best features include:
A two-way resistance system allows you to both push and pull on the handles
Super easy to assemble; even comes with a 3D video for assembly
100% refund/return in the first 90 days
1-year warranty
Double-duty mechanism turns this magnetic rower to an elliptical with the flip of a switch
Multi-position handlebars mean you can work more or different muscle groups
7 levels of magnetic resistance
Large, easy-to-read display reads heart rate, distance, strokes per minute, number of calories burned, and amount of time spent rowing
Bluetooth-compatible, so you can use your own headphones or speakers
Fully-adjustable seat and stroke length
This home rowing machine has a user weight capacity of 300 lbs
The Cons of the Teeter Power10
There are a few ways this nearly perfect magnetic rower could be improved, including:
The machine is heavy (180 pounds) so, while it does have wheels for moving, some users might find this rower a bit awkward to move
While there is a generous 1-year warranty, parts are mailed to clients and the wait sometimes takes several weeks
Some users state the machine makes a clicking sound after a few months of use
The Verdict
This is a nearly perfect home rowing machine designed to give you a true rowing experience. It is very heavy and made to last for decades. No one regrets buying a Teeter Power10. No one.
Concept2 Model D Indoor Rowing Machine
There's a reason that the Concept 2 is one of the biggest selling air resistance home rowers. Besides the obviously attractive price, the Concept2 Model D indoor rowing machine is nothing short of amazing. With an air resistance type of rower, such as the Model D, you'll get infinitely available drag, which means it will take a while to outgrow it.
The Features of the Concept2 Model D
Let's check out all the features this piece of exercise equipment has to offer:
90-day 100% return window
Easy to assemble, usually within 20-30 minutes
High-quality materials; the frame is steel, front legs are aluminum
The weight capacity of this rower supports users up to 500 pounds!
Ergonomic, sweat-resistant handle
The seat is also ergonomic and sits 14 inches above the ground to fit every body shape and size
Offers infinite air resistance levels and a flywheel design that is relatively quiet
Comes with a heart rate monitor chest strap
The performance monitor is detailed, yet easy to use
5-year warranty on the frame and a 2-year warranty on everything else
Folds in half and has transportation wheels for easy storage
Now you can see why this model is a best seller!
The Cons of the Concept2 Model D Indoor Rowing Machine
As popular as the C2 rowing machine is, I can still see a few areas where it could improve, including:
The console is not backlit, making it difficult for some users to see easily
The device is nearly 8 feet in length, which may be a bit large for small apartments
The seat becomes hard after several years
The air fan can be a bit noisy if you are working at the utmost intensity
The Verdict
The Model D is one of the best selling rowers in the world because it is made from heavy-duty quality materials, so it lasts for many years. If you've got the floor space, you will probably love this rower.
Sunny Health & Fitness Obsidian Surge 500 Water Resistance Rower
You may not have heard about Sunny Health & Fitness rowers, but this company is really on the move! They make high-quality devices but don't leave out any of the fun stuff! Not only that, Sunny Health Fitness is also one of the most reliable brands to consider if you're looking for the best rowing machine under $1000.
Water rowing machines are a popular choice because, for indoor rowing, they are as close to real rowing experience as you can get.
The Features of the Obsidian Surge 500 Water Rower
This water rower may be bargain-priced, but it certainly isn't short of the good stuff. Some of the top features of this model include:
Smooth, quiet water resistance feels like real rowing
R2 fitness monitor tracks all the pertinent data
The flywheel and its 16 fan blades in the water tank provide virtually unlimited resistance
Easy to assemble
Excellent build with quality construction that is super sturdy
Supports user weight up to 300 pounds
Molded padded seat
High-density rubber transportation wheels make moving and storing the rower easier
17-inch seat height makes it easy for anyone to sit down and stand up
Foot pads have nylon straps with Velcro for non-slip use
Levelers keep the device from moving or rocking from side to side
1-year frame warranty, all other parts have a 6-month warranty
Super affordable price tag
Did you imagine that you could get so much from a water rowing machine in this price range?
The Cons of the Obsidian Water Surge 500
I love this water rowing machine, but it could make a few improvements. Some of the drawbacks with this home rower are:
No heart rate monitor is included, although you can always use your own
The console isn't backlit, which may make it difficult for some to see the readout without lighting
The warranty could be better
A few users say that the bolt on the foot pedals sometimes comes loose
The Verdict
Sunny Health & Fitness is making a name for itself as a company that makes great quality machines. If you want first-degree fitness and a water rower, then this might be the perfect choice for you.
Want to know more? Click Here to Read Our Full Review!
Mr. Captain Water Resistance Wood Rower
Everyone knows that a water rowing machine is the closest thing to rowing that you can get without getting wet, but how about a water rower made from wood? Close your eyes, and you will think you are sitting in a boat! Have your kids or your partner spray you with the hose for a true 3D experience.
Just kidding.
Let's check out all the good things that this water rowing machine under 1000 bucks gives you.
The Features of the Mr. Captain Water Rower
The frame is made from waxed and oiled vintage oak wood for durability
Anti-skid rubber feet keep this device stable on any surface
Can be stored upright
Has transport wheels for easy moving
Large ergonomic fully cushioned seat
1-inch nylon belt drive system
45-degree positioned footplates are comfortable and have a large heel stop
Provides an electric pump to drain or add water
Has a large digital LCD screen that is split into different sections so you can see all your numbers at the same time
Has a built-in smartphone or tablet holder
Offers 3 workout modes
Has a Bluetooth readout for connecting a 3rd party heart rate
Comes with a waterproof storage cover or bag to protect the device when not in use
There is a 1-year warranty on the frame and a 6-month warranty on all other parts
Bet you never thought you could get all that in a water resistance indoor rower for less than 1K!
The Cons of the Mr. Captain Water Rower Machine
While this water rowing machine has lots going for it, there are some drawbacks, such as:
The monitor has no backlight, which can make it hard to read in low light
No heart rate monitor is included, although there is an optional chest strap that can be purchased or you can use your own heart rate monitor
No water bottle holder
The Verdict
This is a very nice piece of equipment as far as exercise machines go, and for indoor rowing, the wood platform and water tank cannot be beaten. You don't need an expensive WaterRower to enjoy workouts on a wooden water resistance machine. You will love everything about Mr. Captain water rower. It just might be the best water rowing machine under $1000 that you can find.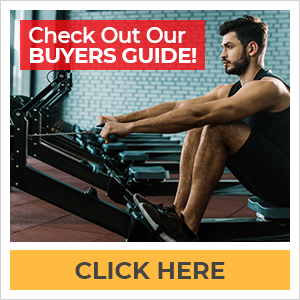 The Stamina Conversion II Recumbent Rower/Bike
While this isn't strictly a rowing machine, I did want to include it here since it does double duty and provides you with a rowing workout as well as a recumbent bike experience.
Let's face it, some days, you want to change things up a little, and this rowing machine will give you a full-body workout as well as a cardio exercise for one low price.
The features on this machine are incredible! Keep reading and check them out!
The Features of the Stamina Conversion II
This is a rowing machine under 1000 bucks, but you would never guess that from all the features, such as :
Magnetic resistance mechanism is adjustable, with 8 levels of resistance and super-quiet operation
Large LCD monitor tracks all your workout data, such as time, distance, calories burned, speed, RPM, and pulse
Does double duty since the device can be used as a rower or recumbent bike
You can even stand and use the rowing handle as an upper-body workout and strength training
Pulse monitoring is performed when you grab the handles, what could be easier?
Steel legs and an aluminum rail
Molded, padded seat and seat back
Padded rowing handle
Footplates pivot, has a textured, non-slip surface, and adjustable straps
The device folds in half and the transport wheels allow for easy moving and storage
Supports user weight up to 250 pounds
3-year warranty on the frame and 90-days for all other parts
This multi-purpose machine is a great value for anyone who wants a varied workout program for their home gym.
The Cons of the Stamina II
The heart rate monitor only works when using the recumbent bike, not while rowing
The seat is not adjustable
While great for beginners, advanced users will want more resistance
Doesn't really mimic a realistic rowing workout
The 90-day warranty could be improved
The Verdict
If you're a true beginner who hasn't worked out much and you're concerned that you will become bored, this is the right choice for you since the multi-function Stamina Conversion II is very versatile.
See all our Recumbent Bike Rowers – Click Here!
Sunny Health and Fitness Magnetic Rowing Machine
Check Price
If you've been looking at magnetic rowing machines under 1000 bucks, you have probably found that you need to sacrifice something to get what you want, but not with the Sunny Health and Fitness model.
You already know that rowing is the best workout, and while air rowers offer terrific resistance, most people prefer magnetic rowers.
You will want to know all about this indoor rower, so keep reading.
The Features of the Sunny Health and Fitness Magnetic Rowing Machine
You don't have to give up a single thing with this up-and-coming brand. Just take a look at all these features!
Magnetic resistance offers a super quiet workout experience with 8 resistance levels
The large LCD monitor is easy to read
A sturdy steel frame means years of durability
The seat is large and padded for extra comfort
Adjustable foot pads have Velcro straps
The device folds for storage and the transport wheels make this easy to move and store
Non-slip, padded handlebar
The maximum user weight is 250 lbs
Floor stabilizers prevent the device from moving or rocking
1-year frame warranty and 90-day warranty for all other parts
I bet you didn't know you could get so much for such a small price!
The Cons of the Sunny Health and Fitness Rowing Machine
You will find that even though this device offers a lot, it could add a few more items that would make this an outstanding rowing machine under $1000. It can improve in the following areas:
The monitor is very basic and not very interesting
The warranty period could be better
No tablet or cell phone shelf
No water bottle holder
The Verdict
Everyone who buys a Sunny Health and Fitness product has only great things to say about the machine and the customer service. Beginners will love this comfortable and simple rowing machine.
Click Here to See All Our Machines Under $500!
Mr. Rudolf Wood Water Rowing Machine
Most rowers love a product made from wood because it makes them feel like they are in a boat. The same is true with the water rowers (read more), most people who want an indoor rowing machine love the gentle whoosh-whoosh sound of the water tank. The only thing missing is a view of the lake!
Most wood water rowing machines cost several thousand dollars, so I'm not sure how Mr. Rudolf manages to make a rowing machine under 1000 bucks, but you are in for a real treat. Check out all these features!
The Features of the Mr. Rudolf Water Rowing Machine
Get ready to row and rumble! There's a lot to list here:
Made from oak, this rower has a real "boat" feel to it
The see-through grey water tank is attractive
Electric water pump adds and removes water from the tank
Dampening pads on the bottom of the rower prevent damage to floors and prevent the device from slipping
The ergonomic seat is comfortable
The handlebar is covered with foam and is ergonomically designed for comfort
There are large, adjustable footplates with a large heel stop
The large, LCD monitor is battery operated and reads time, distance, 500M split time, calories per hour, watts, and strokes per minute
The monitor is also Bluetooth-enabled
The maximum user weight is 320 pounds
You can remove the Mr. Rudolf sticker in case it reminds you of that Santa Claus reindeer
The frame has a one-year warranty, all other parts have a 6-month warranty
Besides being beautiful, this water rowing machine has so much going for it!
The Cons of the Mr. Rudolf Water Rowing Machine
I love this indoor rowing machine, but it's not perfect. Mr. Rudolf could improve on this water rower by addressing the following:
No heart rate monitor is included, but the Bluetooth function allows you to use your own
No online connectivity
No tablet or cell phone shelf
No water bottle holder
The Verdict
Generally speaking, the cons of this device are minor when compared to what you get for your money. If you want to get as close to a real rowing experience that delivers first-degree fitness and puts treadmills to shame, you want Mr. Rudolf. The rowing machine, I mean! This is one of the best rowing machines under 1K that I've ever seen.
Joroto Magnetic MR35 Rower
This is another up-and-coming home gym equipment brand that makes a really awesome magnetic rowing machine for home.
You might wonder how a device that is priced like this can hold up to some real rowing, but don't let the price fool you.
Let's look at all the features this magnetic rowing machine under 1000 bucks gets you before you judge.
The Features of the Joroto Rowing Machine
This sleek-looking indoor rower has a whole lot of features you won't want to miss, such as:
The steel and aluminum frame is very lightweight and won't rust
The solid aluminum flywheel means virtually no noise while in use
While it does not fold, this rowing machine does have transportation wheels, and it can be stored vertically against a wall
High-density foam seat is very comfortable
The adjustable resistance system offers 10 resistance levels
The LCD console is basic, but it tracks time elapsed, strokes per minute (count), total strokes, and number of calories burned
Foot pedals are large and adjustable, with a non-slip surface
The handlebar is padded for comfort
The console includes a water bottle holder and a tablet or smartphone holder
Maximum user weight capacity is 220 pounds
A full 1-year part replacement warranty is included
Wow! This is an impressive list of features for a device that costs so little!
The Cons of the Joroto Rowing Machine
Nothing is perfect, but this machine nearly is! There are a few drawbacks, however, including:
No heart rate monitor
The monitor has no backlight
Parts are warrantied for one year, but you need to replace the part yourself or pay someone to install the part
Only 220 pounds user weight capacity means heavier persons cannot use this machine
The Verdict
The final verdict here is that you will love this Joroto rowing machine! OK, so the LCD monitor is a bit old-school, you can put your tablet in front of you and find pretty scenery or free workout programs. This is one of the best bargains you are going to find, hands down.
What Is the Best Rower Under $1000 for Home Use?
This is so hard to choose. Each of these rowing machines has the qualities that make it the best rower under $1000 since it possesses features that matter to some people but not to others.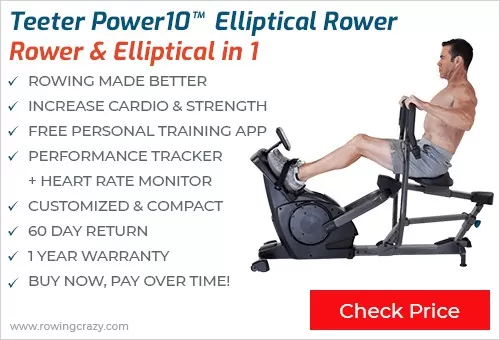 If I had to choose one for myself or a family member, I would go with the Teeter Power10 because it offers such an incredible body workout that helps you lose weight and build muscles like mad! Its bidirectional resistance is incomparable to other cardio equipment in its category.
Of course, if you want a real rowing experience, as close as you can get without stepping foot outside your home, you should choose Mr. Rudolf.
There is something great about all of the above rowers. I think that if you consider what is important to you in a rowing machine – how much space you have, how much you weigh, and what you want in an indoor rower – any of the above rowing machines under 1000 dollars will work perfectly for you and your budget.