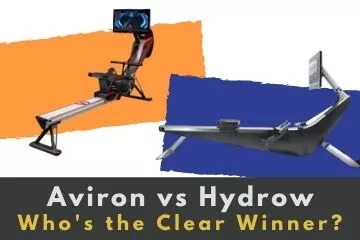 No other home-improvement sector has grown as much as in-home exercise equipment like rowing machines.
If you have been looking for the perfect rowing machine for your own home gym, you may be trying to choose between the Hydrow and the Aviron.
Both Hydrow and Aviron have recently released new, improved versions of their original products.
| Our Top Picks | Rower | Price |
| --- | --- | --- |
| Hydrow | | |
| Hydrow Wave Rower | | |
| Aviron Impact Series | | |
| Aviron Strong Series | | |
Hydrow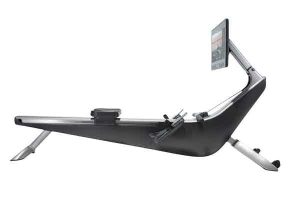 Hydrow Wave Rower
Aviron Impact Series
Aviron Strong Series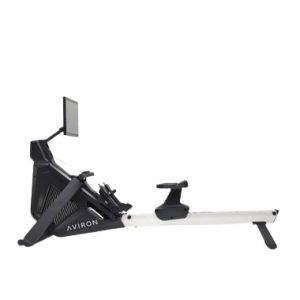 How does the Hydrow, Hydrow Wave, Aviron Impact, and Aviron Strong Series rowing machines stack up against each other?
Today, I'm going to tell you everything you need to know about these incredible machines so you can make an informed buying decision.
Ready? Let's dive in, shall we?
Quick Comparison Chart
For those of you who already know quite a bit about these rowing machines, or if you're short on time, this comparison chart will help give you the basic information you may be searching for.
Hydrow
Hydrow Wave

Aviron Impact
Aviron Strong
Overall Dimensions
86" x 25" x 33" (LWH)
80" x 19" x 43" (LWH)
97" x 21" x 43" (LWH)
84" x 27" x 48" (LWH)
Stored Dimensions
33" x 25" x 86" (LWH)
Stores upright
26.5" x 30" x 82" (LWH)
Stores upright
54" x 21" x 62" (LWH)
Folds up
35" x 27" x 83" (LWH)
Stores upright
Type of Resistance
Computer Controlled Magnetic Resistance
Computer Controlled Magnetic Resistance
Dual Air and Magnetic Resistance
Dual Air and Magnetic Resistance
Size of Monitor
22-Inch HD Touchscreen
16-Inch HD Touchscreen
22-Inch HD Touchscreen
22-Inch HD Touchscreen
Types of Workouts
4 different modes including off-the-rower workouts
4 different modes including off-the-rower workouts
8 different modes including games and HIIT
8 different modes including games and HIIT
Maximum User Weight Capacity
375 Pounds
375 Pounds
397 Pounds
507 Pounds
Weight of Machine
145 Pounds
102 Pounds
93 Pounds
114 Pounds
Warranty
5 years frame
1 year all other parts
1 year labor
5 years frame
1 year all other parts
1 year labor
10 years frame
1 year all other parts
10 years frame
1 year all other parts
Monthly Subscription Cost
(Subject to change)
$38
$38
$29
$29
Current Price (Subject to change)
$2,495
$1,495
$2,199
$2,299
Wow! That's a whole lot of numbers to digest! Bookmark this page so you can refer back to this chart if necessary.
Let me tell you more about each of these home rowing machines in detail.
Hydrow Vs Aviron—An Overview
Rowing is a terrific low-impact workout that everyone in your family can do to maintain weight and stay heart-healthy (read more on rowing machines for obese). High-quality machines can last for decades, so it's worth investing in the best indoor rower for the whole family.
I've got a great deal of rowing experience both on the water and indoor ergs, so I know the difference between a good rowing machine and a great one.
The Hydrow is a world-class rowing machine that offers lots of cool features that everyone wants in a home rower.
Home workouts aren't a luxury in the 21st century anymore, they're a need! This is why you want to take care and choose the right machine for you and your family.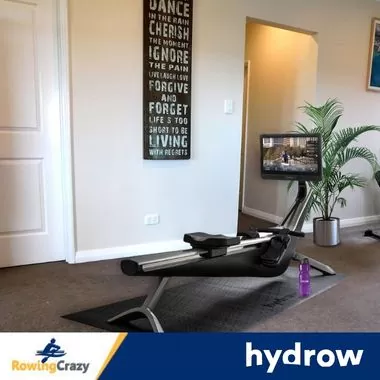 Get $100 OFF!!
Use Coupon Code: ROWINGCRAZY UK Readers – Get £100 OFF!!
Use Coupon Code: ROWINGCRAZY
On the other hand, the Aviron brand has been serving high-profile clients like Gold's Gym, Nike HQ, and YMCA since 2018.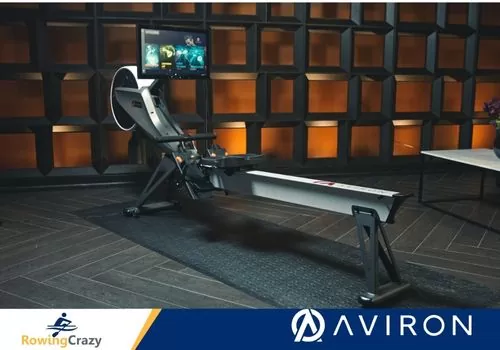 With a well-established reputation for durability and longevity in the commercial market, Aviron came out with the home rower in mid-2020. Side Note: You might also find this article helpful Aviron vs Concept2 to get a full review of how both machines compare.
This background info tells you a lot about both companies, but what about the rowers? Let's take a look at each one so you can see the differences.
The Hydrow Rower
Almost daily, you'll find me using my Hydrow rowing machine at home. I never get bored with the workouts, and since there are new ones added every week, I don't see how anyone ever could get bored!
We also have a Hydrow in the office break room, along with a few others. This means that Hydrow is literally put through its paces every single day, multiple times per day!
Both my home and the office Hydrow have withstood a couple of years of daily use, and they look, sound, and perform as good as the day we bought them!
Our in-house rowing professional, Max Secunda, also owns a Hydrow. He was super impressed with it that, well, he simply refused to send it back!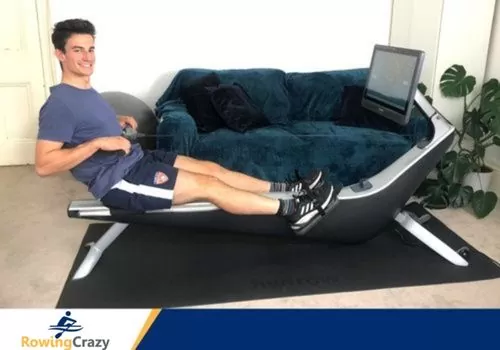 I can't say that I blame him! The Hydrow is the smart home gym equipment that you won't want to stop using.
The Hydrow has been on the market since 2017, so it has years of solid feedback behind it. You can find out quite a bit about the Hydrow since thousands of people have used it and left good reviews on numerous sites.
The Hydrow rower is made by professional rowers who know what you're looking for in a home workout. Side Note: Read our full detailed Hydrow Review article where all our staff personally tested this machine.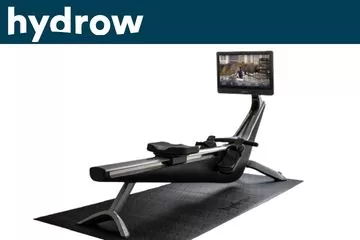 As I mentioned above, the Hydrow rower is made by rowing professionals who also lead many of the workouts and live classes.
I love the Hydrow because the workouts are done on the water, not in a classroom setting, which gives you the closest real-life rowing experience you can get without getting wet.
Watch below experienced erg rower Max Secunda using the Hydrow:
Features of the Hydrow Rowing Machine
The Hydrow has so many features that it's hard to name them all, but here are the important ones everyone will want to know:
Weight capacity is 375 pounds
Hydrow weight is 145 pounds
Features a 22-inch HD touchscreen that is sweat- and dust-resistant
Comes with a heart rate monitor so you can work at your best fat-burning level
Has a 5-year frame warranty, 1-year warranty on all other parts, and 1 year on labor
Uses a computer-controlled electromagnetic resistance system that is quiet and unlike any other rower I've ever used!
It also has digital, adjustable resistance levels that you can set yourself manually
The cushioned 10-roller seat system is super comfortable
Easily adjustable foot pedals
Adjustable drag settings (read more on Hydrow drag setting)
High-quality front-facing speakers
Bluetooth-compatible so you can connect your own Bluetooth headphones, fitness watches, or heart rate monitors.
Progress tracking and community interaction via the app
Thousands of workout classes, including live, interactive workouts, and on-demand workouts done in real-life rowing sessions on the water
Other off-the-machine workout programs are also available, such as yoga and Pilates
Can be stored upright using the Hydrow Storage Kit and Wall Mount
Easy to assemble, but delivery and on-site assembly are also available
The monthly membership cost is currently $38 a month for the rower. You can create unlimited profiles so everyone in the family can use the single membership.
There is so much more to the Hydrow rower than the details above. Let me tell you why you need this incredible indoor rower.
Why You NEED the Hydrow Rowing Machine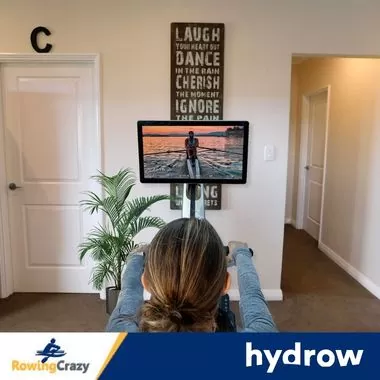 The rowing workouts on the Hydrow rower are top-of-the-line (read more on Hydrow rower costs here) and cannot be compared with any other type of workout, except for the real thing. If you love live, on-demand workouts, you'll love the Hydrow.
The Hydrow offers a full-body, intense workout if you like, or you can use some of the scenic workouts where you go at your own pace down some of the most beautiful rivers and streams in the world. FYI, if you live in the UK, you can now buy the Hydrow Rower in UK!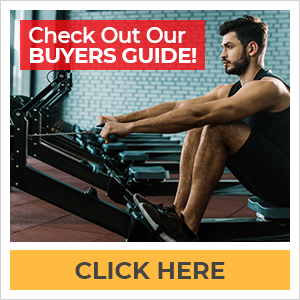 The computer-controlled, electromagnetic resistance is like no other rowing machine. You can adjust it manually, of course, but the on-demand workouts are designed so that the computer controls the resistance level. By the way, the electromagnetic resistance makes virtually zero noise, so you can use this in an apartment or if you have small children that you don't want to wake up from their naps!
The Hydrow Vs Other Rowing Machines
I've compared the Hydrow Rower to other devices, including the Concept 2 (see our article Concept 2 vs Hydrow for more details), the NordicTrack Rower (read more on Hydrow vs Nordictrack RW900 ), and the CityRow (read CityRow Go vs Hydrow Article here). This is the best indoor rower hands down.
Not only is this the best machine I've ever used, but I also happen to think it's one of the most beautiful. Its sleek, modern style looks like a new-age chair or recliner.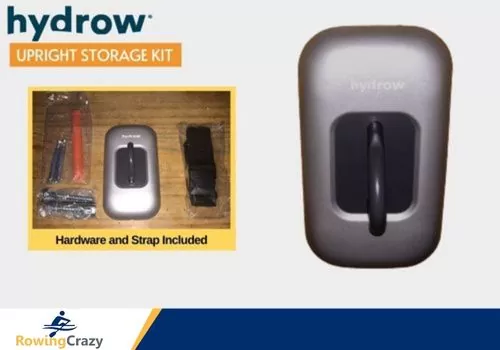 It does take up some floor space, but the Hydrow offers easy storage when you use the Hydrow Storage Kit and Wall mount. The Hydrow can be stored vertically, taking up very little storage space when you use the kit.
There are complete instructions, and perhaps the best part of all, Hydrow is offering a free 30-day trial. If for any reason you don't think the Hydrow is what you need, then you can return it for a full refund, no questions asked.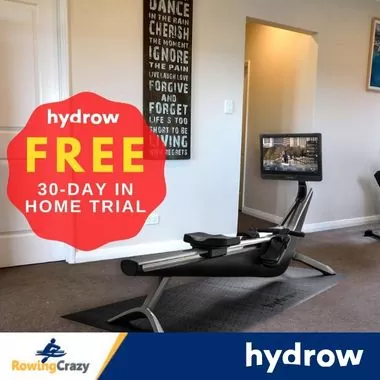 Motivate yourself to get into the best shape of your life with the full-body workout you can get on the Hydrow.
The Hydrow Wave & Its Features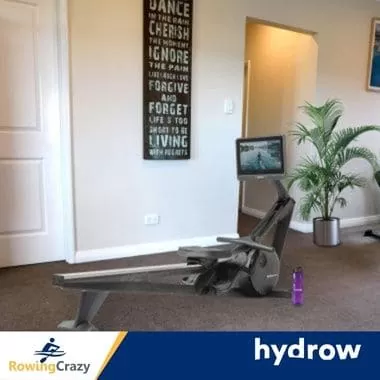 One thing you can say about the folks who make Hydrow—they listen to their clients!
Some people have smaller living spaces, and while they would have loved to own a Hydrow, they wanted a rowing machine that was every bit as fantastic as Hydrow, but with a smaller footprint.
You asked for it, America, and you got it! Introducing the Hydrow Wave.
It's everything that the original Hydrow is but in a smaller package!
Check out these features (or see the comparison chart at the top of the article)
The Wave is 30 percent smaller than the original Hydrow. For those of you who have apartments or smaller rooms, you'll love how the Wave fits right into those spaces!
The monitor is a nifty 16-inches. I find that this monitor is a terrific size- not too big and not too small. It swivels so you can easily see it as you do those floor exercises
The maximum user weight capacity is the same 375 pounds, but the machine weighs about 43 pounds less! How did they do that?
You still have access to the same unlimited number of profiles and outstanding workout programs and metrics available on the original Hydrow.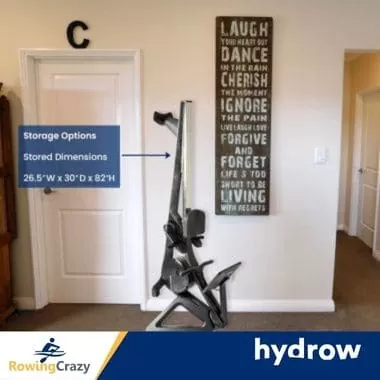 Everything you want and nothing you don't need, that pretty much sums up the Hydrow Wave.
Oh yes, did I mention that it's about $1,000 less? And that's not all.
Not only did the folks at Hydrow listen to consumers about smaller spaces, they are also doing something no one else is- making the Hydrow Wave in colors!
Yes! You read that correctly! Are you sick of the same old grey, black and silver rowing machines? Now you can get the Hydrow wave in colors to match your decor or just pick your favorite!
Whether you want the Hydrow Wave in River (blue), Forest (green), Sunrise (yellow), or Sunset (orange), or the original Pirate (black), you can now add a splash of color to your smart rower.
Hydrow- if you read this- I'll take one in Forest, please!
Give the Hydrow or the Hydrow Wave a free trial in your home gym. Just keep the box and you'll have 30 days to try one of these incredibly diverse smart rowers.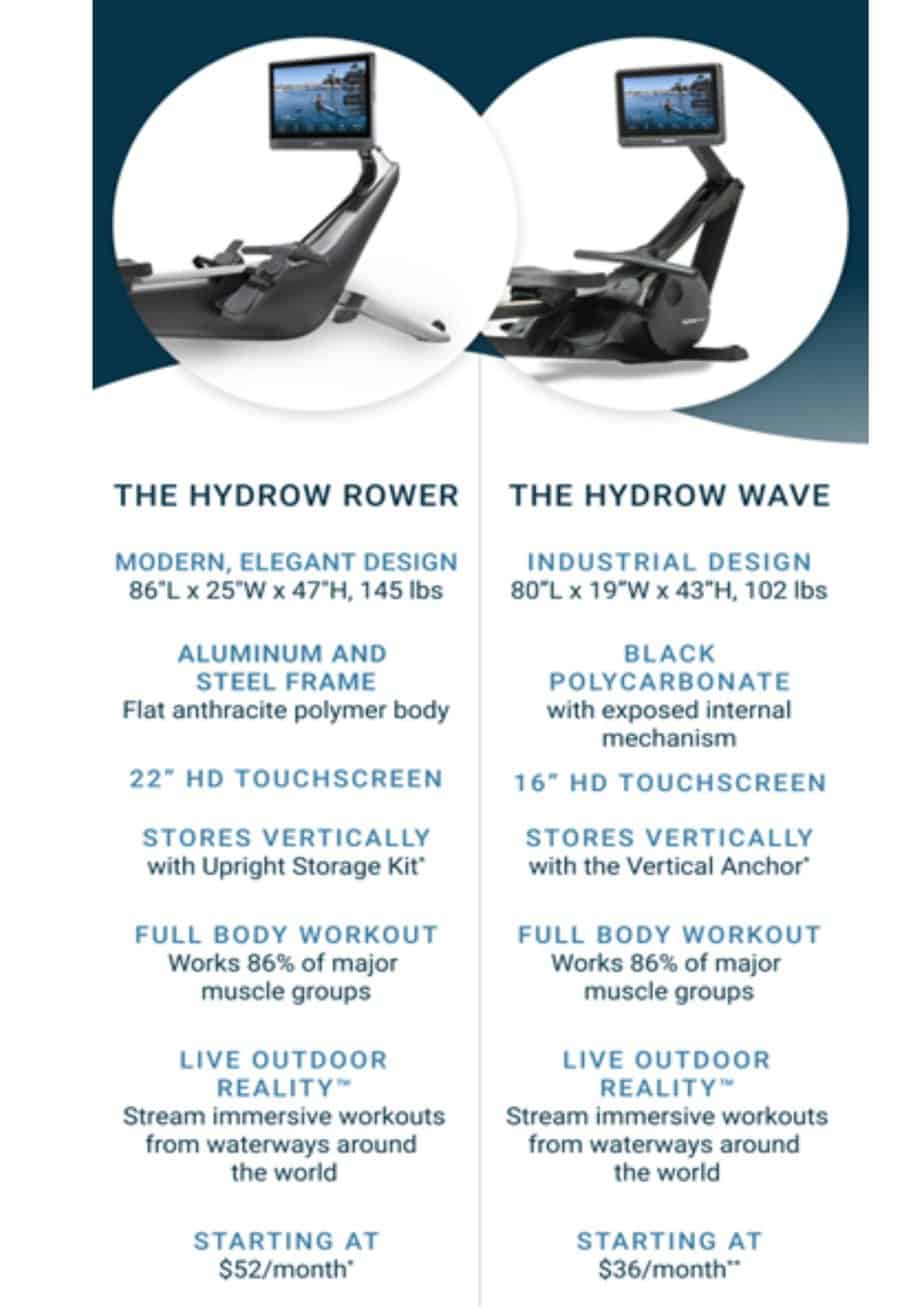 If you don't think that Hydrow or the Hydrow Wave is everything I've said it is and more, send it back for a full refund!
What do you have to lose?
The Aviron Rower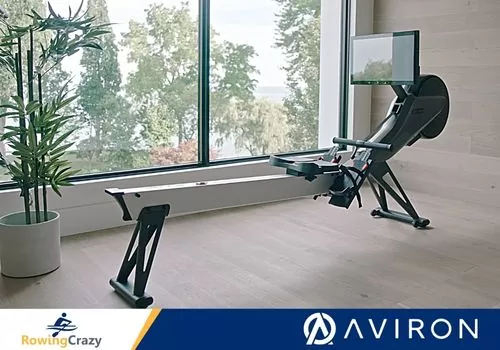 *** Get $200 Off!! Use Coupon Code: LIMITED200 ***
This rowing machine has a lot going for it, that's to be sure. Like all rowers, it offers a full-body workout that is low-impact and is a solid choice among indoor rowing fans.
The Aviron is going to be stiff competition in the world of indoor rowers (Read more on Aviron vs NordicTrack Rowers, or you might also like Aviron Vs Ergatta), that's for certain. They offer 8 different ways to work out, including community races, games, guided rows and off-the-machine workouts, competitions against pro athletes and Olympians, and many more!
Aviron recently came out with a new series called the Strong Series. Let me tell you what else I know about the Aviron rowing machine.
Features of the Aviron Rowing Machine
Aviron offers two models – the Impact Series and the Strong Series – which means you can choose the one that addresses your needs (and wants!) better.
Let's take a look at the features common to both models first before checking out what sets them apart.
Features Common to Both the Impact and Strong Models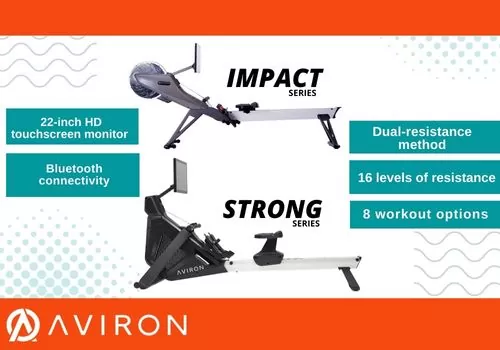 Dual-resistance method – these machines operate with both air and magnetic types of resistance
16 levels of resistance – the lower 1-10 levels are designed for effective low-impact cardio, while the higher 11-16 levels are perfect for strength training
Bluetooth connectivity allows you to use Bluetooth headphones or heart monitors
The 22-inch HD touchscreen monitor is incredibly bright and gives you a truly immersive experience
8 different workout options let you choose from competitive rows against other users or pro athletes, virtual scenic rowing, gamified workouts, and guided programs on and off the rower
I love that you can use the monitor to watch Netflix or Disney+. I don't know any other company that allows you to do this. This is a huge plus for Aviron, and I wonder if other companies like Hydrow and Ergatta will follow suit. I mean, let's face it, somedays you want to catch up on your favorite show!
Workouts are designed to be short but effective, exactly what busy people need
The monthly fee is currently $29 a month or $299/year if paid in advance. Like the Hydrow, you can create unlimited user profiles so everyone can share the single subscription
Aviron has a frame warranty of 10 years, with a 2-year limited warranty on parts. An extended 2-year warranty is also available for $150/year
Features that Distinguish the Strong Series from the Impact Series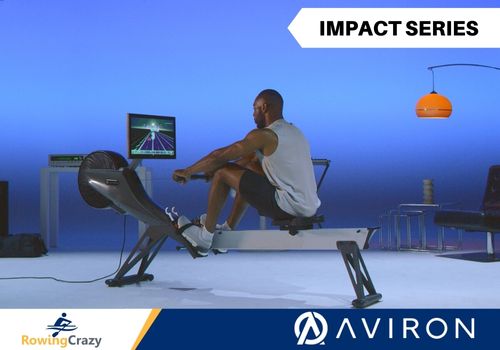 Check the chart at the top of the page if you want all the details, but basically, the people at Aviron listened to their users and made a rowing machine that gives you what you want!
A smaller footprint. The Aviron Strong Series is shorter than the Impact series, which is great for smaller apartments or smaller spaces.
Smaller doesn't mean lesser, however. The maximum user weight with the Strong Series is 507 pounds! Wow! The Impact series still has an amazing weight capacity of 397 pounds, but 507 pounds is just incredible when you consider that the Strong Series is about 14 inches shorter!
You still get the same huge 22-inch monitor that allows you to watch Netflix and other programs, but the Strong Series lets you swivel that monitor both up and down as well as side to side.
The air resistance has a vent that you can aim at your body or face to help cool you down
The Strong Series weighs about 20 pounds more than the Impact Series, but you can still easily roll it where you want it and store it upright- no kit required!
I think it's the fun factor that makes Aviron such an enjoyable machine to use.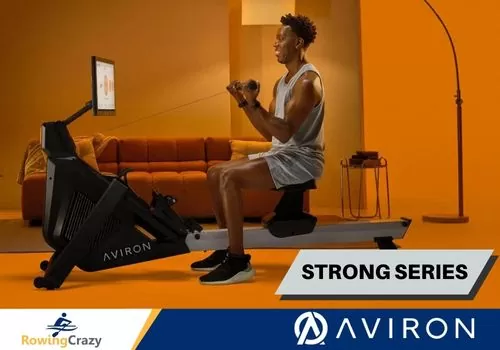 If you want to watch Netflix and finish that movie you started last night, you can do that. If you want to do a guided workout or do coached programs with Training Tall, kill zombies or smash meteors, you can do that too. If you want a quiet, peaceful workout just watching the scenery go by, Aviron has that too!
With professional athletes, live racing, video games, and off-the-rower workouts, whatever it is that you want to do, you can do it with Aviron.
Why You NEED an Aviron Rowing Machine
*** Get $200 Off!! Use Coupon Code: LIMITED200 ***
The Aviron rower is for people who want the freedom to choose how they work out—with self-serve or gamified workouts, guided or coached programs, live competitions or scenic water journeys, and many more.
If you love short, high-intensity workouts that you can squeeze into your busy schedule, if you need variety to keep you continually motivated and challenged, and if you sometimes find overenthusiastic instructors a disruption and other times feel you need coaching, then Aviron is definitely designed for you.
You'll be amazed at the variety of engaging content that Aviron has to offer. Its exceptional dual-resistance mechanism provides up to 100 pounds of drag or pull for more efficient cardio and strength-building workouts.
Most air rowers can be noisy, but remember that Aviron is an air-magnetic hybrid rower. It utilizes whisper-quiet nylon belts that produce 60 decibels only, which is about the same noise level as background music or a normal conversation. To put that in context, average home noise registers around 40 dB, while normal office noise is around 70 dB.
Trending Post: Recumbent Bike Rower Combos
The Aviron rower has a steel-and-aluminum frame, which means that it is durable yet lightweight.
I know I've already mentioned the 10-year warranty for the frame, but I'd like to point out that we're talking about a company that not only stands by but also believes in its product. Ten years of warranty is industry-leading – not a lot of fitness companies show that kind of faith in their machine.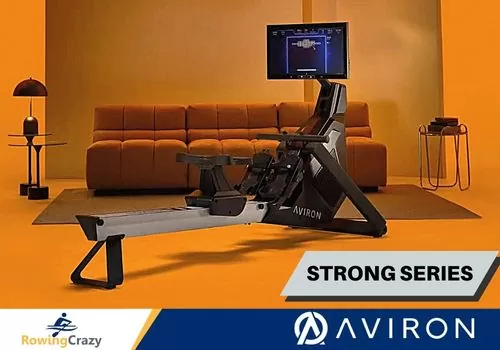 If you love the idea of playing video games, scenic workouts, and competitive racing, or you want a workout that is the most effective in the shortest amount of time, then you will enjoy the workouts that the Aviron offers.
The Aviron is also offering a free 30-day trial, so you can check it out to make your own comparison. Side Note: Can't find what you are looking for? Check out my full article on the best rowers for under $1000 – there are many space-saving options
Hydrow Vs Aviron: Who Won?
It should be clear to you by now that both Hydrow and Aviron are solid options when it comes to connected rowing machines. Each one offers its users tremendous value.
But that's where the catch is. The thing that will make a rower the winner is YOU, the user. I've said this before, and I'll say it again – the best rower is the one that you will use regularly. You will not need to drag yourself to do workouts if you have a machine that motivates and 'speaks' to you.
If you pick the rower that syncs with your needs and preferences, working out becomes pure pleasure and so rewarding that you will never see it as a chore again.
Instead of pushing yourself every single day because you NEED to work out but your heart isn't in it, your machine becomes the irresistible "happy thought" that pulls you toward it and makes rowing fun!
Both the Hydrow and the Aviron are calorie-burning beasts, but each product targets a different segment of the home-rowing populace.
One is for people who love live, instructor-led, on-the-water rowing, while the other is for rowers who prefer a self-serve, gamified rowing platform.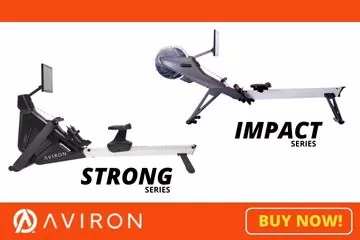 *** Get $200 Off!! Use Coupon Code: LIMITED200 ***
If you think you've had enough of those ho-hum rowing classes that never helped you attain your fitness goals or enjoy your workouts, then it's the best time for a change – it's time for Aviron. This indoor rower packs up to 100 pounds of resistance to help you reach your goals faster through short, fun, and high-intensity gamified workouts.
I found the Aviron rowers to be incredibly fun. I often forgot I was working out until I realized that I was really huffing and puffing. I bet you can get your kids interested by telling them it's a new video game console!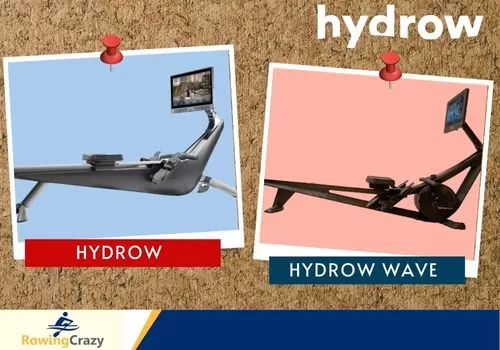 Get $100 OFF!!Use Coupon Code: ROWINGCRAZY
Now, if you prefer real-life 'on-the-water' rowing adventures, intuitive and computer-controlled resistance, and instructor-led workouts both on and off the rower, then you need Hydrow. The immersive and interactive experience that you get from Hydrow is one of a kind and can range from meditative journeys to heart-pumping races.
I know that I usually pick a winner, but it's just impossible with both the Aviron and the Hydrow. Both of these are world-class smart rowing machines and you will love them, regardless of which one you take home.
Make that dream rower a reality now! In a few weeks from now, you will be so happy that you did!
Stay active and healthy, friends, and happy rowing!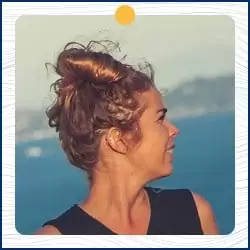 Written by Petra Amara – RowingCrazy.com
CEO & Founder of RowingCrazy, National Rower, Coxswain Womens Eight Team, Rowing Coach & Writer
Petra is a Mother of two and owner of Rowingcrazy.com. Petra lives and breathes rowing, she also has a passion for writing which lead her to start RowingCrazy.com to share her rowing experience and expertise with others.