Hi friends! Petra here, and today, I want to introduce you to the newest rowing machine from Hydrow called the Hydrow Wave.
You might be looking at the photos and think "Same thing, just a bit smaller". I know, that's what I originally thought, but the photos don't really tell the whole story.
In a Hurry? Just Want to See the Wave?
Are you short on time and want to see the Hydrow Wave Home Rower? Then click on the link below to jump straight to it:
*We review fitness products impartially and may earn a commission from affiliate links. For details see our disclosure page.
However if you have got a little more time, please keep reading where I go into a lot more detail about interactive home exercise machine!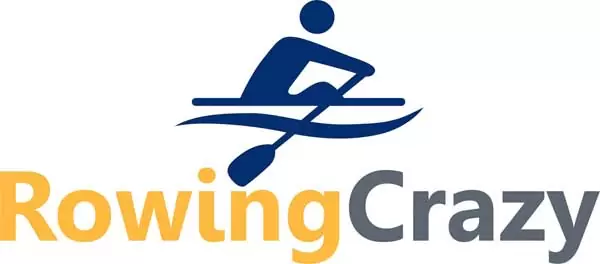 Let Dive In To the Word Of Hydrow!
Once we actually received this rowing machine and tried it out, it became clear to me that there were more differences than meets the eye.
If you've considered investing in the Hydrow Wave but aren't sure if it's right for you, or the size or price put you off, or maybe you're hearing about Hydrow Wave for the first time, this article is for you!
Let me dive head first into this Hydrow Wave review and get down to business!
Hydrow Wave – The Essentials & Specs
If you're short on time, you can take a quick look at the following feature guide and then bookmark this article for later.
Hydrow Wave Features
What's Included, What's Not

Durable Polycarbonate Frame

Yes

Stainless Steel Track

Yes

Same High-Quality Live and on Demand Workouts

Yes

16-inch HD Touchscreen Monitor

Yes

Smaller Footprint
Yes
Dimension, in use: 80" x 19" x 43" (L x W x H)
Dimension, stored: 26.5" x 30" x 82" (W x D x H)
Less Weight/Bulk

Yes


(102 pounds)
High Maximum User Weight

Yes


(375 pounds)
Silent Computer-Controlled Magnetic Resistance

Yes

Supports Tall Users

Yes


(Up to a 36-inch inseam; 6'3" – 6'6" height)
Adjustable Footbeds

Yes

Bluetooth- and WiFi-Enabled

Yes

Comes with Upright Storage Kit

No


(Purchased separately)
Folds or Can be Taken Apart

No

Financing Available

Yes


(Via Klarna)
Comes with a Machine Mat

No


(Purchased separately)
Lower Price Than the Original Hydrow

Yes

Comes with Warranty

Yes


(5-year Frame, 1-year Parts, 1-year Labor)
The most obvious change between the Hydrow Wave and the original Hydrow is the overall look of the machine itself (read more about original Hydrow Rower Costs in this article).
You still get the sturdy stainless steel rail for strength and smoothness, you still get the incredible HD touchscreen monitor, but all in a smaller footprint.
The Hydrow Wave looks, well, streamlined is the word that immediately came to my mind. While I love the stylish look of the original Hydrow, the Wave looks more like a piece of exercise equipment than a futuristic piece of furniture.
If you've been looking for the best budget rowing machine or wanted a Hydrow since forever but couldn't spare the space or thee money, the Hydrow Wave might be the answer.
Let's take a more in-depth look at the Hydrow Wave and its incredible features.
Hydrow Wave Features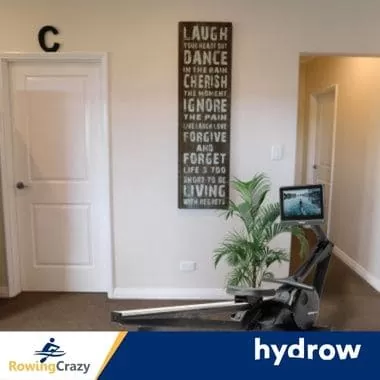 While the photos show the obvious differences between these two Hydrow rowers, there are plenty of features on this "Hydrow Light" that can't be seen.
Take a closer look at the length of the rower itself. Hydrow, a connected fitness company, somehow made a rower that is only 82 inches long but still fits people up to 6″ 6″ tall.
Compare that to the Concept 2 Model D (read more here), which is a whopping 96 inches long!
If space is your major concern, the Wave is a game changer!
Of course, the Concept 2 rower does come apart for easy storing, but you can store the Hydrow Wave upright so it doesn't take up any more room than the average reclining chair.
You Can Watch Below Our Review Video of the Concept Rower by Max Secunda Our Expert Rower:
The lighter frame also makes the Wave a breeze to move and store when not in use. The super strong polymer frame makes this every bit as sturdy as the original Hydrow but much lighter in weight.
The super popular Ergatta weighs in at 103 pounds, while the Wave is only 102 pounds!
You might be thinking that Concept 2 is only 57 pounds, and you're right. However, Concept 2 has no monitor, no water tank, and no water!
Personally, when it comes to rowing machines (and I think I've tried them all!), I will take the silent magnetic rowers over air rowers.
The Wave monitor may appear the same as that of its bigger sibling, but it is smaller than the original. That doesn't take away from everything this monitor has to offer. It's a powerful 16-inch 1920 x 1080 fully HD touchscreen that is identical to the original Hydrow, just in a smaller package.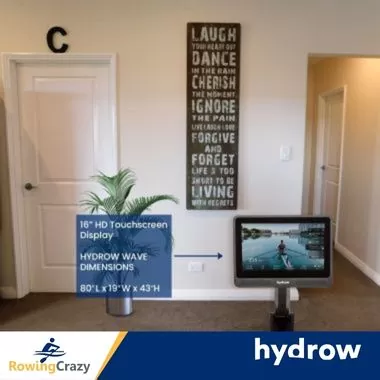 It is completely Bluetooth- and WiFi-enabled, with terrific-sounding front-facing speakers for times when you don't want to use your Bluetooth headphones.
The monitor has a darker contrast as well, which many have found to be easier on the eyes. You'll also notice that the monitor arm places the screen a bit further away from the user, which is also a big plus noted by some of the employees here at Rowing Crazy.
Last, take a good look at the seat and where you place your feet.
While the foot pedals are still completely adjustable, they have a different design that I actually like. Instead of two adjustable pegs, there is a single adjustment to make things simple and easy, which is always better than bulky and complicated, right?
The seat looks the same and has the same feel to it, but somehow the engineers at Hydrow have figured out how to make it roll every bit as smooth as the original Hydrow by using two rollers and two idlers instead of the 10-roller system.
The Overall Feel and Functionality
Membership for Hydrow's new rowing machine has not changed. Currently, it's a low $44 a month for an unlimited number of profiles.
This means that everyone in your household can use the Hydrow for a single membership price!
I bet you're paying more than that for your gym membership! Ditch the gym for the Hydrow Wave, and you'll never have to search for parking, use those unsanitary changing rooms, or wait in line for your turn ever again!
Trying to describe how something feels can be difficult. If you've ever tried to tell an auto mechanic how differently your car feels when you know something is wrong, you know what I mean, but let me try.
Many other magnetic rowers on the market have a definite "pull" to them on the recovery stroke and a hitch when you hit the full catch position. When you are sliding forward, you can feel the pullback motion of the chain or strap.
With some other brands of rowers, this pullback can be quite strong and almost intimidating to newbies.
That's not the case with the Hydrow Wave. There is very little pull, which allows you time to get into the proper position for the catch.
I really liked how the Wave felt when rowing. It was as if I was sculling by myself in a very small rowboat in smooth waters.
You still get the computer-controlled motion like the original Hydrow rower. You will still find this the best rowing machine for a home gym, and you'll still love how you can get cross-training with a single machine.
Oh wait! I haven't told you the best part!
The Best Part of Owning a Hydrow
There are two parts to consider before you invest in any rowing machine.
First, the size, durability, and overall features of the machine itself. No one wants to buy a piece of exercise equipment only to find that it breaks after 6 months, nor do you want to buy a noisy rowing machine that your neighbors complain about every time you use it.
So now that you know that the Hydrow Wave is made from super sturdy yet lightweight material and comes with a great warranty (5-year frame, 1-year parts, and 1-year labor), you'll want to know about the second part.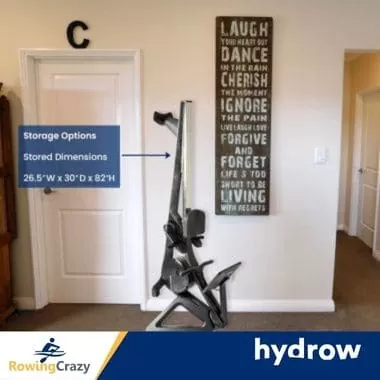 The second part is usability. No rowing machine is going to get you into shape if you don't want to use it because its heavy, difficult to use, difficult to move, or as boring as a piece of stale bread.
The Wave is very light for a connected and magnetic rower. It can be rolled and stored vertically.
As for the boredom part, I do believe that Hydrow has found the answer.
Boredom is one of the biggest reasons that people stop using their exercise machines, regardless of what type of machine that is.
Why are there so many fitness products on the market? Boredom. People quickly get bored with whatever they have bought and manufacturers are hoping customers will buy a new one.
You will absolutely never, ever get bored with the Hydrow Wave.
It's the programming that makes Hydrow one of the best-selling rowers on the market.
All instructors are rowing experts and/or champions. You will see former national rowing team members, ex-Olympic rowers, and more during the Hydrow workouts.
You can choose from live and on-demand workouts, choose a favorite workout from the library that contains thousands of workouts, or do your own thing by rowing at your own pace as you watch the breathtaking scenery go by.
You can row on bodies of water from around the world, such as Thailand, France, England, and, of course, America.
I told you about cross-training earlier, so let me explain.
Most people enjoy rowing workouts every other day, but what do you do for exercise on your off days? You can still use the Hydrow Wave Rower for that!
There are thousands of off-the-rower exercise programs that you can enjoy including Pilates, strength classes, foam roller training, and more. Get out those yoga blocks because you are going to want to use the floor space next to your rower for some major yoga moves!
Think you need a gym to engage with your personal trainer? Not if you own a Hydrow Wave rower!
You can find personal trainers or coaches for 1-on-1 support, instruction, and motivation. Need advice on how to row properly? How to get over a hurdle? Looking for a personalized workout plan? Feel like you're going nowhere and want someone to be your own personal cheerleader? You can get all that and more from the coaching team at Hydrow.
Don't be fooled by other connected fitness apps claiming to have coaches or personal trainers. You might be shocked to find that your personal trainer is actually an actor or a dancer who has never rowed a day in their life.
If you really want to reach your ultimate fitness level, try a few sessions with one of the professional rowing coaches from Hydrow and see why the Hydrow workouts are giving Peloton a run for their money!
You won't find these types of workouts or coaches from any other rower, not even those with third-party apps!
There is no other rower on earth that can give you the rowing experience that the Hydrow rowing machine can.
Who Should Buy the Hydrow Wave?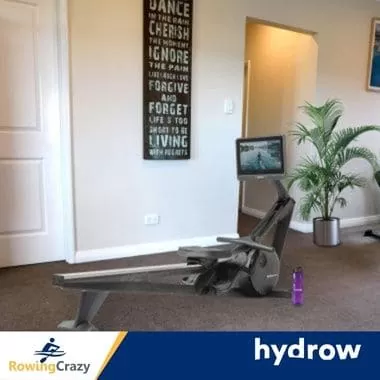 Let's face it, even the less expensive Hydrow Wave is a big investment. Then again, as my coach used to tell me, how much is your health worth?
You should seriously consider the Hydrow Wave if:
You love having upbeat, professional instructors cheering you on during your workouts
Your space is limited
You want one of the best rowing machines ever made
You need a super quiet, magnetic exercise machine
You want a sturdy machine that won't rock and roll across the room
You want a connected, smart rower because that's who you are!
You need an indoor rowing machine that can hold a max user weight of up to 375 pounds
You get bored with exercise easily
You want a rowing machine that is portable
You want a rowing machine that offers cross-training, such as strength training and yoga
You're a beginner, so you want intro classes that aren't confusing
You want to do your own workouts some days and use a personal trainer on other days
If this sounds like you, then you want the Hydrow Wave Rower!
Who Shouldn't Buy the Hydrow Wave?
I can't think of too many people who won't love the Hydrow Wave, but there are a few:
If you prefer studio or classroom-type workouts, the Hydrow Wave does not offer this.
If you prefer the Original Hydrow rower
If you exceed the max user weight of 375 pounds
If noise and size are not important to you, or if you prefer the noise when working out
If you travel quite a bit and are rarely home to take advantage of what Hydrow offers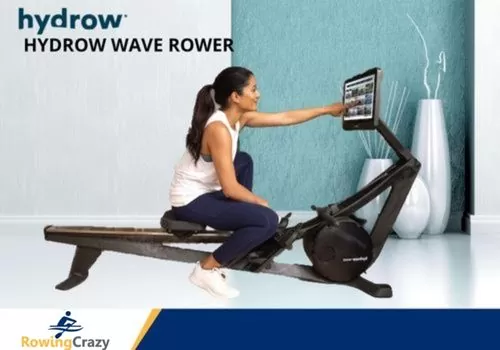 Can I just make a point regarding the last issue – If you want to enjoy the Hydrow workouts but aren't home often, you might want to check out the Hydrow app.
The app allows you to use your tablet or smartphone and still access the workouts from anywhere using any rowing machine.
Of course, you won't get the benefits of the automatic computer-controlled resistance levels, but you can still enjoy all the workouts available to Hydrow Wave owners.
Just one more terrific option that the great people at Hydrow offer their clients!
The Bottom Line
Unless you fit one of the exceptions above, there is no doubt that you are going to love the Hydrow Wave rower.
If I could make my own grading system, I would rate this as a "buy" for almost everyone out there.
Young or old, newbie or experienced rower, you will love the look and feel of the Hydrow Wave.
It takes up less space, is incredibly strong, and has the best, most professional workout programs you could ever dream of.
I mean, what else could anyone ask for?
Are you sitting on the fence regarding Hydrow or the Hydrow Wave?
In my next review, I'm going to compare these two outstanding rowing machines so you can make a more informed buying decision.
Is the Hydrow Wave worth the money? Honey, you better believe it is!
Have a good time rowing!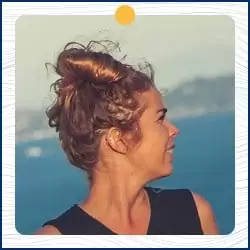 Written by Petra Amara – RowingCrazy.com
CEO & Founder of RowingCrazy, National Rower, Coxswain Womens Eight Team, Rowing Coach & Writer
Petra is a Mother of two and owner of Rowingcrazy.com. Petra lives and breathes rowing, she also has a passion for writing which lead her to start RowingCrazy.com to share her rowing experience and expertise with others.