If you're considering buying a new or perhaps a replacement rowing machine, you've come to the right place.
The more information you have, the better the chances are that your rowing machine won't turn into a clothes rack or giant paperweight.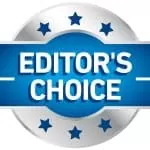 In a Hurry? Here are the Rowers We Are Comparing:
If you're in a hurry and need to know which rower is better between Hydrow Wave or Concept 2, click on the links below for our answers:
*We review fitness products impartially and may earn a commission from affiliate links. For details see our disclosure page.
To help you make an informed decision on which rowing machine to purchase, we have conducted a thorough evaluation of each machine, which we will share in detail in the upcoming sections of this article.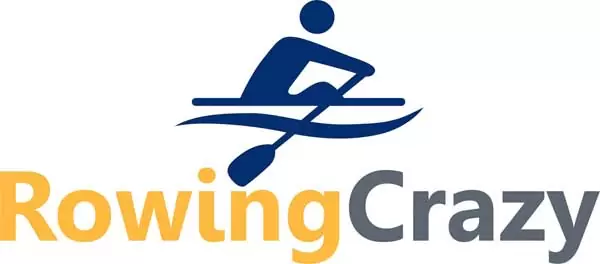 Without Further Delay, Let's Begin!
I know that many of you would love to own a Hydrow rower (if you live in the United Kingdom see Hydrow UK options here). I've had one for several years, and it remains my favorite form of exercise (next to being on the water itself!)
I also know that Hydrow is not cheap. While it's worth every penny, the fact remains that not everyone has the means or space, so they opt for less than perfect rowing machines.
Guess what? The smart people behind Hydrow also realized this, and they have devised a solution- the Hydrow Wave indoor rowing machine!
If you've longed for a smart rowing machine but thought it was out of your budget, the Hydrow Wave is the answer you've been looking for.
Today, I'm going to take on one of the top selling rowing machines Concept 2 Model D (now called RowErg) and compare it with the Hydrow Wave.
As my mother used to say, "You can't know whether you're looking at a good price until you know what prices are."
Prices are only one small part of this equation, and I'll explain more as I go along.
Let's get down to business and compare Concept 2 vs the Hydrow Wave.
Side Note: If you are not tight on space and are interested in the larger premium Hydrow Rower, not the Hydrow Wave (which is slightly smaller), be sure to read my other comparison article Hydrow vs Concept2 where I go into way more detail on Hydrow's premium rower.
A Quick Comparison Between the Hydrow Wave and Concept 2 RowErg
If you don't have the time to read a thorough review, we've done a quick side-by-side comparison of the Hydrow Wave and Concept 2 Model D (RowErg) here.
Specs/Features
Hydrow Wave
Concept 2 Model D
Type of Resistance

Computer-controlled, silent magnetic resistance

Air resistance

Warranty

5 years on the frame;

1 year on all other parts
1 year labor

5 years on the frame;

2 years on all other parts

Maximum User Weight Capacity

375 Pounds

500 Pounds

Machine Dimensions

80 x 19 x 43 Inches

96 x 24 x 14 Inches

Monitor Size

16 Inches

About 5 inches (PM5 display screen)

Machine Weight

102 Pounds

57 Pounds

Power Required

Standard electrical outlet

Two size-D batteries for the PM5
When trying to decide on the best rowing machines for the money, the choice isn't as easy as it appears.
One thing to consider is that Concept 2 can handle more user weight than the Hydrow Wave. That's 500 pounds vs 375 pounds. If you need that heavier weight, your choice is clear.
However, you should also consider that Concept 2 requires a great deal more floor space than the Hydrow Wave.
While Concept 2 does come apart for storage, you'll need lots of room to use it.
The Hydrow Wave does not come apart, but it does store upright against a wall using a specially designed vertical storage hook.
Last, I want to mention the noise issue because many people today live in shared spaces, such as apartments with roommates or a rented room in a house.
Even if you live by yourself in an apartment, you do have neighbors to consider. Not everyone is going to be happy when you use an air rower like Concept 2. The noise level might be something you'll want to consider.
In comparison, the Hydrow Wave is nearly silent. Chances are that the only thing your neighbors or roommates will hear is you huffing and puffing!
Like all magnetic rowers, the Hydrow Wave makes zero noise, something you can't say about air resistance rowers, such as the Concept 2.
Now that you've got the basics, let's talk about a few other things you need to know before making a final decision.
The Main Difference Between Hydrow Wave and Concept 2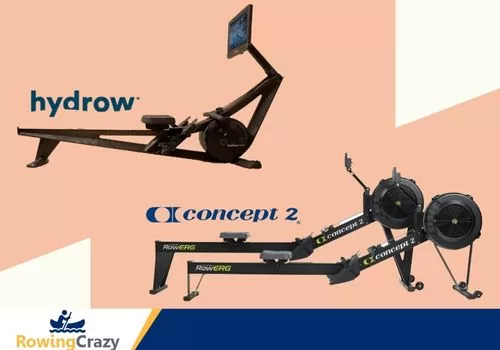 Let's assume that noise is not an issue for you, and neither is space nor price.
Which rowing machine is the perfect choice? What is the main difference between the Concept 2 RowErg and the Hydrow Wave?
It's about the monitor and programming, friends.
The Concept 2 PM5 lets you select workouts and monitor/save workout data, such as split time, calories burned, SPM, watts generated, heart rate, and even lifetime meters. You can also use it with RowPro to race with other Concept 2 users.
However, it's not in the same league as the 16-inch HD touchscreen on the Hydrow Wave, which uses the same programming that runs on the original Hydrow.
Let's face it, the main reason most people stop using their exercise machines is boredom, and that's not going to happen with the live and on-demand workouts that Hydrow offers.
If you think rowing workouts are rowing workouts are rowing workouts, you haven't seen the Hydrow Wave in action!
You'll get the same workouts that the Hydrow membership offers on the regular machine and use your connected rower for strength training, yoga, and other cross-training exercises.
Not only are the programming and workouts the best in the business, Hydrow rowers create resistance to mimic real rowing.
The only thing missing to complete the Hydrow experience is water. If you like, have someone spray some water in your face as you row! That's all you need to feel like you aren't in your home gym but rowing on an open body of water.
Yes, you'll get a full-body workout with either Concept 2 or Hydrow Wave. Yes, you can use your heart rate monitor or do races with either choice.
However, if you had a chance to choose a plain, old-fashioned rowing machine or a new rowing machine that offered you live and on-demand rowing sessions from around the world, along with incredible off-the-rower workouts, which would you choose? Side Note: Be sure to read my other article Hydrow Wave vs Hydrow to compare prices and features.
Let's look at these two rowing machines more closely.
What Is the Hydrow Wave?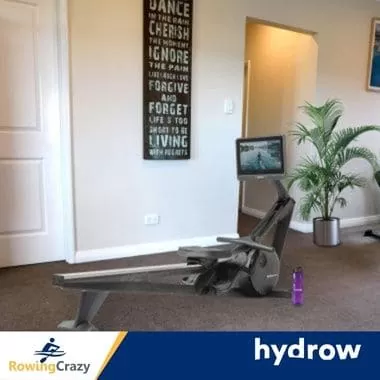 Hydrow Wave is a new product, but Hydrow isn't.
If you're familiar with the original Hydrow (if not, you can check the Hydrow rower review out here), then you'll be happy to know that some things haven't changed.
The Hydrow Wave still uses computer-controlled magnetic resistance for the most realistic rowing experience you can imagine. Watch this video to learn more about it.
This modern rowing machine is a connected fitness device that allows you to use your Bluetooth headphone and third-party heart rate monitor.
There's still the same Hydrow community for you to connect with, and it's still one of the best rowing machines on the planet.
What's different?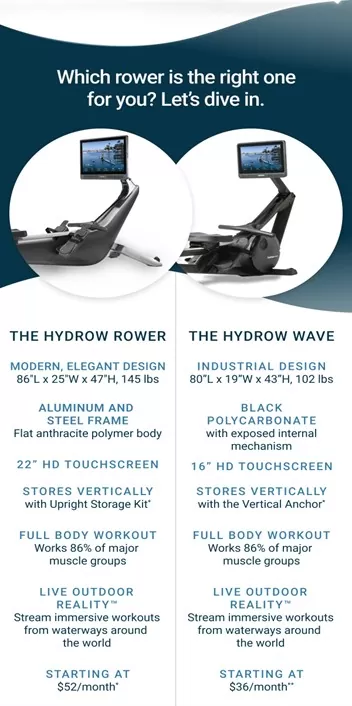 The Hydrow Wave has a bit smaller footprint than the original Hydrow. The design has changed somewhat (although I still think it looks really good!), and the monitor size is smaller. The original Hydrow's monitor is 22 inches, while the Wave is 16 inches.
The base is a black polycarbonate frame, which makes it look different from the original model.
You still benefit from the same programming with professional athletes as instructors, use the same computer-controlled resistance, and get the same terrific rowing experience, just less floor space and a smaller screen. FYI: Check out the Hydrow Black Friday Package here!
The Pros of the Hydrow Wave Rower
There is so much to love about this magnetic rower it's hard to know where to start.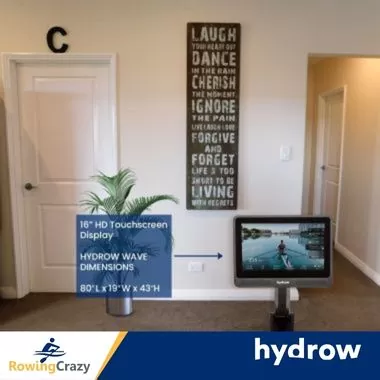 Here are some of the pros of the Hydrow Wave:
Mimics the real-life, on-the-water rowing action
A completely silent computer-controlled magnetic resistance system
Sturdy sleek-looking frame
Fits users up to a 36-inch inseam
The 16-inch touchscreen console is nothing short of fantastic
Can handle a user weight of up to 375 pounds
Completely Bluetooth/ANT+ compatible
Provides access to thousands of engaging workouts
On-the-water rowing workouts are done with professional instructors
One-on-one personal training sessions are available
Foot pedals are adjustable
Padded and ergonomically designed handle provides a firm and comfortable grip
Smaller footprint makes moving and storing the Hydrow Wave easy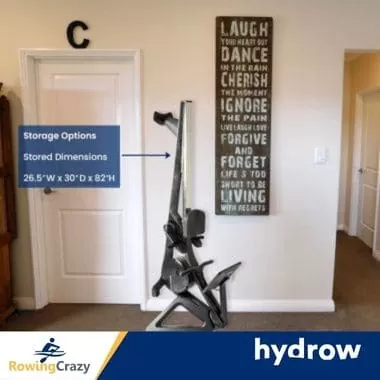 The Hydrow Wave is perhaps one of the best rowing machines you'll ever use, and it doesn't cost that much more than Concept 2.
The Cons of the Hydrow Wave
There can't be pros without stating the cons, and even this nearly perfect rowing machine does have a few drawbacks you should know before you buy.
The warranty could be longer. It's about the same as Concept 2, but for a connected rowing machine, you would think they would increase the warranty a bit.
You can't store it upright without purchasing the vertical storage kit.
There is a monthly subscription price to pay.
These are about the only drawbacks I can think of, and the subscription price isn't even an issue (as far as I'm concerned). ALL smart rowing machines have subscription fees, so if you want one, you'll need to pay it anyway.
I'm only mentioning it because if you are on a super tight budget, you may want to check out other rowing machines that don't require one, like Concept 2.
The Concept 2 Rowing Machine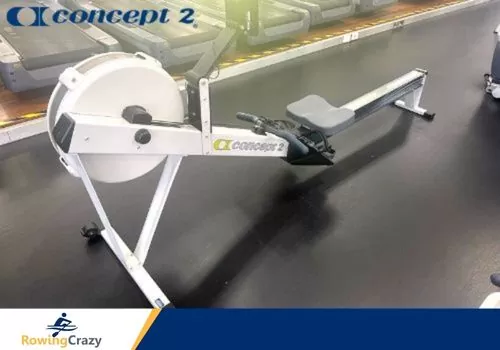 The Concept 2 Model D or RowErg has been one of the best-selling rowing machines for decades, and it's been around since the 1980s.
For a basic, no-frills heavy-duty rowing machine, you can't beat the Concept 2 rower, and at less than $1,000, it's no doubt priced right. Here's a video showing the specs and features of the Concept 2 RowErgs.
Let's talk more about the advantages of owning a Concept 2 RowErg.
The Pros of the Concept 2 RowErg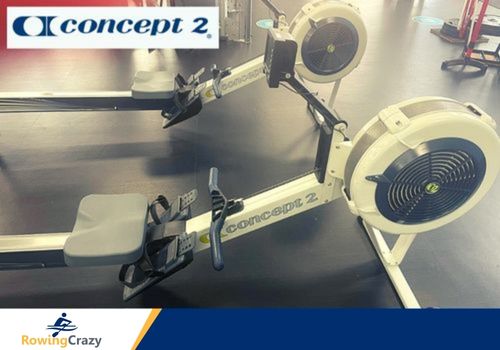 There's a lot of good things to say about this popular rowing machine, and here are the most significant:
It can accommodate users up to 500 pounds and 6 feet 6 inches tall.
The handle has a sweat-resistant grip and is ergonomically designed for comfort.
This air resistance rowing machine has few parts so it rarely breaks, and parts are readily available and easy to replace.
It can be taken apart and stored almost anywhere.
The PM5 monitor is easy to use.
The nickel-plated steel chain resists rusting and is super sturdy.
The footrests are adjustable.
There's no electricity or internet required, but you can pair the PM5 to an internet-connected device using Concept2's ErgData app.
There is a large online community of Concept2 users to connect with.
There are lots of good reasons why people choose Concept 2, and it's not just about the price, since there are plenty of other rowing machines that are less expensive.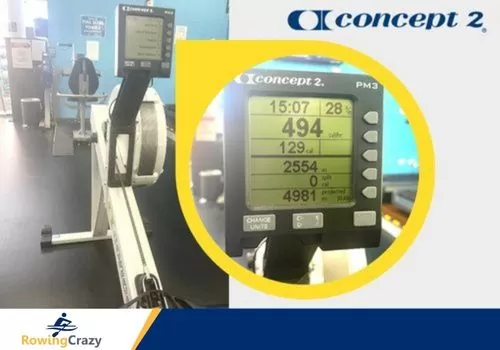 The Cons of Concept 2
You should have all the facts before you make a decision, so consider these before you buy a Concept 2-
This air resistance rower is very noisy, especially if you are an advanced user.
No touchscreen of any kind. The new and improved PM5 monitor is fairly basic and can't compete with smart rowers' monitors and live/on-demand workouts.
You'll need a fair amount of space to use it.
The seat is not padded.
An informed buyer is a happy buyer, so be sure that you consider all the facts before you make a buying decision.
Learn More – Watch our Youtube video below by Rowing Instructor & Coach Max Secunda:
Is the Hydrow Wave as Good as Concept 2?
That would depend on what your idea of "good" is.
There is no doubt that Concept 2 is long-lasting. Many people say that they've owned theirs for 20 years or more.
However, since the Hydrow Wave is new, we can't determine whether it is that "good" or not.
The original Hydrow was first introduced in 2017. I've had one since late 2017 and never had an issue with it. Only time will tell if it will hold up for 20 years.
It seems as though I've used every type of indoor rowing machine in the world, and I would choose my Hydrow over any other rower anytime.
I love Hydrow's instructors! The classes are top-notch, and you never get bored! You can literally row on the River Seine one day and go rowing in Spain or Thailand the next.
If you want to be alone with your thoughts, you can use its HD screen for Open Row, which has no instructors, allowing you to row at your pace for as long as you like and watch the scenery go by.
I've used Concept 2 as well, and there is absolutely nothing wrong with it. I suppose I've become addicted to smart rowing machines and the quiet that comes with magnetic rowers.
Personally, I think that the Hydrow Wave is far better than Concept 2.
You can find out for yourself—here's how.
Chances are that your local gym has a Concept 2. You can try it for a week or two.
Then order a Hydrow Wave. You can try one free in your home for 30 days.
If you think that Concept 2 is the better rowing machine, you can return the Hydrow Wave at no cost to you.
Order using the link above on the Hydrow website to get the free 30-day trial.
You will also get a free one-on-one personal training session so you can improve your stroke or just see how it works and decide if you want more sessions.
I don't think I've ever known someone who returned a Hydrow. I'm betting you won't return it either!
The entire experience is completely addicting!
Is the Hydrow Wave Worth It?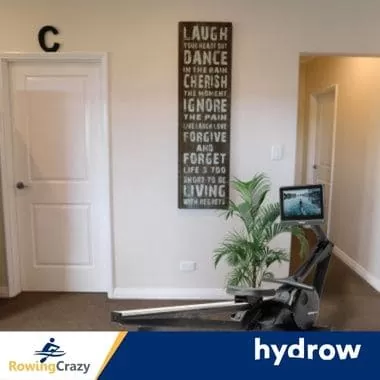 The Hydrow Wave is the slightly smaller, less expensive smart rower that you will never want to trade in!
When it comes to indoor rowing machines, there is no doubt that they are an investment, so you want to get the best rowing machine for your workout space or home gym.
The smaller footprint of the Hydrow Wave means that even small apartment dwellers can squeeze it into their small spaces.
The Bluetooth option means that you won't disturb anyone with the music and the workout audio, and the rower itself is completely silent.
With a starting price of about $1400, it's much more affordable than the original Hydrow.
Some reviews have called the Hydrow Wave the best rowing machine they've ever used, and I couldn't agree more.
Is it worth the extra money compared to Concept 2?
You bet your sweet donuts it is!
Can I Watch NetFlix or YouTube on the Hydrow Wave Screen?
No, you can't.
These monitors are more like a dedicated server that can only be used for watching the premium-quality workouts that Hydrow offers.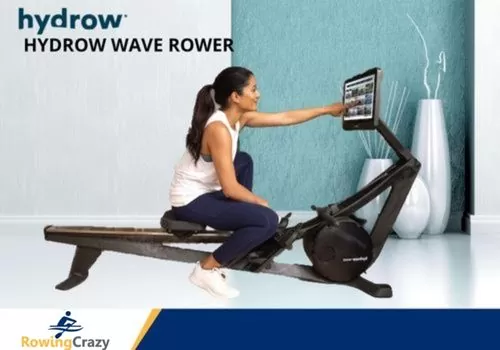 I realize that many people use their tablets or smartphones to watch YouTube or television or Netflix while rowing because they get bored, but that won't happen with a Hydrow.
You are going to be so immersed in the workouts that you won't even notice how fast the time has gone by!
Of course, nothing is stopping you from setting up your tablet or putting your Hydrow in front of your television, but boring workouts will be a thing of the past with the Hydrow Wave.
Side Note – Want to Know More? See Our Detailed Hydrow Wave Review:

If you still have more questions we have a much more detailed article here, so be sure to also check out my full Hydrow Wave Review here!
The Bottom Line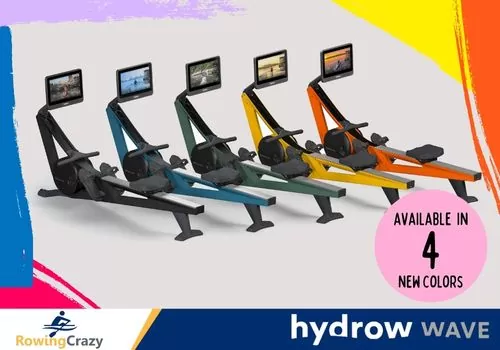 Unless you're Jeff Bezos or Elon Musk (who won't bother reading this article!), you have a budget that you need to adhere to, and I'm sure that Hydrow Wave fits the bill.
It's the perfect smart rowing machine that fits in smaller spaces and works with your budget.
Yes, Concept 2 has no monthly subscription prices, but as I mentioned earlier, it also doesn't offer any live workouts, on-the-water classes, one-on-one training instructors, or off-the-rower workouts.
The Hydrow Wave has the same resistance system as the original and uses the same software to access the same fantastic workouts. The only things that have changed are the lighter frame, the looks, and the smaller monitor.
Get the workout you deserve and banish boring workouts forever by giving the Hydrow Wave a free trial in your home gym.
You are going to love your new workouts, and perhaps best of all, you are going to love the new body you'll be seeing in the mirror in a matter of weeks!
Try the Hydrow Wave and get our special price by clicking here. You will never regret it!
Live healthy and row happy, friends!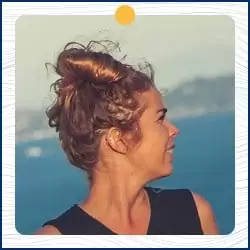 Written by Petra Amara – RowingCrazy.com
CEO & Founder of RowingCrazy, National Rower, Coxswain Womens Eight Team, Rowing Coach & Writer
Petra is a Mother of two and owner of Rowingcrazy.com. Petra lives and breathes rowing, she also has a passion for writing which lead her to start RowingCrazy.com to share her rowing experience and expertise with others.