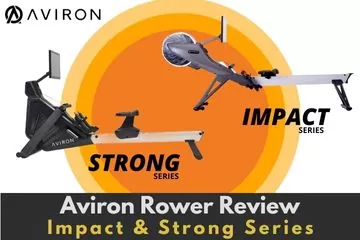 Have you noticed how suddenly it seems like everyone is talking about indoor rowing machines? I remember when rowing machines were delegated to a dark corner of the gym, but today, it's the opposite. It's like everyone wants to have their own indoor rowing machine.
Perhaps people are finally discovering what experts have known for decades— rowing is a full-body workout that offers strength training and a terrific cardiovascular exercise.
If you've been thinking of buying a rowing machine for your home gym, you aren't alone. However, one look online or a glance through Amazon using the keywords "indoor rowing machine" will get you hundreds of results.
Magnetic resistance, air rowers, water resistance, LCD monitors, and touchscreen tablets… it can all be so confusing! Many rowing machines today are the same but different, know what I mean?
Do you want a home rower that stands out from the crowd? I thought so!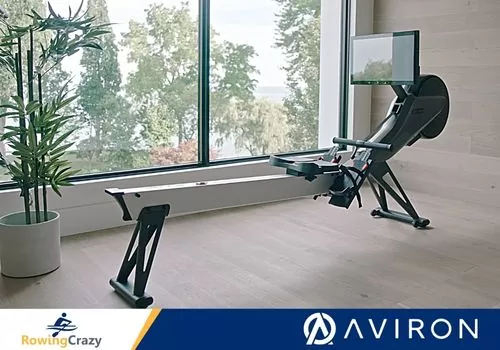 Today, I want to talk to you about a rowing machine brand that has been gaining a lot of attention – the Aviron and its two models.
These aren't your typical 1980s rowing machines, and you're going to be impressed by some of their interactive features.
There's a lot to cover, so sit down and keep reading our Aviron rower review. You do not want to miss this!
Comparison Between the Two Aviron Rowing Machine Models
If you're short on time, or you just need a few facts, check out this quick informational chart which will explain the differences between these two rowing machines—the Impact and Strong Series—both made by Aviron.
Quick Comparison Chart: Impact Vs Strong Series
Concept2 Model Name

Aviron Impact Series
Aviron Strong Series
Size of the Monitor
22-inch HD touchscreen
22-inch HD touchscreen
Workout Modes
8 different modes
8 different modes
Maximum User Weight Limit
397 Pounds
507 Pounds
Machine Weight
93 pounds
114 Pounds
Storage Dimensions
54" L x 21" W x 62" H (folded)
35" L x 27" W x 83 H (upright)
Overall Dimensions
97" L x 21" W x 43" H
84" L x 27" W x 48" H
Type of Resistance
Dual resistance
Air and Magnetic
Dual resistance
Air and Magnetic
Current Price (Subject to Change)
$2,199
$2,299
Monthly Subscription Cost (Subject to Change)
$29
$29
Many companies make their best product first, and then move to smaller, cheaper models later on, but Aviron has taken into account everything that users have asked for and put it into a new series.
Aviron has recently come out with a newer model called the Strong Series, and in this review, I will talk about both machines.
You are really going to be impressed with the Aviron rowing machine, no matter which model you choose!
The Aviron Impact Series Rowing Machine
Aviron began building high-quality rowing machines back in 2018 for big names in the fitness industry, like Gold's Gym, Nike HQ, and YMCA.
The Aviron Impact series is the original home version. This rower is tough and durable, much like the commercial model, but this design was made specifically for home use, which should give you an idea about how you can easily move this smart rower.
One look at the design will tell you that this rower isn't like any other. I like the modern, almost futuristic styling that the Aviron rower has. You can almost imagine someone from Star Trek using this in the background of a movie.
The Aviron Impact series rower uses dual resistance, which offers the advantages of both magnetic and air resistance systems.
Magnetic resistance systems are popular because they are super quiet. Meanwhile, air resistance systems are also popular but for a different reason—they offer unlimited levels of resistance. With the Aviron smart rower, you get the best of both worlds.
Air rowers, for the most part, tend to make a lot of noise, but this isn't the case with the Aviron.
Its fan-and-flywheel mechanism is operated by a whisper-quiet belt system that makes 60 decibels only. To put that in context, an average room conversation is 40 decibels, so this amazing rowing machine won't bother others in your house.
Perhaps the best thing about the Aviron rowing machine is that it offers tremendous variety when it comes to rowing workouts.
If you're like me, it's easy to get bored doing the same workout programs over and over. Aviron has the answer to boredom! How so?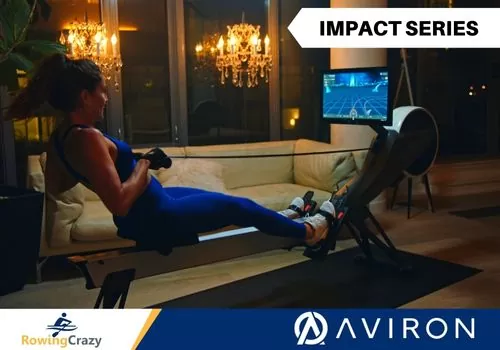 The Aviron is an interactive rowing machine. This means that you can get an intense workout doing a HIIT program, or you can take a leisurely row down the rivers of Thailand and enjoy the scenery. You can also find yourself completely hooked playing a game-inspired workout or even go head-to-head competing against friends or even Olympic athletes. The choice is yours!
Do you like playing games as a part of your workout? Are you the competitive type who would relish the chance to race an Olympic athlete? Are you a people person who wants to talk to and connect with others? You can get all of the above and more with Aviron.
Workouts are short but extremely effective! Isn't that what everyone wants? Who wants to spend an hour commuting and parking at the local gym, waiting in line for machines, or using those public showers?
Having the Aviron rower is like having a personal trainer right in your own home gym, without the waiting and time-wasting! FYI: Check Out Aviron Black Friday prices here!
Features of the Aviron Impact Rowing Machine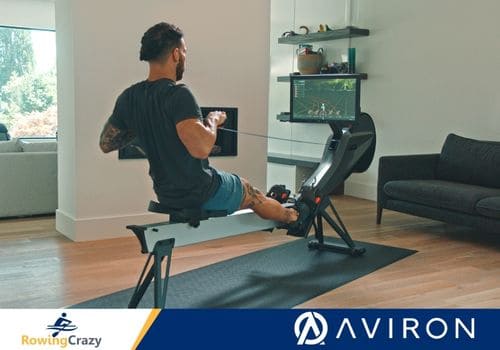 Now that you know that the Aviron offers an efficient workout, let's talk about what the Aviron Impact rower features and how it might be the perfect rowing machine for you.
The 22-inch HD touchscreen monitor's high resolution will make you feel as though you're part of the action, not a spectator.
The screen rotates up and down for easy viewing.
I love that this rowing machine has everything! Bluetooth, WiFi, 2MP camera, front-facing speakers, the works!
I want to mention that you won't find cords and electrical wiring hanging off the back of the monitor. Connections are neatly concealed, and all you will see is a single cord to plug into the wall socket. I like that neat and tidy design!
You can use YouTube on the monitor, watch your favorite series, stream Netflix, Disney+ and watch your favorite music videos, and more. I think this is the only company that allows this and I absolutely love it!
Want to compete against rowing professionals? Don't feel intimidated! The Aviron software will match you with those who are at your fitness level, so you'll feel right at home.
You can make unlimited user profiles, which means everyone in your family can enjoy the Aviron. That's not the case with many rowers, which limit you to five or fewer profiles.
There is a very friendly Aviron community for sharing tips and adventures. It will help you feel more connected, much the same way you find and meet friends at your local gym.
This amazing machine uses dual resistance technology providing up to 100 pounds of resistance. Since there are 16 levels of resistance, beginners won't find this machine overwhelming, and more advanced users will still be challenged.
This indoor rowing machine offers full Bluetooth connectivity so you can use your own Bluetooth headphones and heart rate monitors.
It is equipped with front-facing speakers and a camera so you can easily upload your "victory shots" when you win races or are in the top 3 in group workouts!
There are 8 different different ways to work out, offering options like virtual scenic rowing, gamified workout programs, interval workouts, live racing options, and many more.
Aviron also offers guided training sessions that set the resistance levels for you automatically.
The ergonomically designed seat is comfortable and glides like a dream.
Unlike most rowing machines, the Aviron folds up in half and has transport wheels for easy storage.
The monthly subscription fee is one of the lowest in the industry at only $29 a month at this time (subject to change)
Rather than a chain, Aviron rowers use a poly-V belt for incredibly quiet operation. This belt is designed for heavy-duty use and should last for years.
The warranty on this piece of fitness equipment is as awesome as the machine itself. There is a 10-year warranty on the sturdy high-strength aluminum frame and one year on materials and workmanship. That is an excellent warranty in anyone's book!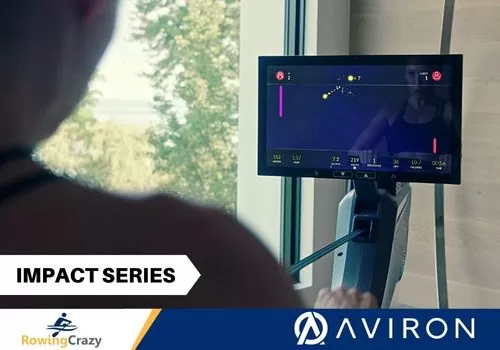 That was a lot to read, but this machine has so much going for it, it's difficult to make this list any shorter!
I want to note that the warranty is an excellent one, and it speaks to the quality of this machine. The 10-year frame warranty is twice the length of other top-end indoor rowing machines, so Aviron must have the utmost confidence in their rowers.
Aviron has gone out of its way to make this machine a better rower (read more on Aviron vs NordicTrack here) that offers more workout options so you don't get bored or so that you can find the perfect workout experience for you.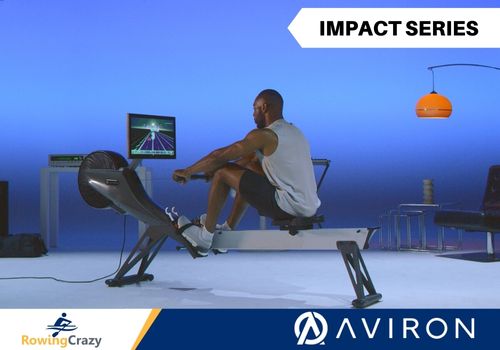 I mean, if you don't like racing, that's not a problem because there are many other ways to use the Aviron. For instance, you can check out the intense rowing workouts cleverly disguised as fully animated video games.
If your kids aren't interested in anything that doesn't have a game console attached to it, I bet you could entice them to exercise by asking them to show you how to use the video games. Once they try it, your kids may start looking forward to exercising! Side Note: If you are looking for a budget-friendly home rowing machine, be sure to check out my full article on the Xterra ERG200 Rower.
The Aviron Strong Series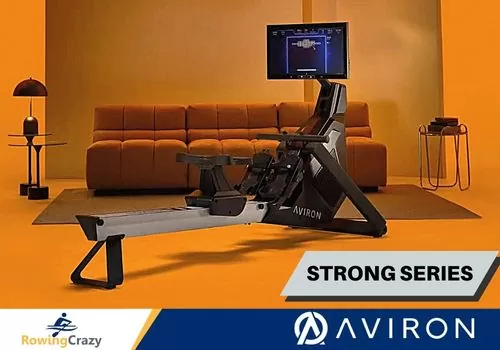 This is Aviron's newest rower, and I must say I am impressed. I'm hard to impress because I've used so many different rowing machines over the years, but this one seems to have everything you could ask for and more.
Features of the Aviron Strong Series
Let me give you a short list of all the features this rower has:
The 22-inch HD touchscreen is the same as the one on the Impact Series, except that this swivels left and right, as well as up and down.
Comes with the same complete Bluetooth capability, Wifi, 2MP camera, microphone and 2X5 watt speakers
The high-strength steel and aluminum frame can support heavier users than the Impact Series does. If you've got a heavyweight in your house, this is the rower for you!
Like the Impact rower, the Strong rower uses both air and magnetic resistance, but this rower allows you to direct air from the fan right on your face or body so you can cool down a bit. No more using those clip-on USB fans!
The commercial-grade belt is super quiet and lasts… well, who knows? Decades, probably.
The frame is a low 10-inches so you can easily step over it and sit on the seat, which is a comfortable 20 inches from the floor. No more wondering how you will stand up when your workout is over!
This stores upright on one end without the need for an additional wall support or other device to secure it in place.
The foot pedals are much more adjustable than those on the Impact rower.
The wide 19″ handlebar rotates and is ergonomically designed to prevent wrist pain.
Here's something every rower should have—an optional lumbar support! Anyone with low back pain will find this optional add-on a must-have!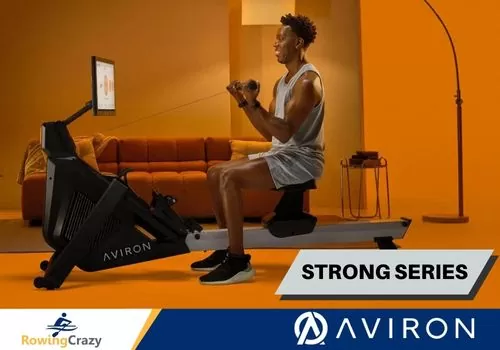 I'm sure that there are a few things that I'm leaving out, but this rower has so much to offer, it's hard to list everything here!
Who Should Buy the Aviron Rower?
If you love boutique classroom-type workouts, with the instructor at the head of the class calling you out to work harder, the Aviron may not be for you.
Instead, what Aviron offers is a unique package that allows you the freedom to choose your fitness journey!
You can compete with rowing pros, Joes like you, or Olympic athletes, and there's an entire Aviron community for you to talk to and race against.
If you need guided workouts or coached training, you can get that with Aviron. If you like intense workouts but don't have a lot of time, the Aviron rower is definitely for you.
Space matters, however, so if you are wondering whether or not you have room for this interactive rower, check out the dimensions at the top of the page.
The interactive workouts are sure to have something for everyone. Oh yes, did I mention that you can create unlimited profiles? This means that if you love to race, but your son wants to do scenic rowing, both of you can create your individual profiles to track your fitness goals and remember your preferred type of workout and other settings.
I think most fitness enthusiasts, even if they've never used a rowing machine before, will find the rowing experience with Aviron something fun and challenging at the same time.
If you want different workouts that will prevent boredom, go up against professional rowers, make new friends, and if you enjoy variety, the Aviron rowing machine is the perfect machine for you.
How Much Does the Aviron Cost?
Price matters, right?
Pricing can change at a moment's notice, but currently, the Aviron Impact Series is $2,199 and the Aviron Strong Series is $2,299. Only $100 more for all the added features of the Strong series?! What a bargain!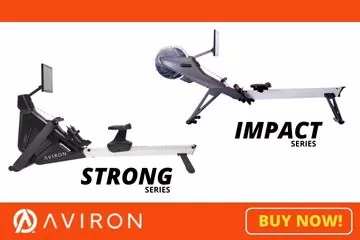 Did I mention that you can get free shipping? Also from time to time, Aviron has great promotions and pricing discounts, so be sure to check their website regularly!
Yes, you will need to pay for monthly subscription cost, but when you look at everything you get for only $29 a month, that's a bargain. Compare that to the $44 you'll pay with the Peloton Rowing machine.
I bet you pay more than that for your gym membership! Cancel your gym membership and jump on one of the Aviron rowers instead!
This is right in line with other world-class machines and it's more than fair when you consider everything that you are getting for your money.
Is Aviron Worth the Price Tag?
It certainly is! Aviron is a real value for the money. This rowing machine is an investment in your health and with the overwhelming variety of programs and workouts that are updated and added to regularly, you will never get bored nor wish to trade it in for a newer one.
Plus, both Aviron models come with a solid warranty that makes them a worthy investment. You also might like to learn more about how this rower compares with Concept 2 in my detailed article Aviron vs Concept 2.
If you want the best in life and know the value of your money, then you will agree with me that these machines are priced fairly.
Can You Return the Aviron If You Don't Like It?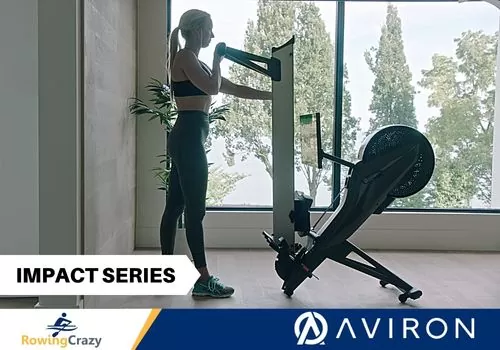 If you aren't sure whether you will love the Aviron rower, I've got a little secret for you.
You can try the Aviron smart rower in your home for 30 days for free. That's right, FREE (my favorite word).
There is free shipping both ways, and there's no restocking fee, but you will need the original boxes if you decide that Aviron isn't for you. I can't imagine anyone returning this amazing smart rower, but if you do, all you need is the original shipping boxes. That's it.
What have you got to lose? I can think of no better idea than ordering an Aviron rower for your home gym so that you can start enjoying your interactive experience sooner rather than later! Be sure to also check out my other detailed article Aviron vs Hydrow to see how both of these top rowers compare.
Can You Use the Aviron Without a Subscription?
Technically, yes, you can, but why would you? The monthly subscription price is $29 or one year is $299, which is like getting two months for free. That's close to what you pay for a single gym membership!
Without the Membership you can:
– Create a profile
– Add friends to keep track of their workouts and progress
– Keep track of your workouts
– Access the metrics monitor program which provides all the metrics you could possibly need
– You can even access Metrics Monitor if you have no Wi-Fi or internet connection
What's impressive about Aviron is that they want to make rowing and working out as accessible as possible. Aviron believes that if you are spending this much money on a premium fitness machine you should still be able to use their rowers even if you don't have the membership.
The membership is a month-to-month subscription (unless you purchase one year in advance) that you can start or cancel at any time.
The Bottom Line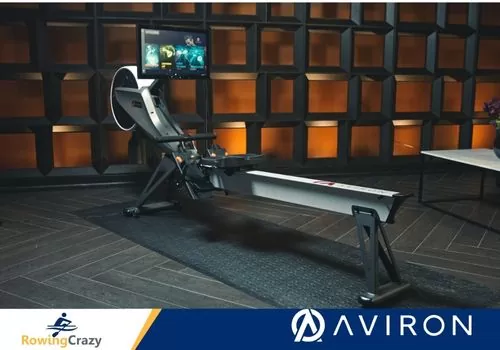 My regular readers know that I own a Hydrow rowing machine and that I love it. However, I must say that I am super impressed with both the Aviron Impact Series rower and the Aviron Strong Series rower.
Aviron rowers have a super warranty, much longer than what other indoor rowers have, but you probably will never use it since the Aviron machine is made from high-quality materials that should last for decades.
The Aviron smart rowing machines have so many different workout options, it's hard to choose which one to try first. I used them all over a period of several weeks, and I can say without a doubt that this smart rower is incredibly fun and challenging at the same time, even for a rowing-obsessed person like myself!
I think that the variety of workouts will keep you interested for many years to come. Even if video games are not your thing, there are plenty of other options that you will return to for your workouts again and again.
Don't get me wrong, I still love my Hydrow (and the Hydrow Wave? Have you heard about that? Check it out my other article comparing side by side the Hydrow Wave and the Hydrow Original Rower), but I hope to own an Aviron one day as well because let's face it, it's fun!
I hope you found this Aviron rower review helpful in making a buying decision!
Stay active and healthy, friends, and happy rowing!
Frequently Asked Questions
1. Are Aviron Rowing Machines Good for Beginners?
Yes, they are! Aviron has a wide range of workout programs for everyone, from beginners to advanced. You will definitely find that Aviron's 8 Ways to Work Out are more fun and easier than in most rowers.
2. Is the Aviron Rower Compatible with an Apple Watch?
No . Aviron rowing machines are not compatible with Apple Watch or Samsung. However, the Polar H10 Heart Rate Monitor would be an ideal option that will then pair directly with your Apple watch.
3. Does the Aviron Rower Have Bluetooth?
Yes, it does. Unlike some indoor rowing machines that offer limited Bluetooth capabilities, the Aviron has full Bluetooth capacity, so you can connect your Bluetooth headphones, fitness watches, or third-party heart rate monitors.
4. Do I Need Electricity or Batteries for the Aviron?
You won't need batteries to use Aviron, but a regular electrical outlet is necessary to operate the machine.
5. Do I Need an Internet Connection? How Fast a Connection Will I Need?
You can still use your Aviron rower without Wi-fi or an internet connection. You will have full access to the Metrics Monitor. However, if you want to access all the other fantastic features Aviron offers you will need WiFi or an ethernet cable to connect an Aviron rower to the internet. The speed isn't quite as important since the program you select will download to the hard drive, and it will play from there. If you do live racing, however, you might want a slightly faster internet connection in order to prevent buffering or delays in the picture.
6. Can you watch Netflix on Aviron rowers?
Yes, you certainly can! Aviron is the first company to include Netflix and Disney+ streaming services to their interactive machines. Imagine working out and watching your favorite series! Trust me, you will not feel like you are working out as time flies by. Here is a pro tip to keep you motivated: Only watch your favorite series when working out, I guarantee you will work out far more regularly than before as you will be eager to watch your favorite series.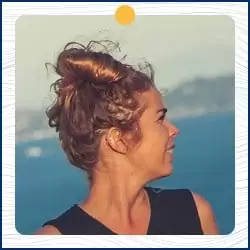 Written by Petra Amara – RowingCrazy.com
CEO & Founder of RowingCrazy, National Rower, Coxswain Womens Eight Team, Rowing Coach & Writer
Petra is a Mother of two and owner of Rowingcrazy.com. Petra lives and breathes rowing, she also has a passion for writing which lead her to start RowingCrazy.com to share her rowing experience and expertise with others.