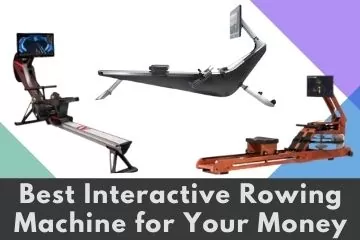 You won't find many pieces of gym equipment that can provide the same heart-pumping, calorie-blasting, full-body workout that an indoor rowing machine provides.
No wonder, more and more people are buying rowing machines for their home gyms.
Did you know that a rowing machine workout burns as much as 900 calories an hour? Or that a rowing machine works 86 percent of the muscles in your body during a single workout? Yes, it does those and more!
Perhaps you've been considering an indoor rowing machine for your home gym, but the choices are overwhelming. If you've been shopping for a rowing machine, it's easy to get confused, but now there are several interactive or smart rowers to add to the mix.
In a Hurry? Here are My Top Picks:
If you're pressed for time and simply want to find the top-rated interactive rowers, here are my recommended choices:
*We review fitness products impartially and may earn a commission from affiliate links. For details see our disclosure page.
To help you make an informed decision on which rowing machine to purchase, we have conducted a thorough evaluation of each machine below in this article.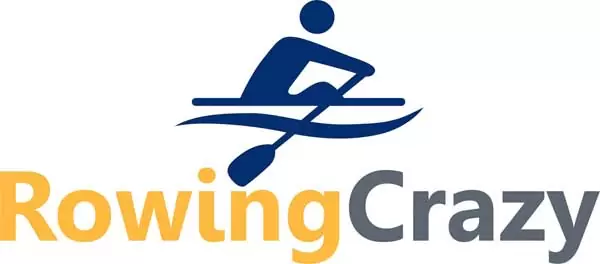 I know what you're asking yourself: Are these smart rowers really worth the extra money?
Don't worry, it's normal to have a lot of questions when you're new to the sport. The good news here is that this article is dedicated to you, someone who is new to the game and who wants to know everything about rowing machines but dislikes spending hours doing research.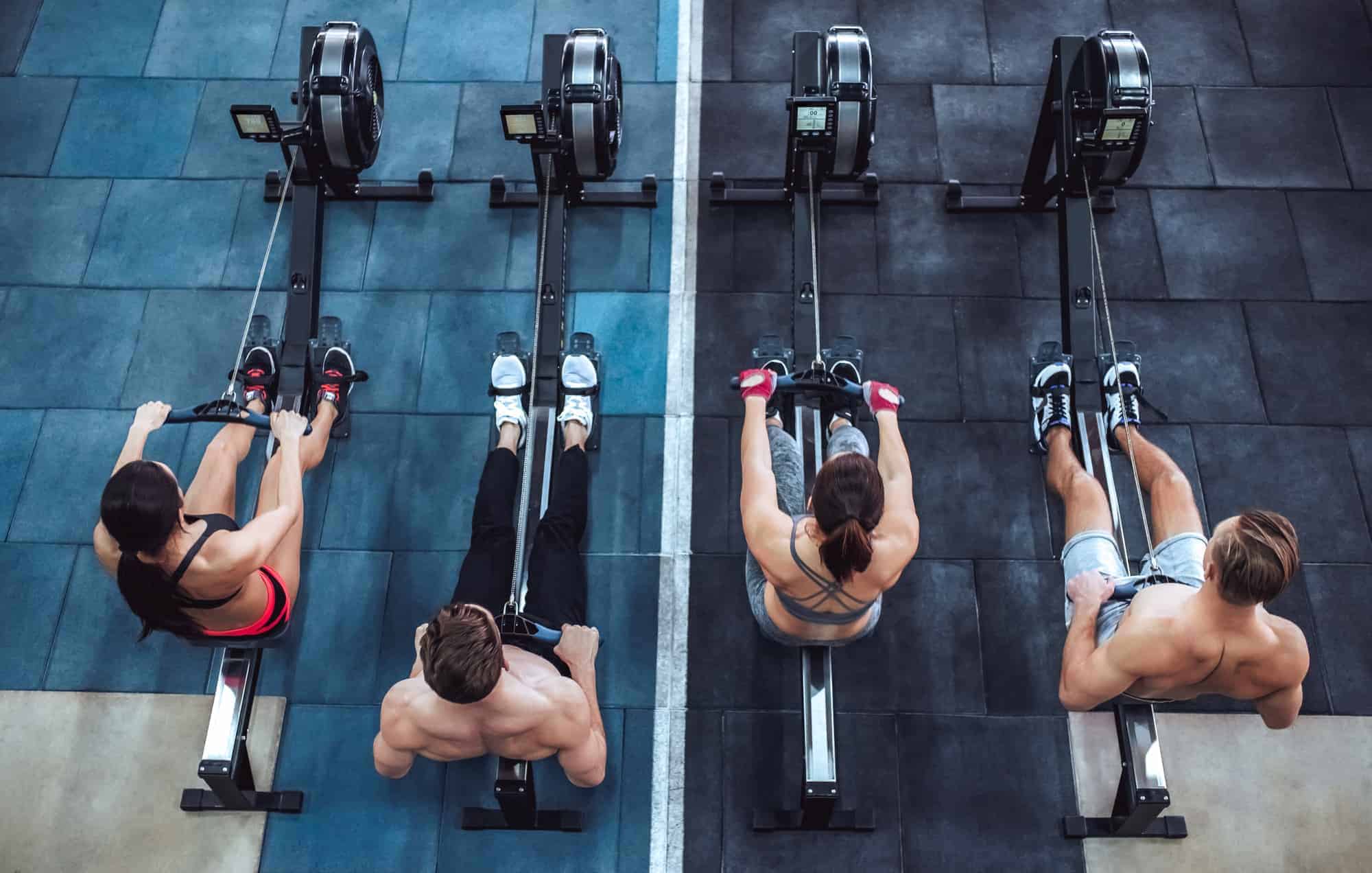 I'm going to explain the different types of resistance systems, what interactive rowers are, and which are the best rowing machines for the money.
Are you ready? This is going to be a fun little ride, so buckle up!
Available Resistance Types of Rowing Machines
There are basically 4 types of resistance that rowing machines use to keep you challenged. I won't discuss hydraulic resistance rowers here because they don't offer a true rowing experience and only mimic rowing.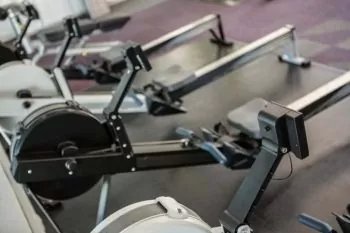 The other three types of resistance are:
Magnetic– Sometimes called electromagnetic resistance systems, these use magnets on a metal flywheel to provide you with different levels of resistance. This type of machine is very popular since they are virtually silent and come in a wide range of pricing.
Air- You might be familiar with assault bikes or air bikes that use fans to generate resistance. There are also air resistance types of rowing machines, which are lightweight but can be noisy.
Water– Water rowers are also very popular because they give you a more realistic rowing experience. The gentle swooshing sound of water in the tank is quite relaxing. These types of indoor rowers tend to be slightly heavier than the others, especially once the tank is filled.
All of the above machines provide smooth resistance that will help you burn calories and offer you a terrific cardio workout.
See Our Rowing Machine Black Friday & Cyber Monday Sale!
Are Magnetic Resistance Types the Best Interactive Rowing Machines?
Which resistance type makes the best indoor rowers? This really is a matter of preference. Some people swear by their air rowers, while others say that magnetic or water rowers are the best choices.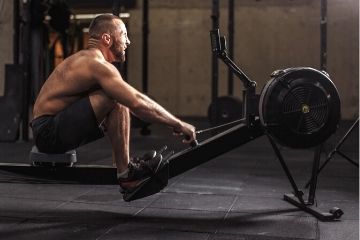 Personally, I prefer either magnetic rowers or water rowers, but above all else, I want a rower that is interactive.
Let's face it, you can get bored listening to the same old music or podcasts or even watching Netflix while exercising. With a smart rower, you can't possibly get bored!
Of course, if you are interested in hydraulic rowers, you can check them out here.
I want to tell you about the top 3 best at-home rowing machines offering interactive workouts that you will come to love.
What Is the Difference Between Interactive and Non-Interactive Rowing Machines?
The difference between these two types of rowing workouts lies in the LCD monitor.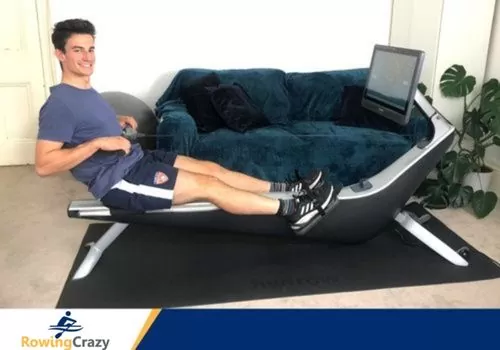 Hydrow SAVE $100 or £100!! => Use Coupon Code: ROWINGCRAZY
A non-interactive rowing machine LCD display, whether it's a magnetic rower, water rower, or air rower, can communicate to you. It can show you workout videos and your metrics, like calories burned, stroke count, and distance rowed, but you cannot respond, change the graphics or info, or do anything on your end. A budget rowing machine, like Stamina ATS air rower or Sunny Health Fitness SF-RW5801, will definitely have a non-interactive LCD display.
In comparison, an interactive rowing machine display will not only allow you to see images and data but also let you input information, change the data, or make other changes via the input screen, touchscreen, or keyboard. The interactive gaming experience that some models offer are one-of-a-kind and perfect examples of this type.
A non-interactive device, for example, would be the display found on the popular rowing machine Concept2 Model D indoor rower. You can see your data on the LCD monitor, but you cannot add or change anything about the monitor.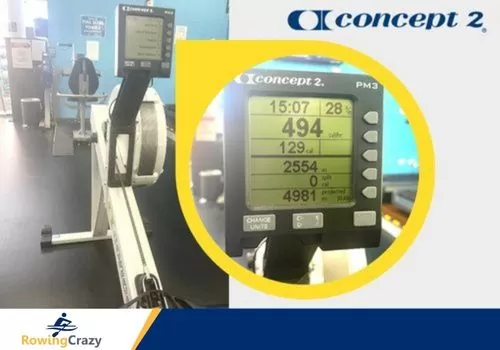 Interactive rowers, sometimes called smart rowers or connected rowers, generally require internet and allow you to choose different programs, workouts, change the resistance, pick games or races, choose who you want to be your workout buddy, and many more.
Today's new connected rowers offer more features and fun than older models, while giving you a fitness reality you never thought possible.
Learn more with our full video of the Concept2 Rower by our Experienced Erg Rower Max Secunda:
What is Virtual Rowing?
In the same way that you have a virtual office meeting, virtual rowing takes place online. You can see others on your monitor, and everyone uses a connected rower.
No one is actually in a boat or on the water, but everyone is connected via the internet and you can see each other. During live workouts in some models, you may even interact with each other, send shout-outs, and get encouragement from your instructor or personal trainer.
Virtual rowing was used for the British Virtual Indoor Rowing Championship in June 2020. If it's good enough for this team, there's no reason why it won't work for you too.
The Best Interactive Rowing Machines for Your Hard-Earned Dollar
If you've been browsing Amazon or other sites for the best rowing machines, you may have noticed that interactive rowers cost more than other models.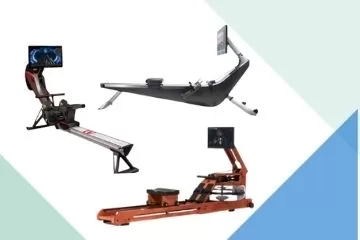 Sometimes you get what you pay for. You can buy a stripped-down version of a car, but don't you want all the bells and whistles? The same is often true when it comes to many things, your cell phone, your television, and, in this case, your rowing machine.
I've owned dozens of rowing machines in my time, and one thing is certain, they keep getting better and better over time.
The following is a list of the top three best rowing machines that have interactive screens and are absolutely worth the investment.
1. The Hydrow Rower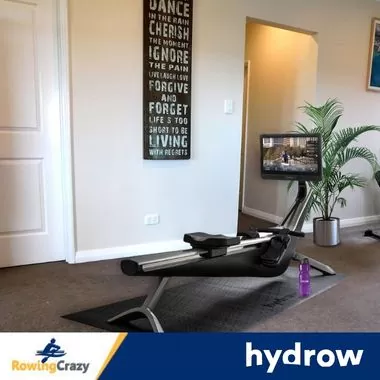 Hydrow SAVE $100 or £100!! => Use Coupon Code: ROWINGCRAZY
If you want a magnetic rower, then the Hydrow should be your first choice (and on a side note the Hydrow sale is on now.)
This is an ultra-quiet rowing machine that you can use whenever you like, even if your baby is sleeping in the next room! The electromagnetic drag system is automatic and extremely smooth, you may wonder if it is actually turned on!
Watch Rowing Instructor Max Secunda with the Hydrow Rower:
The Hydrow rower also has sleek styling that looks great in any room of the house. Oh, and did I mention that the big, beautiful touchscreen monitor is sweat- and dust-resistant?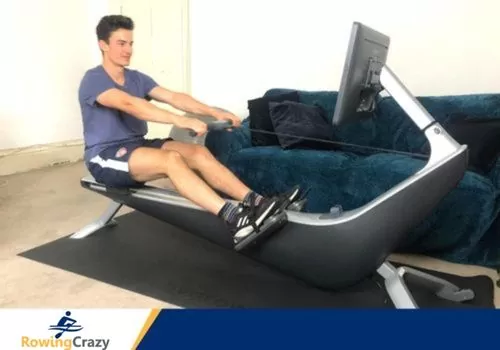 The Hydrow connected rower has so many features you may get dizzy reading them all, but here are the high points:
2,000 plus workouts are currently available, with new ones being added each week
Workouts are live and on-demand, with top rowing instructors from the Olympics and national rowing teams
No classroom setting here, all workouts take place on the water
This rower also has off-the-machine workouts, such as yoga and strength training
The 22-inch HD touchscreen swivels so you can view it easily while doing any workout
Offers a very comfortable molded, padded seat that rides on 10-rollers for super-smooth operation
The electromagnetic drag mechanism is as close to a real-life rowing experience as you can get without getting wet
The maximum weight capacity is 375 lbs, meaning it's safe for most people and probably all members of your family
The handlebar is padded for comfort
The adjustable foot straps keep your feet firmly in place
There is an introductory class to teach you the rowing strokes and how to navigate the library, so beginners need not worry
The digital display monitor tracks all your workout data. You can see how far you have progressed by clicking on the progress tab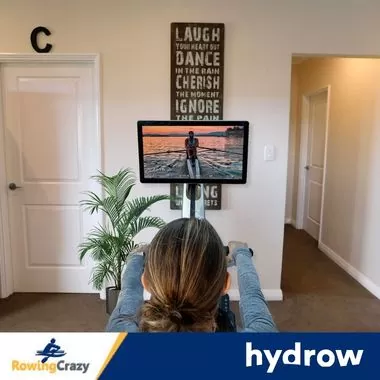 There is much, much more to the Hydrow connected rower, but these are some of its outstanding features.
Concept2 or the Hydrow home rower? – Click Here!
You can store this rowing machine vertically if you wish, using the Hydrow Upright Storage Kit. When stored vertically, the Hydrow doesn't take up any more space than a Parsons chair.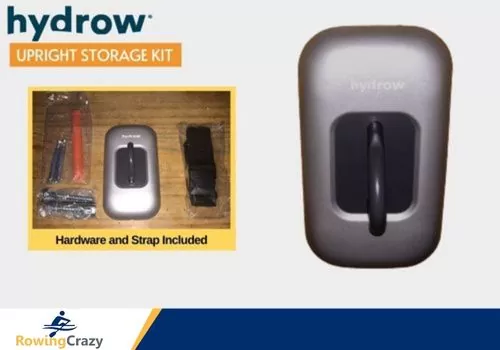 I love how this magnetic rowing machine engages you during the workouts (if you are new to rowing check out my Beginners rowing machine 30 day challenge article). You hardly notice how long you've been rowing, and by the way, some workouts are only 1 minute long, so if you really don't have time to do much more than that, you can still get in a short workout.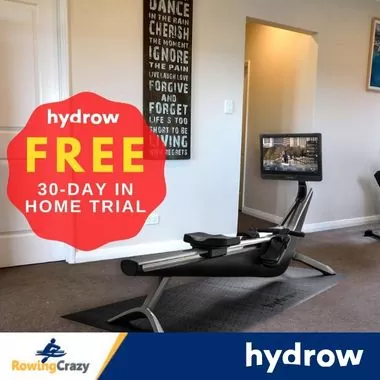 The Hydrow rower is my favorite smart rower, but it isn't the only one.
Click Here to Read Our Full Article on this Machine – It Doesn't Disappoint!!
Are There Rowing Machines with Interactive Screens?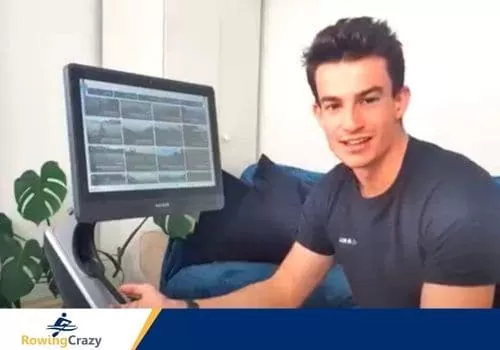 Yes, there are! As you might imagine, a rowing machine with an interactive screen will be a premium machine sold at a premium price, but consider this an investment for your health and well-being.
When you consider that your health is priceless, your initial expenditure for an interactive rowing machine will seem like a pittance.
The Hydrow is one rowing machine with an interactive touchscreen display. Now let me tell you about another one that is quite different: The Ergatta.
2. The Ergatta Rowing Machine With Games!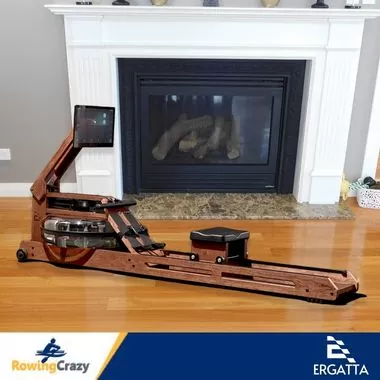 When it comes to beauty, I'm not sure if anything can match Ergatta. Made from cherry wood, this machine shines like a piece of your living room furniture.
Unlike the Hydrow rower, which uses magnetic resistance, Ergatta is a water rower. So aside from the usual frame, it has a grey, transparent water tank with a flywheel fan inside for resistance. You can add or remove water to make changes to the resistance system.
Many people love the swooshing sound of the water, and since you're sitting on a wood frame, it almost feels as though you're in a boat! Pretty cool, right?
If you've rowed using a WaterRower, then it's the same rowing machine setup, but the similarities stop there. While the WaterRower has a non-interactive monitor, the Ergatta rower has an interactive touchscreen display.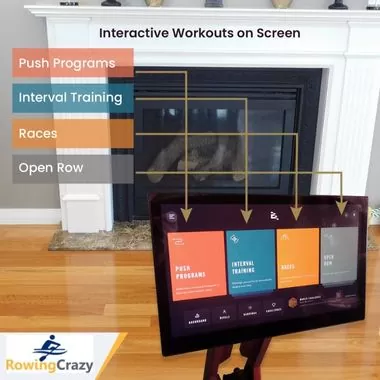 With the Hydrow, you have instructors ensuring that you get a solid workout each time. In comparison, Ergatta takes a different approach and uses a game-like software so that you burn calories while hitting targets and competing in races against other players.
The Ergatta races are not live at this time, but Ergatta officials say they are planning on offering live racing in the future. So it's quite clear that this interactive rowing machine targets those rowers who don't like instructors barking directions at them.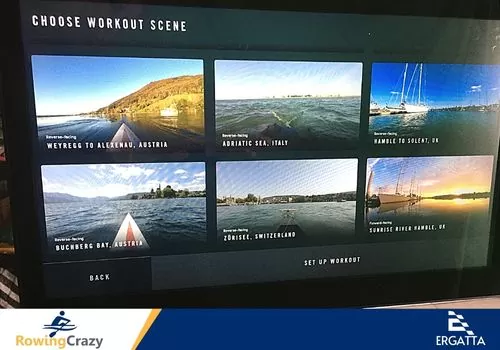 If you're this kind of rower, then check out more of the features that the Ergatta rower offers, including:
The maximum user weight capacity is 500 lbs, which is high by industry standards
The 17.3 HD touchscreen monitor is clear and very easy to use
The first time you use the machine, it has you do a 1,000-meter race to determine your current fitness level. As you progress, the machine automatically recalibrates your fitness level, giving you more challenging workouts. You do have the option to manually calibrate
There are races against other user's time, or you can also race against yourself to beat your old time
You can play goals-based games, such as the Meteor, which is so addicting you barely notice you're working hard!
This is Bluetooth-enabled so you can use headphones and/or heart rate monitors
Ergatta offers easy storage with transport wheels so you can move and put the machine against the wall
Push workouts have you complete milestones. If you rack up enough points in a month, Ergatta will donate to charity on your behalf.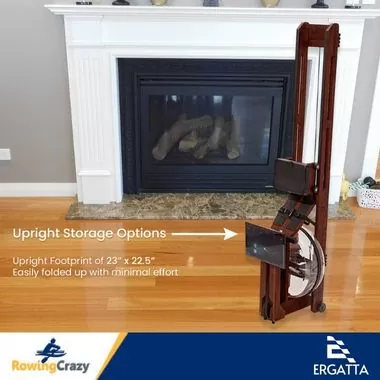 If you prefer the idea of racing and games over instructor-led workouts, if a game-interface appeals more to you than looking at a lake, and if water-based resistance works best for you than other types, then Ergatta is the interactive rowing machine you have been looking for.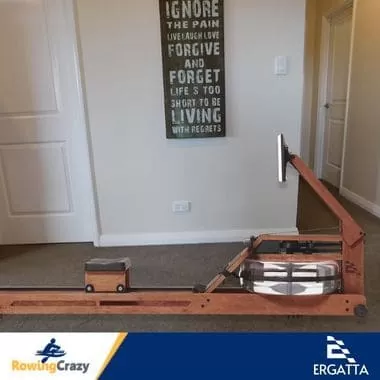 Is There an App for Rowing?
There are at least 2 dozen rowing apps that I know of.
Some of them work in tandem with your rowing machine. If you have a Concept2 Model D, for example, that uses a PM5, PM4, or PM3 monitor, you can use ErgStick or Float apps.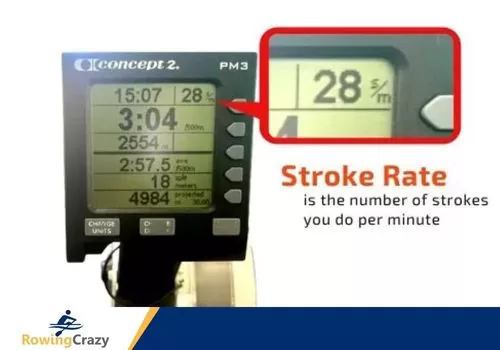 Hydrow also offers an app for your tablet or smartphone that you can use with any rowing machine.
There is also Asensei, BoatCoach, and Ergometer Space that are designed to work with most rowing machines.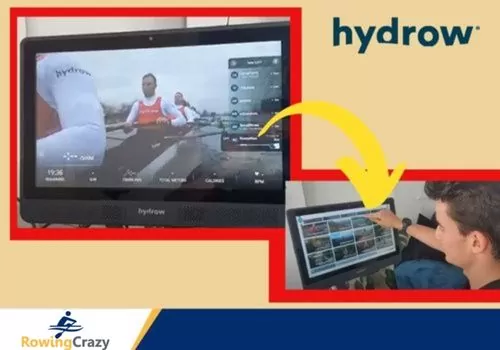 Apps are great when you're away from your own rowing machine, but nothing beats an interactive machine in your own home. You might also like to read our other article Ergatta vs CityRow Go for more comparisons against water rowers.
Speaking of interactive home rowing machines, I have one more to tell you about, the Aviron rower.
3. The Aviron Home Rower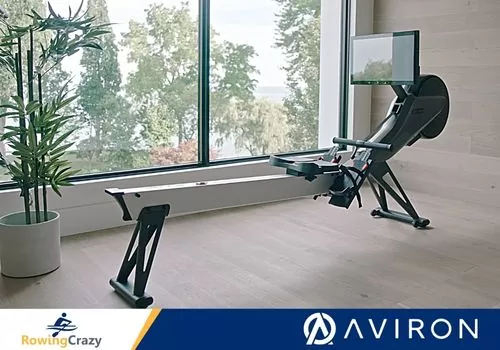 To mix things up, Aviron came up with an interactive rowing machine that was different from all the others.
Yes, this machine has everything you would want and expect in a premium rowing machine: comfortable padded seat, metrics like estimated calorie burn, and a sweet, futuristic-looking design, you name it. But Aviron has a trick up its sleeve – dual resistance methods.
Yep, Aviron took things up a notch and went not only with air resistance but also with magnetic resistance. There are 16 adjustable resistance settings, so you will always feel challenged.
It features hundreds of guided but self-serve workouts, highlighting time-saving and calorie-burning HIIT workouts. Not only that, but this interactive machine also offers games (involving intense rowing to escape zombies and outrun wolves), especially for those times when you need extra motivation. You can also compete with pro rowers and Olympians for the ultimate challenge. Aviron also offers scenic virtual rows through some of the world's most spectacular waterways, so you get the best of both worlds.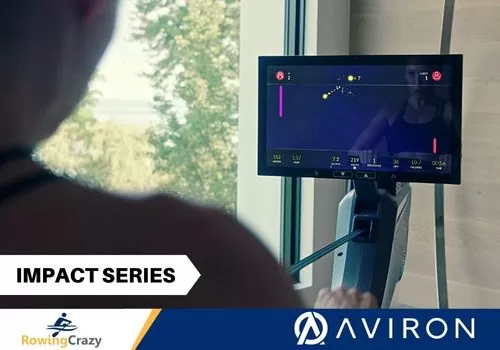 Aviron offers an intense workout due to the dual resistance feature, something other rowers can't offer.
Other features of the Aviron rower that you don't want to miss:
This has an ergonomic, molded seat to ensure your comfort
The maximum weight capacity is 397 lbs (the commercial model has a user weight limit of 507 lbs)
The monitor is Wifi and Bluetooth-enabled
There are video tutorials for those who have never used a rowing machine
There are 7 ways to work out – you can compete against others, whether you want to race against those in your fitness class or Olympic professionals, play gamified workouts, and many more – the choice is yours
Earn achievement awards to help keep yourself motivated
Add and follow friends
Set personalized goals
A folding mechanism allows for easy storage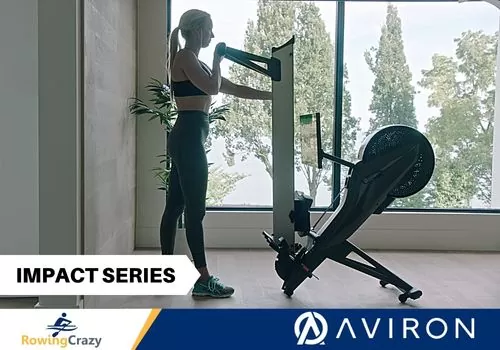 Aviron also allows you to manually control the resistance levels if you wish. While wind resistance tends to be noisy, this rowing machine only makes 60 decibels of noise, which is no more than an indoor conversation or riding in a car going 60 MPH.
Aviron is made from high-strength aluminum, so it does not weigh as much as most rowing machines with steel-composite frames.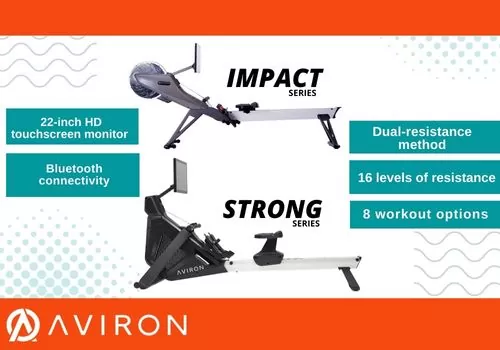 I must also mention the team at Aviron are fantastic, if you want proof, jump onto their website and book a live online demo with them – I don't know any other company that does that! That's proof of how much they believe in their machines.
Which Are the Best Rowing Machines?
This is a hard call because all of the above machines are terrific in their own way. I've used the Ergatta and had fun, I own a Hydrow and use it almost every day. I haven't used the Aviron yet, but I will be trying it out shortly.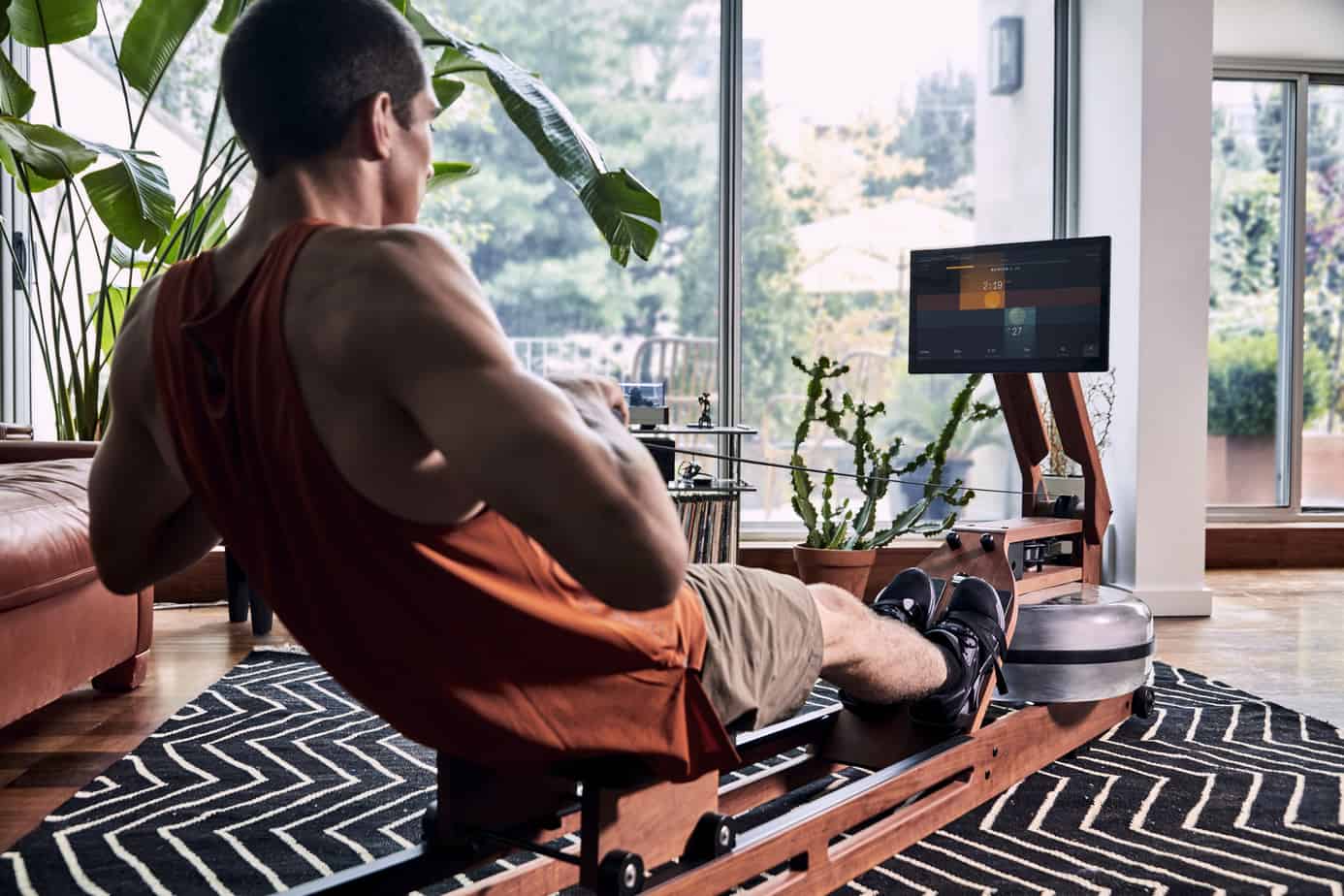 If you're fired up by game-based workouts, like Meteor and Pulse, aside from the Push, Race, and OpenRow programs, then the Ergatta was made for you.
If you like on demand classes, with on and off-the-rower workouts, as well as a super sleek looking machine, you should try out the Hydrow.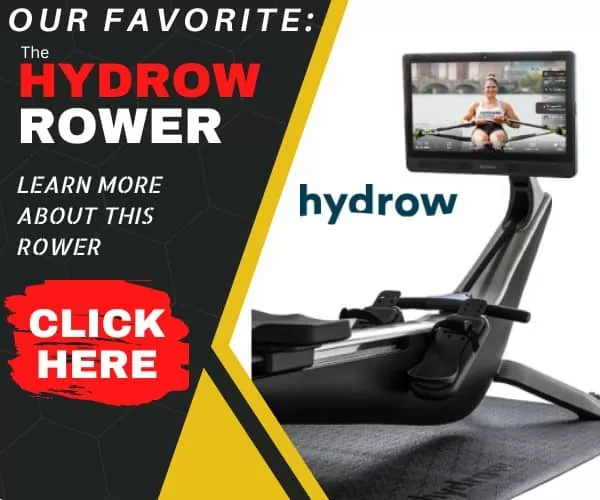 Hydrow SAVE $100 or £100!! => Use Coupon Code: ROWINGCRAZY
For those who want everything, including short, high-intensity workouts, 7 different ways to work out including animated games, all you get from a lightweight machine, you should check out the Aviron.
All of the above machines have free trial offers, so you have nothing to lose by trying out the machine you think would work best for you.
Compare All Rowers Below and See for Yourself
This chart has some of the dimensions and specifications that may help you with your decision to pick the rowing machine that would suit you best.
Rower Features
Hydrow
Ergatta
Aviron
Resistance System

Computer controlled

electromagnetic resistance

Water Flywheel

Dual resistance using both air and magnetic resistance systems

Assembled Dimensions

86″ x 25″ x 47″

86" X 23" X 40"

97" X 22" X 43"

User Weight Capacity

375 lbs

500 lbs

397 lbs

Monitor Size

22-inch HD Touchscreen

17.3 HD Touchscreen

22-inch HD Touchscreen

Smart Features

Live and on-demand interactive on-the-water classes; instructor-led

Library of interactive workouts, games, racing, and fitness metrics; self-serve

7 ways to work out, gamified approach, variety of competitive and high-intensity workouts; self-serve

Bluetooth Enabled

Yes

Yes

Yes
The Bottom Line
Personally, I think that no matter which machine you decide to buy, whether water resistance, dual resistance, or a magnetic rowing machine, you'll be happy with it.
Each of these machines provides a true rowing motion and offers a free trial period, so if you've decided that you would rather have a different type of rowing machine, you can return it with no questions asked.
Who doesn't love rowing? And when you can row using an interactive screen, you'll love it all the more!
Click Here to See More Rowers with Racing Screens!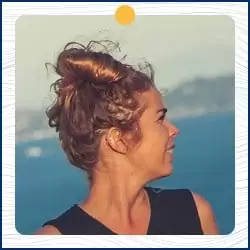 Written by Petra Amara – RowingCrazy.com
CEO & Founder of RowingCrazy, National Rower, Coxswain Womens Eight Team, Rowing Coach & Writer
Petra is a Mother of two and owner of Rowingcrazy.com. Petra lives and breathes rowing, she also has a passion for writing which lead her to start RowingCrazy.com to share her rowing experience and expertise with others.