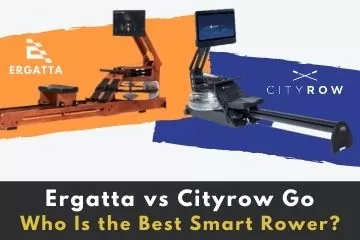 I've got a real passion for rowing, I think everyone knows that by now, so it's not surprising to see my collection of rowing machines. However, I think most people want to invest in a single rowing machine that will last them for many, many years to come.
That being said, with so many choices on the market, how do you choose the best rowing machine? Unless you are lucky enough to find the models you're interested in at a gym or a friend's house, I think most people would seek review sites (like mine) or rely on word of mouth.
If you have scouted the market and are now trying to choose between CityRow Go or the Ergatta, this review will help you find the information you're looking for to finally choose the best smart rower to buy.
What Do These Two Smart Rowers Have to Offer?
A Quick Comparison Guide of the 2 Rowers:
Rower Features
Ergatta Rower
Cityrow Rower
Frame Warranty
5 Years
5 Years
Wood Frame
✔
X
Water Resistance
✔
✔
Screen Size
17.3 inches
19.5 inches
Maximum User Weight
500 lbs
375 lbs
Rower Dimensions
Activated: 86" x 23" x 40"
Stored: 86" x 23" x 22.5"
Upright: 23" x 22.5" x 86"
In Use: 85" x 22.25" x 45.25"
Stored: 24" x 22.25" x 85"
Both of these machines are water rowers and will offer you similar rowing experiences.First, both of these smart rowing machines are produced by the same company, WaterRower Club, which has been manufacturing high-quality rowing machines for nearly 4 decades.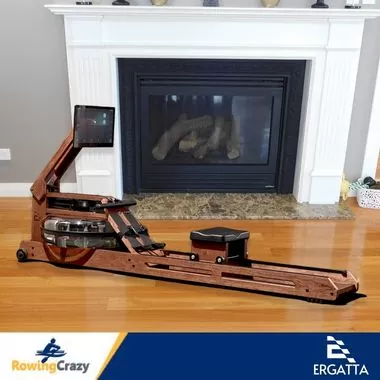 The CityRow Go Max rower offers a five-year warranty on the frame, a three-year warranty on non-electronic components, and a one-year warranty on the tablet.
The Ergatta rower offers the exact same warranty, which makes sense considering that the actual machines are produced with the same craftsmanship and inspiration.
They differ primarily in the materials of the frame and the type of programming offered.
Let's take a look at the CityRow Go first.
What Is CityRow Go?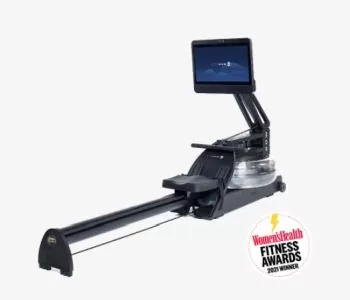 The CityRow Go connected rower is one of the new smart rowers, which means that it is connected via the internet to workout programs.
There are several models to choose from, but to better compare apples to apples, I'm going to look at the CityRow Go Max.
powered by Advanced iFrame. Get the Pro version on CodeCanyon.
The CityRow Go Max is a good-looking machine that uses black aluminum and ash wood for the frame, combined with a grey transparent water tank.
Water-based resistance gives you as close to a real rowing experience as you can get outside the water.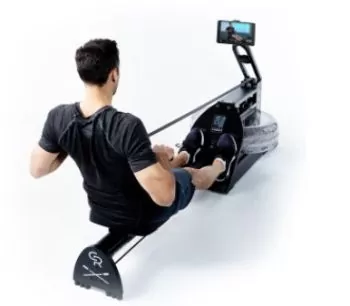 Other features of the CityRow Go Max include:
A mounted 19.5″ HD touchscreen monitor that gives you a crisp and clear resolution. You can adjust the viewing angle to suit you best, and it is also sweat-resistant, so serious rowers don't have to worry about this issue.
This rowing machine also has two 10-watt high-quality high-fidelity speakers.
The stand-and-store option allows you to move the rowing machine if you wish.
Delivery and installation are included in the price.
Its high-energy instructor-led workouts done in a classroom or studio type of setting will make you feel as though you're inside a gym.
Workout options include strength training, HIIT, yoga, cardio, and core. These are on-demand workouts, but there are currently no live workouts.
The current subscription price is $29 a month, but this also includes the mobile app, which allows you to access the workouts from anywhere your smartphone or tablet takes you.
This piece of home gym equipment is Bluetooth-enabled, so you can use your headphones or other Bluetooth devices.
The overall interface is clear and easy to use.
There are currently more than 500 workouts in the library with 10 to 12 new workouts being added each week, so you should never get bored.
This is a smart rower and it can connect to the internet via wireless or an ethernet cable if you prefer to use that.
It supports users weighing up to 375 lbs and with up to 39 inches inseam.
The rower dimensions when used are 85" x 22.25" x 45.25" (L x W x H) but stores away at a footprint of only 24" x 22.25" x 85" (Depth x W x H).
It weighs 112 lb with water and 75 lbs without.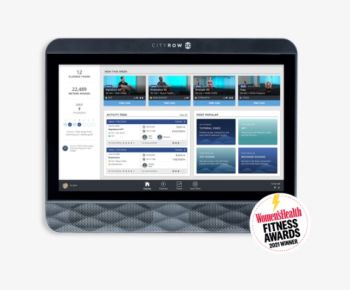 I like that the CityRow Go Max offers classes off the rower, including yoga classes, floor workouts, and strength training. If you want to use these, you will need to purchase a yoga mat and a couple of dumbbells, unless you have them already.
With a variety of workout options available, you'll appreciate that the view angle is adjustable, especially when you're doing the off-the-rower types of workout.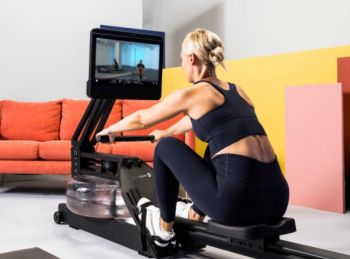 While rowing is a full-body workout, stretching classes are a fantastic way to prevent injuries and keep you more flexible. This is exactly what the doctor ordered, so to speak, when it comes to burning fat and getting a complete workout.
If you love trainer-led classes, if you want a smart rower that is perfect for the fitness enthusiast in you, if you want a top-rated, world class machine that tracks your personal records and matches your workout style to the perfect on-demand classes, then you will love CityRow Go Max.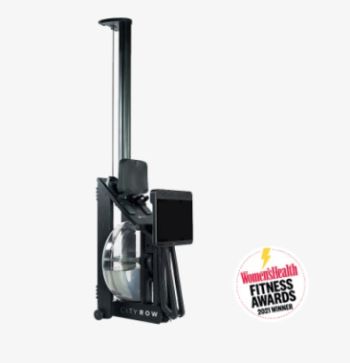 When you first set up the programs with your information, I also liked that the CityRow Go Max shows you how to row using the proper form. This is excellent advice and instruction for beginners.
I want to mention that you can buy the CityRow Go Classic model if you prefer. It doesn't have a touchscreen monitor, but you can set up your own tablet or smartphone and access classes that way.
The CityRow Go Max is a low-impact but high-intensity machine that will challenge the more advanced rowers but also offer endurance training for beginners.
Is CityRow Go Worth It?
Oh yes, it absolutely is!
This well-made machine has a wide variety of classes, including off-the-rower classes, combined with real-time performance data that should keep anyone motivated. If you love fitness experts taking you through a workout class, you will love this smooth feeling, real water resistance machine.
Ergatta Rowing Machine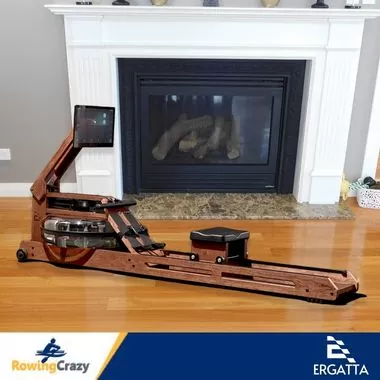 After reading about the CityRow Go Max, you may wonder just how Ergatta is going to compete.
Let me tell you, this machine is not something to be overlooked!
powered by Advanced iFrame. Get the Pro version on CodeCanyon.
Like the CityRow Go Max, the Ergatta is made in the USA by WaterRower, so when it comes to quality and durability, this rowing machine is an equal of the CityRow Go Max.
However, one look at an Ergatta, and you will see that it is made from cherry wood, which has been handcrafted and oiled in the WaterRower tradition, honed and perfected by artisans for decades. It is so beautiful you will most likely want to show it off and put it right in your living room!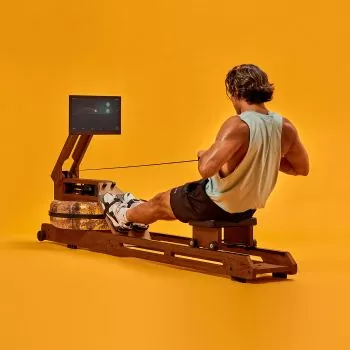 The water tank is the same pretty transparent grey color, and this machine can also be stored upright to take up less floor space if you wish. Most other rowers prefer water resistance rowing machines.
The difference between these two rowers becomes more emphasized when we start talking about their workouts and programming.
CityRow Go Max uses trainer-led workouts in a classroom setting, while Ergatta offers gaming-inspired content for a more motivating and fun workout experience.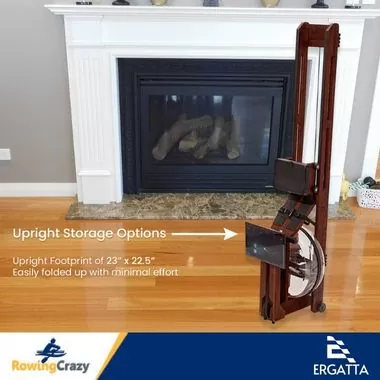 Let's take a closer look at some of the other features that the Ergatta rower offers.
The 17.3-inch HD touchscreen is incredibly vibrant and has ports so you can connect other devices if you wish.
The seat and footboard are adjustable.
The seat rides on a dual rail for extra durability.
This rower supports users up to 500 lbs and 40″ inseam!
An initial 1000-meter unstructured row informs the machine of your current fitness level. After this, the Ergatta will offer you sessions that help you improve your current level. Your fitness level is recalibrated automatically as you make progress. You may also manually recalibrate your intensity zones if you so wish at any point.
You can choose from different types of rowing workouts, including Interval, Race, Meteor, Open Row, and Push Programs.
While there are no live workouts or live racing with Ergatta, you won't notice that. In fact, I often forgot that I was merely racing against other competing rowers who had already done the same races.
There are tutorials, beginners programs, and help videos that are very easy to understand.
Ergatta hosts monthly challenges and donates $5 to charity for every user who competes.
There are currently no off-the-rower workouts, but Ergatta says that they may add them in the future.
Like the CityRow Go and other smart rowing machines, Ergatta requires internet. Subscription costs $29 per month, and you can take advantage of a discount for paying 1-year in advance.
There is an Ergatta rowing community on Facebook, and Ergatta plans to allow live racing events. Hopefully, they will also allow users to invite specific members to join their racing teams.
There are on-demand games and races, but no live workouts as of this time.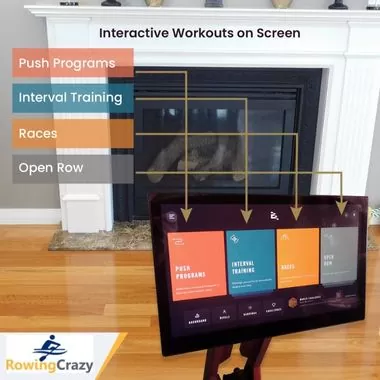 Personally, I have found that the racing workouts are very addicting. As soon as you finish one race, you'll want to do it again so you can beat the other rowers or even your own time.
This fitness equipment has many excellent features and, depending on which machine you compare it to, you'll either love it or you won't.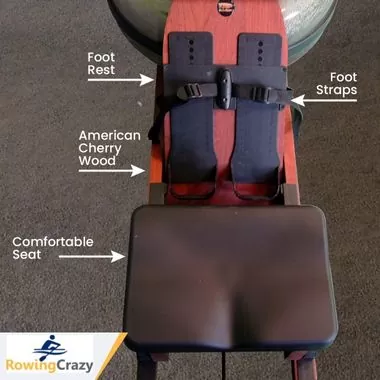 If you aren't a fan of instructor-led workout classes, if you prefer to row to your own pace and play games, or if you're the competitive type who wants to beat the pants off of other rowers, then you will love this gaming-inspired rowing machine. If you are new to rowing be sure to check out our article on whats a good rowing pace!
You should note that Ergatta, like CityRow Go, offers no live classes but this may change in the future.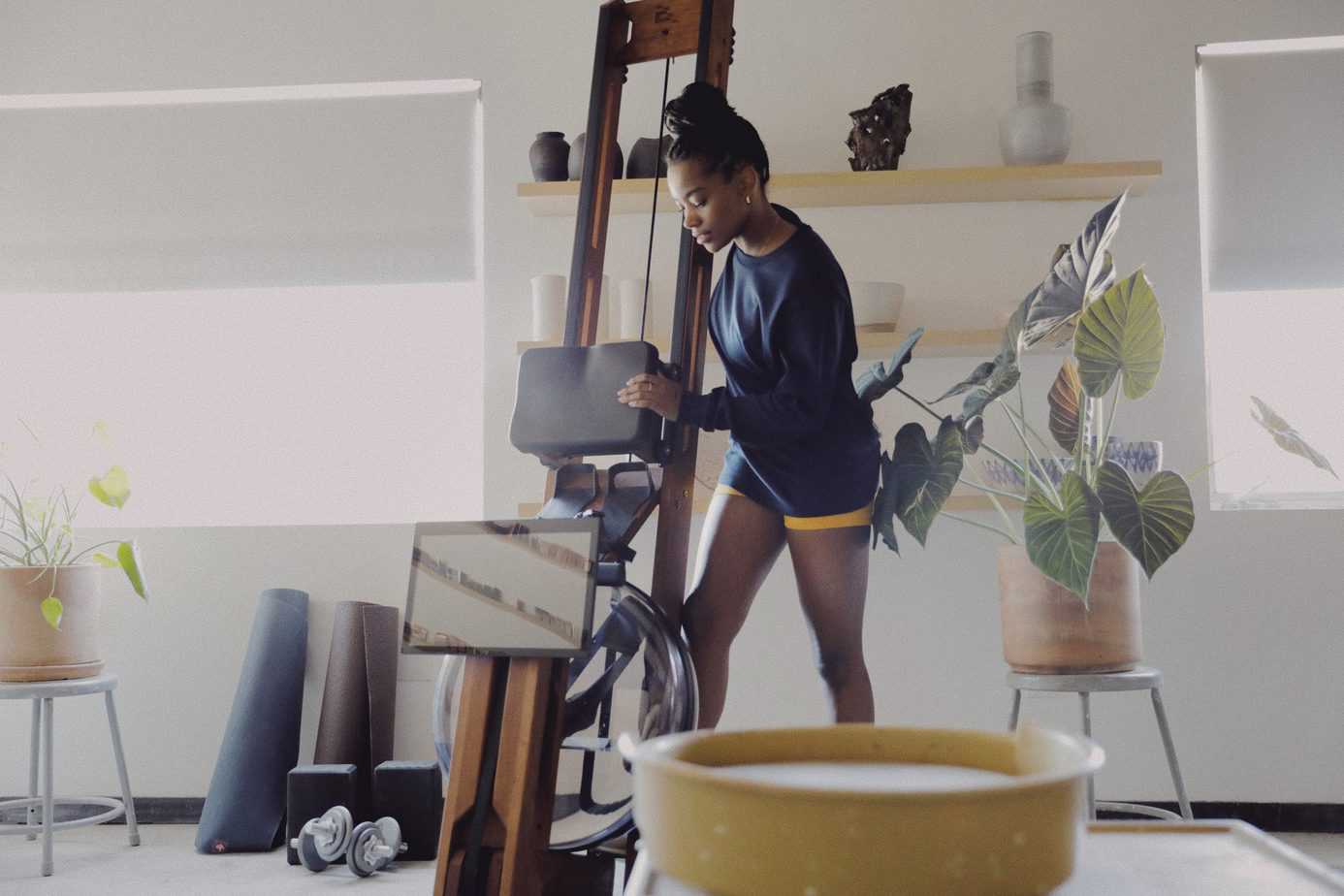 The Ergatta is a beautifully designed premium machine that offers fun, motivating games and races that should please anyone who isn't into workout classes.
Is Ergatta Worth the Money?
In my opinion, and many will agree with me, it is.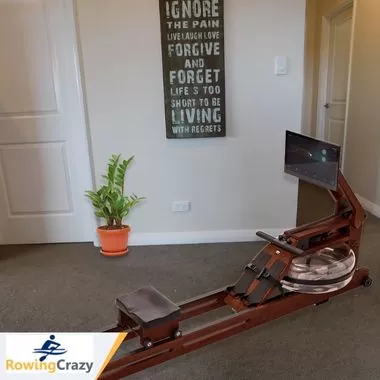 If rowing is your main workout and you aren't a fan of instructor-led classes, you should love the Ergatta programming experience.
This rower features high-quality software designed by a New York City video gaming company. If you would rather play games and race against others, then this machine will be your go-to workout fitness machine.
The Bottom Line
Both the CityRow Go Max and Ergatta are excellent real water-based machines offering a sleek design, high quality workout experience, and artisanal craftsmanship by WaterRower, a pioneer water-rower manufacturer.
I believe that no matter which of the two machines you eventually decide to buy, you're going to be super happy with your choice.
If you enjoy games and racing, you should go with the Ergatta.
If you would rather have a classroom type of workout experience, then you should choose the CityRow Go Max.
Of course, if you want workouts that are instructor-led but are done on the water, if you would like live and on-demand rowing classes, if you want a completely different type of rowing experience, you might be interested in the Hydrow rowing machine.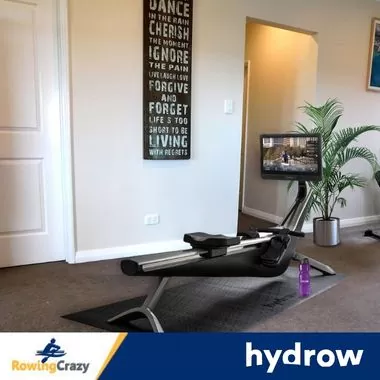 Hydrow SAVE $100 or £100!! => Use Coupon Code: ROWINGCRAZY
When it comes down to Ergatta vs CityRow Go vs Hydrow, I believe that the Hydrow beats all, but when comparing apples to apples, you can't go wrong with the Ergatta or the CityRow Go rowing machine as they are in a different class being water rowers. It's simply a matter of personal preference for the type of workout you prefer.
Frequently Asked Questions
1. Is City Row rowing machine a good workout?
It certainly is. Like all indoor rowing machines, you will find that CityRow Go offers a full-body workout from rowing, but it also offers floor workouts that can keep you motivated and flexible.
2. Can you use Ergatta rower or CityRow Go without a subscription?
Yes, you could, but why would you? You can buy a much less expensive machine if all you want to do is row, but for the full smart rowing machine experience, these two rowers work best with the monthly subscription.
3. Can you lose belly fat by rowing?
You sure can! Although you cannot spot-reduce when you get adequate amounts of aerobic exercise, which is the type of exercise you get when you row, you will burn fat all over the body. Your body will decide where it wants to remove fat, but with time, you will lose weight, even stubborn belly fat. Click Here to learn more!
4. Are water rowers loud?
No, not at all. The rowing motion and the movement of the seat make virtually zero noise. The water in the tank does make a swooshing sound, but it is very soft and not at all loud or obnoxious. Chances are the only sound others will hear, besides the water tank, will be you!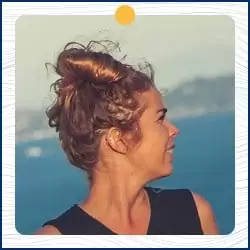 Written by Petra Amara – RowingCrazy.com
CEO & Founder of RowingCrazy, National Rower, Coxswain Womens Eight Team, Rowing Coach & Writer
Petra is a Mother of two and owner of Rowingcrazy.com. Petra lives and breathes rowing, she also has a passion for writing which lead her to start RowingCrazy.com to share her rowing experience and expertise with others.