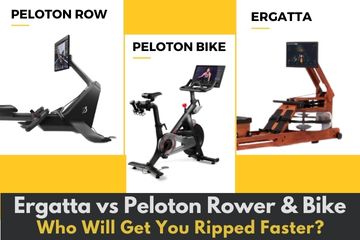 First, there were smartphones, then other smart devices quickly followed, including smart cameras and smart home appliances. It's no wonder that pieces of fitness equipment like the Peloton and Ergatta are head to head with other connected machines in the fitness space.
Make no doubt about it, these types of workout equipment with streaming workouts are not cheap! However, what is your health worth? I won't even mention the time you save not driving to the gym, wrestling for a parking spot, and waiting for your machine to be free.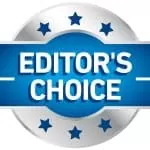 In a Hurry? Here are the Rowers We Are Comparing:
Pressed for time but need to know which rower to choose between Ergatta or Peloton? Click on the links below for our recommendations:
*We review fitness products impartially and may earn a commission from affiliate links. For details see our disclosure page.
Want to make an informed decision on which rowing machine to buy? We've conducted a comprehensive evaluation of each machine below.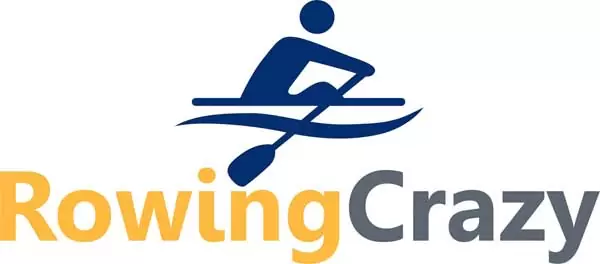 Without Further Delay, Let's Begin!
The Peloton Bike has been around for quite some time now. Ergatta was the newcomer, but recently, Peloton also came out with their rowing machine called the Peloton Row.
The price of all three of these pieces of equipment, the Peloton Bike, Peloton Row, and the Ergatta rower (read more on Ergatta vs Nordictrack), should be considered an investment for your health and future.
How do these three compare with one another? You don't want to spend several thousand dollars on a workout equipment only to find that you really aren't into the machine.
In this article, we're going to compare the Ergatta vs the Peloton Row and the Peloton Bike, take a look at their pros and cons, and talk about what each offers to your home workout so you can make a smart decision.
If you have specific medical conditions, it is best to seek professional medical advice first before using any of these fitness machines.
The Short Version
For those of you who have pretty much made up your mind but are interested in knowing more details, this chart should help you out.
Comparison Chart: Ergatta vs Peloton Row vs Peloton Bike
Ergatta
Peloton Row
Peloton Spin Bike
Touchscreen

17.3"

23.8"

Original 21.5"
Bike Plus 23.8"
Overall Dimensions

86" L X 23" W

94" L X 24"W

Original

59″ L x 53″ H x 23″ W
Bike Plus 59" L X 59" H X 22" W
Machine Weight

103 Pounds with water

156.5 Pounds

Original 135 pounds
Bike Plus 140 pounds
Maximum User Weight Limit

500 Pounds

300 Pounds

297 pounds

Storage Options

Stores vertically on one end

Stores vertically using wall mount

Stores as is

Main Construction Material

American Cherry Wood

Welded steel, powder-coated frame

Welded steel, powder-coated frame

Type of Workout

Game-Based Workouts and Races

Studio Type

Studio Type

Warranty
5 years on frame
3 years on all other parts
1 year touchscreen
5 years on frame
1 year on parts including touchscreen
1 year labor
5 years on frame
1 year on parts including touchscreen
1 year labor
Current Price
(Subject to change)

$2,499 (includes delivery and set up)

$3,195

Original Bike $1,445
Bike Plus $2,495
Monthly Subscription Cost

$29

$44

$44
Both Peloton Row and the bike have slightly larger screens but cost significantly more than the Ergatta unless you are considering the basic spin bike.
The monthly fee for any Peloton product is considerably more than Ergatta, but you only pay for one subscription even if you have more than one Peloton exercise machine (e.g., treadmill, rower, and bike).
The Ergatta can handle much higher user weight than any of the Peloton products.
Smart fitness machines may sound or even look alike, but there are other things to consider, such as the size. The Peloton Row is very, very long, so you'll need to be sure that you have enough floor space to use it, and if you plan on storing it vertically, be sure that your ceiling is more than 8 feet high.
For more details on these pieces of exercise equipment, keep reading or bookmark this page for later!
The Ergatta Rowing Machine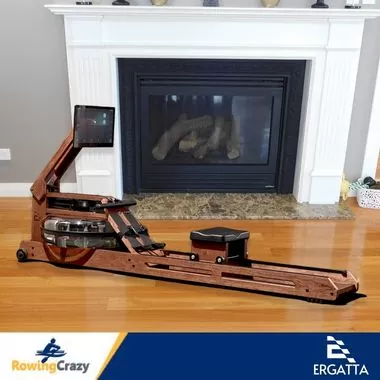 You might have seen other rowers that look similar to the Ergatta, such as WaterRower or Mr. Captain, but nothing compares to the software that makes the Ergatta experience unique.
Tom Aulet, founder and CEO of the Ergatta, noticed that children stay fit by taking up a sport or playing games. He loved rowing and wanted to create a rowing machine that worked on video-type games and competitive racing, and that became the inspiration behind the Ergatta.
Features of the Ergatta Workout Equipment
Some of the best features of the Ergatta are:
Crafted from the beautiful American cherry wood, this rower looks more like a new type of chair or furniture. This rowing machine won't stick like a sore thumb or look out of place at all if you decide to put it right in your living room!
The display uses a 17.3-inch HD touchscreen tablet that is easy to read and even easier to use.
The Ergatta workout is a gaming-meets-rowing experience. Rather than classroom workouts like Peloton or on-the-water workouts like Hydrow (Read More), the Ergatta uses games and racing to give you an addicting home workout that you can't resist. In the same way that you unlock new levels as you rack up points in a video game, the Ergatta also unlocks new races and games as you complete rowing milestones.
With two wheels, this water rower

is easy to move and store. It rests upright against the wall and takes up no more room than a dining room chair or a barstool

For water resistance, the Ergatta uses a clear water tank that provides a smooth rowing motion and gives the feeling of being out on the water. The swooshing sound of water complements well with the wooden "boat" and lends an experience so authentic that you forget you aren't rowing on a lake somewhere!
What Makes the Ergatta Rowing Machine Unique?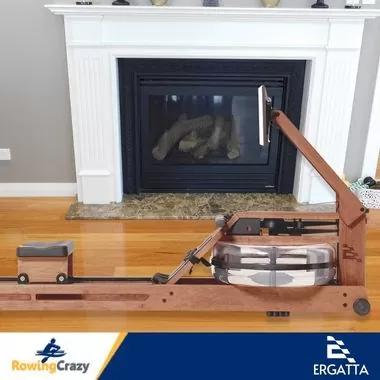 In my opinion, treadmill exercises and cycling can get boring, but this unique, handcrafted water rower is more fun than a barrel of monkeys- or a barrel of whatever it is that you find fun!
Most people find the lapping water sound so pleasing that they forget they're on the rower to reach their fitness goals! This doesn't mean that they don't work out as hard, they just enjoy the workouts more!
I know several people who don't even play music or listen to anything else while they row because they enjoy the water rower sound.
That said, it's the software that makes Ergatta unique. If you aren't a fan of those happy-go-lucky instructors, or you prefer to do things your way and love competitive racing and playing games, then Ergatta is exactly what you've been looking for.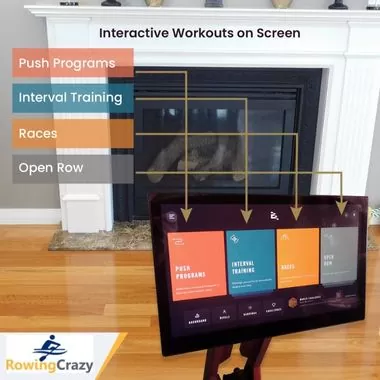 The workout programs push you past your comfort zone without wearing you out. I find the racing aspect to be super engaging and incredibly motivating, I can't wait to get back to the race to beat the other guy!
If you love rowing and racing, and prefer doing both in a game-like fashion, the Ergatta connected rower will be the perfect workout equipment for your fitness space.
There are many more features, but this gives you an idea about what to expect should you choose this machine for your home gym.
Does Ergatta Offer Instructor-Led On-Demand Workouts?
Not at this time.
Ergatta knows that there are many other rowing machines offering these types of workouts, whether it's a connected rower or not, so what it brings to the market is something unique instead.
If you prefer instructor-led or on-the-water workouts, you will be happier with the Hydrow. It has the absolute best live and on-demand workout routines, as well as mat exercises and serene water journeys that you can do at your own pace.
This is where your choice will come down to personal preference. If you would rather take the gaming platform as you race against others, the Ergatta is the rower you want.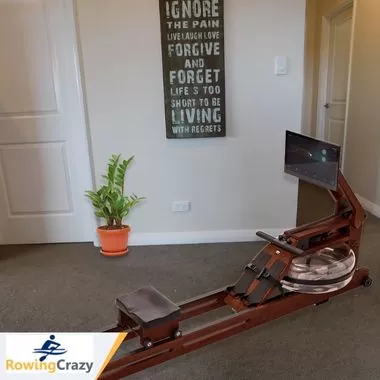 If you prefer a workout experience that is as close to being on the water as you can get, along with professional rowers shouting encouragement, then you should consider something like the Hydrow – read more on Hydrow vs Ergatta.
Are Ergatta Rowing Machines as Good as Peloton Bikes or the Peloton Row?
This would depend on your definition of "good".
If you're referring to the quality of the materials, these pieces of fitness equipment are pretty much equal in a different way.
If you mean fun to use, that would depend on whether you prefer biking over rowing.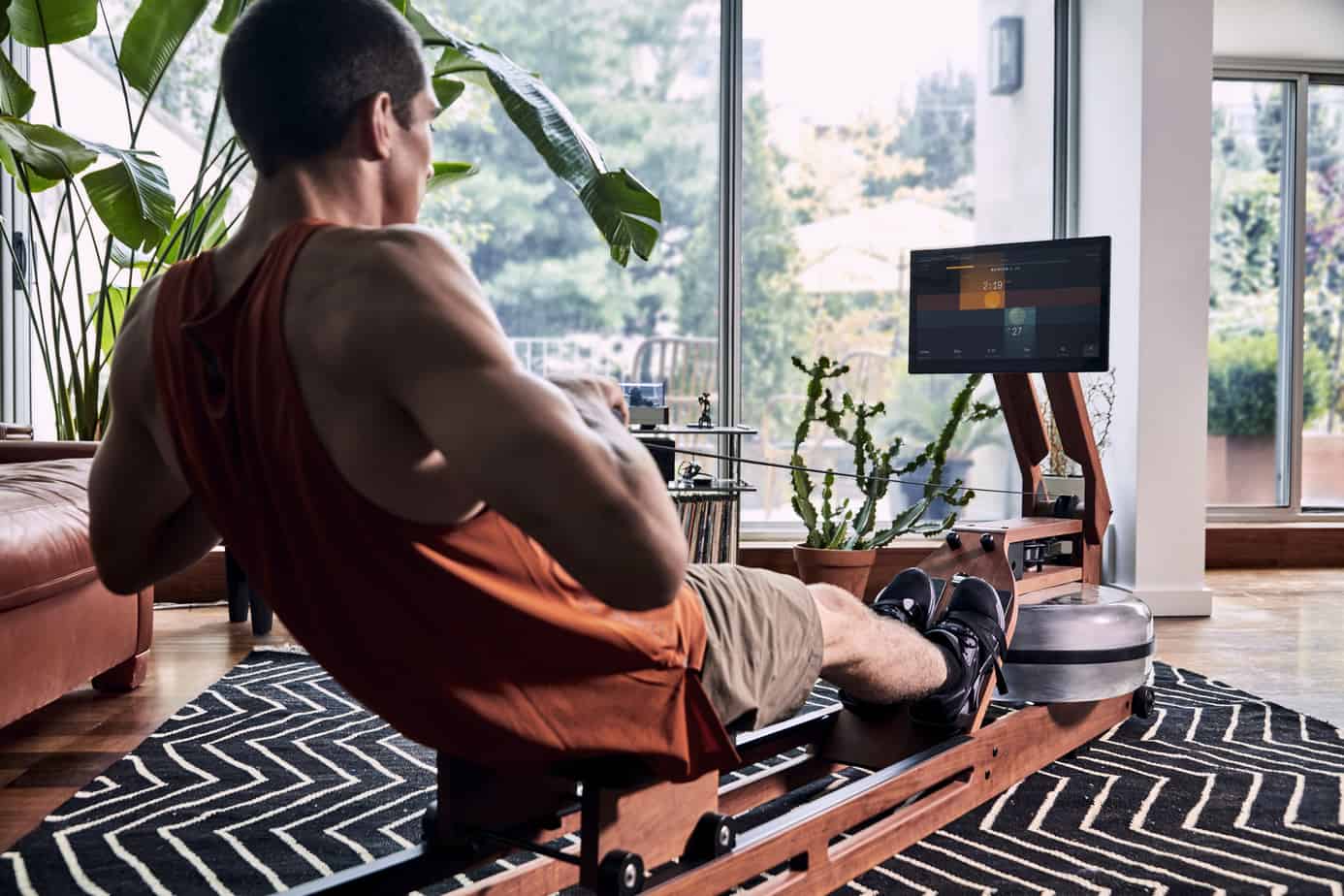 If rowing is your passion but you aren't crazy about paying more for a rowing machine or monthly subscription, and if you aren't a fan of studio or classroom-style workouts, then you should check out Ergatta.
When it comes down to price comparison, the Peloton products cost more, both for the machine and the monthly membership subscription.
It's true that the Peloton experience is like no other, but the same is true for Ergatta.
Let's continue comparing these machines for a better idea about which will work best for you.
The Peloton Bike
Chances are that you've used stationary bikes at your local gym before. Maybe you've taken a few of the instructor-led workout classes, also called spin classes, that most gyms offer.
Still, there is no comparison to the Peloton and its cycling studio experiences, and it's worth noting that Peloton was the first to manufacture a connected fitness experience.
Features of the Peloton Bike
In order to compare apples and apples, I will be comparing the Peloton Plus to the Ergatta. Here are some of its features:
The 24-inch HD touchscreen is huge and really gives a real classroom experience.
There are front-facing speakers built-in into the monitor.
The bike is completely adjustable for comfort.
Peloton uses magnetic resistance, which is super-quiet and perfect for those who live in apartments or those who have small children or day-sleepers.
Your monthly subscription pays for live and on-demand workouts with instructor-led classes held in boutique cycling studios. It is totally possible to forget that you didn't drive to the spin class at your gym.
The bike also offers workouts for kids, yoga, and strength training.
You can see real-time feedback on the monitor.
Bluetooth capability allows you to use third-party heart rate monitors.
You can also use headphones that are Bluetooth-enabled.
The monitor allows the instructors to see you on your bike so don't ride naked!
If you have low back or shoulder pain, cycling may make that pain worse. You can only focus on speed and not hills (interval training) to help relieve back pain, but most people want to do those types of workouts.
If you love spin classes and want the extra motivation of earning a shout-out from the instructor for reaching certain milestones, the Peloton might be what you want in your own home. If you are interested in reading more about Peloton Bikes and their pricing, click on the Check Price link above.
The Peloton Row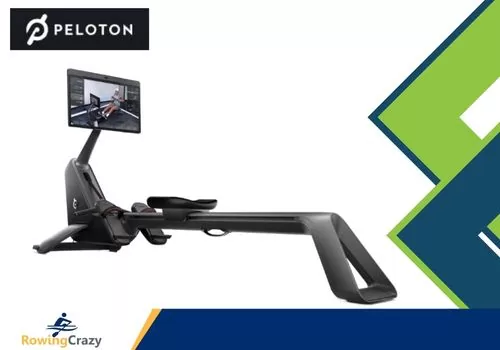 Peloton acquired the fitness manufacturer Tonic Fitness Technology, which had earlier requested a patent on a rowing machine in 2019. It only makes sense that Peloton will use that patented technology to build its own connected rowing machine.
In October 2022, the company announced that it would have the Peloton Row available for sale.
Finally in December 2022, Peloton delivered the initial batch of Peloton Row units to the long list of people who preordered the much-awaited rowing machine.
Features of the Peloton Row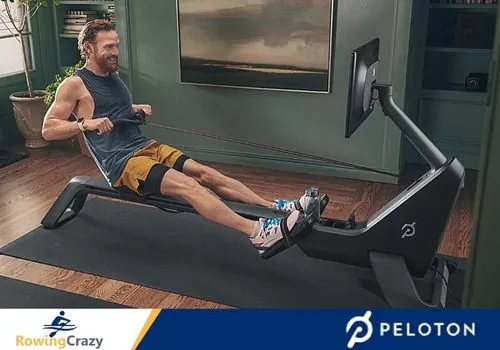 The Peloton rowing machine features the following:
Silent magnetic resistance, similar to what Hydrow uses
On-demand studio workouts, with plans to offer live classes in 2023
The same 23.8″ HD touchscreen that is now available with the Peloton Bike Plus
Dimensions are 94″ long and 24″ wide
It can be stored vertically, but you'll need to be sure your ceiling is tall enough (minimum of 8 feet!)
Maximum user weight is 300 pounds
No on-the-water workouts, but Peloton is adding strength training and yoga
Peloton Row features sensors in the seat and handlebar that will let you know if you aren't rowing with the proper form. This is called Form Assist, which will be very helpful for beginners but is an expensive feature you won't use after the first few weeks.
The warranty is also the same as what Peloton offers for their bikes- 5 years on frame, one year on everything else, and one year on labor.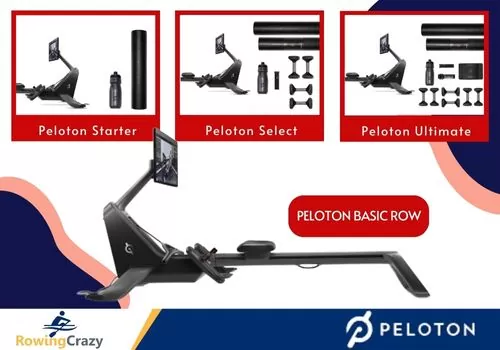 If you love studio workouts and have used a Peloton bike or treadmill, then you will probably be happy with the Peloton Row.
Side Note: If you want to learn more about the Peloton bike then make sure you read our Concept 2 Rower vs Peloton article.
Comparing Ergatta vs Peloton Workout Equipment
The best machine in the fitness industry is the one that you will actually use regularly and keep you motivated. No matter how much you pay for a machine if you use it as a coat rack, it's not much good.
There are some things you should compare between these three pieces of equipment before committing to buying one. Get one more look at this table to make it easier for you decide between Ergatta and Peloton.
Ergatta
Peloton Row
Peloton Spin Bike
Touchscreen

17.3"

23.8"

Original 21.5"
Bike Plus 23.8"
Overall Dimensions

86" L X 23" W

94" L X 24"W

Original

59″ L x 53″ H x 23″ W
Bike Plus 59" L X 59" H X 22" W
Machine Weight

103 Pounds with water

156.5 Pounds

Original 135 pounds
Bike Plus 140 pounds
Maximum User Weight Limit

500 Pounds

300 Pounds

297 pounds

Storage Options

Stores vertically on one end

Stores vertically using wall mount

Stores as is

Main Construction Material

American Cherry Wood

Welded steel, powder-coated frame

Welded steel, powder-coated frame

Type of Workout

Game-Based Workout and Races

Studio Type

Studio Type

Warranty
5 years on frame
3 years on all other parts
1 year touchscreen
5 years on frame
1 year on parts including touchscreen
1 year labor
5 years on frame
1 year on parts including touchscreen
1 year labor
Current Price
(Subject to change)

$2,499 (includes delivery and set up)

$3,195

Original Bike $1,445
Bike Plus $2,495
Monthly Subscription Cost

$29

$44

$44
If you have a heavyweight in the house, you'll want to consider Ergatta. The same is true if you aren't a fan of studio workouts or are looking for something that is completely different.
Cost is another matter that you cannot ignore. Only the original Peloton bike costs less, but the monthly subscription is much more expensive than Ergatta's, and this will really add up over time.
What's the Difference between Ergatta and Peloton?
While both of these machines are terrific pieces of workout equipment for your home gym, the overall workout experience each one offers is very different.
All three are connected machines, allowing you to access different programs using Wi-Fi. They are alike in providing low-impact, easy-on-the-joints cardio workouts.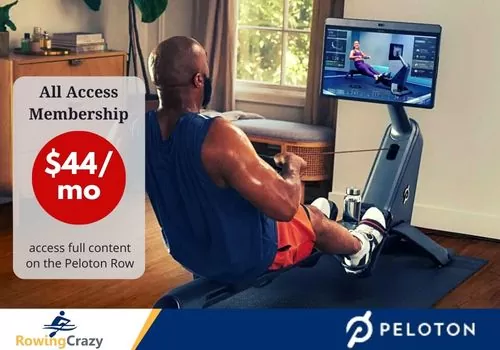 Both Peloton machines and Ergatta require a monthly membership fee, with the total cost being less expensive for the Ergatta-connected rower, especially over time. The Peloton is currently $44 a month, the Ergatta $29 a month, and if you pay for one year in advance on the Ergatta, you get a discounted fee of $319.
One more thing, you won't need to spend so much time working out with the Ergatta connected rower.
Since the Peloton bike only works the lower half of your body, you will need to spend more time with another piece of workout equipment to work the upper half of your body, whether you choose strength training or some other type of fitness workout.
Also, with the spin bike, the workouts are longer than those you do on the Ergatta rower or the Peloton Row.
I'll take shorter workouts that get the job done, thanks!
The Ergatta is a full-body workout experience that gets every part of you in shape, assists with weight loss, and gets you ripped all in a single rowing experience workout that is fun.
Where Are Peloton and Ergatta Made?
Last, but not least, you will want to know where these machines are manufactured.
Ergatta's software is made in New York, while the rower itself is made in Rhode Island USA.
Peloton bikes are manufactured in Taiwan and assembled in New York. We don't know for certain if Peloton is doing the same thing with their rowing machines, but since they purchased a rowing machine company based in New York, chances are that they will build it there, but this isn't really known.
If you want to buy 100% American designed and made in America, go with Ergatta.
Rowing vs Cycling
When it comes to the actual workout, rowing is head and shoulders above cycling.
Both rowing and biking will burn about 900 calories an hour (depending on your weight and the intensity of your workout.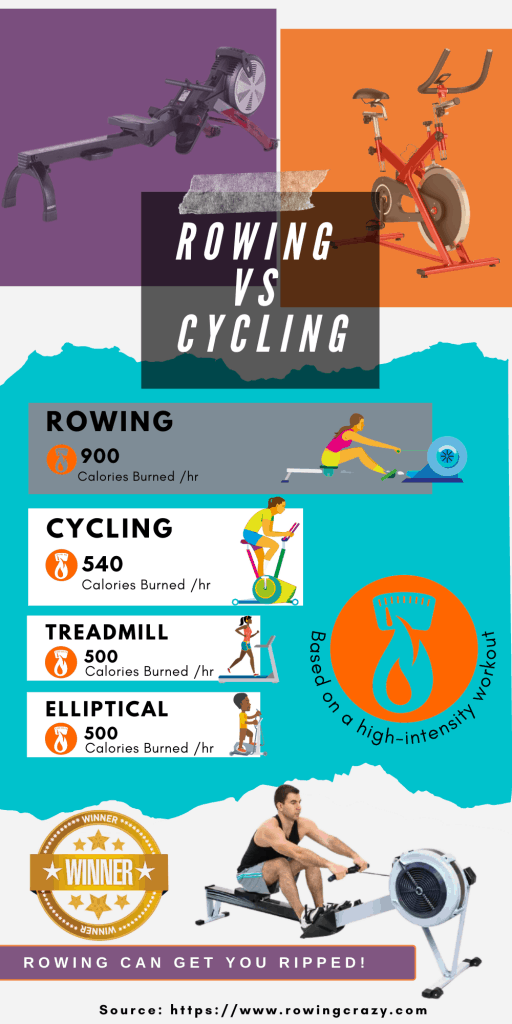 Is Peloton Bike Better than a Rowing Machine?
Both rowing and biking are low-impact workouts that can cause some back pain if you don't keep the proper posture. Between the two, only rowing machines give you a full-body workout.
Even though Peloton offers interval workouts, these only burn more calories and do not provide strength training as rowing can, nor will biking work your core muscles.
Unlike Peloton bikes, rowing machines like the Ergatta rower or Peloton Row offer total body workout and engages 86 percent of the muscles in your body. This is why rowers actually spend less time on their workout equipment and less time overall working out.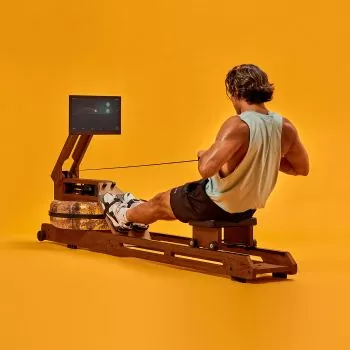 The Ergatta rower will keep you engaged and entertained with the connected fitness workout experience. If you aren't a fan of classroom-type instructor-led workouts, then the Ergatta is probably what you're looking for.
If you don't want to spend one minute more using workout equipment, then you NEED the Ergatta-connected rower to get those muscles ripped fast. Peloton Row does have a selection of shorter workouts (like 10-minute rows!), but many users find Peloton's rowing content quite limited. For now, anyway, which is understandable considering that it just came out on the market.
It's true that it takes some time to learn how to properly perform the rowing stroke and get down the proper technique on a rowing machine, but most people catch on very quickly, and both Ergatta and Peloton Row have top-notch beginner classes!
So Which One Should You Buy – Ergatta or Peloton?
At the end of the day, which workout experience you will enjoy is going to be up to you and your preferences.
If you hate riding bikes, then I don't recommend the Peloton bike!
If you hate classroom workouts, then avoid the Peloton bike or rower.
The same is true with water rowing workouts. If you don't like the swooshing sounds that water rowers make, then why bother with Ergatta?
It's been my personal experience that when you put people on each of these machines for a test drive, most people prefer rowing.
Generally speaking, if you want to get ripped faster, spend less time working out, and get better overall results, you should choose a rowing machine. Now, if you choose rowing but love playing games and aren't fond of a classroom workout experience, then you should buy the Ergatta.
Don't forget that Ergatta offers a free 30-day home trial. If you don't love it, you can send it back at no charge to you!
However, if you love bike riding, get pumped up with the music and shout-outs from the instructors, if you don't have back problems and want a home workout that rivals any spin class at a gym, then a Peloton spin bike or Peloton Row will probably be a good fit for you.
Last, but not least, if you're still unsure which one you would enjoy, most gyms have water rowers, magnetic-resistance rowers, and spin classes. While this won't give you the full experience of a connected rower or the feedback system of the Peloton, you will see which machine you enjoy the most because, let's face it, the best piece of home workout equipment you can buy is the one that you will use!
Frequently Asked Questions
1. Is there rowing on the Peloton app?
Currently, all rowing content – instructed rowing classes, rowing boot camps, and scenic rowing workouts – are accessible only via Peloton Row's library. Users and Peloton Row owners are still waiting for Peloton to make these workouts available on the Peloton app soon.
2. Is Peloton Row better than Ergatta?
That would depend on what you mean by "better". If you're asking about the quality of the machine itself, Ergatta is every bit as good as Peloton. If you mean the overall workout experience, both high-performance machines are terrific cardio workouts but work in different ways. Ergatta offers a gamified platform to make your workouts more challenging, while Peloton Row offers studio rowing classes, guided scenic rowing, and rowing boot camps.
3. Is Ergatta worth the money?
Yes, it is! While Ergatta is at the top of the price range for rowers, the unique software and elegant cherry wood frame mean this piece of workout equipment not only looks perfect in any living space, but the games and competition (racing) programs keep this connected rower fresh and never boring. Compare other water rowers to the Ergatta and it becomes clear that Ergatta is the better option for those who want to gamify rowing, race against others in the Ergatta community, and improve their overall performance and fitness level.
Other Ergatta Articles You Might Find Interesting: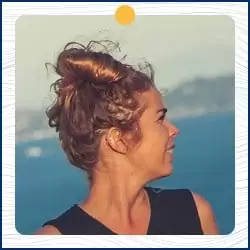 Written by Petra Amara – RowingCrazy.com
CEO & Founder of RowingCrazy, National Rower, Coxswain Womens Eight Team, Rowing Coach & Writer
Petra is a Mother of two and owner of Rowingcrazy.com. Petra lives and breathes rowing, she also has a passion for writing which lead her to start RowingCrazy.com to share her rowing experience and expertise with others.