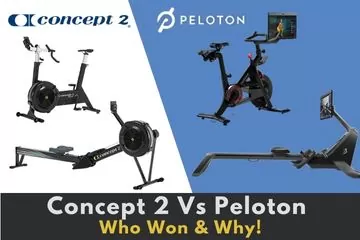 Hi there, everyone! Petra here, and today, I want to compare similar pieces of home gym equipment that you may be considering purchasing.
To compete with the Peloton bike, Concept 2 came out with its own air resistance bike, the BikeErg.
Then, to compete with everyone else, Peloton came out with an indoor rowing machine, the Peloton Row, which was launched late 2022.
While Concept 2 is best known for its rowing machine, I'm going to review all four of these cardio workout machines and give you my opinion on which is best.
Peloton Row vs Concept 2 Model D, and then the Concept 2 BikeErg vs Peloton Bike Plus.
This is going to be an interesting ride, so sit down and hang on tight!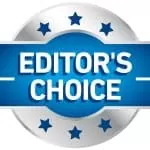 In a Hurry? Here are the Rowers We Are Comparing:
Are you short on time and want to know which is best between Concept 2 or Peloton then click on the links below to get straight to our answers:
Rowing Machines:
Bikes:
*We review fitness products impartially and may earn a commission from affiliate links. For details see our disclosure page.
We've conducted a thorough evaluation of each rowing machine and bike to help you make an informed decision on which one to purchase. Our findings are shared below in greater detail.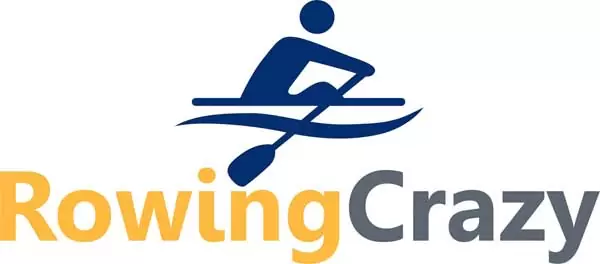 If you're a fan of Crossfit boxes, but you've been thinking of doing your workouts from home, you may be wondering if the Concept 2 rowing machine is a better workout than the Peloton Row.
If you've been waiting for the Peloton Row to be released, you might wonder what the differences are between these two.
Whatever your reason for reading this, I hope you will find my table of contents helpful in finding the information you need.
Concept 2 or Peloton? I'll tell you who the real winner is. Keep reading.
Rowing Machine Comparison: Concept 2 Rower vs Peloton Row
For those of you in a hurry, or if you know a lot about these rowing machines but haven't made up your mind, this quick comparison chart might tell you at a glance what you need to know.
Quick Comparison Chart: Concept 2 Model D vs Peloton Row
Concept 2 Model D
Peloton Row
Maximum User Weight

500 Pounds

300 Pounds

Type of Resistance

Air resistance

Computer controlled magnetic resistance

Size of Monitor

5" Performance monitor

23.8" HD touchscreen

Overall Dimensions

95" L X 24" W

96" L X 24" W

Folds for Storage?

Yes

Stores vertically against a wall

Monthly Subscription Cost
(Subject to change)

None

$44

Current Price
(Subject to change)

$1,195

$3,195
If you haven't even started your research, keep reading so you can get all the details.
Concept 2 Rowing Machine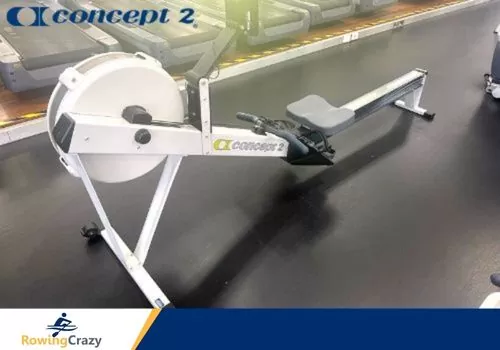 If you've used a rowing machine at your local gym, there's a good chance that it was a Concept2.
This indoor rower has been around since the 1980s and hasn't changed very much in all that time. Why? Because it works!
The main changes have been improvements to the performance monitor, but the basic rowing machine itself has changed very little.
Still, Concept 2 is one of the most popular rowing machines ever sold. So, the next question is- what keeps people buying this piece of exercise equipment?
Features of the Concept2 Rowing Machine
It's a reasonably priced rowing machine with no monthly subscription fees.
The rower accommodates users of many sizes, with a maximum weight capacity of 500 pounds (226.8 kg).
The Concept 2 comes apart easily, which makes it easy to move and store.
The performance monitor is Bluetooth-enabled, so you can connect to other fitness apps and use your Bluetooth headphones and/or heart rate monitor while you work out.
Since it has been around for decades, parts are easy to find.
It has a simple construction, with fewer moving or electronic parts than smart machines, so it's so much easier and cheaper to maintain.
This is an air rower, which means you will have unlimited levels of resistance.
There is a built-in media shelf for your tablet, smartphone, or books.
Among indoor rowing fans, you will find a great many of them own a Concept2 rower.
The Pros of the Concept 2 Indoor Rower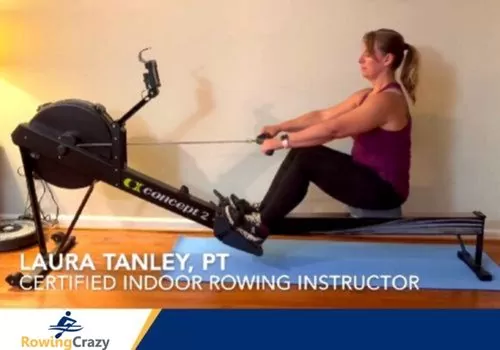 For an indoor rower to remain this popular after so long, it's got to have a lot going for it, right?
Check out some of the best reasons to buy a Concept 2-
This is a well-known and well-respected brand.
This rower is easy to store and move.
Far less expensive than spin bikes.
It is highly rated because of its simplicity and durability.
You don't need electricity to use it.
You don't need to spend for ongoing monthly subscription fees.
Lots of online support and a huge online community.
While the Concept2 rower doesn't offer any live or on-demand rowing classes, it still remains a popular choice. Its online support includes rowing competitions and world records to achieve. How's that for motivation?
Learn more with our full video of the Concept2 Rower by Rowing YouTube Influencer Max Secunda:
The Cons of the Concept 2 Indoor Rower
I've said it before and I'll say it again, nothing in this world is perfect, even the long-time rowing favorite Concept 2.
No live or on-demand classes
Takes a large amount of floor space to use
Extremely noisy- even the new and improved flywheel design didn't reduce noise levels that much
No touchscreen
Workouts can be boring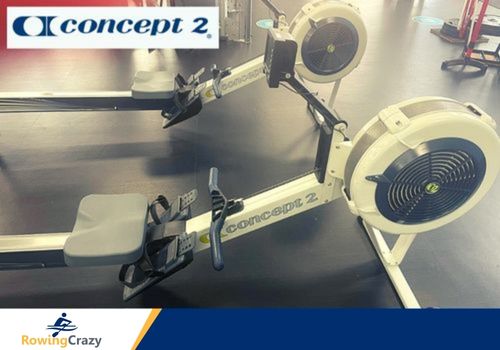 Of course, if you're self-motivated and one of those who just want to get their cardio workout over with, if noise isn't a problem where you live, or if you need a high-capacity rower that's not too expensive and don't want instructors or classes, you might love Concept2.
The Peloton Rower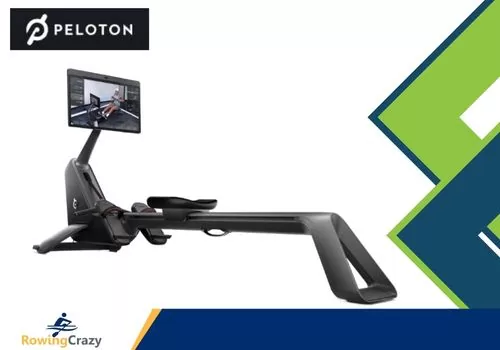 Peloton fans have been looking forward to the release of the Peloton rower, and finally, their wish was granted. In late November and all of December 2022, preordered Peloton Row units reached their early buyers. Here's what we know about this exercise machine.
Features of the Peloton Row
To keep in line with other Peloton products, such as the spin bike and treadmill, Peloton offers studio workouts, rowing bootcamps, and a few scenic rowing alternatives where users can enjoy the water and the views.
Other features of this rowing machine include:
The rower will have a patented "Form Assist" feature. This allows sensors in the seat and handlebar to judge a person's rowing form and have them correct it after the workout. This is a terrific feature for beginners.
After every class, users will receive a form rating, showing in percentages how much of the time they were using perfect rowing form during a class. Again, this is a great tool for beginners or even intermediate rowers.
The monitor is a big 23.8-inch HD touchscreen and offers front speakers and rear-facing woofers for excellent picture quality and sound.
Like with other Peloton products, you will have a leaderboard to see how you stack up to others.
You will find lots of metrics about your workout if you love to see the numbers!
The monitor swivels 45 degrees in all directions so you can use it for other workouts.
Peloton also offers yoga, strength training, bike and tread workouts, all of which you can access with the All-Access membership.
As you can tell, Peloton put a great deal of thought into this product.
The Pros of the Peloton Rower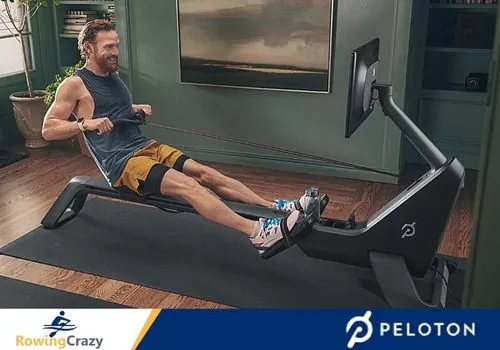 There are many outstanding features on this rowing machine, which isn't surprising considering that it came from Peloton, the #1 selling spin bike and treadmill manufacturer.
The Form Assist feature will really benefit those who are new to rowing. When your form is not correct, you run the risk of developing a backache or elbow or wrist tendonitis. This should help solve those problems by keeping you in the correct form.
Subscribers love Peloton Row's instructors, including Ash Pryor, Alex Karwoski, Katie Wang, Adrian Williams, Matt Wilpers, and others.
The subscription is a hefty $44 a month, but if you own more than one Peloton machine (for example, you already own a spin bike but want to add the rowing machine), you can use a single account and pay only one fee to use both Peloton machines and access all the workouts.
The company is known for making high-tech and high-quality machines that can really take a beating.
The Personal Pace Target featured on the treadmill and spin bike will also apply to the rowing machine, so you will know how hard you should be working at every interval during your workout.
It won't matter if you own just the Peloton rowing machine or other exercise machines, you are sure to get a full-body workout that you will really feel!
The Cons of the Peloton Row
As with just about anything, there are things you should consider before you jump on the Peloton bandwagon (or rowing machine).
First users wished the Form Assist would provide the feedback as they row and not after each workout.
The base price of the rower itself is quite expensive. Yes, this is a premium rower, but it's triple the price of the Concept 2 Model D and at least $1,000 more than the original Hydrow.
The monthly fee is also the most expensive in the industry. At $44 a month, plus tax, you'll spend more than $500 a year for the workouts, in addition to the cost of the machine.
The maximum weight limit is only 300 pounds, which is quite low, especially for such an expensive machine. Compare that weight limit to Concept 2, which is 500 pounds, Ergatta's 500 pounds, or Hydrow's 375 pounds! If you have a heavyweight in the family, you might want to consider another machine.
While Form Assist is terrific for beginners, the fact is that after a few weeks, or months at the most, you will no longer be a beginner, nor will you need this expensive feature.
This rowing machine is really long! Yes, Concept 2 is just an inch shorter, but it comes apart, while Peloton Row does not. It stores upright against a wall easily enough, but you'll need ceilings taller than 8 feet for clearance.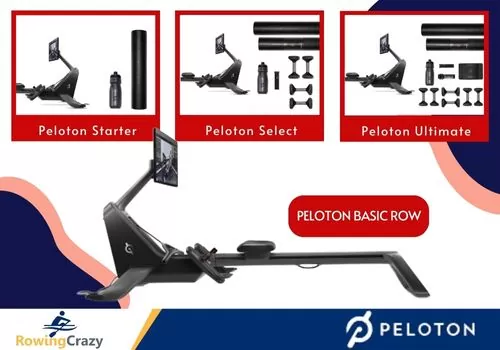 Of course, if none of the above are a problem for you, chances are that you are going to love the Peloton Row!
Bike Comparison: Concept 2 vs Peloton
If you've been shopping for a spin bike, it's likely that you've got your eye on one of these. Check out my quick comparison chart to see which of these bikes might work best for you.
Quick Comparison Chart: Concept 2 BikeErg Vs Peloton Bike+
Concept 2 BikeErg
Peloton Bike Plus
Maximum User Weight

300 Pounds

297 Pounds

Type of Resistance

Air Resistance

Magnetic Resistance

Size of Monitor

5" Performance monitor

23.8" HD touchscreen

Overall Dimensions

48" L x 24" W x 40.5" H

59" L x 22" W x 59" H

Weight of Bike

68 Pounds

140 Pounds

Monthly Subscription Cost
(Subject to change)

None

$44

Current Price
(Subject to change)

$1,200

$2,495
As you can see, the Concept 2 bike is lighter but holds just as much weight as the Peloton.
The Peloton spin bike is considerably more expensive, and don't forget to add the monthly subscription fee to the overall cost.
Of course, Peloton has excellent on-demand and live classes to keep you engaged. Though incomparable to what Peloton offers, Concept 2 BikeErg provides training, support and workout content via their workout app and website, including first workouts, Workout of the Day (WOD), among many things. They provide motivation with their online logbook and ranking, achievement certificates for milestones, the Million Meter Club, tips, and other forms of support.
If you want more information about these two amazing spin bikes, keep reading!
Concept 2 BikeErg
The Concept2 BikeErg is very much like the rowing machine they sell but in a bike form.
Instead of a sliding seat, you get an upright bicycle seat, and instead of a pull handle, you get handlebars.
Perhaps one of the biggest selling points when comparing the Concept2 stationary bike to a Peloton bike is the price. The difference in their price tags is significant, and you'll notice right away that the Concept 2 does not have the monitor like what Peloton has.
Features of the Concept2 BikeErg
If you love the original Concept 2 rowing machine (and if you've ever used a rowing machine at your local gym, chances are that it was a Concept 2), then you are going to enjoy the BikeErg.
The Concept 2 Erg has the following features:
An aluminum frame that can withstand sprints but weighs only 68 pounds
Supports users up to 300 pounds
Has unlimited levels of air resistance to keep you challenged
The backlit PM5 performance monitor tracks your time, distance, and intervals
You can save your workouts to a flash drive (not included)
Completely Bluetooth-enabled so you can enjoy your own Bluetooth headphones and heart rate monitors and sync wirelessly to the Concept2 Online Logbook via the ErgData free app
You can also link to third-party apps, such as Zwift
The Erg has three different handlebar riding options
Seat and handlebars are adjustable for comfort
I like that this stationary bike has pedals, seat, and handlebars which can all be customized with nearly standard bike parts. This means that if you want a bigger seat or larger pedals or whatever it is that you want, you can use standard bike parts, which makes this an easy-to-customize piece of gym equipment!
The Pros of the Concept 2 Spin Bike
There is a lot to like about this exercise bike, such as:
A polygroove belt that makes it nearly silent
Very lightweight and portable
The welded aluminum frame is sturdy enough to hold 300 pounds
It weighs only 68 pounds, so you can move it anywhere
Considering the price and all these features, I'm surprised this bike isn't more in demand.
The Cons of the Concept 2 BikeErg
Nothing is perfect, so you should be aware of a few things before you plunk down your hard-earned cash.
The damper control is in an inconvenient spot.
The seat is a bit stiff, but you can swap it out for any other bike seat.
While riding the bike, you cannot see or change the resistance settings.
This spin bike is very loud.
Like the spin classes at your local gym, this bike is sure to give you a lower-body workout that will burn a huge amount of calories.
The Peloton Bike+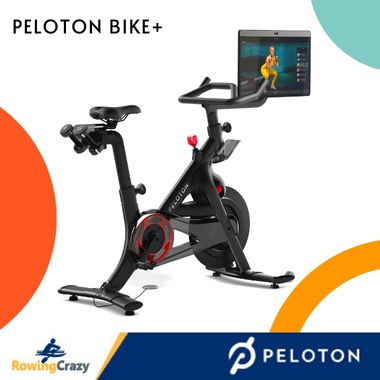 If you haven't heard of the Peloton bike, you may be a hermit!
Peloton is the biggest name when it comes to connected fitness machines, such as this exercise bike and the Peloton treadmill.
One thing that everyone knows about Peloton is that it's quite expensive, especially when there are many other cheaper cycling options.
Features of the Peloton Bike Plus
The Peloton spin bike has been the gold standard since the day it was released.
What has kept Peloton on top? This list of features may explain it:
If you love competition, a complete on-demand library, live classes, and a studio workout experience, you'll get all those from Peloton.
It can safely accommodate riders between 4′11″ and 6′4″ who weigh up to 297 pounds.
Peloton uses magnetic resistance, which means this machine is nearly silent.
The tablet has built-in front-facing speakers, or you can also use your own Bluetooth-enabled headphones.
This offers a great deal of information about your workouts, including your ride time (elapsed and remaining), the current speed, distance covered, cadence (how fast you're pedaling), resistance intensity, and the number of calories burned, which is calculated using your body weight, effort level, and heart rate.
As for heart rate, you will need to buy or use your own heart rate monitor, but most people have one of these. Peloton also sells its own heart rate monitor for an additional fee.
Peloton probably has one of the biggest fitness communities, and this must be due to its live classes.
Nearly every instructor is a well-known Instagram star, including the VP of fitness programming, Robin Arzon and Relentless Rowing Academy founder Ash Pryor.
There is much, much more to the Peloton bike. This includes on-demand classes, live classes, and different training styles that you'll experience from different trainers.
Clients can choose from any number of classes or instructors and enjoy their Peloton bikes with a whisper-quiet ride you can't get from an air resistance bike.
The Pros of the Peloton Bike+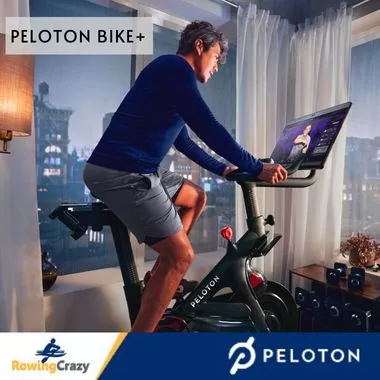 There are lots of reasons why Peloton continues to be the biggest seller, including:
The Peloton app provides programs for running, core training, cycling, and yoga. There is even a marathon training program! Classes ranging from beginners to advanced are all readily accessible.
Many hotels and resorts have Peloton bikes at their gyms, so you can enjoy your classes on your own schedule, even when traveling.
You can challenge co-workers, friends, or anyone else on the Peloton network.
The instructors are top-notch, keeping everyone motivated and making things fun with upbeat playlists.
The bike itself is high-quality and gives a great workout.
Sounds great, right? How about we talk about the not-so-great parts of Peloton?
The Cons of the Peloton Bike+
Peloton bikes have so much going for them, it's hard to imagine such a highly in-demand machine having problems, but there are a few things to know.
You must have the Look Delta cleats for your cycling shoes (if you have the Shimano cleats, you are out of luck). Peloton pedals only work with Look Delta.
It does take up a bit of space, and you must have an electrical outlet and an internet connection.
The bike itself is expensive, and you need to shell out $44 every month for the subscription fee.
The bike is nearly useless without the subscription, so this involves a pricey commitment.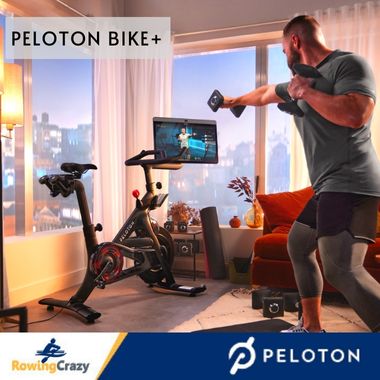 Peloton is a popular choice for those who love their spin classes. Ask anyone with a Peloton bike, and they will gush about how much they love it!
A Few Things to Consider
You might be wondering why Concept 2 makes a spin bike and a rowing machine, while Peloton previously had a bike and a treadmill and now a rower.
Rowing is taking off as one of the most popular home workouts ever!
As the old saying goes—different strokes for different folks.
Not everyone is the same. If you hate cycling or have bad knees, you should consider buying a Concept 2 rower or the Peloton Row.
If rowing bores you to tears, you should consider one of the spin bikes above.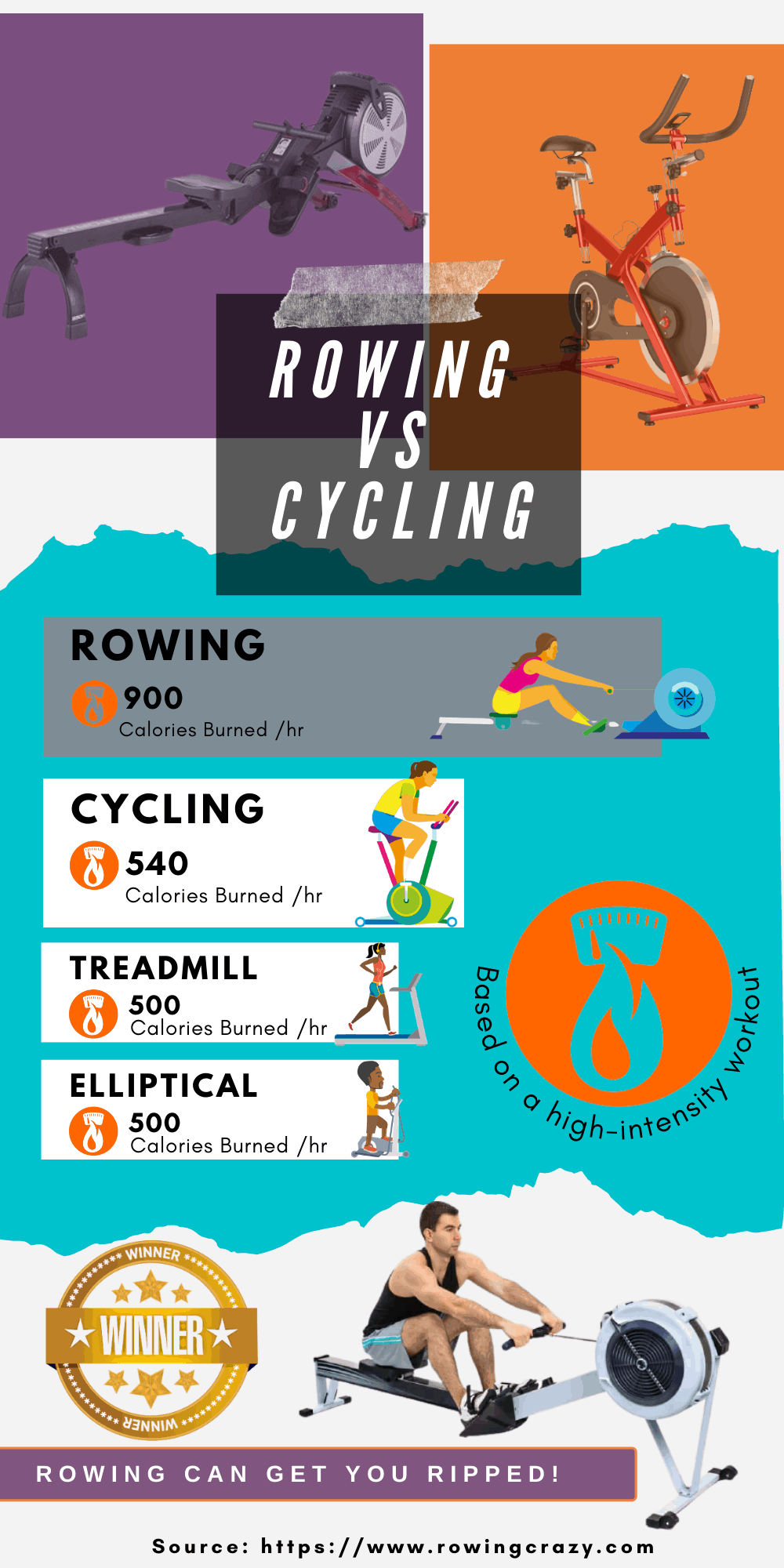 One thing to consider about both the Peloton spin bike and the Concept 2 bike is that these work only the lower body.
Yes, Peloton bikes have other workouts available, but you need to get off the bike.
If you want a full-body workout that will give you more than any exercise bike can, you'll want a rowing machine.
A rowing workout uses all the major muscle groups every time you use it (read more on musles used in rowing exercise ). You can't get that from any cycling adventure, not even on a real bike.
You can also burn more calories rowing than you can in spin classes.
If you want to exercise for less time and work all the major muscle groups in a single exercise session, you will want to get a rowing machine.
Special Mention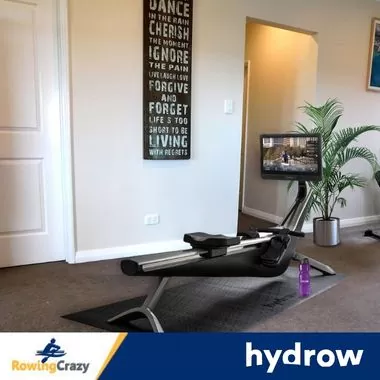 Hydrow SAVE $100 or £100!! => Use Coupon Code: ROWINGCRAZY
If you want the best-connected rowing machine on the planet or don't want to wait to get started, you want the Hydrow.
It offers live workouts and on-demand classes, and if you want an immersive rowing experience that is as close to the real thing as possible, then you will love Hydrow.
Long before Peloton came up with Peloton Row, the Hydrow rower has already earned the moniker "the Peloton of rowing machines" and for good reason.
Let me give you a quick overview of what the Hydrow rower has to offer:
An incredible 22-inch HD touchscreen that is sweat- and dust-resistant
Pre-recorded and live classes
You can enjoy an off-the-rower workout too, such as yoga, Pilates, or foam rolling.
The coaches/instructors do all classes on the water

, so you can enjoy real water-rowing vibes and the beautiful scenery of waterways from across the globe. Row in Venice today and Thailand tomorrow!

All instructors are rowing professionals, some are even ex-Olympic team members.
Adjustable magnetic resistance is whisper-quiet.
Completely Bluetooth-enabled so you can use your own headphones, fitness watch, and heart rate monitor
Sleek, stylish, beautiful design
Stored vertically, this rower is easy to maneuver.
The low monthly subscription fee offers unlimited profiles, so everyone in your household can enjoy this workout experience for one price.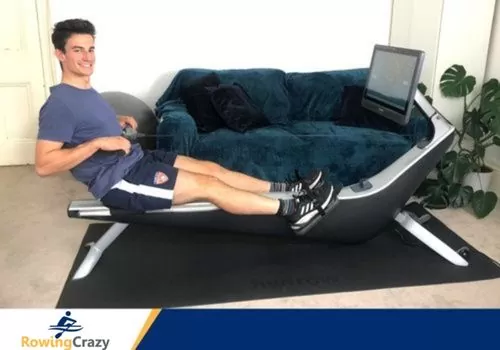 There is so much more to this exciting indoor rower than I have space for!
I also want to mention that if you've wanted a Hydrow but found the size and the price tag a bit on the large size, you can now get the Hydrow Wave. It's everything you want in a Hydrow but in a smaller package that costs less than the original.
You can find out more about the Hydrow or the Hydrow Wave in the link below.
If you aren't sure the Hydrow rower is right for you, use their 30-day in-home trial. If you don't love it, send it back.
You won't send it back, I'm sure, but you could!
Get an amazing workout and all the motivation you could ever want with a Hydrow rower.
The Clear Winner
Let's compare apples to apples, shall we?
When it comes to rowing machines, it's so easy to get bored. I also find air rowers to be annoying and loud.
I would go with the Peloton rower. It's got a huge screen, lots of workout options, and I love connected rowers.
But if you want an immersive rowing experience that only a connected rower can offer, then don't settle with anything less than a Hydrow.
When it comes to spin bikes, I think I would go with the Concept 2 BikeErg. It's easy to customize with regular bike parts, and you can use your tablet to download iFit (see iFit Rowers ) or other programs and enjoy biking scenery or other workouts without an expensive subscription fee.
I hope you found this comparison easy to understand and that it helped you decide which piece of exercise equipment you really want to buy.
Stay active and healthy, friends, and happy rowing (or biking)!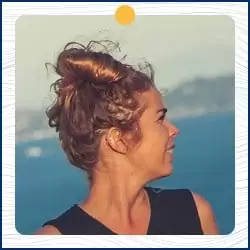 Written by Petra Amara – RowingCrazy.com
CEO & Founder of RowingCrazy, National Rower, Coxswain Womens Eight Team, Rowing Coach & Writer
Petra is a Mother of two and owner of Rowingcrazy.com. Petra lives and breathes rowing, she also has a passion for writing which lead her to start RowingCrazy.com to share her rowing experience and expertise with others.