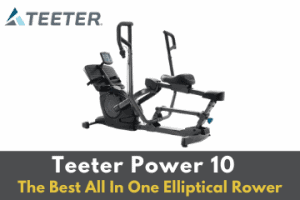 Today, I want to talk to you about a fairly new combination machine that I personally own and love, as it gives you a total body workout in just minutes a day.
Yes, you read that right, minutes a day! Minutes as in 20 or 30, not 60 or 90.
It's called the Teeter Power 10 Elliptical Rower and it is also a personal favorite here for the Rowing Crazy Team! ( Side Note: You might also like to read Teeter vs Hydrow article ) Plus it is also one of our long-term testing machines that we test on a regular basis.
Long-term testing I hear you say?? You might ask why? Well, we wanted to ensure that this machine lives up to all the promises that Teeter claims. Things like:
Ease of Use
Fast Workouts
Durability
Quiet Operation
Fast Buring of Calories
And I'm pleased to say that after trying out this product and conducting regular tests the Teeter Brand did not disappoint!
Personal Trainer Zoe Testing the Teeter Power 10 Performance: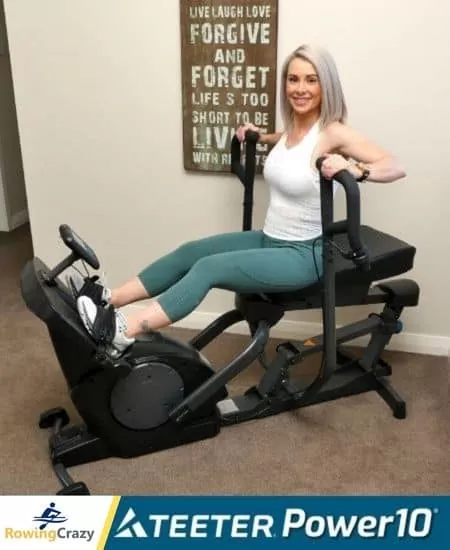 It seems to me that our days get more and more hectic. No matter how much time we have, we always seem to have more to do. That means less time for other things, such as exercise.
Taking care of our bodies is extremely important, however. Most people don't have an hour or more to dedicate to exercise each day. This is why choosing the right exercise machine like the Teeter Power 10 can make all the difference.
Watch Olympic Rower Rachael Taylor with the Power10 Elliptical Rower:
Imagine getting your exercise done in just 20 minutes a day! No driving to the gym, no looking for parking, no ugly locker rooms, just you in your own home for 20 minutes. Sounds good, right?
And when it comes to calorie burn, there is no comparison. No machine will burn more calories than this elliptical rower. Only jumping rope burns more, but hey, who wants to jump rope for an hour? On top of that, rowing machines do something that jumping rope can't do – work every single muscle group in the body.
So let me introduce to you the most outstanding piece of fitness machine I've ever used, the Teeter Power10 Elliptical Rower. FYI: Looking for a bargain? Be sure to check out the Teeter Black Friday Sales here!
The Teeter Power10 Elliptical Rower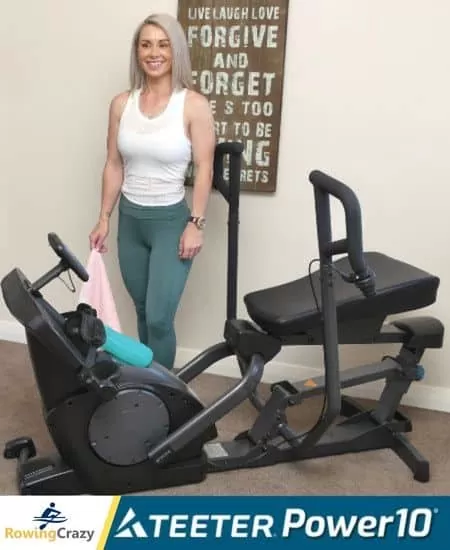 If you enjoy rowing but are also interested in targeting upper body muscles when you workout, the Power10 elliptical rower is the answer you're looking for.
Simply put, the Power10 elliptical rower is rowing reimagined. Using a bi-directional resistance mechanism, the Power10 lets you change from a push rowing motion to a pull motion (push pull action). This focuses on the upper muscle groups and improves your strength, giving you the ultimate full body workout.
You may have considered other devices that have big screens to watch, but those certainly aren't free! Perhaps one of the coolest things that I love about the Teeter is that it has a phone stand so you can see your smartphone and watch the instructional and trainer led workout videos from the free Teeter Move app. That is an awesome feature in anyone's book! And that's right I said FREE no paid membership required!!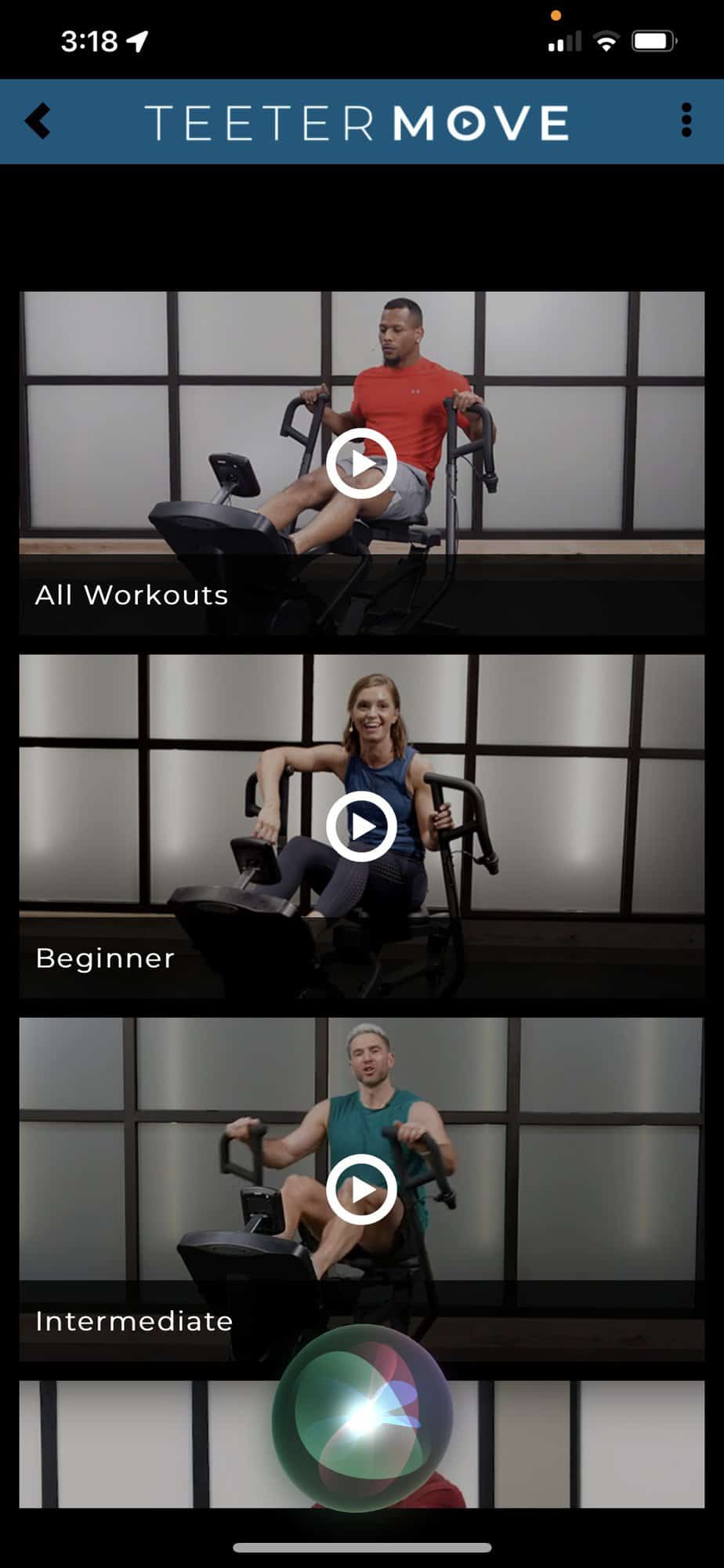 There is so much to tell you about this incredible machine! Let's look at all the features this device has to offer.
Product Dimensions and Specifications
Teeter Specifications
Measurement
Weight Capacity
300 lb ( 136 kg)
Height Capacity
4'8″ – 7'0″
Assembled In-Use Dims
62.75 x 37.5 x 43.25 (L x W x H)
Package Dimensions
Box 1: 32.5 x 24 x 23.25 in
Box 2: 35 x 24.75 x 21.5 in
Product Weight
180 lb
Teeter Specifications
Measurement
Weight Capacity
300 lb ( 136 kg)
Height Capacity
4'8″ – 7'0″
Assembled In-Use Dims
62.75 x 37.5 x 43.25 (L x W x H)
Package Dimensions
Box 1: 32.5 x 24 x 23.25 in
Box 2: 35 x 24.75 x 21.5 in
Product Weight
180 lb
The Pros & Cons of the Teeter Rowing Machine
This powerful piece of home fitness equipment has everything you need and even more of what you want in an elliptical rowing machine.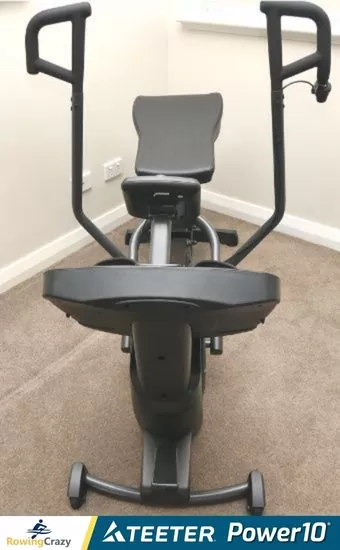 The Power10 allows you to target specific muscle groups, or rest some muscle clusters if you need to, meaning you can alternate and distribute muscle exertion evenly across the body during workouts. Thanks to this unique characteristic, you get to work smarter not harder because you increase calorie burn and muscle definition without adding minutes to your workout time.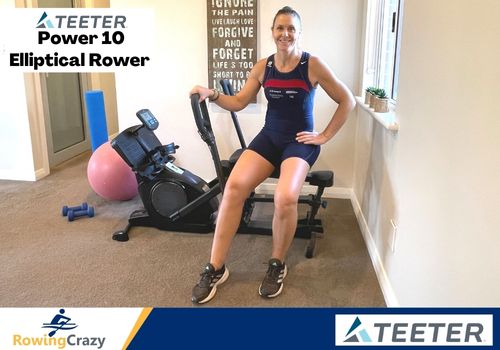 The Pros of the Teeter Power10 Rowing Machine
This indoor rower has multiple fitness and fun features, it's no wonder everyone is talking about it. Some of the pros of this workout machine include:
Free personal training with Teeter Move app; that means no monthly subscription costs
Progress monitor allows you to see how you are meeting your goals
Multi-grip handles are sweat-resistant, comfortable, and rubber padded (adjustable to suit any user)
Comes with a free, easy-to-read digital performance monitor that tracks heart rate, time, calories, distance, and strokes per minute
Low-impact design means less wear and tear on joints
High-quality, non-slip, quick-release foot straps are fully adjustable
Uses magnetic resistance for quiet operation; it's so quiet you can watch TV while working out
There are 7 resistance levels to choose from, so even a seasoned athlete can still get a good workout
The seat is well-made and comfortable
Has a generous 300-pound (136 kg) weight capacity so even heavy people can use it
People from 4 feet 8 inches tall to 7 feet can use it thanks to its large one size fits all seat (which is a new feature upgrade to the machine!)
Stroke length is adjustable
Bluetooth-enabled chest strap connects wireless to the heart rate monitor; you can also use the Bluetooth for third-party apps, such as Smartwatches used for other heart-rate monitors
Folds for space-saving storage
Transport wheels make the device easy to roll and store
3D interactive instructions make assembly easy for most people

2 Year Warranty
Read What the Rowing Crazy Test Team Is Saying After Using this Product :
"Wow, I did not think that machine would burn so many calories so fast!
Noise, what noise?? There really is no sound – Hello Netflix!"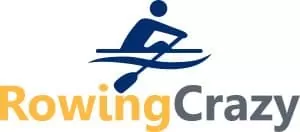 Petra Amara Rowing Crazy CEO: "This is one of the quietest machines I have ever used, plus it gets your heart pumping super fast! I also love that there are no membership costs to use their training app"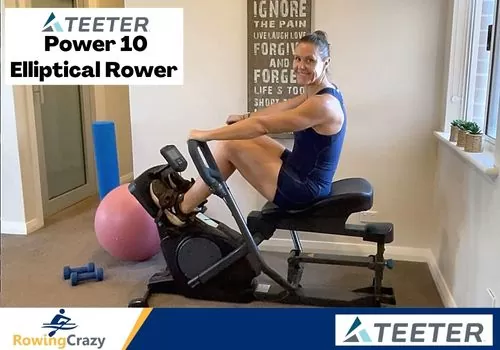 The Cons of the Power10
While the Power10 may be about as close to perfect as a piece of home exercise equipment can get, it still has a few drawbacks, such as:
Requires two people to assemble this product
Because of its weight, this cardio machine might be a bit difficult for some users to fold and move
You will need to watch the instructional videos more than once before beginning your workouts as they are a bit complicated
After a few weeks, the screws and other attachments should be checked for tightness as they can go loose
The seat might feel a bit hard for some users but that being said it is well built and will last
Its weight capacity may not be enough for some extremely obese people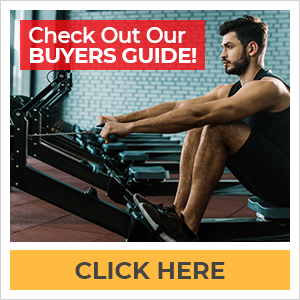 As you can see, there are no serious problems or drawbacks to this incredible machine, only some minor issues.
Why Buy the Teeter Power10 Elliptical Rower?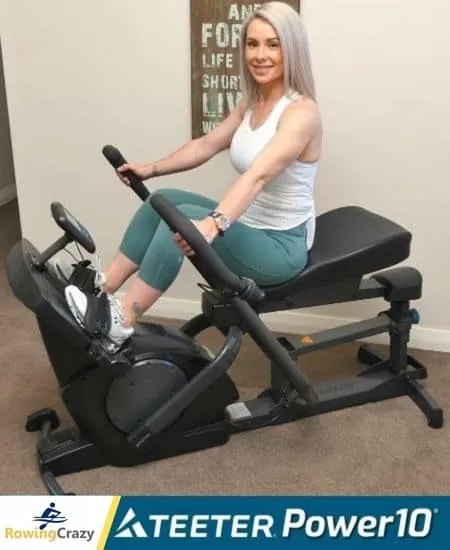 The truth is that there are a great many rowing machines you can buy. There are also a great many elliptical machines for sale. However, there aren't nearly as many elliptical rowers and is the best product of the ones I've seen.
Why the Teeter Combination Machine and Not a Rower?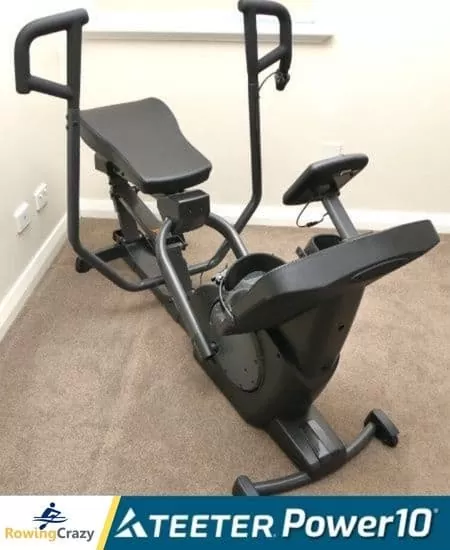 I love rowing; it's my passion in life. However, I don't have a lot of extra time in my busy schedule. I wanted to find a way to do everything – a complete full-body workout, cardio, muscle burn, muscle toning, and strength training in one machine. Think of this product as an indoor rower, only better; or you might want to call it the ultimate rowing machine.
No matter what you call it, one thing is certain, this device does everything you need to get the ultimate workout.
This exercise machine does the work of several machines or exercises in one product. As a cardio machine, there is no equal. It's a fantastically quiet magnetic rowing machine, but best of all, it's a combination machine.
The bi-directional magnetic resistance mechanism and elliptical path of Power10 make all the difference. Why just row when you can do strength and endurance training on the upper body at the same time? No need to own dumbbells or free weights, you don't need to find time to do any other type of workout or training. This machine gives the body fitness levels you never thought possible from a single machine.
How To Set Up the Teeter Power 10 Perfectly for Your Body Type
Once your Teeter rower arrives you are going to be so excited to jump on there and start working out immediately. But try to take the extra few minutes and watch this video. It will ensure you set all your settings perfectly and safely for your needs – you don't want to injure yourself as soon as you get it.
Honestly, it's only a few minutes so take the time, watch the video, and set your machine up perfectly, you'll then get the best workout possible – trust me you won't regret it!

Fitness Expert & Trainer Zoe Impressed by the Teeter Elliptical Rower's Performance: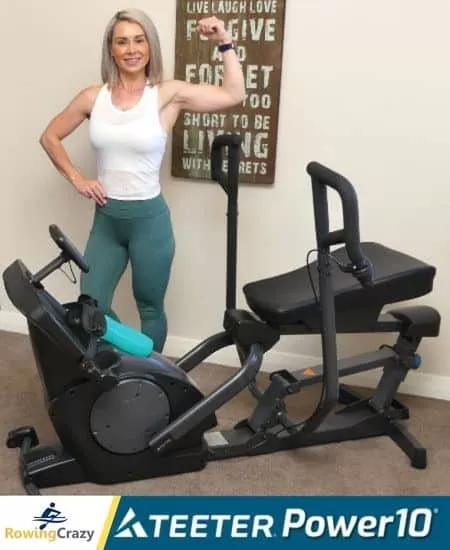 If you are into weight loss, then you absolutely have to get this machine for your home gym – I simply love it! There is no other machine that burns the same or more calories than this elliptical rowing machine.
Of course, the amount of calories you will burn depends on your current weight and how long you work out. To give you an idea, a person weighing 155 pounds can burn 400 calories in 30 minutes on average.
You've probably used different types of trainers, tried different workouts, and still been disappointed in the calorie burn that you got for the effort you put out.
With the Teeter rower, there are no more disappointments! For 20-30 minutes a day, you will see your fitness level improve, get great-looking abs, have tight triceps and quads, as well as biceps and forearms while getting a good cardio workout you can be proud of.
There simply is no better piece of home fitness equipment. Try one for yourself! Its price is very reasonable, and Teeter offers a 90-day complete money-back guarantee if you don't love it. Why such a long guarantee time? Because they know that you will love it and won't return it.
I've never met anyone who returned their Teeter Power 10 elliptical rower, which is why I highly recommend this piece of home gym equipment.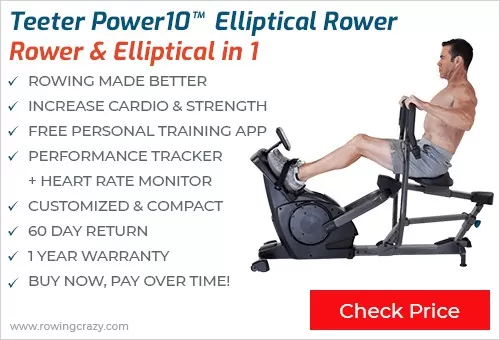 Need More Info – How To Contact Teeter Directly:
If you have more questions after reading our Teeter Power10 Elliptical Rower review, you can directly contact Teeter below or you are welcome to contact us via our contact page:
Customer service request form via the Teeter Website
Frequently Asked Questions
Q: Which is better, rowers or ellipticals?
A: Both are excellent devices for beginners and professional athletes, but why chose one or the other when you can get both in the Teeter Power10? This single machine means no more dumbbells, no more treadmills, and no more floor exercises (unless you love doing them, of course!)
Q: Is the Teeter Power 10 good for those with bad knees?
A: Yes, it is. This is a low-impact rowing machine that strengthens the muscles supporting the knee without adding weight to the joint. The seat sits at a comfortable 22 1/2 inches high, so even getting on and off is easy.
Q: Will this work for those over 6 feet tall?
A: Yes it will. The Teeter is made for those from 7 feet tall to 4 foot 8 inches tall. The seat and stroke pattern is adjustable to fit almost everyone.
Q: Does the Teeter Power 10 elliptical rowing machine need maintenance?
A: Not really. There are a few points that require some lubrication once a year, but the magnetic resistance flywheel does not require any maintenance, unlike chain-driven devices.
Q: How does the Teeter Power10 elliptical rowing machine store when you aren't using it?
A: This product folds and is a compact 2-foot by 2-foot square that you can roll away and store upright. On the floor, the device needs 2-feet by 5-feet of space.
Q: Will the Teeter work well for seniors?
A: Absolutely! The Teeter Power10 offers a challenging workout for all fitness levels. You will find hundreds of workouts on the app, some designed specifically for beginners. Plus it is super quiet due to the magnetic resistance.
Q: Is this a better cardio machine than stair steppers or treadmills?
A: Yes, no doubt about that! Stair steppers and treadmills are great at increasing your heart rate, but they won't work all the muscle groups in your body at the same time. You will work smarter not harder. Using this incredible product gives you a high-intensity workout and strength training all in one.
Q: How much does the Teeter Power 10 weigh?
The Teeter Power 10 weighs 180 lbs. It is a much heavier piece of exercise equipment compared to other home rowers and elliptical machines.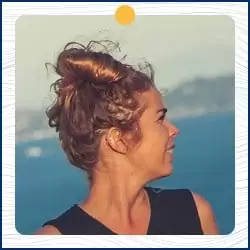 Written by Petra Amara – RowingCrazy.com
CEO & Founder of RowingCrazy, National Rower, Coxswain Womens Eight Team, Rowing Coach & Writer
Petra is a Mother of two and owner of Rowingcrazy.com. Petra lives and breathes rowing, she also has a passion for writing which lead her to start RowingCrazy.com to share her rowing experience and expertise with others.