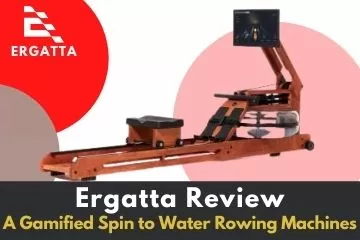 Indoor rowers have been around for centuries, and water rowers are extremely popular. While there are some water rowers built on metallic frames, most use wood bases that simulate being in a real boat.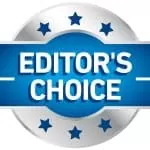 In a Hurry? Here the Details on the Ergatta Rower:
If you are short on time and prefer a quick overview, take a look at our table provided below:
Ergatta Rower Dimensions & Specs At A Glance
ERGATTA
Specifications
User Weight Limit
500 pounds (227 kg)
Height Capacity
40-inch inseam (about 6'8″ tall)
Assembled Dimensions
86″ x 23″ x 40″ (LWH)
Upright Dimensions
23″ x 22.5″ x 86″
Machine Weight
76.5 lb (without water)
103 lb (with water)
*We review fitness products impartially and may earn a commission from affiliate links. For details see our disclosure page.
Please keep reading our article below as we have put this machine through the wringer, and we're excited to share our findings with you! So buckle up and keep reading – we promise it'll be worth it!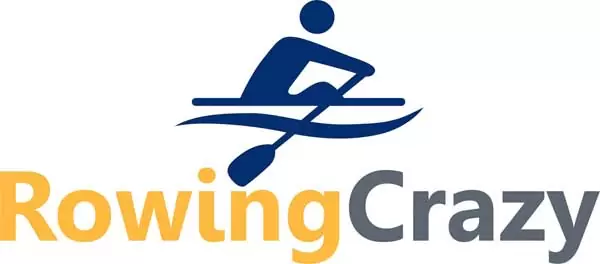 Introducing the Ergatta Rowing Machine – Get Ready to be Amazed!
If you've been checking out water rowers, especially connected water rowers, I'm not surprised that Ergatta is on top of your list. Everyone is talking about the Ergatta and the recent upgrades they have made to this rower have been impressive! So let's dive into the nitty gritty of this world-class water rowing machine.
What Is the Ergatta?
It is a connected water rower released in 2020. The name might sound new to you, but the entities behind it are pioneers in their respective fields.
The machine itself is built right in the USA by WaterRower, a pioneering company in water rower manufacturing. It is a leading name in the industry with a wide range of aesthetically-crafted water rowers in its portfolio.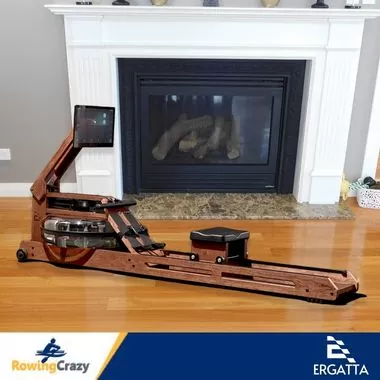 Looks can be misleading, so if you think that this is another WaterRower except for a different nameplate, you couldn't be more wrong.
This water rower is a connected interactive machine that offers unique visual content and gamified workouts designed by New York-based Ergatta to keep you hooked on end.
The Ergatta team headed by CEO Tom Aulet envisioned not only an indoor rower that was visually appealing but also a topnotch machine that would be fun and exciting to use.
Dimensions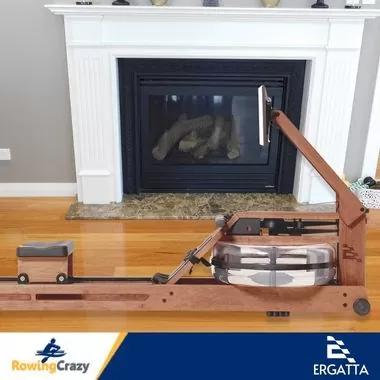 A furniture-like equipment measuring 86″ in length and 23″ in width will no doubt occupy some space. You can't set it up in a corner of your living room and turn a blind eye to it. That's like pretending not to notice a 7-foot person sleeping somewhere in your home.
The great thing about the Ergatta, though, is that it's so unbelievably beautiful you won't mind it sharing the same room with you. It looks more like an artisanal furniture that blends with your home interior. It is easy to move and store so that it occupies a smaller footprint when not in use. For more on this, you can check out the section on Storage Options & Portability in this article. Meanwhile, here's a quick look on the dimensions and capacities.
Pros and Cons of this Rowing Machine
This connected rower is a not your typical water rowing machine, as you will soon see. Let me show you the pros and cons right off, so you can make a more informed decision.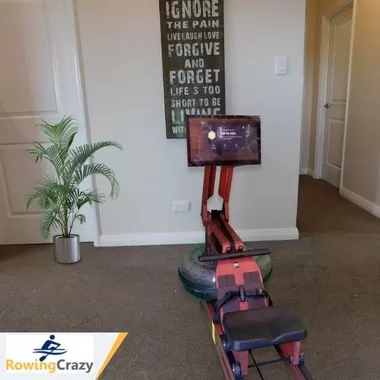 The Pros
The beautiful cherry wood frame is so visually appealing you might mistake it for a new-age chair or mini-theater seat.
The smoky gray, see-through water tank is also aesthetically pleasing to the senses.
It has a 17.3-inch screen with multiple plug-in ports. A smart interface like this makes this rower versatile and friendly to other tech.
Workouts include games, racing competitions, monthly challenges, scenic rows, and training programs.
Race and interval workouts are tailored to your fitness level.
A new Race of the Week (ROTW) is released every Sunday, and you can access it any day of the week.
You can create groups, invite friends, issue private challenges, and monitor friends and rivals' rankings.
Water-resistance mimics outdoor rowing in both feel and sound.
It supports Bluetooth-enabled headphones and heart rate monitors.
No assembly required. Ergatta will have the unit assembled and then delivered and set up wherever you wish.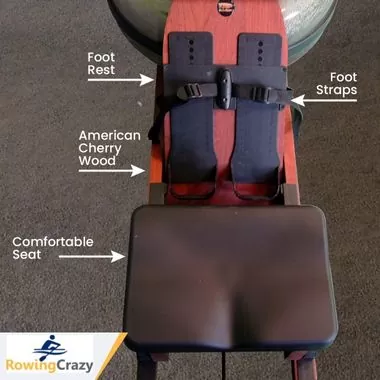 The Cons
This is a premium machine, so it comes at a premium price tag, making it out of reach for some users.
There are no live workout programs, instructor-led classes, or off-the-rower (mat) workouts.
The 17.3 inch monitor, while larger than most tablets, isn't as large as other connected machines.
So you see, this machine may not be for everyone. It's not for people looking for boutique classes with instructors giving lessons. Instead, it's about getting into a sport via an innovative gaming platform that's more fun and exciting than the typical workout setup.
Ergatta Workouts
Ergatta was designed as a response to people who wanted to take control of their rowing workouts, not take instructions from celebrity coaches in a classroom setting. In other words, you take the front seat in defining your fitness journey.
I find Ergatta's intelligence very appealing (which you can read more about in this review below). Your workouts are calibrated based on your fitness level, meaning, the machine learns from your initial row and automatically recalibrates as you improve. Instead of instructors telling you what's going to happen next, it's you calling the shots!
Get a feel of the workouts in the video below:
They have created the workouts based on adrenaline-pumping games. As you can see in the video, Ergatta users have fun with interval workouts and racing competitions.
The racing is asynchronous, so while you're racing against real users, the race is not live or synchronous, although it feels that way.
What Are the Different Workouts?
I've mentioned about the workouts here and there, so let's check out the programs one by one. On the side of the 17.3″ screen are tabs from which you can choose from these 4 workout categories.
Push
The Push Program is a collection of sequential workouts designed towards specific goals, all leading to a final challenge or fitness theme. For example, a workout program called Building Your Endurance contains 10 workouts and gets you sweating to your first 30-minute row. If you're up to the challenge, you can check out next a program to help you gear up for a 5K race.
The latest software update includes Progressive Push programs, such as the Getting Started series and the Power Camp series. Both contain three full-length Push programs, with the idea that you do the workouts in progression and work your way up toward a final challenge or test.
Interval
Interval workouts challenge you to hit as many targets as possible while making sure that you keep within your personalized target zones and maintain a certain stroke rate for a preset number of minutes. You can choose from hundreds of workouts disguised as games depending on the category you prefer (endurance, HIIT, technique), difficulty level, time, and distance.
There are hundreds of Pulse or Meteor games that you can access via the Interval workout program.
Race
Feeling super competitive? You can look forward to new races every week! Ergatta releases a new Race of the Week (ROTW) every Sunday at 6:00pm, and you can access it every day of the week until 5:30pm of the following Sunday.
You can compete an ROTW several times in any given week to beat previous players' records (even your own!) and climb to the top ranks before the race ends and a new ROTW begins.
If you've tried or heard of the 2D races before, you may want to know that you can now toggle from 2D to 3D, or vice versa. The upgrade retained the old style of gaming for people who prefer 2D. So, if you have motion sickness issues especially around fast twists and turns, then the 2D might be less nauseous to you.
Scenic Row
While you do Open Row, which allows you to set your own time and pace in a long, leisurely row, or a fast and furious 500 meters, you can enjoy Scenic Rowing views from waterways in Thailand to Spain. If you are new to rowing be sure to check out article on what is a good rowing pace to get the best out of your workouts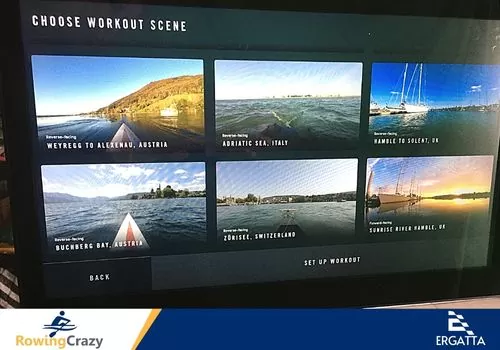 That's not all. They also has a social aspect to it. Remember the weekly races? Well, the Ergatta Team has added a new dimension to it. You can now add friends (called Rivals) and issue Private Challenges. On the Home screen is the Rivals button that you can select to search for friends/rivals' rankings, befriend race rivals, or select friends as racing competition.
All these features and the variety of workout options will no doubt keep you motivated and challenged for a very long time. There are also incentives for those who keep hitting milestones – like the charitable donations made on your behalf if you unlock certain challenges and the chance to create your own gaming workout if you reach the 1M mark.
How Does the Ergatta Personalize Your Workouts?
It really is very impressive as it works on a smart platform that 'learns' about you as you work out and tailors future workouts based on your fitness level and the progress you're making.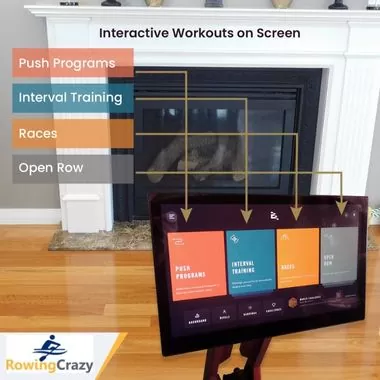 How does the Ergatta do this?
Calibration
After you set up your profile and as you use the machine, the software performs an assessment test that includes a 1,000-meter row completed within 5-10 minutes. This exercise is called calibration, which ensures that you get personalized workouts.
Recalibration
The machine has both manual and automatic recalibration functions to provide you with continual challenge as you progress and attain your fitness goals.
An automatic recalibration process takes place every 10-15 intervals or races that you complete, where Ergatta adjusts your workouts to meet your latest fitness profile. In short, as your fitness level improves, Ergatta automatically makes your next workout a bit more difficult to keep you challenged.
Recalibration Control
In a recent update, they introduced a new feature called 'Recalibration Control'. This means that you decide whether you want a particular workout to be included or not as basis for recalibration. This is a nifty feature for days when you don't want a particular workout to affect the difficulty level of future workouts.
That's what I call making progress in your own terms, unlike the preset workouts and one-size-fits-all approach that you'll find in most classroom setups.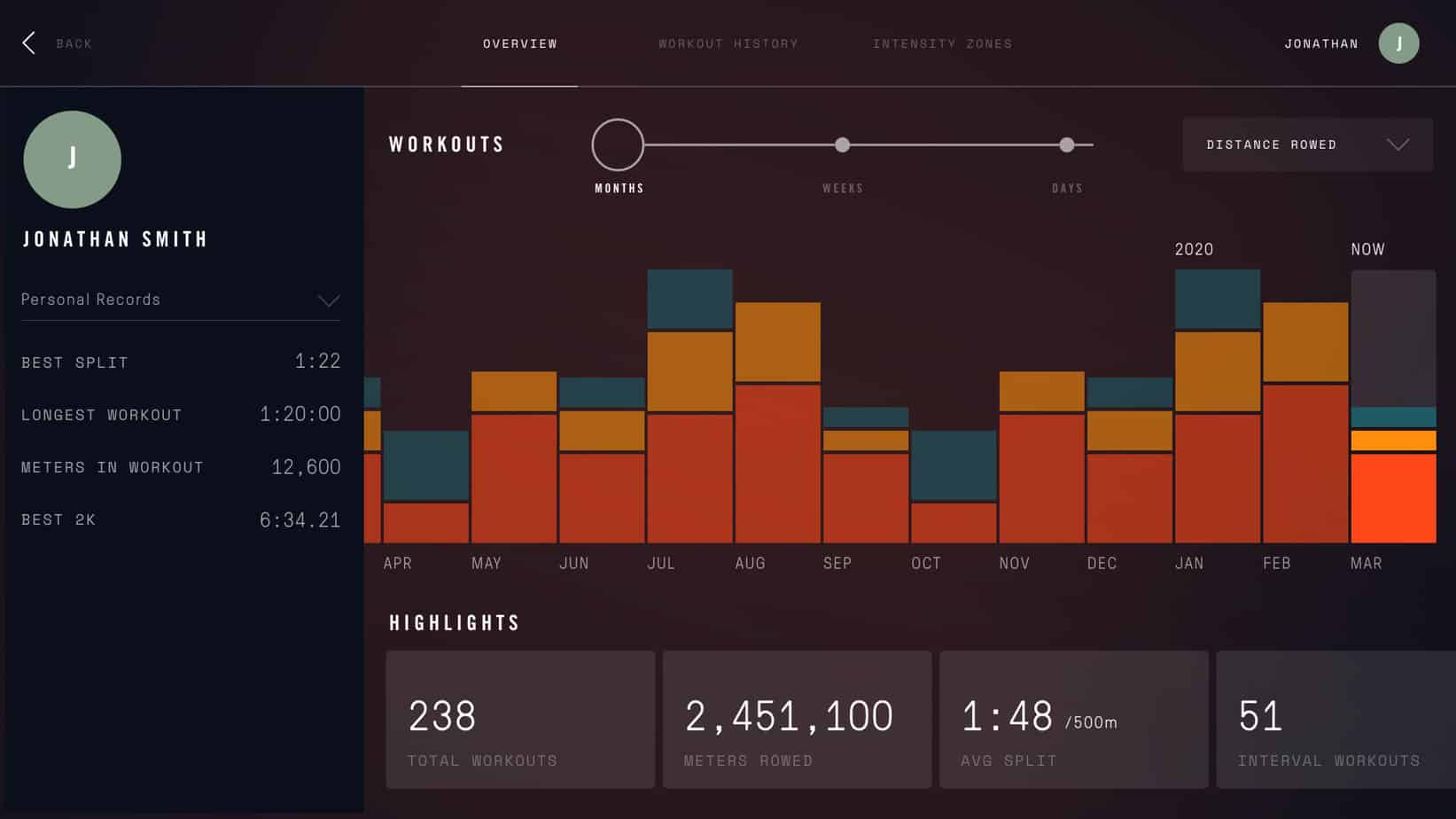 Is the Ergatta Rower Worth It?
It sure is! This beautifully hand crafted machine is worth every penny you invest in it for the following reasons:
It's your answer to boredom
Let's face it, once you have the rowing technique down, your mind is pretty free to roam, and frankly, it's easy to get bored. That's why you need a machine that will keep you motivated long enough to bring you closer and closer to your fitness goals, and the Ergatta company found the answer to that.
Do you remember how you can't put down a video game as you rack up points and tokens? I bet you do, and that was the breakthrough concept that gave birth to this brand-new way of rowing.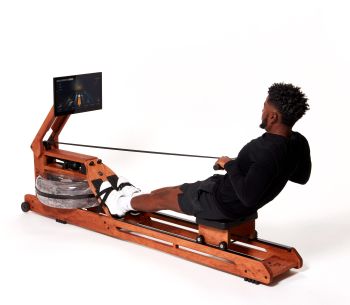 It will keep you engaged
It is an at-home workout equipment that works like a video game – it locks you in and keeps you coming back for more. Rowing has become more exciting with Ergatta's cleverly designed workouts based on games, such as Meteor and Pulse.
The gaming approach helps you stay at your intensity zone longer
Wonder how video games could get you hooked? Ergatta works around the same principle.
You get to win tokens and points, but all 'games' are actually goal-based workouts focused on SPM, split time, intensity, and other workout metrics. Aside from the Meteor and Pulse workouts, it also offers Push, Race, and Scenic Row options (described above).
There's no doubt that the Ergatta has taken rowing to a whole new level with its gamified approach, transforming plain old workout routines to smart at-home workouts that will surprise you and make you wonder how you've worked out in years without Ergatta.
What other device can offer all the above? None that I know of, and besides that, there are a few other things about the Ergatta that will make you ask, "Where has this been all my life?!"
A Few More Things about the Ergatta Rower
While the machine offers Bluetooth-linked headphones, you can also use the high-quality front-facing, built-in speakers, if you prefer those.
The Feed.FM music station has a wide range of music to choose from, including classic rock and high-energy pop music. Take note, though, that you cannot play your own music unless you use your own headphones and your cell phone or another device that holds your music.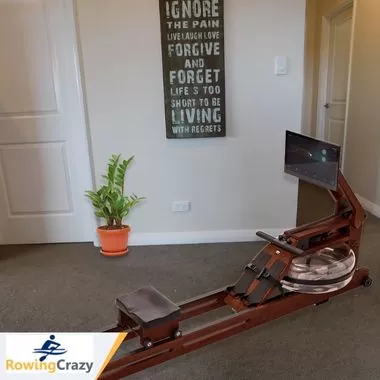 You must have both Wi-Fi and electrical outlets where your machine is set up to use the workout programs and download new workouts that are released every week.
Ergatta will keep a record of all your data and metrics, such as the number of rows completed, best split time, time rowed, and calories burned.
You can also access My Rankings, which will show you how you compare to other Ergatta users. This connected rower is pretty amazing when you consider all the fun things and information that it has to offer at-home machines.
Are Ergatta Rowing Machines Loud?
No, not at all.
One of the best things about water rowers is that, unlike air rowers, they are nearly silent and offer as close to an actual water experience as you can get without getting wet.
This is one of the many benefits of a water tank machine. You can enjoy the sounds of water without making so much noise that you annoy neighbors or company at your home.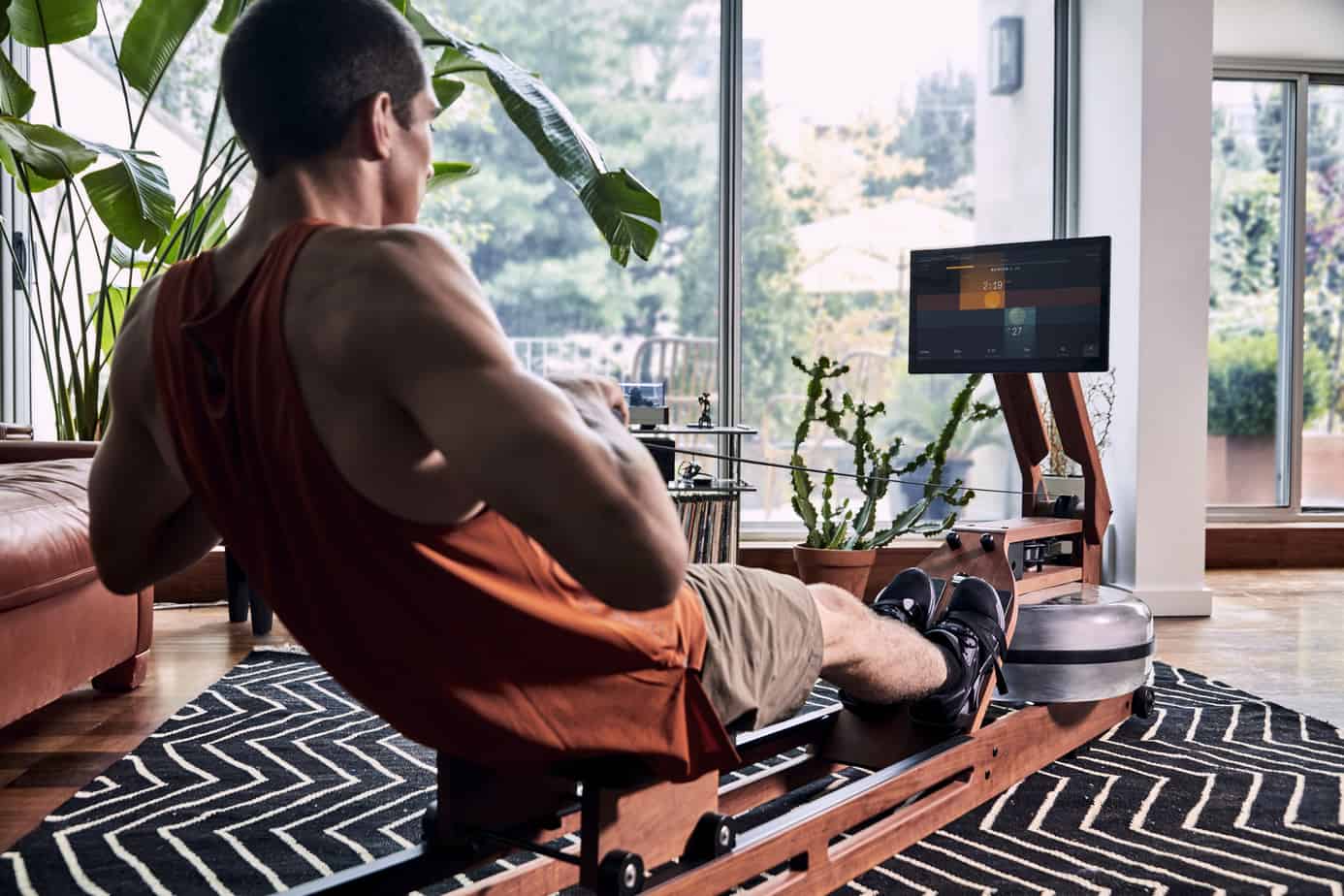 If you have small children, roommates, a significant other who works night shifts, or if you live in an apartment and don't want the neighbors to complain about noise, then the Ergatta workout is the perfect answer.
Can You Use Ergatta Without Membership?
This is one of those "Yes, you can, but why would you?" situations.
Without the membership, you won't have access to any of the fun games and racing competitions. Ergatta will not be able to recalibrate your workouts nor will it save your workout history.
You will be able to use a limited version of Open Row, and you can still use Bluetooth to connect your headphones and heart rate monitors, but you won't be getting the full Ergatta experience.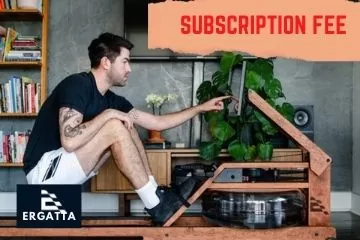 In other words, the Ergatta will not be the "connected rower" that you want in the first place if you don't have the membership.
Currently, the Ergatta membership is $29 per month (or $348 per year). Remember that you can create an unlimited number of profiles on the machine and still only pay for a single subscription. Try going to the gym with that offer!
If you are experiencing any issues with the membership or have questions, the Ergatta support team is super helpful and can answer all your concerns.
Enjoy the whole experience, including racing, games, and other software advantages with the Ergatta membership!
How Do I Unbox and Assemble My Ergatta?
Here's the great part… you don't!
No, I'm not kidding, it's exactly as you hoped it would be… completely automatic.
Currently, shipping is $149 however if you use Ergattas self-assembly option this is now free!! Professional assembly service and delivery right to your door (which I highly recommend) is only $249! Now, I love that – no installation headaches!
Ergatta will have the connected rower delivered and assembled at the nearest location to your home or business, then they will deliver and set up the machine to the address that you provide.
They will even make sure that it is in good working order before they leave! How awesome is that?!
If you would rather not have someone inside your home, you can have them deliver and leave it on your driveway or wherever you wish.
I actually love this feature. No more worries about missing parts or crazy calls to a service center because you can't understand the directions or discovering that the machine has a problem right out of the box.
The professional installers will make sure your Ergatta is set up and working fine so you don't have to do anything but grab those Bluetooth headphones, sit down, and start enjoying your Ergatta experience.
Yes WaterRowers Are Ergatta-Upgradeable!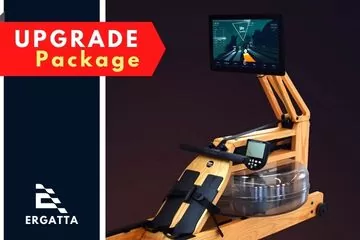 Now, maybe you haven't heard of this. If you already own a WaterRower brand rowing machine and wish you could access the interval workouts and games found on the Ergatta, we've got good news for you.
The Ergatta team allows WaterRower owners to purchase an Ergatta upgrade package to turn their WaterRower into a connected rowing system. If your WaterRower has an S4 v.2 system, you qualify for the Ergatta upgrade package. What a very thoughtful thing for Ergatta to do!
Must-Know Details about the Ergatta
The Ergatta Team made this machine unique in that it is a game-based water rower. Aside from that, here are small details that you need to know before purchasing this at-home workout machine:
1. Ergatta Storage Options & Portability
The Ergatta weighs 103 pounds with water, yet this weight is never an issue when it comes to moving it around. The Ergatta has two wheels and is designed in such a way that even people with small build can move it with ease. What this weight does is add to the rower's stability, ensuring that it doesn't move an inch on the floor when in use.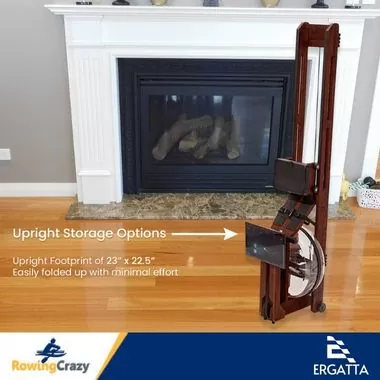 Like most WaterRower machines, the Ergatta stores vertically. When the machine sits up against a wall, it doesn't take up any more floor space than a dining room chair. The actual footprint when upright is 23" x 22.5" on the floor and 86″ tall. Remember that 7-foot man we've mentioned? Imagine him standing and leaning against a corner, and that's roughly the space that an Ergatta will occupy.
Click Here to See Our Top Rowing Machine For Heavy Person
2. Needs Electricity & Internet
Unlike some water rowing machines, the Ergatta must have electricity in order to operate. The rower does come with a 9-foot cord, which should reach most home electrical outlets. of course, you'll need internet to access the workouts.
3. No Live Fitness Classes
Remember that the Ergatta revolves around the idea of revolutionizing rowing workouts. The gamified platform is designed to do away with the traditional classroom-type setting.
In other words there are no fitness classes, whether live or recorded. The racing events are not live but are based on the times that other racers in your fitness level have already completed.
Ergatta has always listened to users' feedback, undertaking updates to address user needs and demands as they see fit. To the clamors that the racing be made live, Ergatta responded that future workouts may include live races, but no date has been set for those.
4. Water & Water Tank Maintenance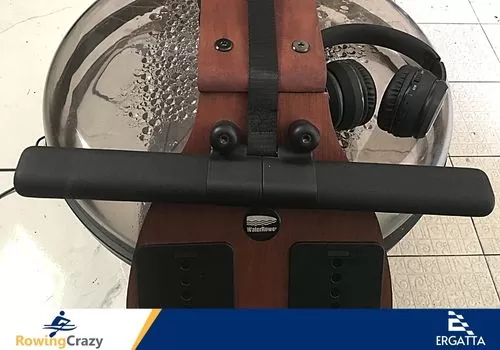 There is an electric siphon for the water tank so you can easily add or remove water. The tank is marked with water levels between 13 and 19. The more water you add, the more resistance this workout equipment will provide.
Chlorine tablets are also provided to prevent the buildup of algae. If the rower is in direct sunlight, you may need to change the water a few times a year.
5. Ergatta's Social Community
There is a Facebook Ergatta community where you can join and talk to other users. You'll love the series of updates the Ergatta Team came up with. On your profile, you may add friends to your group, monitor your rankings as well as theirs, and also add rivals so you can invite them to a private challenge.
The automatic matchmaking that you enjoy from Ergatta will still be there to ensure that you race with people in the same fitness level as yours, but you can up the ante and fun by issuing private challenges just like in a real boat racing competition.
The Ergatta connected rower is designed for the home first, so you know that it's got rowing machines down to an art. For the majority of users, this machine delivers an incredible experience that is unique among indoor rowers.
Final Thoughts
If you're the type of person who loves playing games, doesn't care so much for instructors, and wants to "do it on your own," then the Ergatta is what you've been looking for.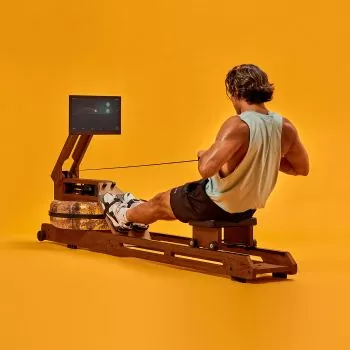 It offers a great rowing experience even for beginners since it continuously monitors your current fitness level and adjusts the workouts accordingly.
Be aware of the amount of fitness space you have (or don't have!) since the Ergatta rower is quite long.
If you're a video game lover who wants to play games and doesn't want an instructor telling you what to do, or you love the sound of actual water as you row, you will be delighted with the Ergatta. It's a fun way to improve your performance, and each session leaves you wanting more.
Need A Quiet Rower? Click Here!
Frequently Asked Questions
1. What is the warranty on the Ergatta?
The warranty is covered by WaterRower. If you register your product within the first year, it will have a 5-year warranty on the structural frame, a 3-year warranty on all other components including the water tank but not the tablet, which has a one-year warranty.
2. What is the Ergatta maximum user weight?
The user weight capacity is an astounding 500 pounds. That is far more than any other indoor home rower I've ever seen.
3. Does Ergatta work without a subscription?
It does and it doesn't. The machine itself will let you row, but you won't have access to the races, your history, and personal records, the monthly challenges, or any other motivating aspects of the software. All users have a different approach when it comes to their indoor machines, but without the subscription, you might as well just buy a WaterRower.
4. Can you lose belly fat using Ergatta?
Yes, you can. While spot-reducing is a myth, the fact is that getting your heart rate up to 85 percent of your maximum and holding it there for at least 20 minutes is what makes your body burn calories. This is where a heart rate monitor is helpful with motivation to keep you going so you burn more fat and calories.
5. Is the Ergatta the best machine on the market?
That would depend on whom you ask. Everyone has different styles, as well as likes and dislikes, not to mention budget concerns. The Ergatta is an outstanding rower that is challenging and uses unique software to turn workouts into games.
If you want the meditative sound created by water rowers, need motivation to do your workouts, have Wi-Fi and electricity where you will be using the rower, and if you hate classroom settings to do your sport, then the Ergatta will be perfect for you.
Other Ergatta Articles You Might Like to Read: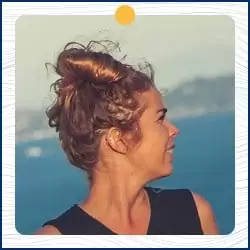 Written by Petra Amara – RowingCrazy.com
CEO & Founder of RowingCrazy, National Rower, Coxswain Womens Eight Team, Rowing Coach & Writer
Petra is a Mother of two and owner of Rowingcrazy.com. Petra lives and breathes rowing, she also has a passion for writing which lead her to start RowingCrazy.com to share her rowing experience and expertise with others.