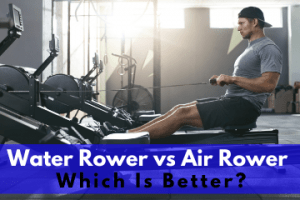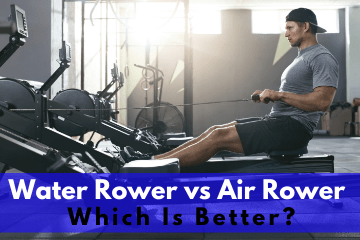 Deciding what rowing machine is right for you can be a tough decision. When you start researching the different types of rowing machines it can be a bit overwhelming.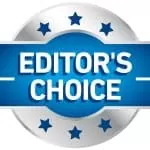 In a Hurry? Here are the Rowers We Are Comparing:
Short on time but still want to know which rower is better between an air rower or water rower? Check out our answers by clicking on the links below:
*We review fitness products impartially and may earn a commission from affiliate links. For details see our disclosure page.
This article will provide a comprehensive review of these rowing machines, examining each one closely and sharing our discoveries for each machine.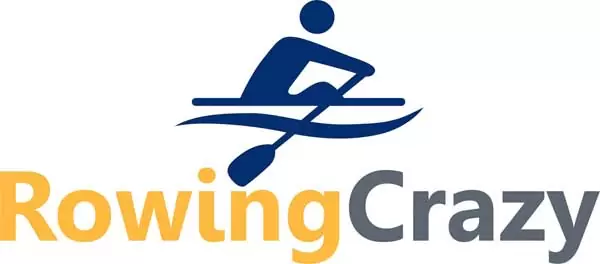 Without Further Delay, Let's Begin!
There are a few things you should know when looking at water and air rowers. While most rowing machines will give you a similar rowing experience you do want to consider things like resistance levels and decide on how much of a priority it is for you to feel like you are rowing on water.Air resistance and magnetic rowers are going to give your full body a different type of workout than a machine with water in the tank that is designed to feel like you are rowing on water.
There is no right answer necessarily, a lot of it comes down to your personal preference in what you are looking for when comparing the different types of rowing machines.
Which is the Best Water Rowing Machine of all the Water Rowers?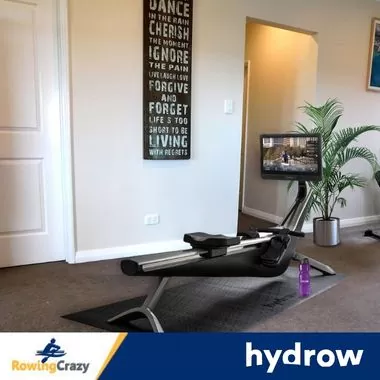 Hydrow SAVE $100 or £100!! => Use Coupon Code: ROWINGCRAZY
Hydrow makes one of the best water rowing machines available for purchase. With this water rower, you will truly feel like you are rowing on the open water.
Watch our Experienced Erg Rower Max Secunda with the Hydrow:
With good resistance levels, you can easily get a full-body workout and the rowing machine will keep track of your stroke rate, heart rate, and other metrics so you can see how you improve over time.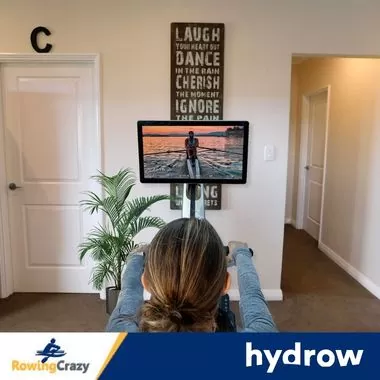 Water rowers (read more on water rowers with screens) are amongst the best types of rowers because you can truly work out all your muscle groups and don't need to buy a lot of extra equipment for your home gym. The faster you row the more calories you will burn, although the key to indoor rowing is to adjust the resistance levels correctly.
Hydrow SAVE $100 or £100!! => Use Coupon Code: ROWINGCRAZY
The Hydrow is a good rowing machine too because the machine makes for easy storage so you can easily get it out of your way when you aren't using it.
Why is this Machine So Popular Right Now? Click Here!
Which is the best Air Rowing Machine of all the Air Rowers?
People love rowing machines from Sunny Health, as they find an air rowing machine is a good option when you don't need a lot of resistance. They usually come with a monitor to track heart rate, calories, and fitness performance. People love these monitors because they can easily track their progress and see the tangible results of all the exercise they are doing.
Whether you use an air rower, a magnetic rowing machine, or water rowers, the goal with any rowing machine is to exercise enough that your fitness levels improve and all your muscle groups get a quality workout with some low impact cardio exercise.
Sunny Health rowing machines are usually quite smooth and all models are well-loved in the rowing industry.
Tight On Space? Click Here to See All Our Easy Store Machines!
The quality fitness models do not require much storage space in your home and you don't have to worry about the noise levels either if you have roommates or family you don't want to disturb since the machines are fairly quiet. The price of Sunny Health rowing machines is usually reasonable.
What to Consider when Choosing a Rowing Machine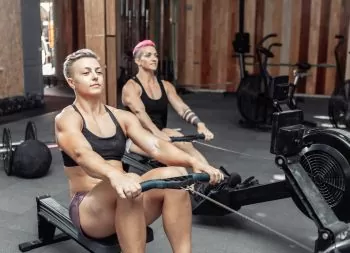 There are a few key factors to consider when you are looking at which water rowing machine to purchase:
Storage in your home – do you need a water rowing machine that collapses and fits into a small space or will it always stay in the same place in your home?
What type of rowing machine do you want? When looking at water rowers vs air rowers, there are a few differences.
Magnetic rowing machines might be the type of rowing machine to go with you if you are concerned with resistance levels as you can usually change your resistance level a lot. Magnetic rowers are like a program designed to provide you with the right resistance throughout your workout, which is why they are one of the more popular types of rowers.
Stroke rate matters, so look for a machine with a water flywheel or a tank and a monitor that can track your stroke easily.
How quiet do you need your rowing machine to be? Maybe you live alone and you don't need quiet, but if you have others in your home you can compare rowing machine models based on the noise they make.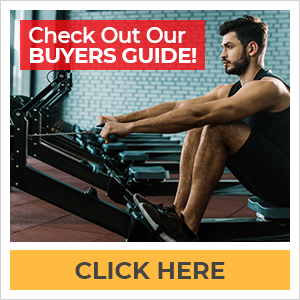 Why Rowing Machines are the Best Equipment for your Home
Whether you are using high resistance with a flywheel to get a great workout or an air rower, there is a wide range of reasons why you should buy a water rowing machine for your home gym.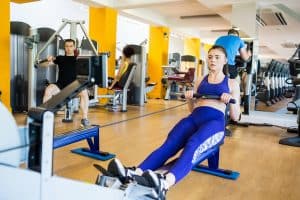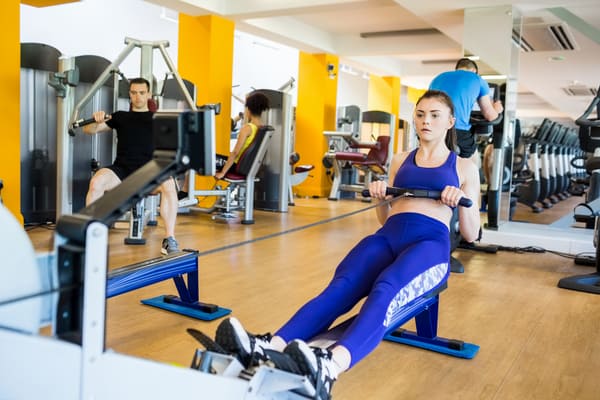 Resistance levels are the key to any good workout as the difficulty of each stroke is how you can help build muscle. From the top of your head to the bottom of your toes, a smooth row is going to give your total body a great workout and the rowing machines are well worth their price since your overall health should improve.
Just because good rowers are smooth does not mean you aren't using the right amount of resistance. Fortunately, most types of water rowers have a water tank and flywheel that make rowing feel smooth while still giving you a great workout.
Air rowers and air resistance are a little easier than water rowing machines, but they still help you produce great results. When you use rowers, air flow helps create resistance and make your muscles work harder. Use this resistance to maximize your output.
Which is Better Air or Water Rower?
Air rowers are going to be a little easier, which might be a great idea if you are easing your way into a new health routine. The flywheel can be adjusted so you can row as hard or easy as you want. Use an air rower when you are just getting back into exercise. The low-impact exercise when using a flywheel is a great way to dip your toe back in the water with exercise after a long layoff and you can control the amount of air the flywheel is using and adjust your resistance accordingly.
Click Here to Read My Full Review on Water Rowing Machines
The goal is to have a positive rowing experience that makes you want to keep coming back for more. With that goal, it doesn't matter if you buy a magnetic rowing machine, air rowing machine, or one of the great water rowing machines on the market. Buy the one that will make you want to use it again and again! Side Note: Looking for a water rower? Check out my review on the CityRow Go Review as this machine is very impressive too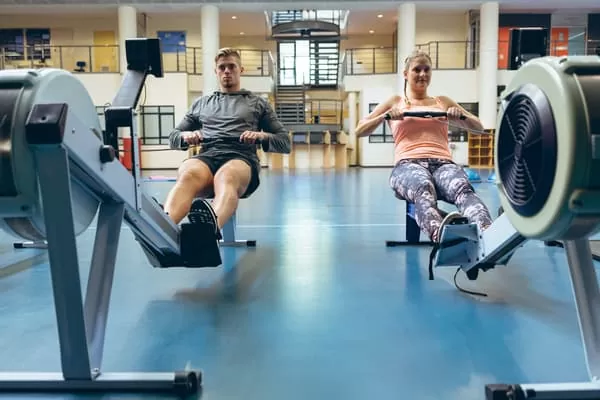 What is the best type of Resistance for a Rowing Machine?
Magnetic rowing machines and water rowers are usually the best choice in terms of resistance, as air rowing machines usually don't offer as much resistance. Whether you choose one of the great magnetic rowers or a water rower, either type of rowing machine should give you great value for the price.
Models to Check Out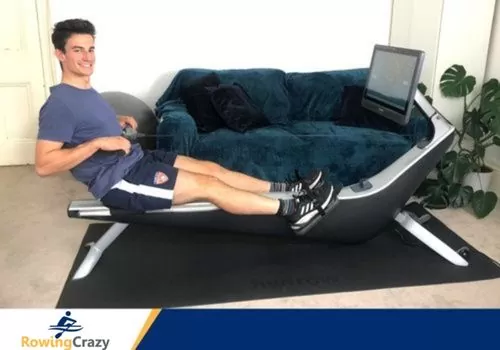 Start by researching top of the line models like Hydrow, Teeter, and Sunny Health and Fitness and see which type would make the most sense for your needs. Most rowing machines whether top of the line (and price) or something more economical do not make that much noise no matter the resistance you use when working out.
Water Rower Vs Concept2 – Who Won?
Do All Machine Types Have Resistance Levels?
A magnetic rower is going to be the best in terms of your ability to change the resistance. You can usually choose up to 8 or 10 different resistance levels when using a magnetic rower. So consider that when you are looking at a magnetic rower versus a water rower.
A Magnetic Rower offers the Most Flexibility with Resistance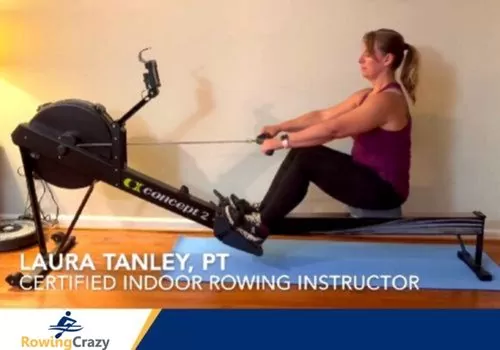 If you are sharing your rower with others in your home, you might want to go magnetic since you can play with the resistance so much. If you have been rowing for years and your partner for weeks, you will obviously have completely different strength and fitness levels and you want to probably go with a magnetic rower.
The best way to accommodate this is to get a machine that can easily toggle between difficult levels (resistance) and magnetic is probably the way to go in this case.
Egatta vs Aviron – See Who Won!
What is Right for you?
Consider your priorities whether they are noise level, resistance level, health metrics the machine tracks, or something else. There is no one size fits all machine, but with a little research, you will be able to find the one that works right for your fitness needs.
Just remember that they will all give you a great total body workout and you are one step closer to achieving your health and fitness goals! Think about an air rower if you are just starting out, a magnetic rower if you want to vary your resistance levels, and a water rower if you want to feel like you are truly rowing on the open water.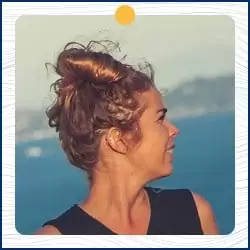 Written by Petra Amara – RowingCrazy.com
CEO & Founder of RowingCrazy, National Rower, Coxswain Womens Eight Team, Rowing Coach & Writer
Petra is a Mother of two and owner of Rowingcrazy.com. Petra lives and breathes rowing, she also has a passion for writing which lead her to start RowingCrazy.com to share her rowing experience and expertise with others.