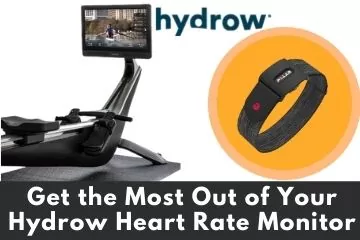 So you went ahead and did it. You bought the best rowing machine on the market- the Hydrow! Super congrats to you, my friend!
I own a Hydrow myself, and I can't think of a better Christmas gift, birthday gift, Mother or Father's day gift, or just an "I'm so worth it" gift!
Have you been loving the workouts? I think everyone feels that Hydrow has the best workout programs and instructors anywhere on the planet, but I'm betting you're missing one little thing: Hydrow's heart rate monitor.
In a Hurry? Just Want to See the Heart Monitor?
Are you short on time and want to see the Hydrow Blue Tooth Heart Rate Monitor? Then click on the link below to jump straight to it:
*We review fitness products impartially and may earn a commission from affiliate links. For details see our disclosure page.
However if you have got a little more time, please keep reading where I go into a lot more detail about this device!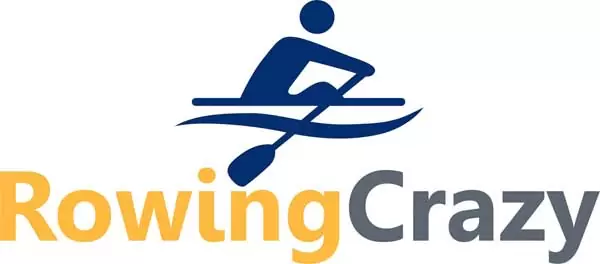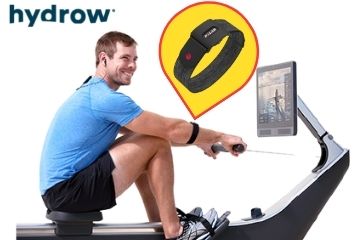 OK, so a heart rate monitor won't improve your rowing technique, but it will give you helpful information regarding your workouts.
Are you using a different heart rate monitor? No problem, I know everyone has their favorite brands, but if you think that a heart rate monitor is for "old folks" or that it's some fancy gadget that you really don't need, sorry my friend, nothing could be further from the truth.
Our Hydrow rower review focused on the machine, so in today's article, we're going to look at all things heart-related and why the right heart rate monitor can make or break your next rowing workout. Side Note: You might like to read my Peloton vs Hydrow Article
Why Use a Heart Rate Monitor?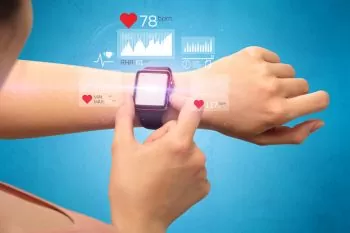 I won't bore you with tons of medical details, and that's a good idea since I want to remind you that I am not a doctor. This is not medical advice. If you have any type of heart condition, always speak with your doctor before starting any workout program.
Your heart is a muscle, as everyone knows, and like any muscle, it can get stronger the more you push it to its limits.
If you want to lose weight, a heart rate monitor is all the more important. To burn fat, you need to work your heart at about 85 percent of your maximum heart rate for at least 20 minutes. Note: to estimate your maximum heart rate, you can use this formula: 220 minus your age. Multiply the result with 0.85 to get your fat-burning heart zone.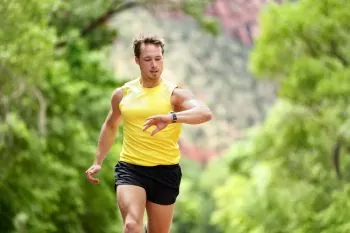 If you don't have a heart rate monitor, how will you know how hard you are working? Or whether you're in the fat-burning zone or not?
Now that you know why you should use a heart rate monitor, let's talk about which one(s) work best with Hydrow.
Does Fitbit Work with the Hydrow Rower?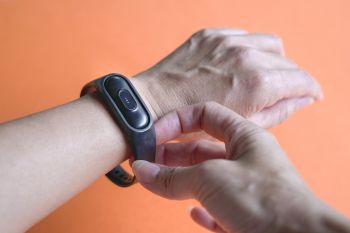 No, Fitbit products do not work with the Hydrow rower. In fact, any heart rate monitor that requires a PIN or password will not work with Hydrow's programming.
You can actually use any type of heart rate monitor, arm band, or chest band type, as long as it does not require a PIN.
Can I Use Hydrow and Apple Watch in a Rowing Workout?
Yes, you most certainly can use Apple watch in your Hydrow rowing workouts, but you need something to connect them and make them work together.
How Does Hydrow Connect to Apple Watch?
OK, so how does Hydrow work with Apple watch?
First, you will need to purchase from Hydrow their very own Hydrow Watch Link. It's relatively cheap and the information that you will then get on your Apple Watch will be so valuable in helping you reach your daily fitness goals, it's definitely worth the money.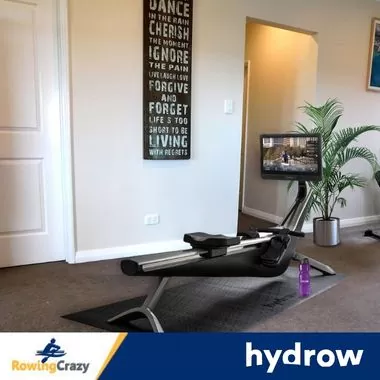 The Hydrow Rower Watch Link will allow you to pair unlimited users as well, so everyone in your house can track their own individual progress.
The great news is it is very easy to set up – two taps and it connects to your apple watch, it's that simple!
The watch link uses ANT+ technology, and pairs with Apple Watch Series 2 or any later models.
What Heart Rate Monitors Work with Hydrow?
The truth of the matter is that the more complicated a heart rate monitor is, the less likely it will work with the Hydrow rower.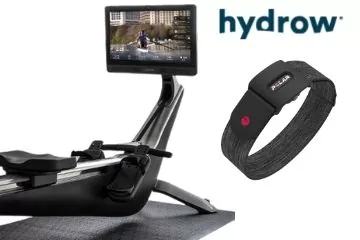 Some of the brands known to work well with Hydrow include:
Tickr Fit Armband
Wahoo Tickr
Tickr X
Garmin HRM chest strap
Scosche Rhythm 24 arm band
OTBeat Burn arm band
OTBeat Flex arm band
OTBeat chest strap
Peloton HRCO1 chest strap
Many Polar or Garmin models with a touchscreen
If you have one of these devices, then you can use them with the Hydrow rower if you like. Side Note: If you are yet to purchase a Hydrow, be sure to read my other articles City Row or Hydrow Rower and Hydrow vs Ergatta Rower
Does Hydrow Have a Heart Rate Monitor?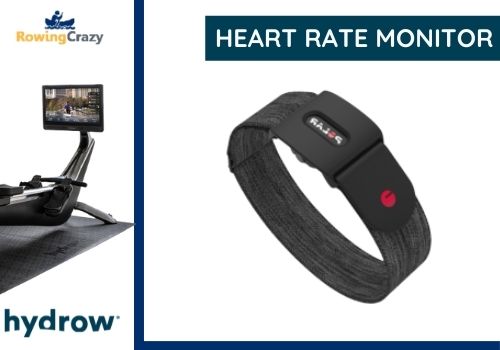 Yes, Hydrow has a heart monitor, called the Polar Verity Sense. It's an optical heart rate sensor that works perfectly with the Hydrow rower. The sensor comes with a washable armband that measures your heart rate from the arm. You can also use it for measuring your heart rate, pace, and distance when swimming. You do that by attaching the sensor to your goggle strap with a clip (included when you purchase a Polar Verity Sense).
If you've used heart rate chest straps or wrist-type heart monitors before and felt uncomfortable, then you'll find the heart rate armband monitor a great alternative. The Polar Verity Sense heart monitor is included in both the Hydrow Starter Package and Pro Package, but you may also buy it separately at $89.95. It comes with all the attachments mentioned, a charging adapter, and a pouch to keep all these items in one place.
Check Out Hydrow's Black Friday Deals! Click Here!
The Polar Verity Sense Heart Rate Monitor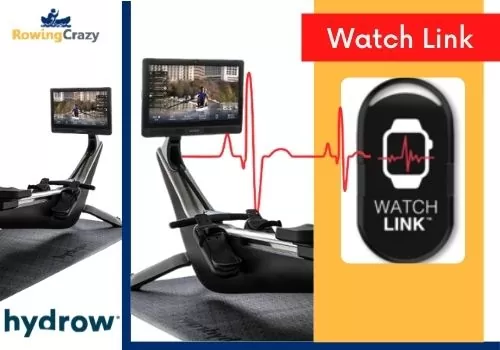 The Hydrow rower uses Bluetooth to connect your ANT+ heart rate monitor so you get more information about your current heart rate and feedback as you workout.
The Polar Verity Sense is a comfortable armband-style heart monitor that plays a crucial role in helping you reach your fitness goals.
Whether you're looking to do strength training, build your body's muscles, or improve your endurance, using the Polar heart rate monitor will support your efforts.
You can use it as a standalone monitor or match it with your Hydrow rower. This armband monitor is also waterproof, that's why swimmers prefer it. In fact, you can use it in a wide variety of sports.
If you haven't purchased your Hydrow rower yet, you will find that the Polar armband monitor comes with both the Starter package and the Pro package. The latter comes with yoga blocks and other workout accessories to help you attain your fitness goals more efficiently.
If you've already purchased the Hydrow rower alone, it's not too late to get the best heart rate monitor to use with it.
How Do I Pair My Polar Heart Rate Monitor with Hydrow?
Pairing your Polar Verity Sense heart monitor is easy.
Choose any workout from the main screen.
Turn on your Polar heart monitor arm band, other chest strap models, or other device, and put it into pairing mode.
Wait for your device to show up on your Hydrow rower screen as "Devices in Range".
On the right side of the name of your device, tap on the "connect" button.
Wait for Hydrow to tell you that the device has finished pairing.
Your full-body workout is going to be so much better with the helpful information you will receive from your Polar heart rate monitor. Tip: Learn why you should have a Hydrow Floor Mat under your rower!
The Bottom Line on the Hydrow Heart Rate Monitor
There is a wide range of heart rate monitors that will work with the Hydrow rower. However, if you want the armband-style model that works perfectly with the Hydrow interface, then you should consider using the Polar Verity Sense for your workout classes.
I've used several different types of heart rate monitors, and personally, I find that the Polar Verity Sense is the most accurate device. It is much easier to use than some of the watches, chest straps, and other monitor types, and it makes my workouts feel more complete.
Gain access to a wealth of information about your health and your workouts by using a heart rate monitor. If you don't have one, I highly recommend the Polar Verity Sense.
Happy heart health and happy rowing!
Want to Know More about Hydrow?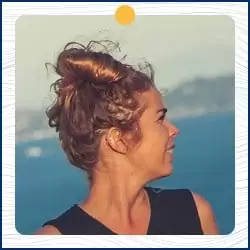 Written by Petra Amara – RowingCrazy.com
CEO & Founder of RowingCrazy, National Rower, Coxswain Womens Eight Team, Rowing Coach & Writer
Petra is a Mother of two and owner of Rowingcrazy.com. Petra lives and breathes rowing, she also has a passion for writing which lead her to start RowingCrazy.com to share her rowing experience and expertise with others.