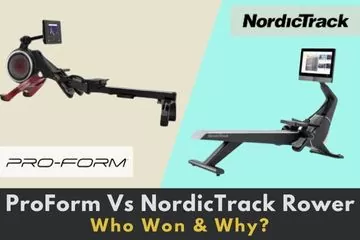 Hi friends! It's Petra again, and today, I've got a great comparison lined up for you.
ProForm Vs NordicTrack!
When you are ready to invest in a rowing machine for your home gym, you want something that will last but won't break the bank, right?
There are plenty of other things to consider as well, such as the size of the machine, the warranty, how loud it may or may not be, as well as what features are important to you.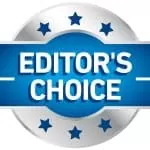 In a Hurry? Here are the Rowers We Are Comparing:
Don't have time to read the whole article? Click on the links below to find out which rower is the best between Proform or NodricTrack:
*We review fitness products impartially and may earn a commission from affiliate links. For details see our disclosure page.
We've conducted a thorough evaluation of each rowing machine to help you make an informed decision on which one to purchase. Our findings are shared below in greater detail.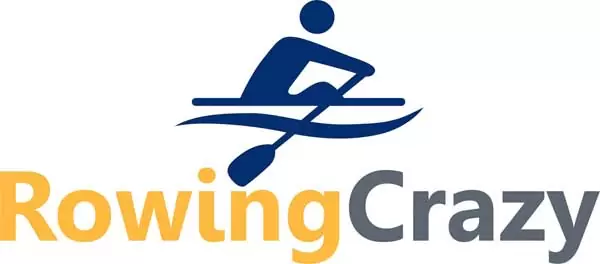 Let's Dive Right In!
One search for "indoor rowers" will reveal hundreds of different models and styles, so how in the world do you choose without being able to try each machine?
(There's an idea for some entrepreneurs. "Try Before You Buy" locations where customers can try out any machine they like before buying it.)
OK, back to the subject at hand.
Today, I'm going to tell you about three ProForm rowing machine models and three NordicTrack rowing machine models so that you can make a more informed decision.
Grab a cup of your favorite beverage, and let's get started.
ProForm Rowing Machines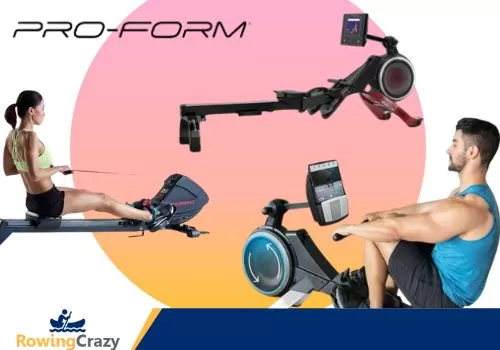 ProForm and NordicTrack are manufactured by the same company (Icon Health and Fitness), but they are anything but the same machines with different names.
I was lucky enough to have been allowed to try out ProForm rowers, and NordicTrack is the rowing machine of choice at my local gym, so I can say with confidence that I've used all of the machines below, and I've got a lot to say about them.
First, let's get familiar with the features of the ProForm rowers.
ProForm 440R Rowing Machine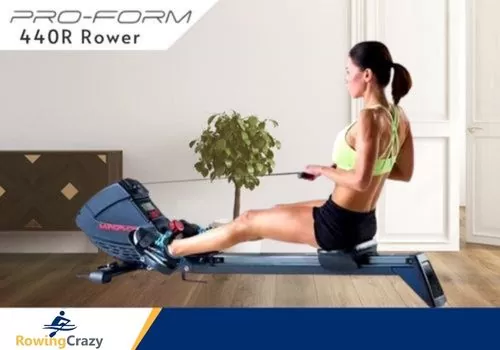 This is ProForm's budget-priced machine, but it has quite a few features that you might not expect to find on such a reasonably priced rowing machine.
The 440R does not have a tablet or screen of any kind, but it does have a performance monitor that will track your data such as total strokes, SPM, time spent, calories burned, and it will scan all of these items as well.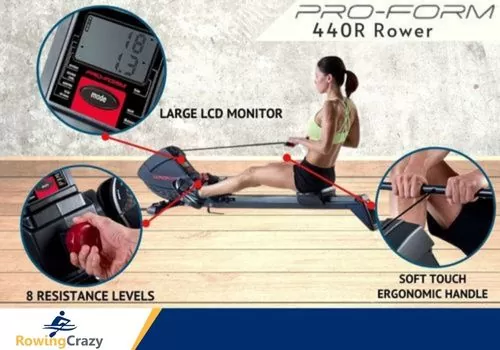 Other features include:
Silent magnetic resistance with 8 resistance levels, which you can adjust by turning the knob under the performance monitor
Has a low pulley station with a handle that you can use for resistance training exercises like bicep curls, making this machine a double-duty piece of exercise equipment
The handle is non-slip but doesn't have a lot of padding
You can put your smartphone or tablet in front of the performance monitor and use the iFit app for your workouts. ProForm offers a free 30-day trial of the iFit app (learn more on the iFit free trial ) so you can decide if it's right for you
Folds for easy storage
Maximum weight capacity is 250 pounds
Warranty coverage is 5 years for the frame and 90 days for the parts and labor on everything else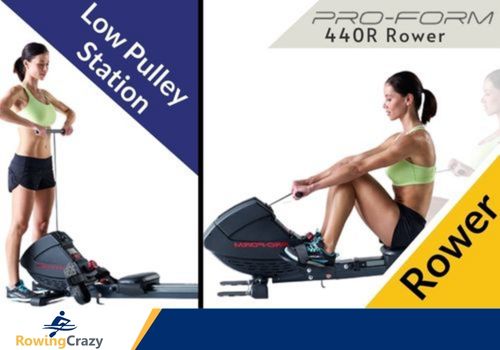 This is a basic rowing machine with a few extras you probably didn't expect. You'll still get the same improved cardiovascular health and full body workout as you would with any other rowing machine but at a cheaper cost.
ProForm 750R Rower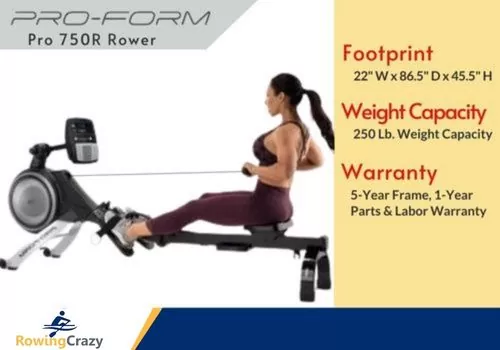 Like the 440R, the 750R uses nearly silent magnetic resistance. With 24 resistance levels and an inertia-enhanced flywheel, this rower feels amazing when you consider the price.
More features of this rower include:
A 5-inch, full color performance monitor that records all your data
A tablet holder for your smartphone or tablet so you can easily see the iFit instructors
iFit includes personal trainers so you don't have to pay a fortune for a private lesson at the gym
No matter what workout you've chosen, the iFit app will control the resistance, so you can focus on your form and speed
This rower is Bluetooth-enabled so you can use your own Bluetooth headphones, smart watches, fitness devices, and heart rate monitors
The rower has an oversized steel seat rail for extra durability
It also will easily fold for storage
Maximum user weight capacity is 250 pounds
5-year frame warranty, 1-year parts and labor warranty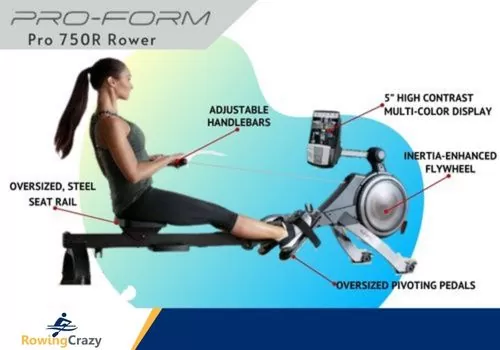 When trying to reach your fitness goals, one thing you don't want creeping into your workout is boredom. When you get bored, you either won't work as hard as you should because your mind is wandering or you will simply stop exercising.
You can avoid all this with the iFit membership. ProForm will give you 30 days free to see if it's right for you. I really like all the different choices you get on the iFit app, everything from live and on-demand workouts to a huge library of workout programs for every type of exercise you can imagine.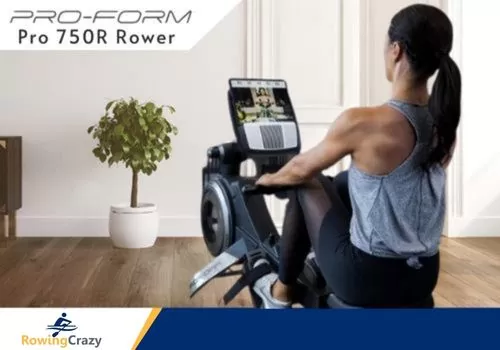 For a rowing machine that is Bluetooth-enabled, you would expect to pay more, but this rowing machine is very reasonably priced.
ProForm R10 Rowing Machine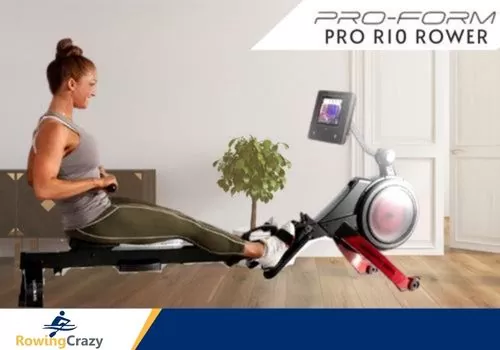 This is ProForm's top-of-the-line smart rowing machine, and it is right in line, pricewise, of similar rowing machines.
This features a 10-inch high-definition touchscreen tablet, so you don't have to use your own. ProForm also offers free 3-year membership to the iFit app, which is already downloaded onto the tablet.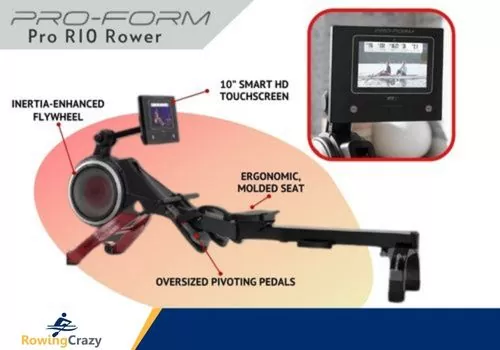 Like the other ProForm rowing machines, the R10 uses 24 digital levels of resistance. Remember that by using the iFit app, you don't have to ever change the resistance levels yourself, the workout program will automatically adjust the resistance levels for you, but you can change them manually if you like.
Additional features of this rowing machine include:
An ergonomically designed seat for extra comfort
Oversized pivoting foot pedals with adjustable straps
The space-saver design allows you to fold the machine and roll it away using the front-mounted transport wheels.
Multi-position, adjustable handlebar
Maximum user weight capacity is 250 pounds
Protected by a 5-year frame warranty, 1-year parts and labor warranty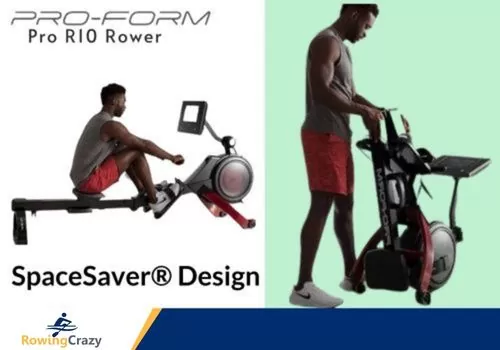 Considering that this rowing machine not only offers a built-in tablet but also a free 3-year iFit membership, this really is a great bargain.
A Few Notes about ProForm Rowing Machines
I've used these machines for a couple of weeks, and I would say that for someone looking for a budget-priced machine, these are really a top-notch piece of fitness equipment.
While they may lack many of the bells and whistles that more expensive machines offer, they do offer plenty of resistance and have that much sought-after space-saving design.
The rowing action is smooth, and iFit membership offers so many workouts that you can't possibly get bored.
If you haven't used iFit (see other iFit Rowing machines ), you'll love the fact that you can use it for other types of exercise and not just for rowing. There are yoga workouts, Pilates, strength training, hiking, walking, running, bicycling, ellipticals, and just about anything else you can think of.
Generally speaking, compared to some other rowing machines, these appear to be quality machines that should last for years (You might also like to read more on the Proform Rower vs Concept 2 ).
NordicTrack Rowing Machines
Like ProForm, NordicTrack offers three different models of rowing machines, namely, the RW600, RW700, and RW900.
Features Common to All 3 NordicTrack Rowing Machine Models
All the mentioned NordicTrack rowing machines offer:
Full Bluetooth engagement. This means that you can connect your Bluetooth headphones, smartwatch, fitness device, or heart rate monitors.
These rowers use dual methods of resistance. The main resistance type is magnetic resistance which has 26 adjustable resistance levels. For extra resistance power, there is also air resistance. The air resistance has 10 levels so you should get an awesome total body workout!
All NordicTrack rowing machines feature iFit, but you can use the rower even if you decide not to subscribe.
All three rowing machine models from NordicTrack feature a maximum weight capacity of 250 pounds
The warranty is an amazing 10-year frame warranty, along with a 2-year part and 1-year labor warranty.
NordicTrack RW600
If you've searched for the NordicTrack RW500 but couldn't find it, the reason could be that it has been replaced with the upgraded RW600, which looks like a good thing to me.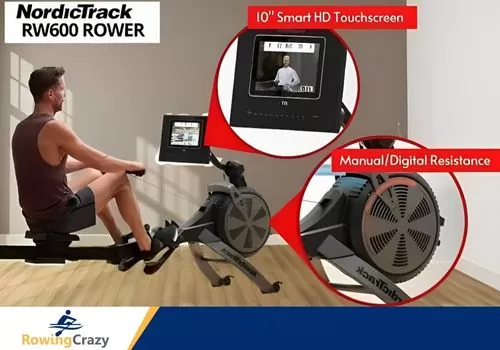 Experience personalized training using the smart technology that the RW600 rower and iFit bring you. Your expert trainer can digitally control your rowing machine's resistance for optimal workouts.
NordicTrack RW700
Just like the RW600, the NordicTrack RW700 gets you a virtual coach to talk you through challenging workouts, but this time on a 14-inch rotating HD touchscreen.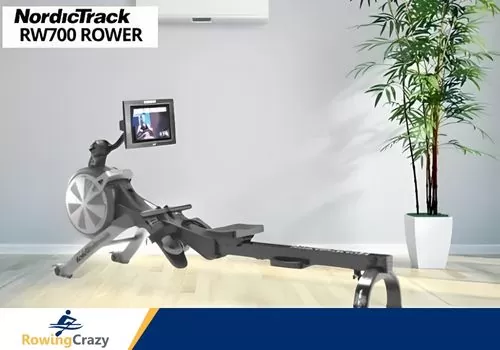 NordicTrack RW900
Focus on enjoying the full-color experience of rowing on the world's most spectacular rivers and lakes with NordicTrack RW900's new 22-inch tilt and pivot HD touchscreen!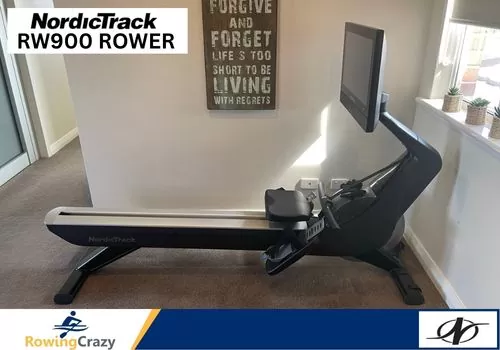 RW900 comes with the latest product innovations as well to make your every workout an immersive experience, including improvements in the flywheel design and rail slide system and a new 30W premium sound system.
Difference between RW600, RW700 and RW900
What is the difference between these three rowing machine models?
Mainly, it's the size of the tablet.
All NordicTrack rowing machines come with a built-in tablet to help keep you motivated and engaged.
The RW600 has a 10-inch, HD touchscreen tablet
The RW700 has a 14-inch HD touchscreen tablet
The RW900 has a huge 22-inch HD touchscreen, along with front-facing speakers and upgraded flywheel for a total fluid rowing experience
It's really just a matter of what size tablet you want to invest in when it comes to a NordicTrack rower (You might also like to read Echelon vs NordicTrack Rower ). Of course, the more expensive RW900 has more finetuned features and the biggest touchscreen smart display of the three.
When you combine the excellent warranty, the smooth rowing action, and the quality of NordicTrack rowing machines, it's easy to see why this is one the best rowing machines you can buy.
Is iFit Worth It for Rowing?
I believe it is, yes. Whether you're buying a ProForm or NordicTrack, it's a good idea to invest in iFit.
An iFit subscription is worth the price since not only can you sign up five profiles, which let everyone in your household use it for one price, but you can also use iFit for just about any type of exercise you want to do!
Get Inspired with Olympic Rower Rachael Taylor Testing the NordicTrack RW900 Rower:
Running, jogging, walking, hiking, biking, ellipticals, yoga, stair climbing, and even aerobic dancing. Perhaps the only sport not on iFit is bowling! (Or maybe it is, and I just haven't seen it!)
Even if your other pieces of fitness equipment aren't iFit-ready, you can still use the app. The only difference is that you will need to control the resistance level manually.
I've used iFit on my treadmill, hiking, and walking. It's really an excellent app that has so much to offer, you will be shocked at how much is on there.
Is iFit worth it for rowing machines? Yes, it is.
Which Is a Better Rower? ProForm or NordicTrack?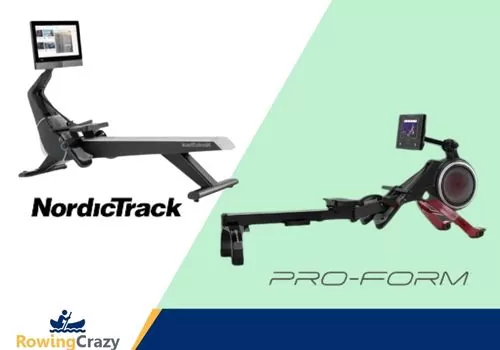 Personally, if I had to choose just one rowing machine from the models above, I would have to go with the NordicTrack RW900 because that big screen is really impressive.
NordicTrack is a quality machine that will stand up to years of hard use. We use them at our local gym, and I don't think I've ever seen one out for repair.
NordicTrack is a name you know and trust, and you'll love the big screen to keep you engaged while working out.
Other machines will give you the same full-body workout, true, but they may not keep you as mentally engaged and interested as with a NordicTrack RW900 with iFit subscription.
If you need a budget machine, there is nothing wrong with the ProForm models, but for a rowing machine that will stand the test of time, you'll want one of the NordicTrack models.
Try one at a local fitness center, or buy one for your own home gym. You won't be disappointed!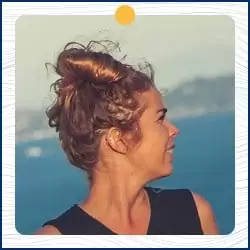 Written by Petra Amara – RowingCrazy.com
CEO & Founder of RowingCrazy, National Rower, Coxswain Womens Eight Team, Rowing Coach & Writer
Petra is a Mother of two and owner of Rowingcrazy.com. Petra lives and breathes rowing, she also has a passion for writing which lead her to start RowingCrazy.com to share her rowing experience and expertise with others.